Gaksital: Episode 28 (Final)
I have good news and bad. The bad: Gaksital has to end, and today's the day. The good: It is damn good, all the way to the finish line. Brace yourselves, citizens. This show hasn't let up for one moment, and it sure as hell isn't going to start now. Prepare your tears and your fists, and reserve a hug from someone close for the aftermath.
The finale aired at a series high of 22.9% ratings. Here we go…

FINAL EPISODE RECAP
Boss Jo walks Mok Dan down the aisle, and Kang-to takes her hand. Teacher Yang Baek presides over the small wedding in front of friends and family, and tells them to face any hardship with love, and to use that love… to have ten children. They giggle.
What they don't hear is the thundering sound of boots getting closer and closer. Perhaps it's better this way. Shunji leads the imperial army and his own policemen, prepared to ambush the camp. His mole meets them to report on everyone's whereabouts.
Shunji asks where Kang-to is. Mole: "At the wedding." Uh… his wedding to be exact. To the one girl you've decided is your only saving grace. Oh crap doesn't really do the moment justice.
Shunji's face contorts in shock and anger, and demands to know where. He sends the army to hit the camp, while he takes a small group of men to the wedding.
Kang-to and Mok Dan actually get to finish the ceremony and walk down the aisle as husband and wife. It's making me So. Nervous.
Shunji runs and runs, as they walk down the aisle and their friends clap. Mok Dan gives her bouquet to Sun-hwa, and Deuk-soo cheers like an adorable spaz.
And then… Shunji arrives. Everything turns to slow motion, as he sees Mok Dan smiling and happy, standing there in her wedding dress next to Kang-to. Oof. That moment, no matter what Shunji's done up till now, cuts deep.
He just stands there, frozen, watching them smile blissfully. Slowly Mok Dan's eyes start to change… she sees him first. Shunji raises his gun. No.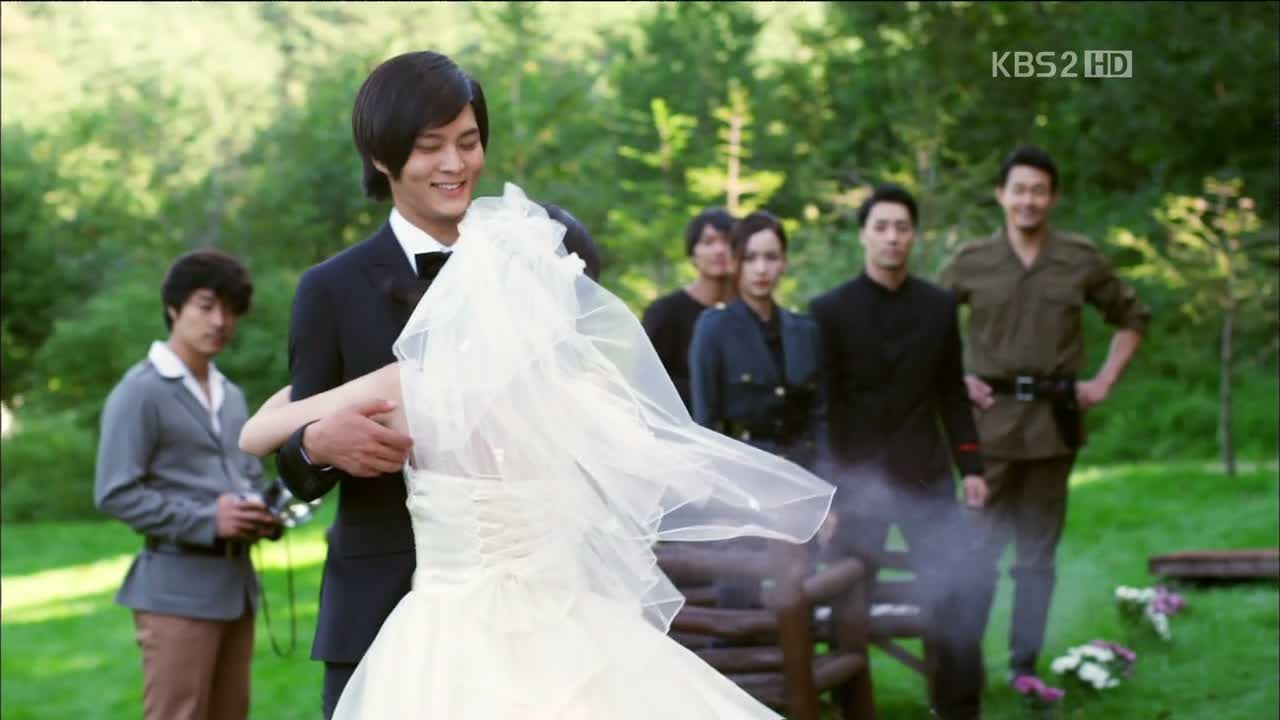 He fires. Mok Dan is faster. Ohgodohgod.
By the time the bullet reaches Kang-to, she's already standing in front of him, to block the shot. Blood pours down her white dress.
Fuck. Fuck, I knew it. I knew the moment you got that wedding dress you'd die in it. Gaaaaaaaaah. Why did you tempt the fates? WHY?
Kang-to only realizes what's happened as she falls into his arms. He catches her, trembling in horror, and looks up to see Shunji. He's reeling just as badly.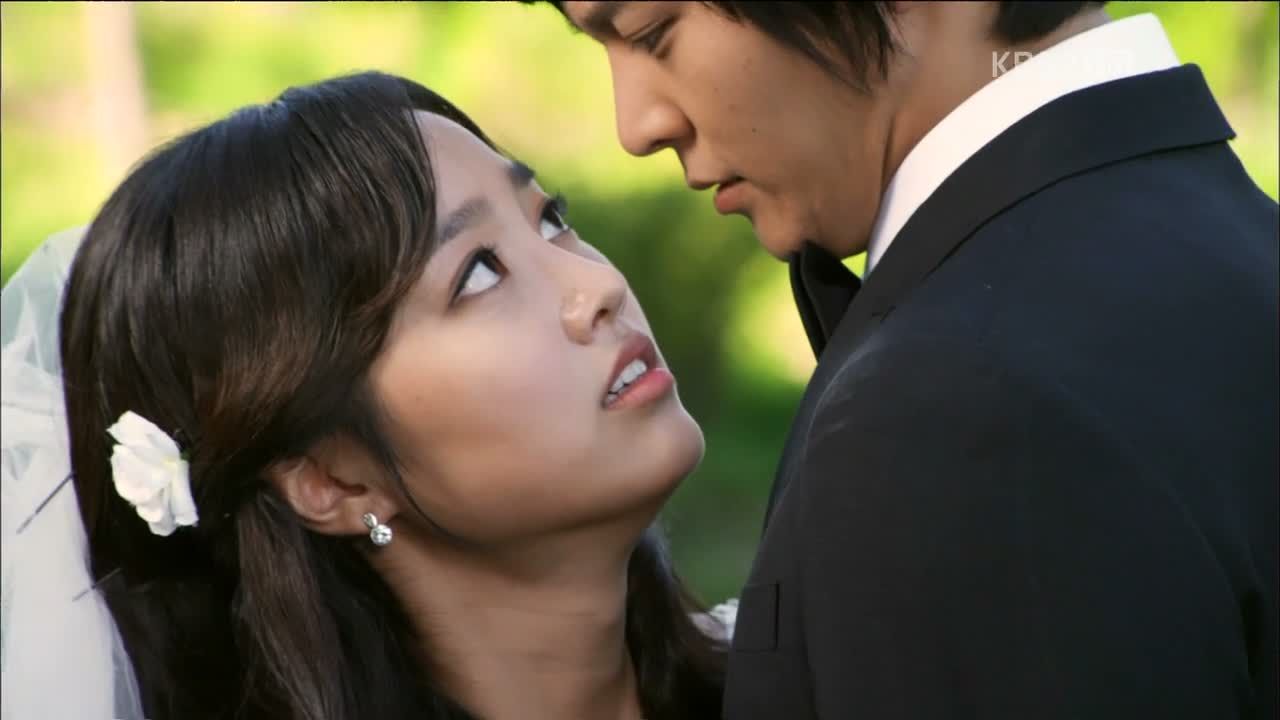 Shunji stands there numb, watching everything happen in slow motion. Kang-to picks her up and runs, as the wedding party scrambles to get everyone to safety. The rest of the officers arrive, and Boss Jo lunges at Shunji to keep him from Mok Dan.
Shunji shoots him through the chest, but Boss Jo grabs his leg and holds on for dear life, buying Kang-to and Mok Dan precious seconds to get away. Augh, it's horrifying but so moving. Shunji breaks into a rage and beats him to a pulp, and then shoots him again. He finally lets go.
Comrade Jo does the same, staying behind to shoot so that her leaders can get away. They have to drag Teacher Yang Baek away from her, as they watch her fall to her death.
Shunji tears through the woods, looking for Kang-to, and picks up a trail of blood. Mok Dan's blood. Augh.
Kang-to runs and runs, carrying her. He trips and they falter, and she pleads with him to put her down. He says just a little longer.
Mok Dan: "Please, put me down." *TEARS*
She's asking him to let her go. I can't take this. He starts to cry, understanding what she means. Mok Dan: "Don't cry. Today is our wedding day."
She starts to cry as she worries for HIM: "You said you fight because of me… but I ended up like this… and I wanted to make you dinner every day… I wanted to wear the flower rings… Be strong. Promise me that you'll be strong, even without your wife. Promise me."
He just nods, his whole body shaking with tears.
Shunji reaches the end of his blood trail, but no Kang-to. He fumes.
Mok Dan reaches out to caress Kang-to's face one last time, and then she dies in his arms. He clutches her and lets out a piercing cry. Auuuuuugh. I don't know if I can handle any more pain for Kang-to. It's too much. I feel broken.
It's his cry that Shunji hears, and he runs toward the sound. CAN'T YOU LET HIM MOURN IN PEACE?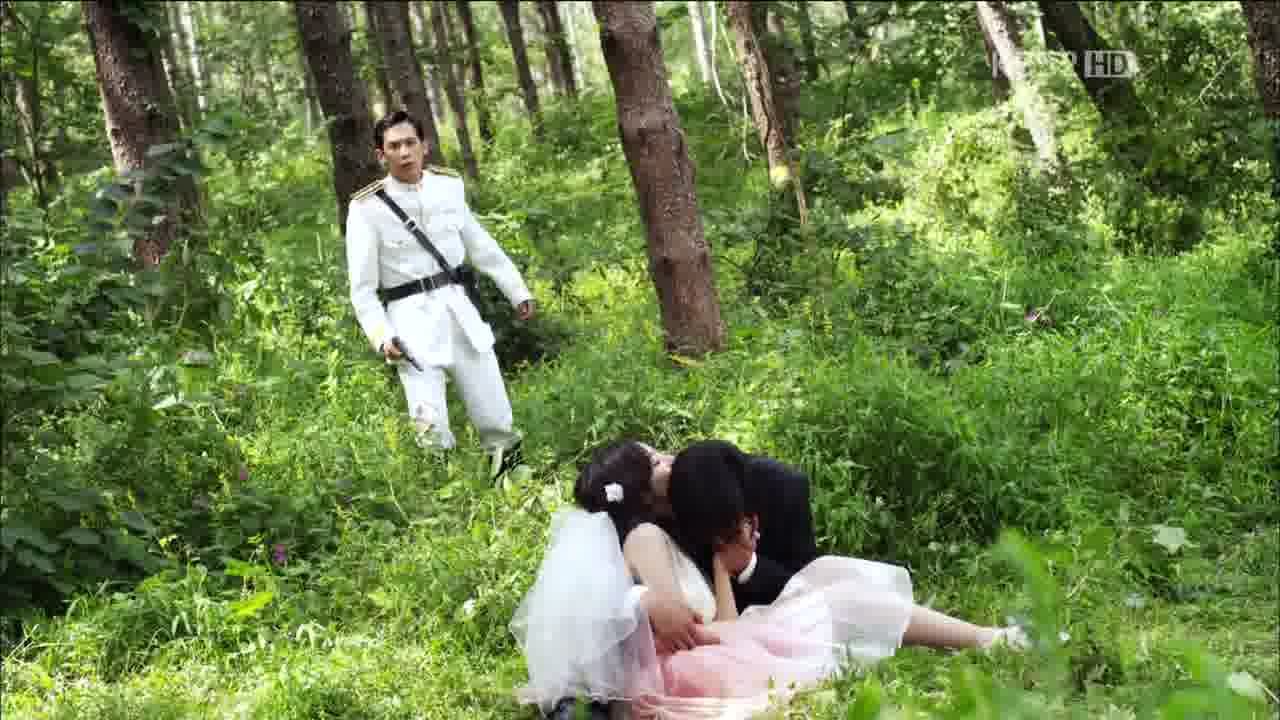 Kang-to sobs as he holds his bride's lifeless body, on their freaking wedding day. I hate the universe today. But Show, I kind of love.
Shunji finds them and falters again, as he sees Mok Dan. What, did you expect that she'd survive?? He tells her to put her down, screaming, "It's because of you! It's because of you!"
Oh wow. That is some powerful denial. You pulled the trigger, but it's Kang-to's fault? He raises his gun, shaking in fury, and Kang-to doesn't even move. He just glares in stone-cold anger.
But thankfully Baek Gun arrives and knocks Shunji out from behind to buy them time. They run. Thank goodness, because I'm pretty sure Kang-to would've fought gun-to-fist back there.
Meanwhile, it's a massacre at the camp. The death squad fights to the end, but they've been ambushed and outnumbered, and they go down bloody.
Abe is among the troops, and as he surveys the bodies of people he knew lying on the ground, he takes off his hat.
Kye-soon's little brother Min-kyu lies on the ground after an explosion, but wakes up just as troops are walking through to make sure everyone's dead. A member of the death squad wakes up next to him to see him stir, and quickly lies on top of him to keep him from being found alive.
He gets shot the second he moves, and his blood pours down Min-kyu's face, after having saved his life.
Shunji wakes up in the woods, dazed. But then he sees the pool of blood where Mok Dan died, and falls to his knees. He reaches his hands out, trembling, as if he can touch her there, and breaks down.
It's telling that he cries just as hard as Kang-to. And it's just as gut-wrenching, but in a totally different way. Shunji is such a tragic figure, having turned Mok Dan into his sole salvation, only to kill her. He wails, his hands drenched in her blood.
Dong-jin and Yang Baek relocate safely to Dong-jin's hideout. Comrade Ahn reports on the deaths, his voice breaking as he says he'll take care to bury Comrade Jo when it's dark. Yang Baek asks him to find Kang-to as well.
Shunji reports to governor Wada that all 300 death squad fighters were killed. He's pleased at the numbers, but asks how the key three leaders escaped. Shunji says they're scouring the mountains right now in search of them, along with the weapons stash that they weren't able to find.
He returns to his darkened office alone, and there's just a really nice, tense moment where he sits in the dark, and the phone rings. He doesn't move to answer it, and every ring sounds more ominous than the last, like it's sounding the alarm for the unleashing of something terrifying.
The calls must've been from Rie, because she comes running into his office in a panic. She asks what happened with Kang-to and Mok Dan in the raid, but then takes it back immediately—she doesn't want to know.
After a long pause, Shunji: "Mok Dan is dead. I killed her." He says he was shooting at the man who killed his father, but she ran into the line of fire. "It was the first time I had ever seen her smile that way…"
But just as I'm about to note that he admits to killing her, his dark expression returns, "The one who killed Mok Dan was Kang-to. Not me!" Rie's looks at him in horror. He swears he'll kill Kang-to, and Rie's eyes dart back and forth in panic.
Kang-to lies on Mok Dan's grave. That alone just kills me—the way he lies there, still holding on, face to the dirt. The tears just keep falling, as he remembers her promise to follow him into the heart of the fire, anywhere.
And then her insistence that Gaksital needed to live, to be a light for the Joseon people. He tells himself, "Be strong, Lee Kang-to. Let's be strong. You promised you'd be strong."
Baek Gun pleads with him to get up now. He says for Boon-yi's sake, he has to get up, and tells him about the massacre. He finally manages to lift his head from the dirt a few inches, as he shakes, "Ajusshi, what did you say?" Baek Gun: "They're all dead!"
Still a little out of it, Kang-to asks, "The soldiers I saved… are all dead?" Baek Gun: "The entire river is stained with the blood of the youth."
That finally wakes Kang-to up and he asks where Teacher Yang Baek is. Baek Gun sighs in relief and tells him they're at the hideout. Kang-to turns to the grave and thinks to himself, "Boon-yi-ya… I'll get up. I'll be strong."
And then he stands.
He meets Dong-jin and Yang Baek who thank him for returning alive. Yang Baek asks haltingly after Mok Dan. Kang-to: "I laid her down in sunny spot." I'm crying all over again.
Yang Baek laments the death of so many of their young, and says that they must fight. Dong-jin says that they will fight to reclaim their land, so that the blood of their comrades will not have been in vain.
Chairman Ueno is disgruntled at Shunji's performance, thinking it pointless to have cut off the snake's tail while leaving the head intact. But Shunji argues that an armed attack is improbable without foot soldiers, and that they've found a way to draw the leaders out.
They've spread the rumor that Dong-jin died in the attack, making his other death squads separate and lose focus. In order to keep them intact, Dong-jin has to show his face eventually.
Meanwhile, the good guys prepare to go into town. Haha, I just love that one's dressed as a monk and the other's a priest. There's a bar joke in there somewhere. Yang Baek is headed out of Kyungsung, and he and Kang-to hug each other goodbye, promising to meet again someday.
On his way down the mountain, Little Bro Min-kyu stumbles into Dong-jin, having survived for days alone in the woods. Aw. Dong-jin hugs him and thanks the boy for staying alive, and Min-kyu cries in his arms.
Shunji drives through town and reels at the sight of a woman in a white dress. He replays the moment he shot Mok Dan again and again. I love the sick twist of that—it's Shunji who's more haunted by Mok Dan's death than anyone.
Comrade Ahn pedicabs Yang Baek into town, and right past Shunji… but he's too blinded by his Mok Dan trauma to notice. Whew.
Newssheets announce the attack on the death squads, and the deaths of Dong-jin and Gaksital. Kye-soon cries as she reads it, only to have her little brother walk right into the restaurant behind her, along with Dong-jin.
She hugs Min-kyu tearfully, and gets introduced to Dong-jin. She's surprised that he's alive as well, and he asks that she spread the word that he's alive and that the death squads continue to fight. She promises to spread the word. Did we actually find a good use for the snitch? That's hilarious.
Shunji returns to the station, where his officers nervously hand him an envelope of the pictures he ordered. He takes them into his office. They can't be… He wouldn't…
He braces himself and takes them out… Oh man, he did. They're the wedding pictures that Reporter Song took. He shakes as he looks at the pictures of Mok Dan and Kang-to smiling in bliss.
He lingers on a shot of Mok Dan and cries, and then goes through the pictures all over again, torturing himself.
Baek Gun reports that Teacher Yang Baek successfully boarded the train out of town. He asks Kang-to how long he's going to let Shunji live, and Kang-to says it's time to deal with him. But there's someone else he has to eliminate first.
The man who killed the death squad and the student soldiers, the one who turned Joseon into a prison and exploited its people…
Cut to: Chairman Ueno. Awwwww yeah.
He calls Rie in to ask why she didn't run when Shunji spared her life. She says Father taught her that power was everything in this world, so where else would she go? He sneers in disgust that she'd have Kang-to in her heart and still dare to call him Father.
He says this is the end of their union, and nods at Kinpei. Oh crap. Katsuyama watches as Kinpei draws his sword and aims for Rie's neck…
She doesn't move, doesn't run. Kinpei raises his sword for the strike… and Katsuyama attacks. YESSSSS! Go, Katsuyama, go!
Now it's samurai against samurai, with Rie in between them, and Chairman Ueno yelling at them to follow orders. Kinpei quickly gains the upper hand, but then, a dagger!
Gaksital bursts in, and throws a punishment dagger at Ueno's desk. Kinpei fights back even with the dagger in his chest, and Kang-to levels another one, while Katsuyama gets up and slices Kinpei open. Whoa. They're… fighting on the same side? Just for a moment, but whoa.
Kang-to walks past Rie and levels his killin' flute at Ueno. Kang-to: "Your greed to consume the Far East, the Pacific Ocean… has taken my family, and Shunji's, away from us." It kills me that he includes Shunji here.
Ueno says that's the cost of war, in making an honorable history. Kang-to: "Yours is not a noble history, but a crime that will not fade!"
He points his cane at Ueno's throat as the Gakistal theme rises up. He gives that familiar speech: "I have come to punish you for your wrongs!" and strikes Ueno dead.
He walks out, and Rie runs after him. She says she heard about Mok Dan, and was worried about him. And then… she says that Shunji is hurting too. She asks, "Just as I let you live, can't you let him go, just once? Killing him won't make your pain disappear. I don't want you to be in pain anymore."
But he doesn't reply. He steels himself and walks past her, without a word.
Shunji sits before his father, as Damsari's words that he'd wasted his life come back to haunt him. He answers a call—it's Rie, who says that Gaksital killed Ueno.
Shunji just smiles at the news, "So he'll come for me then." She asks if he can't just avoid Kang-to tonight, and worries that he's planning to do something stupid. He laughs, "You don't know me very well, do you?"
He asks if she'll leave now. She finally says yes. "Alone?" She says, knowing it's an empty request: "If I say I go alone, will you hold me back and tell me not to go?"
He smiles on the other end of the line and shakes his head. "Go well. And live well." She tells him to do the same. It's a lovely moment between two tragic characters. Not love, but understanding.
Shunji takes out his gun, cocks it, and puts it back in the drawer. He waits.
Katsuyama drops Rie off with her suitcase. He asks where she's going, if he can't go with her. She says it's best to say goodbye here. He pleads one last time if he can't remain by her side like a shadow.
Rie: "Katsuyama, looking into the eyes of someone who will never love you back is a life of despair." She thanks him and turns to go. It's a beautiful scene—not just emotionally, but visually stunning.
She turns back to add, "My name… is Choi Hong-joo." Wow, the first time we hear her claim her true identity.
Katsuyama smiles, maybe for the first time ever, and calls out after her, "I will never forget your name." She smiles and walks away.
Kang-to stealths into the Kimura house and takes off his mask in front of Dad's memorial. Shunji is waiting, and pours him a drink. He asks casually, "You came?" Kang-to shuts the door behind him.
Shunji says they can at least have a drink together right? "Since this is the end." Don't remind me! Kang-to sits across from him and downs his drink, and Shunji does too. Shunji: "Did you send Mok Dan well?"
Kang-to can't believe the casual words, "Did I send her well?"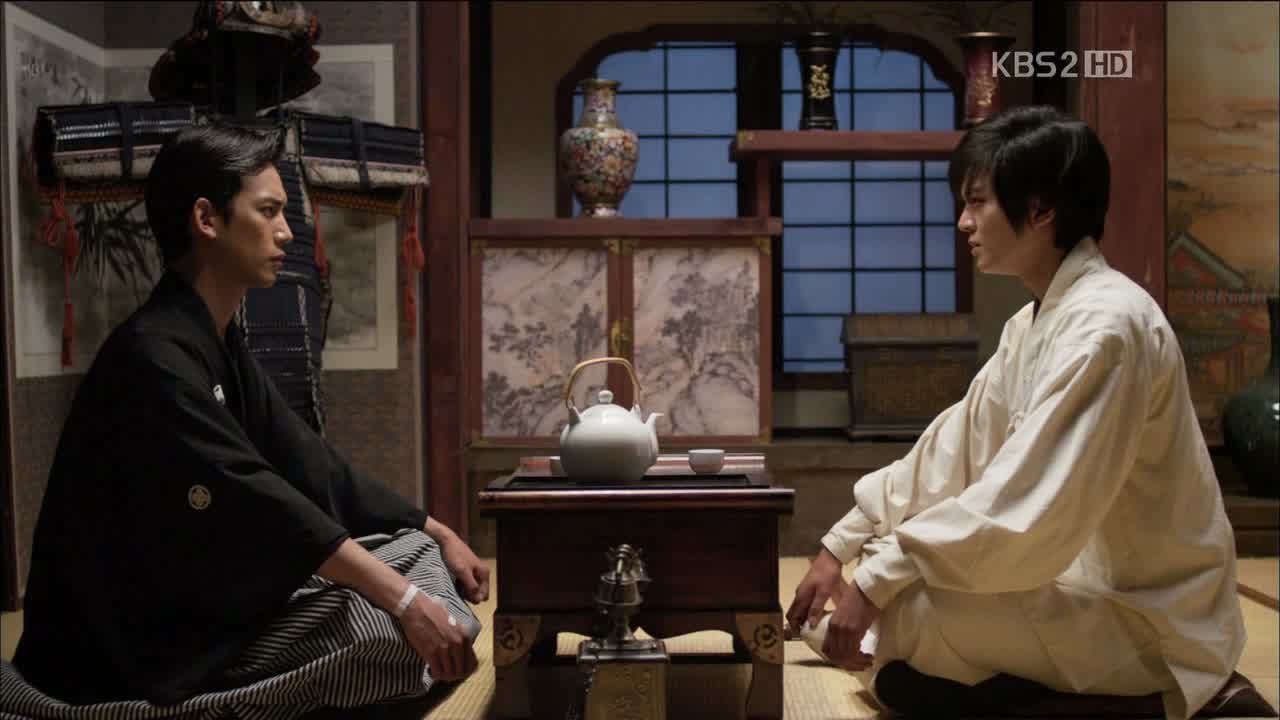 Shunji opens a drawer and takes out a wedding photo and passes it over. Kang-to's eyes well up, but he shuts them to drown out the pain. Shunji says it's the first time he's seen her smile that way, "even though it was for another."
He says he had the photo printed to give to him, "Because it's yours." Kang-to tucks it into his shirt, "You're letting her go now? After you killed her by your own hand?"
Shunji tries to tell him not to be too harsh—he had to let her go from afar. Kang-to: "Do you think I'm here for Mok Dan alone? Is Mok Dan the only person who died at your hand?"
He names them all—every single comrade who died while he tortured them, Dong-nyun, Boss Jo, Damsari… Boon-yi, the young soldiers.
Kang-to: "The youth, who were someone's son, someone's husband, someone's brother—the young people who gathered to reclaim their land! … I didn't realize how much I'd come to regret not killing you that day."
Shunji says he knows that feeling—the day his father died, and he regretted choosing not to kill him and put his mask back on. Kang-to asks if it isn't time now to end it. "You or me… one of us must die for it to end, doesn't it?"
They look into each other's eyes, and Kang-to whispers, "Are you ready?" Shunji nods with a smile. He tells Kang-to to meet him in the yard, "I'll be right there." What? No, don't turn your back. Don't turn your back. DON'T DO IT.
Kang-to gets up and walks out, and Shunji takes out his gun…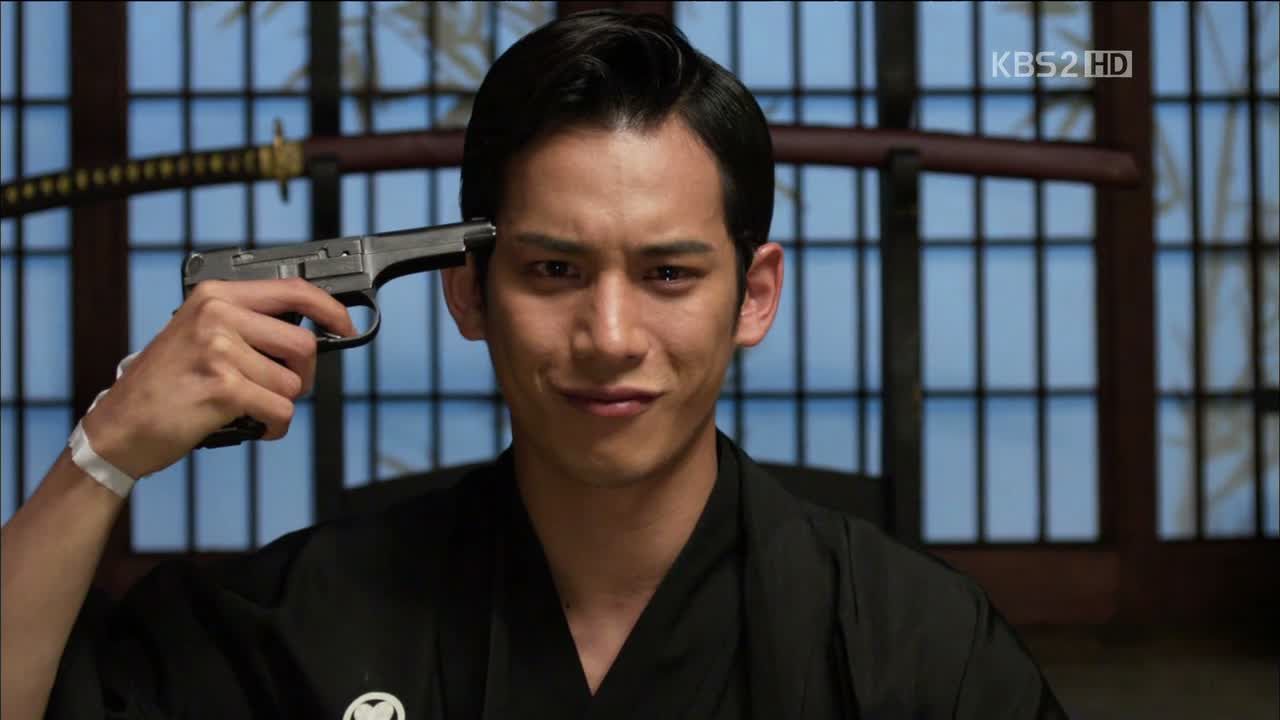 And then he raises it to his temple. Oh. Fuck. SHUNJI!!!!
He winces and holds back tears, and shoots. Kang-to stops in his tracks, knowing what it means. A tear trickles down his face, and then he forges ahead, without turning back.
Nanny runs in to find Shunji dead, and cries with his head in her lap, his eyes still wet from tears.
The movement works tirelessly to prepare for the armed demonstration. Sun-hwa and her brother paint Korean flags, while Kang-to makes masks—gaksitals, each carved by hand.
Deuk-soo and Sun-hwa pass out flags at the marketplace, and Dong-jin and his very small group of men who remain gather their hands, "Solidarity."
Governor Wada presides over the anniversary of the Japan-Korea union, and leads the room in a round of "Bansai!" to the Empire.
And outside, the sound of boots hitting the pavement, in perfect step…
The death squad members march in the rain, steeled with purpose. They go right through the center of town… and straight for the police station. Koiso and his men scramble out to meet them.
And then two by two, citizens come pouring out from alleyways, every single one of them dressed as Gaksital.
Oh my god. This is so moving.
Soon the entire street is filled with them, waving flags. I can't see through my tears. They begin to chant:
"Korean Independence, manseh!" [They're using manseh "long live," the one word that embodies the entire independence movement, as a rebellion against the Japanese banzai.]
It's the fighting cry of the people to reclaim their nation. The roar of their cheer echoes through the streets, and they march ahead, led in front by the death squad. Koiso and his men ready themselves against the mob.
Hands and flags go up in the air, as they walk straight into certain death. It's unbelievably awe-inspiring.
From the front line, Reporter Song screams the cue, and they charge at full speed. The officers train their guns, and then explosions go off behind them.
As the crowd runs to attack, there's Kang-to, walking amongst them in the center of the mob. He marches straight ahead, now surrounded by countless Gaksitals all sounding the cry for their country.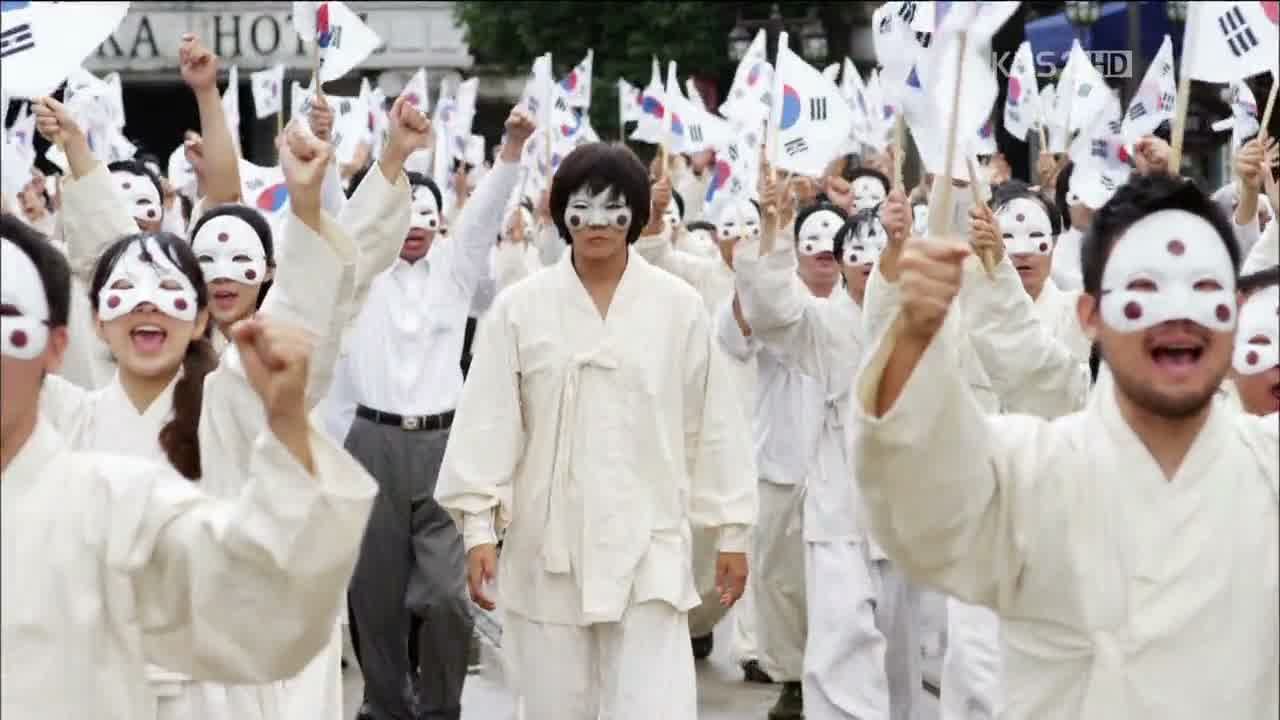 GIRLFRIDAY'S COMMENTS
A.MA.ZING.
That is perhaps the best ending I could have asked for. That it doesn't end in victory, but an uprising, the start of a movement to keep fighting, against all odds? That a hero gives the people the means to fight for what's theirs and walks as just one, among them? It's beyond moving, and beyond fiction. I can't stop crying. It felt like a glimpse into history—not the event, but the emotion, and the fervor that drove people to do exactly what Damsari described. It's the egg against the rock—they face death, and yet they march ahead anyway. That average people rise up, willing to die for their country, knowing the uphill climb ahead… it just doesn't get more powerful than that. Acting upon that metaphor was the perfect way to end the series. I expected as much, and yet it still moved me beyond what I could have imagined.
And what a perfect ending for Gaksital the symbol. It's the best of heroic ideals: Kang-to doesn't wield his strength or his power for himself, but shares it with the people. Rather than standing above them as a figurehead and a leader, he literally gives the identity of the gaksital over to them, to empower them to fight. You share your power, and you keep fighting, even in the face of certain death.
So rarely do I come across a show where each main character's ending leaves me satisfied. It's sad how rare that is. And there were certainly hiccups for other characters along the way in this series. But I loved every sendoff we got in this finale. Mok Dan's death was the perfect final knife twist. Painful, but such good dramatic pain. Let's face it—she was doomed the second she put on that white dress. That much, we knew. What's crucial from a story standpoint is how she changes both the hero and the villain, even this late in the game. It's searing, heartrending pain for both of them, but Kang-to lays her down, and continues to gather his will to fight from her, even when she's gone. While Shunji, who more tragically never knew her love, is broken by her death past the point of recovery.
He wasn't kidding when he called her his salvation—he let himself believe that if there was a chance he could be with her, he could return to his former self. That quite literally dies with her, and the tragic twist is, it dies by his own hand. It's the perfect ending for his character, because I found myself feeling sorry for him just in time to feel the sock to the gut when he killed himself. I didn't want Kang-to to have to kill him, because his breakdown and his choice to show mercy in the last episode was so moving. And even as Mok Dan died, I didn't regret that choice he made. I loved that Rie tried to stop him, not for Shunji's sake, but his own—Kang-to would never be the same if he had to kill Shunji. I think it would've broken him the way Mok Dan's death broke Shunji. Shunji's was, in some ways, the most poetic ending. Yunno… the dark, twisted tragic kind. But poetic nonetheless.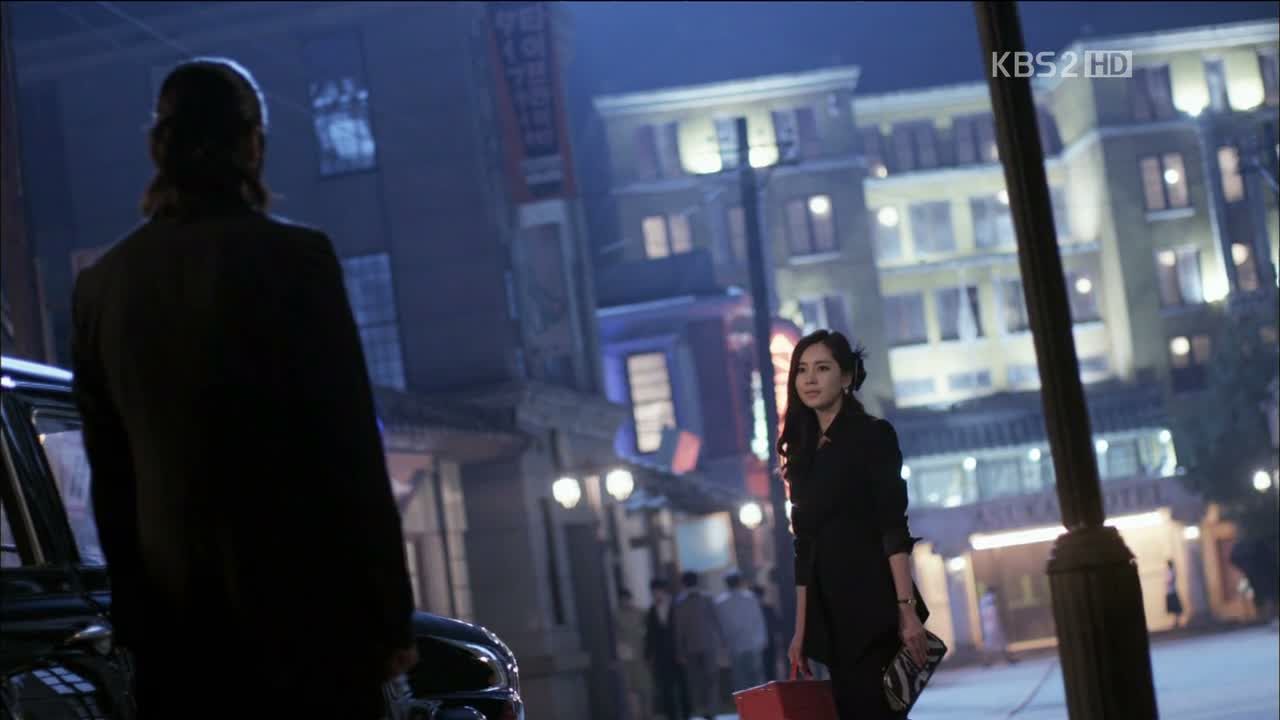 Rie's sendoff was fantastic as well. I thought it so clever that we were in the same boat as she was—just waiting for the day she'd die, like it was inevitable. She had given up, we had given up; there was seemingly no hope for her. But I LOVE that she gets a second chance, and that once she really loses everything, she reclaims her Korean name and her painful past. I actually find the choice to give her a future, no matter how uncertain, the most hopeful of all the endings. She comes out of the rubble having found herself.
There were certainly some glaring faults with the series, like the repetition of one conflict, namely the secret identity, or the constant repetition of setups: guns drawn, no one gets hurt, whose turn is it in the torture chains today, the good guys get backed into a corner so easily it makes you tear out your hair, etc. etc. I do think the fault was namely with the writing on a plot-maneuvering level. The big epic heroic speeches, the larger movement, the huge shifts in character from the beginning of the series to the end? Awesome. The secret agent spy stuff? So simplistic a child could've thought it up. There was so little cloak in the cloak and dagger. Everything was so direct and obvious that you mostly wanted to sit the good guys down and make them watch a spy movie for inspiration and tips. But I do think that the directing was a standout—it smoothed over the seams between the moments of good writing and lazy writing. It took very simple written material and elevated everything to something incredibly visceral. The tension made my blood curdle, it was so good. And I thought it so fitting that a drama adapted from a comic book had such a strong visual flair. Every frame really looked like a cell out of a comic.
The cast was stellar, though Mok Dan was the weak link—she wasn't bad, but she didn't quite have the same range as the rest, which was a shame. I loved her as a character though, so I don't think Jin Sae-yeon did wrong by the character. She just lacked layers—the stuff underneath the obvious emotion and written words. Joo-won and Park Ki-woong have to be hands-down the best hero-villain pair I've seen in a long time. Their friendship-to-bitter-enemies story was the heart of the series, and they really carried every moment of that emotion, whether it was rage, betrayal, longing, or heartbreak. Theirs is the relationship that hooked me, and the one that broke me in the end. I still find myself agape that a show would stick to its guns and go as dark as it did with both of these characters, from beginning to end. Standing ovation, Show. Standing O.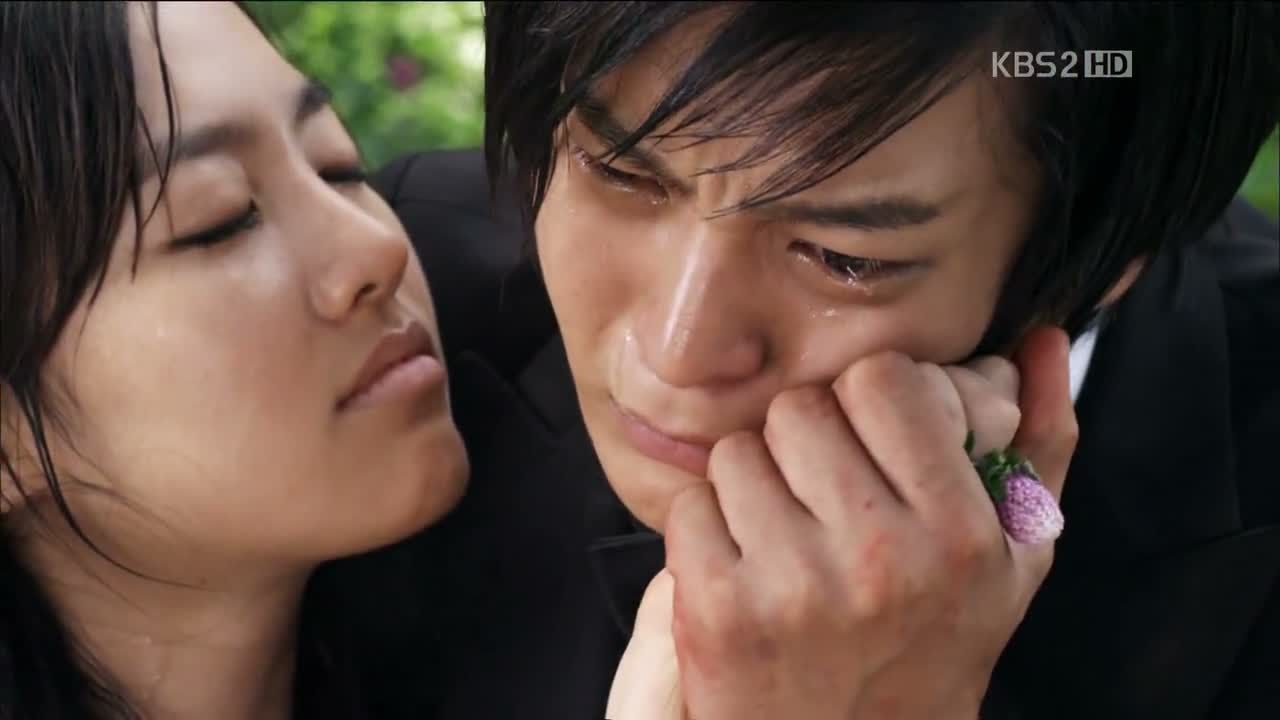 JAVABEANS' COMMENTS
Tears.
Ohhh man, am I spent. This drama does powerful like nobody's business.
The show deals with some pretty immense issues and draws on true events in history, so naturally some of that gravitas is built right into the premise. But we can't overlook the talents of the crew on this one, for bringing it to life with such pathos and immediacy. There have been so many dramas and movies about equally dire historical events that don't achieve this, as we know.
The show made me feel like these characters were real people living out these daily horrors. True, they're based on real people, but I mean realism in an emotional, gut-level sense—the characters went beyond what they symbolized. They had their own agendas and weaknesses, and varying levels of loyalty to one cause or another. I've been impressed not only with the heroism of these characters, but also the drama's depiction of those less brave. Just as a one-note villain wears thin, white-haloed good guys don't offer as much depth either.
Thus the construction of the richness of its world is something the drama achieved particularly well. Which is really the best way to honor the complexity of real life. I think an overly simplified depiction of the conflict would have killed me, because I loved the blur of black and white, of love and hate, of cause and country. This drama so easily could have fallen back on the same old, same old, and I'm so grateful that it didn't take the easy route. It may have gutted me emotionally, but man, did I love it.
I figured Mok Dan was doomed, and even felt her death would make a fitting turn on a narrative level. Let's be honest, she was always most interesting in what she meant to everyone around her, and less so as a character in her own right. The question for me was always what the question of her life-death scenario would signify: Would it mark Shunji's last shred of humanity to spare her (or rescue her, or let her go), or signal his complete ruin?
Alas, we know which side he fell on. As to the final showdown: I knew one of them had to die, and never was there a question that I wanted it to be Shunji, because, well, Kang-to just means too much. And if that had to be the standoff, then Shunji finding a shred of doubt—harking back to Damsari's words that he's lived his life wrong—and feeling remorse is the best way I could have hoped it would resolve. I don't see redemption in Shunji's death, but I do find it powerful that his final killing was one that relieved Kang-to's burden, not added to it. For that I'm actually grateful.
So Mok Dan dies and it's tragic, but I absolutely love Kang-to finding that will inside him to stand up and be strong anyway—honoring her dying wish. That encapsulates the drama's whole point, doesn't it?, about the spirit of the Korean people. You live out these daily horrors and you're treated like a prisoner in your own native land, but you can choose to lie down and give up, or you can find that strength and carry on. As Tasha said previously, "in pain if you must, in longing if you must."
History tells us that Korea didn't find independence for another decade, but the people living in that time don't know that—you fight for what you believe, not for assured victory. That's something Mok Dan noted recently, and it bespeaks the spirit of the drama.
The fight goes on. And ultimately, what's important isn't who Gaksital is, as the drama's final, powerful scene shows us. You're all Gaksital, you're all living in oppression, and you're all fighting together. I love that: Unity, solidarity, independence.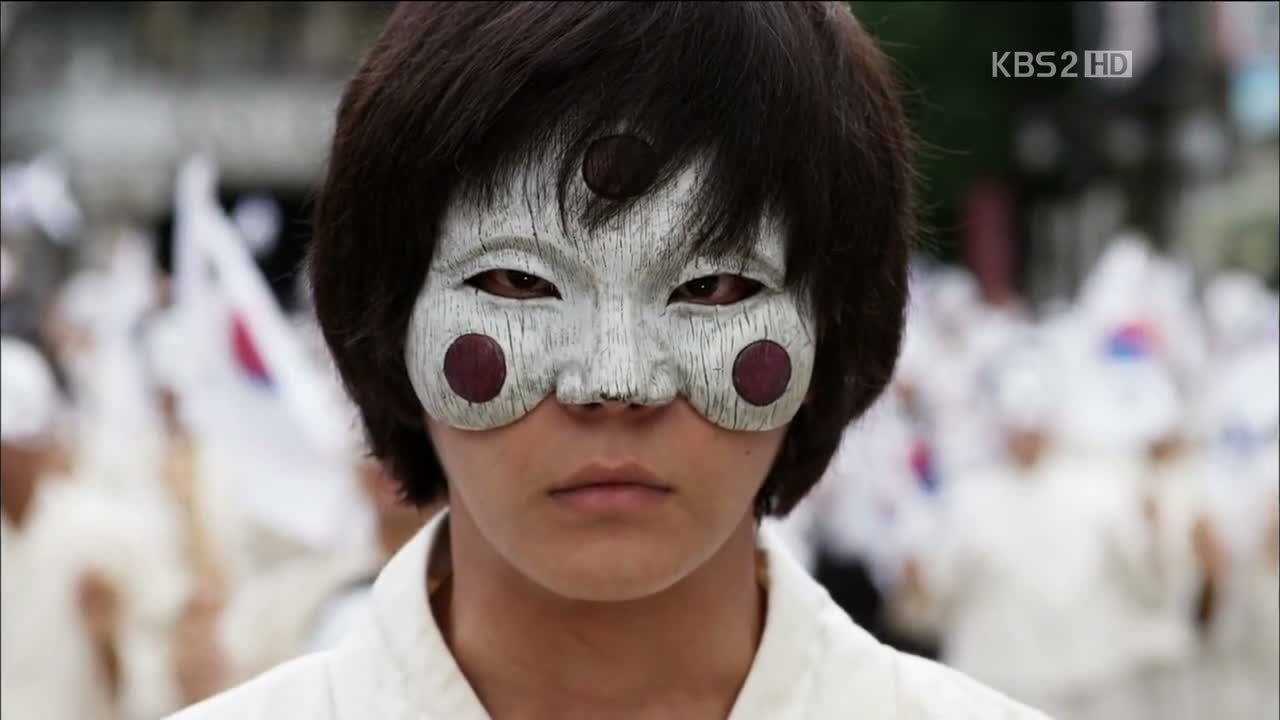 RELATED POSTS
Tags: featured, Gaksital, Han Chae-ah, Jin Sae-yeon, Joo-won, Park Ki-woong