Golden Time ponders extension (dude, you have one episode left)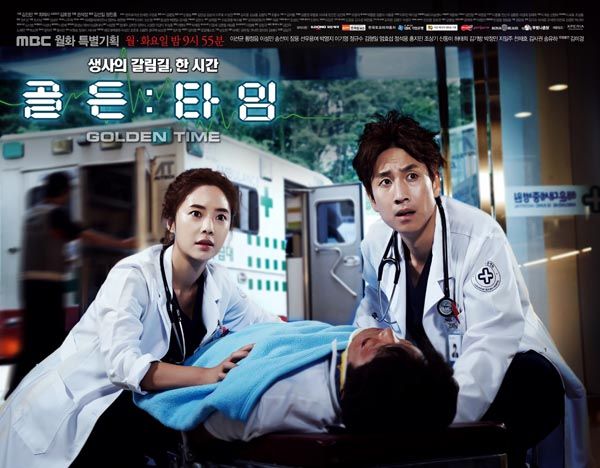 I think the headline sums it up pretty well.
MBC's Monday-Tuesday medical drama Golden Time just aired its 19th episode yesterday, which means that there's only one more episode left in the initial plan. However, thanks to an episode being pre-empted due to the London Olympics last month, it got off-schedule, putting its finale episode on Monday, September 17. That leaves Tuesday's broadcast slot up in the air. So will it add a 21st episode to round out the broadcast schedule, or end as planned and let MBC figure out what to air for one night?
According to news reports, Golden Time's production team will announce its decision later today. Yunno, giving the show just five days to whip up an extra episode, write it, film it, edit it, and air it. Piece of cake, right? Lordy, I know this is an industry where live-shooting is the norm, but that's live-shooting. Not live-writing and -producing and -broadcasting.
Granted, extension talks have not cropped up overnight; there was some mention of adding an episode as far as a couple weeks ago. GO FIGURE, since they've known for a month that they'd be coming up against this issue. And they couldn't have decided earlier because…? I swear, dramaland. Procrastinating on this doesn't make the problem go away (I know this, from extensive life experience); it just makes you that dangling chad mucking up an election, kinda making a choice but not enough to do anybody any good.
There has even been some speculation that Golden Time would extend by three episodes, instead of one, out of consideration for its follow-up series Horse Healer (whose premiere is listed merely as October). But that presents more scheduling conflicts, so it seems less likely.
The show has been met with generally favorable reviews, and has led in the ratings with mid-teens numbers. Faith has stayed a few percentage points lower, with Haeundae Lovers just behind in third place. My first impression of Golden Time was: boring story, strong acting. I can see why it's doing well… but I'd hate for a drama that's rolling along nicely to suddenly falter in its final lap, just 'cause it had no time to be good. Sigh.
So. As of right now, Golden Time will either end next Monday as planned with Episode 20, or decide to add an hour and magically conjure up said episode by Tuesday, Episode 21.
Via Review Star
RELATED POSTS
Tags: drama production, Lee Seon-kyun