Park Ki-woong interview: Two-faced never looked so good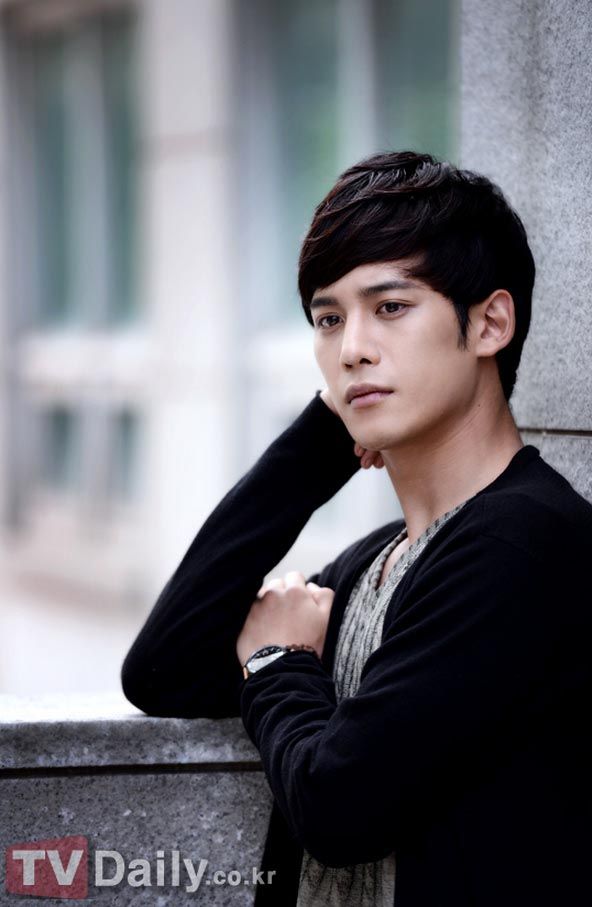 We've covered the hero, so next on the Gaksital interview circuit is villain Park Ki-woong. Well, next and last. It's a short circuit.
I have loved watching Park Ki-woong come into his own over the past several years, even though he's been around for close to a decade at this point. He was first seen in 2004 in a K2 music video for "I Hear Love" (you can watch here, though the video itself is pretty lame), and made his acting debut in a 2005 Japanese horror movie [괴담 / 怪談] that seems to be, from my inability to rustle up much info on it, a project that faded into obscurity.
But it was a 2006 CF for a Sky cell phone that launched him to stardom, hilariously (watch the awesomeness), and he followed that up with a leading role in My Tutor Friend 2, which was a cute fluffy movie co-starring Ramyun Shop's Lee Chung-ah. He was cute as the second lead in 2008's rom-com Love & Marriage (where he had a very sweet parting with the heroine as they left their first loves behind to go on to their next).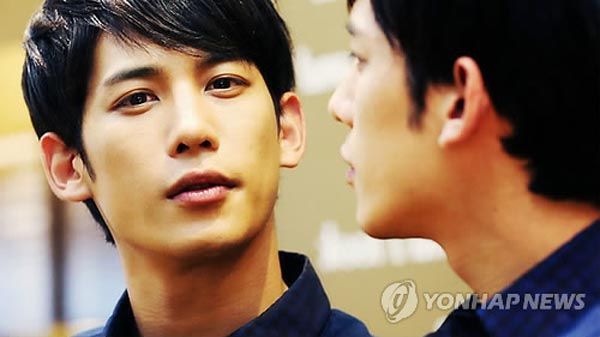 Then he took on the role of an autistic genius in 2009's dark, intense Story of a Man, and I think that's really when he started his career as an 'actor.' He followed that with Chuno, Bow: The Ultimate Weapon (aka War of the Arrows), and now Gaksital. (We'll choose to ignore the travesty that was The Musical, which should just be stricken from the record.)
Notably, his most memorable roles have all been villainous, enough to have some calling him a villain specialist. He joked on a recent appearance of talk program GoShow that when he's a bad guy his projects are hits, and when he's the nice guy they flop. He was awesomely chilling in Bow, playing a sadistic Manchurian prince who liked to toy with his spoils of war, with a leer on his face and while speaking a different language. (Park has said that for Bow, he was so frustrated and embarrassed after shooting NG after NG on his first day that he spent hours on end nailing his dialogue, and was thus gratified at the praise he received for his language performance.)
Even so, he singled out the latest role as the toughest: "Of all the characters I've played, Kimura Shunji was one of the most difficult. It's a drama that has left me with a lot, on an acting level. I really worked a lot on it, and learned so much."
(Side note: Gaksital is Park Ki-woong's fourth time working with this director, which explains both why he was cast and why he and the director had good rapport. They did a Drama Special episode together, then Love & Marriage where the PD was a B team director, then Story of a Man.)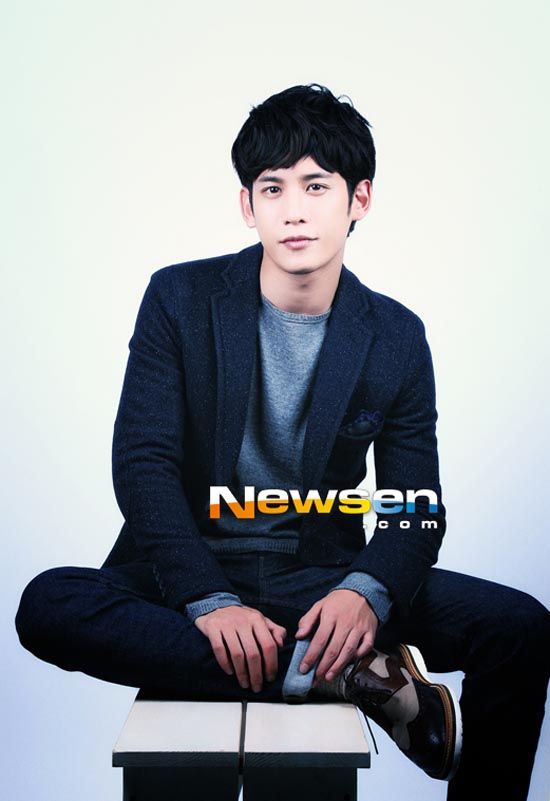 The role of Shunji required Park Ki-woong to travel between good guy and bad guy; he started out with a pure heart, but the situation brought out his dark side.
"Nice Shunji and bad Shunji. I thought a lot about the double-sidedness and how to act them. It wasn't a matter of acting extremely good-natured, and then extremely evil. Out of this extreme situation he changes into being truly bad, and that is what provides motivation and justification for Kang-to and Gaksital's actions."
Yet it wasn't a simple linear progression but a frequent back and forth, and Park worried a lot about how to adequately depict the character's duality.
"Rather than calling Shunji absolutely evil, he's a person who undergoes a complete transformation. It was the process of changing from a good person to a bad one that we showed. There were parts where it's expressed as pain birthed by the era. Despite their different nationalities Kang-to and Shunji were friends, though they became antagonists, and it was the middle ground that was difficult to express. Because it was the gray area I had to show, not a side that was too evil, or too good."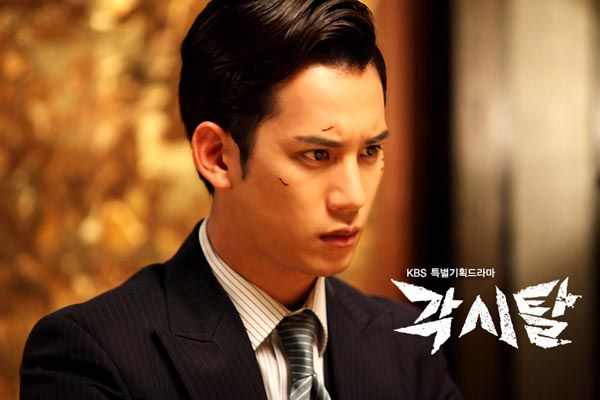 On set, shooting would frequently have to stop for the two leads, Park Ki-woong and Joo-won, to allow them a chance to get a handle on their emotions—they would be so overwhelmed that the tears would keep coming.
On the Gaksital website, there was a recent behind-the-scenes clip posted of Shunji's torture scene with Kang-to. In it, Park Ki-woong had trouble holding back his tears as Kang-to tells him how he became Gaksital, although his character wasn't supposed to cry. (It begins around the 4-minute mark below.)
"The tears kept coming. Shunji and Kang-to may have been incredibly close friends, but turning into enemies was unavoidable. Kang-to killed Shunji's brother and father, Shunji's brother killed Kang-to's brother and mother, and Shunji's father killed Kang-to's father. These situations were heartbreaking. More than the dialogue being sad, it was the situation that just naturally brought the tears to my eyes. In the scene in the last episode where Kang-to and Shunji sit down for a drink together, we had to stop filming because we couldn't stop crying."
As for his own real-life personality, Park described it as reserved: "I don't like going out much, and I tend to only be friends with people I'm close to. For example, I don't really enjoy parties or that kind of thing. It feels awkward and uncomfortable."
He describes his relationship with Joo-won as that of a close hyung and dongsaeng: "Because of shooting schedules, we haven't been able to meet much outside of work, but while on set we were always glad to meet."
"Usually I'm not really one for giving or receiving massages, but I became fond of Joo-won's aegyo. I received energy from Joo-won a lot as well. Joo-won and I are a bit different. He's the type to immerse himself fully, and he's got energy and great concentration. Whereas I take care to be half-immersed, and half-awake. With him, I think we had great synergy, and when I acted with him we'd both lift each other up. Our emotions would build on each other and get stronger."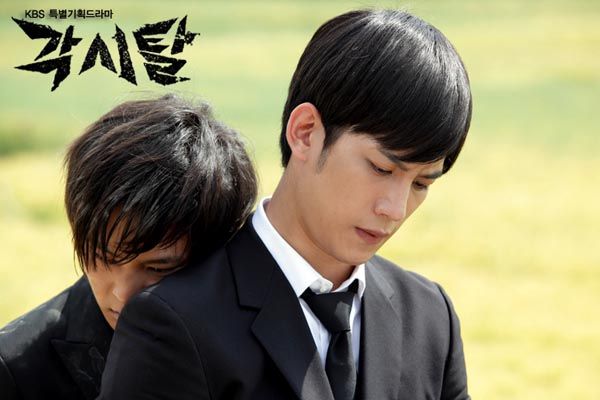 [SPOILERS FOR FINALE] It's for that reason that the final episode showdown between the two resulted in an endless string of NGs. It's the scene (as if we could forget!) where they meet knowing that one of them will die tonight, and instead of challenging Kang-to, Shunji sends him out and kills himself.
"I don't think the director wanted flowing tears from either Kang-to or Shunji in the suicide scene. What he wanted was for Kang-to to send Shunji off with resolve, and for Shunji to show a complex range of emotions and then let the tears flow as he died. But the NGs came because both of us kept crying."
"In the fist-fighting scene in Episode 27, and the suicide scene of 28, I had the thought, 'I want to do more with him. It would be fun to work with him more.' He was a really great partner."
"I'm really thankful to Joo-won. Acting in Gaksital as a whole, the energy level is pretty intense, and we had a lot of give-and-take with each other. If I came into a scene with an acting tone thinking 'This amount is enough,' Joo-won would meet me and both of us would elevate. We helped each other out."
What about the female co-stars?
"I'm sure she asked advice of the other actors too, but Jin Se-yeon called a lot to ask me this and that. She's a motivated actor. For me, it was actually the first time I've given someone acting advice. It's a sensitive area, so I didn't say much but she would draw out my responses. She worked really hard."
Then there's Han Chae-ah, scenes with whom he said he enjoyed shooting the most for those reasons because it gave him a chance to speak frankly to a sympathetic ear. "Shunji was always stressed from not being able to catch Gaksital that wherever he went, he would suppress it all and not express it. But when I was in scenes with Han Chae-ah noona, we would be like companions in misery and our conversations would be plain-spoken, which was really nice. And whenever the other person is delivering their lines, she's the kind of actor to always offer a kind reaction."
He added, "She was the one person I could express my feelings to. Acting with her felt refreshing. Because of Hong-joo [Rie], I survived."
(Park has been quoted recently saying Han Chae-ah is his ideal woman, ha.)
Emotionally: "Gaksital was really emotionally draining. We'd cry a lot and become enraged, but then had to come down from that. Acting became exhausting, especially when I'd grab Kang-to's throat and fight him. Joo-won told me to grab his throat for real, and I found myself actually doing it. I could actually feel my emotion taking over."
"All the torture scenes were the most difficult. I really hate hitting other people, but there were quite a number of scenes where I'm hitting women. It particularly drove me nuts to do the drowning torture scenes with women. If you have an outtake in a water torture scene, you have to dry their hair when there's very little spare time to go around, and grab your co-star's hair and just shove them around without mercy. It was psychologically rough."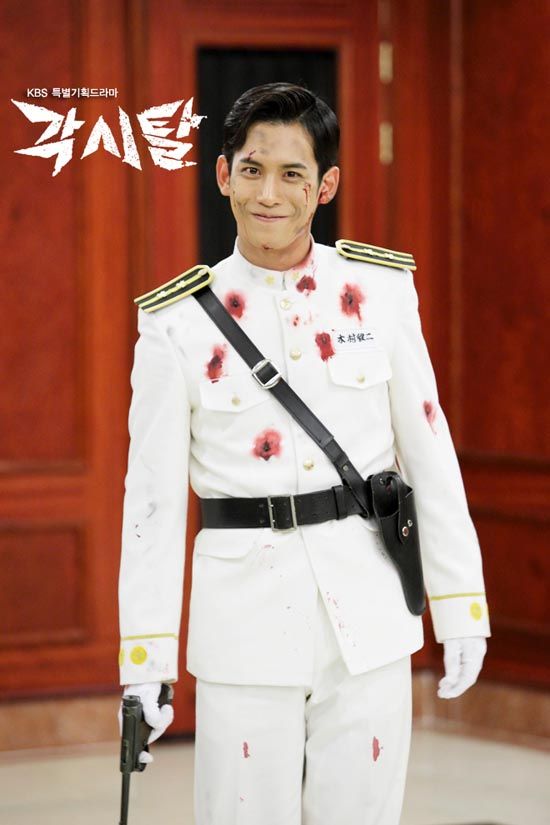 Yes. It was psychologically rough to watch them, so one can only imagine how dark a headspace you had to be in to act them out: "All the scenes in that room were very intense, and you get pulled into that space. Because of the emotions involved, I'd come out after filming the torture scenes and not be myself."
More than your average historical drama, it seems this one carried an extra burden, perhaps because the pain is so recent, so raw with yet-unhealed scars. So I'm not surprised to hear that the crew took their burden seriously; that was evident just by watching the show.
"In order to express these historical events like the comfort women issue, it wasn't a sense of obligation we felt but a real obligation. I wasn't personally involved in the comfort women storyline, but the other hyungs [playing officers] had to intervene and act out very violently. When we read that script, everyone had a hard time with it and felt uncomfortable while shooting it."
For instance, there's co-star Yoon Jin-ho, who played one of Shunji's most prominent sidekicks, Koiso, and was a sympathetic ear for him. "Since this is a drama that requires so much emotion and expressiveness, you get used to that state and find that your emotions surge and well up. I'm thankful to Jin-ho hyung, both in and outside of acting. I sought acting advice a lot from him, and while it may be presumptuous for me to say it, he's a sunbae with really strong acting skills."
Park admits that there were times he overacted, singling out the scene of Damsari's execution as an example of overdoing his facial expressions. As a result, he'd had nightmares at the time and even wanted to run away from it all.
"After thinking those thoughts, I doubted myself, wondering, 'Will I be able to hang in there?' There were ten episodes left at that point, and I felt that I wouldn't be able to manage if I didn't figure out how to draw back on my facial expressions. That's when I, the total computer illiterate, learned how to use Twitter and started to use it with Koiso hyung. On set, I started to purposely joke around more. This was my fourth time working with director Yoon Sung-shik and most of the staff were people I'd worked with before, and when I started to goof around more things got better. Rather than approaching everything overly seriously, I think it's necessary to enjoy yourself too."
As we know, the cast of Gaksital took a ton of goofy, cute, aegyo-filled photos when not filming. We can imagine that it was a relief to break character when possible. And while looking at the photos makes Park Ki-woong seem just as inclined toward natural aegyo as Joo-won, it's fascinating seeing just how different they are. Similar outer expressing, worlds apart on the inside.
Park said, "I took a lot of those kind of pictures. After doing this work constantly, I found myself looking for fun in the smallest things. If I didn't, I wouldn't be able to enjoy myself."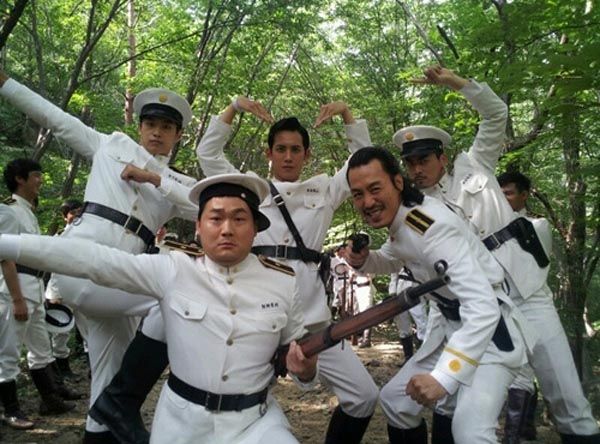 Park Ki-woong was one of the folks who took care of others on the set as a leader, which Joo-won said was something he learned over the course of this drama. Park said he in turn learned it from Park Yong-ha (RIP), his co-star from Story of a Man.
"Yong-ha hyung took care of everyone around him, and when the drama wrapped the whole cast and crew took a photo and wrote our names on it. If you don't work with the staff a lot, you tend to just greet them and leave it at that, without learning everyone's names. But hyung did all that. He was a really good hyung."
Asked if he's thinking of awards, Park said no. "If I'm given an award, of course I'd be grateful. But awards, you know… There's a part of me that's like an old soul. To be honest, sometimes I think people will think I'm acting too much like an old adult that I try to live more free-spiritedly. That makes me more comfortable. What I like best is to do my best in a tough situation. If I try too hard and struggle with everything, it just makes me more tired."
Via TV Report, My Daily, My Daily, Newsen, Hankook Ilbo, TV Daily
RELATED POSTS
Tags: Gaksital, interviews, Park Ki-woong