Running Man: Episode 108
Who knew that being a male lead would require so much work? The Running Man create their own mini drama, "Don't Walk, but Date!" and create a blend of variety and drama that can only be imagined and feasible in Running Man. Oh yeah, Gong Hyo-jin – you don't mind if I change places with you right?
EPISODE 108. Broadcast on August 26, 2012.
Our cast looks in awe and curiosity at a drama press conference setup. Mr. PD will be announcing their roles before they sit and they unanimously agree that it's time for Kwang-soo to get a lead role. Then they tease him relentlessly about his upcoming role in Nice Guy as Joong-ki's friend.
Evidently Running Man is expanding itself into creating its own rom-com drama entitled, "Don't Walk, but Date!".
It's time to introduce their female lead and everyone's jaw drops to the ground when actress Gong Hyo-jin (Best Love, Pasta) enters the room. Ah, and don't forget that Lee Joon (MBLAQ) is filling in for Gary today. (He's out on injury.)
Jae-suk keeps addressing Hyo-jin on familiar terms and Suk-jin jokes, "Who don't you know?"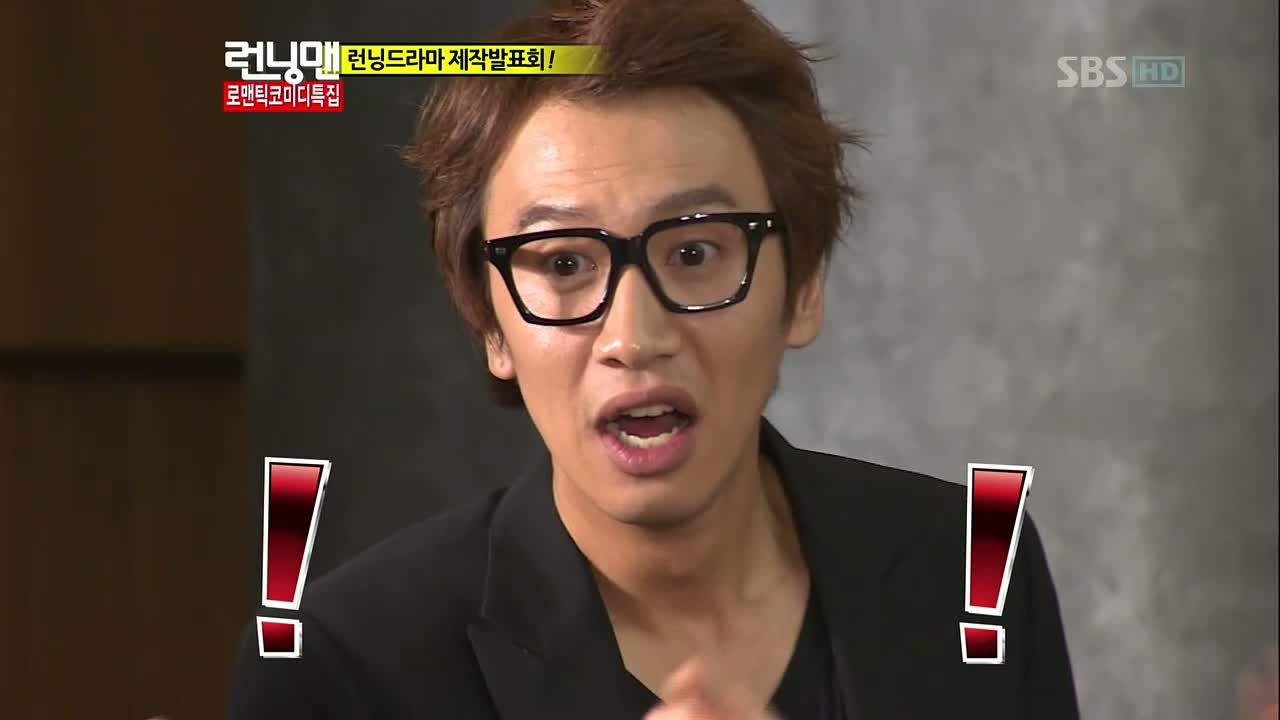 THAT is a legitimate look of surprise when Kwang-soo is announced as the main lead and the cast erupts into cheers. Aww Kwang-soo, today's your day to shine!
Hyo-jin doesn't seem too assured in her partner and she spills out, "But he's not good at anything!"
In any case, they haphazardly continue with the press conference (it cracks me up that the captions read "Kookie" and "Roro," keh) joking about Kwang-soo's diva status and about how he doesn't have many scenes anyway.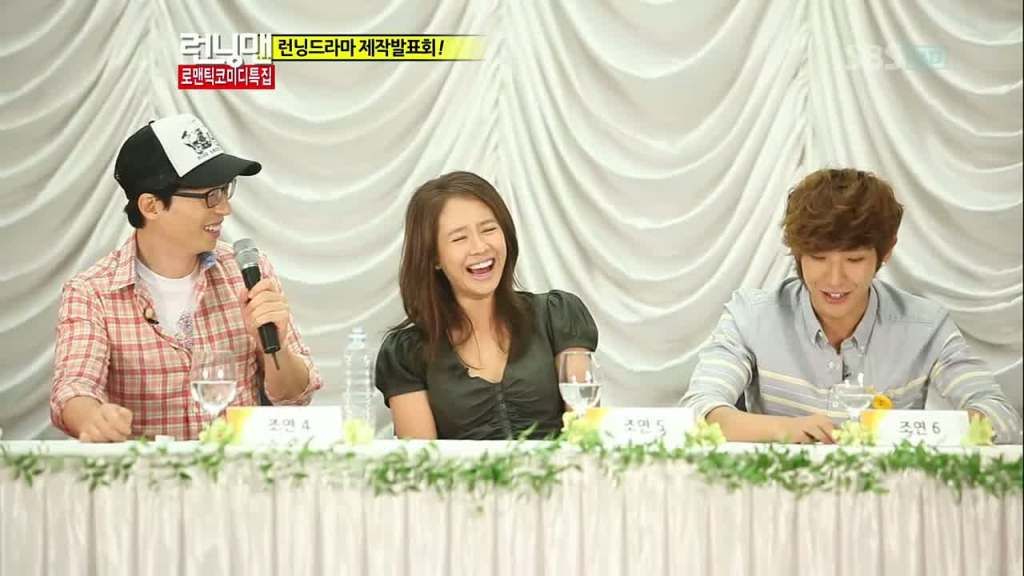 Jae-suk transitions to Lee Joon and ask about his memorable moments shooting the drama and he hesitates before answering, "When I get my own close-up?" Heehee.
Is this turning into a makjang drama if Haha is his caretaker (Haha: "Kwang-soo's bedridden") and Suk-jin is the guy who pulls the plug at Episode 3? So maybe a drama special rather than a miniseries then.
Hyo-jin clears up this make believe plot for us and apparently Jae-suk is Hyo-jin's father who is against their union and somehow Kwang-soo ends up in the hospital on life support. You're airing at 3AM? Dude, I gotta sleep!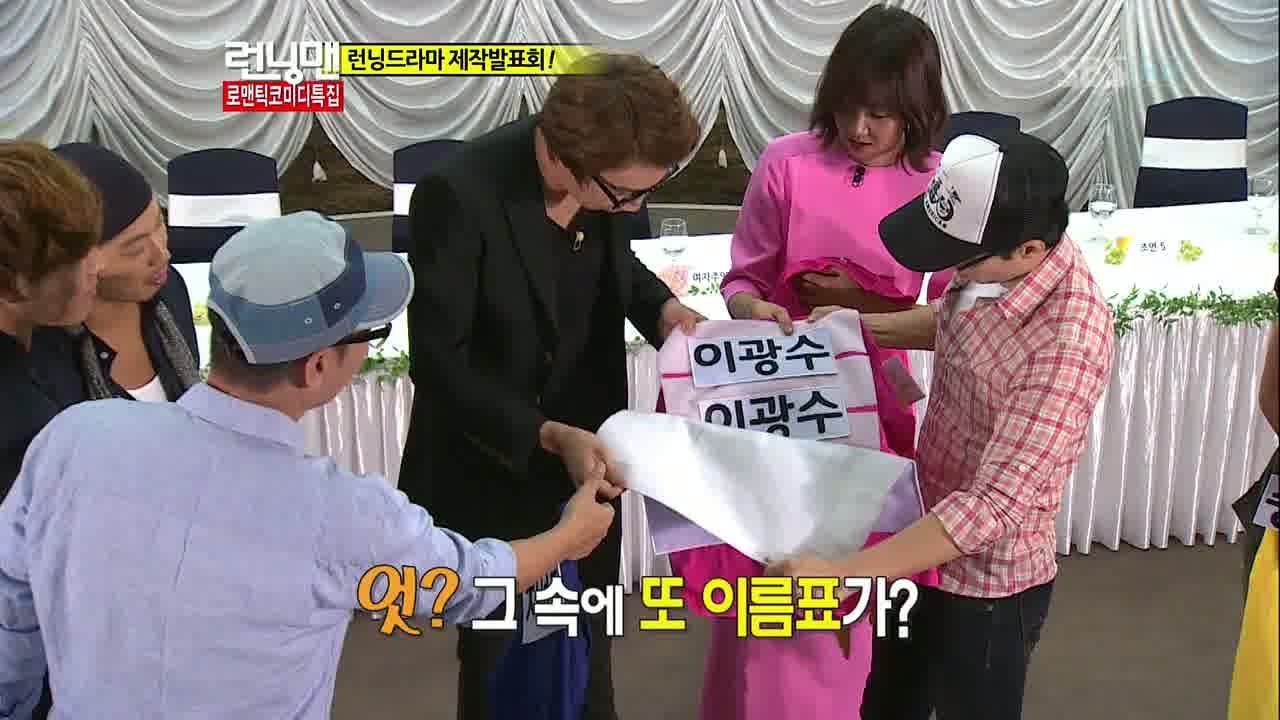 Anyway, back to the mission at hand. The main couple (Pink), Kwang-soo and Hyo-jin are one team, and the others break into separate teams (Blue: Suk-jin, Jong-kook, & Haha) (Yellow: Jae-suk, Ji-hyo, Lee Joon).
They've prepared a GIANT name tag for their male lead but tearing it off, they see it's no ordinary name tag – there's 6 more underneath that baby. To say the least, Kwang-soo is ecstatic.
Today's mission in the Rom-Com Race: they'll shoot two scenes where the two members of the first place team and one member of the second place team will receive a valuable hint for the final mission. The team who shoots the ending scene will be declared the winner.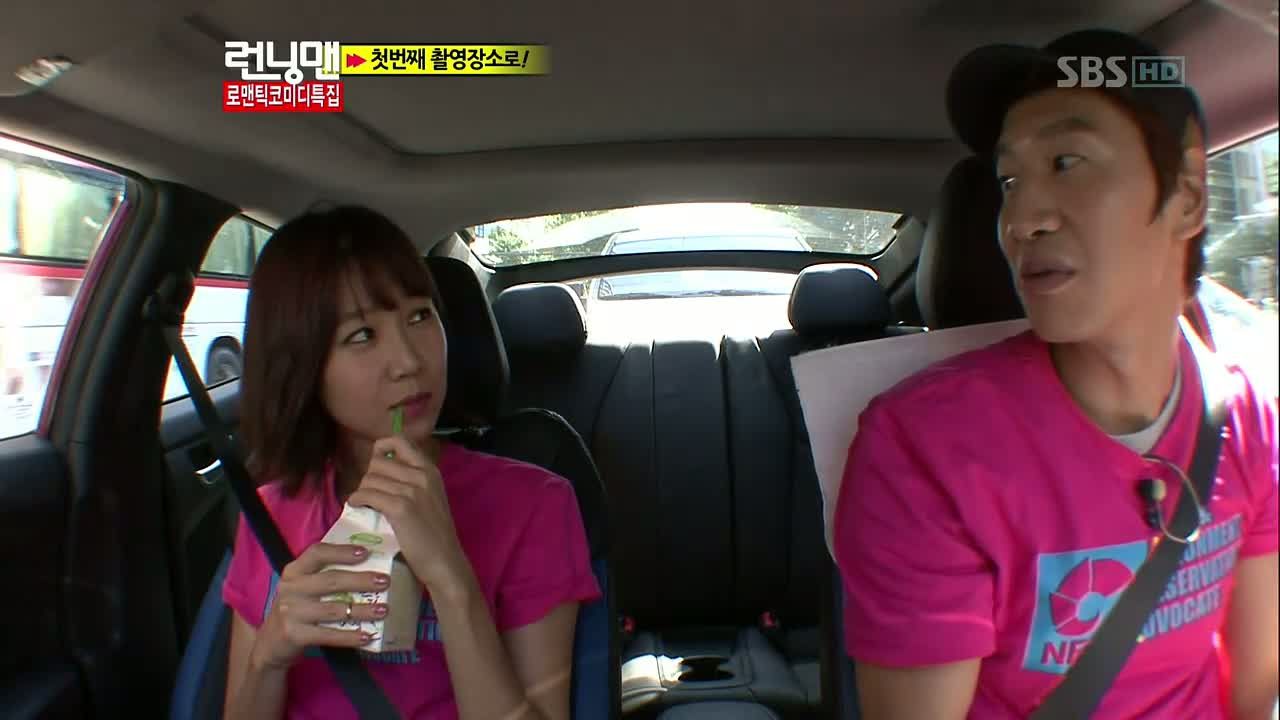 In the car, Kwang-soo vows that he'll do his best today and Hyo-jin (aka 'Gong-vely' a play on words on 'Lovely') mentions that her friends voted him as the Least Likely to Trust. She worries about her lack of competitiveness and Kwang-soo replies that she doesn't look very motivated.
They're the first to arrive at the first 'scene' where they'll need to pop a balloon and answer the question hidden in it. Kwang-soo blushes a bright red when he hears they need to embrace each other to pop the balloon.
They're eager to start and I'm getting the sense that Hyo-jin has a competitive spirit after all. After Myuk PD declares that they answered incorrectly, she starts grabbing for the megaphone, annoyed. Heh.
Aww poor Lee Joon preemptively pops the balloon and has this priceless astounded expression on his face. The Blue Team ironically nickname themselves the "Mannered Men" (while they push people into the pool) but everyone keeps getting duds.
Fed up with getting pushed into the water, Kwang-soo chucks the Mannered Men's hit far into the pool and ends up getting kicked in instead.
Kwang-soo really is the butt of everyone's jokes today. Jae-suk playfully rips off his name tag to "wash it" and soon they're playing keep-away in the pool.
One of the history questions seem easy enough but instead of saying "Trojan War," Kwang-soo relays this as the "Thirsty War." HA.
Their next question is a string of notes (to Jong-kook's past hit 'Lovely') and because the word 'note' and 'dog' sound similar Kwang-soo is understandably confused, "How is that a dog's name?!"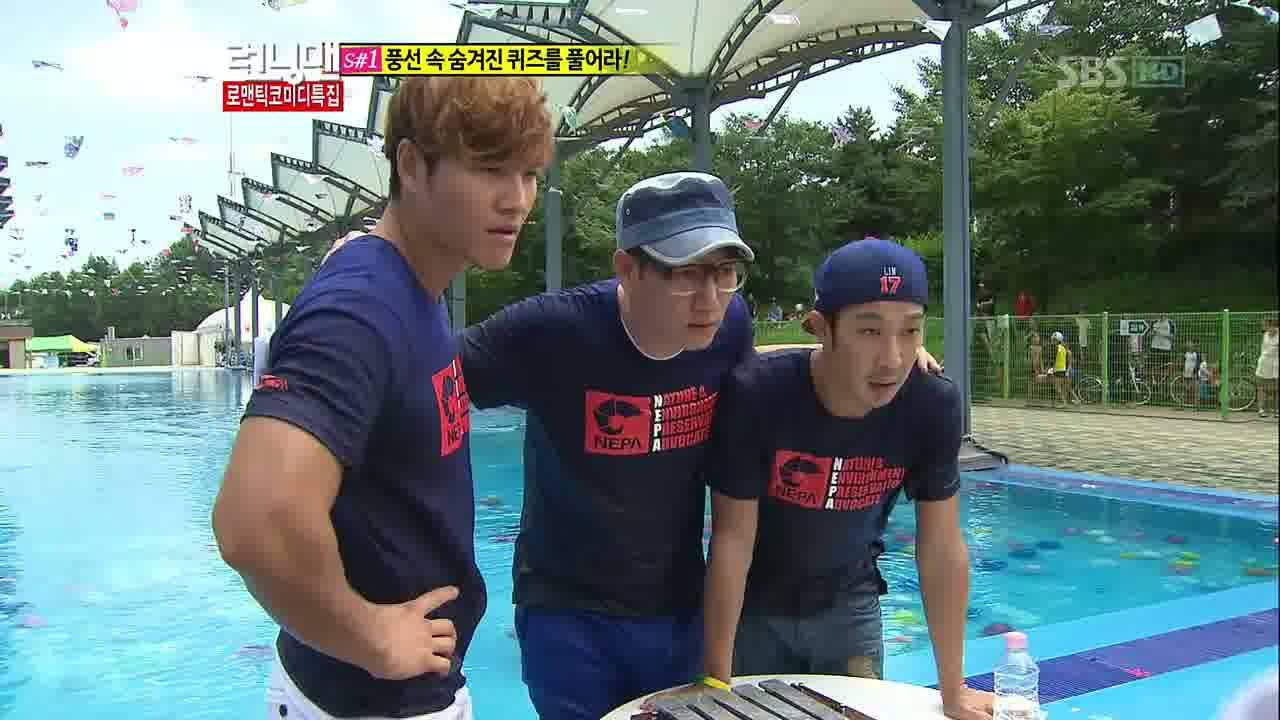 Myuk PD – are you telling me that Popeye's girlfriend's full name is common knowledge? Turns out it's Olive Oil and he's all, "You learned something new today, huh?" and sends the Blue Team back to the start. AHAHA.
The Yellow Team finally find a balloon that isn't a dud, answer their question correctly and learn that the 3rd floor prop room will be important.
Their next mission location leads them to a coffee house. How funny is that Jong-kook pets the fake tiger like a pet? Here they'll have to work to raise Hyo-jin's heartbeat. To see if it goes outside 60 and 90? Jae-suk: "It's like 'The Worst Love'."
The Yellow Team send out Lee Joon first and it's hilarious how a heartbeat can't lie. Hyo-jin's heart rate slowly rises… and then it immediately falls when Lee Joon opens his mouth. HAHA. He shows off some moves and then does a split right then and there. That oughta hurt.
Ji-hyo's nervous about offending her sunbae and Suk-jin remarks, "Doesn't [Ji-hyo] look older?" Jae-suk: "We're supposed to raise Hyo-jin's heart rate!" Focus man!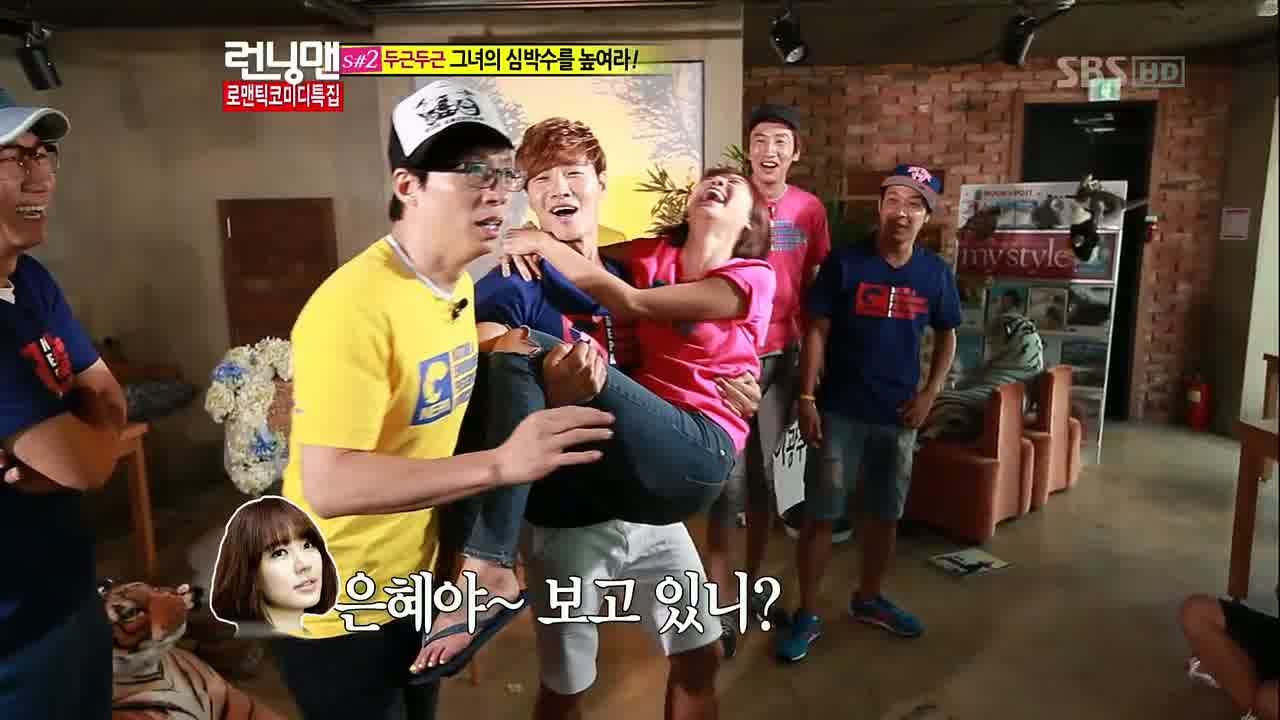 Jong-kook reminds Hyo-jin not to misinterpret their behavior since they're on variety. Then he picks her up like a feather which successfully gets her heart to beat a little faster. This is Kookie Style?
The other boys complain up a storm about his method but Hyo-jin doesn't seem to mind to be carried by Oppa. I wouldn't mind either.
Then Jae-suk undercuts the moment: "[Yoon] Eun-hye, are you watching?" Hyo-jin's heart rate drops.
But who needs Oppa to lift you when Yoo Hyuk can oh-so-casually bend over to show you his bum? HAHAHA, I'm dying.
No matter how many times I see it, it's just as funny. This is Yoo Hyuk's style, all right. He backs in towards his seat but the Blue Team just smack his butt, telling him to sit down already.
How is it that the longer Suk-jin keeps talking, the lower Hyo-jin's heart rate falls? And then when he says his goodbye, her heart rate kicks back up.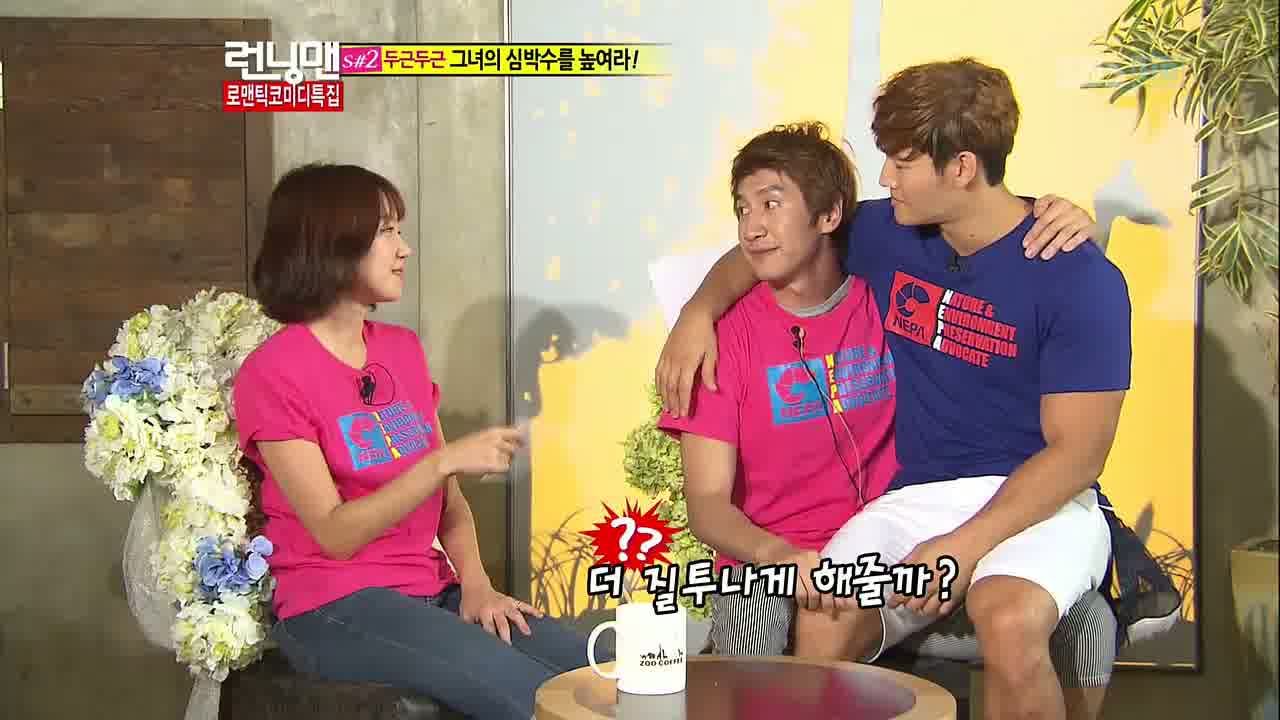 Last but not least is our male lead, Kwang-soo, who tries every romantic overture in the book only to see her heart rate drop. Dancing doesn't work either and Hyo-jin replies that she'll do the work to raise her heart beat.
So he tries the "I have another woman" route and draws Ji-hyo out. I don't have a good feeling about this; he's gonna get hit isn't he? Ji-hyo plays along and then adds that in fact there's a new girl: Jong-soon.
The Tigress reluctantly sits on his knee and then to up the makjang, Kwang-soo leans in for a kiss… and Jong-kook clasps his mouth with his hand. No kisses for you!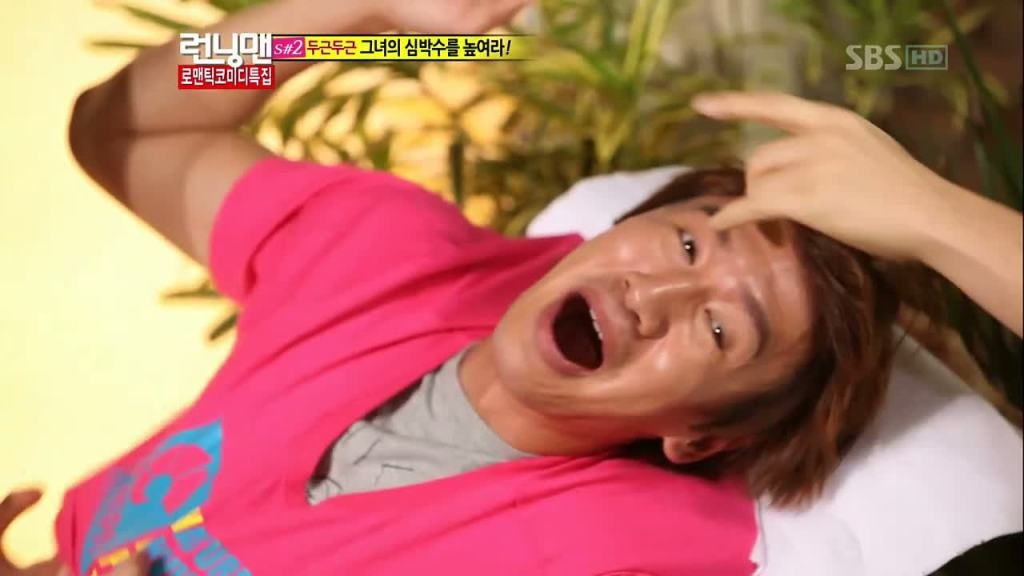 Kwang-soo doesn't know when to quit and after his failed attempt to flaunt his abs, he tries to put his t-shirt back on… and his hair gets stuck to the velcro.
This is so sad but so hilarious. I'm literally choking laughing right now. So is the staff. You CANNOT make this stuff up, people.
Time to announce the results. Suk-jin gets 92 ("That's more than I expected"), Jong-kook hits 116, and for Kwang-soo, Mr. PD starts, "100… you didn't get over that." Aww (it's a 92).
Jae-suk wins it for the Yellow Team hitting 120 with his Yoo Hyuk Style and receives another hint: 5th floor Call Center.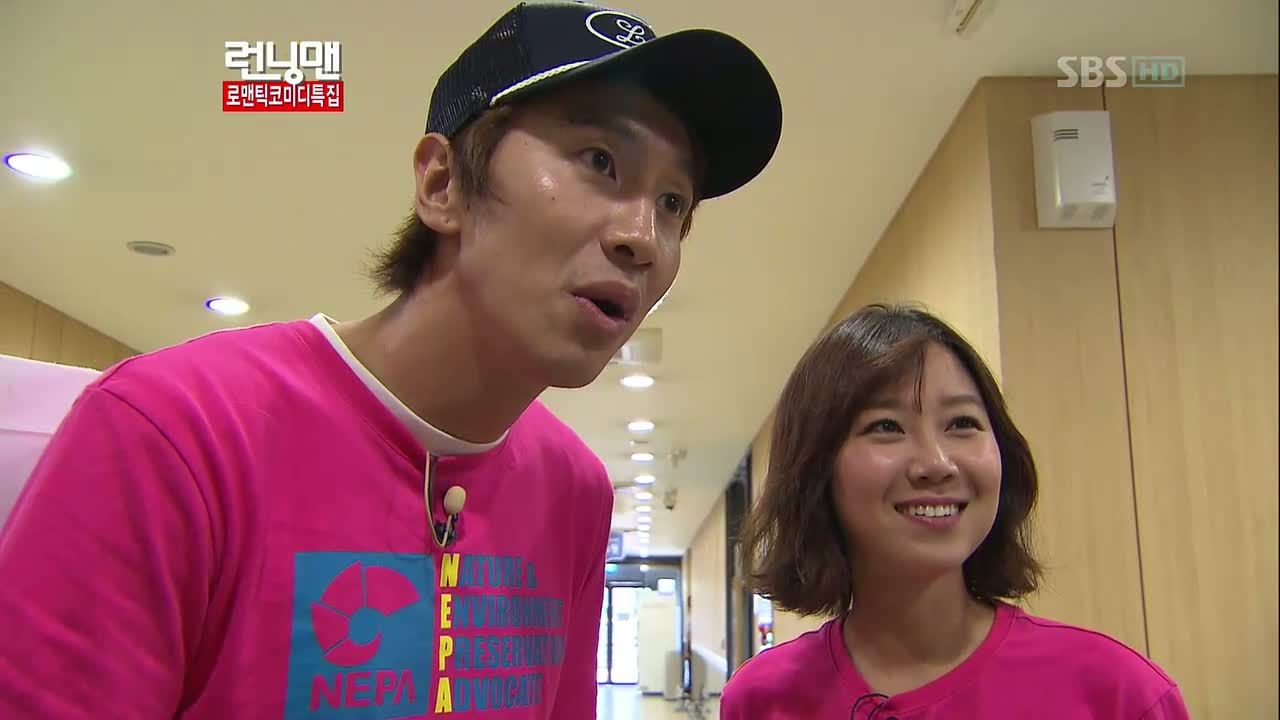 At the final mission location it's our main couple versus the supporting characters. The leads worry that they're at a disadvantage but Mr. PD explains that they'll have to rip off all 7 of Kwang-soo's name tags in order to attack Hyo-jin. That's… not that reassuring. Can't you give him a 100?
Another useful advantage is to track down the Go Sisters (ha, like the Hong Sisters?). Once you do, you can get them to write off a character and rewrite the script. Now THAT'S an interesting twist.
Hyo-jin points out that there's one ONE Go sister (since there's only one Maknae FD) but let's suspend belief for a bit. She shares the hint with Kwang-soo but neither of them are sure if it will help or hurt them.
The Blue and Yellow teams are filled in about the mission and they sigh once they hear they can't simply tear off Kwang-soo's name tag. Nope, they'll need to find "Death Scripts/Props" which are lines from a drama or movie and then enact it before they tear off Kwang-soo's name tag. Phew – so much work!
And yes, Lee Joon – tearing off your teammate's name tag counts as betrayal.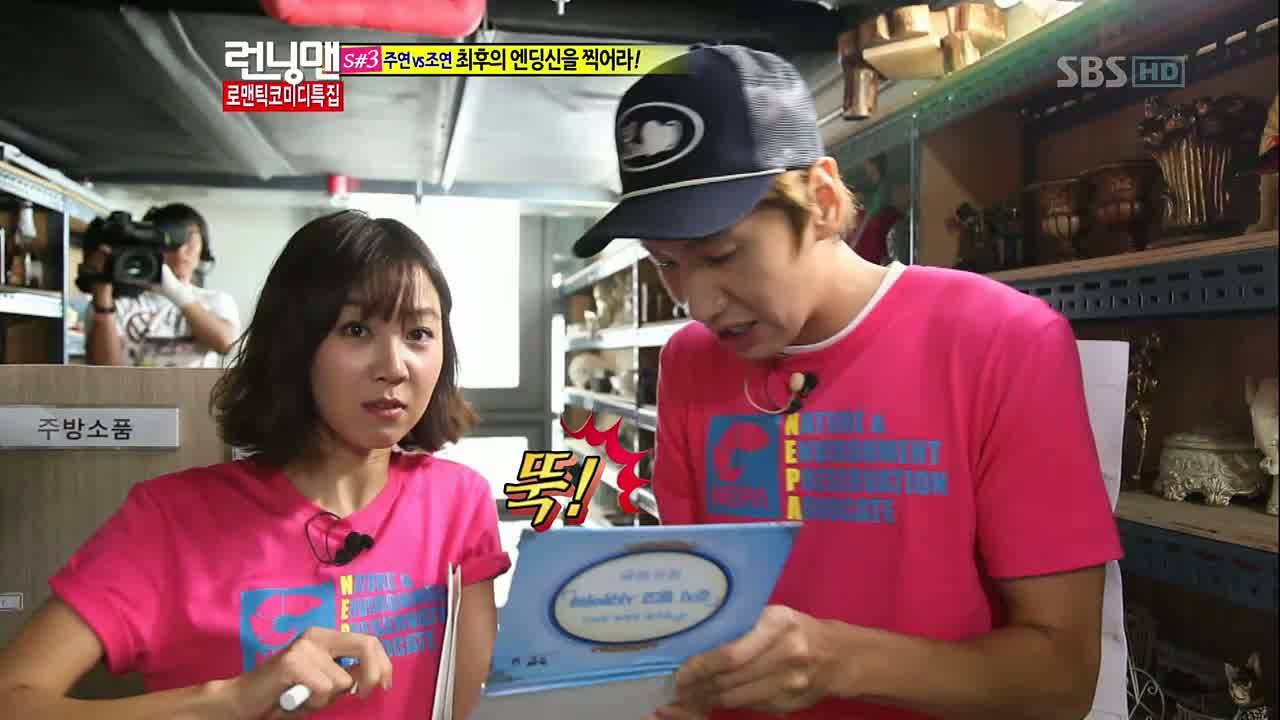 Kwang-soo and Hyo-jin head to the prop room and luckily, he stumbles across one of the Death Scripts. He worries about whether the others will find it and Hyo-jin's like, Why can't we just tear it?
Huh, why didn't I think of that? So she tears it out and then chucks the hint where no one can find it.
Haha finds a clue that references Best Love and then they chase Kwang-soo when they spot him in the difference. Thankfully, Hyo-jin realizes that he might be in danger.
Since she can't be eliminated until Kwang-soo is, she decides to take on the Blue Team 3:1. The boys quake in their boots. This. Is. Awesome.
They relocate to review the rules again and Hyo-jin reminds Kwang-soo that their opponents must recite the line before they can attack him. Hyo-jin: "Weren't you supposed to protect me?" Kwang-soo: "I'll take that back."
Even though Kwang-soo's got 7 lives, he's still on edge. Hyo-jin is this close to eliminating Jae-suk in the stairwell but her hand slips at the last second. Once she and Kwang-soo retreat, she assures him that they've got nothing to worry about because she's got his back.
The other teams regroup and decide that they have to ally together to eliminate Kwang-soo first. Suk-jin comments that Hyo-jin's hunting tactics are no joke – she's on par with Choi Min-soo.
Jae-suk: "She's not Gong Hyo-jin but 'Po' (fear) Hyo-jin!"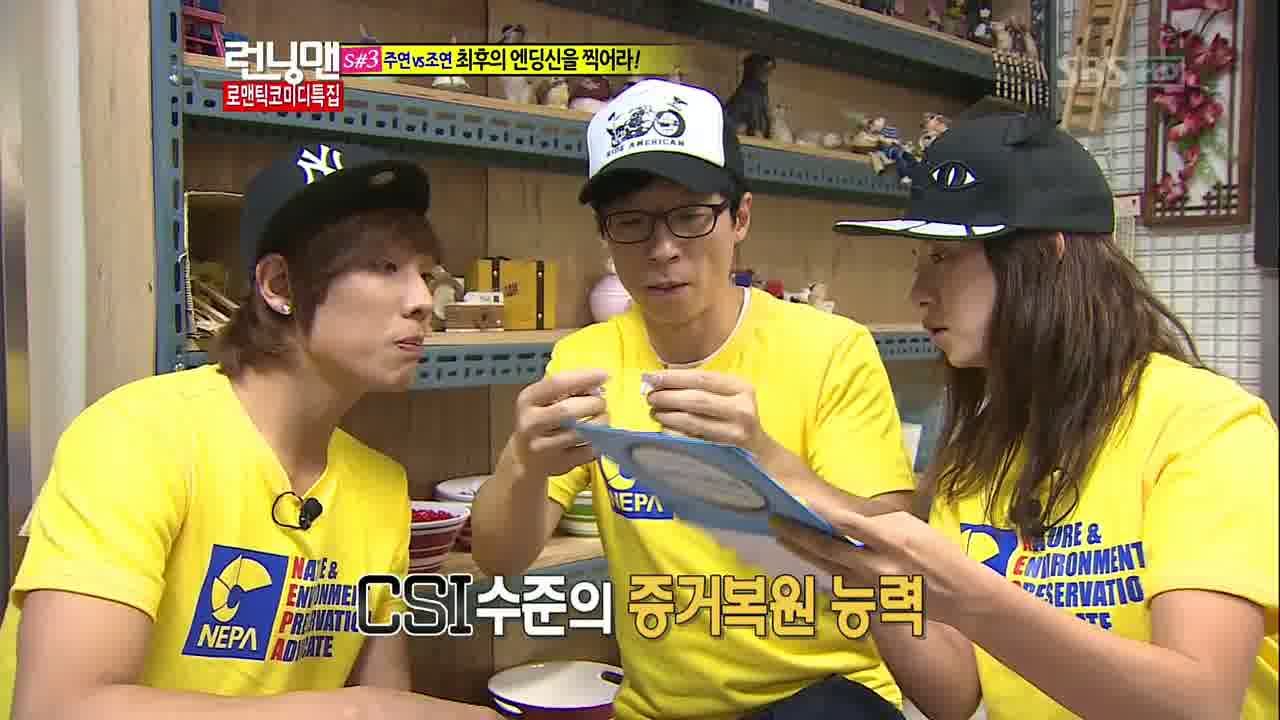 Somehow Lee Joon happens to find the torn Death Script that was was previously thrown away. Then Jae-suk sees the torn pieces of the hint on the ground. The three of them sit there in a circle, trying to piece the bits together. "Face? Lee Kwang?"
HA – it actually works in their favor and they find enough pieces to figure it out. "I'll eliminate Lee Kwang-soo and go to hell!" Ji-hyo points out the reference to Temptation of a Wife and Jae-suk deduces they need a pen to mark the mole on their face.
It really is Lee Joon's lucky day. He finds the pen (and nearly dies coughing) and Lee Joon wonders, "They really are dumb [to leave these here]."
Oh man I think the Lovers in Paris line is my favorite, "You're… in here." And Ji-hyo will have no trouble delivering the line, "I'm going to crush you." (From Trap of Youth)
The Blue Team spot the lead couple and then after Haha uses the Death Script, they eliminate Kwang-soo's first life. But Hyo-jin will have none of that and immediately attacks back, much to their surprise.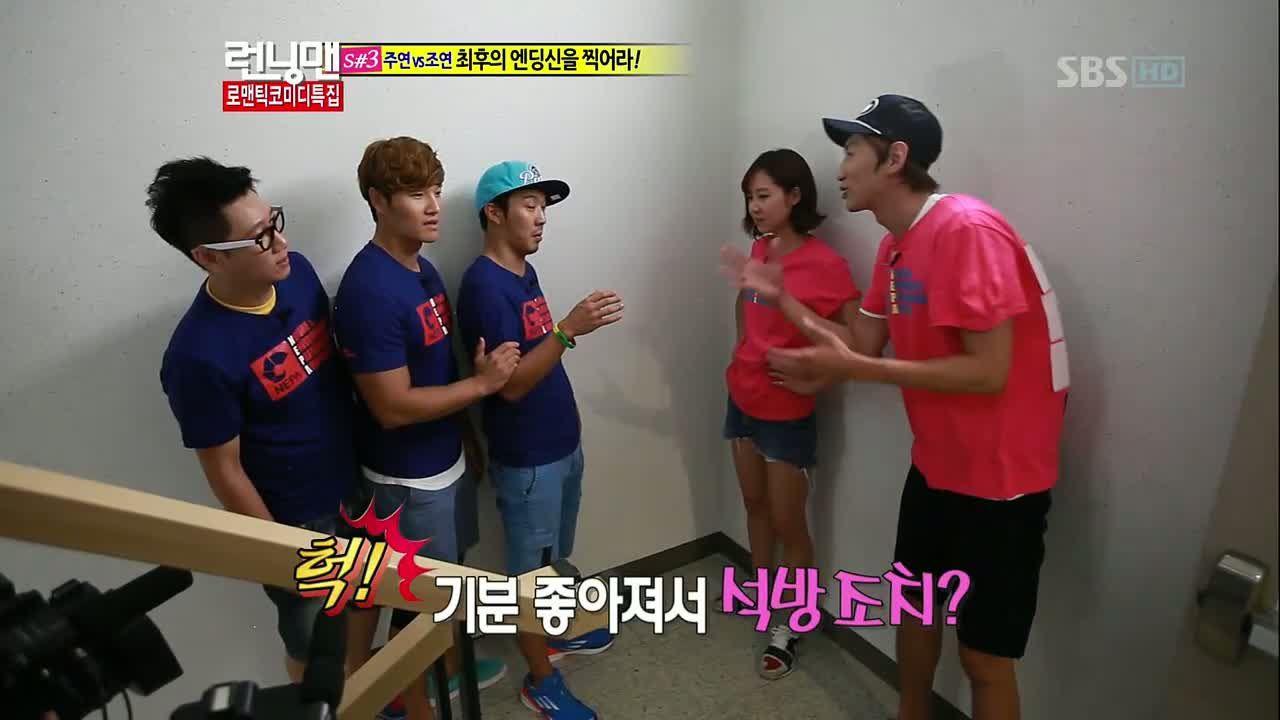 They take a break in the stairwell and the boys are in awe about how strong Hyo-jin is. Hyo-jin reminds them that she was on Project 557 where she was roughin' it for 577 km. So she's no damsel-in distress.
HA – I just love how they're literally cowering in fear until she lets them go. Once they're alone, Hyo-jin sighs at her weak male lead. Kwang-soo tells her that she needs to protect him and she whines, "But look at my arms!"
But… weren't you just chasing Spartakooks earlier?
Kwang-soo stops for a water break and Hyo-jin ices, "What have you done so far?" HA – I like her. She questions her partner's game instinct; he's really being no help to her at all. "All you know how to do is hide!"
They run into the allies and Kwang-soo mentions how they're outnumbered. Jong-kook: "Hyo-jin can play the roles of 7 people!"
Hyo-jin allows an opportunity for them to attack Kwang-soo. So Jong-kook readies himself to exact some revenge and deliberately messes up the famous Damo line so he can continually punch Kwang-soo, ("Does it hurt? It hurts me too.") to, "Does it hurt? I'm not hurt."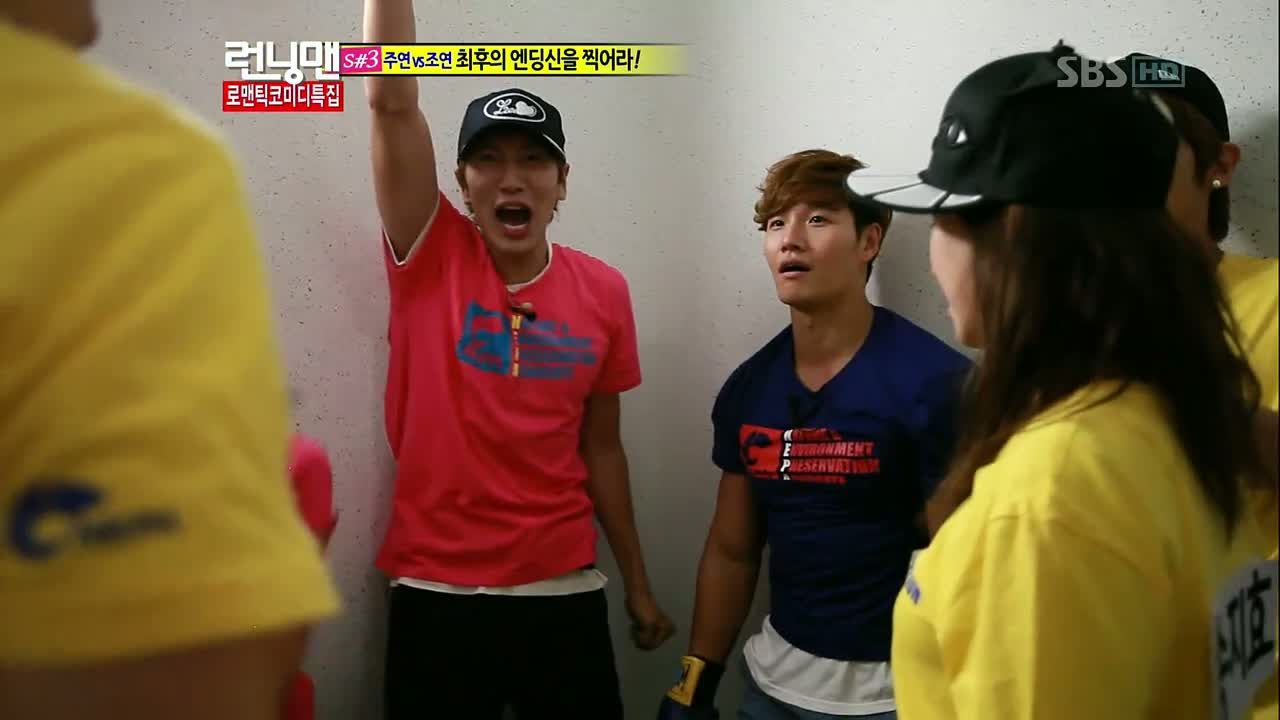 And then the unthinkable – Kwang-soo actually charges at Jong-kook. Hyo-jin does her best to fend the mob off of her and it ends up in this chaotic tussle. We hear a ripping sound…
… and Kwang-soo shoots his hand up in the air, showing off Jong-kook's name tag for the world to see. It actually happened – the Giraffe beat the Tiger.
The others reel in shock, amazed at this turn of events.
Now without Jong-kook, the remaining allies resolve to find the Go Sisters. Sure enough they spot one of them and give chase. They nearly lose their lead but thankfully Ji-hyo is sly enough to corner before calling the oppas over.
Haha and Suk-jin stick around to write this long scenario where our main couple will break up, be separated for 20 minutes and Kwang-soo is so wrought with pain that he'll rip off all of his name tags. They pout when they find out they can only make him rip off one.
They pull up a seat to watch their own drama play out as it's written. Hyo-jin slaps Kwang-soo and leaves. While she's away, Kwang-soo takes his own life and the boys deliver another Death Script to dwindle the number to 4.
Lee Joon takes the opportunity to recite yet another line but in the scuffle, Kwang-soo eliminates him. Aww, he's genuinely speechless.
The supporting cast have got to use those 20 minutes to their advantage and frantically search for Kwang-soo. But when the Yellow Team meet Lee Joon at the elevator, they have no idea that Kwang-soo sneaks up on them to eliminate Jae-suk. Boy's on a roll!
Oh dear, the RM staff really have upped the stakes here. Ji-hyo's face falls at the thought of pouring on the aegyo with "Yes, Chef!" (from Pasta) and Haha cringes when his script is a candy kiss (from Iris).
Ji-hyo manages to deliver both of her lines and rip off two more of Kwang-soo's name tags. Aw, now he only has two!
They pin Kwang-soo into a corner and this time it's Haha's turn with his candy kiss. And in it goes. Ew.
He sits there with candy in his mouth as Jae-suk's prediction of, "What kind of hero is this?!" comes back to haunt him.
Elsewhere, Hyo-jin runs into the other Go sister and writes up her own scenario.
The remaining three supporting cast members listen as Mr. PD reads that they will happily accept that their previous scenario is nullified. Furthermore, Haha will slap Suk-jin's name tag and then Big Nose Hyung will rip off Ji-hyo's name tag.
The leads watch their scene play out and then immediately target Haha. As soon as Hyo-jin rips off Haha's name tag she runs towards Suk-jin without hesitation. Damn.
The Easy Brothers hold each other off … and then Hyo-jin hovers her hand over Kwang-soo's remaining name tag? She reasons that he's infamous for betraying others and he wasn't all that helpful to her today…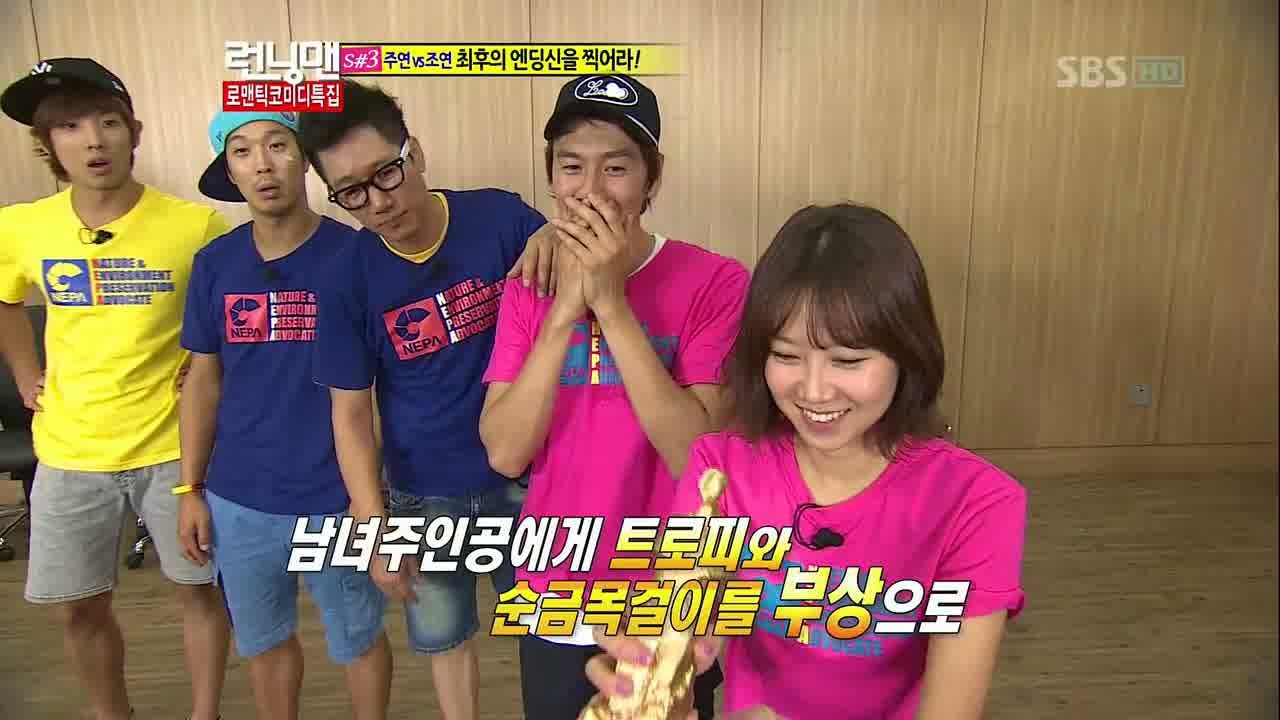 Our main couple enter the jail with solemn faces – what happened to Suk-jin? And then Kwang-soo turns his back to reveal his last itty bitty name tag still intact. Then we see in flashback that Hyo-jin decided to eliminate Suk-jin instead.
Hyo-jin receives her award and the cast encourages her to film their memorable ending scene. Kwang-soo opens his arms and Hyo-jin goes in for the hug…
…and starts to rip off Hyo-jin's name tag. Yep, still the Betrayal Icon.
RELATED POSTS
Tags: featured, Haha, Ji Suk-jin, Kang Gary, Kim Jong-kook, Lee Kwang-soo, Running Man, Song Ji-hyo, Yoo Jae-suk