Running Man: Episode 112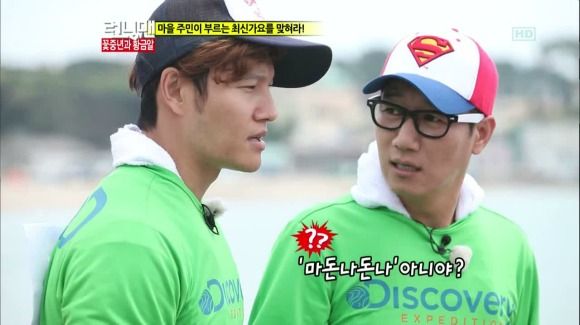 Lesson: Ajusshis are not morning people. Lesson: Don't get between an ajusshi and a name tag. Lesson: Ajusshis really love SNSD. Got all that? Then you're all set to dig into Part 2 of this hyung-nim special.
EPISODE 112. Broadcast on September 23, 2012.
What better way is there to be woken up in the morning than being dragged out by burly security guys? The ajusshis look utterly stupefied when Mr. PD asks that they choose from an array of colored t-shirts which we presume will be their team.
Jung-geun picks red, Byung-ho purple, and Chang-seok blue. Jong-won gets woken up… and Suk-jin does too? Eh?
They're all piled into a car and taken to a nearby town where they all change into their Discovery Channel shirts. Teddy Bear Ajusshi marvels how he and Jong-won are sporting the same style and yet it seems so different.
The cast are woken up via blaring horn and surprisingly, Kwang-soo's the first one who makes it downstairs. He lights up for a split second when he hears it's a Couple Race and then he's reminded that they're being paired with the ajusshi guests.
They choose their colors and their morning mission is to find their partners within 30 minutes. Meanwhile, Chang-seok pops a sausage in his mouth and then graces us with a Before and After washing his face. (It's the same.)
At least the hyung-nims get some breakfast while they wait for their partners to pick them up.
Heehee, poor Gary. An ajumma baits him into a taking a selca together and when he asks where his partner is, she squeals, "Of course I don't know!" The cast scours the town, wondering where their hyung-nims are. Cut to: sleeping hyung-nim, game-playing hyung-nim, part-time worker hyung-nim.
Jung-geun is in the middle of being taught some handy wrestling moves by an ex-wrestler grandpa when Jong-kook calls out his name. Jung-geun and Haha make up the Red Team and the latter runs towards his partner with that epic music they play whenever long lost family members are reunited.
Then Haha undercuts that precious moment by teasingly ripping off Jung-geun's name tag.
Jae-suk tips Ji-hyo off about her partner ("Think 'cobra'! Kyeeuugghhh~!" It's Byung-ho) and then meets his own (Chang-seok). The White Team, Jong-won and Gary meet up via hide-and-seek telepathy.
The trouble is Kwang-soo who's in orange and still flyin' solo. They wonder if it's Ha-ryong (who's missing) and things are starting to look bleak when Taetiseo's "Twinkle" starts playing. No way, it couldn't be…?
Sure enough, there's a boat coming into shore and a happy Taeyeon waves from afar. The boys start to scramble ("Change shirts with me!") and Jae-suk asks, "Did Ha-ryong hyung drink the flower tea?" Mr. PD: "Yep!"
It definitely is Kwang-soo's lucky day. And that boy is so excited that he runs out to the harbor and dances. Back by the shoreline, Jae-suk tells Kwon-ryul, his VJ to switch shirts with him. Because he's wearing orange? HA.
The hyung-nims are practically grinning from ear to ear and it's so adorable how they shy away from the pretty.
Mr. PD explains today's race where they'll collect golden eggs at each stop. Last remaining couple will win.
Everyone takes of running, pushing and shoving each other but it's the Blue Team who comes in first. It's a Song Quiz where a townsperson will sing the song and they'll need to guess the title.
The grandma starts dancing and then spouts that hardly resembles Korean. The cast scratch their heads, totally confused. Time's against them and they shout out the first thing that pops into their mind, "Secret… Secret Garden!"
Suk-jin and Jong-kook get it right (Secret's "Love is Move") and move on with their eggs.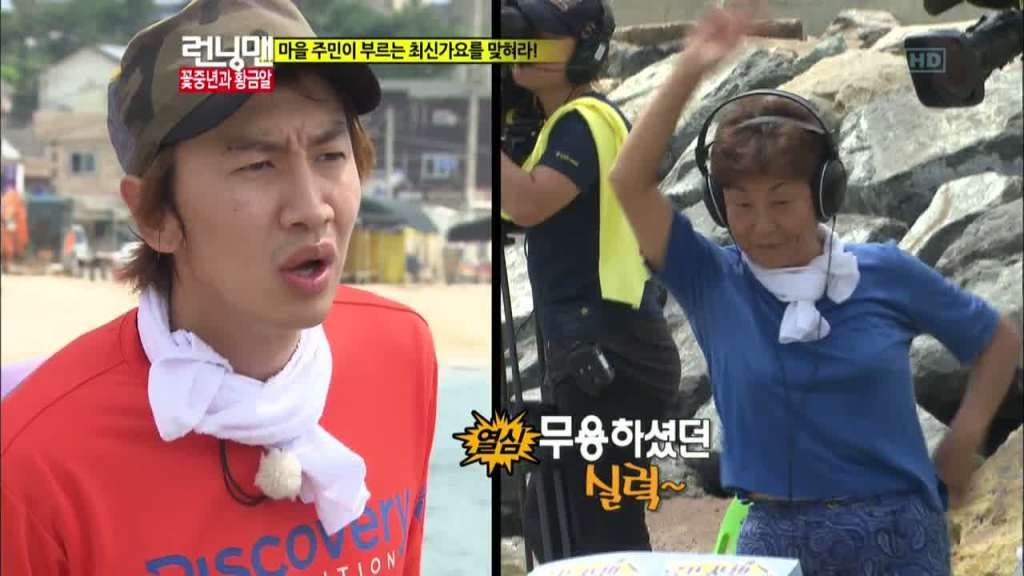 The second song sounds eerily familiar to the first and they try to mimic grandma's singing. It looks like the Blue Team has a hunch and Haha thinks aloud, "I'm going to go crazy…" Eureka!
The remaining teams are left to guess the song through grandma's dancing. Heh – she's actually really good! Taeyeon seems to have caught on and starts dancing to her own group's song "Tell Me Your Wish…" when Kwang-soo spills out another answer.
Thankfully, Mr. PD lets it slide and they get to move on.
In the car, Kwang-soo soaks in that it's nice to be out and about in Busan and Taeyeon quips, "This is Ulsan."
We get our ex-Monday Couple moment of the day when Ji-hyo guesses SNSD's "Oh" and twirls her hair. Gary: "Why do you have to do that?!" He then yells into the distance, "Memories! Go away!"
Not only do I love that the grandpa continuously sings, "Are you all right?" but more so that Mr. PD is dying of laughter.
Once everyone passes, it's onto the final mission location at the Ulsan paper mill. This place is GIGANTIC.
Here, everyone picks out different numbers and I fear that this is going to get extremely confusing. The cast is led inside to a room where they sit in their respective chairs and a screen that displays 16 camera angles.
Mr. PD announces that each member will enter in five minute intervals in a good ol' fashioned game of name tag ripping. Last cast member standing wins for their pair.
Suk-jin: "This means Jong-won (Number 12) will enter in an hour!" Jong-kook deduces that the teammates closer together has an advantage and Suk-jin's like, "Why do always analyze things!"
But Jae-suk's sure of one thing – once Jong-kook enters that arena, it's Game Over.
Haha points out that the White Team who are stuck near the end have it best but Jong-kook quickly dampens that notion, "Gary's right behind me!"
Haroro and Jong-kook start quibbling about forming alliances and Haha's like, I dunno what you're talking about! Jong-kook: "Yeah? I'll unplug those ears for you!"
Word of advice: Don't wake the Tiger.
Not only does the vast expanse of the building makes it difficult to hide, each member is being carefully watched by the cameras. Haha's strategy: Hide and stay there. Screw lack of airtime – he's gonna see this mission to the end!
Caption: He's not wrong…
Back in the room, Jae-suk comments that if Jong-kook went in first, it'd be like feeding prey to the Tiger. And seeing how long they last? HAHAHA.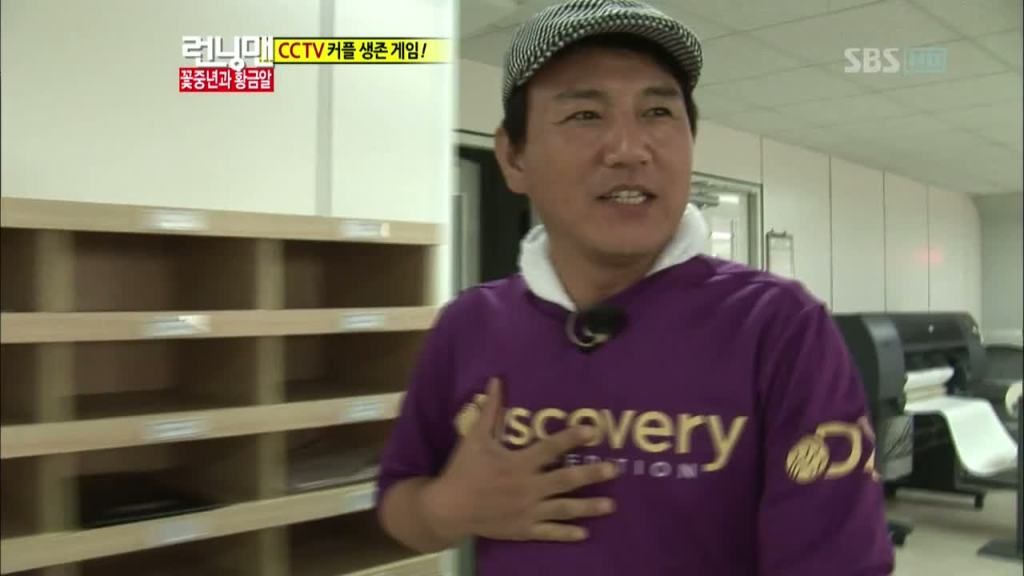 Did Suk-jin forget that there's an audio feed to the cameras? He calls out to Haha that he'll protect the Penguin from Jong-kook. Back in the room, Jae-suk comments that it's a doomed alliance that's absolutely pointless.
He's like, "Just rip [off the name tag] and survive." And Jong-kook says not to worry – he'll make sure to do it in full view of the cameras.
Byung-ho's up next and he vows not to get eliminated first, unlike last week. His "I will survive" rant get directly fed into the room and we cut to Chang-seok sitting in silence, nervous.
As soon as Chang-seok is announced, Haha and Suk-jin get moving to eliminate him. But it's Teddy Bear Ajusshi! Meanwhile, the others are barking orders at the screen that Suk-jin should focus on taking Haha out instead.
Back in the room, Mr. PD notes that the viewers will highly anticipate the next few minutes since Jae-suk's up next. He shouts, "Don't say stuff like that!" Then Jong-kook adds fuel to the fire – the viewers will want to see the Grasshopper and Tiger go head to head.
Jung-geun sits back and comments, "Ah, so there's a reason why you all work out…" 'Cause your body's got to be just as fast as your head in this game!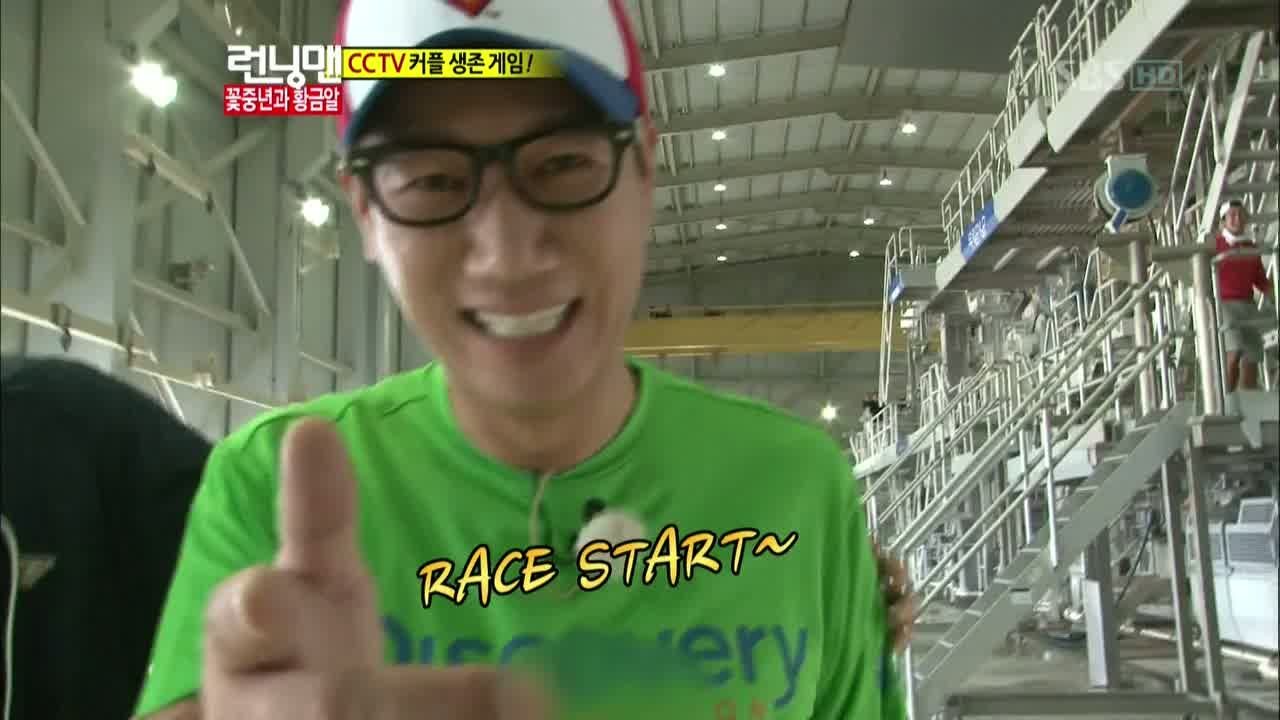 Haha targets Chang-seok and less than a minute later, Teddy Bear Ajusshi's already out of breath. Will he be able to hold out until Jae-suk joins him? Jong-kook repeats that "Up! Up!" motion with his hands. (He's referring to the ratings.)
Chang-seok is now cornered and it's just seconds now until Jae-suk can enter. The speakers announce Yooruce Willis' entrance and it's now or never. They spot Byung-ho in the distance but… wait a minute, Haha – your eyes are on Suk-jin's name tag….
Off comes Suk-jin's name tag. Alliance officially over. Haha, didn't we learn earlier that you don't wake the Tiger?
Chang-seok takes off running and is quickly overtaken by Haha and Byung-ho. Jae-suk is literally mere feet away when we hear a simultaneous ripping noise. Both Chang-seok and Haha are eliminated.
Ladies and gentlemen – this is the moment you've all been waiting for. Spartakooks needs no introduction.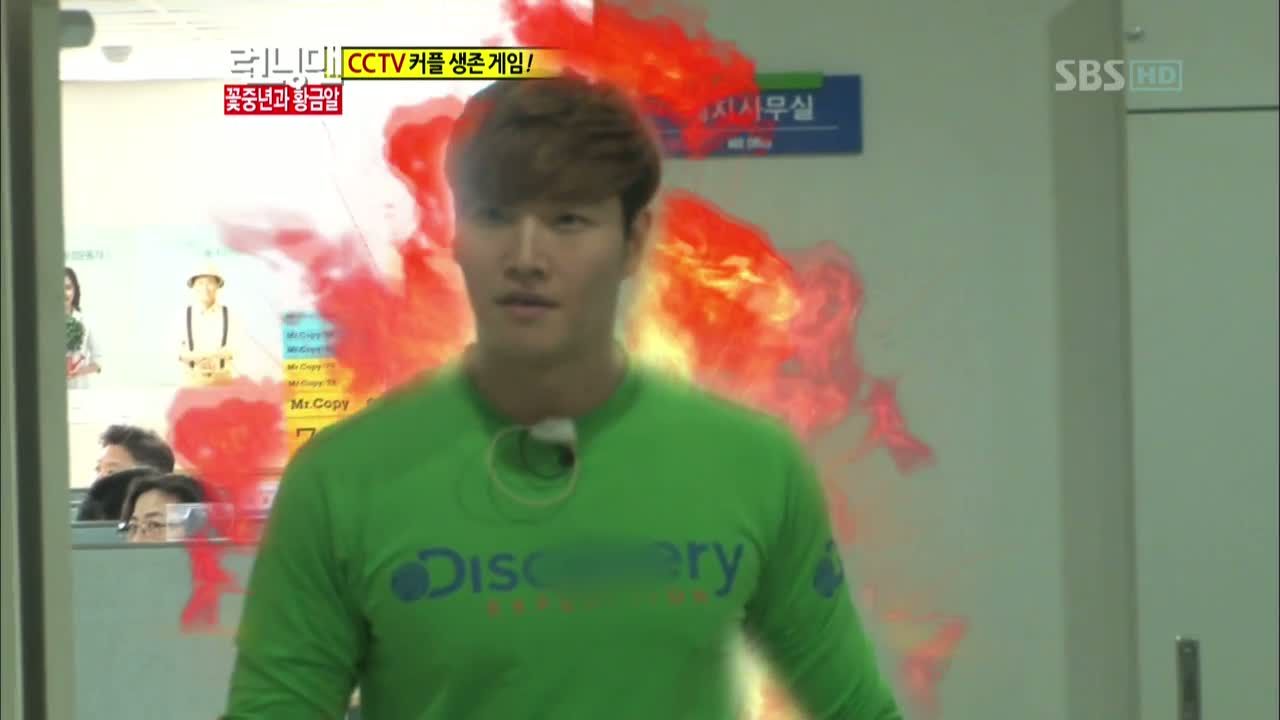 HA – the spectators comment that now Jong-kook has waltzed into the picture, not a single soul is in sight.
Taeyeon starts to run but a squeak at Jong-kook gives her position away. Taeyeon, you know he's weak to the ladies. I'm pretty sure you should be the least scared out of everyone.
She's too busy running away from Jong-kook to notice that Byung-ho is on her tail. But he just gives her a scare. Meanwhile in jail, the jailed complain that they can't watch with the others. Suk-jin: "Can't you turn the screen a bit?"
Jae-suk sneaks up to Gary and misses a chance to eliminate him. They part and Gary reminds him not to yell lest Jong-kook hears. Smart.
Byung-ho relays a message to Ji-hyo and Kwang-soo says, "He's talking to you, I mean you, noona." (He says 'you' informally which is disrespectful since Ji-hyo's older.)
Little does he know that Taeyeon's onto Byung-ho but he turns around the very last second. He tears off her name tag with ease and then walks away like a boss. Kwang-soo gapes.
Jung-geun is up next and Haha calls out from jail, "For your daughter… hide!" It's his rotten luck that the first person he runs into is Jong-kook but he manages to slip away.
Kwang-soo enters the field, determined to exact revenge on Byung-ho. Jong-kook starts his hunt and stumbles upon Jae-suk. Instead of an epic battle, they've both got their eyes on the Giraffe.
He pleads with his hyungs to let him live just long enough to avenge Taeyeon and Jae-suk asks, "What revenge?" Jong-kook lets him go and Kwang-soo lives to see another minute.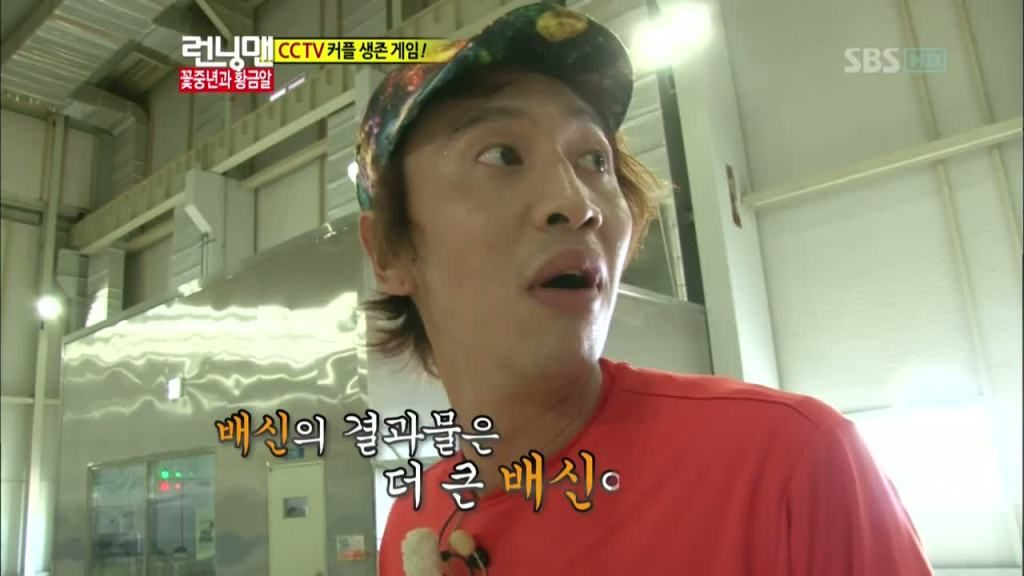 Gary isn't so lucky and he gets eliminated right away. The members start looking for Byung-ho who's gone missing and the Ace scans the screens, biding her time before she gets to join him.
Kwang-soo you should learn never to voice your plans of betrayal out loud? Why? 'Cause Jong-kook just overheard them. Spartakooks will never forgive you!
Captions read: I let you live, and you betray me. I let you go, and you betray me. I make an alliance with you, and you betray me. I be nice to you, and you betray me.
So Jong-kook finishes him off and Kwang-soo stares in shock. Lesson of the Safari: the result of betrayal is an even bigger act of betrayal.
Jae-suk and Jong-kook create an alliance that lasts all of three seconds. These two run in circles trying to catch each other. Now that Jong-won has entered, everyone is out in the field.
Taeyeon lets out a sigh of disappointment at Kwang-soo's early return whereas Chang-seok is all smiles because he gets Taeyeon's autograph. "Taeyeon over gold!"
The Purple Team meet up and Jong-won runs over… to say hi? Jung-geun comes out of his hiding place and says, "We should take at least one of them out." He decides on Ji-hyo ('cause the guests should survive) but the Ace is faster than he anticipated.
She reminds them that now's not the time to turn on each other and Byung-ho adds that they survive for the sake of their kids watching.
But that conversation is overheard by Jong-kook. Uh-oh, what now? Jae-suk appears again because he's "passing through." It's Team Daddy versus Jae-suk and Jong-kook. The Grasshopper and Tiger on one team again? Now this is a sight to behold.
Not that it lasts very long because Jae-suk rips off Jong-kook's name tag. Er, was that the wisest decision?
Jong-kook lands in jail? Commence dance party!
The harsh reality that the odds are now stacked against him strikes Jae-suk and he resolves that he'll have to win. He takes off running with all of Team Daddy on his tail but he eventually loses all of them and ends up on the roof.
While Jae-suk sweats bullets, regretting his earlier choice to eliminate Jong-kook (you think?), Jong-kook joins the dance party and deduces right away that the jailed were rejoicing in his elimination.
They sit back and watch the action unfold onscreen as Byung-ho nearly rips off Jae-suk's name tag. Then Jae-suk whirls around to eliminate Jung-geun.
It's 3:1 now and Jae-suk swings out from the railing and jumps onto the ground to avoid Jong-won. He's pinned by the Purple Team which creates an opportunity for Jong-won to distract Byung-ho long enough for Jae-suk to eliminate Ji-hyo.
Jung-geun and Ji-hyo both arrive in jail and Ji-hyo gripes how could he have betrayed the alliance. But betrayal is most welcome on Running Man and the Betrayal Icons (Haha and Kwang-soo) congratulate him on his inaugural betrayal.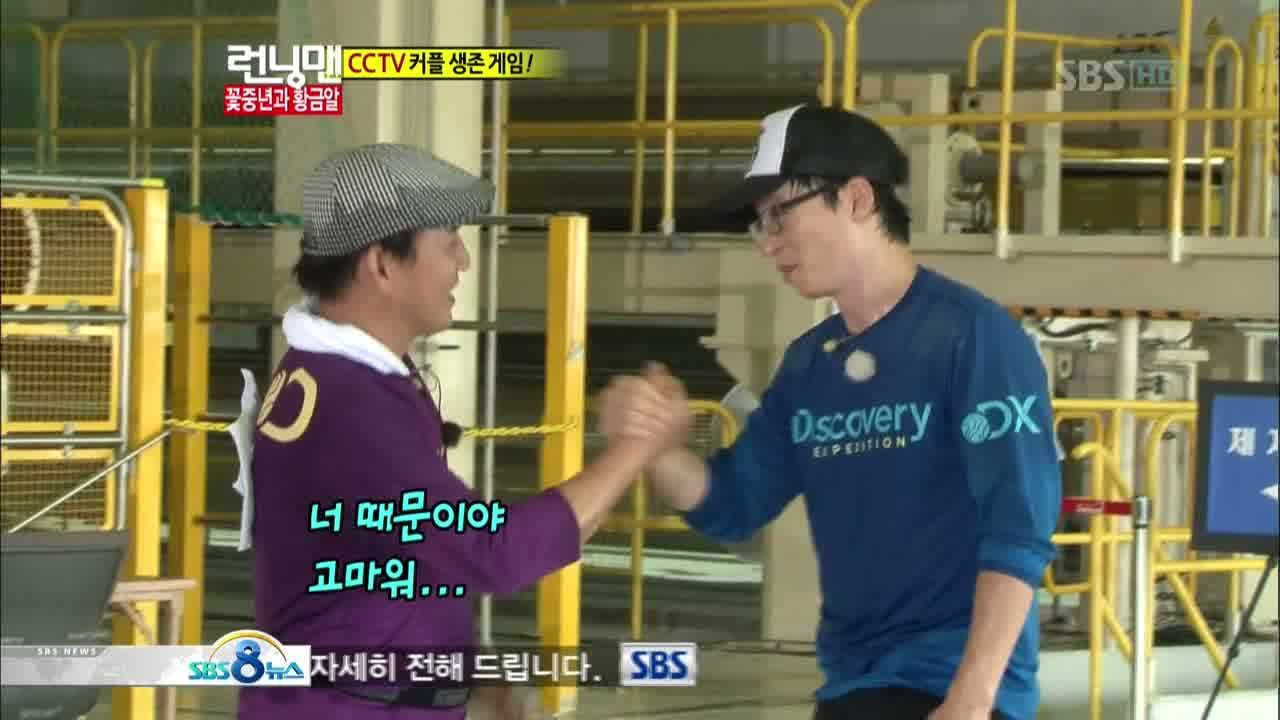 Both Jae-suk and Byung-ho send a quick video message to their children before they attack. And boy, is it epic. They both grab each other's back and their hands slip.
Jae-suk reaches for Byung-ho's back once more as Byung-ho lunges for Jae-suk's…. and the audio feed cuts out.
Ji-hyo and Chang-seok have been watching up to now, biting their nails in anticipation. And then Chang-seok buoys the tense moment, saying that it'll be the best day ever if he wins and got Taeyeon's autograph, "I don't have to do anything!"
Jae-suk and Byung-ho arrive at jail and Jae-suk breathes out, "It was Yooruce Willis Part II…"
And we flashback to that moment of victory and see that Jae-suk eliminated Byung-ho just a hair earlier, winning it for the Blue Team.
Jae-suk and Chang-seok win the lot of a dozen gold eggs and smile for the camera.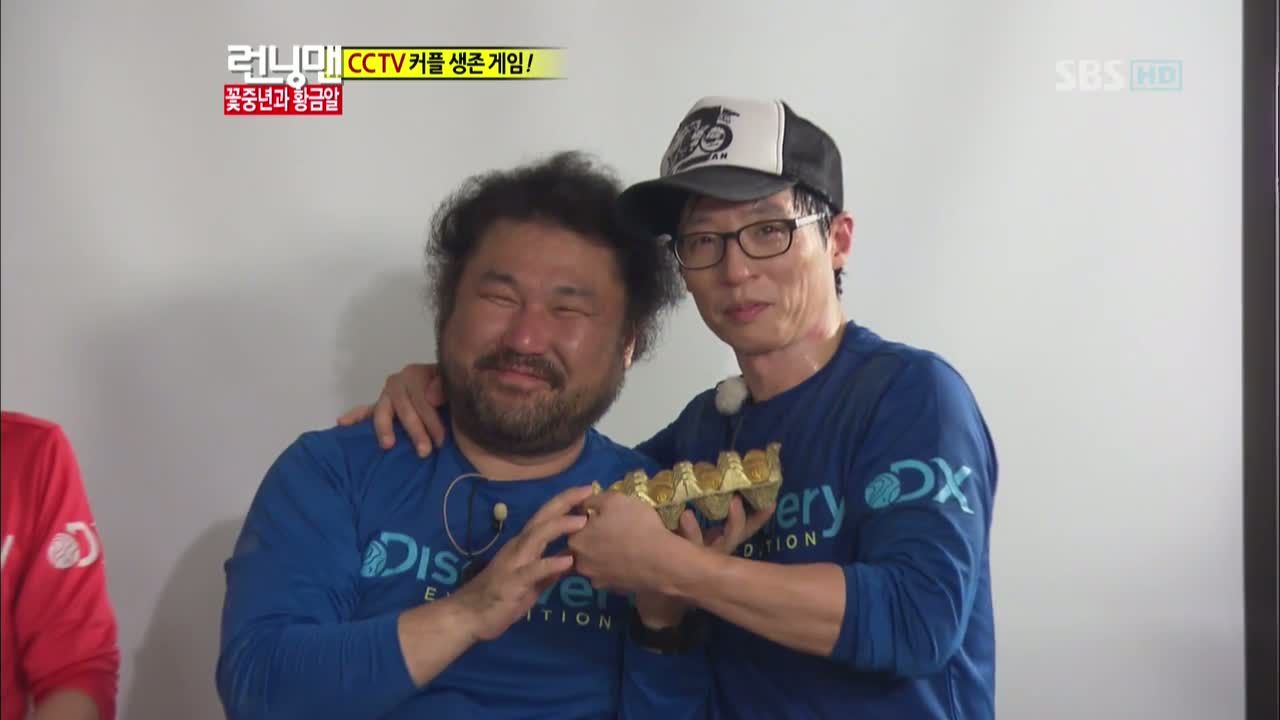 RELATED POSTS
Tags: featured, Haha, Ji Suk-jin, Kang Gary, Kim Jong-kook, Lee Kwang-soo, Running Man, Song Ji-hyo, Yoo Jae-suk