The ghostbusting cast of horror-comedy Fortune Tellers
I have been looking forward to the movie Fortune Tellers ever since it was announced, and here's a closer look at the premise and the characters — and it looks like a hoot. An eerie and spine-tingly hoot, perhaps, but still: just as hilarious as it is jump-inducing.
The setup is simple: One remote seaside village crawling with supernatural energy, meet a team of assorted mediums brought in to root out the spirits. They're skilled and possess supernatural powers, right? (Well, kinda.) So this should be a piece of cake, right? And yet, things never go as simply as they should.
Essentially we're doing Ghostbusters in the sticks, but with a heavier horror component (although it looks like the comedy's pretty front and center as well). So, the trailer:
Things start out in standard horror-movie form, with an eerie ambiance and lots of creepy shots. A character is given instructions to a village waaaaay down the road, and told, "But… that village is a little strange." Shivers. What is it about "strange village" that immediately brings the goosebumps? Arriving at the outskirts, one says, "I've never seen such frightening energy before."
Then the fortune telling team finds the town crawling with all sorts of ghosts and ghouls, and sets out trying to exorcise them. Only… this isn't exactly a crack team. Cracked, maybe. They've each got their own specialty, but it looks like the ghosts give them a run for their money. At one point, an exasperated villager cries, "This is the best our country's fortune tellers can do?!"
Then the wacky, manic comedy vibe takes over, and we get what looks like a rollickin' good time that'll maybe scare your pants off just a little. In our final scene, the team initiates some sort of ritual that sends Kim Su-ro screaming and flopping in response… until Lee Je-hoon tells him, "I haven't done anything yet." And Kim Su-ro laughs sheepishly. Hehe.
The characters:
Lee Je-joon (LOVE — he's amazing) plays "elite exorcist" Suk-hyun. He's got an engineering doctorate, which explains his scientific approach — other fortune tellers whip up talismans and rely on their ESP, but Suk-hyun's a gadget man.
Full of confidence, he's also got a bit of a "prince complex" — he's got the utmost faith in his analytical process and with his handsome face, he believes all women are in love with him. In short: He thinks he's all that. He believes (and announces in the trailer) that he's the only one who can solve this case… which makes him butt heads with Teacher Park, the other alpha dog in the mix. His poster bears the tagline: Someone who can solve this case? I'm the only one! —Scientific fortune teller.
Kang Ye-won plays special features reporter Chan-young, and in punishment for poking into a corruption case involving a powerful businessman, she gets reassigned to an out-of-the-way newspaper, covering the local news desk. She hears about the fortune tellers being assembled for the mass exorcism and heads over to the village to cover their progress. But the more she sticks around and works on her story, the more she discovers about her own past, and the secret contained there — it turns out it was no coincidence that sent her here… (Her poster reads: According to rumors, you're no ordinary person. —Special features reporter.)
Kim Su-ro is Teacher Park, the country's most famous "star fortune teller," who's so successful he even has assistant fortune tellers working for him. What, do you pawn off the small fortunes on them, or are they out getting your coffee and drycleaning? I can totally see him puffed up and full of demands already, which should make it all the funnier when the ghosts start giving him hell.
In any case, his prominent reputation means he takes up the role of leader. He's the conventional medium who writes talismans in chicken blood and thus, unsurprisingly, is at complete odds with hi-tech ghostbuster Suk-hyun. His poster: Call all the experts in the country! —Ghost-chasing fortune teller.
Then there's tarot card reader Seung-hee, played by Woori, who has recently switched from the stage name to her real one, Kim Yoon-hye. She's famous for both her beauty and her tarot readings, plus she possesses psychometry skills, or the ability to touch an object and gain an insight into its past or connected events. Her tagline: The past you want to hide… my eyes see it all. —Past-reading fortune teller.
Kwak Do-won plays a ghost-seeing monk, which, ha. Right now he does some cheap reading in the park just to pass the time, but he's actually quite gifted — and once studied alongside Teacher Park with the same master. In fact, he's still harboring a bit of an inferiority complex, and it doesn't help that their master played favorites, and only taught Teacher Park some of his best skills.
Underneath his eye patch, he's got one glass eye… and that's the eye that sees evil spirits. That means of all his teammates, he's the first to sense the true nature of the village's mysteries. Tagline: Only the ghosts know the clues to the case. —Ghost-seeing fortune teller.
Last but not least, we have "choding [grade schooler] fortune teller" Wol-kwang (Yang Kyung-mo), who's already got enough powers to go up alongside the big famous adults. He has the power to see into the near future, which makes him the valuable alarm system warning his teammates when they're about to encounter danger. "He sees the future… but he has no idea how to solve his math homework." Aw. I can relate. His poster: The future that's been decided… can it be changed? —Future-seeing fortune teller.
The movie sounds hilarious and looks like a fun thrill ride. Crossing my fingers for more goodness once it hits the big screen! Fortune Tellers opens on October 3.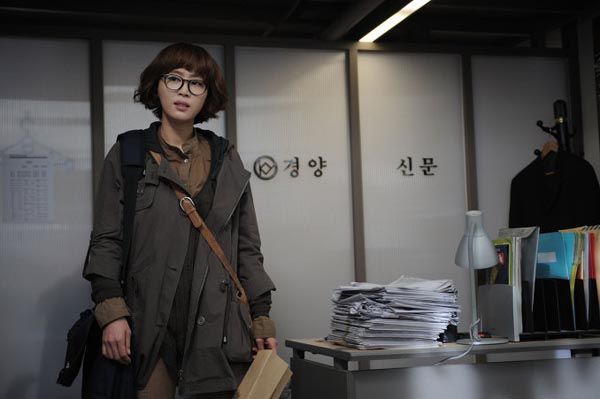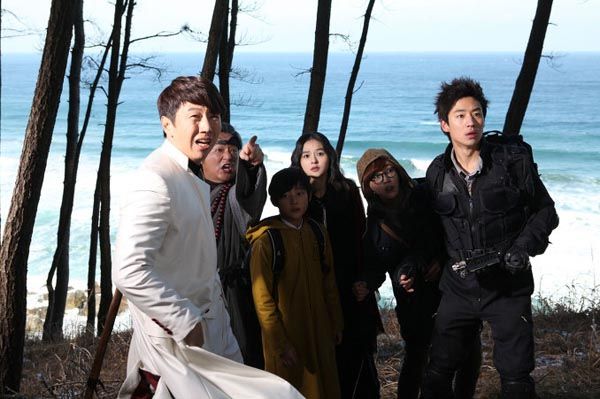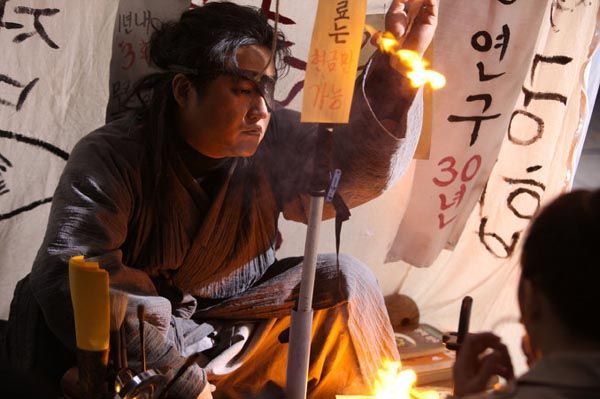 Via Movieweek
RELATED POSTS
Tags: Kang Ye-won, Kim Su-ro, Lee Je-hoon, Woori