To the Beautiful You: Episode 10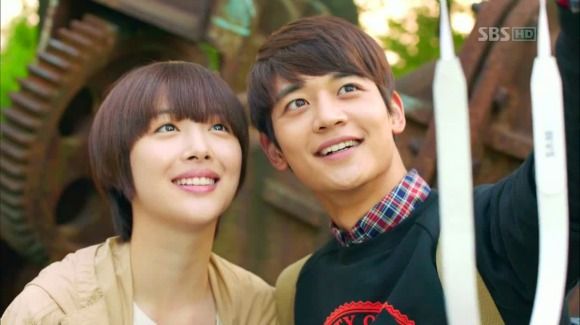 Eureka – this show actually can churn out a solid episode from start to finish! We get TWO love confessions packed into one hour and a whole ton of cute that will make you grin from ear to ear. Truth is out to the person Jae-hee least expected and now stakes are raised to keep that secret under wraps. I never thought I'd say this about this drama but the angst… it just hurts so good.
Ratings picked up for Thursday's episode to 5.8%. You may be behind, but keep it up drama.
SONG OF THE DAY
TRAX – "Oh! My Goddess" [ Download ]
Audio clip: Adobe Flash Player (version 9 or above) is required to play this audio clip. Download the latest version here. You also need to have JavaScript enabled in your browser.
EPISODE 10 RECAP
Eun-gyul stands frozen at the sight of Tae-joon and Jae-hee who hastily sit up in bed. I don't think the boy needs to go pee anymore. Then Jae-hee does the first thing that pops into her head and pushes Tae-joon off the bed. HA.
Poor Eun-gyul returns to his room, pale-faced and glum. He climbs into bed and lets out a long dejected sigh.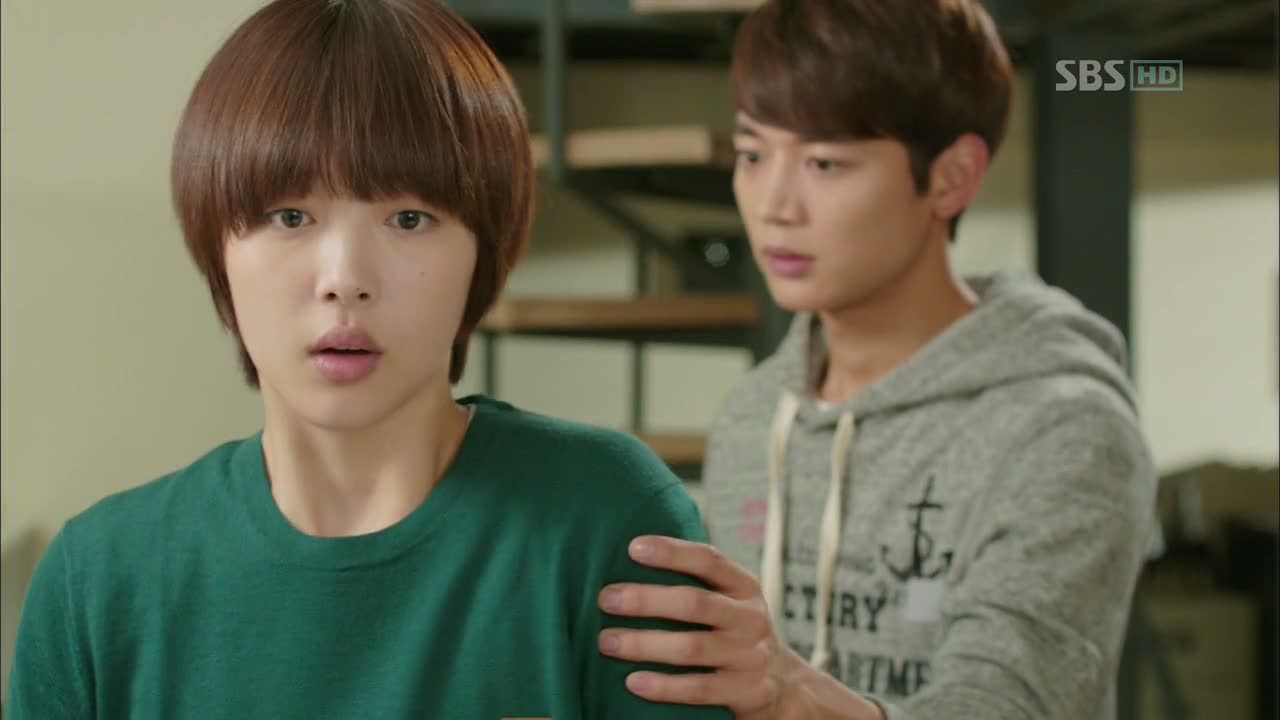 Needless to say that things are awkward between Tae-joon and Jae-hee. She jumps at the slightest touch. Tae-joon checks to see if her fever broke and she thanks him for taking care of her. It's no big deal, he replies – they're roommates after all.
She drops her toiletries and Tae-joon turns his back, pretending not to notice the tampons that also fall out.
Tae-joon receives a text about an interview. In the bathroom, Jae-hee tries to shake herself out of it and cries, "I can't keep having these feelings for Tae-joon!"
Eun-gyul tries to objectively analyze how Tae-joon and Jae-hee ended up in the same bed together. Which means more of his fantasies! Yay!
Scenario 1: Both of them knock heads trying to pick up a coin and fall into bed unconscious. Scenario 2: Jae-hee is an acrobat who sleep-fell into Tae-joon's bed. Scenario 3: Jae-hee joins Tae-joon in bed after their routine pillow-fight. AHAHA – this is fantastic; I don't think I'll ever get sick of his daydreams.
Conclusion: All ridiculous but all plausible in Eun-gyul's head. He hangs his head in dismay anyway.
Reporter Yang conducts Tae-joon's interview, snapping at Director Jang whenever she answers first. Tae-joon confirms that he was in a slump and rejected Coach Holton's offer to train in Canada.
His vague answer has her press for more – is he perhaps staying for someone special? He answers: "There's someone I want to show my jumping to." That piques Reporter Yang's interest and asks if it's Hanna.
Tae-joon remains mum. Dude, you can't just say that and not say anything else!
Once they're alone, Director Jang asks if Tae-joon is dating someone. He denies it and sighs that he didn't want to lie about it. That leaves Director Jang even more confused and asks if it really is Hanna.
Tae-joon says no and he eases back into his seat to catch a few winks he lost last night.
Jung-hoon would rather gaze at photos of Jae-hee than doing actual work which is just about the most adorable thing ever. His assistant recognizes Jae-hee as the male student the other day and comments that she looks pretty feminine.
He admits, "She is a girl." He calls Jae-hee a frog princess and intends to release her from the spell she's under. Then he stares at his computer screen again. Cute.
Eun-gyul drops by to return a book to Jae-hee and mentions that dorm inspections are coming up. Meaning he better hide that porn stash. Tae-joon insists he has nothing of the sort and Eun-gyul snorts in disbelief.
He is reminded, however, of Jae-hee's feminine products and runs to his classmates for some magazines. Ha – I'm oddly impressed by the creativity of their hiding spots. Tae-joon stashes it behind his back just as Dorm 2 Inspections are announced.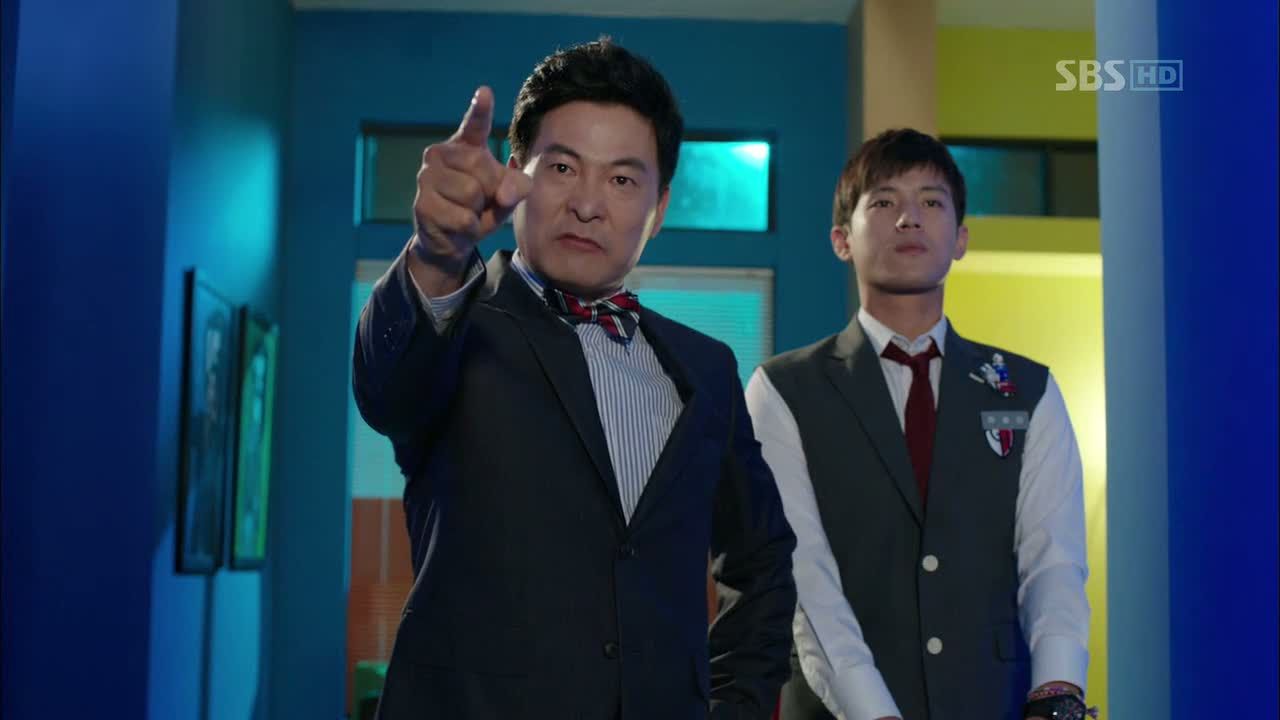 The principal warns that they'll start the random inspections and warns them that should they find prohibited items, it'll mean severe punishment.
They reach Tae-joon and Jae-hee's room and Seung-ri heads up to check the loft. Jae-hee cringes, afraid of what he might discover. And just before he opens the last few drawers, the principal uncovers the porn mags beneath Tae-joon's bed.
It's like his entire world comes crashing down as he takes in that the golden boy isn't so innocent after all. Then he flips through the pages and walks out with it while Seung-ri calls after him, telling him they need to confiscate it.
Jae-hee breathes a sigh of relief that she wasn't caught and is surprised to hear that Tae-joon knew about the dorm inspections beforehand. We see him running outside alongside the other offenders.
Naturally Tae-joon's confession makes headlines and the girls wonder who in the world "that person" is. Their #1 guess is Hanna who coolly answers, Who else? and the Tae-joon fans shoot eye daggers at her. But we can tell the news is just as unsettling to her as everyone else.
The boys are busy gossiping over the same thing; all obvious signs point to Hanna. Seung-ri slumps his shoulders and Eun-gyul responds: "Tae-joon could do so much better." Hahaha.
At Jae-hee's murmured comment of so what, Eun-gyul shouts that Hanna is a snob from head to toe. That of course gets Seung-ri all riled up and his sudden shouting spooks them. They shrink, "S-seol Hanna's pretty. Yeah, s-she's pretty."
Tae-joon adorably sneaks up to Jae-hee who's lost in a daze after hearing the news. Aww, does he know that the finger-to-cheek trick means, "I choose you?"
Jae-hee broaches the subject about how Tae-joon has decided to stay in Korea. He confirms it and she asks why – didn't he want to train with Coach Holton? Tae-joon acknowledges that it's a once-in-a-lifetime opportunity but, "There was a reason for me to stay."
His calm attitude about it all nags at her. How could things be so easy for him? To her, it looks like he's throwing his future away but she doesn't say so.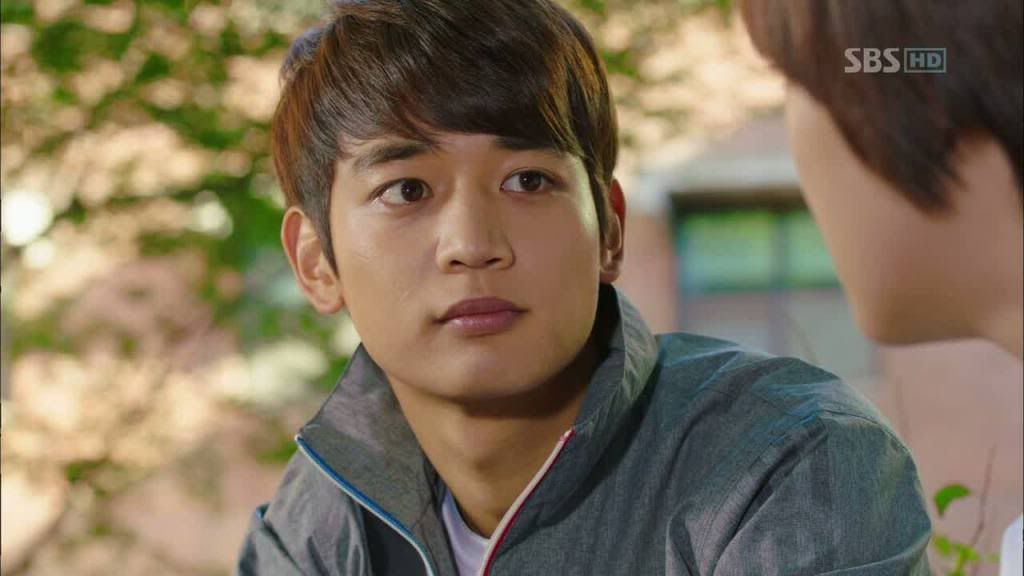 Disappointed, Tae-joon asks if she wanted for him to go to Canada and when she doesn't answer, he resignedly says, "So it's enough for you that I jump again no matter what might happen, huh?" He understands, since that was she longed for in the beginning.
Jae-hee says that it looks like a lost opportunity and asks why, since apart from Hanna, there is no reason why he'd turn down Holton. She takes his silence as a sign that she's prying into his business again and stalks off, crying.
Tae-joon goes running after her (good for you!) but before he can catch up to her, Jung-hoon drives up to pick up his frog princess.
He asks to borrow her for the day, holding up a pass excusing her for the day. She's not in the mood to play his games. Jung-hoon notices Tae-joon in the distance and pointedly asks, looking in his direction, "Have you ever seen a kidnapper take a kidnappee's feelings into account?"
They drive off and he points out her sullen mood. He tries to lift her spirits with some light-hearted humor and she calls him corny instead.
Tae-joon receives a call from Hanna reminding him about his cousin's exhibition. He's in no mood to attend but as usual, she threatens to show up at Genie High again if he doesn't show up.
Eun-gyul's coach praises him on his determination and informs him that a scout for the Youth National Team will be in attendance in their next match. Eun-gyul hiccups as a nervous response and Coach is sure that he'll be picked. Like a dutiful and loyal student, Eun-gyul comments that it would be nice if Coach were picked too and vows to avenge his grudge for him.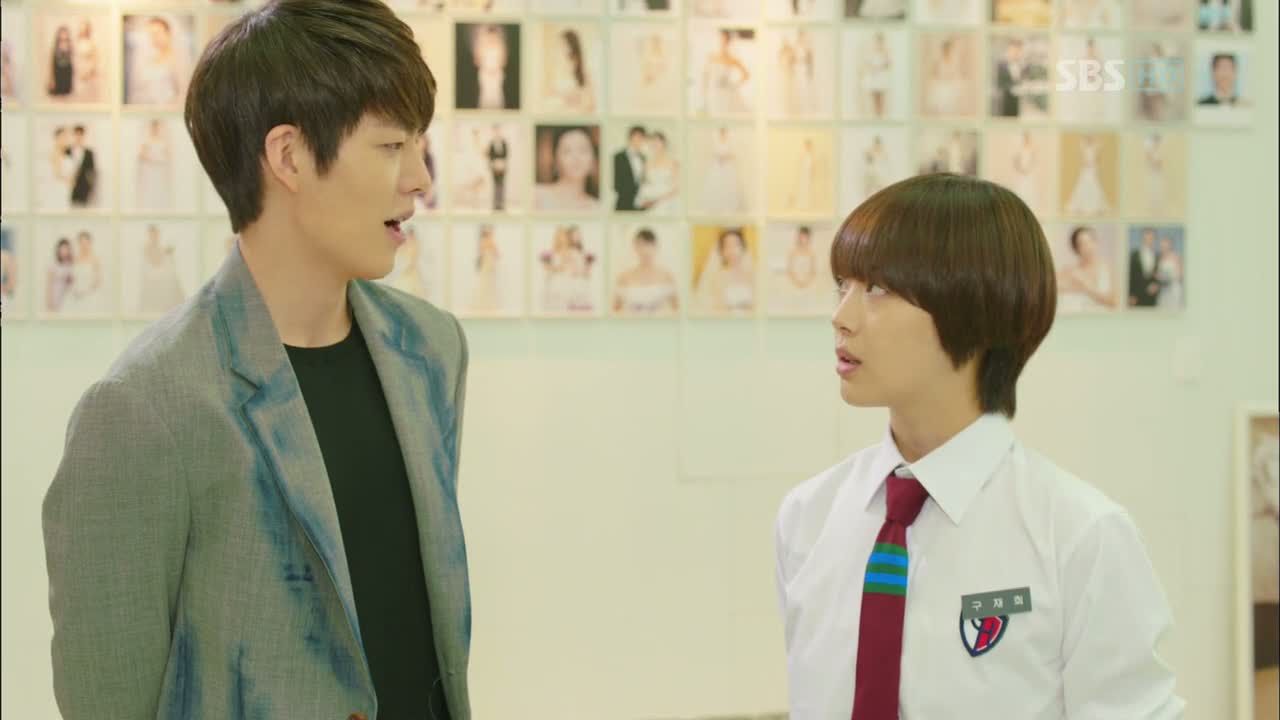 Jung-hoon brings Jae-hee to a dress shop because he needs a date for tonight's event. He doesn't know anyone in Korea and he can't arrive without one. If it helps, she can think of it as getting a good meal out of it.
She's like, I have to get changed? and he points to her school uniform, "Then are you going to go like that?" Why do you adore this girl so much? *scratches head*
Hanna nudges at her manager, fishing for compliments about how well Tae-joon and Hanna look together. Tae-joon fidgets in his suit and asks who would notice if he didn't show up. Hanna: "Me." Of course you would.
She too asks about his decision regarding Canada and he gives the vague answers, "Just because." Hanna does her best to make light of the situation and supports his decision to stay.
Meanwhile, Eun-gyul is out shopping and a set of rugby shirts catch his eye.
Jae-hee is busy piling food onto her plate, utterly starving. She complains to Jung-hoon (who should just wear a tux all the time, honestly) about her uncomfortable wig. He merely smiles back at her and pretty much tells her beauty over comfort.
He tells her she looks pretty tonight. Awww.
Hanna and Tae-joon arrive at the event and he congratulates his cousin on his exhibition. He stops her when she starts requesting a gift in gratitude for her attendance tonight.
Eun-gyul practices in the mirror on how to present the shirt to Jae-hee, scratching his head in frustration when he deems all of his approaches as unacceptable as the last. He emerges from the bathroom to find Hyun-jae smiling, thanking him for the early birthday gift.
Eun-gyul snatches it away, telling him it isn't his. He tries to make up for it by offering some birthday punches instead, but Hyun-jae's in a sour mood now and grabs him by the shirtfront. Gulp.
Jae-hee contemplates whether to call Tae-joon and Jung-hoon walks up next to her. He calls her out on her disinterest for the arts and admits that he's honestly bored to tears too. He pulls her away to show her something far more interesting.
He leads her to a corner of the hall where her surprise awaits her. They're all photos of Jae-hee. Aww, so cute.
She's surprised by the vast amount, wondering when he took all of them. Jung-hoon tells her that after a certain point, he even surprised himself at all the photos he amassed. Jae-hee is sincerely moved by the gesture and he says it's enough for him if she was touched.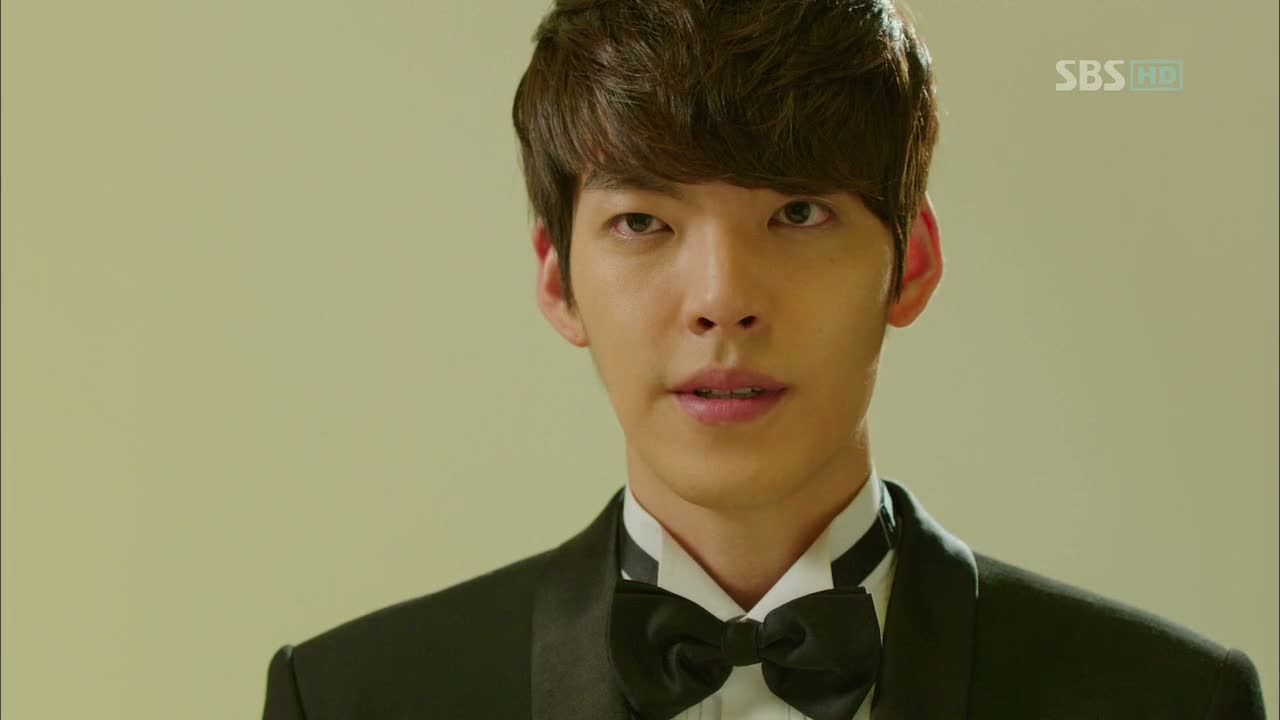 Jae-hee asks: "But why me?" She figures he's joking around again and points to one that's turned away. Jung-hoon bites his lip and swallows hard, nervous for his next few words:
"Jae-hee, I've watched you from the sidelines ever since you were little. I'm doing that now and I want to keep doing that in the future. From now on, I want to be by your side."
And because our heroine needs everything to be spelled out for her, he continues, "I'm confessing my love for you right now." He tells her to take her time (but not too much, heh) to think about it. He'll be waiting for an answer.
Jae-hee spots Tae-joon outside and starts towards him but then remembers herself. To make things worse, she sees Hanna as his date. She slips inside but Hanna catches a glimpse of her anyway.
Hanna acts on her hunch, following Jae-hee out, finding it strange that she keeps running away. Jae-hee's path is blocked by a locked door and just before Hanna can reach her, Tae-joon holds Hanna back.
Not even Tae-joon can derail her and they're soon interrupted by Jung-hoon who tells them that they're in a restricted area. Once they leave, Jung-hoon apologizes to Jae-hee for the close call.
Afterward, Jung-hoon greets Tae-joon with a joke that it's the first time he's waited up for a guy. He gets straight to the point: "If you're not going to make Jae-hee happy and if Jae-hee's not happy by your side… then let her go."
Jung-hoon admits that he likes Jae-hee and more importantly, confident that he won't make things difficult for her. For what it's worth, I will gladly take Jae-hee's place, Jung-hoon. She seems pretty hung up on Tae-joon right now.
Tae-joon returns to find Jae-hee asleep in her bed but as soon as he turns away, we see that she's not sleeping after all. They both brood.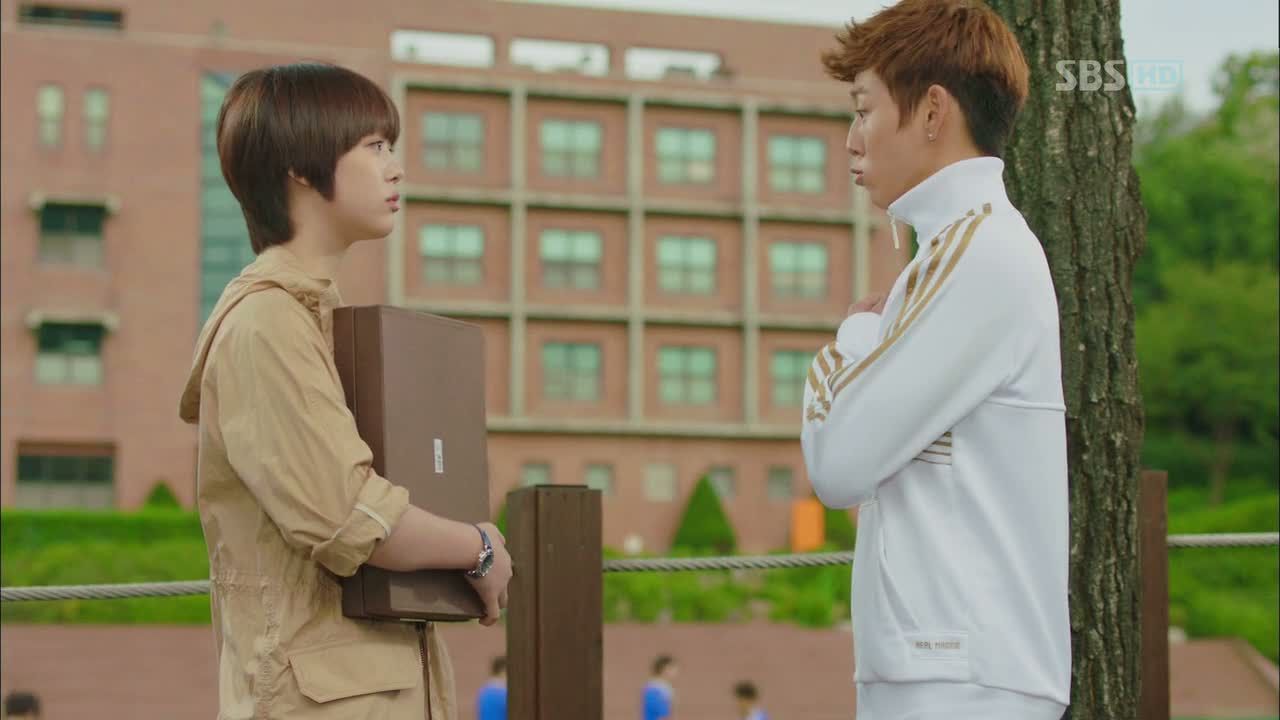 Eun-gyul runs out of soccer practice to give Jae-hee her gift. He's all, Oh it was totally small on me so you can have it about it and as expected, she's touched.
He adds that he has something important to tell her but not now – he'll tell her after he gets picked for the National Team. Jae-hee whines that she's curious so he should come with it.
Soon they bicker back and forth – she's like, Tell me already! and he responds, I'll tell you later! You two are so adorable.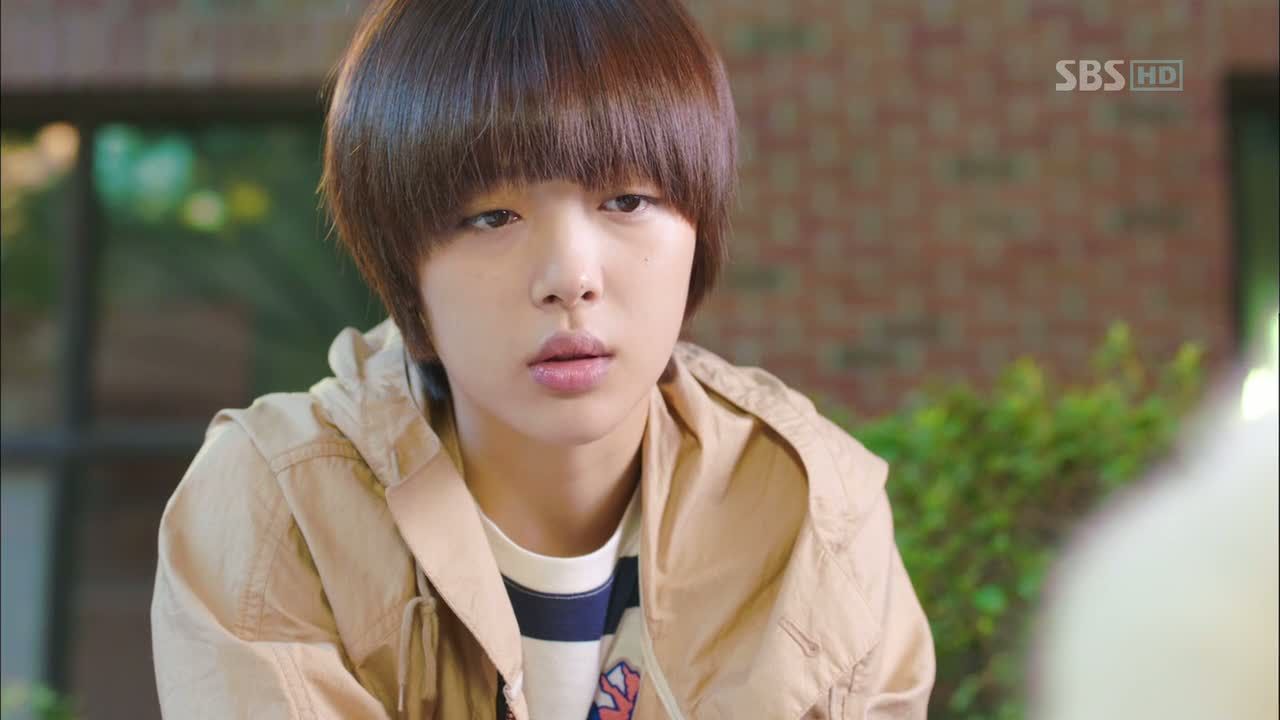 Jae-hee sneaks a quiet moment to confide in Sangchu. She wonders why she gets so upset whenever she sees Tae-joon. She knows she shouldn't be thinking like this but she can't help it.
Ha – I love how Jae-hee tries to leave when Tae-joon appears but he just pulls her back by the collar. He asks if she's free today and then takes her by the wrist, telling her to follow him.
Jae-hee asks where they're going and he tells her that he wanted company while going out to take pictures. He offers to share some eggs as a snack, cracking one on her head. Heehee.
As soon as she takes a bite, she recalls something: doesn't he hate egg yolks? Tae-joon: "Yeah, I do." Eeep! She offers to eat them instead and hiccups, her mouth stuffed. No worries because Tae-joon has drinks on hand too.
They spend their time at the park, snapping photos of nature and each other. They even take a selca together. Omg, are you pretending to play hide-and-seek? That's just adorable.
They take a break and Tae-joon addresses that Hanna wasn't the reason why he decided not to go to Canada. But he can't tell Jae-hee the real reason right now – it's a secret. Stop torturing us with your half-confessions!
The important thing is that he's not going anywhere so neither should she. She's like, "Where would I go?" and he says, "Anywhere." She beams.
On their bus ride back, Tae-joon dozes off and his head falls on Jae-hee's shoulder. She gently tries to lift it back up but he just snuggles in closer.
Jae-hee allows herself to brush his bangs away and then stops herself, "Let's not get any greedier." You're actually setting your own boundaries towards your crush? Is it Opposite Day?
Hanna can't shake off that nagging pull of familiarity, thinking back to the mysterious girl from the exhibition. After she hears about an upcoming interview, her curiosity continues to eat at her. Which is when her eyes fall upon the yearbook again. Ruh-roh.
She flips through the pages and then one picture gives her pause: Jay Dawson. Oh crap – that look in her eye is like we just woke a sleeping dragon or something.
Teacher Lee looks on with resignation to find Coach Baek fixing himself a pot of ramyun again. He boasts that he makes a mean bowl of ramyun and offers to make her some. She declines, citing that she doesn't eat instant.
Cut to: Teacher Lee feasting on ramyun. HA. She inquires why Coach Baek quit sports – if he was an Olympic silver medalist, he must have made quite a name for himself.
He says that he grew tired of it and thought that once he left, he'd feel free of it. Unfortunately, that realization came too late when he suffered an injury.
Teacher Lee asks what that realization was and he hilariously burns himself on the scalding pot (he lights up when she immediately attends to him). Focused again, Coach Baek confesses: "That high jumping… was all I knew."
Jung-hoon reviews his proofs of Tae-joon high jumping and then looks at his photos of Jae-hee alongside of them.
Eun-gyul is just about to leave for his match when Jae-hee flags him down. She gives him a shirt haphazardly embroidered with a taeguki for good luck. Belatedly, she gasps, "Is this too girly?"
He shakes herself no and thanks her, genuinely moved.
Jae-hee isn't even remotely surprised anymore to see Hanna waiting in her room. But this time, Hanna silently spills the contents of her toiletries bag and throws it at Jae-hee. She scoffs, her suspicions confirmed and finding the entire situation ridiculous.
Jae-hee pleads with Hanna to keep her secret and all Hanna can yell back is, "You're worse than I am!" She has no intention to keep Jae-hee's secret and Jae-hee's begging will do her no good.
Hanna storms out, intending to inform the school authorities immediately.
Thankfully she runs into Doc first and spills, "Are you aware that there's a girl hiding in this school?" He's taken aback and feigns surprise. Hanna raises an eyebrow but Doc pulls her away and sends a text to inform Jae-hee.
In his office, Doc tells Hanna that she's too worked up and persuades her to sit and talk about it. He warns that informing the principal can implicate Tae-joon. Is that what she wants?
The only obvious issue is Jae-hee in Hanna's eyes but Doc retorts that it'll get messy for Tae-joon who shared a dorm with a girl for some time now. He advises that they remain quiet for now because it's only a matter of time before the truth reveals itself.
She warns that she'll take matters into her own hands if it takes too long and is peeved when Doc stops her again. Hanna: "What now?" Doc: "Just one autograph." HAHA – ajusshi fan through and through.
Tae-joon isn't necessarily excited to see Hanna ether, reminding her that girls are prohibited on campus grounds. She drops the bomb, "Gu Jae-hee… is a girl."
He's obviously not surprised. Tearing up, the truth starts to dawn on Hanna, "Did… you know? So you knew and pretended that you didn't?" Does that mean she was the reason he didn't go to Canada?
It's like her world has come crashing down and she hits Tae-joon to release her hurt and anger, calling him crazy. He ekes out an apology but that's not good enough anymore.
She's on the verge of completely breaking down when he too asks that she keeps it a secret and let Jae-hee be the one to out herself.
As a matter of fact, Jae-hee is sitting with Doc in her room, wondering how she found out. Really it's a wonder that you weren't found out sooner.
Doc says that isn't important but now that they've bought Jae-hee a little time, she should use it to settle things.
She runs through her memories made with Tae-joon at Genie High from their very first encounter to his drunken kiss to when he chased her around the room with the cake.
As Hanna prepares for her interview, she sends a text to Tae-joon. In it, she agrees to keep Jae-hee's promise. In exchange, Tae-joon will have to grant her a favor. Mm, I don't get a good feeling about this.
The soccer team returns to school after the match. Eun-gyul's coach calls him over to deliver bad news: he didn't make the team. That look of confusion and disappointment on his face just about kills me.
A single tear runs down his cheek and he buries his face in the shirt Jae-hee gave him. I know this is a difficult time for you but… did you make sure to wash that shirt?
Doc leaves Tae-joon and Jae-hee to talk things out. Jae-hee starts that she has something to tell Tae-joon when a student points to the TV.
It's Hanna's interview and the host starts talking about the upcoming championships but Hanna interjects that she's here to be congratulated – there's someone she likes.
And she drops the bomb, "Kang Tae-joon and I… are dating." She looks to the camera saying, Oops I made it public! Hope you don't mind! Love you!
The students look in his direction and Tae-joon stares in astonishment.
COMMENTS
Be still, my heart.
Just when I thought that Wednesday's episode was fantastic, Thursday's just hit it out of the park. It struck all the chords I wanted while keeping up the cute that sustains this series. What motivated this drama to kick it into gear? The story? The production team? Or is it the ratings? Is it Kim Woo-bin because that man steals every scene he is. Biased? Of course I'm not… yes, yes I am.
Since we're on the topic – Jung-hoon, you dear, wonderful man. Don't you see how your talents and efforts are wasted on such a plain dull cardboard cutout of a character? You prepare this lavish confession and she just stares at you. Granted, she had no idea of how you felt (but she isn't aware of how anyone feels) but my heart panged for you when all she gave was a blank expression. As a character, Jung-hoon does deviate from the source material (named Gilbert Lang) to more kdrama third(?) lead territory but he's a formidable contender for Jae-hee's heart. That sense of confidence in everything, especially Jae-hee, is sure to make Tae-joon tick.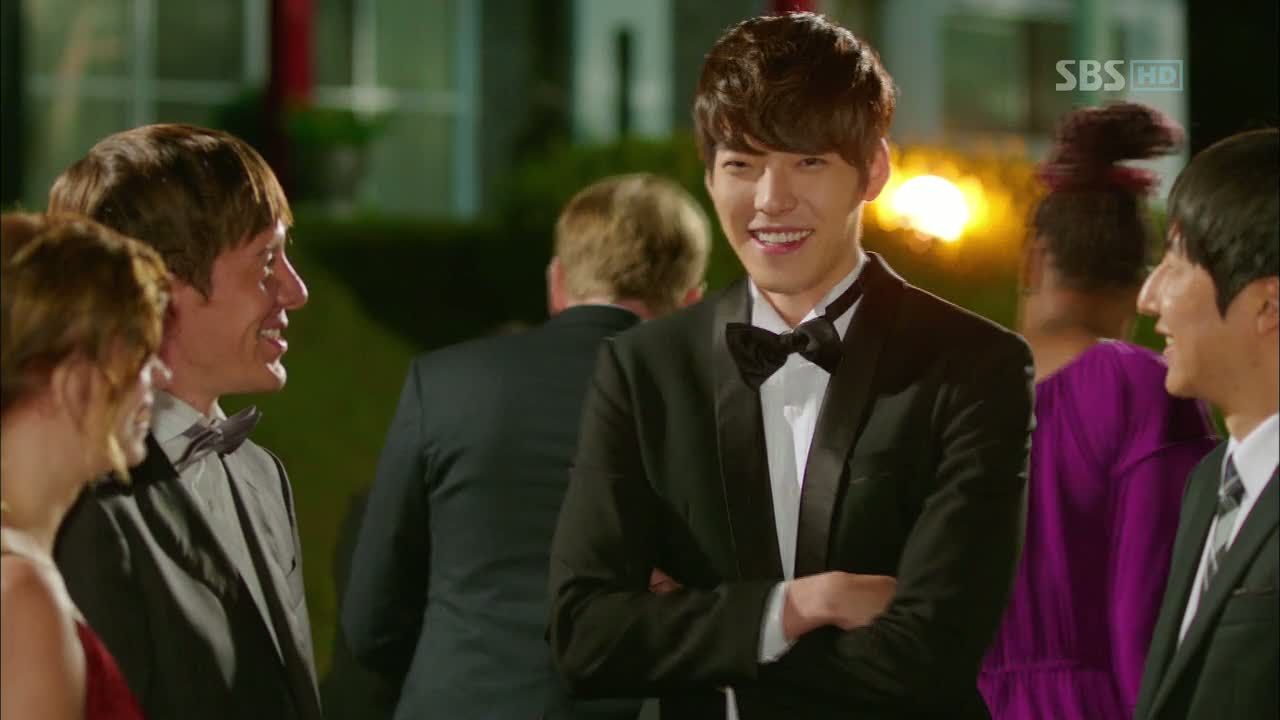 As of yet, Jung-hoon is scheduled to exit the picture after this episode (cries) but Jung-hoon is still waiting for Jae-hee's answer so I sincerely hope this means that he'll be sticking around some more. Plus, I love seeing Jealous Tae-joon trying to overcompensate next to Jung-hoon – it cracks me up.
Overall, I loved this episode to pieces and even Jae-hee impressed me at times. At first, it confused me that Jae-hee was wrestling with her feelings over Tae-joon but then I realized that what she admired and loved about Tae-joon was the mantra, "A miracle is just hard work by another name." rather than him. So this means wearing his shoes in his bed and crossing into stan territory was about Tae-joon the high jumper and not Tae-joon the boy. Yes, I'm impressed that you're setting reasonable personable boundaries to guard your heart Jae-hee. Yet at the same time, I understand how Tae-joon can feel that all Jae-hee wanted was for him to high jump again.
Oh the teenage angst – it just hurts so good. It's been what I feel like eons ago when teenage drama meant that one thing can make it seem like your entire world is crashing down. That much is true for Hanna since she now knows the truth. So to make sure that no one else will steal her Oppa, she'll declare their fake relationship to the world. And well, Tae-joon – you kept half-confessing your feelings this episode so my sympathy for you is kind of limited. I know you wanted to be true to your feelings but you're in a cruel industry where the press will twist your words and if you give them an inch, they'll stampede for a mile.
And for Eun-gyul It's a double whammy – not making the National Team is a hit to his pride as a soccer sensation but it also means he won't be able to impress his crush. It's the end of the world for him as he knows it and that moment was drawn out so well. I know it seems like everything is coming to a screeching halt but it's just the beginning.
RELATED POSTS
Tags: featured, Kim Ji-won, Lee Hyun-woo (2), Min-ho, Sulli, To the Beautiful You