To the Beautiful You: Episode 7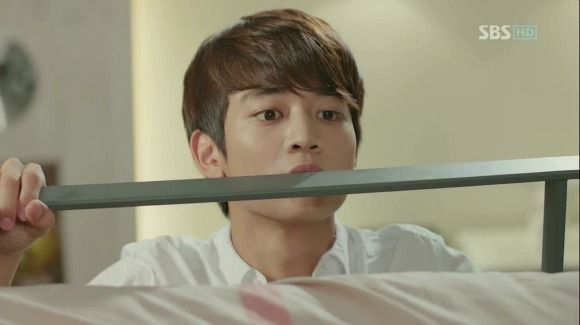 Who knew that Tae-joon could be so adorable when he's jealous? More pieces are laid down in our puzzle at Genie High. Some add up to some meaningful explanations while others throw us for another loop. There's never a boring moment at Genie High.
SONG OF THE DAY
Kangta & Taeyeon – "7989" [ Download ]
Audio clip: Adobe Flash Player (version 9 or above) is required to play this audio clip. Download the latest version here. You also need to have JavaScript enabled in your browser.
EPISODE 7 RECAP
Hanna freely expresses her shock after she finds Jae-hee and Tae-joon in the gymnasium earlier, "I thought you were with some girl!"
They run into Seung-ri who tells her the school festival's over. But leave it to Hanna to do her best oppa-pout-wiggle to change his mind. That does the trick, but when he checks to make sure she won't stay after-hours, Hanna calls him an "old fogey" and charges ahead.
Eun-gyul remarks that Hanna is so brash that she'd be able to survive Armageddon. At this rate, she'd be able to crawl into the boys dormitory like a cockroach.
Jae-hee congratulates Eun-gyul at the news that he's dating Da-hae. She agrees and lets slip that Da-hae is pretty even "as a girl looking at her." Eun-gyul piques at that and once Jae-hee realizes her mistake, she covers by pointing out her wardrobe.
He takes a picture for teasing blackmail (Mhm, okay) as she leaves.
The party is in full swing when Jae-hee rejoins the group, now dressed as a boy. Hanna gets up to sing a duet with Tae-joon who refuses. The boys repeatedly chant, "Date her! Date her!" which is too much for Jae-hee to bear and she walks out.
Jae-hee shares her woes with Sangchu, pouting that she can put on a show too. So she spontaneously sings and all I can think about is how she sings as a girl while she's dressed as a boy.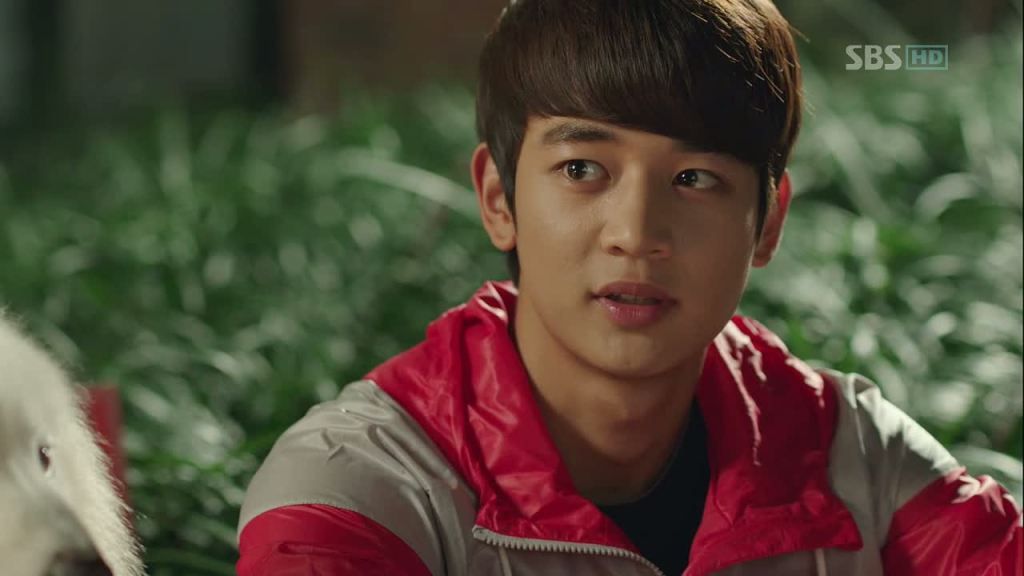 This is how Tae-joon finds her, using the excuse that it was too loud inside. He notes her changed wardrobe and Jae-hee slips again that she's more comfortable dressing like this now.
Tae-joon tellingly asks, "Isn't it uncomfortable to disguise yourself like that?" She looks at herself and he covers that he means the dress. He thanks her for putting in a good word for Seung-ri which gets a smile out of her.
At a distance, Hanna fumes.
Dorm 1's plumbing system has broken down which means that they'll have to temporarily vacate the students into the other dorms. This means it'll be three to a room and Jong-min comes looking for Eun-gyul. He scowls when he learns that Eun-gyul has moved elsewhere.
Eun-gyul happily greets his new roomies, looking for his new bed. Tae-joon isn't happy about the arrangement and Eun-gyul defends, "D'you think I wanna be here?"
Cut to: Eun-gyul pleading with the Dorm 1 student to change places with him to the point where he offers his precious signed Park Ji-sung soccer ball.
Tae-joon wonders aloud how he got stuck with the kids who had nowhere else to go. Eun-gyul figures that since Tae-joon hates sharing space, he'll just bunk with Jae-hee. But Tae-joon holds him back, telling him that he has a solution: a hammock. HA.
Jae-hee offers to sleep there instead (Not making things better there) and Eun-gyul intervenes, happily hopping onto the hammock… and then falls out of it.
The students gripe about how suffocating it is to squeeze a third guy into their hotel of a dorm. Let me get you a tissue for your tears. Jong-min grumbles seeing Eun-gyul so happy with his new roommates.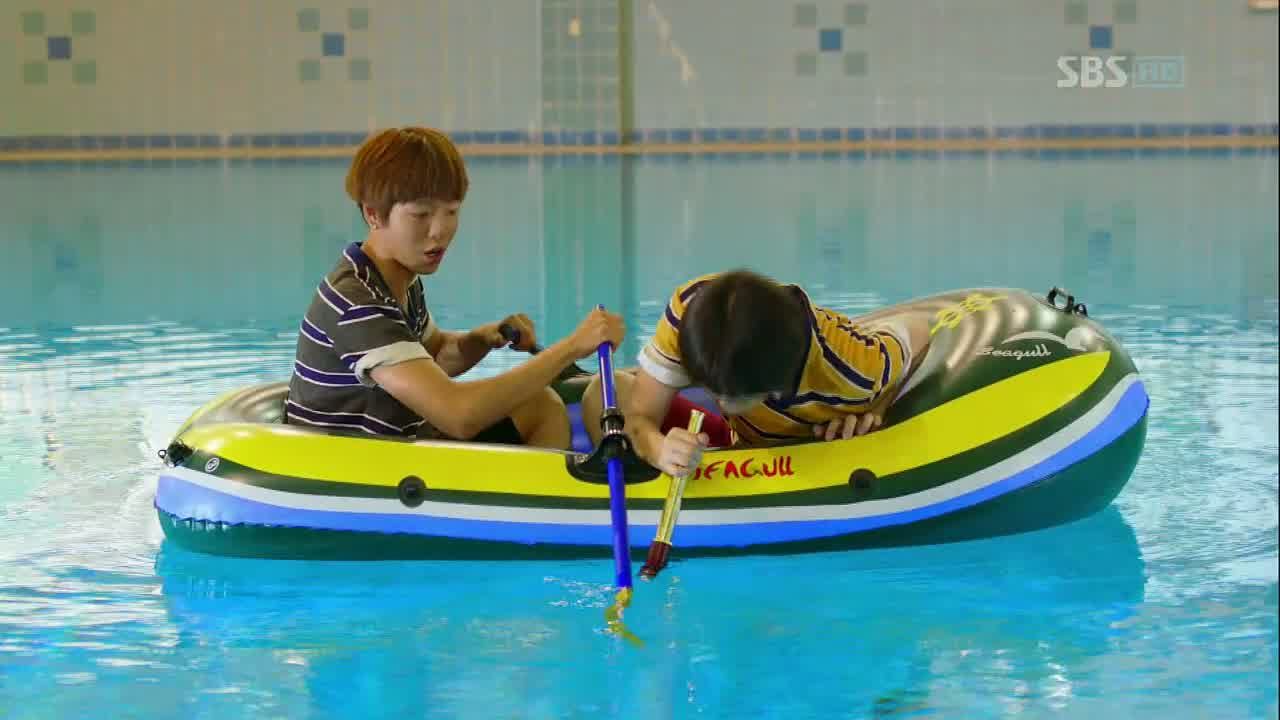 I'm not sure if you can actually see anything through that telescope but kudos on a safer plan to look for Tae-joon's necklace in a raft, Jae-hee. Eun-gyul joins her in the raft and asks if this is what she's been doing everyday to search for the necklace.
He suggests that it might be faster to swim in the pool herself but then retracts his idea when she reminds him about her chlorine allergy. Or maybe we've forgotten that she had a traumatic spill into the pool a few days ago.
She playfully pushes Eun-gyul into the pool and sticks her tongue at him. Jae-hee playfully teases that she'll only pull him back up if he calls her "hyung." Eun-gyul resists at first and then gives in.
Hanna's suspicion is not a force to be trifled with. She asks her manager hyung to look into "a friend" and he retorts that she doesn't have any. She orders him to research Jae-hee and find out every last detail about her.
Back in the room, Eun-gyul asks if Jae-hee wants some ramyun but the problem is that they don't have any. But never fear because Eun-gyul has packed everything down to a portable gas burner and notes that even the end of the world couldn't stand in his way.
Jae-hee deduces that that would mean only he, Hanna, and the coackroach would survive and if he and Hanna got together… Eun-gyul takes issue with that: "I'd rather be with the cockroach!"
Leave it to Tae-joon to be a stick in the mud about cooking inside. I love that Eun-gyul is all, Rules were meant to be broken! but Tae-joon tells them to go eat elsewhere. Meaning, the bathroom. HAHA.
What's better is that Tae-joon overhears them joke and laugh about it and then presses his ear to the door to listen in. Why so cute, Tae-joon?
The door unexpectedly flies open and Tae-joon falls inside. When he's asked what he's doing, he gives the lame excuse about the door. Eun-gyul invites him to join them to eat but Tae-joon kicks them out of the bathroom too, citing that he's gotta go.
When they leave, Tae-joon lets out a deep sigh and hangs his head.
Eun-gyul stays up late texting with Da-hae who tells him that she misses him. He hesitates before typing out, "Me too."
We're not sure if he actually sends it or not but later, he sneaks up to watch Jae-hee sleeping. His heart thumps again and he sighs, "Gu Jae-hee, what are you?"
Man, I officially love seeing Tae-joon be jealous. He notices Eun-gyul watching Jae-hee in the mirror and then the two have a furious toothbrushing battle.
Just because Tae-joon and Hyun-jae are training partners now doesn't mean they've checked their rivalry at the door. Even though they assist each other in practice, they still shoot glares at each other.
In the locker room, Hyun-jae asks if the rumor about the yips is true and Tae-joon responds, "Why? Do you want it to be?" Hyun-jae shrugs it off – he's only worried as a fellow teammate.
Tae-joon explains that Hyun-jae isn't the reason why he's jumping again. And then he hits a nerve when he mentions that doesn't seem to be the case for Hyun-jae. Ooh, interesting. So there's a bigger reason than your rivalry with the top dog?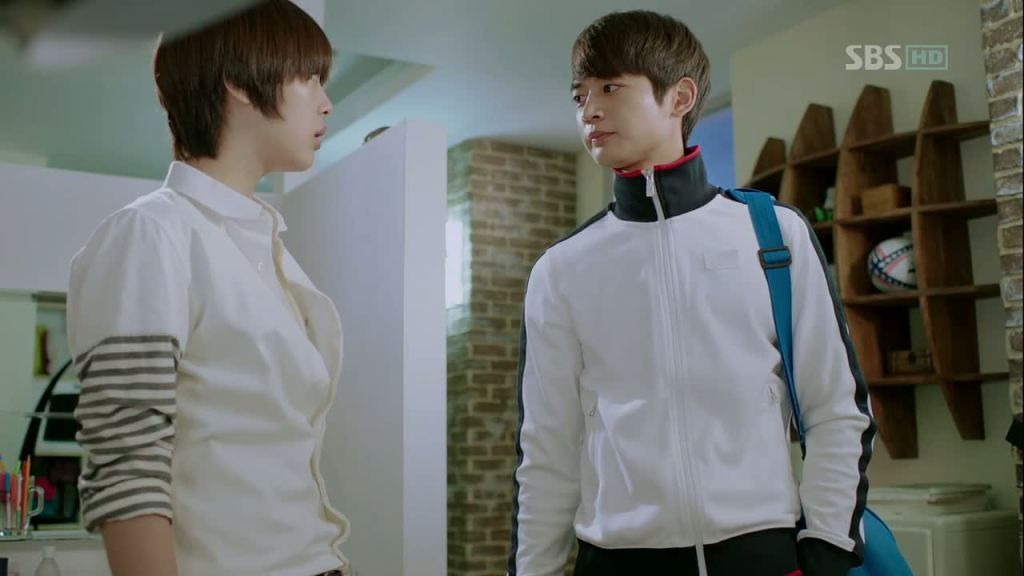 Tae-joon is in a sour mood as soon as he enters the room, snatching an old movie (Heart Is) out of Jae-hee's hands. Jae-hee says that she likes that movie too, particularly the ending.
But Tae-joon doesn't know… because he hasn't seen the ending yet. Oh no, why do I get the feeling that this has to do with Mom?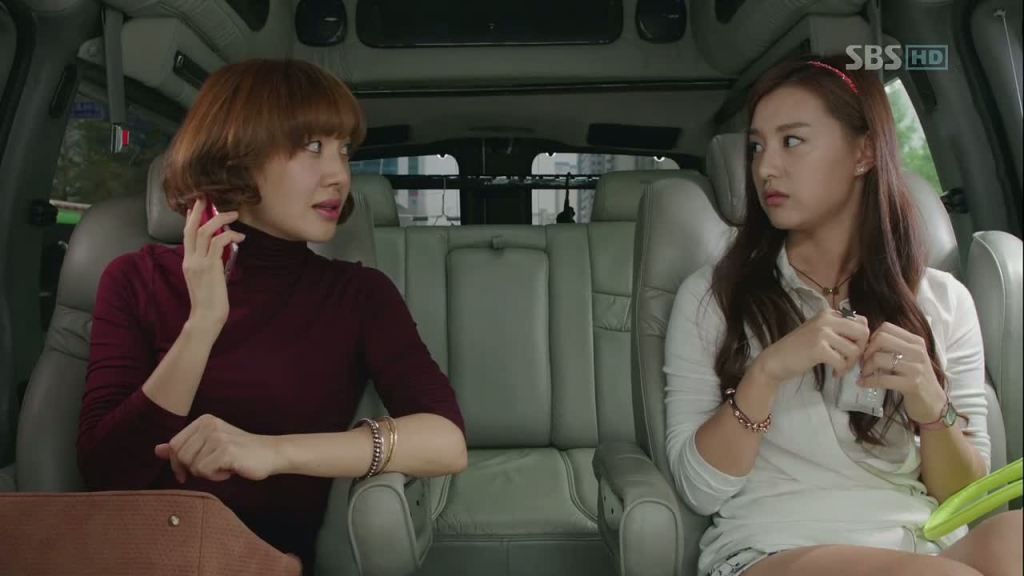 Director Jang snatches snacks out of Hanna's hands in the car, reminding her that she needs to lose weight before her competition. No matter how annoying you might be, I'm with you gaining a few pounds.
Mention of a Michelle Kim reminds the manager that it'll be faster contacting her about "that friend" since they went to the same school. That's news to Director Jang and Hanna plays innocent to her plan.
Tae-joon tries to plug his ears from Eun-gyul and Jae-hee's incessant chatter. He acts annoyed, pretending to do pullups but we all know you're jealous that they're getting chummy.
Jae-hee apologizes for the noise and in an effort to stop distracting him, she closes the shades on him. HAHA. Oh I can watch you be jealous all day.
Aw, at least they invite Tae-joon out for a study break, teasing him that he's not interested because he can't bowl. His pride on the line, Tae-joon stretches out to war up.
They run into Seung-ri and the others and agree to a bowling match. Everyone seems to be a decent bowler and Jae-hee even gets a strike. Now it's Tae-joon's turn and he gives us a breakdown to the perfect strike.
That, however, turns out to be just a figment of his imagination. He revs up… and the ball flies out of his hands in the opposite direction. Thankfully Jae-hee catches it without injury (phew) and Tae-joon blusters that he isn't fully warmed up yet. Which of course leads to a gutter ball.
Tae-joon sits annoyed at Jae-hee's cheers for Eun-gyul who makes up for the gap. Eun-gyul has another little awkward jealous of his own when Tae-joon celebrates his next strike with Jae-hee.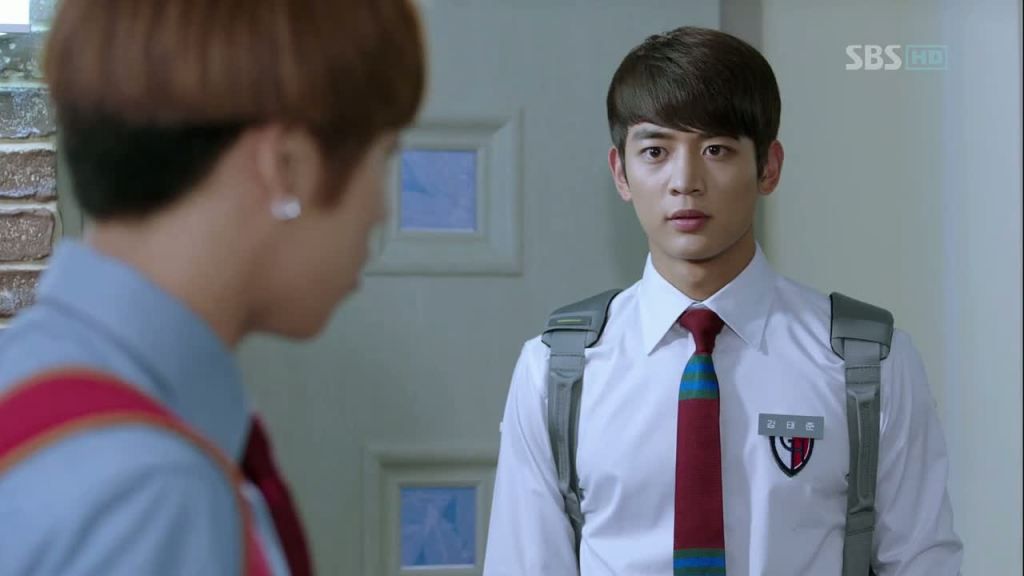 At school, Eun-gyul enters the dorm, not finding it strange that the door was locked. He hears the shower running and his hand hovers over the handle… when Tae-joon interrupts.
How sweet – Eun-gyul shows up to the pool to search for the necklace in Jae-hee's place. Today's Selca of the Day tells us that he's working hard at his friendship.
But then his precious phone drops to the bottom of the pool right next to Tae-joon's necklace. Convenient, that.
He reaches in his pocket to return it to Jae-hee since she said it was important to her. But then he hesitates when he learns that it's Tae-joon's and that he lost it when he saved Jae-hee from drowning.
Da-hae calls him out on his dejected mood on their date. She's willing to listen but is confused when he says that he must not be a good friend. When he confides in her that he's getting jealous over an object, Da-hae pinpoints the origin – is this about Jae-hee again?
She tells him that Jae-hee is all he ever talks about and Eun-gyul laughs that it's absurd Da-hae would be jealous of a guy.
Jong-min stops Jae-hee outside and she perks up to hear that he came across a necklace in the pool. Problem is, he dropped it by a building that will soon be demolished tomorrow.
And of course, our heroine has no reason to question him or assess in her head that it's perfectly safe to go into a restricted area. It worries me more, however, that the door just opens, as if inviting her into danger.
The Jong-min idiot trio dress up as ghosts and start their search for Jae-hee. I love it that they scare themselves just looking at each other. Meanwhile, Dorm 1 make sure to recover their "dorm treasures" aka their porn stash. And then the two idiot teams scare each other HA.
Outside, Coach Baek attempt to impress Teacher Lee about his Marine days. Doc says that he must be able to catch ghosts then and Coach Baek puffs up that once a Marine, always a Marine.
Then the Jong-min idiot trio runs towards them and Coach Baek passes out in fright.
Tae-joon waits up in the room and calls to check on Jae-hee only to find that she's left her phone behind.
Jae-hee finds herself locked in and she tirelessly works to break the chains. They don't budge and she yells for help.
Meanwhile, Tae-joon runs to search for her on the grounds and he hears her muffled shouting from inside the abandoned building. He breaks through a window and runs inside.
He worriedly asks if she's all right and then proceeds to kick the door. When that doesn't work, he smashes the lock open. Jae-hee runs into his arms and Tae-joon comforts her.
They walk down the stairs and Tae-joon silently takes Jae-hee's hand in his. They sit down to rest and Tae-joon adorably massages her leg. She apologizes that she couldn't find the necklace. Tae-joon: "Even if I do get it back, nothing will change."
Turns out, watching movies used to be Mom's pastime and we flashback to when they watched that very movie in the hospital together. It was the day before the Olympics and they'd agreed to watch the end next time.
Mom held him back to tell her that she loved him but her voice held a ring of finality. Tae-joon thought about turning back but left anyway. So after he won the Olympics, Dad dropped the bomb about Mom's death.
Crying now, Tae-joon breaks, "You don't know how many times I turned the clocks back in my head. Even though it wasn't much, we could have watched the end of that movie."
Jae-hee hugs him and they both cry.
Hanna peruses Jae-hee's old middle school yearbook after tracking down Jae-hee's old classmate. She frowns at being unable to find Jae-hee but then gets pulled away just before Jae-hee's picture.
Back in the room, Jae-hee notices that Eun-gyul's out late. (Neither she or Tae-joon knows he left because of a text from Da-hae.) Tae-joon contemplates for a moment before pulling out the movie out of the drawer. He suggests they watch it together and she agrees.
Aw it's little Yoo Seung-ho! Jae-hee observes Tae-joon watch the movie and they watch the rest together.
Tae-joon is delivered another cartload of fanmail and the security guard hands him one for Jae-hee: a birthday gift.
Eun-gyul is left to do a mountain of work and discovers the same tidbit. The work earns him a pass so he can attend Da-hae's recital.
He beams with pride and does that, "That girl up there is my girlfriend" bit to the person next to him. Only that person turns out to be Da-hae's dad. Awkward.
He takes Da-hae out shopping and then slips away to get Tae-joon's necklace gift-wrapped for Jae-hee's birthday present. He decides that he'll settle his feelings with this last gift.
Dude, shopping for your crush while you're out with your girlfriend? You are so asking to be put in the doghouse right now.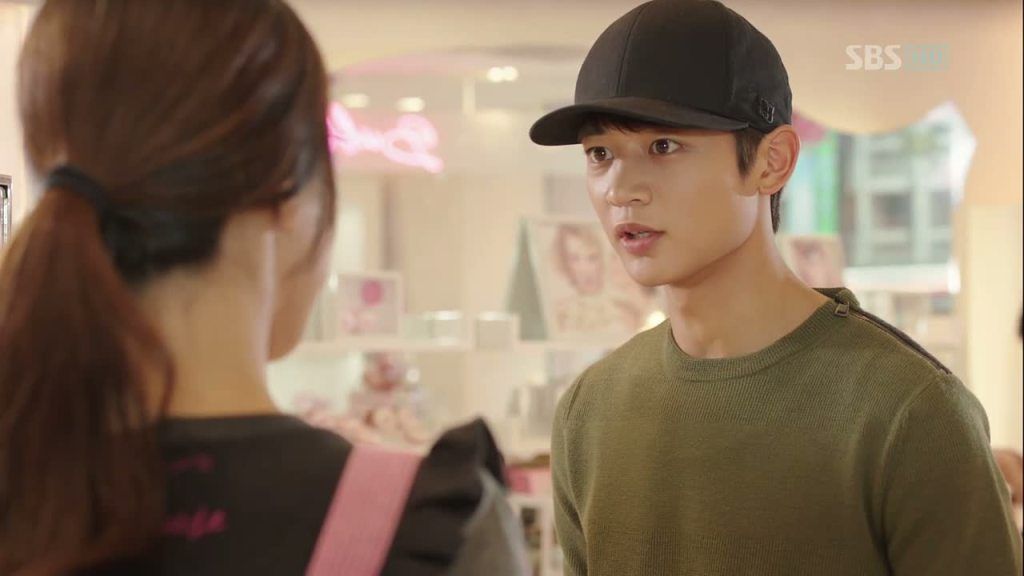 Elsewhere, Tae-joon awkwardly walks into a beauty shop for Jae-hee's present. The clerk asks if it's for a girlfriend and he asks for a gift that's for a woman but doesn't look like it's for a woman.
Eun-gyul looks high and low for Jae-hee to learn that she's busy doing laundry. He walks in and then wraps her in a backhug. Eep!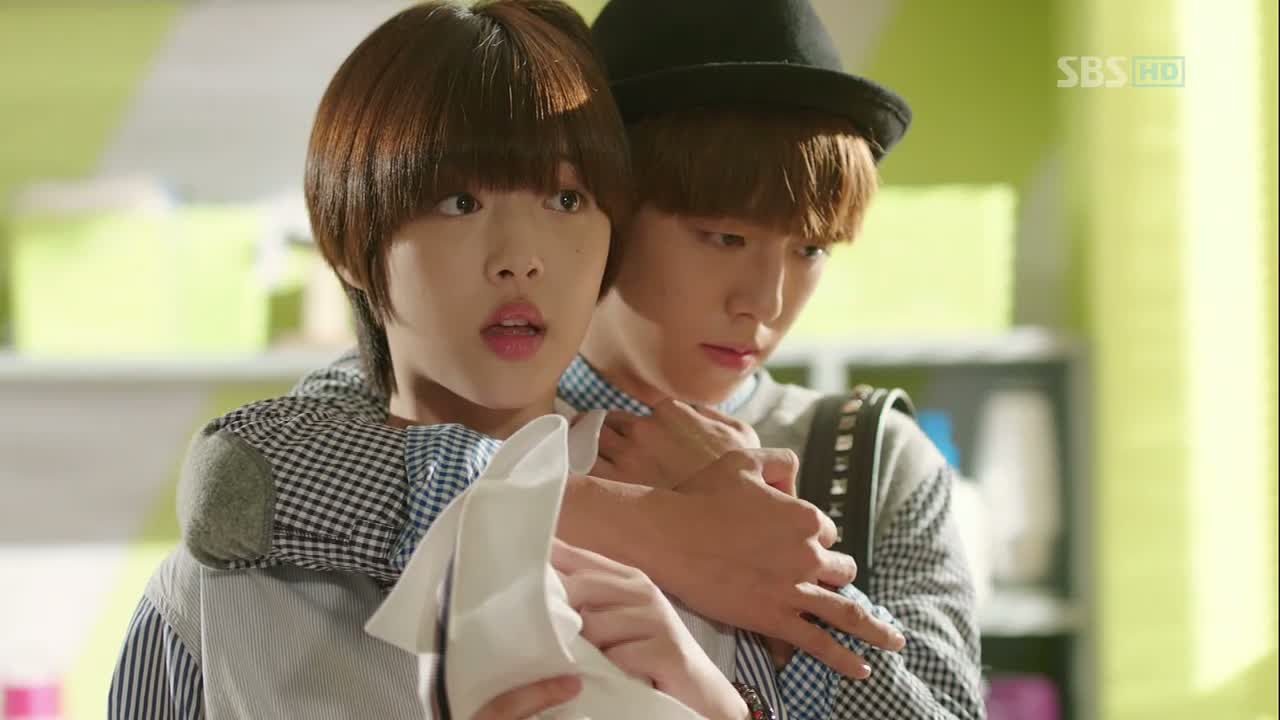 COMMENTS
Although the series fell in ratings again to a series low at 4.6%, I still found it to be quite enjoyable. It even managed to get a few good laughs out of me which makes me wonder if the show has found its footing. The narrative is starting to weave together and the show even has a couple of running jokes. Like how Hanna would survive an apocalypse because, well she would with her level of tenacity.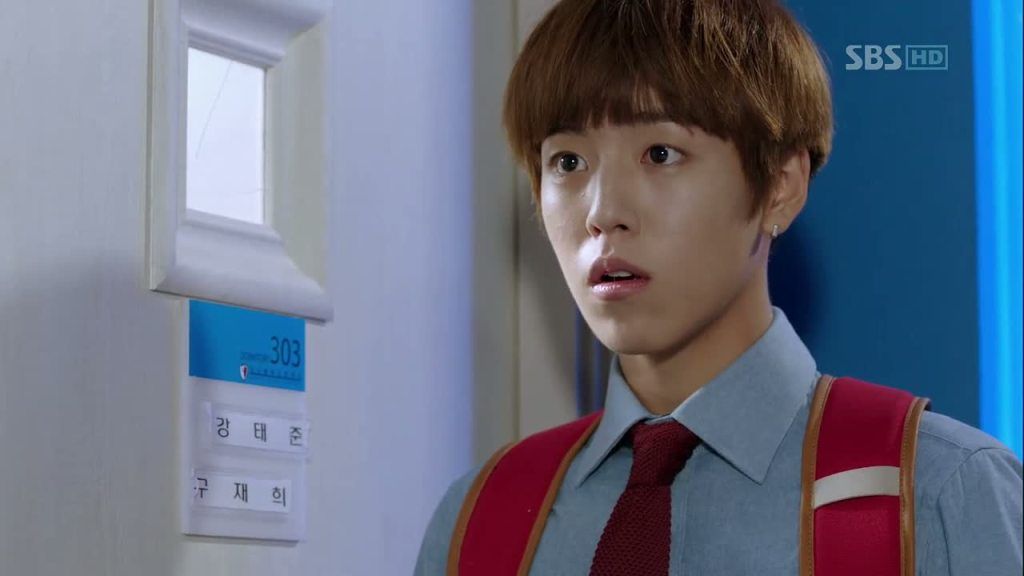 Eun-gyul continues to be one of my favorite characters in this series. Besides from the obvious reason that he's so darned cute, I love his inner emotional conflict. For him, attraction is literal with a thump thumping heart for Jae-hee and not for Da-hae. I'd argue that Da-hae's a better match for him and it pains me to watch how well they get along only to know to whom he's truly drawn to. He's really trying in this episode to be a good boyfriend to her and I know it will just end in heartbreak for Da-hae and himself. What can do you when the timing isn't right?
I was intrigued by Hyun-jae in the previous episode but now I'm totally invested to find out what his true motivation for working so hard at high jumping. If what Tae-joon is saying is true, then what's more important than their rivalry? Is it fame, celebrity status, or something else? I'd love to see his drive stem from something deeper than jealousy.
Tae-joon is becoming a more interesting character every episode. We expected that Mom died at the height of his youth athletic career but we're still so far away from knowing what caused him to pull away from high jumping all together. I loved that he shared that genuine moment of vulnerability with Jae-hee and her response was to simply be there for him.
Additionally, I love how Tae-joon's interest in Jae-hee is growing. It was sweet that he silently took Jae-hee's hand in his and that he makes the extra effort to get a birthday gift. Then he keeps dropping hints that he knows about her secret since we all know that Jae-hee's not doing a very good job of hiding it nowadays. But overall, I just like seeing him jealous because it just makes my day.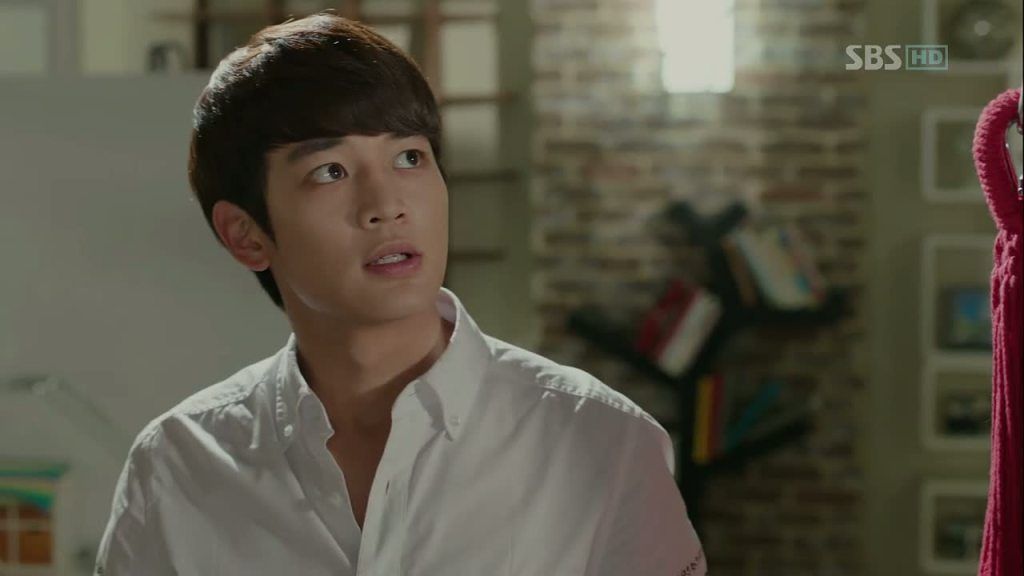 RELATED POSTS
Tags: featured, Kim Ji-won, Lee Hyun-woo (2), Min-ho, Sulli, To the Beautiful You