To the Beautiful You: Episode 8
You'd have this smile on your face too if you were this close to your idol crush. Our clueless heroine still has no idea that her crush already knows her big secret. And our hero works to make sure that no one else will catch on. Jae-hee sure makes his job difficult considering how accident prone she is. And that's just the tip of the iceberg.
SONG OF THE DAY
Taeyeon – "가까이" (Closer) from the OST [ Download ]
Audio clip: Adobe Flash Player (version 9 or above) is required to play this audio clip. Download the latest version here. You also need to have JavaScript enabled in your browser.
EPISODE 8 RECAP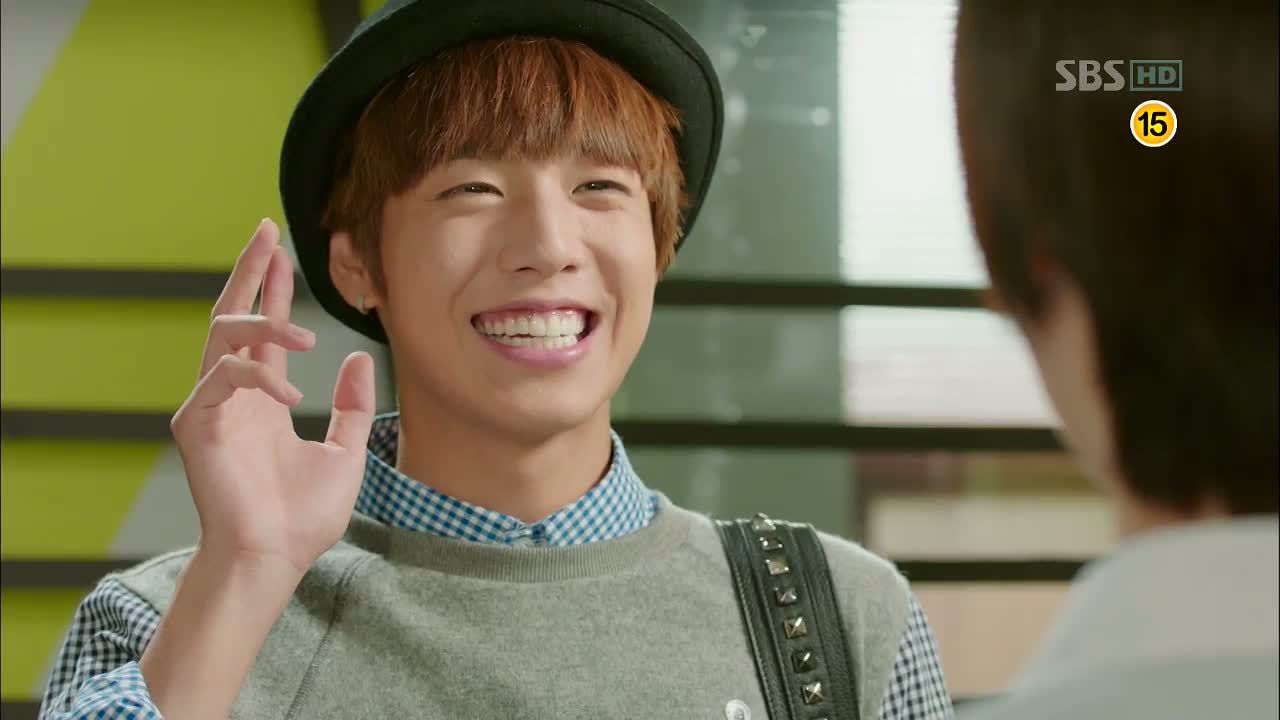 So Eun-gyul succumbs to his feelings, pulling Jae-hee in for a backhug. Jae-hee immediately pushes him off and asks what he's doing. Startled, Eun-gyul blusters that he was trying to surprise her. He hands her the birthday gift before running away.
He stops to catch his breath and wonders aloud – does he really like Jae-hee?
Tae-joon hastily hides the present into his bag when Jae-hee returns. They sit, waiting for the opportune moment and then get up simultaneously, presents in hand. Jae-hee is surprised that Tae-joon's remembered and he nods to the package on her desk.
As Jae-hee works to open the box, Tae-joon is all, It's okay if you don't like it… to which she says that of course she will. Tae-joon opens his and is speechless to find the necklace.
He genuinely whispers thanks and Jae-hee tells him that if there's anyone to thank, it's Eun-gyul.
We catch back up to Eun-gyul who is questioning whether he really likes guys. He resolves that he must be crazy and Jae-hee does look like a girl, so he denies it.
But then he starts imagining everyone from the security guard to Coach Baek as Jae-hee. Shaking his head, he firmly declares that Jae-hee is dangerous. Let's see how far that denial lasts, buddy.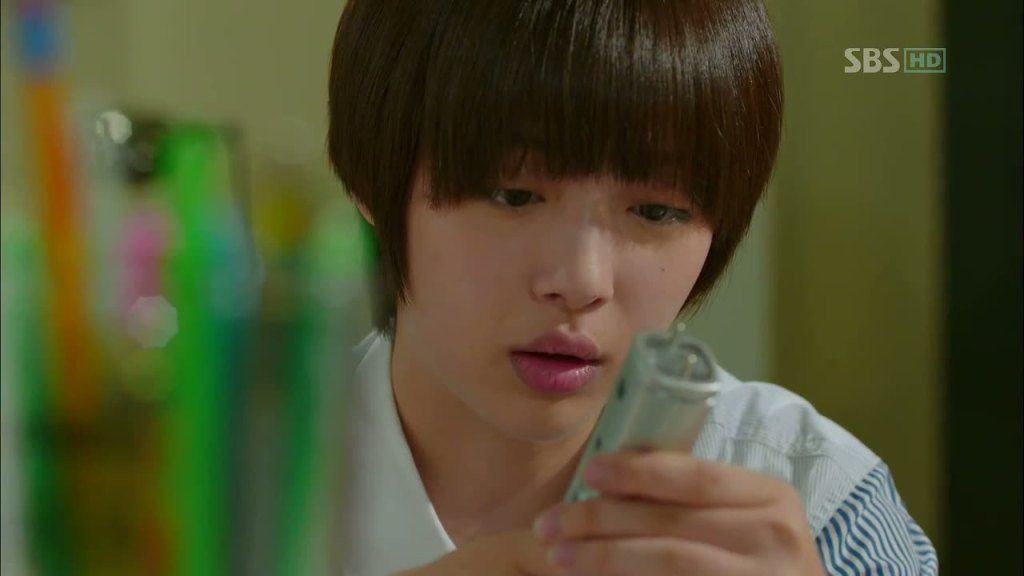 Jae-hee beams over Tae-joon's gift and opens the mailed package from Daniel. Inside she finds a taser with a note from Daniel to use it to protect herself and she sighs.
But you wouldn't be dumb enough to try that on yourself, right? Yes, yes you are and she passes out.
Later, Eun-gyul surprises Jae-hee with seaweed soup to commemorate her birthday. He shares that his life's motto is, "If you can't avoid it, enjoy it." and adds cryptically that there's such an occasion.
Jae-hee is in agreement with this mantra and asks where he got the seaweed soup. He tells her that he pulled some strings in the kitchen. As in, he pulled out his aegyo guns to the kitchen staff to whip up something special. Aw.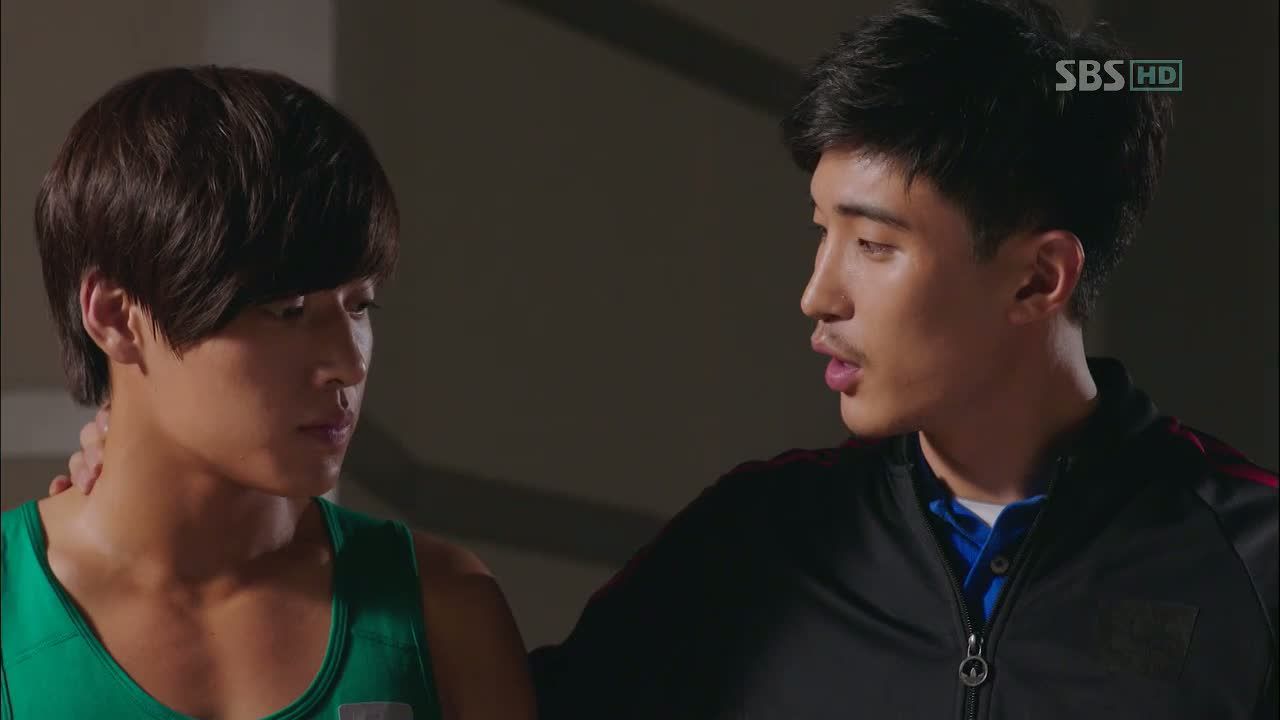 Tae-joon fails to clear yet again in practice and Coach Baek records their progress. It's apparent that both on paper and video, Hyun-jae has the better form and stats.
Coach Baek praises Hyun-jae on his improvement but all Hyun-jae hears is how he's still being compared to Tae-joon. Noticing that Hyun-jae's numbers in practice are much higher than the ones on competition day, Coach asks if Hyun-jae suffers from performance anxiety.
Hyun-jae denies it and Coach reminds him that in order to win, one has to throw away that greed to win – they're still young athletes after all. And then we get this hilarious bit when Coach attempts to take off his shirt but can't get it past his big head.
Jae-hee buys a small cake to hold an impromptu birthday party but suddenly Tae-joon takes a call, annoyed. It turns out to be Hanna who called him out to celebrate her birthday early.
Hanna gets worked up that Tae-joon meets her empty-handed. She insists that she wants him to present her gift publicly and drags him shopping. It's just that the store clerk recognizes him and Hanna casts a suspicious eye – whose present did he buy earlier?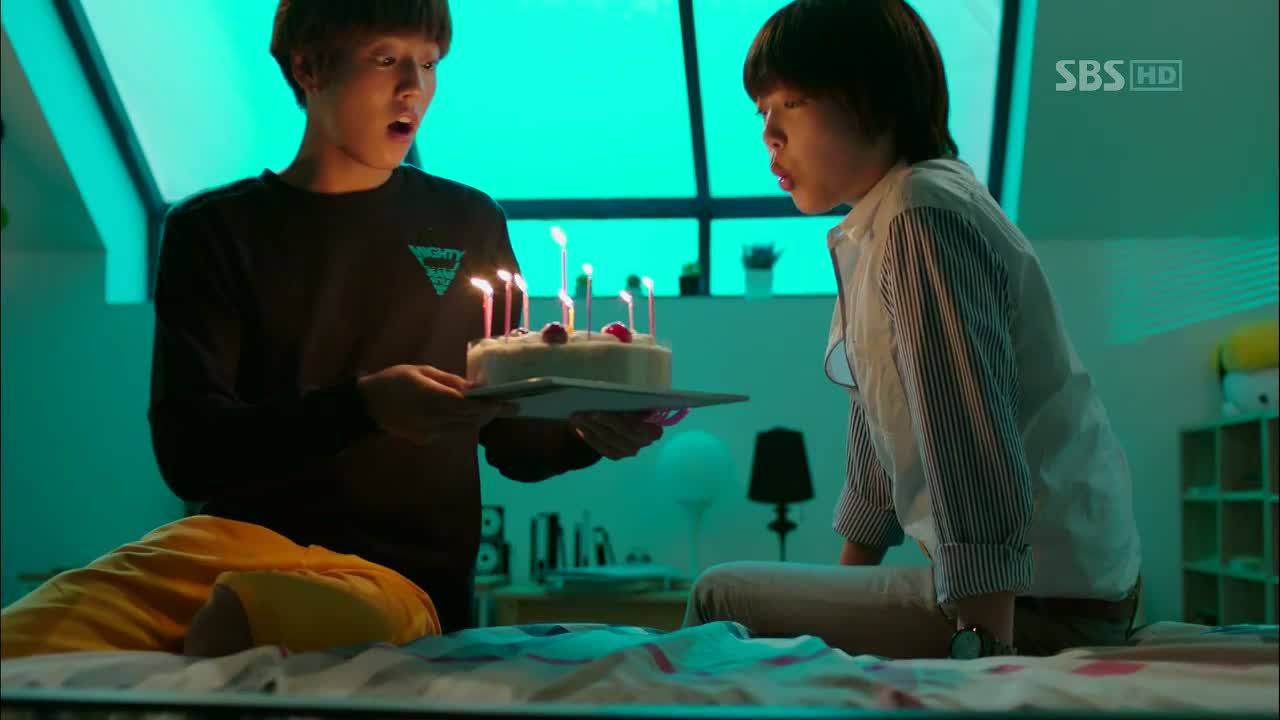 Jae-hee decides to call it an early night when the lights suddenly flicker out. She leans over the railing to see Eun-gyul carry in a birthday cake, smiling. Aww.
She's clearly touched and Eun-gyul mentions that it's the least a friend could do. Also, it happens to be their last night together as roomies. They blow out the candles and dig in, even chasing each other with frosting. You two are so adorable.
They're interrupted by a call from Da-hae and Eun-gyul's hesitation to answer it makes me nervous.
They meet up the next day and Da-hae immediately notices Eun-gyul's dejected mood. He has something important to tell her but before he can say it, she cuts in that there's somewhere important they need to go today.
Da-hae bites her nails in a nervous habit before her audition while Eun-gyul reassures her that she'll do great. Clasping his hand in hers, she confesses that she's only nervous when Eun-gyul isn't there. And since he can't physically be there in her audition, they improvise a good luck charm.
Cut to: Da-hae wearing Eun-gyul's soccer cleats and him in Da-hae's heels. Cute. Da-hae hangs her head after the audition and turns her frown upside down, happily telling him she passed.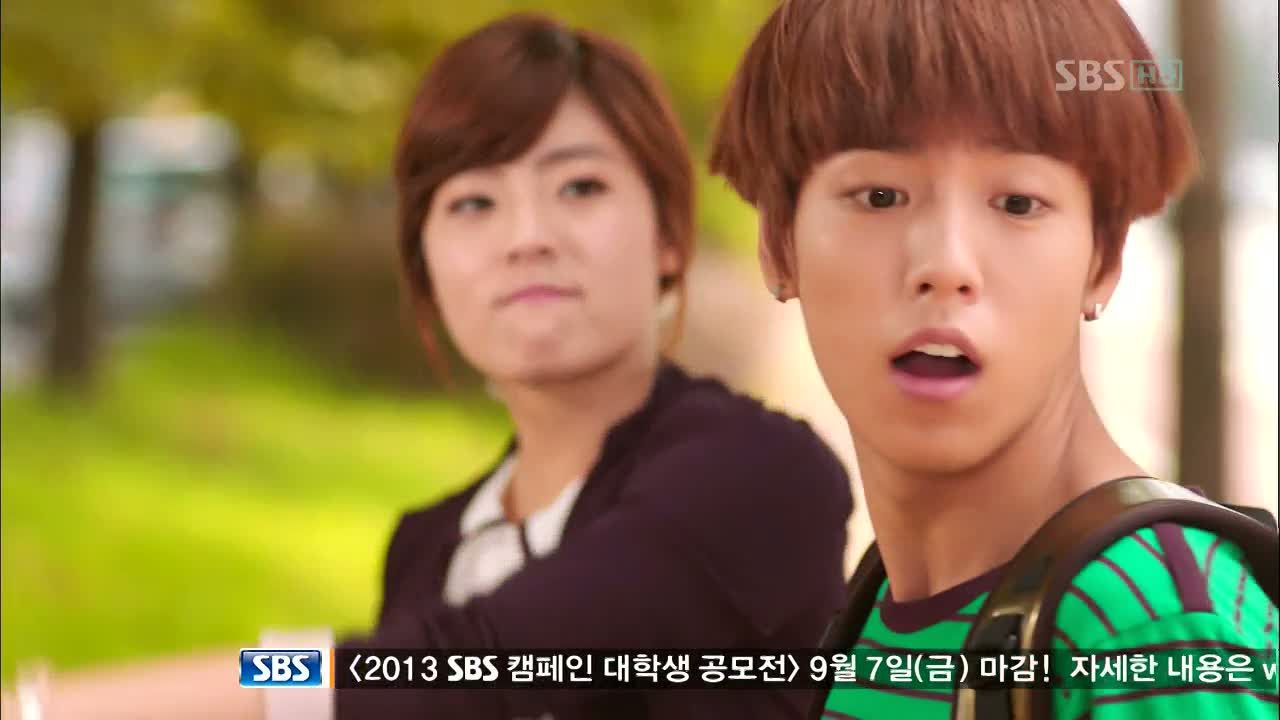 She's the one to bring up the subject again at the bus stop. Eun-gyul hesitates before asking her to hit him once before he says it. She obliges with a left hook and says, "You like someone else, right?"
Da-hae plays it cool, saying that it must be nice for whoever he likes. They shake on it and Da-hae keeps up the act until she's on the bus, using her violin case to hide her tears.
Is this sit-up scene supposed to be another Secret Garden reference? Seung-ri gathers the track and field team together to announce their upcoming training camp.
Jong-min lights up to hear that it's overseas and Seung-ri immediately brings him back to earth, "Of course not. It's a lie." They will, however, be going camping. MT time?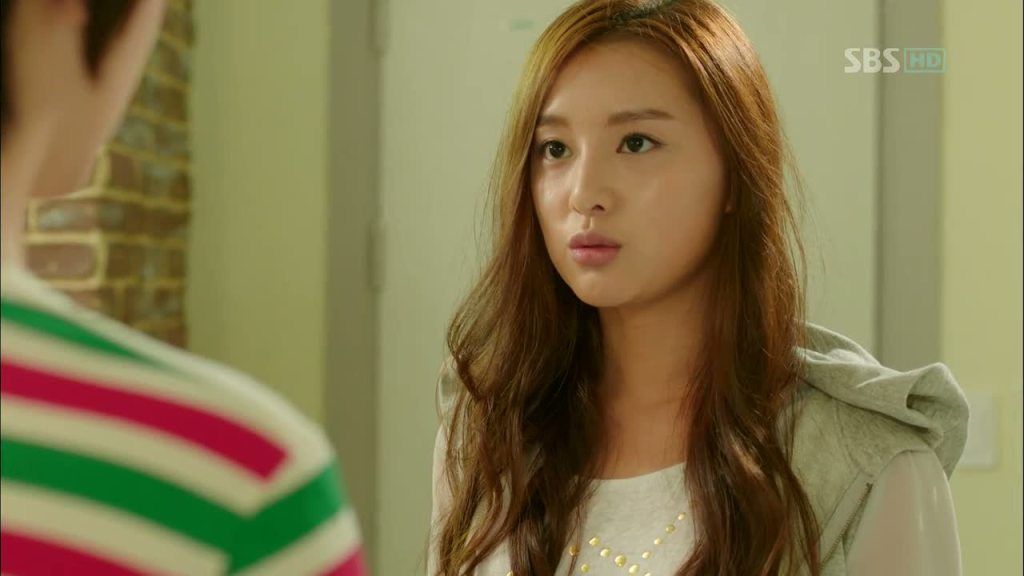 Hanna charges into Jae-hee's room unannounced (how does she come and go as she pleases?) and starts rifling through Jae-hee's things. It doesn't make sense in her head she says, and she discovers the cream Tae-joon bought her.
That's evidence enough for Hanna to put the pieces together and she asks if it was Jae-hee's birthday. She scoffs, "Why are you doing this to Tae-joon? Why do you keep sticking by his side?" I'd ask the same question of you, princess.
She continues with the third degree that Jae-hee must be mistaken if she thinks something will happen just because they're roommates. She burns if she knows anything about Tae-joon at all: his favorite color, food, or season.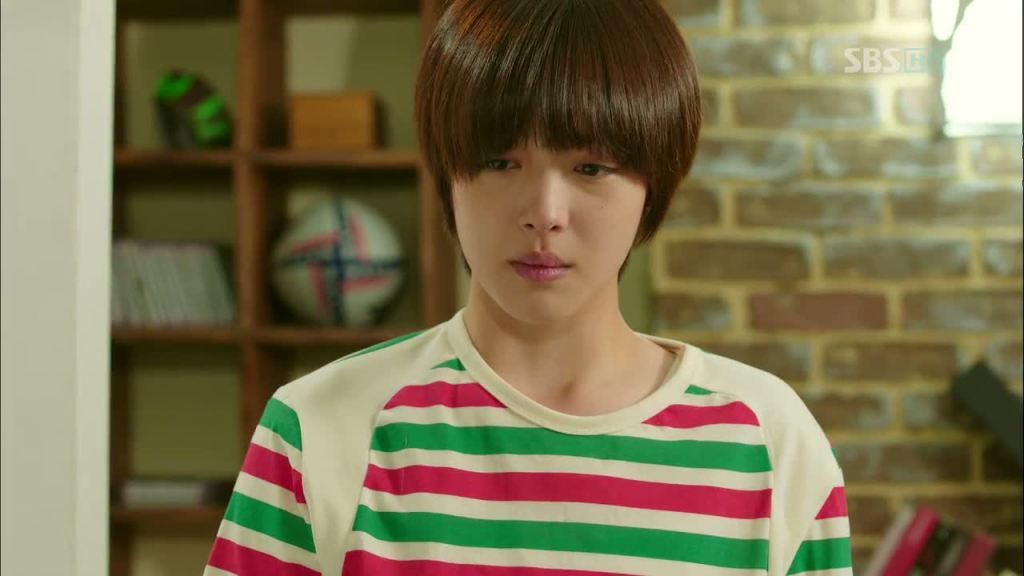 Hanna rants about how she knows that he doesn't eat chicken because of a traumatic incident or why he can't eat undercooked yolks. Shouting now, she accuses, "What do you know about Tae-joon?!"
Jae-hee stands there speechless and Hanna asks, "Aren't you a boy?" She tells Jae-hee to cut it out and grabs for the cream. Jae-hee struggles to take it back but it falls out of both of their hands and shatters on the ground.
Hanna storms out and Jae-hee picks up the pieces, fighting tears.
Tae-joon finds Jae-hee just moments after she cleans up the mess, asking if something's wrong. Jae-hee apologizes when Tae-joon returns but he says that it's not that big of a deal. He's more annoyed that Hanna has constantly been texting him which prompts Jae-hee to ask how long they've known each other.
He answers that she followed him around ever since she was in diapers and he regards her like a little sister. Jae-hee mentions that Hanna must not like her very much.
He defends that although Hanna is selfish and rough around the edges, she's still a good kid who doesn't hold grudges. Er, are we talking about the same girl?
Jae-hee asks if it's true that Tae-joon can't eat undercooked yolks. He's surprised that she knows and further confused when Jae-hee lashes out at him in response.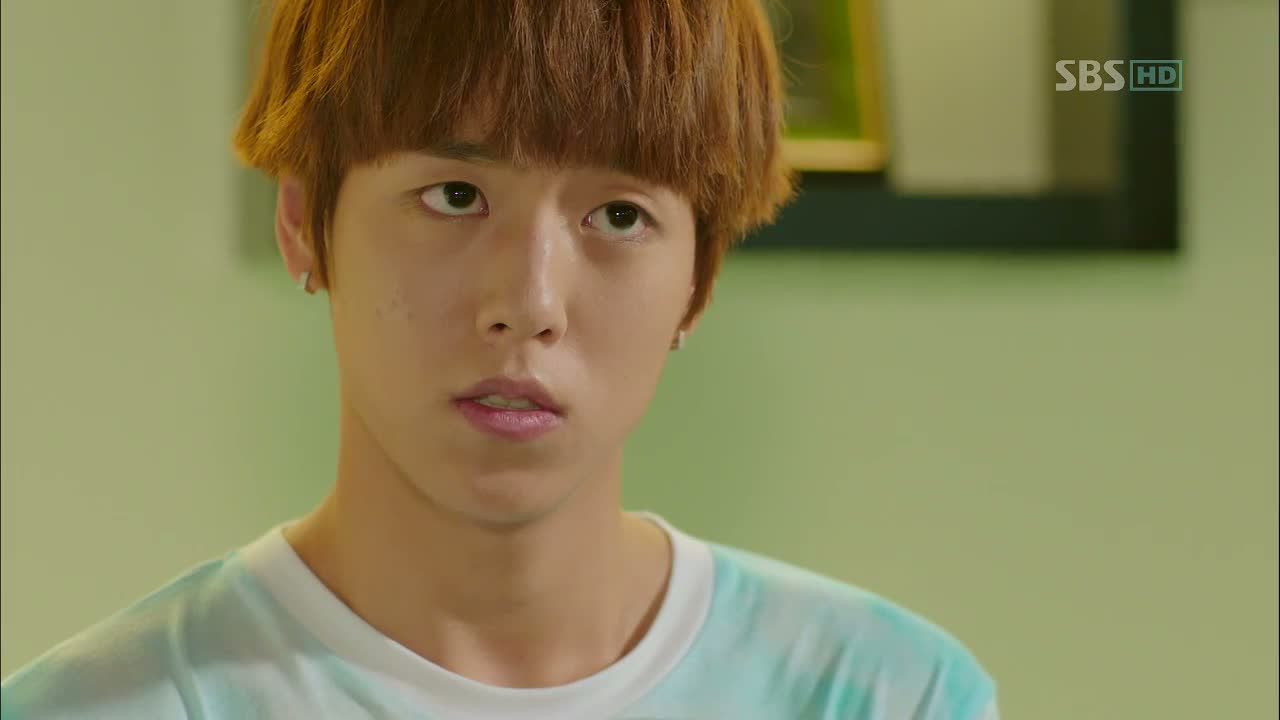 Eun-gyul contemplates sending a post-punch selca to Da-hae when he notices Hyun-jae packing for the upcoming training camp trip. He finds out that Jae-hee will be attending as well and runs into her in the hallway, her stuff in hand.
He mutters that he won't see Dough Boy for a few days and then an idea comes to him.
Hyun-jae is on the phone with someone (a girlfriend perhaps?) and abruptly hangs up when Tae-joon walks by. Tae-joon stops him as he turns to leave to ask why Hyun-jae hates him so much.
Hyun-jae: "You've never once been thankful for everything you've got, right?" Those things that seem so useless to Tae-joon are useful to him. As soon as Hyun-jae says it, he shifts uncomfortably before walking away.
Back at school, Eun-gyul tries to keep himself occupied but the words "mahlang" (meaning "soft, doughy") keep popping up and he lets out a deep sigh. Unable to deal with the distractions, he decides that he'll join "Dough Boy" at training camp.
Jae-hee is put on cooking duty and Tae-joon joins her, rolling up his sleeves. She asks if he's a good cook and he answers, "Better than you." Turns out he's pretty good and impressed, Jae-hee playfully calls him, "Chef." Are we doing Pasta jokes now?
He tells her that he learned cooking when Mom was sick which makes Jae-hee pause at the sad story. Then he pipes, "I'm lying." Cheeky.
They cook and play together (Jae-hee shows off a smiley Tae-joon squash) and Tae-joon carves out a potato likeness of Jae-hee. When she says that it doesn't look anything like her, he retorts, "People tend to think they look better than they actually do." Pffft.
She tells him to hand it over and in the struggle, it falls into the soup. They giggle. It's cute. Then the boys dig in to the vast array of food and Jong-min laughs when he finds the cooked potato.
After practice, Seung-ri announces a survival game where the losing team will have to run 10 laps in their underwear. Jae-hee speaks up but Seung-ri tells them that they'll just make sure their team wins then.
Jong-min pouts that Eun-gyul isn't here (Seung-ri: "Do you like him that much?" Jong-min: "Yeah, he's cute and nice!") and Hyun-jae says that it's better since he makes such a ruckus. And then a voice calls, "Who does?"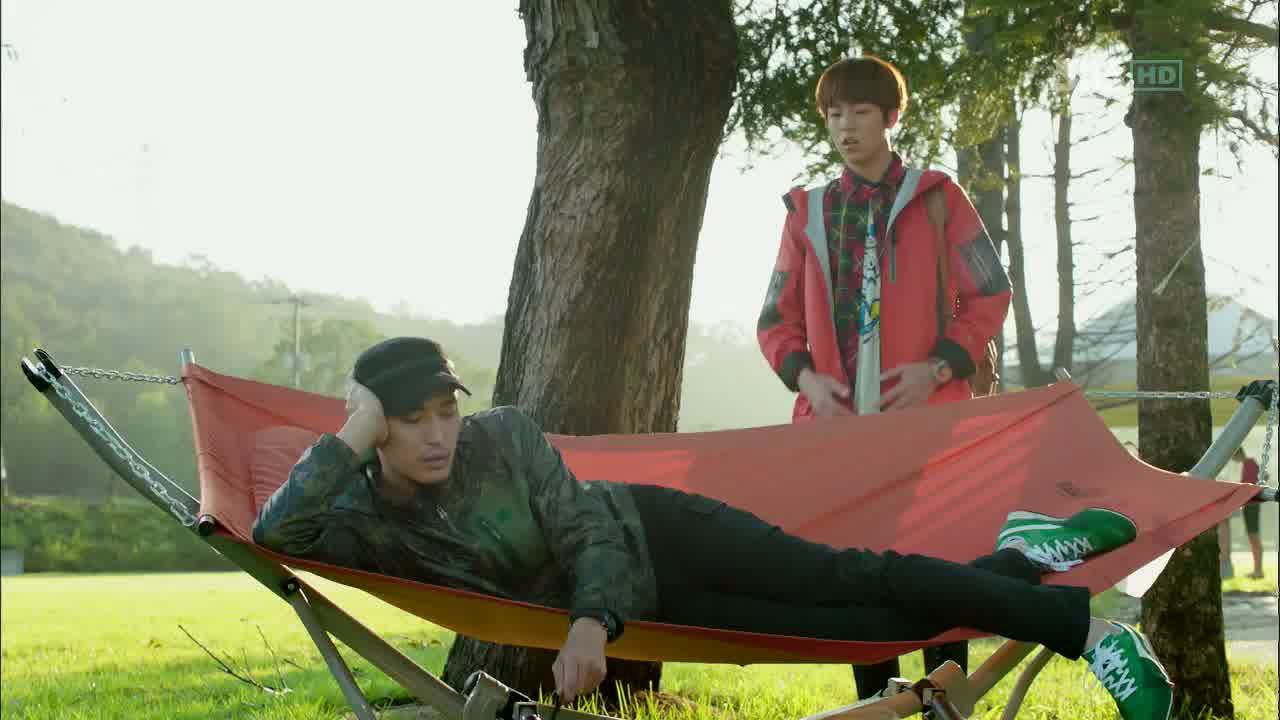 I love that Coach Baek leisurely lies in a hammock slamming down all of Eun-gyul's pleas to letting him stay. He puts his foot down but then has a sudden change of heart when Eun-gyul mentions that he wanted to get Coach and Teacher Lee together…
Tae-joon listens in as Jae-hee welcomes Eun-gyul to the training camp of hell and sighs at their chumminess.
Seung-ri debriefs the teams on the rules (and punishment) of the game: first team to snatch the enemy's flag wins. I love that it's a paintball game — it looks so fun!
They break and Tae-joon is put on flag duty. He observes as Eun-gyul and Jae-hee traverse the grounds. They come under enemy fire and Jae-hee slips on the stairs.
Both boys run to her side and Eun-gyul mutters that Jae-hee must not want to suffer the punishment of running laps in their underwear.
That's news to Tae-joon and Jae-hee now sustains a sprained wrist. His blood boiling, Tae-joon proclaims in a Super Serious tone that he's going to end this little game.
Tae-joon puts on his mask and cue action music. We're thrown into First Person Shooter mode as Tae-joon shoots down his targets one by one. He flips and turns to singlehandedly take down his enemies. (and looking cool doing it, natch) Then he grabs the flag, securing his team's victory.
Meanwhile, an enemy rounds the corner and Eun-gyul throws himself in front of Jae-hee, getting shot instead. He falls on top of her and Jae-hee shoots back.
Eun-gyul gives his famous last words as he "dies" that he risked his life for his friend. His heart goes thump thump and Jae-hee ekes out, "…You're heavy." Heh.
Tae-joon rushes into Doc's tent with a pale Jae-hee. Doc ushers everyone out, giving a reassuring nod to Tae-joon. As he wraps her wrist, he tells her that her bandages binding her chest are too tight.
She's still developing as a teenager and Doc says that it's a sign that she won't be able to keep up the act for much longer. She's seen Tae-joon jump and now there's no reason for her to stay at Genie High.
The boys ask her what happened and she blames the incident on low blood sugar. She claims that she's perfectly fine but the injured hand keeps getting in her way.
It's adorably sweet and awkward as Tae-joon helps wash her face. Not too far away, Eun-gyul spots the two of them.
Jae-hee and Tae-joon both fidget in the tent, unable to sleep. Jae-hee attempts to get up for some fresh air but then falls on Tae-joon. He rolls her back and now on top of her (rawr), he tells her that he likes her.
Looking into her eyes, Tae-joon continues: "That's why I'm going to test it out whether I like you or not. Since lips… don't lie." AHAHA. Oh I know this has to be a fantasy but this is hilarious.
Imaginary Tae-joon closes in… and Eun-gyul snaps himself out of the fantasy. "Not all guys like men!" Hehe. And then Coach Baek snuggles up to him. It's like icing on a cake.
Eun-gyul resolves that he'll have to confirm but he's unable to climb out of the sleeping bag so he inches along the ground in it like a caterpillar. HA.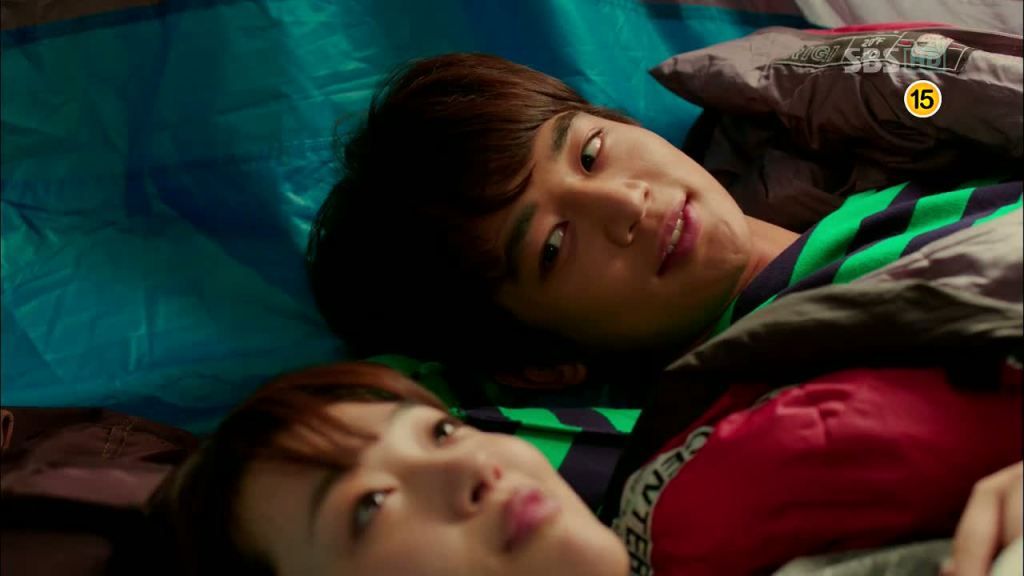 It turns out Eun-gyul's fantasy isn't so far from the truth as both Jae-hee and Tae-joon find themselves unable to fall asleep. Jae-hee tries to entertain Tae-joon by telling him about s'mores and that she'll make it for him.
Declining the offer, he retorts that Jae-hee can't cook (good point) but he amuses her and relents. They turn away from each other to sleep but their eyes remain wide open, both aware that they're sleeping next to the opposite gender.
Eun-gyul continues to inch along the ground but gets caught by Seung-ri. His aegyo attempts fail and he's forced to crawl back to his tent.
Bad news back home. Dad pays Director Jang a visit, telling her that he's heard from Coach Holton and plans to take Tae-joon with him to Canada. Director Jang snaps back if Dad has discussed the matter with Tae-joon at all.
Just outside the door, Hanna overhears the entire conversation and panics.
At breakfast, Jae-hee has trouble eating and before Tae-joon can help her, Eun-gyul takes to feeding her. Seung-ri gripes at this, "Are you two newlyweds or something?!" and Jong-min tries to get Eun-gyul to feed him too.
News of a meteor shower that night gets Eun-gyul talking excitedly. Seung-ri downplays it and Jong-min snaps that his lack of interest in romance is why Seung-ri is still flying solo. Seung-ri: "Who said I can't get a girlfriend? It's that I choose not to have one."
Talk turns to the kind of girl Seung-ri likes and he shares that he's like an angelic girl with an elegant grace. An innocent girl whose tears can send him over the edge. Meet HeadsNo2, sir.
Jong-min comments that it's not like they're in the Joseon era (though I doubt Heads would mind) and Eun-gyul suggests that Seung-ri wish for one tonight anyway.
Tae-joon catches Jae-hee changing and hastily zips the opening back up. When she comes out, he gripes, "If it weren't for me…" but then stops himself, telling her to be more careful.
She mentions the meteor shower tonight and lights up when he agrees to accompany her.
Later that night, he tells her that he'll catch up with her after he helps Seung-ri with making plans. Seeing that she didn't pack a warm jacket, he takes off his and wraps her in it. Swoon.
How funny is that Seung-ri looks up at the meteor shower and casually wishes for a girlfriend and then Hanna appears? Hanna looks like she's on the verge of tears and demands to know where Tae-joon is.
Seung-ri stutters in response and watches Hanna leave with a deep sigh.
She's crying by the time she runs into Tae-joon and blurts that Dad is planning to send him overseas to Canada. She tells him that Dad's already made preparations and declares like a loyal puppy that if he's leaving, so will she.
He thanks her for her concern and sends her off but Hanna clings, begging that he come back to Seoul. They'll talk it over with Dad and Tae-joon knows that Dad will listen to her.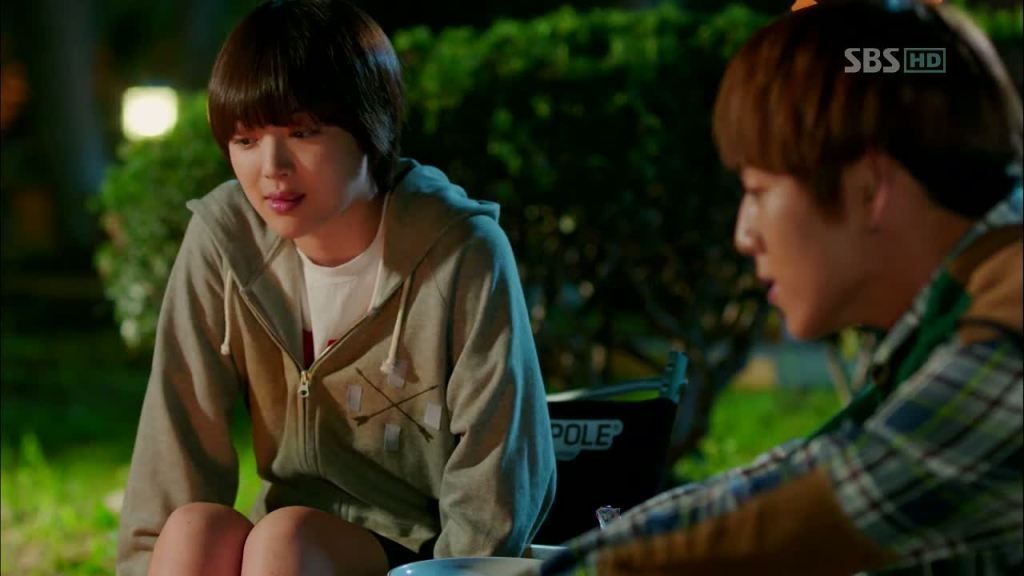 Jae-hee's heart drops when it's Eun-gyul and not Tae-joon who comes to find her by the fire. Tae-joon calls her before he gets in the car with Hanna. Jae-hee tells him that she understands but has difficulty keeping a poker face in front of Eun-gyul.
Changing the subject, Eun-gyul asks about the s'mores. Jae-hee slaps on a smile and tells him that someone she really liked when she was little taught her how to make them. They eat and Eun-gyul chuckles, brushing a crumb from her lips.
After a minute, Eun-gyul musters up the courage and says, gazing at Jae-hee, "Dough Boy. I have something to say to you."
COMMENTS
What a great cliffhanger – will he or won't he tell Jae-hee about how he feels about her? I swear, drama – if you undercut this moment by telling us that he broke up with Da-hae, we will have words. Because you can't give us two awesome Eun-gyul cliffhangers and then short-circuit them twice. It's not fair and just plain mean, hrmph.
Though his breakup with Da-hae still hit me in the heart, it was a nice touch that they part ways at a bus stop, much like their first meeting. It's always painful when you realize that you're not the focus of one's affections but it both warmed and cut my heart to see them try so hard anyway. Their relationship was a sweet one where they genuinely cared for each other's best interests and I'm sad to see her go. Especially since she's smarter than both of our female leads combined. Here's to hoping she comes back sassier than ever.
I'm relieved that the show has upped the hilarity these past two weeks with some adorable and cute moments. Even when we get some dramatic action moments, it just makes me crack up again. Like how Tae-joon slapped on his game face and singlehandedly defeated an entire army. The awesome school antics are really where the bread and butter is of this series and I feel like I'm pulled out of what works for this series when we start introducing more traditional drama tropes like "studying/training overseas." Instead of relying on that to introduce conflict, can't we get more of these moments?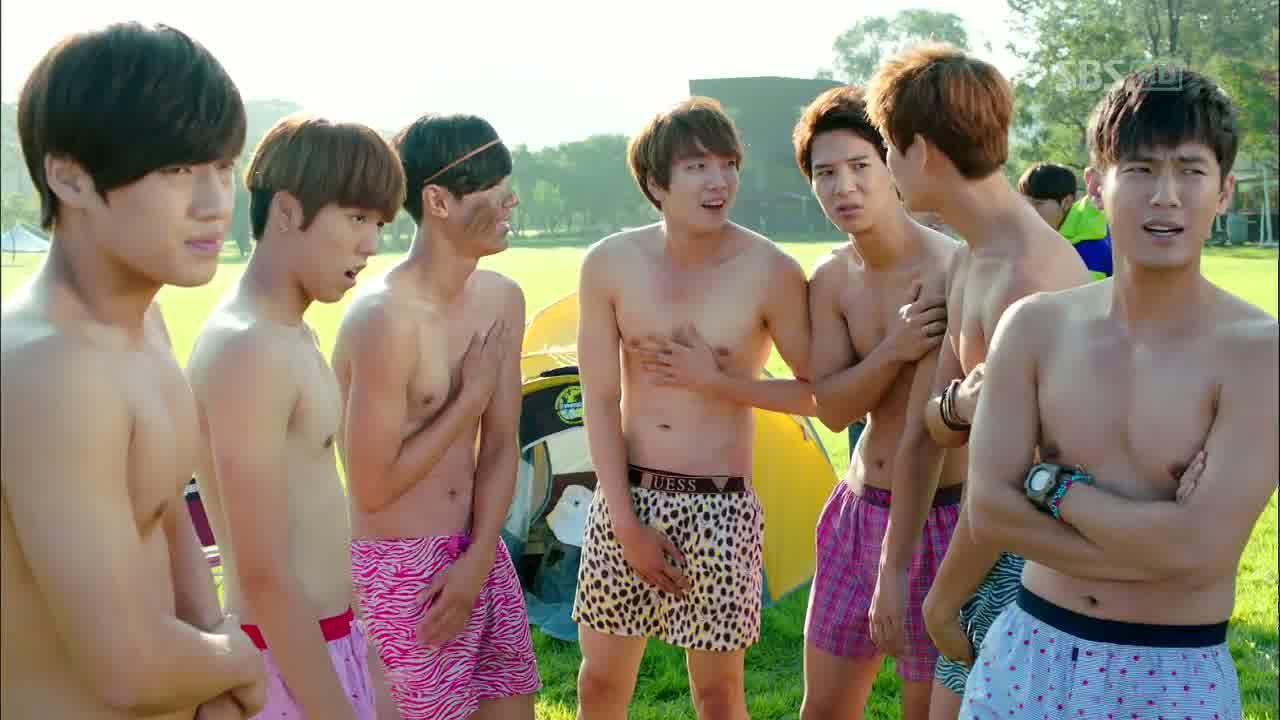 Now that we're at the halfway mark, I tried to give Jae-hee the benefit of the doubt. But with every episode, she wears down my patience. Not only does she have a horrible sense of judgment, she is incredibly accident prone. Must Oppa come save you countless times of every type of incident under the sun from drowning to almost rape to sprained ankle and now sprained wrist. I'll admit that the taser accident was reminiscent of You're Beautiful, but how can you be so careless? If Jae-hee still strikes me as a surface level character, that's not good news for our heroine and then the fault lands on the writing.
We've seen that carelessness in her guy act as of late as well. A few verbal slips here and there but this latest incident is a marked change. Doc brings up some important points that she's a teenage girl who is still developing. It'll become increasingly difficult to maintain her disguise and just a matter of time before her current getup will render useless. Furthermore, what is the reason why Jae-hee remains in the school now that she's seen Tae-joon jump again? Her answer that he helped her come back into the world again is legitimate but seems like only part of the reason. As a viewer, I want to be able to root for you Jae-hee but you've got to help us understand why we should continue to cheer for you.
Eun-gyul's crazy imagination sequences are really a favorite of mine in this series. I almost thought that tent scene was real until Tae-joon rolled on top of her and I busted out laughing. What's better is that his actions are just as ridiculous and adorable as his fantasies. Isn't he just the cutest little caterpillar you've ever seen?
(credit to: bigpill0w for the Eun-gyul gif)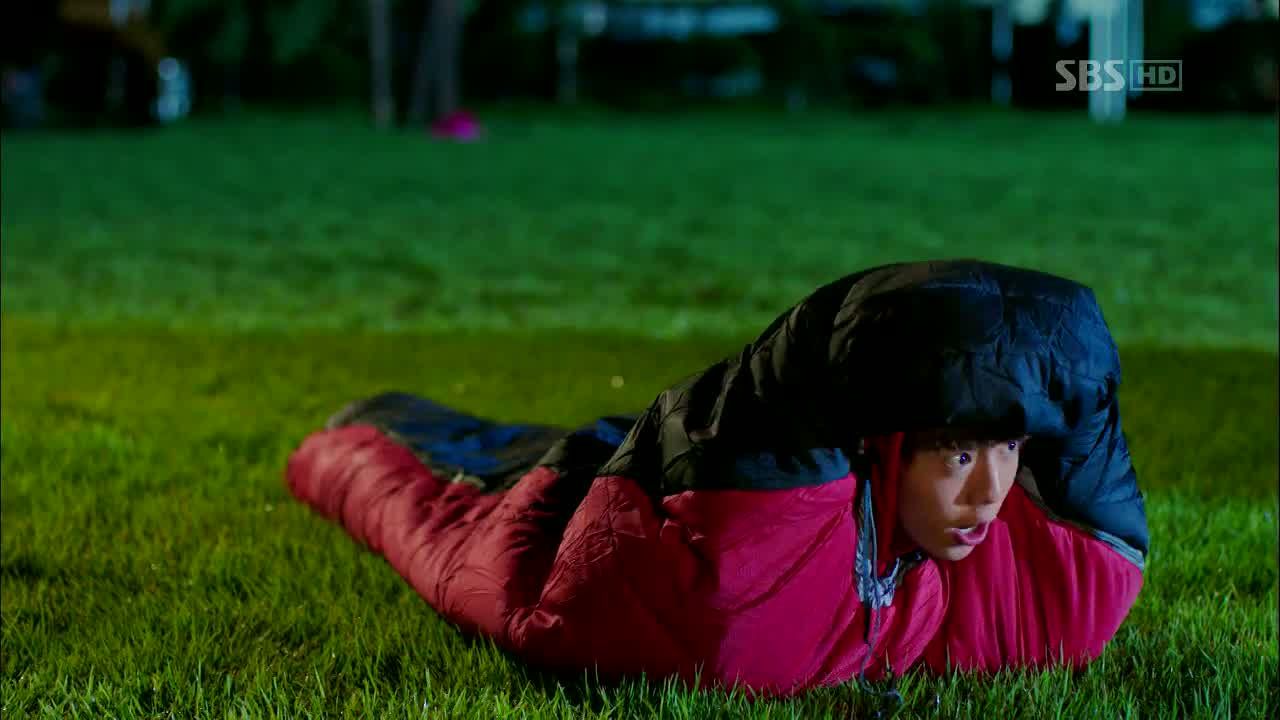 RELATED POSTS
Tags: featured, Kim Ji-won, Lee Hyun-woo (2), Min-ho, Sulli, To the Beautiful You