Vampire Prosecutor 2: Episode 3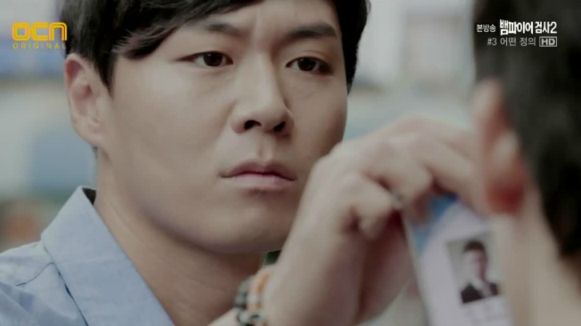 Yay, a heartwarming episode for our makeshift crime-solving family, as they meet their first big challenge with the newest member, Dr. Jo. The overarching season mystery also takes on a new twist that I love, so great stuff all around. As for the mystery of the week, dramaland seems intent on making me live in 1997 forever. I came for hot vampires and got H.O.T. fanwars. 'Ssup with that?

EPISODE 3: "Any Justice"
We open on a crime scene. It's a familiar opening – the prosecutor flipping that lighter open and closed, examining a body. Only the prosecutor isn't Tae-yeon, but Park Hoon (Tae-yeon's sire). Wait, he was a prosecutor too?
Okay, things are starting to fall in place: these Park Hoon scenes are definitely a few decades in the past. And he didn't start out as a shady Wolfram and Hart Lawyer Man. He was once Min Tae-yeon the Beta Version, right down to the 'tude. Innnnnnteresting.
A young rookie takes photos of the crime scene, and runs to puke his guts out. Park Hoon snaps at him to get it together, or find another line of work. The young man steels himself and says no—he made a promise and he's going to do this job. Park Hoon: "To whom?" He doesn't say.
Park Hoon asks his name. "Jo Jung-hyun." Oh! It's Dr. Jo, our coroner!
Present day. Dr. Jo is at a book signing. He's Bones! The book is called There Is No Perfect Crime, and Dr. Jo is surprised when Soon-bum arrives, beaming, "I'm a fan!" He nods behind him, and Dr. Jo finds the whole team there to cheer him on. Aw, how cute.
Soon-bum gets his book signed, swearing he likes books, and Dong-man dictates how many hearts ought to be included in his, while Jung-in asks Dr. Jo if he really thinks there's no such thing as a perfect crime.
Tae-yeon hangs back and Soon-bum joins him, gaping at how expensive books have gotten. Tae-yeon shoots him this I'm-embarrassed-by-proxy look before asking, "Hyung, how long has it been since you bought your last book?"
He remembers it exactly: 1971, an issue of a magazine where he was a model. Okay, what? Tae-yeon blinks to try and understand, "You? Were a model?" Soon-bum swears he was super cute when he was little, and Tae-yeon just crosses his arms and puts on his extra-skeptical face.
He asks if it was a husky children special issue, and Soon-bum snaps, "It was a pretty children special!" Hahaha. He sighs that he was adorable once, but then hit his head as a teen and since then, his head was the only thing that grew. He simply gained weight to match his giant head. HA.
I just love the way Tae-yeon smiles when he's just shootin' the breeze with Hyung. I could watch them be cute all day.
Suddenly someone cuts to the front of the line… and arrests Dr. Jo for a murder. Aw, I love episodes like this. Go team! Save one of your own!
Tae-yeon and Soon-bum rush to the crime scene, where the lead investigator blocks the door. Tae-yeon flashes his badge (Why so hot?) and the cop argues that there's no need for a prosecutor on an open-and-shut case.
Soon-bum just shoves them aside so Tae-yeon can slide under the police tape, and guards the door like the pitbull that he is.
Tae-yeon walks inside to find a message written on the wall in blood: "All the evidence points to you." He sees a vision of an old man… possessed? Or just crazy?
Grandpa takes the butcher knife on the counter, and chops off his own hand. Aaaaaaack.
Tae-yeon tastes a drop of the blood from the wall, and his blood vision shows a young girl's face. It's the victim's granddaughter, and Jung-in asks her about her family. Her dad died, her mom left, and she was raised by Grandpa.
She does have an uncle, but he went to prison before she was born. She remembers Grandpa always saying that Uncle was innocent.
They ask her about that day, and she says Grandpa came home with Dr. Jo's book, and kept scotch-taping and un-taping it (we see that he's lifting fingerprints off of it). He then told her that Uncle would be out soon, and cried, telling her that he was sorry.
He sent her outside to play, but as soon as she stepped out she heard him cry out in pain… and then looked in the window and saw Grandpa's dead body. Holy trauma, little girl. So Grandpa killed himself, but… why?
Dong-man joins the team in the office and makes the mistake of asking who's going to take care of the little girl before social services takes her, and Soon-bum tells him he has to, since he lives at home with Mom.
He has good news about Dr. Jo though – the evidence cleared him so he's due to be released. Aw, so soon? I mean, I'm happy, but that was pretty easy.
We see him return to his darkened office, as Jung-in tells the guys that Grandpa had cancer and didn't have much longer to live anyway, so then why suicide?
Dr. Jo goes through his old records and finds the case he's looking for in a dust-covered binder. The lead investigator on the case: Kim Sung-hoon. Ah, Park Hoon's real name?
The case was 15 years ago. Flashback to Grandpa confronting Dr. Jo in the bathroom at the courthouse. He demands to know if the evidence he presented really proves that his son is guilty. Dr. Jo says yes.
Grandpa insists that his son didn't kill anyone. He swore to that fact himself, and a parent knows when his child is lying. Dr. Jo says people lie, but evidence does not, and just as a parent might know if a child were lying, a medical examiner knows if the evidence is true or false.
"All the evidence points to your son."
Back in the present, Dr. Jo goes to visit the son in prison. He asks the man directly this time, "Were you responsible for that crime?" He laughs and asks why he wants to know. Dr. Jo hangs his head, admitting that he wants to correct things if they need to be corrected.
The man launches himself at the glass between them like a raving lunatic, screaming that he's the one who threw him in jail and he's asking that now? The guards restrain him and he finally calms down and says that they've set the date for his execution.
Dr. Jo watches him being dragged away, and a chyron tells us it's D-3 days.
Tae-yeon asks Prosecutor Joo for permission to reopen the case, and she turns him down. Obviously a waste of resources where she's concerned, since they've caught a guy. But when she asks if he'll investigate it anyway, he makes it clear that her permission is merely a formality.
"You're too arrogant, Min Tae-yeon." He counters, "You're too calculating." Damn. But, uh… she wasn't wrong about the arrogant part.
The scene is intercut with Dr. Jo asking Tae-yeon to reopen the case, thinking that the father's desperation in committing suicide to get his attention means something. Tae-yeon warns there's a chance they'll prove he was wrong, staining the doc's record.
But Dr. Jo says without hesitation, "A person's life is more important than my career record."
He presents the team with the case: two murders at a high school in 1997. People, I just left that year behind! One young girl's body was discovered with zero evidence to tie anyone to the murder. Then a second girl, the same age, was found on campus, killed the same way as the first girl.
And this time Dr. Jo found traces of pig fat in the stab wounds on her body, and the killer's blood under her fingernails. That led them to the local butcher (Grandpa) and his 20-year old son Lee Joon-sung (Uncle), then a student at the same school.
He gets hauled away for the murders, spends fifteen years locked away, and is due to be executed in three days.
Dr. Jo says that the evidence is almost too neat, as if all the arrows are pointing at Lee Joon-sung without deviation. Tae-yeon asks why that never occurred to him fifteen years ago, and Dr. Jo hangs his head and readily admits that back then he thought himself the best medical examiner in the country. He trusted that above the evidence, and that was his mistake.
Tae-yeon asks what they're supposed to do about it, and the room goes silent. But he asks it again, clarifying what he means: as the lead investigator, Dr. Jo has to give them orders so they know how to help. Aw. Warm fuzzies. You're one of the team!
Dr. Jo lets out a breath of relief and surprise, and Tae-yeon smiles back.
D-2. Jung-in and Dr. Jo head to the high school to talk to a teacher about the incident, and she wonders if the rumors were true. She shares things she heard from the students—that Joon-sung had a crush on the second girl who was killed, but had no connection to the first.
As Dr. Jo starts to piece together some things about the victims, a scene plays out in front of him. Both victims were part of the Broadcasting Club (school radio), and we see the second victim Min-jung being bullied by a girl in the hallway. In a nice moment that crosses 15 years, Dr. Jo looks down the hall and makes eye contact with the young victim.
Soon-bum goes to the local police station to get the case files out of the cop he already pissed off at Grandpa's crime scene. When threatening and annoying doesn't work, he finally tries some empathy.
He rattles off the insane hours cops work, how you forget what your wife and kids look like, how your underwear reeks of something rotted but you don't have time to change. Gee, thanks for the multi-sensory imagery there, Soon-bum.
He says it's inevitable that they'd make mistakes given those circumstances. "When a bank teller makes a mistake, a number changes. When you or I make a mistake, someone's life changes." He says he's here to fix "our" mistakes, and asks for the case file.
Good play. The team digs into the old files and finds that there were two students who testified against Joon-sung. One girl said she saw Joon-sung kill Min-jung, and a boy testified that he saw Joon-sung argue with Min-jung that day. They were all in the Broadcasting Club together.
Jung-in and Dr. Jo seek out the Head Mean Girl and club president, Ji-yeon, who's now a doctor. She vaguely remembers the club and oh-so-casually forgets her thug minion Choong-gu's name, and Jung-in points it out skeptically.
She just breezes that she naturally forgot that time in her life and moved on. Her version of the story adds a twist: she was the victim's friend, and eye-witness girl was the one who terrorized Min-jung, not her. We see her beat Min-jung up in the hallway for playing an H.O.T. song instead of a Seckskies one. What is this, 1997 the murder version?
Dr. Jo asks if she thinks Joon-sung was the killer, and she says she thought so at the time, but now, she doesn't know, because she's forgotten and moved on. You're awfully suspicious.
Soon-bum tracks down Sechskies fangirl, who tells another version of the story—that Min-jung was the one who terrorized her. Well now I think everyone is guilty. He asks if she really saw Joon-sung kill Min-jung, and she swears she did.
She's convinced it's because Min-jung wouldn't accept his feelings. Flashback to the two girls hanging out after school. Joon-sung comes up dressed in an H.O.T. costume to confess his feelings to Min-jung. He gives her a cell phone as a present.
But she says coldly that it's Woo-hyuk oppa she likes, not Hee-jun (the member he's dressed as), and tells him to get lost. Soon-bum argues that teenage rejection, no matter how harsh, is hardly a reason to kill somebody. But Sechskies girl says that Joon-sung was crazy, and said that if she didn't accept his feelings, he'd die and she'd die too.
Tae-yeon tracks down the other witness—the boy who said that he saw Joon-sung and Min-jung argue the day she died. He's a rapper now, and Tae-yeon watches the performance and introduces himself as a prosecutor.
The guy raps at him (pffffft) and then Tae-yeon actually RAPS BACK (insulting his hair, ha). And now I'm dying of embarrassment and I can't even look at you. Also, why is your stankface so funny?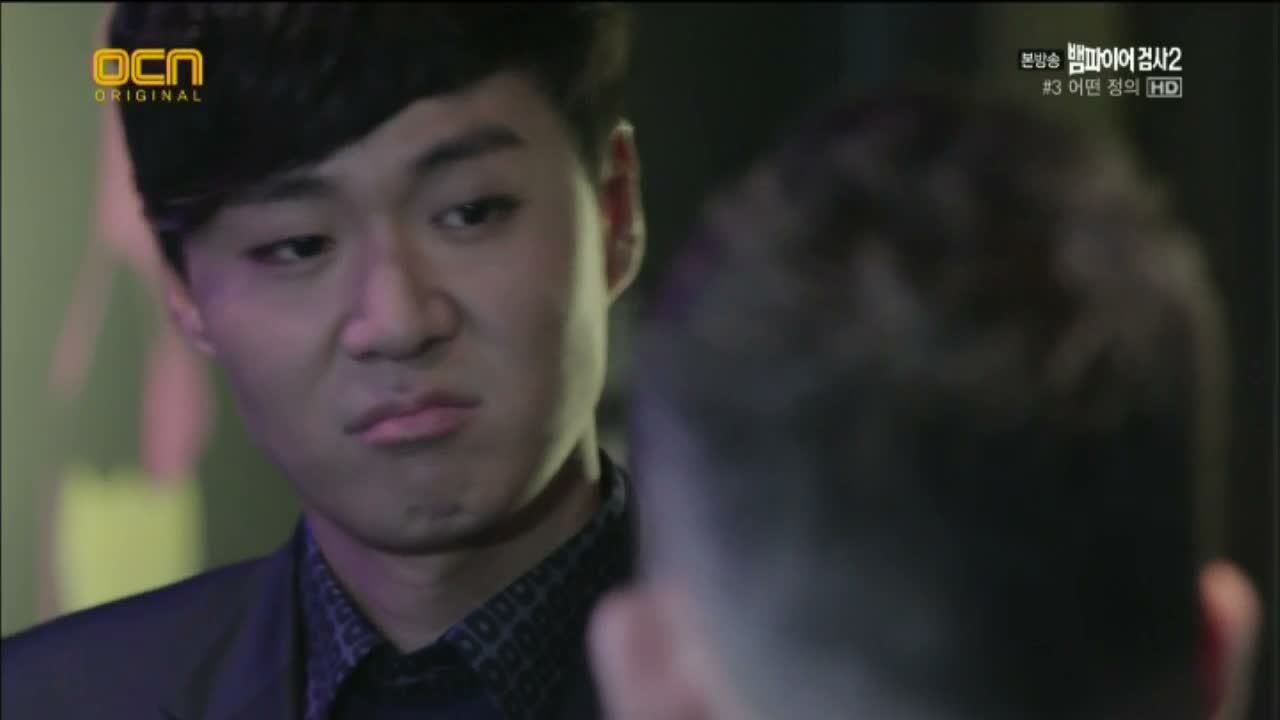 Rapper Boy pulls out a switchblade because he's a moron, and Tae-yeon uses the room's one microphone cord to wrangle all three guys that attack. It's pretty hilarious.
Tae-yeon asks about the case, and Rapper Boy swears he saw Choong-gu argue with Min-jung that day. Er? Tae-yeon says his testimony states that it was Joon-sung.
Rapper Boy swears that Choong-gu was the name he gave the police… but it was the cops who told him that he must've seen it wrong, and told him that it was Joon-sung. They threatened that he'd go to jail too if he didn't follow their lead. He figures now that they just wanted to close the easy case.
Tae-yeon asks if there were problems between Choong-gu and Min-jung. Now it's Rapper Boy's version of the hallway scene, but this time it's Choong-gu who pushes Min-jung down and threatens her. I like that each version of this scene has a different '90s track to go along with it too.
He says that following the hallway incident, Choong-gu and Ji-yeon "trained" the rookies in the club and punished Min-jung for wanting to quit—he hit her 150 times, as they stood and watched. Augh, this is hard to watch.
Min-jung is terrified and beaten up, but she cries that she "saw it." She directs the threat at Leader Ji-yeon, who hurriedly tells the other first-years to go home while she and Choong-gu talk to Min-jung.
Back in the present, Dr. Jo goes to see Joon-sung in prison again. Joon-sung asks why he keeps coming. Dr. Jo: "Because I'm sorry. If you do get out, what's the first thing you want to do?"
Meanwhile Jung-in goes to Choong-gu's house. His mother acts squirrely when Jung-in asks to see him…
And we see her get the call the day when they discovered young Choong-gu's body lying bloody in the living room. He sliced his wrists because he didn't want to go to the army. Hm.
Dong-man calls to say that he found fingerprints on the butcher knife…
D-Day. Tae-yeon enters the interrogation room. Sechskies fangirl fidgets nervously. He shows her the butcher knife with her prints, and she caves pretty quickly, saying all she wanted to do was survive.
Back to that night, when she let Rapper Boy go on ahead and turned back to wait for her friend Min-jung. But when she went back, she found Min-jung already dead, with Ji-yeon standing over her body.
She screams at the sight, and Ji-yeon sends Choong-gu running after her. That's the scuffle Rapper Boy caught a glimpse of, assuming it was Min-jung. Ji-yeon threatens her with the same fate unless she helps them cover up the crime.
They task her with finding a fall guy, and Joon-sung was the only person she could think of. So she steals into his room and takes his fingerprints and a drop of his blood. A moment in the flashback shows us that she was also jealous of Min-jung for having Rapper Boy's affections.
She swears that she only did it to survive and they don't know—the look in Ji-yeon's eye as she killed…
We see that same girl now trying to save a life as a doctor. She fails and the patient dies, but the look on her face is dead inside, almost happy. She walks away drenched in his blood, and then, she does the creepiest thing ever: She smells the blood on her hands like it's… intoxicating.
But Tae-yeon and Dr. Jo are there to snap her out of her moment.
They confront her with the accusation that she killed both girls and framed Joon-sung for the crimes, with minutes left on the clock. Dr. Jo is a nervous wreck, checking his watch every five seconds, desperate to free Joon-sung before the statute of limitations runs out on this case and he's executed.
But she is one cold calculating murderer, and doesn't even flinch when Tae-yeon lies that they reexamined the evidence and found her fingerprints. She calls his bluff so he gets Dong-man on the phone, who hilariously keeps trying to correct Tae-yeon: "No, no we didn't find any evidence. Hello?"
He sticks the phone out, challenging her to take the call, and she looks like she might cave… but doesn't. She takes it. Dong-man cringes and bluffs, following Tae-yeon's lead, but she's smart and asks if there was evidence of a scar on the prints, showing Tae-yeon the scar on her finger.
Dong-man lies yes, and she catches him in the lie—she got that scar in med school. Damn. The clock starts winding down to the hour, and she notes Dr. Jo's desperation. He finally breaks and just pleads with her to help him save an innocent man's life, who will die because of him.
She says it's not her problem, and he gets down on his knees to beg her. Aw, doc.
By now she's feeling confident that she's won this game, and says she'll tell them everything once the next minute passes. She literally counts down to the end of the statute of limitations on her case, and laughs.
She breathes a sigh of relief, and then says without an ounce of remorse that she killed Min-jung and framed Joon-sung. It started with the first girl's death, which was actually an accident. She was beating her up and she fell down a flight of stairs and broke her neck.
But then when Choong-gu was beating Min-jung, she said she saw it, and so she had to kill Min-jung to keep her quiet. She says it was a good thing she killed her though, because in the first death all she could think to do was to erase the evidence.
But it was the second killing when she realized that she had to add evidence to frame someone else. "The evidence has to point to someone, so that I can live." Oof, the look on poor Dr. Jo's face.
She adds that she first discovered her strange reaction to blood when she killed them—how insanely happy it made her feel. She turns to go.
Tae-yeon asks what it is she thinks Min-jung saw. It turns out that the big thing she witnessed wasn't the first girl's death at all, but Choong-gu cheating on Ji-yeon. She laughs like it's a minor quibble, "It doesn't matter, since the perfect crime is already done."
She walks toward the door, and Tae-yeon smiles to Dr. Jo that he can get up now since Lee Joon-sung will be fine. Dr. Jo asks what he means, and Ji-yeon stops in her tracks. She opens the door… to find Soon-bum waiting.
He arrests her for the murder of Min-jung, adding that with Choong-gu's murder she'll probably serve multiple life sentences. Her jaw drops.
Tae-yeon walks toward her with his arms crossed, informing her with such delicious spite in his voice that she must've misunderstood the way statute of limitations works. It's calculated from the end of a crime, not the start.
She killed Min-jung on one day but by the time she dumped the body it was well past midnight, meaning that they still have 24 hours until D-Day is up.
Whoo! Dr. Jo sighs in utter relief and Soon-bum cuffs her. Tae-yeon asks if he can borrow a quote from Dr. Jo's book and turns to Ji-yeon: "There is no such thing in the world as a perfect crime. In order to cover up one crime, a person will inevitably commit another."
He adds that knowing you're guilty means there's no such thing as a perfect crime. As she gets hauled off, Dr. Jo says that last part wasn't in his book, and asks why Tae-yeon didn't tell him about the plan.
Tae-yeon smiles and says they had to make the whole thing as believable as possible. Dr. Jo thanks him and says he owes Tae-yeon a great debt. Tae-yeon insists that the doc was the one who solved this case: "Because the head can never win against the heart."
They smile as Tae-yeon answers a call. His face darkens. Oh no. What?
Dr. Jo heads to the morgue. A body gets pulled out and he reaches for the sheet but can't bring himself to look.
Then we hear the call from Jung-in that said they pulled the execution up by a day. We watch Joong-sung quake in terror as they cover his head and tie a rope around his neck.
And then back to Dr. Jo asking him what he'd like to do if he gets out. He said he wanted to grill some meat with his father and his niece. Augh, he didn't even know that his father died?
The sack over his head gets drenched in sweat, spit, and tears, and clings to his face as he cries out. The rope goes taut and he dies.
Dr. Jo uncovers his body and breaks down in tears. Oof. That's a punch to the gut. And just when I thought we had a clean happy ending.
He comes out where Jung-in is waiting for him in the rain. And so is the rest of the team, in a nice echo of the book signing moment. He walks up to the little girl who's waiting with them, and she asks if Uncle is coming out.
Dr. Jo crouches down and takes her hand, drenched in rain and tears, "I'm sorry… I'm sorry…"
Back to the case that opened the episode. A young Dr. Jo reports his findings, and Park Hoon teaches him that if he focuses only on the evidence, then he'll lose sight of the people in the case, and tells him to dig deeper.
He turns to go, but freezes when he sees the photograph on the wall. It's an even younger Dr. Jo with his father… the nerdy scientist he questioned in the military bunker!
Flashback to the night that opened Episode 1. A teenage Dr. Jo wakes up in the middle of the night to find his father putting on his jacket to leave, after getting that phone call. Dad tells the boy not to wait up, and that he'll be back soon.

COMMENTS
Well thank goodness we have more answers about the Park Hoon flashbacks, because they were confusing as hell without an anchor. A vampire who doesn't age gives us no clues about time, but now we have a clear chronology using Dr. Jo's relative ages as a timeline. It's also nice to have one of our main characters linked to both eras as well, which keeps things relevant on a character level, rather than having the bookends always feel like a separate snippet from a movie. I'm so intrigued by the idea of Park Hoon (or Kim Sung-hoon back then) as a proto-Tae-yeon. Was he good? Was he bad? Was he something in between?
And more importantly, this changes everything about why he might have sired Tae-yeon. Did he do it on purpose, knowing he'd follow in his footsteps because they were alike? Why is Dr. Jo coroner to both vampire prosecutors? That can't be a coincidence. How much does he know about Park Hoon and Tae-yeon, and about vampires? If his father was involved in that mysterious government science project and knew about vampires (though we still don't know how much or why), was it something he told his son about?
This episode definitely sealed the deal for me—I love Dr. Jo's inclusion as a new character, in both timelines. As part of the flashbacks, he gives us a great connection and roots us in an emotional journey, which is harder to access with a character like Park Hoon who remains a mystery (for good reason). And in the present, it's so great to have him be accepted as part of the family, because you just have this trust that Tae-yeon wouldn't do that for someone he didn't have a gut feeling about. Despite questioning how much he knows, I trust that Dr. Jo is good peeps. It's so sweet to watch him become part of the team, especially because Tae-yeon is so normally gruff that when he gives one smile or one show of trust, it speaks volumes. I really like the kind of traits he adds to the group too, as an older man who might have something to teach Tae-yeon, and a man of hard science who knows how to look beyond cold facts.
The arc for him just in this one episode was hugely significant for his character—it humbled him, but made him more human, to us and to the team. I thought the case rather straightforward (in that the cold doctor seemed the obvious choice for the killer) but then the final twist really came at me by surprise because of it. We all expected some sort of fakeout from Tae-yeon to sneak a confession out of the doctor, but then to have the confession, be triumphant, and have the innocent man die anyway? Ouch. But the character moment for Dr. Jo was worth the pain.
The title of the episode (Any/What Justice) could mean range of things, because in Hangul "justice" and "friendship" are the same. It could just as well mean "What Ties of Friendship," pointing to the friendships between the suspects in the case, as well as the growing friendships on our team of good guys. I just like that thematically, the search for justice is what ultimately allows Dr. Jo and Tae-yeon to develop a friendship, and for Tae-yeon to see that he's good at heart and worth trusting. And we all know that Tae-yeon is a friend worth having in your corner.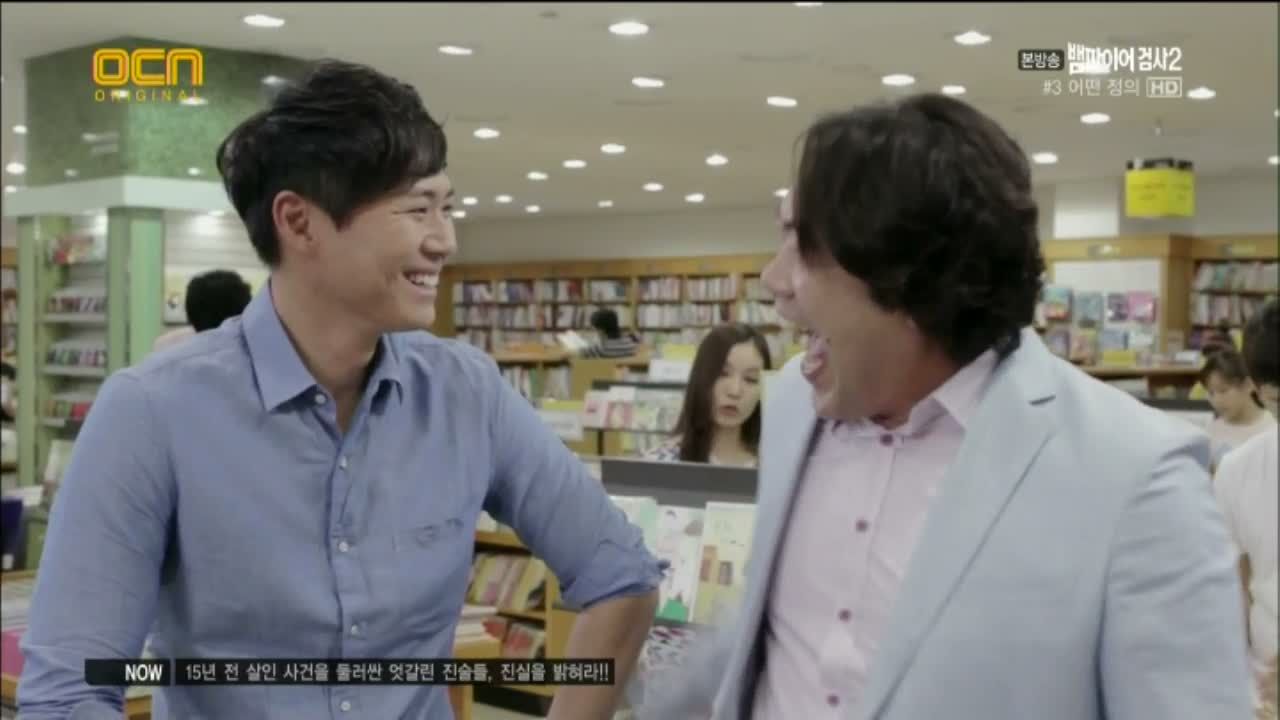 RELATED POSTS
Tags: featured, Lee Young-ah, Vampire Prosecutor 2, Yeon Jung-hoon