Vampire Prosecutor 2: Episode 4
An especially humor-filled episode, which keeps me happy. What makes this show work, after all, isn't the crime scene of the week so much as it is the little character moments, and this episode is chock-full of 'em. And while the show continues to be a big tease about the romance, 'shippers might find a little something here and there to cling to. Cling on, I say.
SONG OF THE DAY
Ra.D – "멋있는 친구" (Cool Fella) [ Download ]
Audio clip: Adobe Flash Player (version 9 or above) is required to play this audio clip. Download the latest version here. You also need to have JavaScript enabled in your browser.

EPISODE 4: "Interview With a Vampire"
Finally, a solid date! We open in August 1988, in the hospital office of Dr. Ra Jae-wook. Ah! It's Dr. Blood, aka Bartender, aka Tae-yeon's hyung and blood dealer. I do believe this is the first time we're getting a name for him.
(Refresher: He was the doctor who turned last year's Big Bad, Prosecutor Jang, into a vampire seven years prior with a transfusion of vamp blood. It was an experiment gone awry, and Tae-yeon ripped into him when he found out. Figuratively, I mean, even if Tae-yeon did later drink Dr. Blood—although that was at the latter's dying request, after being attacked in the finale and wanting to save Tae-yeon. In the very last scene, we saw him out and about, presumably turned into a vamp by Tae-yeon.)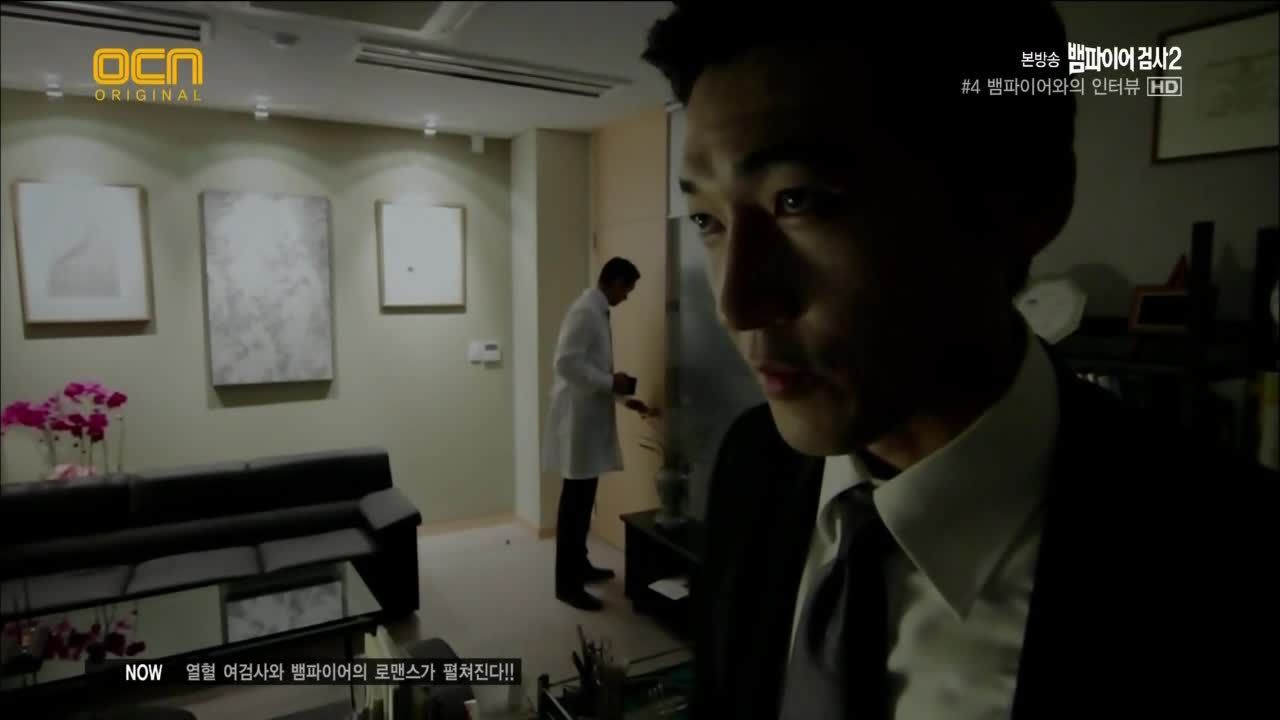 Here in 1988, Dr. Ra has a visitor—Park Hoon—who tells him an outlandish-sounding story: There's a vampire on the loose killing people, which also turned him into a vampire. There are two ways of turning: Either you are a vampire's first victim, or you get a transfusion of vamp blood.
Park Hoon has sought out Dr. Ra because he's well-known for his studies on blood. Dr. Ra dismisses him as crazy, telling him he wants the psych ward instead. He takes his cup of water and heads for the door, but Park Hoon stops him with a remark: "You must be thirsty. But so am I."
In a flash, he has Dr. Ra's throat in his grasp. He leans forward, a gleam in his eye….
Credits.
We open at a swanky pool party, with cocktails and beautiful young people frolicking in the water. Two women walk by, looking like they belong to this hot young crowd, but they're really here to steal from unsuspecting partiers.
A stray beach ball sends a beer bottle flying at the lead thief. A guy grabs her out of harm's way, getting cut on the cheek by broken glass… which heals over quickly. A vamp in our midst.
The woman gasps, "Your cut!" The vamp quickly leaves and rejoins his buddy, while the thief's friend shoots the buddy a come-hither stare.
Those two sidekicks rendezvous that night at the pool. But her smile fades when the guy identifies her by name and criminal record (multiple pickpocket convictions). Then he bares his fangs and attacks.
And… cut? Grahhhhh, this was just a freaking movie? I'm pretty sure you already used this fake-out last season.
The vamp actor wants another take and the victim starlet wants to try a better scream, both challenging Director Jung. The director snipes about the starlet tattling to her bigshot Daddy, but his hands are tied and he can't argue when the actor takes charge like he's the boss.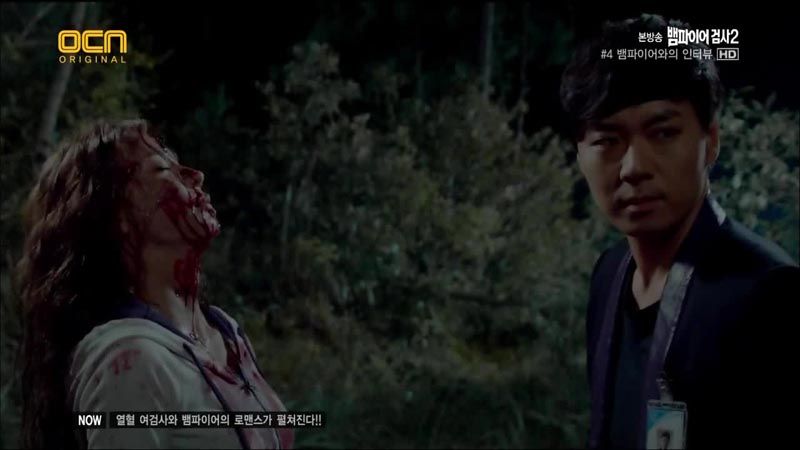 Next thing we know, we're at a murder site. Tae-yeon examines a grave in the woods bearing a woman's bloody body, imagining it rising up to meet him so he can inspect the wounds.
Nearby, he finds a rock stained with blood and takes a taste. The vision gives shows him the victim's perspective of headlights of an oncoming car. Jung-in reports the victim's identity: actress Yang Yu-jin, who played the thief's friend and vamp victim. She was filming at a nearby pension.
Soon-bum arrives at a separate crime scene, where a woman's body lies in the middle of the road. Huh. Tae-yeon must've seen her last moments, because this one's clearly been hit by a car. But why was her blood found near the other victim?
The reason for the two cases is explained in a flashback to boss-lady Prosecutor Joo, who seriously brings to mind a rat. Sharp, vicious, and mean. She basically orders Tae-yeon to increase his productivity with a double load. He asks if it's punishment for the last case, and she says that the higher-ups were peeved to have a 15-year-old case dug up again. Tae-yeon calls her retaliation childish. But I'm wondering: Does she know these new deaths are related?
Dr. Jo apologizes for being the cause of the punishment, and Soon-bum tells him not to say stuff like that when they're one team. Dr. Jo asks, "One team?" and looks heartwarmingly happy to be included in the family.
Soon-bum asks Dr. Jo to call him Soon-bum-ah: "Let's be comfortable as hyung and dongsaeng!" Dr. Jo has difficulty bridging the professional divide but manages an awkward "Soon-bum-ah." Soon-bum returns, "Jung-hyun hyung." Omg. Adorable.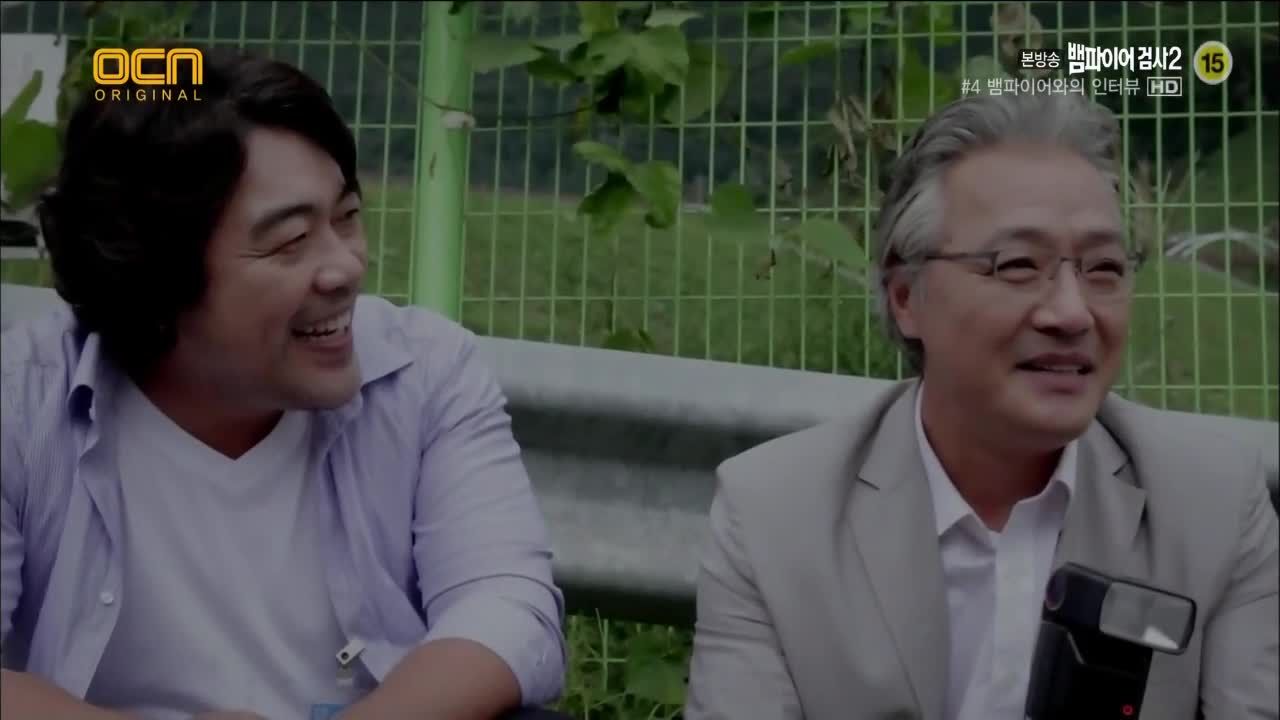 They move on to case talk, and Soon-bum cluck-clucks when Dr. Jo reverts to professional jondae. He wants banmal, and he wants it now!
Soon-bum thinks it looks like a simple hit-and-run case, but Dr. Jo's study of the injuries doesn't line up that way. She was run over by the car, but she was already lying in the road when the car came along.
Dong-man finds bloodstains down the road which suggest that the body was already bloody when it was taken out of a car trunk, then dragged to the middle of the road. Soon-bum murmurs, "A faked hit and run. Clever bastard. Punk, you should've used those brains to study."
Another development: The driver of the car has turned himself in.
At the pool film shoot, the entire cast and crew is fingerprinted and catalogued by police. Jung-in sits with Director Jung, who is packing on the white powder—he also plays a vampire in the movie. She asks why he's acting when he previously only directed, and he replies, "Because it's my story. Who would be better to act it than me?"
The movie is titled Vampire Prosecutor and depicts the showdown between a good vampire prosecutor and an evil one who drinks from humans with bad (criminal) blood. Hm, this sure sounds familiar. Are we in for an episode of epic meta?
Director Jung took his inspiration from the case of Prosecutor Jang, imagining the film as a what-if scenario if he'd been a vampire. Its prominent storyline is the melo romance between the vampire prosecutor and the ex-con thief: Neither can mingle freely with society at large, giving them one commonality.
Jung-in looks skeptical at the pairing, so Director Jung urges her to imagine herself as the ex-convict heroine—even if she wants to turn over a new leaf, she can't do anything but steal.
Ha, and then we re-envision the opening pool scene with Jung-in as the lead thief. That's when she meets the good vampire prosecutor—that's who the director plays, but he looks around for a better example and lands on: Min Tae-yeon. You don't even know the half of it.
Now we rewatch the beer-bottle-flying scene, this time with our real prosecutors. Tae-yeon catches Jung-in, who lands on top of him; his cut heals; he walks away mysteriously; and she falls in immediate lust. I mean, love! She falls in love!
On to the other case. Dae-man is snippy at Soon-bum about being chummy with the new doc: "How come you'll [be hyung-dongsaeng] with him, but not me?" Haha. Bromantic jealousy, I love it. What happens when Tae-yeon gets dragged into the mix?
Dae-man decides he's just gonna call him Soon-bum hyung anyway, arguing that they don't have brothers in real life so this is a way for fellow lonelyhearts to bond. And while they're playing brothers, Soon-bum really ought to come home and visit his (Dae-man's) mom once in a while and show proper son respect. Ha. This is already my favorite episode.
Soon-bum agrees to play the son, and asks how old Mom is. Dae-man calculates… she was born in '67 which makes her 46 (Korean age). Soon-bum growls that he's ONE YEAR older than her. HAHA.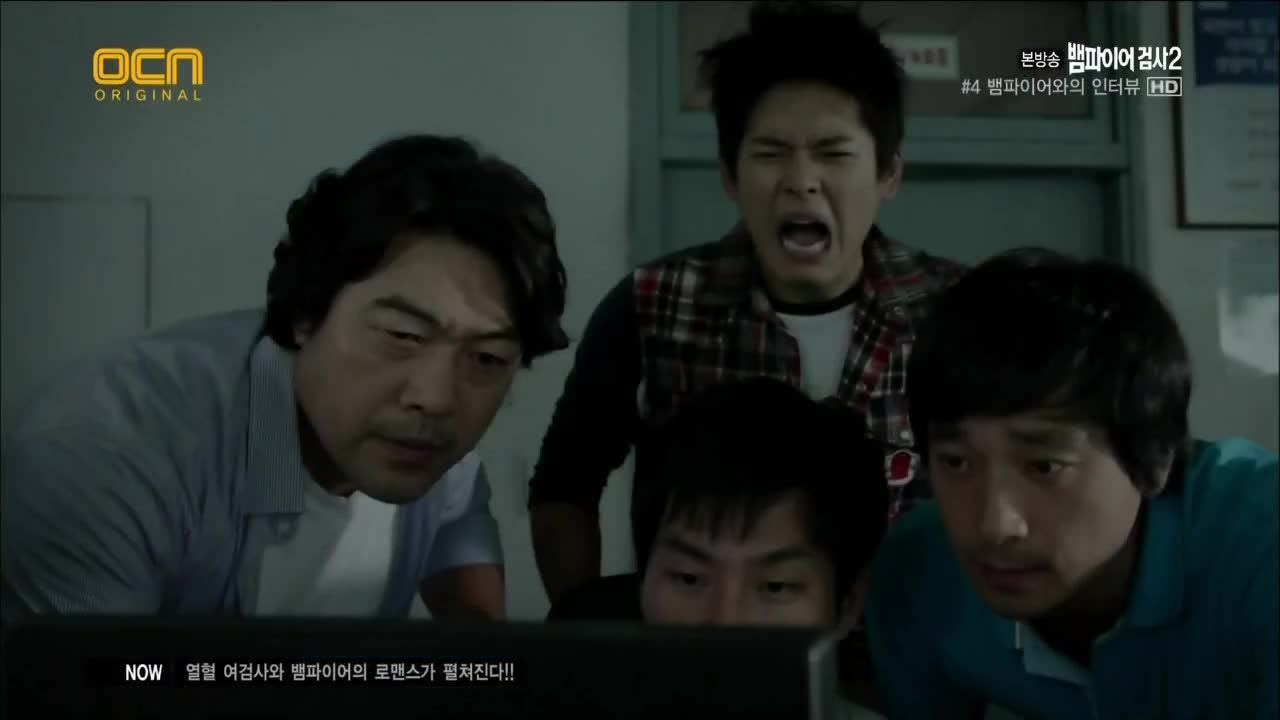 They arrive at the local police station, where a guilt-stricken taxi driver has turned himself in for the hit and run. They review his car's black box, and see it running over the victim's body. The camera also shows a car parked by the road, near the second set of bloodstains. Should be easy to get its plate number.
Hilariously, Dae-man answers in banmal, Soon-bum shoots him a glare, and Dae-man meekly corrects himself with jondae. Then a phone call comes in from their coroner and Soon-bum answers, "Yes, doc—I mean, Jung-hyun hyung." Commence pouting.
The results of the autopsy are in. The victim was an aspiring actress, hindered by her erotic film history. There are a few injuries that don't line up with the taxi, like the marks that don't match the tire tread. So… it was a double hit and run.
I love how awkwardly this pair is doing their whole hyung-dongsaeng routine, constantly tripping up by getting overly formal. Soon-bum gives a friendly wave while Dr. Jo bows. They correct themselves—and Soon-bum bows while Dr. Jo waves. Hee. They decide this isn't working, and revert back to their formal ways.
Then after Soon-bum leaves, Dr. Jo practices to himself, "Good work, Soon-bum-ah." Why are you so cute?
Filming resumes on Vampire Prosecutor. The movie vamps have a disagreement: Bad Vamp argues that Good Vamp can't swear off drinking from humans forever, because that's what vamps do. Instinct will always prevail. Tae-yeon watches uneasily—this conversation echoes his own argument with Prosecutor Jang.
Director Good Vamp calls cut, and again Bad Vamp grumbles that the scene was far from good enough. He storms out in a huff, and Jung-in follows him outside.
A heavy light falls from the roof heading straight for her, and Tae-yeon pulls her out of its path. She's taken back to that imagined pool rescue, but he just warns her to stay alert.
The body of starlet Yu-jin, the one found in the woods, turns up DNA from her co-star Bad Vamp. But the actor scoffs that the director's more likely to have kill her, since he hated Yu-jin. He was forced to use her instead of the actress he wanted because her daddy's an investor, and turned her character mute.
Bad Vamp points to a dust-up from yesterday's shoot, and Jung-in immediately knows the scene he's talking about. She sheepishly admits reading the script and finding it interesting, while Tae-yeon shoots her this hilarious "O RLY?" look.
As Bad Vamp recounts the argument, Jung-in again pictures herself in the heroine's role, running from formerly affiliated gang members. She falls and starts crawling away as the gangsters loom over her—just as someone arrives to help her up. Good Vamp Tae-yeon.
He touches her face gently, then takes charge, fighting off the gangsters easily. Rejoining Jung-in, he leans in for a kiss…
"Cut!" Augh, can't we even get an imagined kiss in peace?
It's starlet Yu-jin who calls the scene to a halt, saying she wants to be in it. After all, both ladies are thieves, so shouldn't they both be chased? Bad Vamp takes her side, and Director Jung retorts, "So you want the kiss to be a three-way too?"
Tempers are high all around, and Yu-jin calls the director a talentless hack. Threatening to have Daddy fire him, she takes charge and tells the crew it's a wrap for today.
Yu-jin's autopsy is still under way, so we don't yet know her murder weapon. Jung-in asks whether Tae-yeon has any other leads, but he says no—he can't exactly explain the hit-and-run vision he had, with no evidence to back it.
Then he stops in his tracks and turns to Jung-in with a curious look on his face. He leans in closely, and the soundtrack in Jung-in's mind lays over romantic music as he raises a hand, just like Movie Tae-yeon did to Movie Jung-in. She closes her eyes…
Tae-yeon points out she's missing an earring. Romantic music cuts out. That pouty look on her face? It's on mine too.
Real-life Tae-yeon's a lot crankier than the smooth romancer of fantasy, and he tells Jung-in to read the case files instead of screenplays if she's got so much time.
Back at the office, the other team traces the car's plates and narrows the number down. Soon-bum looks up in surprise as the little girl, Ji-hye from last episode, emerges sleepily—Dae-man's mom left her with him while she went off to aerobics. Aw, they're still taking care of her? Is Ji-hye going to be a fixture at the office?
Tae-yeon asks the director about a recurring name on his phone log, Park Sun-jung. The director says she's Yu-jin's body double, hired by Daddy to stand in for any nude or explicit scenes. The director tried to contact Sun-jung to continue the movie, but she wouldn't pick up. Lemme guess—she's hit and run girl?
Tae-yeon has his suspicious face on, clearly not buying such a simple explanation.
Dr. Jo examines Yu-jin's corpse, looking for the murder weapon to match her injuries. He lands on: shovel.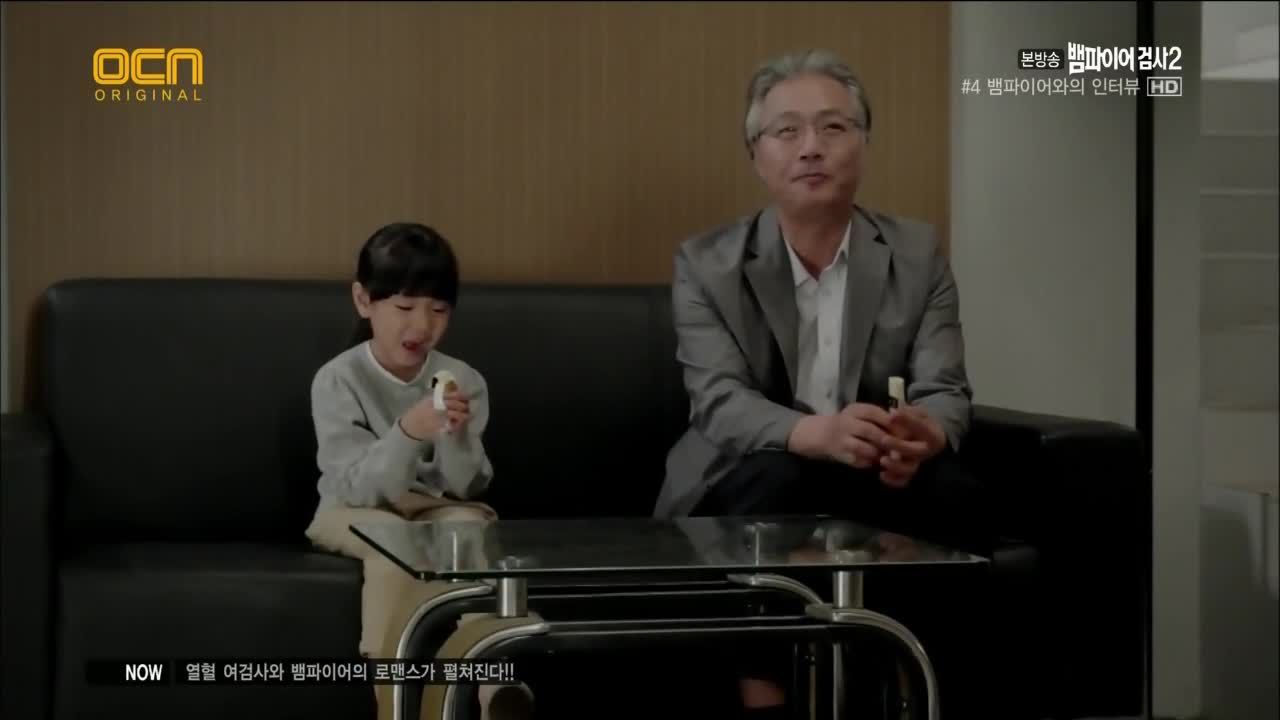 Dr. Jo finds little Ji-hye at the office, and she asks when her uncle's gonna come home. She wants to see him, and mommy, and grandpa. Oh sad, she doesn't know they're all dead, which explains why she's so cheery. She offers Dr. Jo a sausage and even peels the wrapper for him like he's her gramps, which brings a tear to my eye. The lonely, family-less doctor is suddenly getting family from all directions.
Soon-bum finds the car's owner, but he's not the culprit; the car got repossessed months ago when he had money trouble with a loan shark. Following that lead takes him to a mechanic's shop, and he stops to arm himself with a bat and hands Dong-man some chains. Based on Dong-man's nervous fidgets, I'm not so sure he's gonna be contributing much to this fight.
Soon-bum addresses the lead gangster, listing all the laws he's broken. They start to catch on when he mentions the faked hit and run, and swing at him with metal pipes. He has no trouble taking 'em down.
Ha, Dong-man skitters away from the gangster who comes at him, flinging the chains around and actually wrapping his own neck up in it. He takes Soon-bum's advice to act like the freak and starts screaming and shaking, till Soon-bum comes and knocks out his gangster for him.
With the fight out of the way, Soon-bum compares the tire tread to the marks found on hit-and-run girl's body. It's a match.
There's another match on the other case: Blood found on the shovel traces back to the lead actress, Hae-in. Are you confused yet by all these names? Basically, there are three ladies: Lead Actress, Sidekick Starlet (dead), and Starlet's Double (incommunicado).
Lead Actress explains what she saw after filming ended that night: Director Jung had comforted the double, Sun-jung, telling her that this movie is "our story." She'd been upset that he'd made her the stand-in when he'd promised to give her the lead, and he'd apologized for being unable to do better.
Lead Actress took that tidbit to Yu-jin, who'd been peeved at her stand-in's nerve. Yu-jin stormed off and knocked over a prop shovel, which landed on Hae-in's foot. Hence the blood match.
But Hae-in draws a different conclusion from this conflict: It was Sun-jung the double who killed the lead, angry at her for stealing away her role.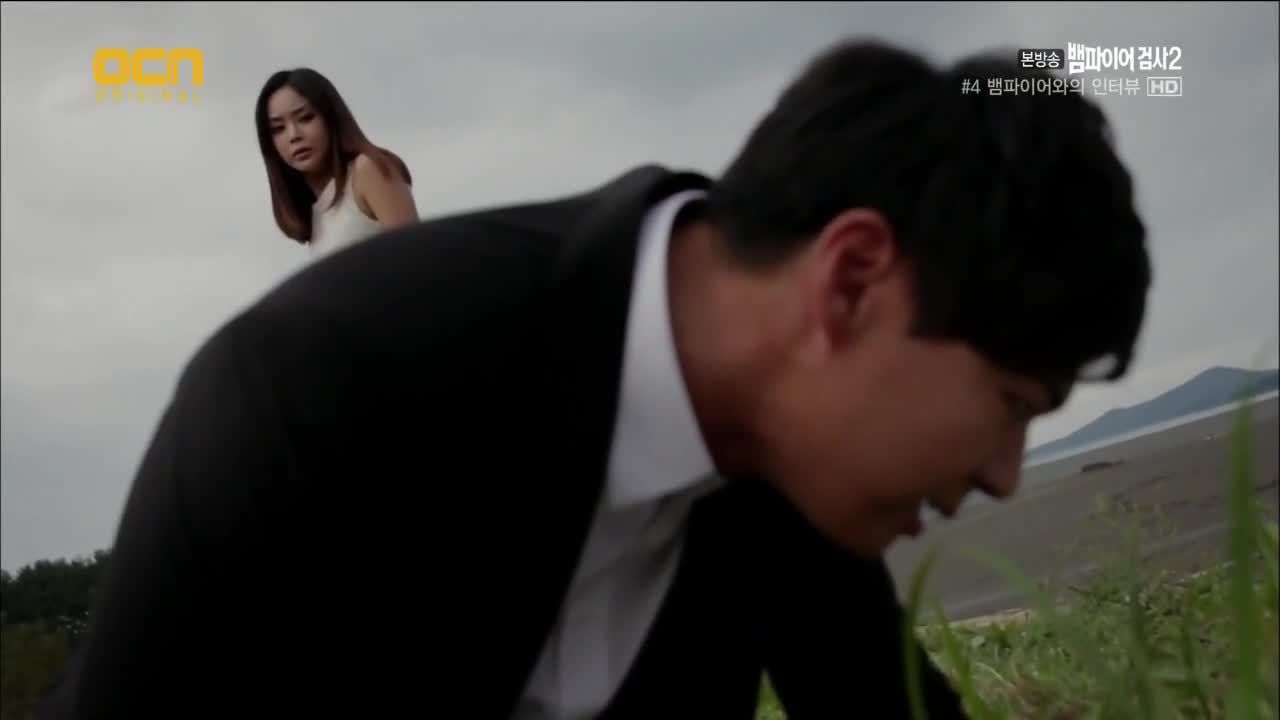 The next day, the prosecutors watch another scene being shot, and Jung-in imagines herself in the lead's place. Heroine Jung-in asks Hero Tae-yeon why he lives out in the middle of nowhere, and he replies that living in the city is lonely.
A gangster charges at them with a knife. Tae-yeon grabs him by the throat and shoves him through the air, then falls gasping at the stab wound in his side. Jung-in rushes to his side… and sees his fangs. She scrambles to her feet to run away, but he gasps, "Don't go."
She turns back. Jung-in promises not to go anywhere… he turns toward her… they lean in…
…and Soon-bum's voice cuts in. Heh. I wasn't even hoping that time.
His arrival is a surprise since he's not working on this case. But turns out his own case led him here—to the lead actor playing Bad Vamp. It takes little to make him cave once he realizes he's caught: He'd borrowed a car from the loan shark, who gave him the repo'd vehicle.
The actor admits it was a mistake: He'd been nodding off as he drove when he hit something. We see that the victim seemed fine at this point, although there's still the question of how she ended up sitting in the middle of the road. The actor freaked out, took the body to a different location, and put her in the road.
He sobs that it really was a mistake. Soon-bum tells him that while the first part may have been, the second act of masking it as a different accident is a crime.
Soon-bum tells Tae-yeon of his hunch that their cases are related, with the crime scenes being so close to each other. This explains to Tae-yeon why he saw two scenes in his blood vision—the victims' blood mingled. Yu-jin died in the woods, and Sun-jung in the road.
The director hears this and confirms that the actor killed Sun-jung. He asks Tae-yeon for a favor, since the movie only requires one more scene. Could they arrest the actor after they film it?
On to the shoot. Bad Vamp holds Heroine hostage as Good Vamp arrives. Through Jung-in-vision, we see Bad Vamp reminding Tae-yeon he only drinks bad blood, and the lady's got a criminal past.
Tae-yeon asks him to release Jung-in. Bad Vamp asks what he'd do if he stabbed the girl—will he let her die, or will he bite her and turn her? "Whether you're human or vampire, you can't defy instinct. Love is an instinct too, Min Tae-yeon."
Stab! Jung-in falls. Tae-yeon vamps out and launches himself at Bad Vamp, grappling for the knife, landing them in the pool. Mm, wet prosecutor.
They continue the fight in the water, the knife still in play, until blood seeps out and mixes with the pool water. But whose?
Tae-yeon is the one who comes up. He returns to Jung-in, cradling her prone body in his arms, and says, "I'm sorry, Jung-in-ah. Don't forgive me." And he bites her.
Jung-in gasps back to life, eyes blue and teeth fanged. A tear slips from Tae-yeon's eye as he holds her to himself.
Cut! It's a wrap. The crew claps, and the actors rise from their positions. Except Bad Vamp is still in the water, and when his body is turned over, a knife sticks out of his side. Director Jung offers up his wrists for arrest: "I killed him."
In the interrogation room, Director Jung explains that Sun-jung was the only person who acknowledged him as a director while everyone else held his porno past against him.
That's why he wanted this movie to tell their story—but he doesn't mean they're vampires. Rather, he wanted recognition as a director, just as Good Vamp wanted to live as a human. While former erotic actress Sun-jung wanted to be a real actress, like her character wanted to cast off her criminal past.
The night of the murders, he'd gone out looking for her and found Sun-young and Yu-jin in a fight. Yu-jin screeched at Sun-jung and shoved her, sending her head slamming into a rock. Director Jung jumped in an punched Yu-jin, over and over in a rage. He'd gone to grab a prop shovel, but when he came back he found that she hadn't died after all. He debated taking Yu-jin to the ER, but he couldn't have her accusing him of attempted murder… so he finished her off with the shovel.
Belatedly realizing that Sun-jung had disappeared, he looked everywhere for her. But by that time, she'd stumbled out into the street, where she was run over.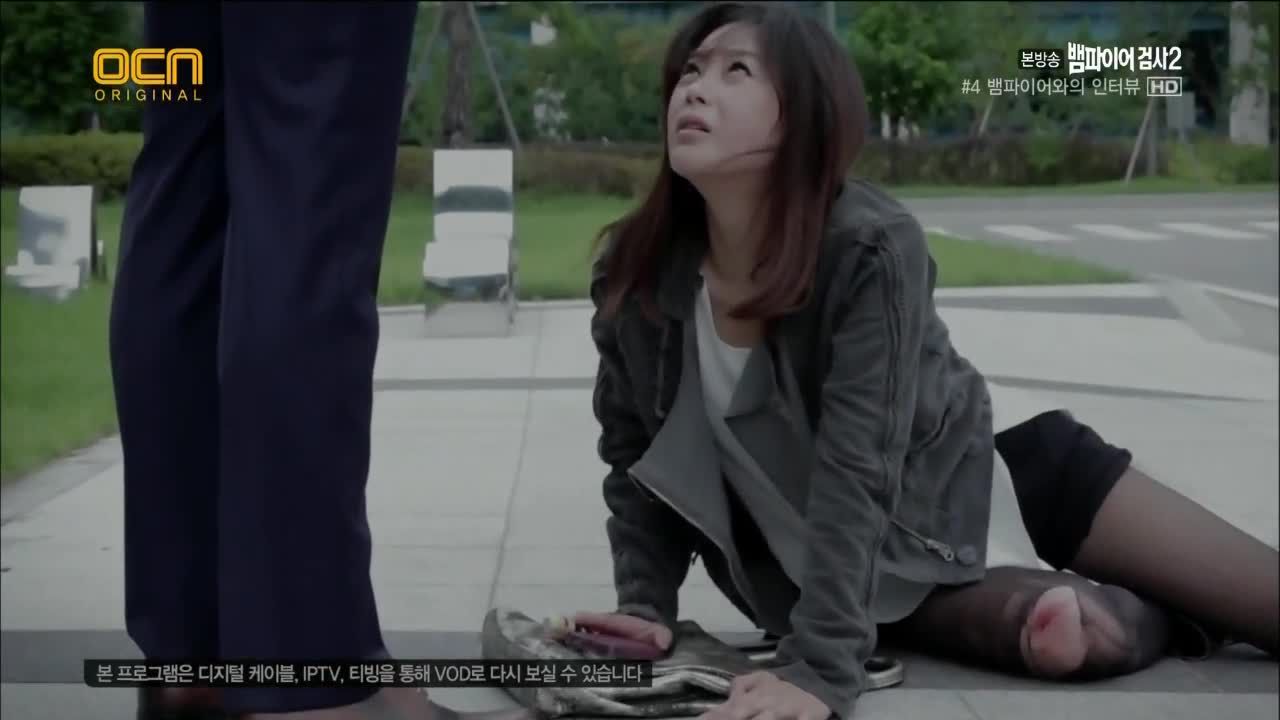 That's two cases closed. The next morning, Jung-in gets a call about a new case, then trips on the curb and skins her knee.
Tae-yeon steps up to offer her a hand up. HA, her romantic music swells again in the background. And just like all those other times, Real Tae-yeon is a lot less flirty than Dream Tae-yeon and calls her a klutz… just before he heads off with a cheeky smile.
Jung-in looks down at her hand, and finds he's handed her the earring she lost.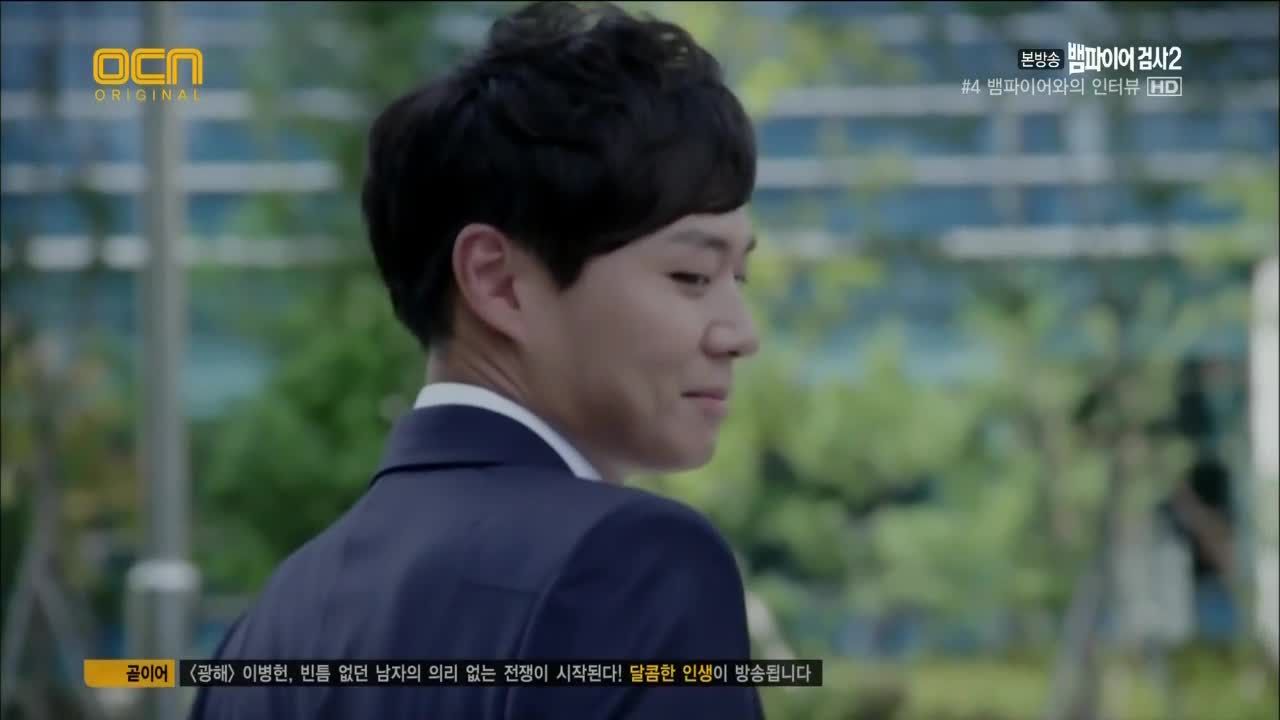 Back to the past. It's a year after our intro scene, September 1999.
Park Hoon meets with Dr. Ra again, but this time the doc is on his team; they're even speaking banmal like old friends. Park Hoon asks about his research, and he answers that he's working on it.
Dr. Blood has a question for him: Has he ever drunk blood from a person? Cue flashback (within the flashback), as Park Hoon remembers being shot in the chest. His shooter trembles and drops the gun. Park Hoon vamps out. I'm… taking that as a yes.

COMMENTS
I love the funny episodes, because that's what gives this show so much character. All the petty bickering and manly bonding and daydreaming just make my day. That's not to say the crimes don't add their own slick style to the show, since they make up a bulk of the show. But even when they're well-written, I don't consider that to be where the show shines.
In fact, I'll offer up a minor complaint, and that's that the crimes are sometimes too clever for their own good. I feel like the writing sometimes gets away from itself, trying so hard to surprise us at every turn that it becomes downright confusing. You want us to feel like we're on a journey of discovery with the characters, cracking the case with you—not left out in the rain hopelessly scratching our heads until you enlighten us with the info you've been withholding. Smart cases with clever twists, I love. Incomprehensibility, not so much.
It's also because the show is experimenting this season with more directorial tricks—crime scene special effects, flashbacks, and flashbacks within flashbacks within flashbacks. It's all very complicated and I feel like these tricks can obscure the story rather than help it along. It's a minor complaint in the scheme of things, because a large component of this show IS the style, but I do think it's worth noting. Especially since I think this season is in more danger of it than last year, where at least they tried to keep it down to sharp 45-minute episodes. I'm still shuddering a bit at the torture-fest of the premiere.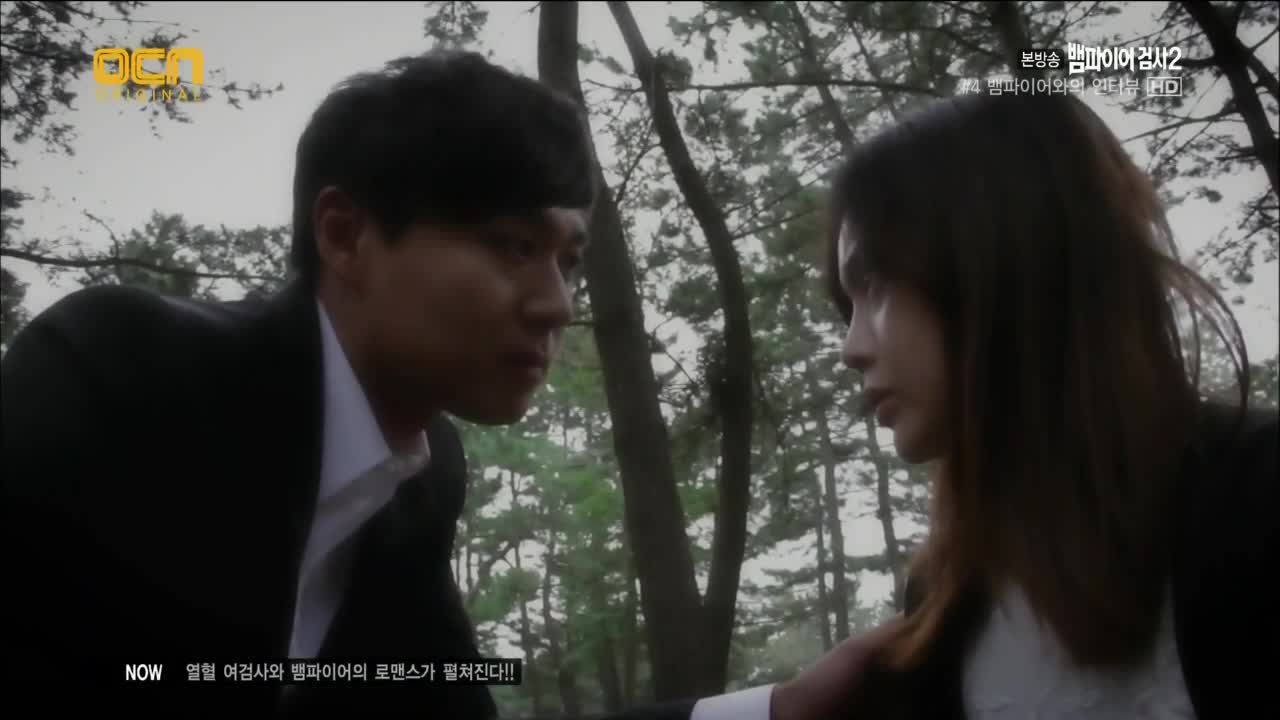 On to this episode, which I really did enjoy quite a lot. And it's not surprising that the murders had very little to do with it. (Side note: Did the two cases really just happen to be the same case? Did Prosecutor Joo have a clue, or is this a coincidence? I'll hold out judgment for now, but if it was just a convenient coincidence, I'm gonna be mighty disappointed.)
I totally loved all the bonding moments, though, and Jung-in's fantasies running the show. Aside from keeping the acting squarely in the hands of characters we care about (and not the guests), it also alleviates the total cheese factor of the scenarios. Don't get me wrong—I'm totally feeling the chemistry of Tae-yeon and Jung-in (though okay, the man could have chemistry with a door) and rooting for some sort of romantic development, even if it's not a conventional happy ever after.
But at this point in the pop-culture time-space continuum, I must admit that there is this inescapable cheese factor at the overly melodramatic, vampire-human Love That Cannot Be (Cannot Be!) scenario. And by portraying it as part of a girlish fantasy, we totally get to have cake and eat cake: We can enjoy the scenario while keeping in mind that it's not completely real. It's beyond the scope of straight mocking, because it beat us to the punch by self-mocking.
Alas, who's sad that Tae-yeon can't actually turn Jung-in? 'Cause if I've got my timelines right (and with this show, that's a challenge), he's already used up his turning rights on Dr. Blood. Time to call in a favor?
RELATED POSTS
Tags: featured, Lee Young-ah, Vampire Prosecutor 2, Yeon Jung-hoon