Alice in Cheongdam-dong begins filming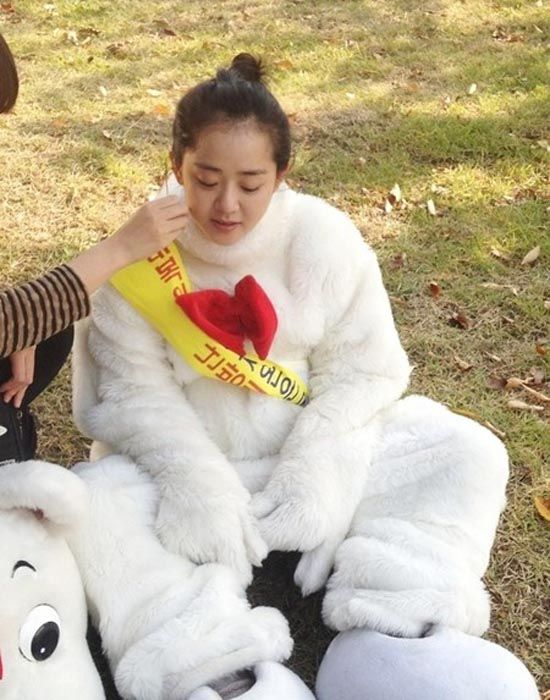 Ah, time for the new crop of dramas to start filming and releasing promos and stills, as is the case for Alice in Cheongdam-dong, the upcoming romantic comedy series on SBS.
The drama stars Moon Geun-young as a young woman who finds herself in the strange (upscale, fashionable) land of Cheongdam-dong, Seoul, an odd environment where image is king. She is clearly not a native, which we could guess from the title alone, but her fish-out-of-water quality is reinforced by these first stills where she's dressed in a floofy animal costume, playing heroine Han Se-kyung.
Se-kyung is a familiar archetype as a quintessential Candy character, which means she works tons of low-paying jobs with a smile on her face. Se-kyung's personal motto is "Hard work will earn me my place" and she battles all sorts of hardships with an optimistic attitude. She enters every open contest she can apply to and finally scores a job at an apparel company aspiring to be a designer, only to find that she's the glorified errand girl for the president's wife.
This Candy also gets to be a Cinderella, which is frankly a progression that makes me a bit nervous. Yes, both types are a dime a dozen in dramaland, but it doesn't mean I have to embrace the message that if you work hard, you'll succeed… because a rich, handsome chaebol (Park Shi-hoo in this case) will fall in love with you and make you his Mrs.
Still, we'll have to hope there's much more to the plot, since Alice in Cheongdam-dong purports to be a show that'll make people think on "the true meaning of marriage." It's all very vague, so right now I'm mostly looking forward to the pairing of Moon Geun-young and Park Shi-hoo, both of whom I like very much and whose chemistry I'm eager to see. I'll admit that I'm not sold on this story, but I hope it pans out well.
The drama is scheduled to take up the post-Five Fingers slot on SBS weekends beginning in December.
Via Newsen
RELATED POSTS