Arang and the Magistrate: Episode 17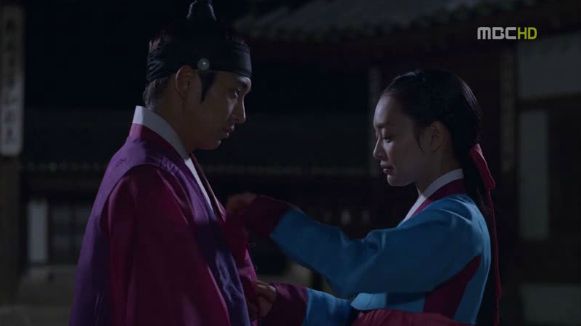 So. Good. Things are escalating in a major way—more romance, more mystery, more answers, and higher stakes than ever. Even now there are new twists to the story, so much that I'm not even sure which resolution will actually deliver a happy ending for these two, if that's even possible anymore. I love a show that actually picks up the pace and launches into the final act with a surge of adrenaline.
SONG OF THE DAY
Yoo Seung-chan – "Mirage" Arang and the Magistrate OST [ Download ]
Audio clip: Adobe Flash Player (version 9 or above) is required to play this audio clip. Download the latest version here. You also need to have JavaScript enabled in your browser.

EPISODE 17 RECAP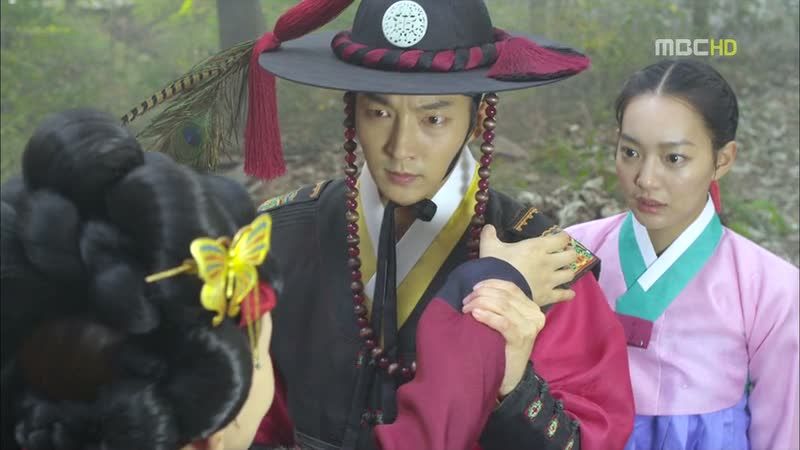 Arang's memory of her murder comes flooding back, and we see the moment replay in her head: Seo-rim rushing to save Joo-wal's life, getting stabbed by Mom and calling out, "Young master…" before dying at his feet.
And now, Eun-oh stands between Arang and his mother, as Mom reaches out a creepy hand. He blocks her and tells Arang to back away. She finally regains her senses and takes a step back.
Eun-oh takes out his fan, and Mom sneers at it, recognizing it as the Jade Emperor's. She wonders what he plans to do with it. Eun-oh: "I'm going to reclaim my mother!" He swipes at her…
But nothing happens. Because she's in a human body, silly. Read the owner's manual on that thing before swinging it all over the place. She cackles in glee and declares that he will never get his mother back, "Unless…" Oh no. No unless! Stop with the unlesses!
She looks over at Arang with a gleam in her eye, "Give me your body, and the magistrate will have his mother back." Goddamnit.
She smirks as she reaches into her hair, saying that the Jade Emperor is really starting to go soft, sending such a child to come after her. Do you carry daggers in your hair? Because it sure beats a utility belt in the badass department.
She takes out a red hairpin, and jabs. Eun-oh blocks it with his fan, but it goes clean through. Eep! A black mist shoots out, and he freezes in shock. That doesn't mean the fan is out of mojo, does it?
She reaches out to stab again, but this time Arang jumps in between them, and takes the hit in his place. Aw, honey, why are you always dying for the men you love?
Eun-oh screams her name as she falls limp in his arms. It's eerily similar to the way Seo-rim died, and though Arang would come back to life, it still makes my heart lurch.
Mom just sneers at Eun-oh for being useless and tells him to hurry and help her recover, and walks away laughing. Thankfully Arang is still conscious, and Eun-oh picks her up and races home.
He lays her down in her bed and holds her hand, "Don't listen to what that woman said." Yes, thank you—if you go sacrificing yourself, we'll never forgive you!
He tells her to rest but she stops him and says she recovered a memory the second she saw that woman. She remembers the night of her death. He asks who killed her, and she hesitates, admitting that she's unsure if she's supposed to tell him or not.
He doesn't see why, and urges her to tell him. Tears fall as she says shaking, "It was… your mother." He trembles, repeating it over and over in disbelief.
He stumbles into his room and falls to the floor in a heap, finally breaking down in tears. He says he came this far with just the hope that Mom would be alive, "But what is this? Why, why would you give your body to such a demon? Mother, what am I supposed to do now?"
At the same time, Joo-wal is quaking as well, but for very different reasons. It's unclear why, but the veil separating him from his memories is starting to break down.
The memory of killing a young girl comes back, and he trembles in tears, "Why am I remembering?"
Arang wakes up and pauses at the sight of her bloody bed. I hope it jogs your memory about your other murder at some point. She goes to Seo-rim's room and thinks to herself that she finally figured out the truth… but is that really all there is?
She thinks about the Jade Emperor and his Truth Bell, thinking that it can't possibly be this easy—there's more to the truth than just recovering that memory. She can sense from what she remembers that Mom didn't mean to kill her, realizing that there are still questions left unanswered.
Eun-oh finds her there and says he doesn't even know how to look at her right now, or what to say. Should he apologize in his mother's stead? Should he be swearing to get revenge for Arang? Or should he be asking for his mother's forgiveness?
Arang cuts him off and says he needn't say anything—she's made a decision that there is more truth to be found, and she's going to spend her remaining time focused on that. There's no way the Jade Emperor would make it this easy. Well, you're right there.
"And you should think first about saving your mother." Aw, that's sweet, but just as long as you're not thinking about saving her.
With that, they're back on the case, and Eun-oh decides the place to start is with the other person who was in her memory: Joo-wal.
He returns to the Choi house to find it teeming with guards now. He just scoffs and hops the fence as usual, but finds Joo-wal's room empty. He snoops a little and finds a sketch on his desk: Arang. Eun-oh sneers, and then steals it (HA) before making his way back out.
Something else catches his eye on the compound and he sneaks into a shed to find an entire freaking armory inside. Whoa. That's a lot of weapons, even for the average power-hungry overlord.
A few of the guards stationed outside hear the intruder, and come looking for him. Thankfully, there's no shortage of weapons to use in defense, and Eun-oh fights them off.
But they're armed too, and one of them slices Eun-oh in the shoulder. Aaack. He winces from the pain as he puts down the other guards, and then makes a run for it.
Bang-wool gets caught up to speed, and she gapes that there's such a thing as a demon that hops bodies. Arang knows it's slightly hypocritical of a ghost who returned from the dead to say, but she finds it creepy too. Heh.
She asks if Bang-wool can figure out a way to separate demon from host, and wonders if maybe they can summon the ghost of her grandmother to ask if she knows. Bang-wool is skeptical that they'll be able to, but they climb onto the roof anyway and try.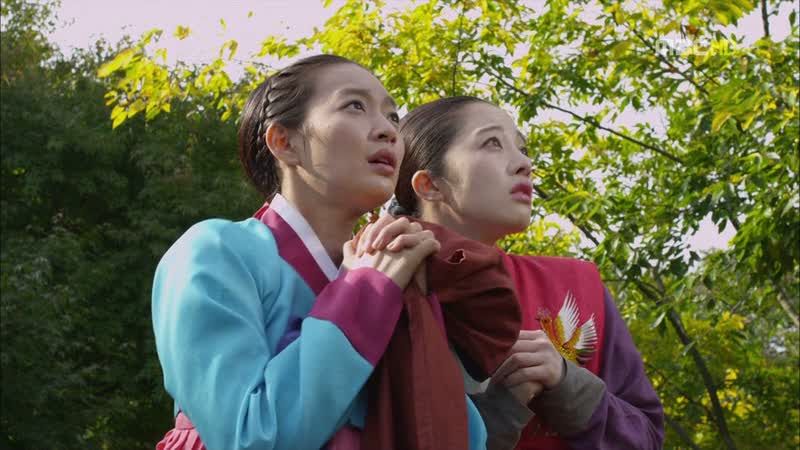 Arang shouts the incantation as told, and the clouds start to roll as the sky darkens… but then nothing. They scream nooooo, just as a voice nags behind them, "What?!" Yay, it's Grandma.
She sits down with them for a chat, and recognizes Arang right away, "The afterlife is riddled with rumors about you. Everyone's got a bet going." Sassy Granny's a straight shooter, and says that sure, going to heaven is a nice goal and all, but does she know that she can't take her memories with her?
WUT. Oh no. You're killing me. You mean even in the best-case scenario, she doesn't get to remember loving Eun-oh? WTF, old fogeys?!
It gets even worse: if it's hell she's going to, then even in the nicest of hells, her soul gets burned up, and she ceases to remain in anyone's memory, even here. Then Eun-oh forgets her too?! I HATE THESE RULES.
Bang-wool keeps having to ask what Grandma is saying the entire time, and finally Granny gets so fed up that she smacks Bang-wool upside the head. She whines, but it turns out that Granny gifted her with some mojo, because now she can finally see and hear the dead. Well yay for that.
Arang asks her question: Can a demon be separated from its host body? Granny thinks about it and says it's not certain, but she's heard that with two souls fighting in a body, if they put what the first soul (Mom) values the most inside the body, it's bad for the second soul (Mu-yeon).
If they use that precise moment to stab the demon with the Jade Emperor's knife, then perhaps… But she quickly adds that not just anyone can do the stabbing. Yeah, we got that part on our own.
She advises Arang to figure out what it is that Eun-oh's mother holds most dear. She bids Bang-wool a quick farewell and vanishes.
Joo-wal goes to see Mom to ask why his memories are coming back. She says it's his fault, for not providing her with a soul on the last leap moon, because it weakened her powers.
Desperate to erase them again, he asks what he needs to do. She says it's simple—bring her Arang, and all will be erased. If not, he'll have to live the rest of his life as a murderer. It's a coward's dilemma, to be sure, but an interesting one.
A tear trickles down his cheek, and outside he wonders if this is the price he is to pay for his sins. He stumbles back in, and asks Mom what it is she wants him to do. Damn, so that's your choice?
Mom: "Kill Kim Eun-oh." She says that his mom's soul is rising up and fighting back every time he comes around. He needs to be eliminated.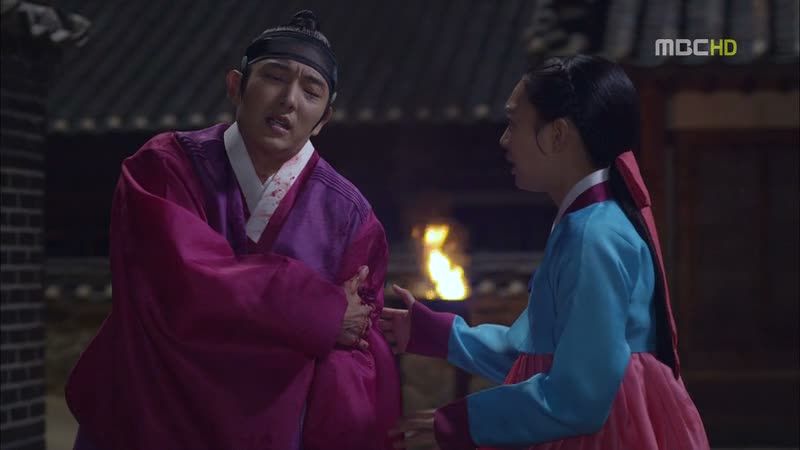 Arang paces in the yard and decides that Eun-oh will probably know what it is that his mom holds most dear. But he comes home holding his bleeding arm, and she panics, not knowing what to do.
He tells her not to wake Dol-swe (who would just panic even more, heh) and sends her to his room to get a bandage. She runs in and goes digging through the chests, stopping at his fan sporting a big hole in it now. It makes her think of Mu-yeon's request for her body, which would save his mother.
She grabs a bandage and runs back out. She peels back his shirt and winces at the blood, but he just tells her to wrap it tightly. She wonders what he's thinking, and he says, "I'm thinking that I'm grateful."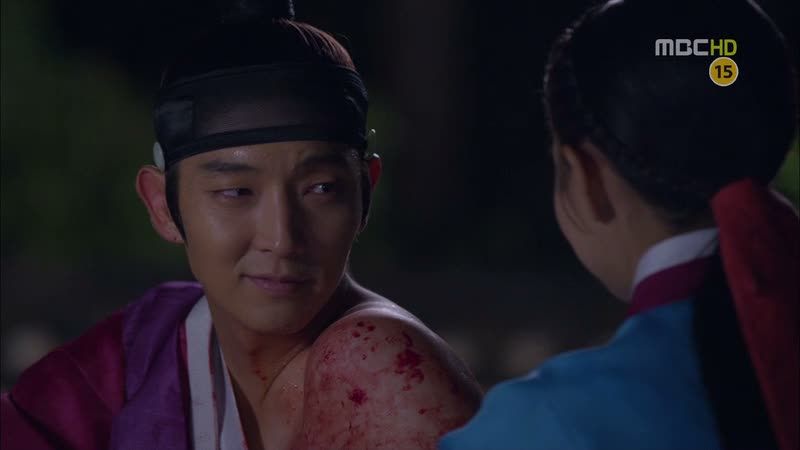 He says that so much has happened—her, his mother, this place—and now he thinks he's paying the price for always having lived selfishly. Man, what a world of difference between the two men and what they think they're paying for.
He says he never once listened to anyone else's pain or hardship, and turned a blind eye to anything outside himself, only filled with anger that he saw ghosts when no one else could.
Eun-oh: "But when I met you, I changed. I came to see my mother's pain clearly, and began to see others' pain. And then one day I realized—ah, I am in a position to help those people. That's why I'm grateful to you."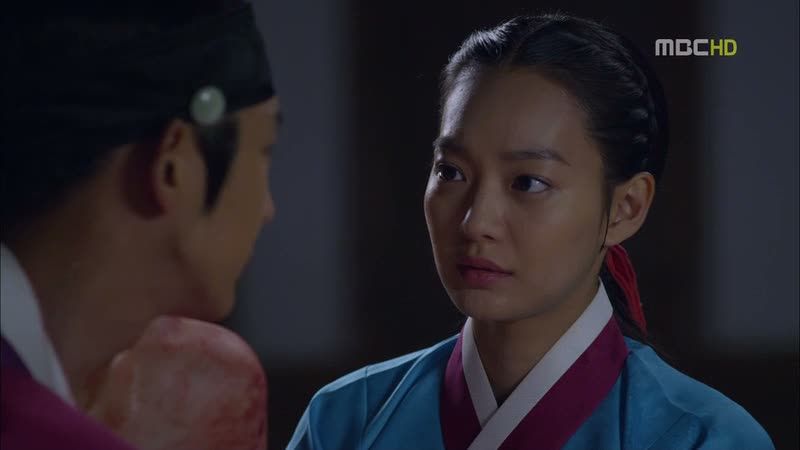 Aw, that's the best compliment ever. And it's true—she made him a better person. Arang says he's the one who's done so much for her, while she's never actually done anything for him.
She tells him what Bang-wool said to her, about love and loss: that even if you think you'll be so sad at losing a love that you can't survive, that sadness will give a person the strength to live—that's what being human is, and that's love, and memory, and remembrance.
Arang: "I thought that leaving that behind would only cause you pain. Like a dummy." She finishes wrapping up his arm, and puts his clothes back on. Wait, you finally got him half-undressed, and you're putting them back ON? So much to learn, this girl.
Arang: "That's why I pushed away your heart, and pretended not to know." Eun-oh: "I know." Arang: "But Bang-wool said that even those memories would become a source of strength for the remaining person to live on." She starts to fasten his clothes as she continues:
Arang: I can't make your body warm, or stay by your side for a long long time like other people. And there is nothing I can do but put these clothes on you like this. And even if on my way to the afterlife I lose my memories of you… Still… I loved you.
*TEARS*
I know it took forever to get that confession, but man was it worth it. She smiles up at him and says goodnight, and turns to go.
But he's not having that (thank goodness) and yanks her back toward him. He lingers for a moment, searching her face, and then kisses her, as a tear trickles down her cheek.
Swooooooon. I feel like I've lived five lifetimes waiting for that kiss. And of course, just to be cruel, we fade from their kiss to the moon above. I hate you, Moon!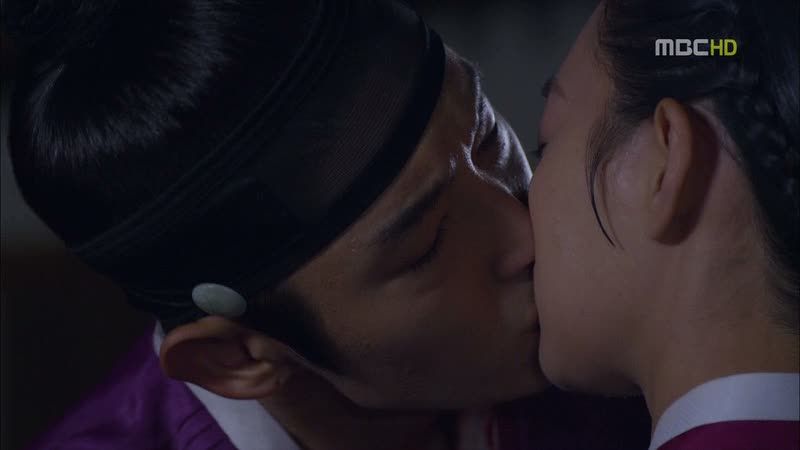 Joo-wal sits in the dark, hatching a plan of his own. He says that he'll do what Mom wants… but then after that, he'll do what he wants. "You can take Arang and erase my memory, and then I will erase you!" Ruh-roh.
He pulls the ring off his finger and flings it across the room, where it shatters.
In the morning, Arang knocks on Eun-oh's door and asks permission before entering instead of just barging in like usual, and they both admit to the sudden awkwardness. How cute.
She tells him what she found out from Granny, and tells him to think about what his mother would want most. Uh, would Lord Choi's head on a platter be too simple an answer? Probably. But we could still try, no?
She plans to go talk to Joo-wal herself, and he doesn't like that idea, but she insists that it's her truth to find out, so she's going to ask.
Eun-oh tells Dol-swe about Mom, and sends him to the house in the woods to capture her for now. What, the lady who stabbed a hole in your mystical demon-slaying fan? You're sending the humans with no powers to catch her? Did love turn you stupid overnight?
Unsurprisingly, Dol-swe returns empty-handed. But it's because no one was there.
Cut to Joo-wal hurrying Mom away into a cave. She asks if it'll be much longer, and he promises to hurry.
But when he returns to town, he finds Arang waiting for him outside his house. She finally asks what he's hiding, and how Eun-oh's mother ended up giving her body to that demon, and what his connection is to her.
Joo-wal tells her the truth—that she's a fairy who's using the bodies of humans to survive. She can only possess someone when the host wants it: "She gives them what they want most in the world, and takes their bodies in return."
She asks what Eun-oh's mother's wish was, but he doesn't know that part. Arang says she'll ask herself then, and he stammers a protest.
Lord Choi hears that the magistrate was the one who broke into the armory, so he decides it's time to bust his minion out of jail. He sends some men to break him out, and tells him to lie low until he's called.
Eun-oh growls at the news, only to be interrupted by a more urgent matter when a townsperson comes crying for his help. Lord Choi has collected the man's son to sell as a slave, in payment for his debt.
The tiny boy is being dragged through the streets for everyone to see, and the injustice has at least a few brave people willing to jump into the fight. But thankfully Eun-oh comes riding up to save the day.
He scoops the boy up and gives a little go-get-'em nod to Dol-swe to handle the matter, which is awesome. Dol-swe leads the charge and overtakes Lord Choi's men with some good old-fashioned violence.
Eun-oh learns that this isn't an isolated incident, and that Lord Choi has been selling off people's children for a while now. Grrr. News spreads of the magistrate who helps the people, and citizens come in droves to offer gifts and plead their cases.
Even children in the streets start drawing pictures of the hero magistrate of Miryang, which is adorable. Lord Choi fumes, but decides that Eun-oh should enjoy playing magistrate while he can, and he'll make it so that he digs his own grave.
The murderous Bang is happily doing his part on Team Magistrate, while the two other Bangs wonder if they've chosen the right side, still in limbo over which camp is the likeliest to win. They decide that perhaps they should follow Arang's lead. That's arbitrary, but I guess sheep are sheep.
Arang returns the next day to see Joo-wal again, and asks him to take her to Mom. He asks why she's doing this—is it for Eun-oh? She doesn't answer though it's clear that it is, and he agrees to take her.
Eun-oh decides that it's time to promote Dol-swe to an official position (aww) announcing to the entire staff that he will promote anyone who works hard based on merit, without regard to their class.
Dol-swe goes to see Bang-wool in his new uniform, but her reaction is surprisingly negative—she prefers Dol-swe just the way he was (double aww) and turns to leave. He grabs her but he's so strong that one pull sends her flying into his arms, and they each accuse the other of trying to make a move. Oh you two.
Mu-young contemplates the Jade Emperor's knife, and decides that he can't do this alone; he needs Eun-oh's help. Dude. Please tell me it did not take you this long to figure that out.
Hades stomps over to him and announces that his timeout is over, and sends him back down. It's just in time too, because Bang-wool and Dol-swe get attacked by a trio of angry ghosts, and Mu-young shows up to collect them.
He goes to see Eun-oh, who doesn't even blink anymore when the reaper just appears in the corner of the room. Mu-young tells him that the other soul inside his mother's body is his sister Mu-yeon, and that there's a way they can both be saved.
He says that she can't be forced out of the body, so they have to get her to choose to come out. Eun-oh: "What, give up Arang's body?" He scoffs, "I can't do that." And that's why we love you.
Mu-young: "I thought your objective was to save your mother." He says they have to join forces to save both Mom and Sister. Eun-oh tells him to come back with a real plan—one that doesn't involve Arang—and he'll join Mu-young's team any time.
Mom sits alone in her dark cave, and says aloud that even she knew love once, because she was human. "There was a time when the love that I belittle now, once controlled me."
The narration changes hands to Mu-yeon, as we flash back to her human past with Mu-young. What we see is that it wasn't just one life, but a series of lifetimes that they shared.
She says that when they were lovers, they loved each other madly, but could not have happiness. And then because their destiny ran so deep, they shared another life as siblings.
"Though time had changed and our names had changed, I loved you." And then another lifetime, as reaper and fairy—they meet again, and she loves him once more.
"I did not like life in heaven. We couldn't have love." She says that she found a way to go back down and live as people so that they could finally have love, but he turned her down. Oof, what a tragic life.
The narration changes hands again to the Jade Emperor, who concludes, "And after having been in the dark for so long, you forgot that you once were trying to see, everything becomes the darkness, and now you are not love, obsession, or desire, but a monster itself."
Hades joins him and says that's why humans are weak.
Down below, Joo-wal brings Arang to the opening of the cave. She starts to head inside, but he grabs her wrist, urging her not to listen to anything Mom says. Arang pulls away and goes in.
Mom is there waiting, and greets her with a devilish smile.
At the same time, someone bursts into the magistrate's compound with an army—another magistrate? Someone even higher up? Oh, I don't like the look of this guy. This must be what Lord Choi was cackling about.
The man has Eun-oh dragged out like a criminal.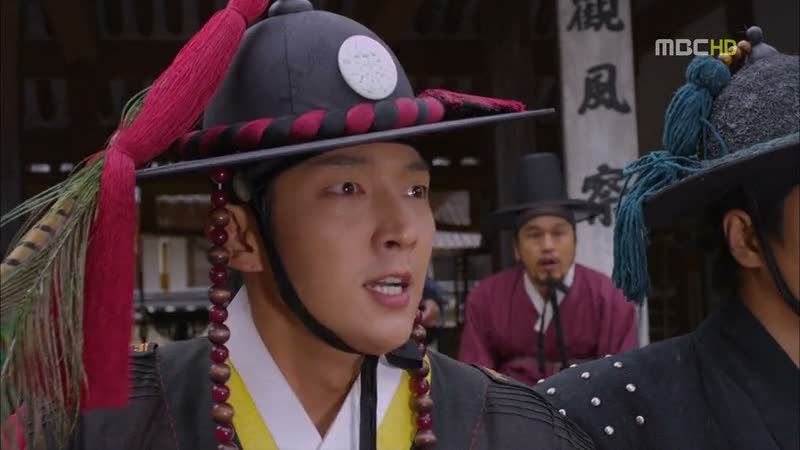 COMMENTS
If she sacrifices herself to save him, I will hurt somebody. I'm terrified that this is where we're going, because we've seen Arang make that same choice again and again, in saving Joo-wal AND Eun-oh. If he has to kill her to kill Mu-yeon, I don't know if I could handle it. Please tell me there's some other plan, or loophole, or something. Anything.
I'm so fascinated by Mu-yeon's backstory, because it's a twist I didn't expect. You just think siblings are going to be siblings, but being fated to share a connection over multiple lifetimes, and starting out as two thwarted lovers – well that sheds a whole new light on everything, doesn't it? Even if she's not conscious of the past, she ends up repeating the same exact fate over and over, in loving him and losing him somehow. And if wanting to leave heaven was because of love, I don't know if I can blame her for that. If she's not supposed to have love, then why can she feel it? Obviously her choices once down below have corrupted and twisted her into something else entirely, but it's so interesting to know that the seed of it all was love.
It introduces a whole new element to Eun-oh and Arang. If they can't have their happy ending in this life, will they be fated to meet again in the next? But does that mean they'll share the same fate and be thwarted in every lifetime? What's to keep them from making the same mistakes that Mu-yeon and Mu-young did?
But most importantly, is there any hope that both of them will retain their memories? That's the thing that breaks my heart most. The threat of body swapping (and possibly having to sacrifice Arang) was one I knew was coming, but the memory twist made my heart lurch. I can even stand forever separation if I know that it'll be like Bang-wool said—heartrendingly sad, but a sadness that you can draw strength from, in remembering the one you loved. But no memory? I hate that more than anything. Then it's like it never happened, and I couldn't live with that.
And of course that threat would loom overhead just as Arang FINALLY chooses to love and just embrace the pain of losing each other. I love that she declares it in that bittersweet way that says she's going soon: I was here. And I loved you. I hope she's finally come to understand the difference between having lived and gone, and never having existed at all, and that she'll fight to do something about it now that there's someone she wants to remember having loved.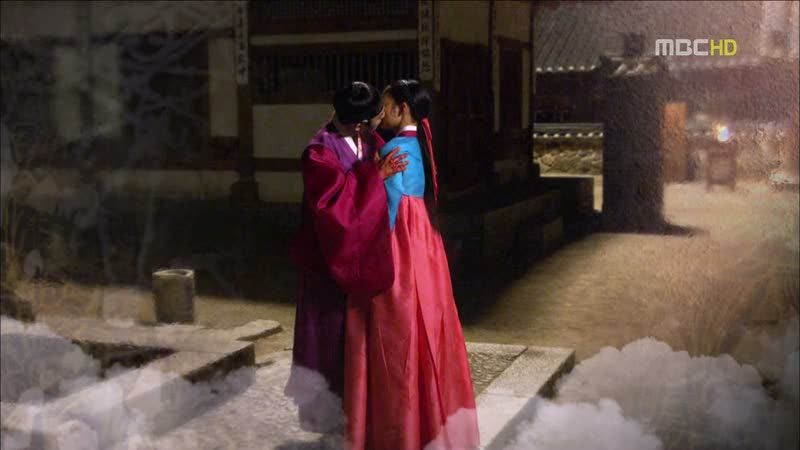 RELATED POSTS
Tags: Arang and the Magistrate, featured, Lee Jun-ki, Shin Mina, Yeon Woo-jin