Arang and the Magistrate: Episode 19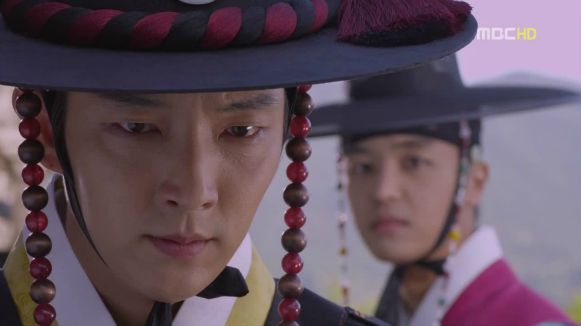 The end is nigh and everyone's paths converge in the big showdown. It's a nail-biter from the start, and it looks like the tension won't let up until tomorrow's finale. Just the way I like it. We finally get some answers of the non-cryptic variety (Gasp!) and our hero faces the toughest decision of his life. It's okay, Eun-oh. Only the cosmic balance of the entire universe is riding on it. No pressure or anything! *shakes fist at pretty old fogey*

EPISODE 19 RECAP
Eun-oh races through town searching for Arang, to stop her before she offers herself up to swap places with Mom. Thankfully, one of his ghost minion lookouts is racing through town looking for him, because he saw Arang creep into the creepy woods, ignoring his cries. Handy, that.
Eun-oh follows him toward the cave (where the ghost can sense that Mom is near) and sees Joo-wal running in the same direction. But Arang gets there first, and enters the cave alone.
And up above, we see that Mu-young is perched on the rocks, watching the whole scene unfold. Geez, it's like a friggin' class reunion here. Anyone else coming to this party? Mom looks unsurprisingly like a cat that's getting canary home delivery, and invites Arang in politely.
Arang asks if she gives up her body, will Mu-yeon return Eun-oh's mother to him? No, no, you're asking it wrong! Any good soul-swapping lawyer would tell you to add the clause: return Eun-oh's mother alive and well, to live out her naturally long, healthy life. Even a crossroads demon would tell you that!
And then with tears brimming in her eyes, she asks if she does this, will she ever get to see Eun-oh again? Mom says no. She cries as she says she'll still do it. What? Nooooo!
Even Mom is surprised to witness the depth of her love, and she marvels that she's actually reaping the benefits of human love, of all things. Arang asks what she needs to do, and Mom tells her to empty her mind and simply think of the thing she wants most.
Arang closes her eyes, and Mom reach out a hand. Black demon smoke starts to swirl around Arang…
Mu-young watches from the shadows, ready with his knife. But Joo-wal bursts in, calling out for them to stop. Ohthankgod. He tells Arang that she can't trust Mom's words—Eun-oh's mother won't survive the body swap anyway. That's what I'm sayin'!
Mom is so furious that she zaps him with her demon mist, and knocks him against the rocks. She tells Arang not to trust him, and gives her the this-is-your-last-chance sales pitch. Arang looks back and forth between Mom and Joo-wal… and then says she'll believe Mom.
WUT. The boy risked his life to run in and save you, but you want to trust the demon over him? GAH. Okay now you're just pissing me off.
Mom starts the transfer… Mu-young takes out his knife and approaches…
And then FINALLY, Eun-oh runs in screaming, "Arang!" and punches Mu-young to keep him from stabbing anyone. Did he come in time? Arang falls unconscious into his arms, and he picks her up and races out. Yes, but… did he come in time?!
Mu-young picks up the knife to try and stab Mom anyway, but it won't go through the mystical barrier. She looks up at him… and glares. Oh phew. Mu-yeon's still in there.
Joo-wal stirs awake, and then it's his turn to pull out a knife. Whoa. Mom backs away, asking what he's doing, and he says that he's going to kill her and then himself. He looks determined to go through with it… until Mu-yeon starts gasping and struggling, and Mom overtakes her.
She looks up at Joo-wal, calling him young master in a pleading voice. He stops in his tracks.
Eun-oh puts Arang down against a tree, and she stirs awake. He hugs her for dear life, yelling that she makes him crazy—this isn't what he wanted. She says, crying, that it's the only thing she can do for him.
Arang: "I'm going to disappear anyway. And I can't see you anymore. And you need your mother." Eun-oh: "Do you think that if I lost you and found my mother, I could be happy? You don't have to do anything. I said I'd do it all! I'm going to find my mother, and I'm going to send you to heaven! I'll do it. Arang, trust only me."
And then, finally, the heart-crushing truth. Arang wails into his shoulder through a flood of tears: "I don't want to go! I don't want to let you go! I don't want to leave you behind and go!"
Waaaaaaaah. Eun-oh just holds her as they cry.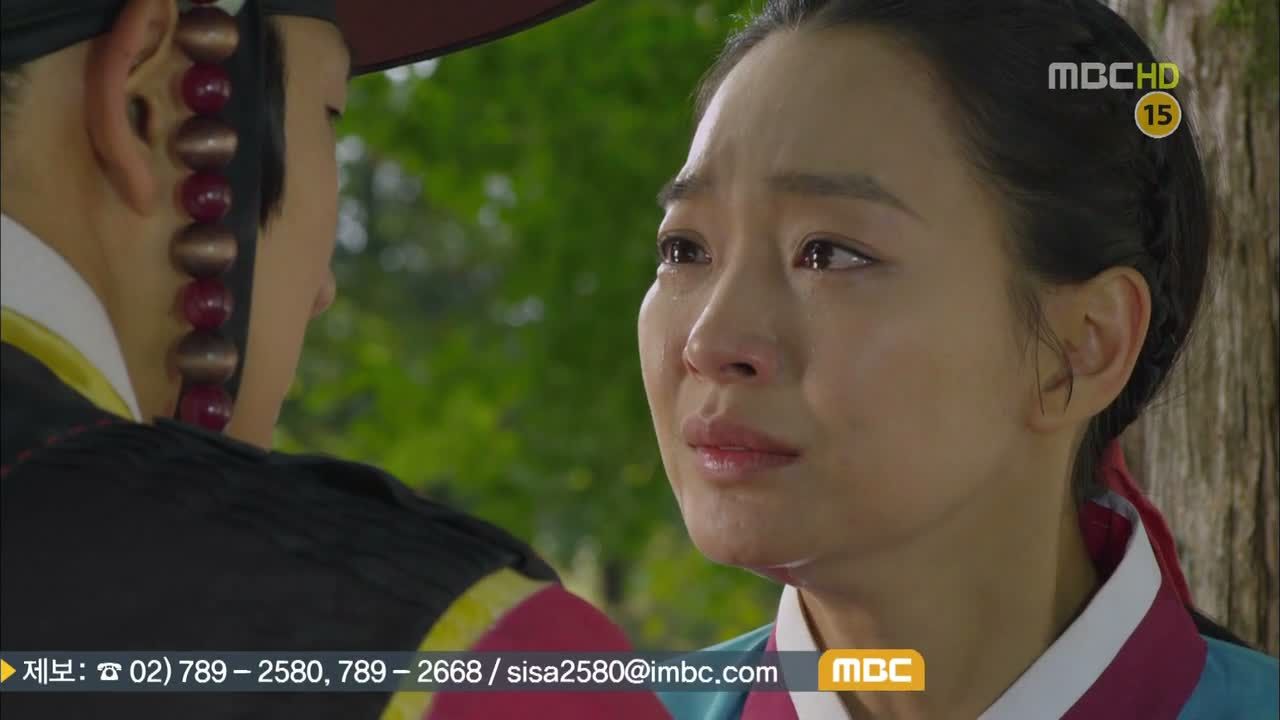 Mu-young reports to the Jade Emperor with his head hanging low. Jade asks if he's trying to get rid of Mu-yeon or save her, and points out that even trying to kill her is an attempt to save her from herself.
Jade says that either way, Mu-young is acting out of his human attachment for her, and that's not something a reaper can have. Oh no, don't you get kicked out of heaven too.
Hades tsk-tsks human attachments, but when Jade asks what he's going to do with Mu-young, he doesn't answer. I'd bet you have some attachments to your reapers too, old fogey.
Joo-wal sits by Mom's bedside as she sleeps. And perhaps it's because Mom is in control or because Mu-yeon is severely weakened, but Joo-wal begins to remember… everything.
He flashes back to Seo-rim dying to save him, and that night that he killed Arang in her sleep. He stumbles away and calls himself a fool, wondering how he could know nothing.
And then he remembers his proposal for Arang to accept his heart, only now realizing that he asked her that after murdering her in cold blood.
Arang wakes up in the middle of the night to find Eun-oh sleeping next to her. Aw. She turns toward him and reaches out, air-tracing his face while he sleeps. She puts her hand in his, and closes her eyes.
He opens his eyes once she's asleep, and squeezes her hand.
He comes out after a while, and sighs as he looks up at the full moon. Mu-young appears and says once again that their objectives are the same, but Eun-oh growls that they aren't—he wants to save his mother, but the reaper only cares about killing the demon.
And that's when Mu-young drops the bomb: Eun-oh's mother can't be saved in this, no matter what he does. Oof. I expected as much, and it would've helped if he had known this sooner, but it's devastating for Eun-oh.
Mu-young just vanishes, leaving Eun-oh in tears. Thanks for the emotional drive-by, reaper. Damn.
Arang wakes up the next morning and looks into the mirror to tell Seo-rim that there isn't much time left. She goes to her grave to speak to her directly.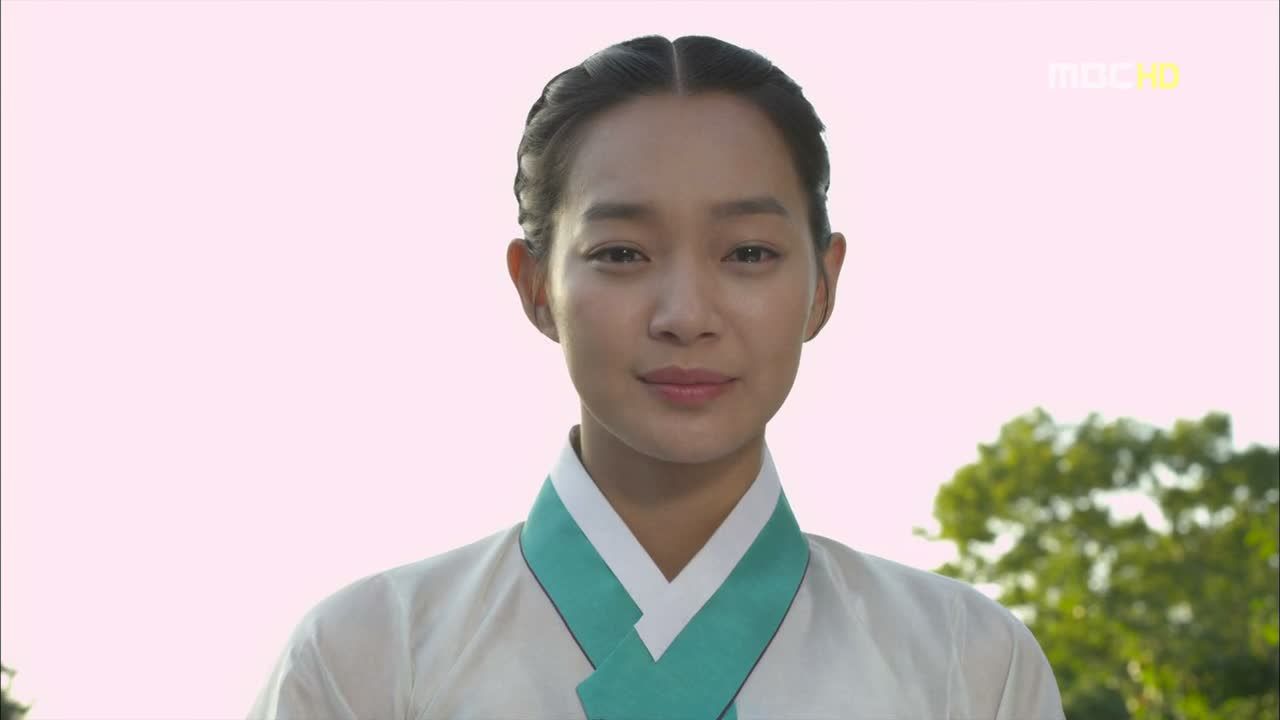 Arang: Thanks. You know I went to see the Jade Emperor, right? Now that I know you, who gave up your life to save the person you loved, I know where that crazy courage came from. The days that I've spent as a person have been painful and difficult, but thankfully you're worth it. Thank you, for being strong and brave. I don't regret finding you, and finding out the truth. I love you, Lee Seo-rim.
Joo-wal is on his way to Seo-rim's grave as well, and turns back when he sees Arang. Always the cowardly instinct first. But he braces himself to face her, and turns back.
He doesn't know how else to say it, so he tells her a story about a foolish man who proposed to a woman, not knowing that there was once someone who died to save him. His eyes fill with tears as he says he didn't know, and then when she came back, he didn't recognize her.
He falls to his knees before Arang, crying that his heart fluttered when he saw her, like it was the first time. This is why my heart bleeds for him—because he's sorry he didn't recognize the face of the woman who died to save him.
Joo-wal: "I'm sorry! Don't ever forgive me!" She crouches down and puts a hand on his arm, shedding a sympathetic tear for him.
Later, as he walks home, he thinks to himself, "That I didn't recognize your face, the one who died to save me… that I put a knife in your heart… I couldn't say the words." He says that knowing that would've just caused her even more pain. Tragically, a coward till the end.
He finds Mom sitting outside when he gets home, and he helps her to bed. He asks what happened to Mu-yeon, and Mom says she's weak, so she's just given up control of the body for a little while.
She says, full of regret, that if she had just let go of her vengeance and just accepted the pain in her life, she might be living happily with her son. She asks Joo-wal to tell Eun-oh: "That I never once forgot the face of my son. That I'm sorry I didn't hold him while he was sick, that I never once gave him a mother's warmth… Tell him." What's sadder is the fact that Joo-wal is jealous of those few words.
Joo-wal races over to tell Eun-oh that his mother has awakened and that he doesn't have much time. Eun-oh is skeptical, of course, but comes along anyway. Mom wakes up and calls out to him, but he stands way back, asking how he's supposed to believe her.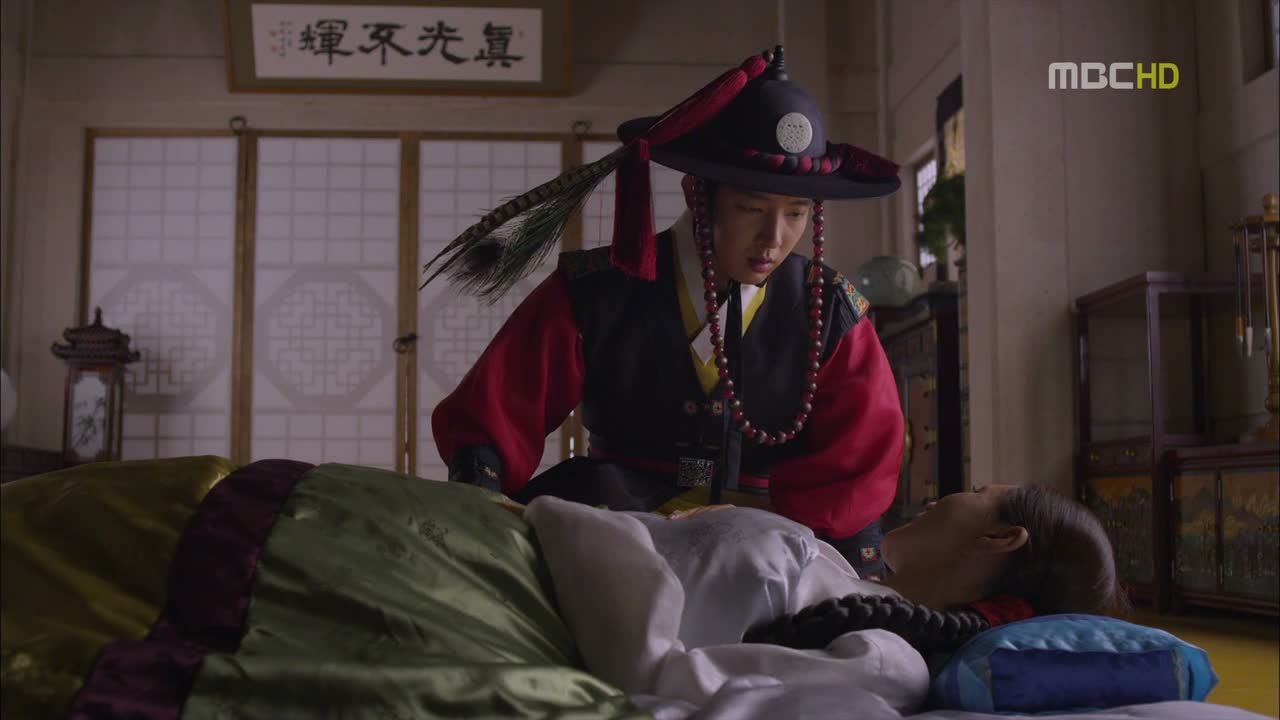 She says it's her fault, that she shouldn't have left him, that she's responsible for him distrusting her this way. Eun-oh: "You're not my mother. My mother never once looked at me, even when I was laughing." Oof, sometimes I forget how much your childhood sucked.
He turns to go, but she says through tears that she's sorry for all the horrible things she said, for turning him away when he found her, for not wearing his gift for him to see. He whirls around at the mention of the hairpin, and reels when she names it.
He inches closer, and then falls to his knees, "Mother." He asks how she made it so difficult for him to just say that out loud once. Seriously. Mom clasps his hands in hers, saying that she did it all because she didn't want him to live as a slave.
He asks what difference it makes, slave or nobleman, when all he wanted was to live with his mother. She tells him now that she's sorry for all of it, for letting her revenge take over. "How lonely you must have been! How much did you hate me?"
He says he didn't hate her; he just missed her and wanted nothing more than to be with her. That just makes her foolish choice that much more tragic.
She asks him to promise—that when Mu-yeon comes back, he not hesitate for one second to put a knife in her heart. She cries that she's neither living nor dead, just trapped, and begs him to end her suffering, even if it means death.
He swears to save her, to end her suffering, and breaks down in tears. She pats him on the shoulder as he cries, which is probably the first and last bit of motherly warmth he's ever felt.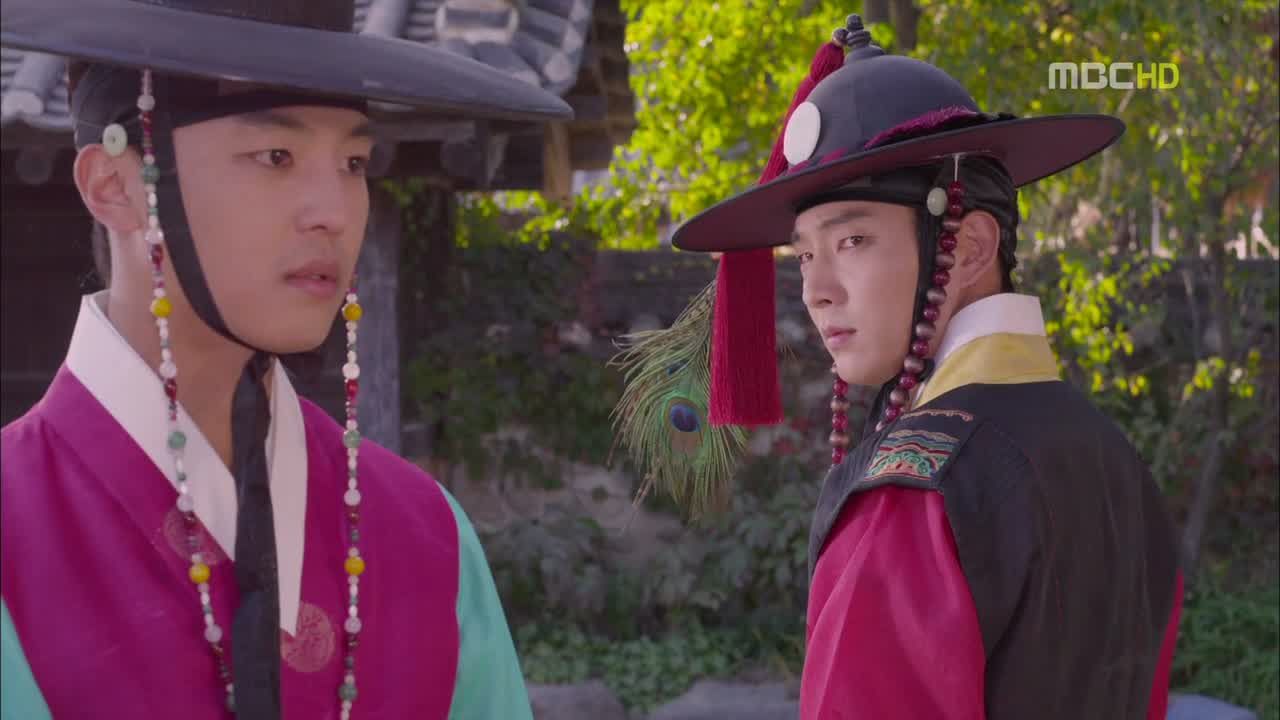 He bows to Joo-wal on his way out, as a gesture of gratitude for looking after his mother. Joo-wal calls out to him: "Don't give up on her [Arang]." Eun-oh turns back to glare, and swallows back the angry retort he would've had on any other day.
He starts to walk away, and Joo-wal wonders aloud, "How is it that you have everything that I've ever wanted?" Aw. Eun-oh doesn't turn back or answer and just walks away.
Joo-wal's servant says he plans to leave Miryang, and asks if he'll stay by Mom's side. Joo-wal sighs, and what kills me is, he will because he doesn't have anywhere else to go.
He says that when he was young and starving, he thought being hungry was worse than death, but now, he realizes he was better off then. His trusty servant says that there must be some sort of fate or connection between Joo-wal and Mom, and adds that he'll remain by young master's side till the end.
Eun-oh slumps down in his room, crying as he finally asks aloud, "Is there really no way to save you?" He asks for his teacher to help him.
Suddenly, Eun-oh opens his eyes in a totally different room. What? Did he teleport? He gets up, and then two little kids run into the room screaming, "Father!" Buuuuuh?
Arang comes in with a table and everyone gathers around it, while Eun-oh stares at them like they're alien robots from the eighth dimension. He keeps asking what Arang is doing, and she keeps answering like this is perfectly normal.
What's more is that she mentions Mom, alive and well. He heads through town and goes to the magistrate's office, where Magistrate Dol-swe greets him happily. Mom and Bang-wool come out smiling, and so do the Bangs.
Okay, this is some weirdass dream, right? But if it is, why is Eun-oh as confused as I am? He trails after Mom in disbelief, and hugs her tightly, just to be sure she's real.
She hugs him, and then tells him to listen to his teacher's words. Aha. Tricksy dream-vision-voodoo!
And then poof, Mom turns into the Jade Emperor. He jumps back, not recognizing him. Jade introduces himself as his teacher, and Eun-oh asks if there's really no way for Mom to come out of this alive.
Jade tells him to think hard and remember what he gave him and what he said. "Though you may not be able to keep her alive, you will be able to save her. Think carefully about what it is she really wants."
And then he vanishes, and Eun-oh wakes up back in his room.
Joo-wal keeps watch over Mom, as she opens her eyes… with Mu-yeon back in control.
Eun-oh tells Arang what the Jade Emperor told him—that his mother wouldn't survive, but he can save her soul. He says that setting her soul free is the best that he can do for her now.
She asks how and he reminds her of what they learned—give the first soul what it wants most, and the second soul will be forced out. He holds up the hairpin. Arang reads the engraving again: Mother's heart.
Eun-oh tells Mu-young that he'll play it his way, but asks him to make sure that once his sister is out of Mom's body, he'll take care of her without any mistakes. Mu-young assures him that he will. Aw yeah, human-reaper buddy cops again?
Joo-wal comes by to alert Eun-oh that Mu-yeon is back in control.
Eun-oh decides that he should wrap up Lord Choi's loose ends before dealing with Mom, and has him transported to Hanyang for his sentencing. I love that he's taken through the center of town for everyone to publicly mock him.
Even in this position, Lord Choi is as smug as ever, and blames his minion for not guarding him better. He plans to let the minion take the fall for everything, insisting that the king will be more lenient to a nobleman than a slave. Should you really be telling your murderous accomplice that you intend to burn him to save yourself?
Little children throw stones and the crowd ends up mobbing him, and they rattle the cart enough to make it fall apart. Lord Choi fumes in indignation, but the minion sees his chance, and grabs a guard's sword.
He raises it and strikes… and Lord Choi falls dead at his feet. Not even Joo-wal, who sees it happen from the distance, feels too sad about it.
Eun-oh braces for battle, and arms himself with the hairpin. Arang comes by worried, and makes him promise to return exactly as he is. He smiles and promises not to lose a single hair on his head, and hugs her before walking out.
She whirls around as soon as he leaves… Oh noes, don't tell me you're thinking of following him.
Mu-young meets him outside Joo-wal's house, and they go in together. Mom senses them coming and when Eun-oh charges at her with the hairpin, she throws him back with her black demon mist.
She does the same to Mu-young. Suddenly, Arang bursts in.
NO! Why are you here? Girl, you are seriously makin' me craaaazy today!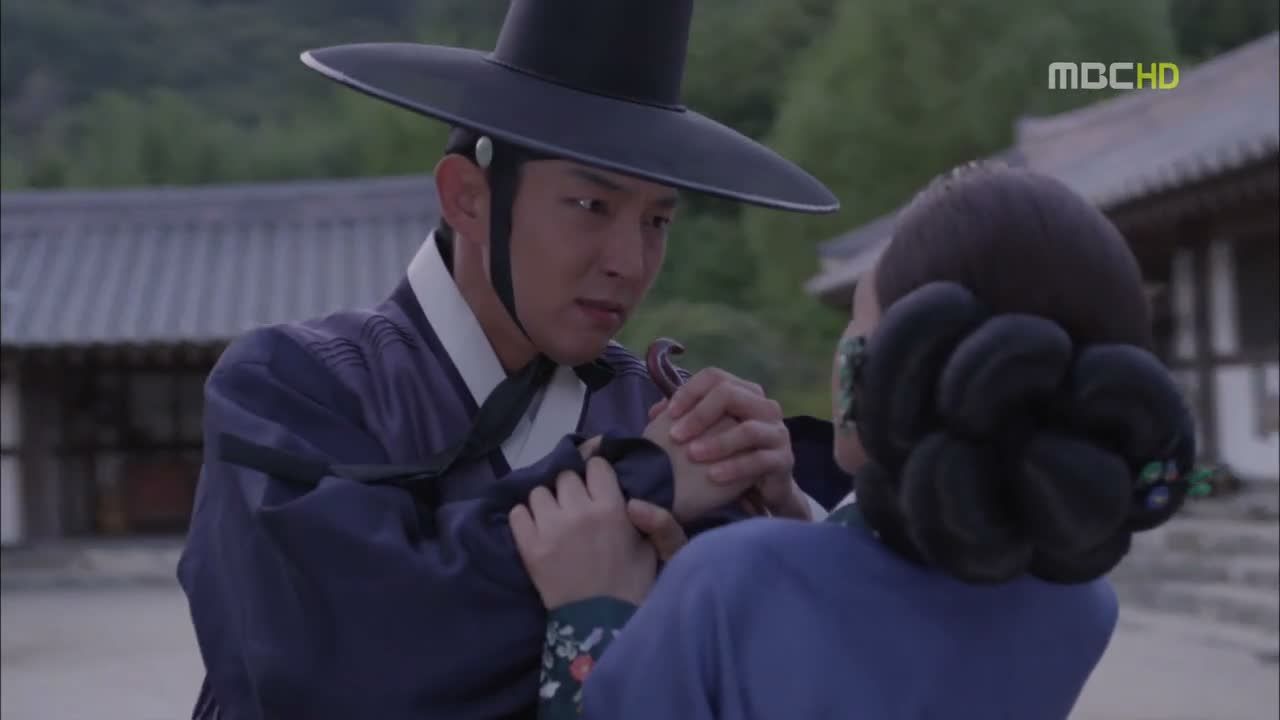 Mu-young lunges with the knife, but it does no good, and then Eun-oh finally gets close enough to put the hairpin to her heart.
She asks if he's really willing to kill his mother, and with tears streaming down his face, Eun-oh says that he's saving her.
And with that, he plunges the hairpin into her heart.
Mom gasps and struggles, and Mu-yeon gets forced out. She clings to the body for as long as she can, but Mom falls to the ground and she gets cast out.
Eun-oh rushes to Mom's side, and Mu-yeon runs… past Mu-young…
…And straight for Arang.
Goddamnit.
Arang sees her coming, and screams, "Noooooooo!"

COMMENTS
AND THE REASON YOU DIDN'T STAY HOME IS?? I swear, if you get possessed because of this, you're grounded! Go sit in the corner and think about what you did! Gah.
Truth be told, there wasn't a whole lot of surprise in this episode, since things shook out pretty much the way most of us had anticipated (regarding the hairpin and Mom's fate). I was more nervous about Arang and the body swapping, because the worst-case scenario would be if Eun-oh had to do this with Arang instead of Mom. My nerves took a beating at the start of the episode, when she kept agreeing to the deal. I really wish she'd quit with the noble idiocy, especially if she's going to run about making sacrifices without reading the fine print first. My heart still breaks for her, of course, especially when she finally says out loud that she doesn't want to go. That kind of confession never fails to turn me into a puddle of goo.
Eun-oh, on the other hand, is making my day because he's doing everything right, by not clinging to a false hope that his mother can be saved. I'm glad he got the chance to be reunited with her, if even for one moment. It was a bittersweet reminder of how sad and lonely his childhood was with and without her, and it says a lot that he doesn't resent her despite having the right to. It's so interesting that Joo-wal sees Eun-oh as having everything he ever wanted, because that's not actually true; he'll just always see the world that way, which is why he'll choose the wrong thing at every turn.
Even after learning the truth, Joo-wal still chooses the coward's way out, which says everything about his character, doesn't it? I did love his apology to Arang and Seo-rim though, because it bookends nicely her quest to find out who Seo-rim was, and to leave behind someone who'd remember she was here. But now that he's recovered his memories, there's no longer anything to hide behind, and despite his recent attempts to do the right thing, it won't change the fact that he has to pay for his crimes. I'm just nervous for the fallout and how much it'll break Arang's heart to know how he repaid Seo-rim's selfless sacrifice.
I hope that Mu-young holds up his end of the bargain in getting rid of Mu-yeon, because I want some happy time for our couple before they have to say goodbye. That dream vision actually made me more nervous, because it all seemed too good to be true from start to finish. Old fogey, if you just gave him that happy vision of being married to Arang for kicks, I will hurt you. I don't care how pretty you are. If there isn't some sort of cosmic reward for saving the world, then invent one. What's the point in being the king of heaven if you can't even do that, HUH?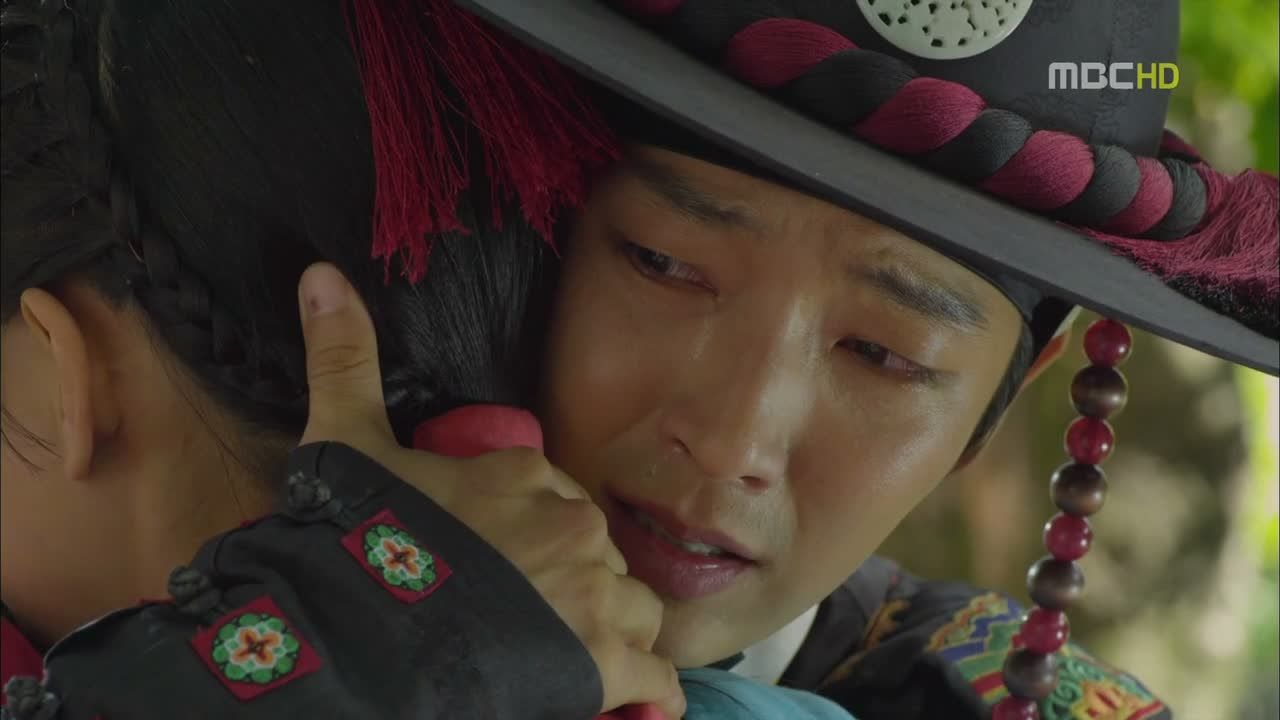 RELATED POSTS
Tags: Arang and the Magistrate, featured, Lee Jun-ki, Shin Mina, Yeon Woo-jin