Arang and the Magistrate: Episode 20 (Final)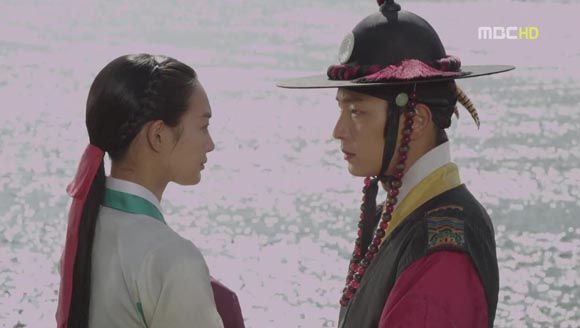 It's time to say goodbye, and the finale of Arang and the Magistrate ties up our ends in a nicely complete way. Truths are uncovered, tears are shed, and things come full circle to give us just the right dose of closure while keeping the door open for our future.
SONG OF THE DAY
10cm – "이제.여기서.그만" (Now. From here. Enough) [ Download ]
Audio clip: Adobe Flash Player (version 9 or above) is required to play this audio clip. Download the latest version here. You also need to have JavaScript enabled in your browser.

FINAL EPISODE RECAP
Ejected from the body of Eun-oh's mother, Mu-yeon runs straight for Arang. But Arang screams, "NO!" and by virtue of her rejection, Mu-yeon gets thrown back like there's a force field around Arang. In a way there is, because the host body must be willing.
Mu-young grabs Mu-yeon, who struggles to break free and begs him to help her. He says with a pained expression, "I'm sorry to have left you to suffer for so long." How fitting that he sees her mode of existing as suffering, while she's desperate to cling to it as a mode of living.
She starts to shake her head no in panic, especially as he adds, "Let's go together."
Mu-young pulls her to him tightly and says, "Let's cut our ties now." He plunges the Jade Emperor's dagger into her back, and her body vanishes into smoke.
He's left holding air… and then stoically sticks the dagger into his own gut. Wow. I'm impressed.
Arang watches in horror and recalls the conversation when she'd asked him whether reapers died. He'd replied, "We don't die. We just disappear."
Then Mu-young turns into smoke too.
Joo-wal comes by to witness the rest of the scene, though nobody pays him any heed. Sobbing, Eun-oh holds his mother's limp body, and the hairpin vanishes from her chest.
Mom's not dead yet, and he runs carrying her on his back, urging her to hang on a bit longer. She gasps out his name, though, asking to be put down. They both known the end is nigh and Eun-oh cries, "I'm sorry."
But Mom looks more at peace than she ever has and tells him, "Thank you."
Mom turns to Arang and gives her a nod, which Arang returns; it rather feels like a father giving away a bride to her groom. Then Mom closes her eyes and dies.
Joo-wal walks numbly, telling himself, "She's dead. What do I do now?" Such a strange thing, to be finally out from under her thumb. I wonder whether he'll be liberated by his freedom, or strangled by it. I… am not hopeful.
A new memory surfaces: He sees himself carrying Seo-rim's dead body—and throwing it off a cliff. Whoa. It's a pretty chilling image, and it devastates him anew. He trembles and says, "Till the last, I threw you away so terribly and didn't know. Saying that I didn't know may not earn me forgiveness, but I truly did not know. How many more memories will come back to me? I'm frightened. How am I to live on?"
Gah! You poor, pititful man. I really hope he doesn't decide he can't live on, and not just because I don't want to see him die. I think it shows more strength and remorse to keep living, bearing the burden of his crimes. Alas, we know strength of character is not his forte.
Up in heaven, Hades tsks-tsks that Mu-young ended up saving Mu-yeon after all. Jade Emperor says that it's a shame that negating one's existence is an act of salvation. I suppose it's because that also negates the weight of her sins? Is this the math version of soul-saving, where zero value is better than negative value?
But he adds, "Mu-yeon might have preferred hellfire. Don't you remember? She hated the tedium of heaven, where she wasn't allowed any desire. So she would probably have preferred to endure in hell, holding on to pain and feeling."
Hades muses, "Then negating her existence may be the cruelest punishment."
Jade says that at least his human came through in the end, though Hades chuckles that their bet is not over yet, and that Arang won't be able to solve this problem: "So get that body ready to swap." Heh.
Eun-oh and Arang pay their respects to Mom's grave. She notes that the Truth Bell hasn't rung yet, indicating that the truth of her death wasn't Mom. Still, she thinks to herself that it's okay going to hell even without finding out that truth, "because I'd have to go to hell in order to remember him." Now that's what I call the lesser of two evils.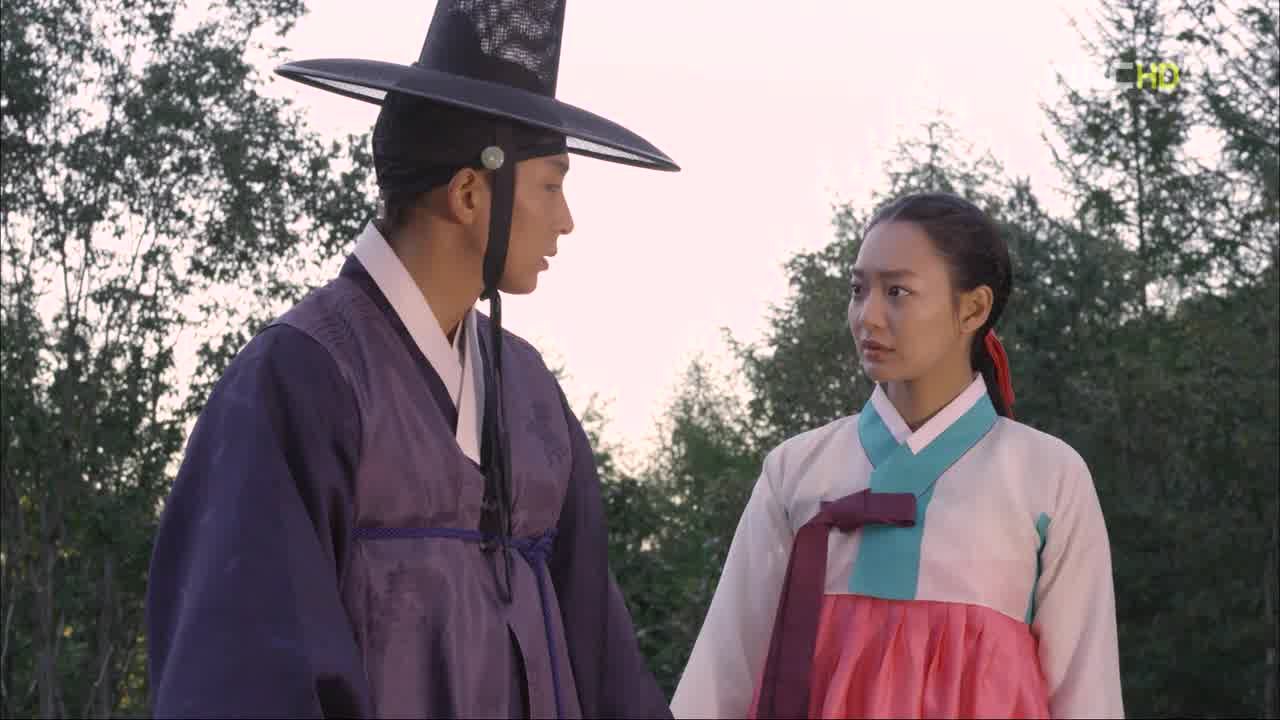 Eun-oh tells her that Mu-young tipped him off on a way to find that truth. In flashback, Mu-young instructs him to take a look at the record book of life and death, which should list the true culprit. So… the gods knew all along? Was this just some big wild goose chase for the poor dead girl?
A living person's records are up in heaven, but the dead's records are kept in a library in the forest of the afterworld.
The catch is, Arang can't travel the path to the otherworld until her allotted days are up. Literally, she won't be allowed near it. So, Eun-oh decides, "I'll go." Say what? You mean… you'll find a way to go while remaining alive and human, right? You're not entertaining some insane death wish, are you?
Arang balks for the same reason, telling him he'd have to die to get there. Eun-oh starts to argue that Mu-young told him a way to go without dying (phew!), but she cuts him off to tell him to forget it. "I don't have to go to heaven." She corrects herself: "No, I don't want to go."
Eun-oh's surprised. What can that mean? We know it's because she doesn't want to go to heaven and forget, but who else is getting ideas of a perverse drama where Arang becomes Mu-yeon 2.0? It's almost funny.
Arang leaves first and trudges through town glumly, telling herself, "Even if I go to hell, I want to remember him." Oh, honey. I feel for you, I do. But sometimes I wonder whether god gave you extra guts to make up for your brain.
Eun-oh asks Bang-wool if there's a way to pull his spirit from his body (short of death), so it can go to the Afterlife Forest. There is, but a separate problem exists: He doesn't know the way. The reaper is the one to guide the souls there, and as we know, he just lost his only reaper contact.
Bang-wool suggests he ask Arang because she's traveled that path before, but Eun-oh tells her about Arang's temporary restraining order from the area. So Bang-wool offers up a theory that he might be able to take just Arang's consciousness along for the ride, to guide his spirit.
Eun-oh tries to persuade Arang to comply with the plan, because it's dumb sitting here waiting for hell just so she won't forget him. "You're somebody who can go to heaven and find a way to remember." Yes, thank you.
He urges, "Think it over carefully, why you came here." He asks her to go with him and win her future in heaven; they can figure out the rest when they get there.
Arang thinks back to the day she'd asked Seo-rim's newly discovered body why she'd just died like a victim instead of fighting. She'd vowed to find out who did this to her—words that ring in her ears now.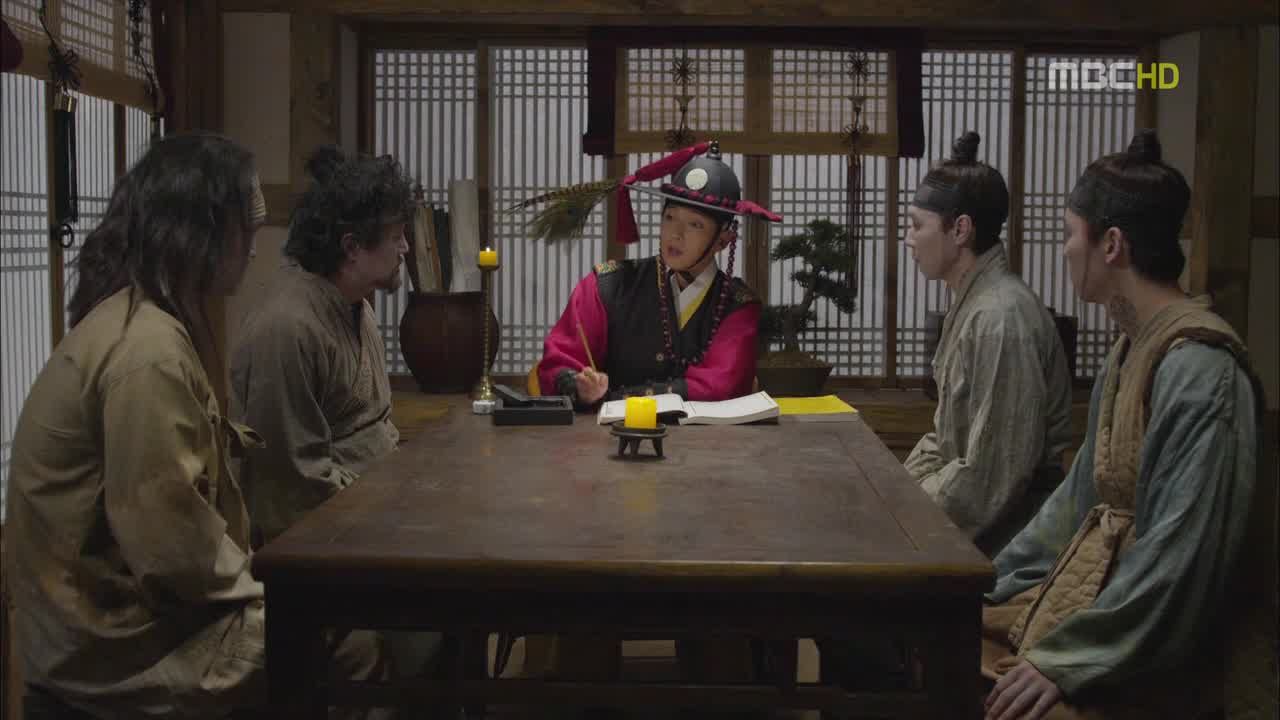 Meanwhile, it's time for Eun-oh to honor his deal with his ghost crew, which I find so cute. He hears them out and gets to work.
Ghost No. 1 left behind a pregnant wife who hasn't been able to properly name the baby without him. He asks Eun-oh to let him give the child a prosperous name.
Ghost No. 2 drowned, and his corpse was never recovered. Ghost No. 3 worries for his elderly mother, who still waits for his return; he was mauled by a tiger while fetching persimmons for her.
Eun-oh listens to these grievances with sympathy, then turns to Ghost No. 4, who bursts out, "Please marry me off!" Pwahaha.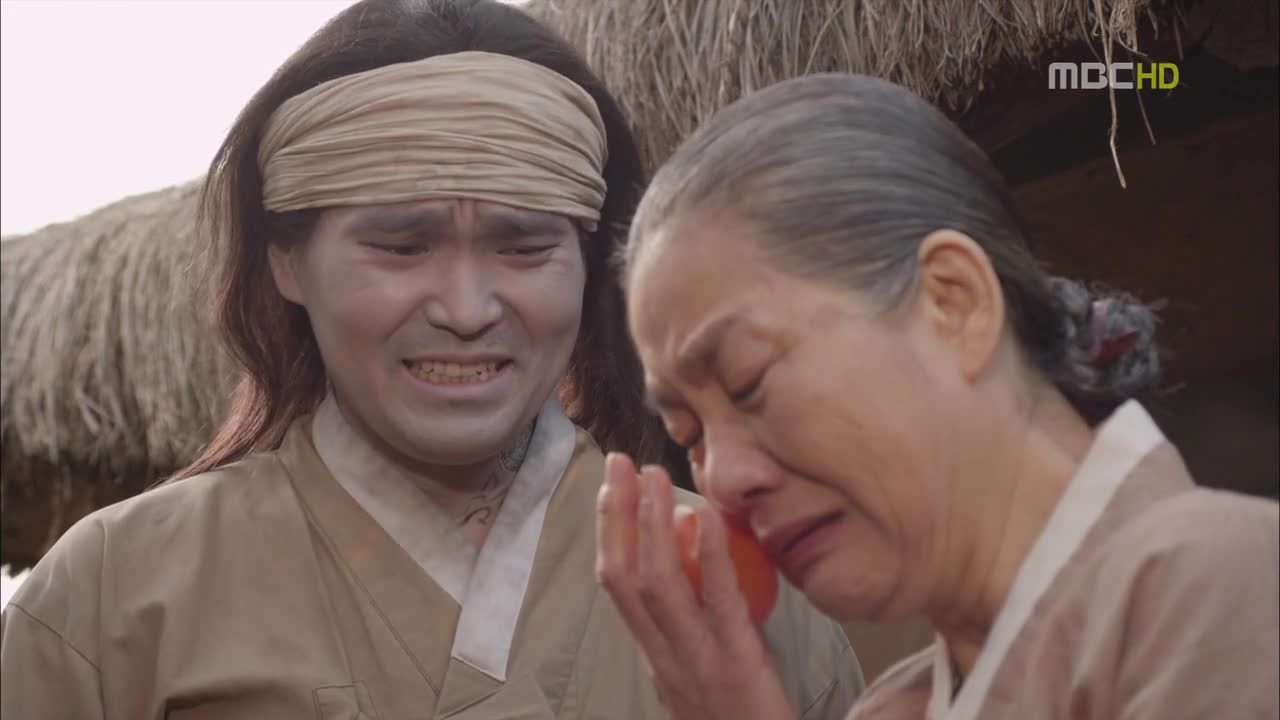 One by one, Eun-oh takes care of the ghosts. A name is selected, a tombstone is erected for the corpseless man, Mom is given her persimmons and informed of her son's fate, and Bachelor Ghost… is married off to another ghost? That's so cute, and strange.
It's a light-hearted sequence, but still quite moving to see the ghosts beaming at him, souls finally at peace, as they fade away to the beyond.
Eun-oh thinks to himself, "I have done everything I can in this place." Please tell me you mean this place Miryang, and not this place earth. If you kill yourself out of nobility, imma kill you, I swear!
Eun-oh and Arang take a walk along the river's edge, where she says ruefully that once she's gone, time will continue on. Eun-oh replies, "I hated to hear the saying that time is faster than an arrow, above all else. Because difficult times always passed by so slowly. But as I'm with you now, indifferent time keeps going, and I resent it."
Arang thinks to herself, "Where a flower once bloomed, a flower will bloom again. Where the wind blew, a different wind will blow again. But I will hold onto that feeling forever. Even though if I go to heaven I will forget you, and if I go to hell you will forget me. Even though wherever we are, we will not know each other."
Eun-oh thinks, "With this heart, I will find you. If a man passes by you and stops, and tears form and your heart races—recognize that it's me." He says aloud, "Arang, I love you." They kiss.
In the dark, Joo-wal gets dressed, then blows out his candle. Uh-oh. This seems ominous. He heads outside, just as his faithful servant watches him go. The man says, "Young master, please be healthy."
Joo-wal heads into the forest, telling himself, "Days were black even when I opened my eyes. Time stopped even though I lived. These cowardly steps that I took with a fearful heart, I will now end. The me who could stick a dagger in people's chests and remain unmoved, I cannot forgive."
Joo-wal arrives at the cliff from which he threw Seo-rim's body. He stands there for a long moment, thinking of Arang, of Seo-rim. Oh, this is so sad.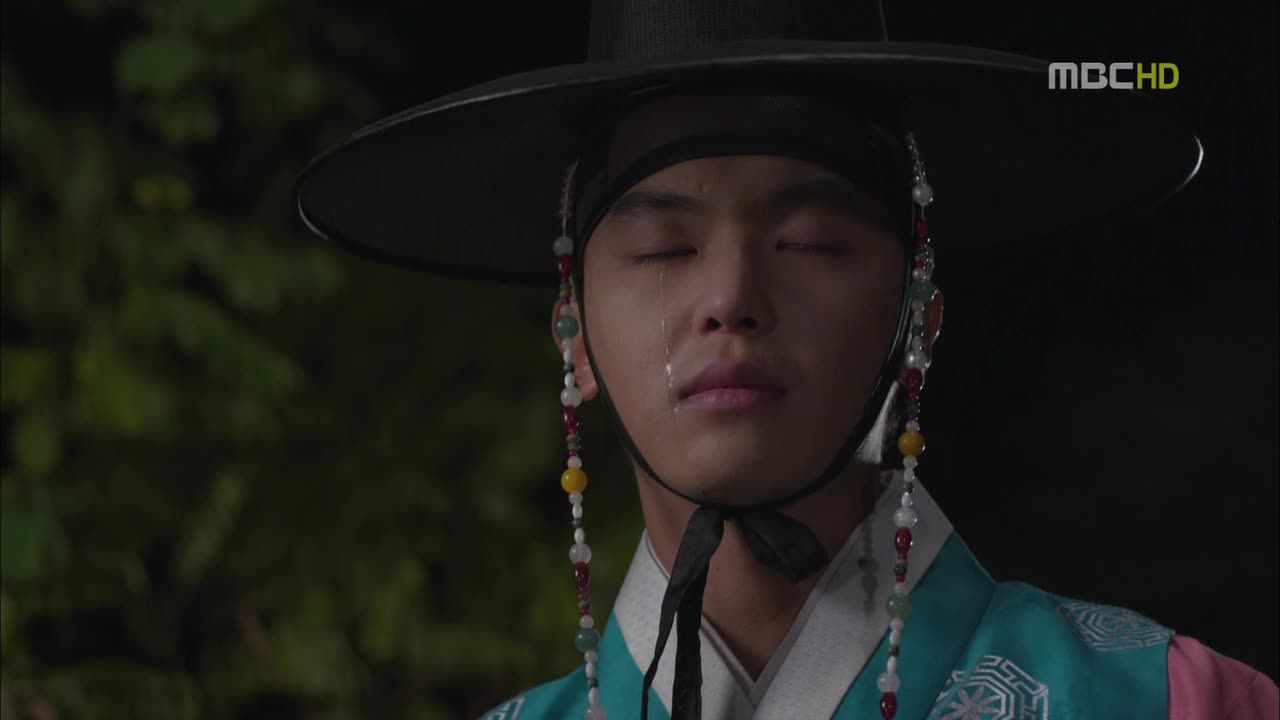 Joo-wal: "If ever we meet again, if that life permits, I will just stay behind you. From afar, as a black shadow, just looking, just hurting. I will not dare… to love you."
He closes his eyes, and falls.
The next day, Eun-oh speaks with an air of finality to Dol-swe and the Bangs, thanking them for looking after him and asking them to keep up their hard work in the future. They ask why he's talking like a person about to leave, and he answers that he must, having done all he can do here.
His last act as magistrate is to post a notice in town stating that there is a royal order not to hold one's status against a person serving the government. Those who serve the citizens well will be promoted. He gives the citizens the power to elect their magistrate.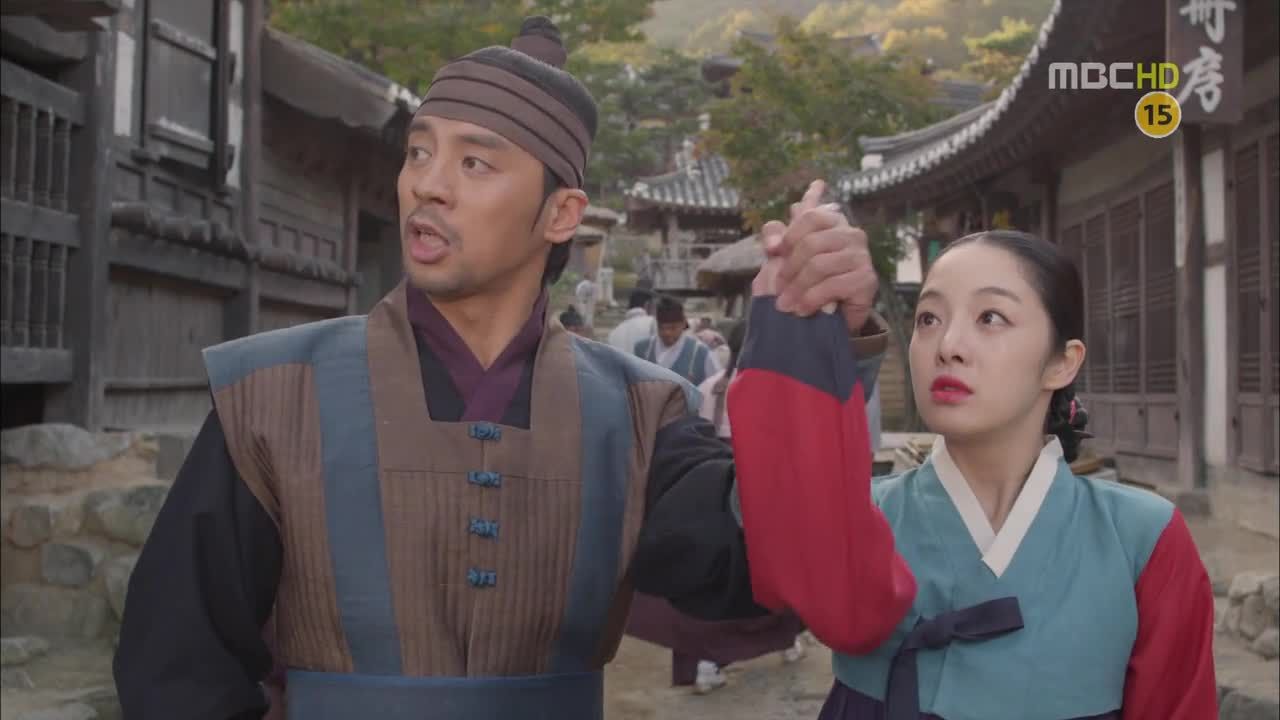 Dol-swe leads Bang-wool through the village, urging her to stand beside him rather than trailing meekly behind, which is enough to make me love him (though I already do). He grabs her hand, which practically gives her a heart attack, but he doesn't care if people see and intertwines their fingers for good measure.
Bang-wool softens, and says shyly that it's amazing that the road she walked a thousand times now looks different because they're walking it together. Dol-swe totally misses the comment but he does earn points for taking her to a street artist to have their pictures drawn.
Then Dol-swe pulls her over to a table of jewelry and asks what she likes. She says she's not much for accessorizing, but gives a jade ring a longing glance. Oho, are we going jade to suggest marriage?
That night they puzzle over their portraits, wondering if that's really what they look like. She tells him that his macho aura is spot-on, while he tells her, "You're like a great big moon." Which makes her wonder dubiously, "Well, it sounds like praise…" Ha.
Dol-swe presents her with the jade ring and places it on her finger, which it's a perfect fit—he was taking note when he held her hand. Then he pulls out a second ring and holds it out for her to return the gesture.
She slides it on his finger, and he takes her hand to say, "Till now, I've lived thinking that being a man was all about being strong. But I found that's not so. An ordinary man uses his strength for a woman, but a real man uses his heart for a woman. Will you accept my heart?"
Aw, that's so sweet! You big lug. She tells him he can't take his heart back, and they hug.
On to the Forest of the Afterlife. Eun-oh and Arang lie down while Bang-wool ties their wrists together with red string, and I'm gonna be honest, this is not how I envisioned them being tied up in bed. But okay, I suppose they've got more important concerns at the moment. Bang-wool explains that this way they'll stay together in the forest, and she's attached bells to alert them to come back.
She warns that they must leave the forest before the break of dawn—otherwise Eun-oh dies. Also, they may be tempted by visions, but must resist: "Just look straight ahead and run on." Is anybody else having second thoughts about this plan?
Bang-wool begins the rites, and they open their eyes to find themselves in the forest. Arang leads the way and sure enough, the path is lined with dull-eyed ghosts reaching out to them. Eun-oh shakes them off and presses onward, until Arang spots a familiar face—Seo-rim's dead servant. The old woman tells her to come with her ("I'll take you, there's something I must show you") and Arang starts to follow.
Thankfully Eun-oh isn't affected, but Arang follows the woman anyway, arriving at a scene from Seo-rim's childhood: her mother's death. This is a mental journey rather than a physical transportation, and Eun-oh shakes Arang awake in the forest, wiping her tears and urging her to get a hold of her mind.
On they go, until they arrive at a building in the woods, where a warrior stands guard with a huge scythe. Eun-oh asks to see the Book of Life and Death and is told he's the first living person to ask to see the record of a dead person.
Eun-oh says that he has his reasons and asks to be let inside. The guard warns him that once he enters, he has a time limit—and if he fails to find his answer, he will be unable to return to his life. Eun-oh answers that he's prepared for that possibility. In he goes, leaving Arang behind in the courtyard.
It looks like a tall order, because it's a large library with stacks upon stacks of books. However, he doesn't have carte blanche to look at everything; he can only seek one answer here. The guard instructs, "In your heart, ask yourself what it is you wish to know. Then the Book of Life and Death will answer you." His time will be marked by the red dots that have appeared on his hand: He has until the last one disappears.
Eun-oh gets to work locating Arang's records. Already he's lost two of the five dots. He closes his eyes and chants to himself, "I will find it. I can find it."
Something comes to him, and he heads in a particular direction. He locates Arang's book, and starts flipping through it, all while repeating his request: Who killed Arang?
A page wipes itself, then the answer appears. Eun-oh: "The one to kill Arang… was Arang herself?"
Stunned, Eun-oh puts the book back and starts to leave… and sees another book right next to it. Kim…Eun…Oh?
He opens it and reads, "I died at six years old." A flashback comes to him:
The Jade Emperor carries Eun-oh's six-year-old body and tells him that he leaves him a debt, and his time is not his own. One day he would remember this.
Eun-oh wonders why the Jade Emperor brought him back to life. If he does not own his own time, then who does? He bellows up toward the sky, "JADE EMPEROR!" I've got a few choice epithets to add to that.
Suddenly, he's somewhere else. Gasping, Eun-oh opens his eyes… to find the gods awaiting him in heaven's garden. Jade Emperor speaks: "Speak up, Kim Eun-oh. What is it you want?"
Eun-oh asks why he was saved, and Jade replies, "You were the human I needed." Eun-oh asks if he was the tool to capture the fairy, and gets back, "Yes, but not only for that."
Glowering fiercely, Eun-oh informs him, "Know this: You may have started this plan, but the one to finish things was my own will. Plunging the hairpin into my mother's chest was my choice!"
Eun-oh tells Jade what he's discovered, that Arang was the cause of her own death, but as she is immortal the bell cannot ring. Hades chuckles: "That's why I said she could never solve this problem." Aw, so did you sadistic old fogeys purposely give her an impossible task? This is why we mere mortals have laws against entrapment.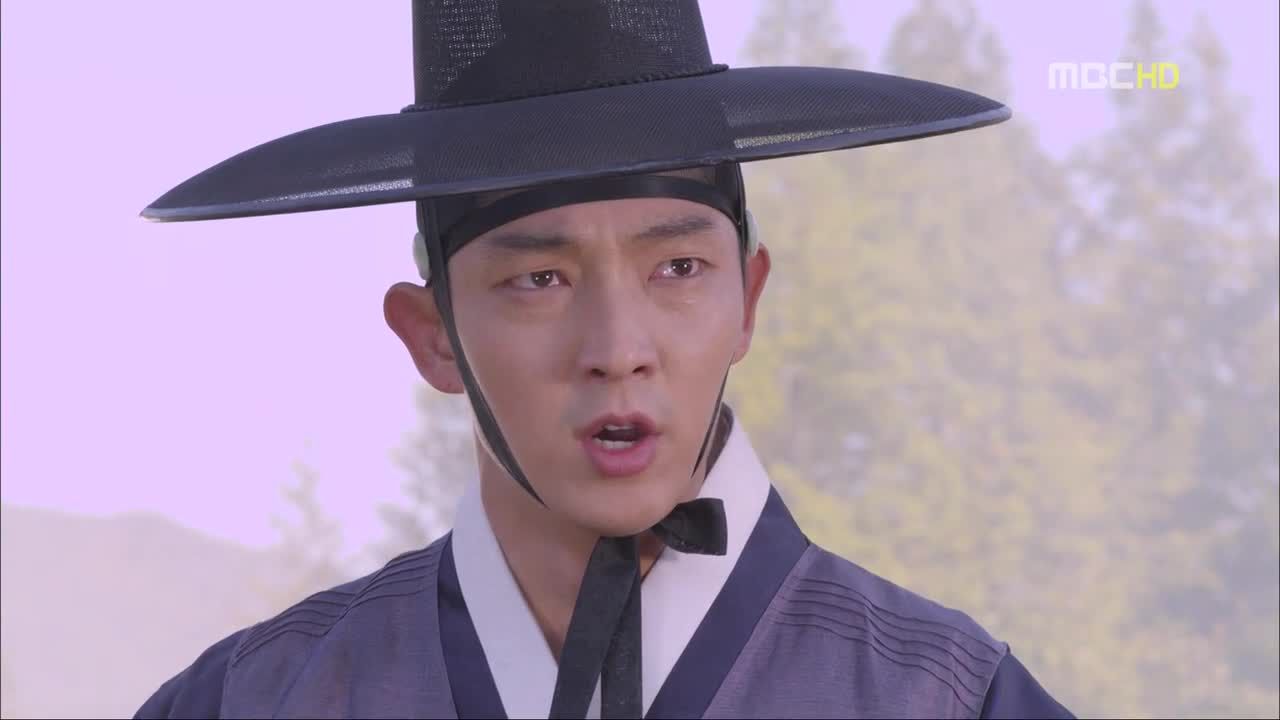 Eun-oh is furious, accusing them of sending Arang on an impossible mission and cackling to themselves as they watched from their heavenly perches: "If this is your game, at the very least you should have given her a problem that could be solved! Shouldn't gods be fair?"
Hades says that he's relatively fair himself, but this other guy "is rather wishy-washy." I'LL SAY.
Mr. Wishy-washy tells him, "From the start, Arang did not come here in order to go to heaven. She came to know her truth, and to know who she was. Thus I allowed her to know what she wished to know. If Arang were to realize on her own what you have found out, she will have been rewarded. The matter of heaven and hell comes after that. Now tell me, Kim Eun-oh. What is the real reason you have come here?"
I suppose god-maiming is off the menu? Next thing we know, Eun-oh is bursting out of the library to rejoin Arang in the courtyard. He grabs her hand and starts running back through the forest.
In the real world, Bang-wool frantically rings her bell and begs them to hurry back. But Arang trips and falls, and Eun-oh turns back to find she's gone. Arang wakes up. Eun-oh remains asleep.
Arang pleads at him to wake up… as her body flickers and vanishes. Arang reawakens outside, in front of a gaping black vortex. The door to hell.
It starts to draw her in, all the while she looks back at the house and begs Eun-oh to wake up: "Tell me that you're alive. Tell me you're okay. Magistrate, be well. I'm the reason you can't wake up."
As she stares into the abyss, being pulled in, Arang realizes, "Everything was my fault. The one who caused my death was myself. That's why you didn't tell me, because I cannot die and am meant to go to hell in the end."
Eun-oh's eyes open, thank god. He bursts outside and runs for Arang, darting in front… getting drawn into hell instead…
A flashback shows us how Eun-oh had named his request: Since he caught their rogue fairy for them, he wants Arang's bell to ring. Jade asked what he'd do in exchange, and Eun-oh replied, "I will give up my life."
Only, Hades had said a life wasn't enough: Could he go to hell in her place?
Now Eun-oh looks back at Arang as he's pulled into hell, hand outstretched. Arang screams for him… the vortex closes… and a bell rings.
Arang sobs, and her body vanishes.
We reopen some time in the unspecified future. Dol-swe is dressed in the magistrate's robes and assured by a happy Bang Trio that everything here is safe and sound, thanks to him.
Bang-wool gives a taste of her pork-and-kimchi wrap to a tavern mistress, who declares that they should go into business together. Soon they're drawing crowds and raking in the compliments.
She hasn't forgotten her roots and takes a few plates out to the ghosts in the yard (with Lord Choi in the mix, HA). What's even better is that in the ensuing fight, Lord Choi's minion gets it. Lord Choi balks but the minion is all, "So, whatchoo gonna do about it?"
But! All's not lost for our main characters, as we find when Hades tut-tuts to Jade Emperor about Eun-oh's whereabouts. He was going to offer Eun-oh a place in heaven for his sacrifice, but Eun-oh insisted on returning to the living world. He wonders why humans are so intent on living there, and Jade replies, "That's why they're humans."
Hades is bummed at the close call, too, saying he really thought he'd get Jade's body. To make up for that disappointment, Jade offers a gift, and calls out, "Mu-young!"
Pan to: a white goat. Aw, so he didn't disappear from all existence after all? True, he has to live as a goat, but hey, he's a heavenly goat. Hades chuckles that this is the best thing Jade Emperor has ever done. Jade says that it IS breaking the rules, but he couldn't resist since Hades seemed to miss Mu-young so much. So he reincarnated him. Ha, and also, let's hope Jade doesn't set off a whole new chain of misfortune with his well-intentioned rule-breaking.
Hades figures that living out his days in heaven is adequate punishment for Mu-young being unable to cut his human ties properly, and declares, "I'll have to visit often."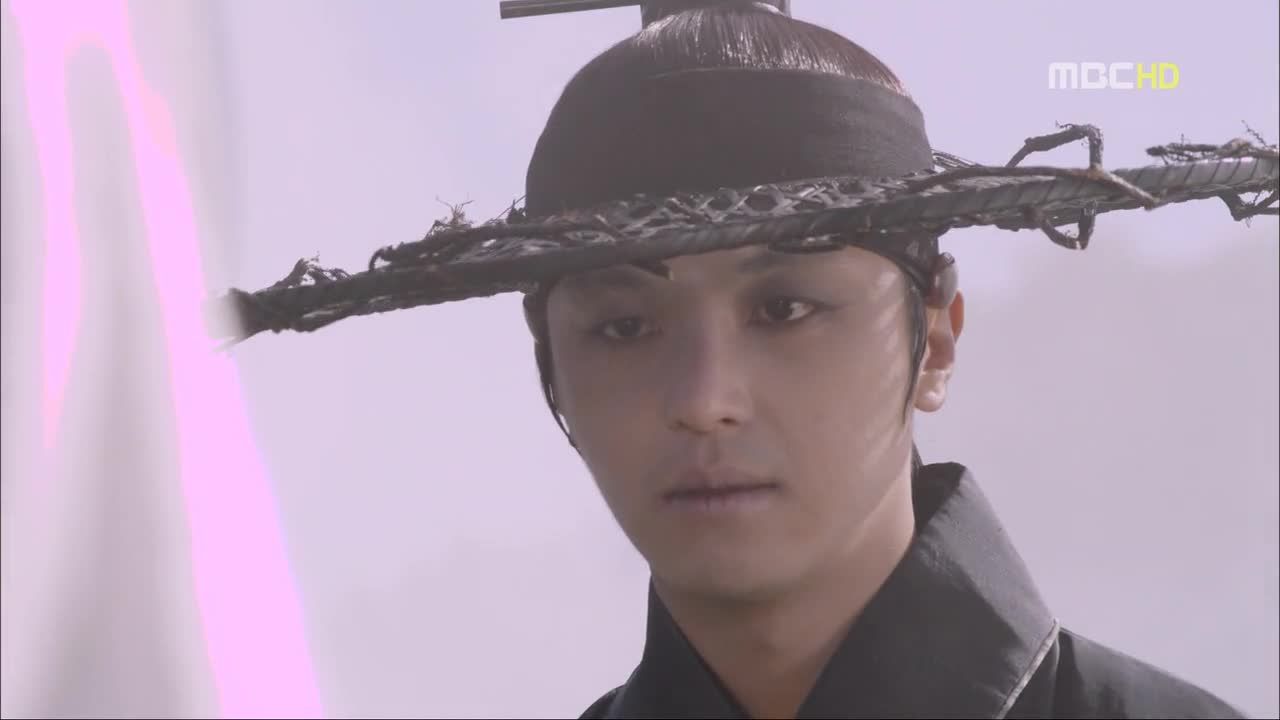 There's a new crop of reapers to replace Mu-young… and one of them is Joo-wal. Awwwwww.
Back to earth. In a field, a little boy comes up to a little girl in a field of flowers. Omo. Is this… what I think it is?
A voice calls out, "Eun-oh-ya!" It's Bang-wool, his mother.
Eun-oh ducks out of sight and tells the girl she looks familiar. The boy's a little player in the making, saying that he's met loooooots of young ladies in his life (all five years of it?), but she's the prettiest.
He asks her name, and she says, "I'm Arang."
Then the girl bursts out, "Look here, magistrate! I told you not to drink from that well of forgetfulness! Did you drink it? *SIGH* This is too much. What are you gonna do?! What good is it if I'm the only one who remembers, HUH? Can you really not remember? Really? AHHH what do we do, you AMNESIA?"
Arang heaves an adorable sigh of long-suffering and starts her story about a long, long time ago when there was a ghost named Arang and a magistrate named Eun-oh… Her frustration is freaking hilarious, and uncanny.
The picture blurs, giving us a version with adult Arang and Eun-oh. She rants in frustration while Eun-oh stares at her, wearing a smile on his face that seems reassuring. You're faking this, right? You'd better be faking!
Arang beats him on the arm in exasperation and reminds him he wasn't supposed to drink, and he finally speaks up, "I know!"
He says, "In any case, for us, what's most important is this moment right now."
She smiles, and plants a kiss on him.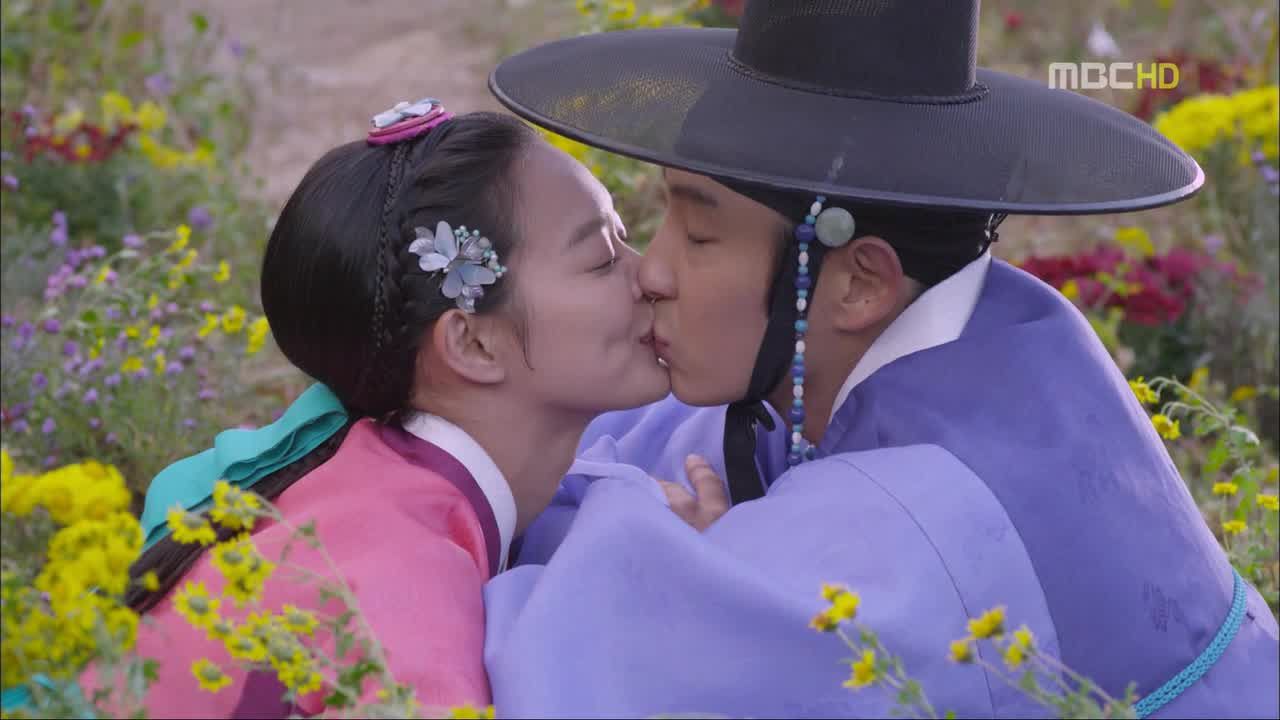 JAVABEANS' COMMENTS
Ahhh, what a cute, heartfelt ending. The concept itself is a tricky one to pull off, because if conveyed clumsily I could see this being a real disappointment of a resolution—you create a world and a problem, then pull the plug on the whole situation and just reincarnate them? Sounds like a cop-out, right?
But this is a drama where life/afterlife/rebirth is a central conceit, so I have no issues whatsoever with this answer. I'm perfectly satisfied with it, and I think it directly addresses two major issues I had with two recent dramas, Rooftop Prince and Big. In the first instance, I thought our ending was lopsided, making me feel sorry for one-half of the pairing and less so for the other. And in Big, we also dealt with an ending image that wasn't technically representative of the reality of the situation—that is, refusing to show us the characters as they really were, choosing instead to end on the illusion.
Arang and the Magistrate, on the other hand, completely works for me. The reincarnation is exactly what I would've wanted for Rooftop—they both missed their chances, so they both get new ones together—but in keeping personalities intact, I don't get the letdown of thinking they have to start all over from scratch. It's not as vague an ending as hinting that they'll end up together because they're Fated To Be, which is a solution that would have driven me nuts.
Instead, I really love this idea that these two earned their next lifetime together, and the fact that they retain their memories and meet as children. Because both lived fairly heartbreaking lives in their previous existences, and this way I get the assurance of knowing they would enjoy every single last minute together of the new ones. These kids get to have their cake and eat it too, starting off already in love and appreciative of it. They get to skip all the heartache they endured in the previous life, and ostensibly starting an ordinary, boring, and long life together. I guess that's what happens when the great big god in the sky owes you a solid; you get lots of cake-eating.
I also love how the drama highlights that Eun-oh had autonomy, the whole way through. Yes, the Jade Emperor pretty much predicted everything that was going to happen, and he stepped in enough times to steer the situation into being. But he didn't have the power to force anybody to comply, and Eun-oh still had to prove he was up to his burden.
It's interesting that Arang and Mu-yeon are once again shown to be of similar mind in the way they both regard hell—that pain and suffering is better than nullity. Maybe that's a lesson Jade could learn from, because one wonders what kind of place heaven really is if you don't feel that conviction of emotion.
Joo-wal's ending was a nice touch that took away that trace of disappointment at his suicide, even though I was in no way surprised he made that choice. All along I've felt very moved by his character—never supporting his decisions, but still understanding them. That character was really bolstered by Yeon Woo-jin's affecting portrayal, because he drove home the desperation and vulnerability at every turn. I find Joo-wal to be pathetic and weak, but not unsympathetic. So even though his new incarnation as reaper is rather grim (hur hur), it eases my mind a bit knowing that he does get another existence. It's not necessarily a bright future, but he will serve the gods whose rules he defied and have to do his penance in a way he can bear. Perhaps it's also assuring to feel, as the drama tells us, that a continued existence of any kind is more comforting than just vanishing into the void. Perhaps that's the best gift for his character.
All in all, the drama showed that it had its story and world well plotted in advance, which is a pretty effective argument against the live-shoot in my book. I'm sure there were aspects that were written as the show went along, but you don't create this kind of intricate world with expansive rules and sprawling mythology on the fly.
I loved Shin Mina and Lee Jun-ki's chemistry together, both in the cute romantic scenes and the more melo turns, and it's thanks to their connection that I felt the pathos of their characters' situation. I did miss the early comedy, but they sold the emotion so much that in the end it was just all about them earning their happy ending.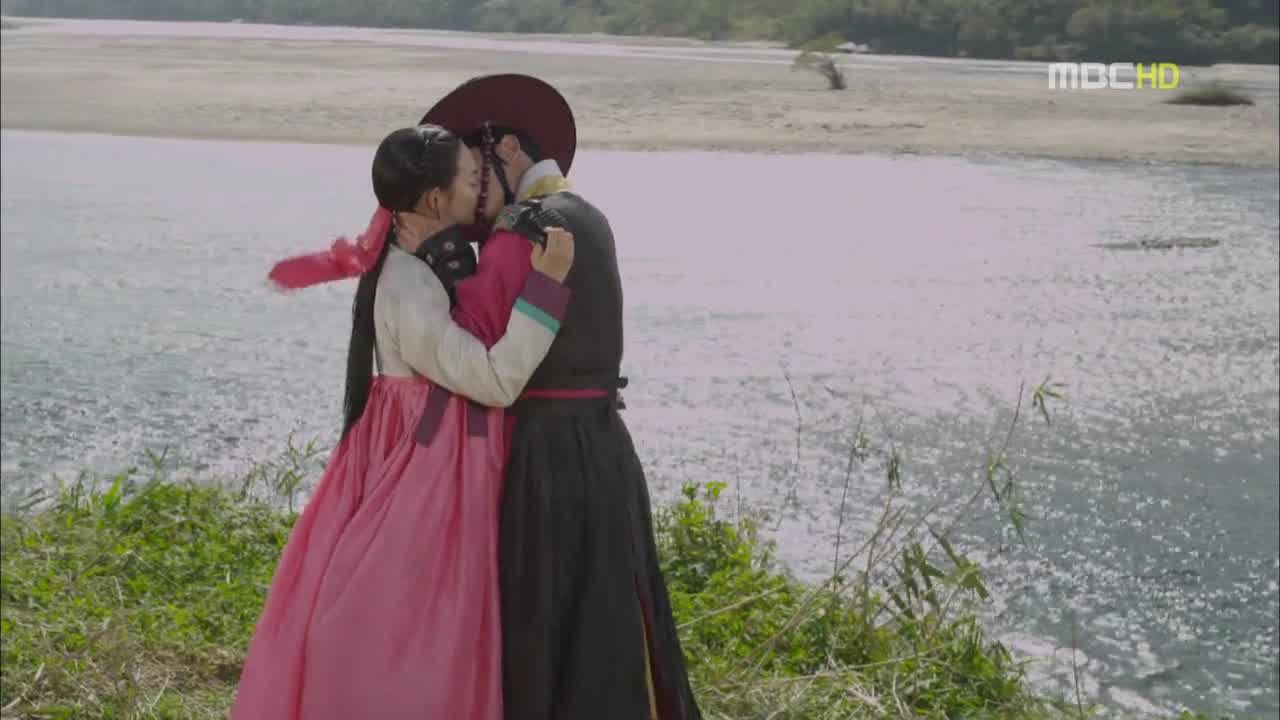 GIRLFRIDAY'S COMMENTS
Awww. Yay for an adorable ending. In any other show, I might have hated having the couple reunite in an afterlife (and was dissatisfied with the mixing of the two in Rooftop Prince, for example). But in this drama where life and afterlife, and the destinies of two lovers carrying on for multiple lifetimes is built into the universe, and both of them are reborn to get a fresh new start, it's a nice satisfying conclusion to the story. And how much do I love that Dol-swe and Bang-wool named their son Eun-oh, and he's actually Eun-oh reborn? So. Cute.
The thing I was most concerned about was the issue of memory, so I'm glad that it was the primary concern for Arang as well. That felt right to me, that she'd consider going to hell just to remember him. The well of forgetfulness (and Eun-oh being called Amnesia this time, heh) was a nice touch, but I also would've loved to see them fight to come back rather than just be told about it later. Mostly I'm happier that we end the series with the feistier Arang who started the show, because she spent a good long while making so many self-sacrificing choices that she began to lose her spark. It's probably my biggest complaint about the late stretch of the show, because at some point, plot-wise, it began to feel like we were just biding time until the end.
It would've been nice if the ending had something a little more mind-blowing, like Eun-oh finding a loophole that completely turned heaven's rules upside-down, or Arang discovering a secret that changed everything we thought we knew. This ending felt in tune with the series and the world they set up, but didn't rock my world or make me go Ooooh, I never would've come up with that! That's what I want to feel at the end of a fantasy mystery, so while the ending was satisfying (on the emotional front), it wasn't totally awe-inspiring (on the story front).
Overall I did thoroughly enjoy this show from start to finish, because it really did feel like thought and care was put into the construction of an entire world, where mythology and rules were important (because they certainly are to me). And visually, I'm a big fan of this director. I did see a huge gap in quality between the earlier episodes and when the show began to catch up and shoot live, so I think it's a show that benefits massively from the extra edit/CG pass, but it was certainly a show that cared to tell its story visually, which makes me a fan.
I thought the contemplative goodbyes in voiceover for each of our main characters was a nice touch, and reinforced the life-affirming, cyclical nature of everything in this world. I've always had a soft spot for the epic romances that span multiple lifetimes, but they can be tricky to pull off in a satisfying way. It might've worked even better for me if they had crossed paths again as adults, but I do enjoy the humor in having a pair of kids meet with their adult personalities and memories. The chemistry between the leads was so good that it actually transfers onto the little kids, because you can see their characteristics so clearly. I think at the end of the day that's what made the show so compelling—the world was populated with rich, distinct characters, and they had a sparkling kind of chemistry. It was nice to come along for a ride with a planned story from start to finish, and a really successful balance of humor, action, mystery, suspense, fantasy, and romance. It's not often genre shows can manage to do all that, with so much heart to boot. And I'm not even mad at the moon anymore.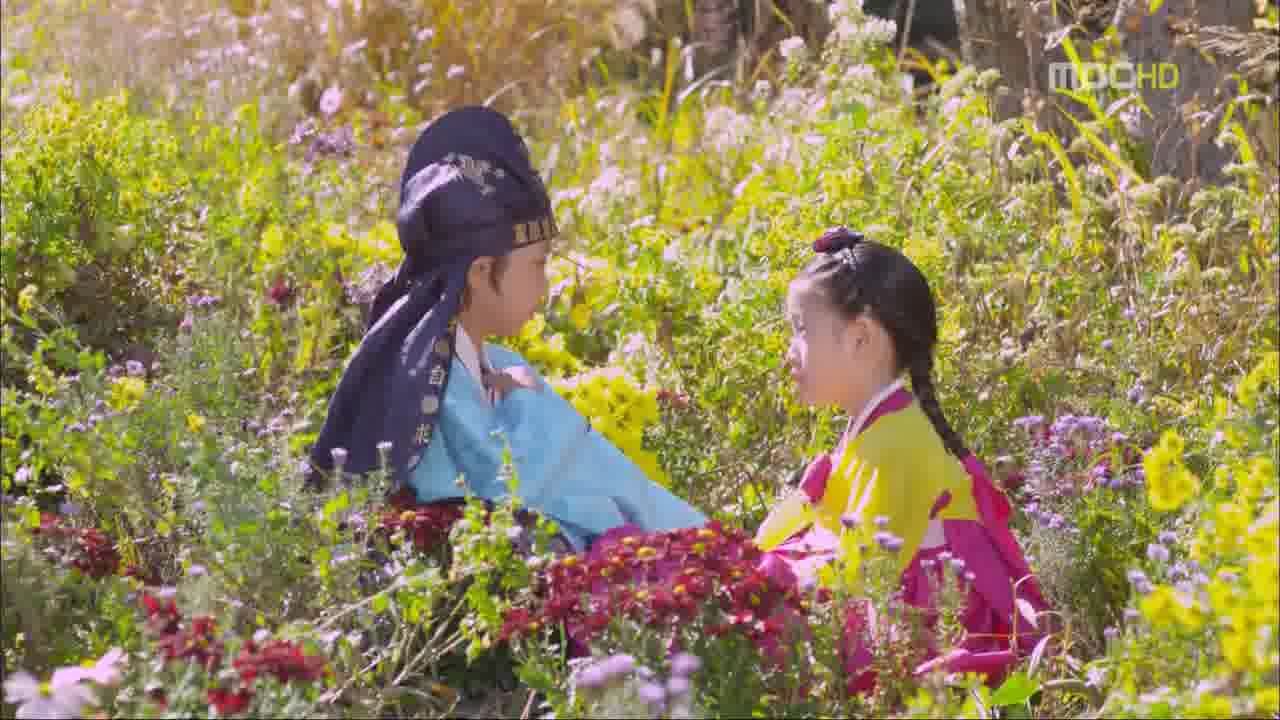 RELATED POSTS
Tags: Arang and the Magistrate, featured, Lee Jun-ki, Shin Mina, Yeon Woo-jin