Filming begins on Jeon Woo-chi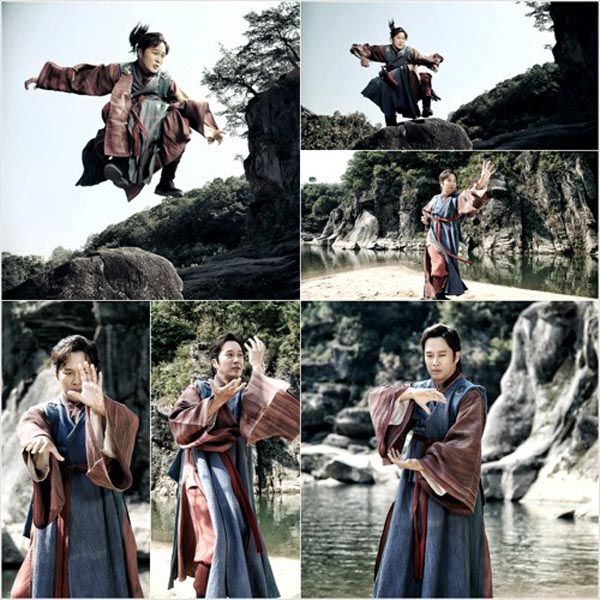 girlfriday: Wheeee! Finally, some stills from KBS's Wednesday-Thursday drama Jeon Woo-chi!
javabeans: Cha Tae-hyun looks like he's having a blast.
girlfriday: It would just be wrong to play a wizard and not have a blast.
javabeans: I love that the description says that Woo-chi "harbors the desire for revenge inside" but outwardly comes across as a goof-off. I can totally see the goof-off, but the revenge part (after Woo-chi loses his mentor Hong Gil-dong and his sweetheart) makes him interesting. Also: Who's gonna suspect that joker of being a big threat?
girlfriday: Ooh I like that — he can let everyone underestimate him, and then poof! You're a rat! Okay, that's probably not the kind of magic he does, but yunno. I really do like the inherent duality of an impish prankster character who's hellbent on revenge.
javabeans: It definitely puts a new spin on the ole sageuk hero archetype. Buh-bye, cool action hero heartthrobs with Manes of Glory! Iljimae, Baek Dong-soo, uh, Other Iljimae, move aside. The class clown with the little ponytail is reporting for duty.
girlfriday: I do love the pony. The flying-in-the-air-with-ponytail-up-at-high-mast is awesome.
javabeans: Reportedly, Tae-hyun has been working out intensively and doing lots of stunts. I wonder, will that turn him around on 1N2D and make him less the lazy bum? Or… will that just make him more tired and magnify the lazy bumminess?
girlfriday: I was just gonna say, it'll probably make him more of a lazy bum. There's a chance it'll push him onto the Capable Team, but I don't think it'll change his desire to win any games.
javabeans: …which probably means he won't actually make it to the Capables. Sigh. Well, maybe he can practice his math problems in his downtime.
girlfriday: I want to know what he's doing in the non-flying stills. Is there an invisible fox bead of magical power there?
javabeans: I want to know what the PD told him. "Just make something up. We'll CG it in post!"
girlfriday: Famous last words of the Faith PD. *facepalm*
javabeans: *faceslap*
Via My Daily
RELATED POSTS