Full House Take 2: Episode 2
I think I'm starting to get serious second lead syndrome, and it doesn't help that i have a serious Park Ki-woong bias. The craziness keeps going, but we are getting to the meat of the story now: how Man-ok becomes Take One's stylist.
Part 1
Tae-ik didn't want Man-ok to reset his shoulder, but when he hears Joo-young cheer over his fixed shoulder, he decides to give it a try. Never did he expect a painful wrench of the arm and a sharp crack into his shoulder to be the solution. Nor did he expect his picture to be taken by the landlady, who was visiting the gym to collect rent, but finds the famous Tae-ik instead.
Despite his little tantrum over being abused, Tae-ik admits that his arm is healed. He then notices a schedule on the board that lists all the events Take One is participating in; the schedule is even more complete than the one he knows. Man-ok denies that the group's sticker or the schedule are hers, as they really are Ga-ryung's, but Tae-ik just thinks she's shy about admitting she's a fan. So he puts a star next to four of his days, and gives her a wink, as if he just gave her the best gift ever. Man-ok and I: *blink blink*
Turns out, Tae-ik marked out the days of his true schedule of when he'd be shooting commercials. Go-dong's confused as to why the normally private Tae-ik would reveal his schedule to someone. Tae-ik: "That whole calendar was full of Kang-hwi's activities!"
HAHAH – he just had to one-up him! Tae-ik's already bitter that Kang-hwi's probably sitting at home, faking his injuries, while he has to hang out with the kid.
Nope, Kang-hwi's shamelessly out and about shopping. He purchases a "limited edition" hat just because it's a limited edition, while his fans (including Ga-ryung) go ga-ga over him outside the store window. They jealously watch as a fashionable young woman peruses the store with Kang-hwi, and they recognize her as a fangirl who's super loaded and goes to all their concerts.
Ga-ryung regrets not being able to attend a fan meeting because she has no money, but when Kang-hwi turns to give them all a smile, Ga-ryung must go: "Did you see him smile at me? I have to go to the fan meeting now, even if I have to sell my soul!"
So she goes to the one person who funds all her fandom: Man-ok. Man-ok's already expecting it, and Ga-ryung tries guilting her into giving some money because she is only a jobless friend who's already feeling ashamed of asking her best friend for money. So Man-ok gives in and hands over W20,000 (about $20). Hah – like that's enough. Ga-ryung throws a fit; Man-ok simply must not understand what it's like to not see Kang-hwi in real life! Actually, she does, and Man-ok starts to tell her about when she rescued Kang-hwi from the horde of fans.
Next thing we know, Ga-ryung is telling all her friends that Man-ok held hands with Kang-hwi, which incites anger among all of them. How dare Man-ok touch their man! And they end up all stampeding the gym to beat Man-ok up.
But it's just Man-ok's imagination running wild. Fearing that the scenario could happen, she says she held Tae-ik's hand instead, which Ga-ryung doesn't care much about. She continues begging Man-ok for more money, even promising to have her mother (who's the landlady) cut the rent even more. No dice, so Ga-ryung hurries home to beg her mother – who couldn't care less about her daughter's money woes. Looking through her mother's cellphone, Ga-ryung finds photos of Tae-ik getting his arm pulled by Man-ok in the gym. That gives her an idea, and she calls up Man-ok to make her promise that if she brings in more customers to the gym, Man-ok will have to pay her W5,000 per person.
The next morning, flyers are hanging up all over the neighborhood advertising Man Ok Gymansium with Tae-ik's photo prominently in the center. It's a gym he visited, so it must be good right? Man-ok is aghast at Ga-ryung's move, and wants the posters taken down – until customers start coming in.
Soon enough, Man-ok is teaching full classes of students (and runs out of uniforms) while Ga-ryung earns W150,000 from commission. She gets a bonus – and finally has enough for her fan meeting ticket. Man-ok makes sure Ga-ryung promises to help the online business in return, and they discover that someone's posted a photo of one of her students wearing a handmade uniform. Because Man-ok ran out of uniforms for all her students, she gave one of them a customized one that she had designed, but not really intended for use. This handmade version is an instant hit, and people start asking where to buy it.
Kang-hwi sees the photo, and he cracks up at the sight of Tae-ik in the background of the student's photo. It's very small, as it's just his photo on the poster, but it's instantly recognizable that it's Tae-ik. He goes to show it to his partner (who's busy tabulating every expense he's made) and points it out.
Tae-ik blows his top – how could that woman use his image for her own self-promotion?! He doesn't even look good in the photo! He goes off to Lee Joon to get him to take Man-ok's site down, but Lee Joon is all chill: Bum-soo will take care of everything. Tae-ik has little faith that his old-fashioned manager can do anything, but boy is he wrong. Bum-soo's already taken down a bunch of the posters and sought Man-ok out.
Man-ok apologizes profusely, saying that she was going to take the posters down anyway. Though she tries to brush it off as, "No one can see Tae-ik's face," Bum-soo doesn't buy it. She's violated the law by using a photo without consent and violated naming and image rights. Bum-soo leaves in a huff, and next thing we know she gets a call from his lawyers too.
To add more things to her plate, the landlady comes around with a Mr. Oh who is supposedly a dance teacher and needs a place for his classes. The landlady figures that he can use the place at night, and only when Grandpa isn't around to throw a fit. Since he'll also pay rent, it's a win-win situation.
But the lawyers want her to close her website and pay W30 million; Man-ok won't go down with a fight. Not knowing where they live, she heads over to their agency to talk to Tae-ik, bypassing a gaggle of fans outside. They all think she's a crazy fan – especially when the guards unceremoniously dump her back outside – and that she doesn't know the "rules" of stalking a celebrity. They're about to beat her up when one of them gets a call that Tae-ik's been spotted somewhere else. Off into their waiting cabs they go!
Tae-ik is coming out of a store and ignores the crowd as he climbs into his van. Because of all the screaming girls, Man-ok can barely get through and get his attention. She gets stepped on by the young rich fan from earlier instead, but doesn't get an apology from her. They're not off to a good start.
Man-ok returns home, dejected, but finds a bunch of police cars around the gym. Turns out, the police just busted a gambling ring in her gym… run by none other than Mr. Oh. Since she's technically the owner of the location and knows Mr. Oh (somewhat) – she's going to have to go with the police.
Wow this girl cannot catch a break!
Part 2
After being dragged to the police station, Man-ok insists that she's an innocent civilian who had no idea about Mr. Oh's plans. She didn't even get paid for rent yet. But the police officer doesn't believe how an owner would not know millions were being gambled under her roof. Mr. Oh even tries to take the blame away from her, but the police officer orders her to pay a fine and close down her gym.
Oof – now she's been ripped of her source of income. She puts up a sign saying that she's away for training, and that's why the gym must close. Ga-ryung is incredibly apologetic on behalf of her mother, who will pay for the fine instead. But that doesn't really ease the situation, especially when all the angry mothers who recently signed up their children are now demanding a refund.
Man-ok must now empty her entire savings account in order to refund all the registration fees, but she avoids telling Grandpa what just happened when he calls. He worries that the gym is in danger because he's been having bad dreams, but she assures him nothing is wrong. She's too afraid of his disappointment, and being flipped over by him.
She receives a delivery for a shirt she ordered – it's the replacement shirt for 'Na Nim.' Since he had requested for special care regarding this delivery, and because it's the last one ever for Man-ok's Closet, she decides to deliver it herself.
Man-ok finds herself outside of Take One's mansion, and she rings the doorbell incessantly. Since Go-dong is not around, Tae-ik must pause his careful refilling of sample bottles to open the gate in the front. Boy are they in for a nasty surprise when they see each other.
Tae-ik thinks she must be a crazy stalker, or one of those evil fans who cares only about their own gains. He locks the gate on her, and she throws the package right at his shoulder. He ruined her life already, and she's not letting him get away with it. From inside the home (which is quite a ways away), Kang-hwi can hear them arguing, and slowly, he wonders if Tae-ik is somehow involved with Man-ok…
Man-ok is so angry that Tae-ik essentially took away her one means of living by shutting down her website. Was he so cruel as to take away such a measly salary that is her whole life, just because he earns millions by looking pretty?! Tae-ik is likewise angry that she essentially "stole" his image, which is his only source of income as well, but he does seem to be affected when she accuses him of being miserly and acting all poor if he lives in such a mansion. 'Cause, yunno, it's kinda true…
He stalks off, and Man-ok returns home to nothing but soju and the remainder of her clothes and accessories. She looks at all of them; they're all vintage pieces that could now go for a lot of money. But Man-ok can't bear to sell them, as they belonged to her loving but deceased parents who used to let her play dress-up with them. (Ah… so the lady who took her to the gymnasium all those years ago was not her mother, but probably a distant relative.)
Someone knocks on the door, and Man-ok is surprised to find Kang-hwi standing on her front steps. She wonders if she's drunk, and can't believe that a superstar like him would be coming to her place so late at night without any bodyguards. (Me neither.) She turns to close the door but he grabs her wrist.
Next thing we know, she's flipped Kang-hwi over her shoulder and slammed him on the ground. Only then does she realize that she wasn't hallucinating, and quickly brings him inside to give him a cold compress. She hopes he'll wake up without injuries, as she can't really afford to be sued over this and pay his hospital fees.
Kang-hwi luckily comes to, and he introduces himself as 'Na Nim.' Man-ok is so surprised and thrilled to find out that her pieces are being worn by a star, and she recognizes the shirt that he's wearing from her collection.
Turns out, hours before, he had gone to the site to check on his order but found it closed down. Kang-hwi quickly figured out that Tae-ik must have sued Man-ok's Closet over the photo and closed her site down. Then, he overhears the fight Man-ok and Tae-ik have at the gate, and puts two and two together – Jang Man-ok must be the owner of Man-ok's Closet. So he came to apologize to her because her site's shutdown was his fault; if only he never showed it to Tae-ik.
Man-ok likewise apologizes for flipping him over, and hopes he won't sue her for injuries. Kang-hwi says it's nothing to sue over (even though he's a bit sore), and already I'm loving his sweetness. In the hope of saving her from poverty, he offers to purchase everything she has at double the price. But Man-ok can't – they belong to her deceased parents.
At least Kang-hwi has the grace to back off from sentimental pieces. But he notices her laced capelet over her track suit and wonders if she designs everything herself. Her pieces clearly show she's talented – so perhaps she'd like to be Take One's stylist?
Man-ok is flattered by the offer, but she can't do it if she's going to have to work with that jerk Tae-ik. Kang-hwi's okay with that (since it's not like she's rejecting the job offer because she hates him), and he has a plan for how to get her in as the stylist without Tae-ik's knowledge.
Tae-ik comes out of his room and walks into a frightful creature dressed head to toe in a black cape with a veil. Yep – I'd have thought my maker was coming to get me… And slowly, the figure turns around, and we see the eyes: it's Man-ok.
So this is the fashionista's plan?
Comments:
I find it insane that the self-proclaimed fashionista decides to disguise Man-ok by covering her up head to toe rather than be honest and manipulate Tae-ik into agreeing to having Man-ok as a stylist. Or maybe this is all part of the plan. Kang-hwi's sweetness towards Man-ok has me falling pretty hard for him, and it doesn't help that he has such a cute, welcoming smile. I mean, what's not to like about him? He's competitive in his rivalry against Tae-ik, but he doesn't go to extreme lengths to beat him. He just… acts naturally superior. Heh.
These two episodes (one episode?) pretty much give us the setup for why Man-ok must join Take One, and while it's quite unbelievable that she has so many things lobbed at her at once, I guess the only way to make it happen is to hit rock bottom. I'm thankful that it happens sooner than later though, and getting the story in half-hour chunks helps with the pacing.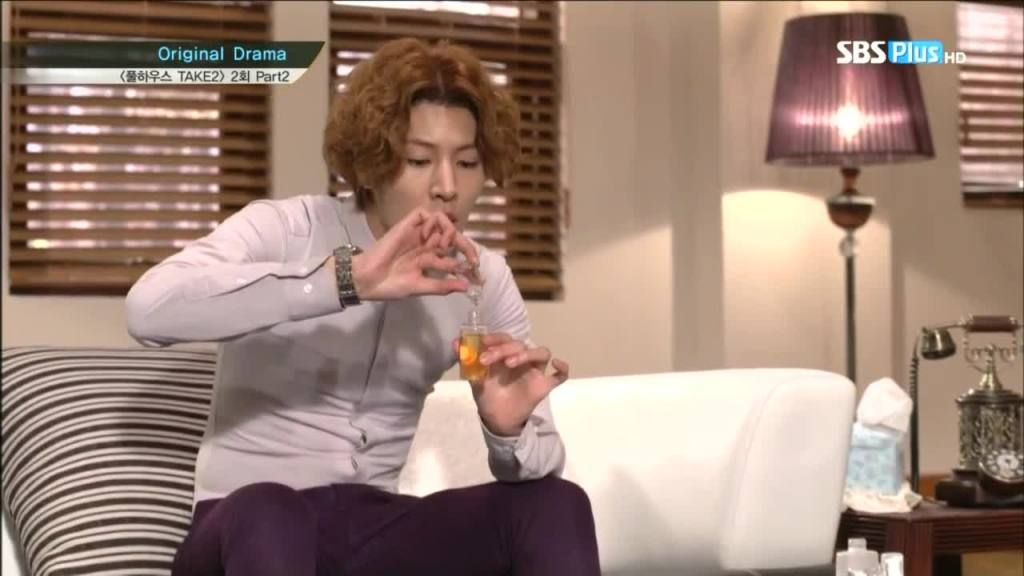 The one thing I do appreciate is how they're trying to give Tae-ik a bit more depth with his character. He's pretty much in the same boat as Man-ok in that he's poor as well. He makes money, but it's pretty much payment to Lee Joon to keep the house (and who knows what else). I don't know if the actor is making me sympathize with him very much just yet, but I have to give credit that almost every time we're introduced to Tae-ik at home, where he is the most himself, he's usually dealing with his financial situation. He's either tabulating his receipts or he's collecting his samples into one container without missing a single drop. Poor guy. If only he could fix his haughty personality towards Kang-hwi. *Ahem* I mean, Kang-hwi and Man-ok.
RELATED POSTS
Tags: featured, Full House Take 2, Hwang Jung-eum, Noh Min-woo, Park Ki-woong