Han Ji-min does Americana, sort of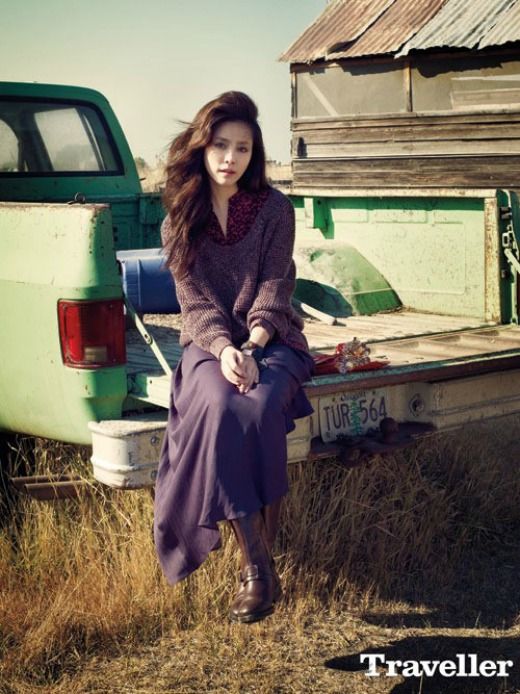 javabeans: Han Ji-min is in the November issue of a lifestyle magazine called The Traveller, and… This concept. I do not get it. It's like: "Pretty things, we put together, surely it'll make sense."
girlfriday: This is one of those times where the concept of American exotic-ness does not compute. Because uh… they're on a farm.
javabeans: Ranch. Is more exotic. Plus there are cowboys.
girlfriday: Or… just four dudes who had some hats.
javabeans: Haha, true. I guess three guys in hoodies does not equate to cowboys.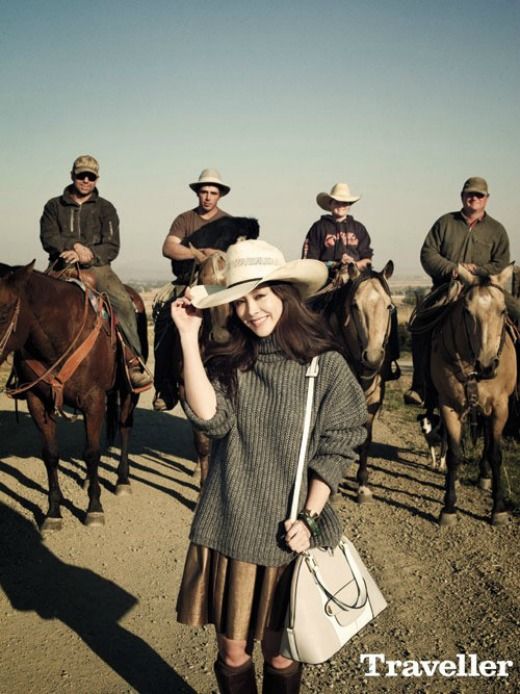 girlfriday: Like if you want cowboy, go all-out for Marlboro Man. Two of the hats are baseball caps.
javabeans: And I think one might be a fedora. I guess this is an example of not really thinking of aspects of your home culture as a *thing* until you see it through the eyes of another one. So Americana is, apparently, trucks and hats. Funny, because those are things I do not see around me ever.
girlfriday: Yeah I suppose to us city-dwellers, it's as foreign a concept as anything. But yunno, we know it when we see it.
javabeans: Han Ji-min is described as "wild and seductive" in this photo shoot. Um. So is this a case of an art director not knowing words, either?
girlfriday: Are we surprised?
javabeans: There's always the hope that one of these days, a magazine shoot will actually make sense. Call me the eternal optimist.
girlfriday: Or we could put a cowboy hat on you and call you the wild optimist.
javabeans: Don't forget seductive.
girlfriday: You need a truck for that.
javabeans: 'Cause nothing says seductive like a dirt road and a turtleneck.
Via Chosun
RELATED POSTS
Tags: conversation post, Han Ji-min, photo shoots