Joo-won's dapper photo shoot for Arena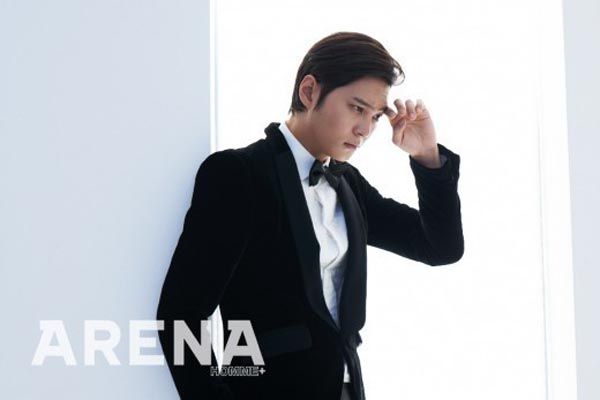 Why hello there, hot stuff. Joo-won is in an upcoming spread for Arena Homme Plus magazine, and he's looking dashing and debonair. Definitely my preferred version of Joo-won, aegyo adorability notwithstanding. It's just awkward drooling over a guy who looks 26 and acts 5. At least in these photos, I can pretend he isn't the guy who freaks out over moths, or bees.
There's also an interview in the magazine, where he admits to not really paying much attention to fashions. He has read comments online about how he's perhaps not a good dresser since he's seen wearing lots of casualwear and sweats (what, like he's gonna dress up fancy-like for 1N2D?), and said, "If I start thinking about styling and everything, I feel like my head will burst." Ha. It's okay, honey. That's what coordi-noonas are there for.
Joo-won was also asked about his pattern of picking intense characters (as we saw in Gaksital and Baker King Kim Tak-gu). He says he's "currently in the process of leaving the role of [Gaksital's] Lee Kang-to behind for my next project," which will be the rom-com secret-agent series Secret Agent War. That drama should be a hoot as the main couple have a Mr. and Mrs. Smith-like exchange of hiding their spy identities from each other (while on the job on opposing sides). Just… as long as they cast a good heroine. I'm just crossing my fingers they pick someone other than Choi Kang-hee. She's not bad, but the thought of them together just makes me seize up and reject the idea. Is there some kind of rain dance or deity I can appeal to?
Secret Agent War is in pre-production and is currently casting its female lead. It aims to premiere in January 2013. Joo-won's interview and photo spread for Arena will be in its November issue.
Via Osen
RELATED POSTS
Tags: Joo-won, photo shoots