Nice Guy: Episode 10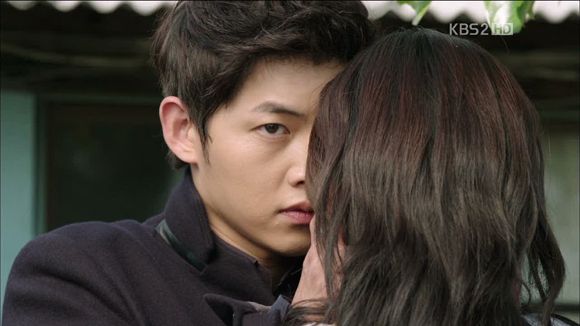 With lost memories comes a new chapter in our characters' lives, one that leaves our heroine more vulnerable than ever and our hero extra heroic as a result. It's no easy feat watching Eun-ki struggle through the world like she was born yesterday, just like it isn't easy watching Maru walk around like a zombie who isn't even hungry for brains. If there's a light at the end of the tunnel, whether it's a minuscule speck or a bolt of lightning with Maru's name on it, we sure could benefit from seeing it now.
SONG OF THE DAY
Heureun – "어학연수 (Studying Abroad)" [ Download ]
Audio clip: Adobe Flash Player (version 9 or above) is required to play this audio clip. Download the latest version here. You also need to have JavaScript enabled in your browser.

EPISODE 10 RECAP
Secretary Hyun is in a panic the second she can't find Eun-ki, and runs through the alleys calling her 'Executive Director.' She turns to Jae-sik to tell her where he last saw a woman fitting Eun-ki's description before she's off again.
Eun-ki poses her question about their past to Maru, who doesn't get a chance to answer when Secretary Hyun interrupts them panting and crying, worrying that she'd lost Eun-ki.
Once she collects herself, she says her greetings to Maru, as she remembers him from the hospital. But Eun-ki never takes her eyes off him as she says proudly: "I found you. I recognized him first, Kang Maru."
It's sad to see Eun-ki as a shell of herself as she identifies everyday items in Maru's yard like a child learning about the world, and even sadder when Secretary Hyun explains the situation to Maru.
According to her, the car accident caused brain damage, enough for Eun-ki to lose not only her memories but also her reading and writing skills, directional skills, and number skills. This isn't your mom's selective drama amnesia, it's a complete factory reset.
Because of that, Secretary Hyun has been hiding her until she gets better, because she knows that all chances of succession would be lost if Jae-hee were to find out. She openly admits to Maru that she thinks Jae-hee had a hand in Chairman Seo's death, and that she needs his cooperation to help Eun-ki recover her memories so she can regain her rightful place.
She's in for a shock then, when Maru coldly asks: "Why is it me?" She stutters for a bit and replies that he's the only person Eun-ki believed and loved, a sentiment which elicits a sneer from Maru.
He saunters up to Eun-ki and pulls her hands away from her face, forcing her to look at him. "You found the wrong person, Agasshi. You and I, we are not related at all. People who loved each other? Who, us? Because we took a picture together, does it make us a couple?"
Aww, Maru. Have some sympathy for the poor thing.
However, when Jae-sik comes wandering into the yard, Maru pulls Eun-ki close to hide her face from Jae-sik's gaze. He keeps a protective hold on her until Jae-sik grows disinterested enough to leave, and lets her go the second he's gone.
Eun-ki looks so trusting and vulnerable despite the harsh words he said to her, and grabs his arm to stop him from leaving to ask cautiously whether they were on informal speech terms before. A little bit of the old Eun-ki shines through when she doesn't give him a chance to answer and decides just to do it.
But she's not blind to his cold treatment, and assures him that if he's ashamed of how she's become, all he needs to do is wait and help her so she can remember everything faster. Aww.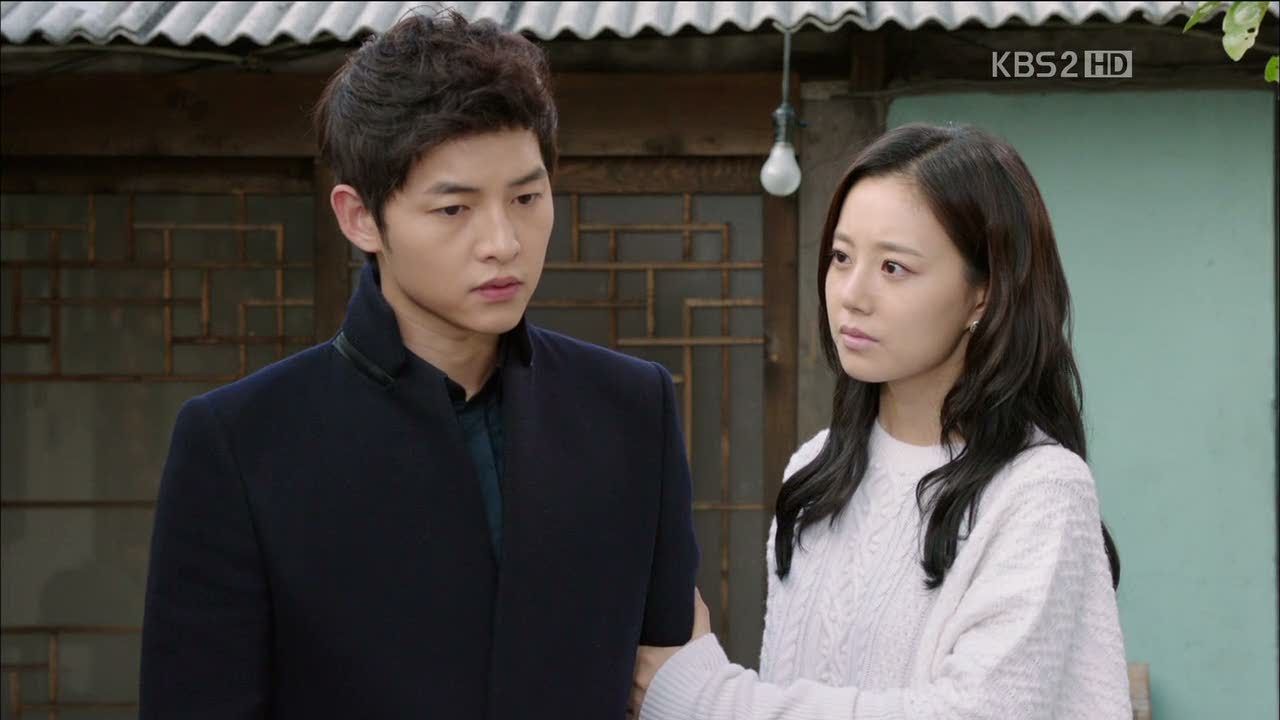 Maru still isn't having it, and coldly tells her that the accident must have damaged her ability to think properly. "It's not something like love," he presses. "We just knew each other for a short time, long ago."
Yet when he tries to leave she stops him again, which is so like her. "My heart knew it," she says as she places a hand over her chest. "My heart remembers you."
Maru wrenches himself away, again, and manages to really leave this time. There's a moment where he stops on his way back, perhaps thinking of turning back, but in the end he soldiers on.
The worst thing about it is that Eun-ki only blames herself for his treatment and starts to break down in Maru's yard. Secretary Hyun tries to calm her down by lying that they found the wrong person, but Eun-ki knows what she feels. She remembers him.
Again Maru seems to doubt his actions as he's about to drive away, and it's like he has to put his sunglasses on as a mask to keep from turning back.
And unfortunately, Jae-sik is a clever bastard, and realizes belatedly that the woman in white is the missing heir of Taesan Group. He doesn't have any plans on keeping that information to himself since the first person he calls is Min-young, but due to a meeting, he ignores the call.
Jae-hee sits at the head of the table in the board room while a resort project in Jeju Island is discussed, though she grows impertinent when she sees that Eun-ki is still technically in charge of the project and wants her removed as manager and the project demolished.
Despite Chairman Seo's claims that Eun-ki wasn't fit to run the company, it seems like the board members think highly of her and have no plans on striking her name from the roster when she worked for so many years to get the resort going.
Jae-hee isn't happy with this news, and remarks aloud to the board room: "Although I am Taesan's President, without permission of Taesan's Director Seo, I can't do anything I want. Of course, it is like that." But I doubt it will be for long.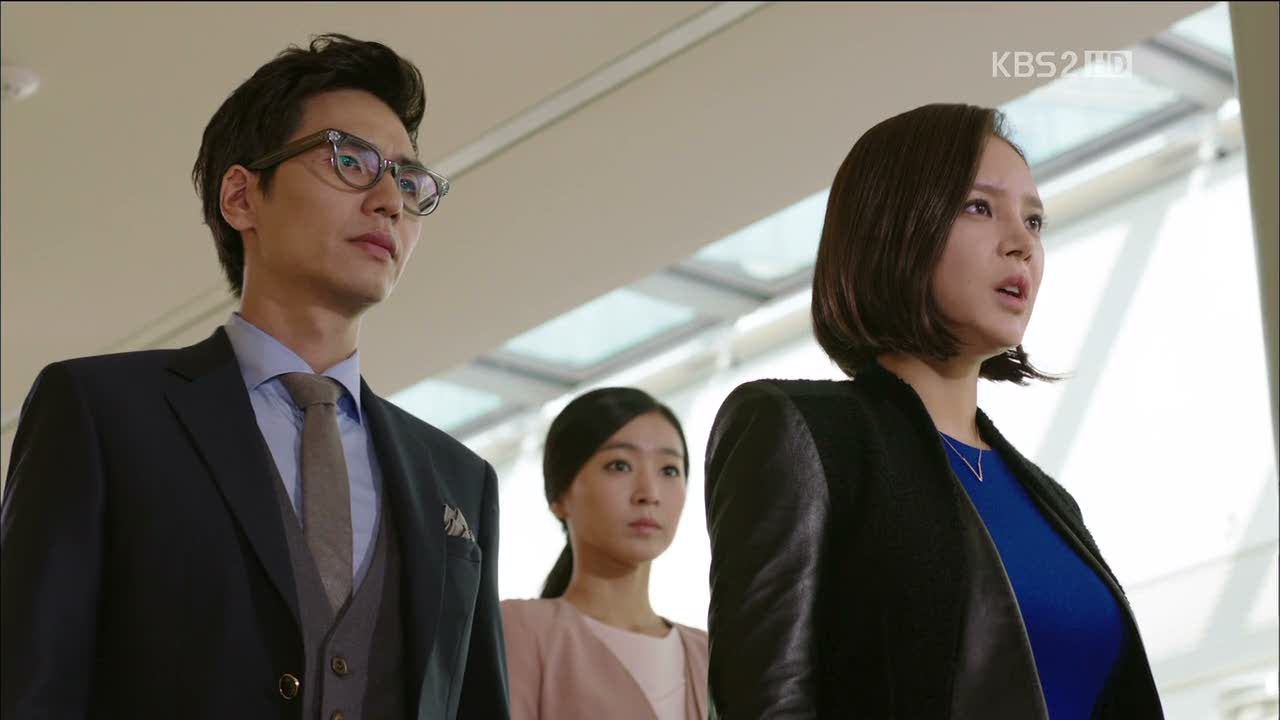 She makes her intentions to dismiss Eun-ki from her position clear to Min-young, though he brings her back down to reality by reminding her that it'll be impossible when most of the board is in favor of Eun-ki. Jae-hee: "Whether it's is impossible, or it is possible, we can find out."
Secretary Hyun takes Eun-ki home, though she stays outside for a while to think about the harsh words Maru told her and calls them lies. Jae-sik has followed the two home and takes a picture of Eun-ki from his car, but Min-young (who Jae-sik has in his phone as "Jae-hee's Minion") ignores his call again.
Eun-ki's room is decked out like an elementary school, with multiplication tables and alphabet posters covering the walls. Joon-ha arrives with a smile and a bouquet of roses to see her practicing her letters in a schoolbook, with her name and Maru's name together on the wall facing her.
She thinks it's Secretary Hyun as she asks about her supposed smarts before the accident, but Joon-ha answers her cheerily instead, reminding her that she was even called a genius. Aw. It's sad to go from 'genius' to 'relearning the alphabet'.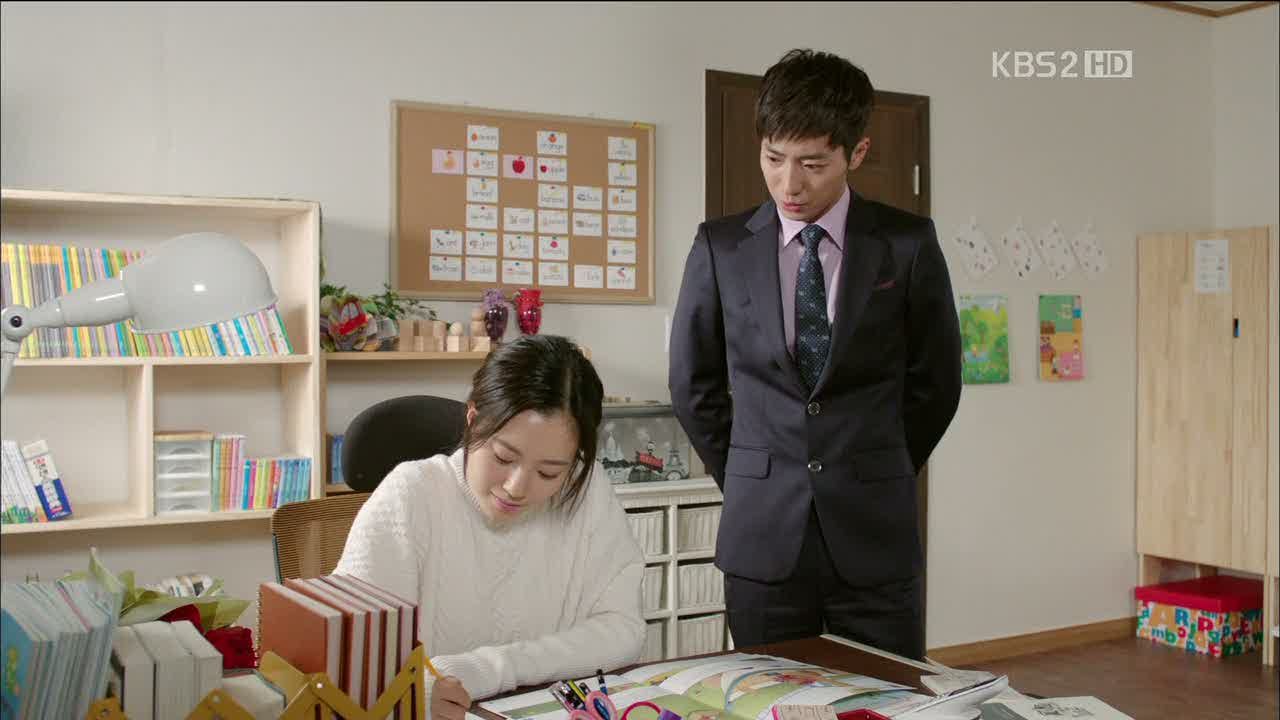 He attempts to cheer her up and admits that he has a lot of things to say to her, but only when she's recovered. "When you get the power to resist everything I say, I will tell you then. With nothing left over, nothing hiding." I hope he's talking about his dad's secret, and if so, props to him for being good and honest.
They both look at her and Maru's name as she asks him if she'll ever be fully recovered, and Joon-ha assures her that he'll make it happen. (My apologies to anyone on this second lead ship. You guys are in for a world of hurt.)
Maru meets with the sobbing Glasses Man, who hands over the USB file with his company's stolen information. Despite his cries Maru tries to comfort him in a way by reminding him that he did it for his dying wife and children. In times like those, it's not the end of the world to turn away from one's conscience.
But the man worries that he'll be punished by heaven, something which intrigues Maru and gets him to open up a bit: "Do you think that a heaven which gives punishment exists? You think God exists? I think something like God or heaven doesn't exist. If there is a God, I don't think he would allow the world to be like this."
Before he leaves, he makes sure to tell the man that if he ever hears news that Kang Maru was struck down by lightning, then he'll know that God exists.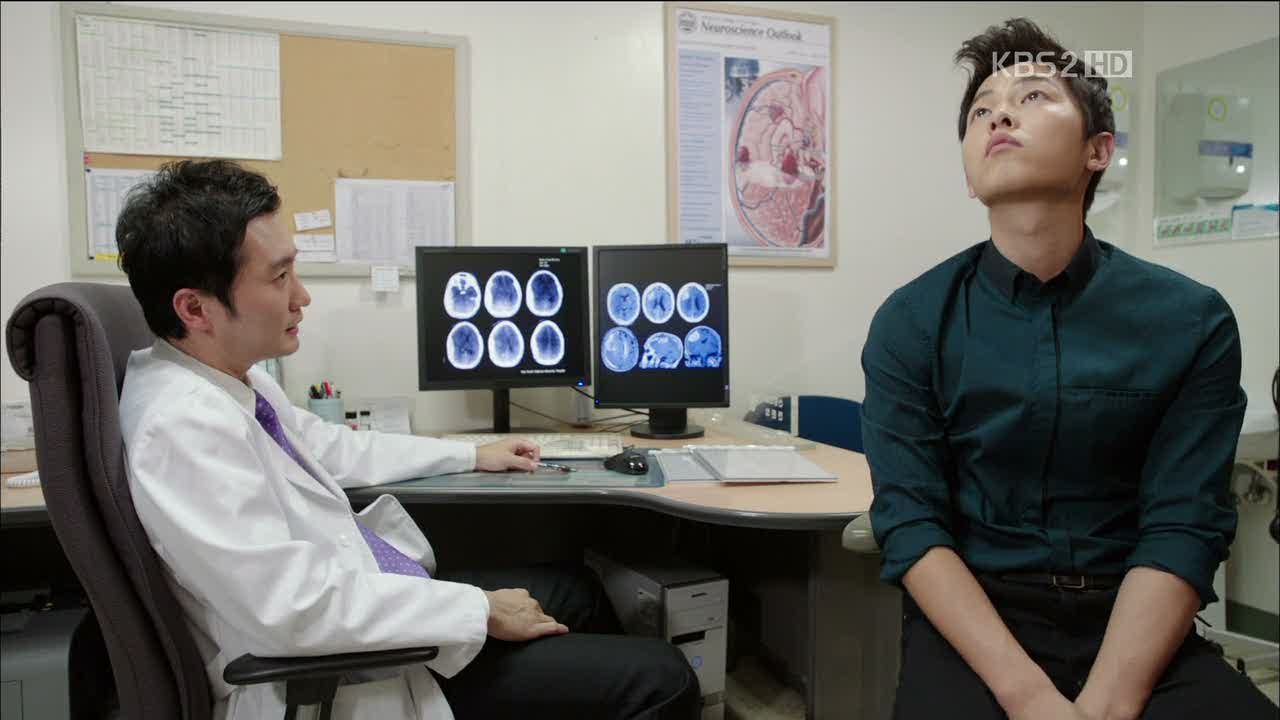 A call from an old doctor colleague sends Maru to the hospital, where he looks disinterested and bored as he's shown x-rays of the epidural hematoma that's been growing in his brain since the accident.
That's an instant ticket to death if left untreated, but Maru looks at the 20% mortality rate and remarks, "I'm mostly a man with bad luck. By common sense, I wouldn't be in that 20%, right?" Except that by drama sense, you will be.
It's hard to tell whether his promise to come back for surgery once he's cleared up a few things is sincere or whether he's just saying it to placate his colleague.
Eun-ki keeps at her studies later that night, and writes in a rudimentary diary about her meeting with Kang Maru, only to cry when she writes that he keeps lying.
Similarly, Jae-hee reads a picture diary Eun-suk made, where he talks about how his mom never has time to play with him anymore and how he misses Eun-ki Noona. (Ha, and his drawing of Eun-ki looks so angry.)
When she asks him why he misses Eun-ki since she never really liked him, Eun-suk replies adorably: "Even then, she is my sister." He asks his mom if she misses Eun-ki, and while Jae-hee admits that she does, she's more worried about the danger Eun-ki's return would pose to both of them.
As she holds her son close, she thinks to herself that she'll do everything in her power to stop Eun-ki from coming back.
Maru returns home later that night to find a note Eun-ki left him with her phone number and Jae-gil drinking in the yard. He greets Maru with a "Where did you go? Did you take advantage of the weak and vulnerable?" which sets things off on a pretty iffy note.
The tension only escalates when Jae-gil calmly informs him that Choco has packed her bags and left, after donating all the money Maru made from scheming people to the high school kid who came around yesterday.
You can see Maru trying to control his anger as he asks Jae-gil why he didn't stop her, only for Jae-gil to remark that what she did was right. He knows what Maru had to go through to get that money: "Selling your body was enough. Because I know that the money came when you sold your soul. How could Choco use that money? If you were her, would you use that money?"
Maru finally loses it and punches Jae-gil, only to have this look of immediate regret and surprise at his own actions passes over his face, making that one action somehow heartbreaking. Jae-gil doesn't even seem surprised, and continues talking as if nothing happened as he informs Maru that he's also leaving.
Basically, Maru's just been told that his last remaining family and friend are leaving him because they find his actions morally reprehensible. That's a hard pill to swallow.
Jae-gil finds Choco at a jjimjilbang, and surprisingly seems to take Maru's side – not in that he believes Maru is right, but that Choco is the only thing keeping him from tumbling into the abyss.
She thinks that leaving Maru will bring him back to his senses until Jae-gil reminds her, "Although everyone in the world insults, criticizes, and blames him, you are the only person that shouldn't." I'm really liking him as a voice of sound reason in this show. Keep it up, Jae-gil.
Jae-sik can't get anyone to pick up his calls, Maru included. While our morally ambiguous hero contemplates dialing Eun-ki's number, she tapes back together the diary page she'd torn when she wrote that he kept lying.
And Jae-hee sleeps at her son's side, either as a protector or because she has no one else to turn to.
Min-young arrives to work the next day in an incredibly questionable vest to find Jae-sik causing a racket in the lobby, insisting that he has to see him. Once they're in private Jae-sik hints that he has no money, and automatically Min-young starts to give him some. It's probably easier to do that than to try and reason with him.
But Jae-sik has higher aims, and wants a Taesan apartment instead. He uses the video he shot of Eun-ki to soften Min-young up, aptly noting that Min-young and Jae-hee would be over if she were to reappear. Jae-sik is a terrible person, but I'm pretty okay with him making Min-young squirm a bit.
Secretary Jo reports to Jae-hee that the board members are upset about a report Eun-ki made while she was in the company, something that's further explained when Joon-ha confronts her directly about it. The report details the amount of mistrust Eun-ki had in her employees, and Jae-hee dug it up specifically to drag Eun-ki's name through the mud.
However, Joon-ha informs her that the report belonged to Chairman Seo, and that Eun-ki had thrown it away the second she saw it. Maybe Jae-hee knows she's losing this battle, so she attempts to use her sex appeal on Joon-ha by easing closer and closer to him as she tells him why she's still allowing him to work at Taesan.
Jae-hee: "Although I know you will betray me some day, why do you think I kept you here?" Apparently it's because he's attractive and smart, but the words seem empty, and Joon-ha looks uncomfortable.
She makes sure to bring up his dad before she reminds him of his place, and hers. "I am a person you can't even look up to because I am Taesan's owner. Address me correctly." Poor Joon-ha.
Maru wakes up the next morning as if from a nightmare, though he's just recollecting Eun-ki's scolding on the beach and the moments leading up to their car accident.
Meanwhile, Eun-ki takes pictures (anyone want a Canon yet?) and tries to name the things she sees, having trouble with all except her own name and Maru's.
Jae-sik waits until Secretary Hyun is gone before approaching the gate, and gets Eun-ki to open the door by lying that Maru sent him. He tells her that Maru's instructed him to bring her to him, and the way Eun-ki's face lights up like a kid on Christmas morning just breaks my heart. Even Jae-sik remarks that this is going a lot easier than he thought.
She rushes inside to preen and change her clothes, grinning like a fool the whole time. We find out exactly why Jae-sik is there through a flashback with Min-young, since at the tail end of their conversation Jae-sik had preyed on Min-young's instinct to protect Jae-hee by offering to make it so that Eun-ki could never return to Taesan. For a price, of course.
Jae-hee doesn't seem to know anything about this plan as Min-young updates her on the state of affairs with the board members, and how they'll have a tough time getting the loyal ones to turn against Eun-ki.
"It was never easy to Han Jae-hee," she says, almost like she's just thinking out loud. "To the smallest detail. But I always succeeded like a miracle. How far will I be able to go? To be in this position, how far can Han Jae-hee go?" All right, all right, enough with the 'How far can I go?' stuff. We get it, you'll go very far. Congratulations.
Eun-ki's all smiles in Jae-sik's car, and even he seems a little uneasy at how happy she is to meet someone he has no intentions to actually take her to. When she says that her and Maru love each other, Jae-sik seems offended, because he's of the belief that Maru is uglier than him. Eun-ki's quick to give an honest reply: "He is more handsome than you, Ajusshi." Ha.
Only then, he offers her something to drink, which she takes readily. To say I have a bad feeling about this is an understatement.
Secretary Hyun goes to Maru's house based off a note Eun-ki left saying that someone was taking her to him. She breaks down the second Maru tells her he knows nothing about it, but at least he's quick on his feet and realizes that only Jae-sik would be behind it.
Jae-sik sounds like he's negotiating a price to sell Eun-ki into slavery while she remains passed out from whatever drugs he slipped her. He turns off his phone to avoid Maru's calls, though luckily Secretary Hyun set up Eun-ki's phone as a GPS for just such an occasion. Maru takes the phone and runs off to the rescue.
There doesn't seem to be any remorse in Jae-sik, so I'm really rooting for him to get his ass handed to him. At least he's not super smart, since he leaves Eun-ki in his parked car while at a rest stop, which gives Maru enough time to catch up.
In the parking lot, Maru desperately goes from car to car as he searches each one for Eun-ki. By the time he tries calling her phone Jae-sik is already back in the car, and he takes her phone from her before she even has the chance to hear it before booking it out of the lot.
Maru turns around just in time to see their car pass, and a mad chase ensues. His gaze is determined and focused as he pulls up next to Jae-sik, and when that doesn't work to deter him off the road, Maru pulls ahead of him and screeches to a halt. Jae-sik has no choice but to slam on the brakes.
Eun-ki stirs awake with all the commotion, and only looks expectantly happy to see Maru rush from his own car to hers as he all but flies to her rescue, sending every female heart aflutter in the process.

COMMENTS
To be honest, I thought I was going to be hardwired against this whole amnesia thing just because it's like the town whore of dramas – we've all been there before.
That doesn't mean that something old and worn can't be fresh and interesting, and though we aren't necessarily treading new ground with Eun-ki's amnesia, there are a couple of things I appreciate about its execution right off the bat.
One, we don't have Selective Drama Amnesia, where the hero or heroine conveniently forgets what the script tells them to and dramatically remembers everything else. Eun-ki had to relearn her own name, and she's still working on reading and writing. The fact that it's being described as not only amnesia but a sort of brain damage makes the proceedings much more tragic, with no scene bringing that home more than Eun-ki struggling to count in Maru's yard. And then when she blamed herself and her amnesia for him being so cold to her? Oof. That hurt just to watch.
Two, setting the amnesia this late into the game holds more water if only for the reason that Eun-ki has already established herself as a character, so the factory reset has more of a dramatic punch than if we were to be first introduced to Eun-ki The Amnesiac. I'm so on board with her journey that it's not even funny, so even though I'm still not sure I love this turn, I can see where it was necessary narrative-wise to clear the table and start again.
But most of all, we got to see a very real and definitive change in Eun-ki because of the loss of every memory that's made her jaded and wary and cold. We went from an Eun-ki who was suspicious of everyone and everything (although her blind spot was/is most definitely Maru), to an Eun-ki who's far too trusting, even to the point of being a danger to herself. Turning her room into a kindergarten playroom only helped to enforce the fact that she's like a child now, and whether her new experiences will turn her back against the world or change her perspective on humanity for the better is yet to be seen.
The only real problem I have with Eun-ki's new state is how it'll affect her relationship with Maru. Her defenses are even lower than they were before, and personally, Maru seems to have a bit of a messiah complex when it comes to damsels in distress. It's like he just can't resist a girl who's in trouble, which is why I liked it when Eun-ki could stand up for herself and call him out on his crap.
Now that she's more vulnerable than ever, I'd really like to not hate Maru if he falls in love with this version of her just because he can baby her like he used to baby Jae-hee. Or if he uses her vulnerable state to do whatever it is he wants to do. Be with Jae-hee? Get revenge? Do we have any idea? That girl just needs some hugs, and lots of them.
While I like the fact that this drama moves so fast and skips past what could be tedious details, I have to say that some of the leaps we're making could use a little fleshing out. Like the accident, or the accident. Or maybe that accident. Maybe the stuff that happened directly after the accident. Maybe what happened to that shiny new will Chairman Seo drafted up. Just throwing stuff out there.
And though terminal illnesses are part and parcel with any self-respecting melodrama, and even though Maru escaping from that accident unscathed would be a little hard to believe, I was still left with a sour expression after the deadly hematoma reveal. Not because it's unrealistic, but because good gracious, what else? Are we striving to create not just a tragic character, but The Most Tragic Character Who Ever Lived? What else can possibly happen to that boy?
I'm really not being rhetorical when I ask: Can a character eventually become so tragic that we become desensitized and immune to their suffering?
RELATED POSTS
Tags: featured, Moon Chae-won, Nice Guy, Park Shi-yeon, Song Joong-ki