Nice Guy: Episode 12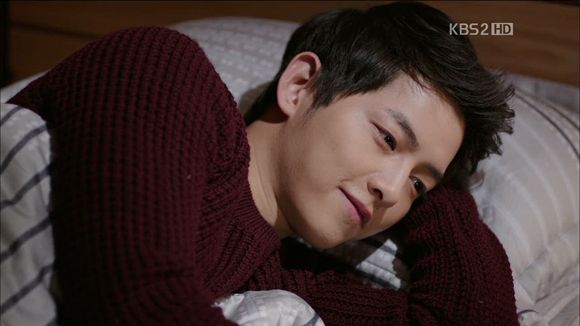 Here's a line I never thought I'd say: Amnesia is doing wonders for this story.
Phew. With that out of the way, I was surprised and pleased by this episode, which delivered plenty of bang for its dramatic buck. Maru learns how to run a corporation overnight and takes Jae-hee to school, Eun-ki gets some girlish bonding moments with Choco, and Min-young gets a step closer to graduating from the drama school of douchebaggery and villainy. I'll be taking bets on how many episodes it'll take before he calls a hit on someone we like.
Ratings stopped declining and started rising again (yay) with Episode 12 bringing in 15.1%.

EPISODE 12 RECAP
We jump back a bit to the moments leading up to Eun-ki's grand return, while she and Maru were getting dressed for the event. He'd given her the lines of her speech through telephone, which she'd parroted and memorized in front of a wall covered in pictures and accompanying information of important Taesan Group members.
He was coaching her, essentially, and added the finishing touch by giving her heels to go with her outfit. (Don't give her shoes, Maru!) There's a cute moment where he seems to take in and appreciate how pretty she looks all dressed up before they head out together.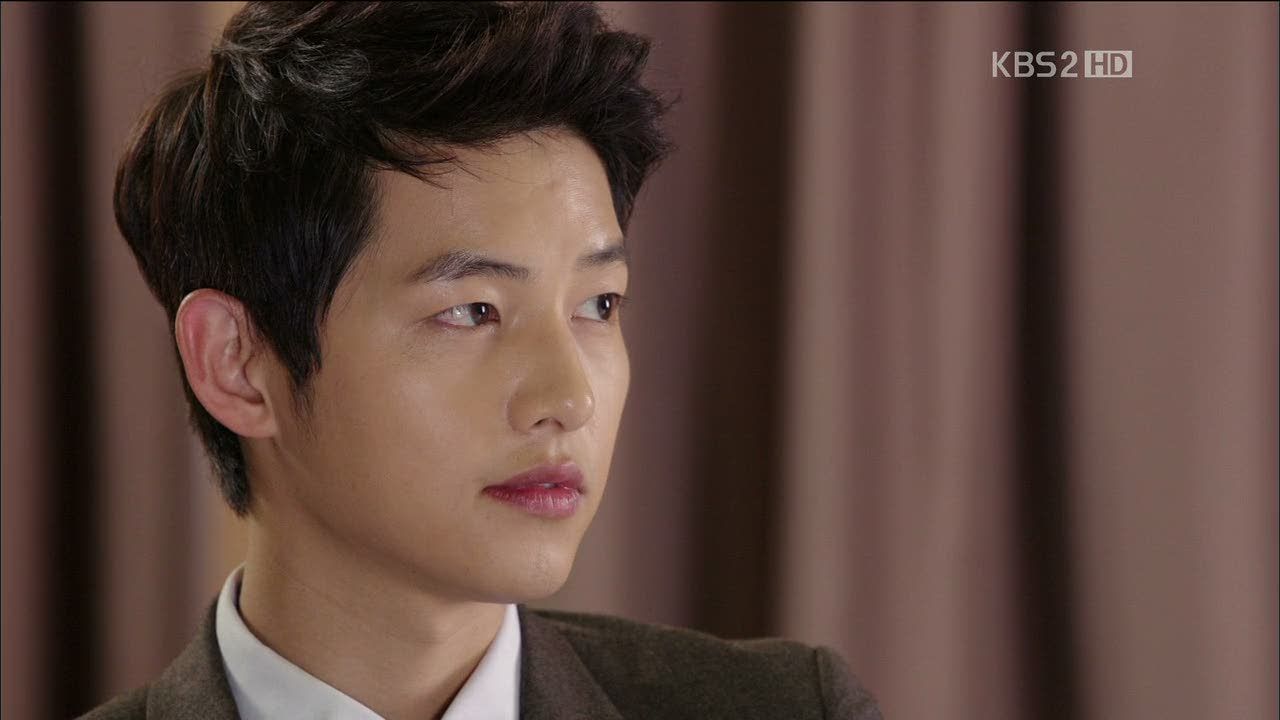 This time we see the inauguration ceremony more from Maru's perspective, as he's unable to hide a proud smile when Eun-ki makes her dramatic entrance. More telling is the fact that he sends a self-satisfied smirk Jae-hee's way the second she's visibly rattled by Eun-ki's appearance. Yeah, he's enjoying this.
Eun-ki introduces Maru as her fiancé, and Jae-hee's world crumbles. I'd be lying if I said I wasn't enjoying this too.
Jae-hee retires to her office with Min-young, still shell-shocked over what happened. She has a harder time believing Eun-ki's back because she knew Jae-sik had clearly-… She doesn't get to finish that thought, but it makes one thing clear: She did order the kidnapping.
Min-young gives Jae-hee the sobering news that Maru will be handling company affairs while Eun-ki recovers. At Jae-hee's horrified face he asks, "What part of all this upsets you most? Was it the fact that Seo Eun-ki, whom we thought was dead, came back? Or the fact that the Kang Maru you've been searching for has come back as her fiancé?"
Eun-ki gets a tour of her office courtesy of Maru, though she's suffering some exhaustion from the whole ordeal. He pulls her into a supportive hug and offers her words of encouragement, while she asks if she'll have to fight against her stepmother. Maru answers yes.
When she asks why, he replies that Jae-hee started the fight first, "Because she is trying to get what isn't hers."
I love that he keeps a hand on her shoulder the whole time, as if to reinforce the fact that he's there just for her. When Eun-ki expresses concern that she might not win, Maru counters, "I'll do the fighting. You just stay behind me."
It's a sweet sentiment that takes us back to the tail end of his coffee shop convo with Joon-ha, who'd laid the rules out as such: Once Eun-ki regains her memory, Maru has to disappear. And if she doesn't regain her memory, he can still be given compensation for his effort.
Very much like "The Boy Who Cried Wolf", Joon-ha can't see past Maru's lies and misdeeds to know if there's actually some sincerity underneath. He calls Maru out for approaching Eun-ki for revenge and not love, but Maru points out that love is the driving force behind his helping Eun-ki now. So if it is love, what will Joon-ha do?
"I will have to block it," Joon-ha asserts. "No matter what. I think you forget that I know who you really are." He threatens to show Eun-ki documents proving how Maru used her, mocked her, and deceived her – in which case, it'll be game over for him.
So the matter comes back to compensation, and Maru says he wants half. Wait, half of Taesan? Talk about high aspirations, but Joon-ha seems like he's just crazy enough to do it.
Back in the present, Secretary Hyun finds Joon-ha brooding over the matter and sighs about how they couldn't be where they are without Maru's help. (Apparently, two months have passed in all this.)
While Joon-ha doesn't trust Maru as far as he can throw him, Secretary Hyun remains a romantic and firmly believes that Maru's love for Eun-ki accomplished the impossible. "'Love gives us strength.'"
And then it's back to the past, where Joon-ha agrees to give Maru half of Taesan in exchange for being able to tell Eun-ki that Maru traded his help for that kind of compensation. Maru agrees, and a deal is made.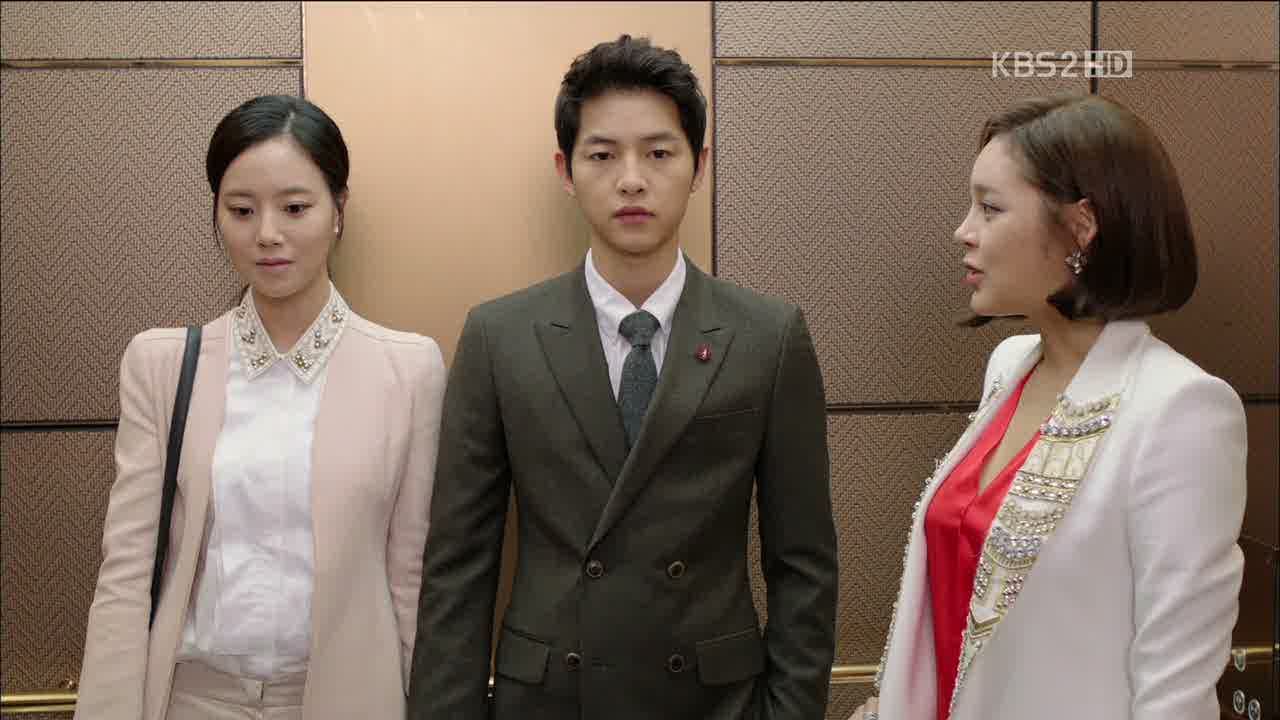 An awkward elevator ride ensues when Jae-hee gets caught in the same car as Maru and Eun-ki, though she tries to cover it up by telling Eun-ki to move back home. Maru takes Eun-ki's hand in his and responds for her, that she's going with him.
He doesn't make eye contact with Jae-hee, and she tries her best to look past him as she invites Eun-ki over for dinner, at least. She agrees on the condition that she be able to bring Maru, and Jae-hee has to swallow hard before she gives the okay.
After she's gone, Maru only grips Eun-ki's hand tighter.
While dolling up for dinner, Jae-hee tries on some red lipstick that doesn't suit her, and makes a weird mess when she nervously smears it off with her hand. O-kay.
Maru brings Eun-ki to her house in the meantime, and looks concerned when she has to confirm with him whether her father passed away.
She's curious to know what kind of person her father was, and asks to see his room once they're "welcomed" inside by Jae-hee. I love that Maru sees straight through her, enough to scoff when she lies about being unable to prepare for such a sudden visit.
It's becoming clear that the prosopagnosia is a cover for Eun-ki's amnesia and brain damage, so Maru has to step in before Jae-hee can catch on that Eun-ki doesn't remember where her father's room was. At least he sends Jae-hee another knowing smirk when she claims innocence in making Eun-ki's old room into Eun-suk's playroom. Oh, this is going to be fun.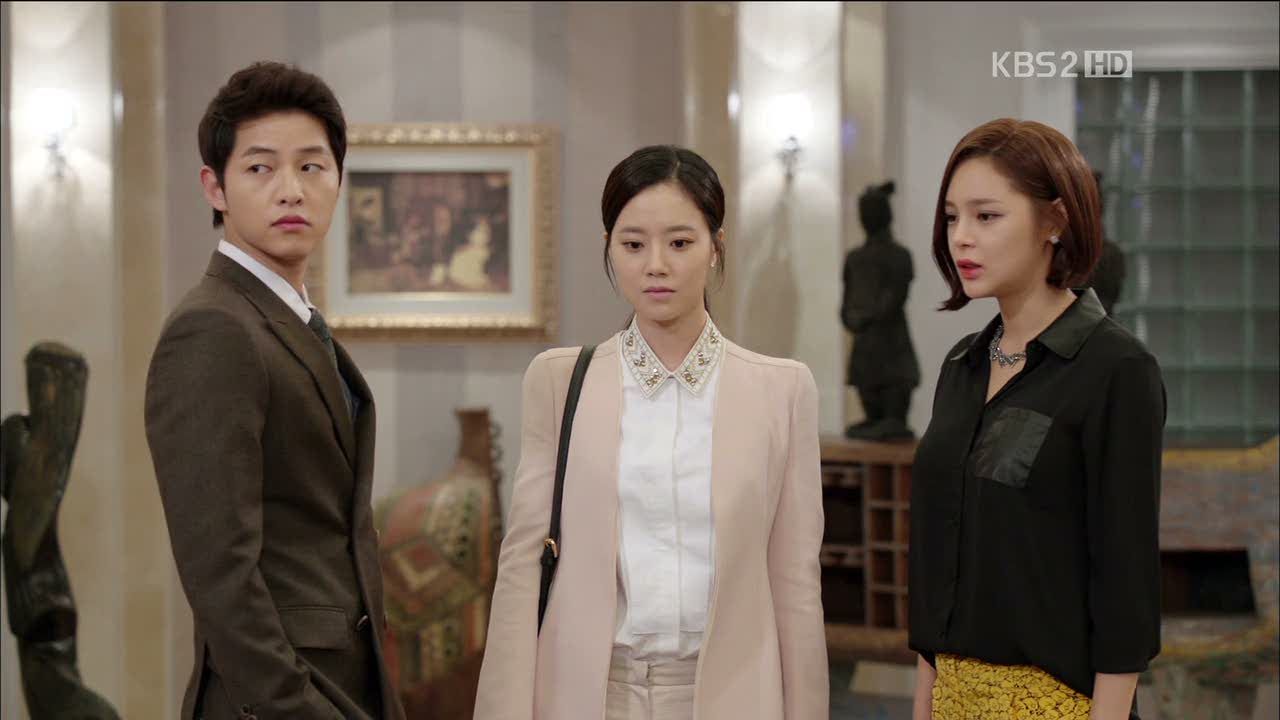 Jae-hee doesn't miss a chance to get a barb in, and tells Eun-ki to have a party in regards to seeing her father's study. "Because you were crazy about a guy, you weren't able to stay by your father when he passed away. So go see your father, and come back after you have begged for forgiveness." Ouch.
She keeps Maru with her while Eun-ki goes to explore, and probes him on his reason for coming back when his big breakup conversation had been all about not giving a damn about her anymore.
But Maru practically smiles as he tells Jae-hee that he doesn't even remember their past together, or what he once did for her. "The only person I am interested in right now, the one who fills my head, the one who has me wrapped around her, the one who drives me crazy, the reason why I couldn't eat or sleep… is not Han Jae-hee, but Seo Eun-ki." Aww yeah.
So he explains it like he's protecting his woman from "the monster" that wants to kill her. It's funny in a morbid way when he even takes a bite out of all the dishes to make sure Jae-hee hasn't poisoned them. He's literally putting nothing past her.
He admits that he made Eun-ki the way she is, so now there's nothing he can't do to restore her to her original position. Besides, nothing Jae-hee thinks she owns is hers.
This is a hot button issue for Jae-hee, and one which causes her to spit venom as she asserts that everything in this house, even down to a single speck of dust, is all hers. Basically she's the kid on the playground who'd steal another kid's toy and claim that it's hers just because she's the one holding it.
Maru finds Eun-ki with her head on her father's desk. She's in tears as she asks him whether he's the one she was with when her father passed. She's both sad to hear the answer is yes and comforted at the same time, since she realized that she must have truly liked Maru to do that.
Once again, Maru comforts her by holding her shoulder as he tells her that they should call it a day and just go home.
In his dark and creepy office, Min-young looks over one of Eun-ki's diaries/post-amnesiac handwriting books. He stole it while inviting himself into Secretary Hyun's house, and seems about one step away from figuring out that she has amnesia.
In the back of the book is a cute little pep note signed by "J.H.", and he's quick to think of Joon-ha. This can't be good, but nothing's ever good with Min-young anyway.
He calls up Secretary Jo to do a handwriting check on Joon-ha just to be sure, while our lawyer in question drives by Eun-ki's new house.
Eun-ki and Choco have an adorable bonding moment when they both end up staring at the sky to talk to their respective fathers in heaven. Choco even asks her father to forget about her wish (for Maru to stay healthy – foreshadowing, anyone?) for the time being and help Eun-ki instead.
Meanwhile, Min-young is able to confirm Joon-ha's handwriting in Eun-ki's notebook as well as the fact that she has amnesia.
Later that night, Eun-ki writes a sort of apology letter to her father for not being there to take care of him. And ha, her artistic rendition of herself includes angry eyes and devil horns.
Maru stays up to do some studying on how to run a business, only to be crippled with headaches. I was about to let this just fall under the category of "Thinking Too Hard", but then I remembered he has that deadly hematoma he's not getting treatment for. Sigh.
Joon-ha finds him the next day already with his own office and fancy nameplate, and gives him some ammo to use in his upcoming fight against Jae-hee. It concerns the takeover of a medical group Jae-hee was pulling for.
Jae-hee catches him before he heads into the meeting, acting amused that he's running the business in Eun-ki's stead. They trade some barbs about company management, and Maru matches her for every one. I can't believe I'm saying this, but I'm excited for this corporate meeting.
Min-young uses the opportunity to catch Eun-ki without her bodyguard after having rooted out where Maru's new house is. He takes her out to the only coffee shop in Seoul, and Secretary Hyun proves too much of a pushover when she lets Min-young have a private chat with her. Girl, grow a metaphorical pair, please.
He confronts her about the schoolbook, which she passes off as having used in the initial recovery stages from her accident. He makes his suspicions clear under the guise of secretly caring for her, and entreats her to trust him with her condition so he can protect her.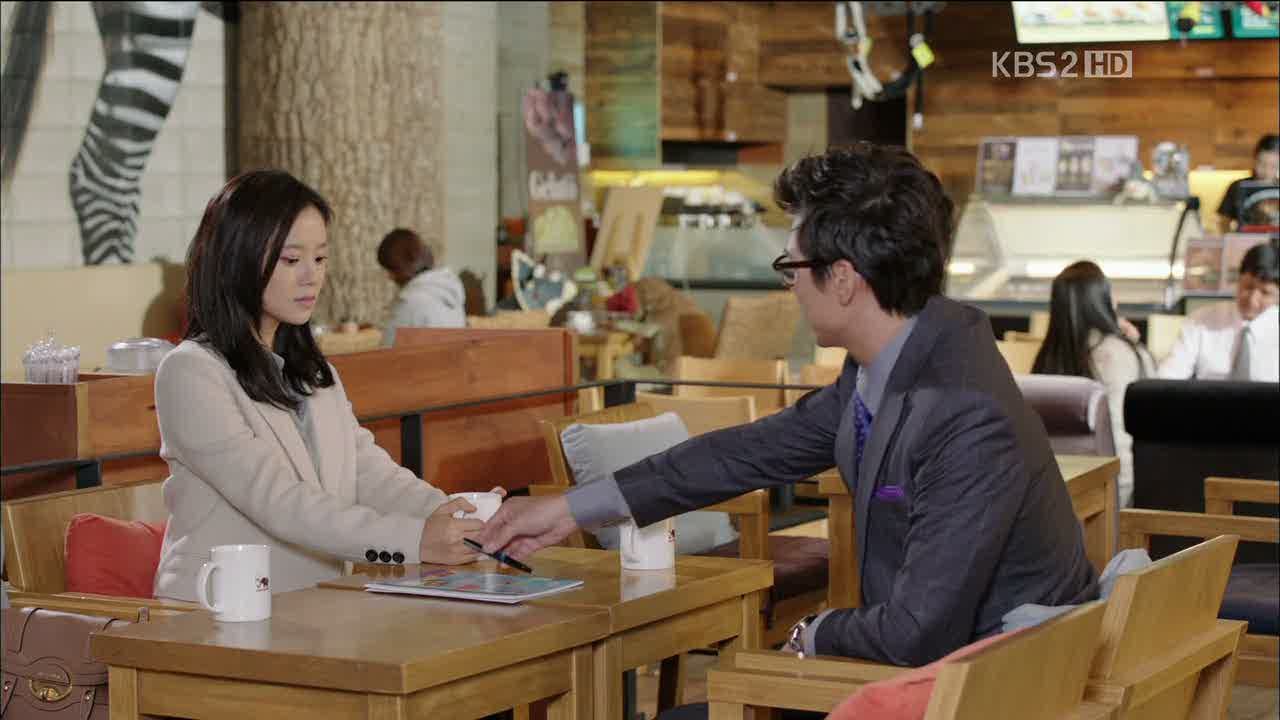 Eun-ki wavers between whether to trust his words or go with her gut. Min-young gives her a test by asking her, "Who am I?"
His face flashes briefly in her memory, both from her Wall of Memorable Taesan Employees and a scene from her past. She takes the pen he gave her to write (and subsequently test her spelling skills, which were poor in her notebook): You are a bad person.
Oh. Snap. She leaves after that put-down, and regains some of her memories outside. Most of them are of Min-young being squicky to her and her hating him, so she had it right.
She collapses outside while clutching her head in pain as Min-young watches with satisfaction. Or something like it. It's honestly hard to tell.
In the executive meeting, Jae-hee faces some heat from the same board member who'd questioned her authority during Eun-ki's dismissal vote. Joon-ha sends a text to Maru that he's doing their work for them today so they can lay low, and I'm kind of digging their reluctant partnership right now.
Strangely, Maru ends up defending Jae-hee against the errant executive by bringing up the bigger picture, and how Jae-hee's spending is worthwhile in the scheme of the acquisition plan.
It gives Jae-hee just enough time to get comfortable and claim his words as coming from her own thoughts before he adds, "I think you've misunderstood what I've said. Compared to the problems I will point out, what you said right now is worth nothing."
He's done his homework about this Yesung Medical Group, and the fact that Jae-hee's illegal succession will inevitably cause Taesan to be investigated, which equals bad business. Maru: "Being the owner of a company, you didn't start this without preparation and thought, right?" Dayum. Way to go, Maru.
She tries to salvage the situation now that it's turned in Maru's favor, but doesn't have the means to defend herself against his (warranted) attacks. The meeting ends on a bad note as far as she's concerned.
Joon-ha finds Maru in the bathroom afterward and asks how he knew about Yesung Group's secret fund, which he had used as ammunition against Jae-hee. Maru basically admits that he was flying by the seat of his pants on that one and just used the rumors he'd seen circulating in the stock market. Lucky for him, it worked out.
There's definitely admiration coming from Joon-ha when he asks Maru why Jae-hee ever dumped him. "If she was with someone like you, she would have earned more. She would have been much happier."
So… huh. It kind of seems like Joon-ha has a mancrush on Maru.
As fate would have it, Eun-ki's doctor is Suk Min-hyuk, a face we haven't seen since the first episode. (I wasn't expecting to see you again, Jo Sung-ha!)
His report is mostly positive as he acknowledges that her test results are much better and she's making positive forward steps. He knows her fiancé studied medicine and commends him for a job well done in helping to rehabilitate her: "He must have worked very hard to help you, a person he loves."
Eun-ki admits that she's been regaining fragments of her memory, first with Maru's driving song and now Min-young. She's a little surprised when Doctor Suk's words of advice entail her facing her past as the only means of fully regaining her memory.
He's of the mind that she's suffering trauma from a horrible memory she wants to run away from. Because she doesn't want to be hurt anymore she's hidden herself behind the veil of memory loss, so only when she comes to grips with what she's repressing can she heal.
Choco and Eun-ki share boy talk that night, which Maru gets to overhear by virtue of them not hearing him come in. Choco describes her secret ways of stealing skinship moments from Jae-gil, and suggests Eun-ki take a vacation with Maru.
Maru remains very focused on Eun-ki as she gives her answers, and you can literally see the wheels turning in his head as he processes each reply. Mostly because they did technically take a vacation before, or something kind of like it, which ended badly with the whole one's-an-amnesiac-one's-got-a-hematoma thing.
Of course, Eun-ki doesn't remember any of that, so Choco tries to play cupid by telling Eun-ki that she needs to go on dates with Maru, too. Eun-ki keeps shaking her head "No", which has Maru hanging on her every word until she finally admits why, in the shyest voice possible: "Because I am embarrassed. It is embarrassing."
There's something about this moment that's just real, like this one line is the rawest peek into Eun-ki's feelings we've seen. It's also cute that Maru relaxes into a smile with this admission, at least knowing she's not avoiding him because she dislikes him.
Min-young finds Jae-hee sitting in the dark of her office, though he's not as blindsided by Maru's meeting showdown since he expected at least this much from him. Regardless, Maru did put a stop to Jae-hee's acquisition project.
She makes sure to remind Min-young of his official title as Department Head and his exact place in the room about one too many times, even though she's trying to reinforce a point: Min-young will be in danger if he stays too close to her.
It's hard to tell whether this is genuine concern or subtle manipulation, since it almost sounds like a challenge and Min-young takes it as one, standing physically closer to her before he says, "I will take care of my own business. So, Chairman, you too, stay only this far from me. Don't go further away."
Once outside, Min-young calls Secretary Jo to hurry up their plans to take Maru down.
Maru smiles in bed thinking of Eun-ki's reaction to Choco suggesting a vacation, and drags Jae-gil out of his couch-bed to ask for friendly advice: "I want to go on a trip with a girl. Please recommend a place for me."
Jae-gil's in shock, and rightly so. The gigolo in this friendship is currently asking him for the simplest of dating advice, like he's never entertained a girl before. Awkward Maru needs to stick around a little while, because he's kind of rocking my world right now.
Jae-gil finally understands that Maru's trepidation comes from this being his first "true" relationship. He tells him to just do what he did with Jae-hee, but Maru admits that he doesn't remember what he did with Jae-hee when they dated.
The next morning, Eun-ki wakes up in the passenger seat of Maru's car, still wrapped up in her comforter. He snuck her to a vacation while she was sleeping? I just… can't. That's just too cute.
She waddles out while Maru sits perched above the ocean vista he's brought her to. Best "Good morning" ever, or greatest "Good morning" ever?
As they walk hand in hand on a beach, in a field, and generally share romantic moments together, Maru's voiceover is heard:
"Father,

One day, a woman walked into my life. I hurt her deeply with the harshest words possible. I pushed her away as much as I could. But, she still came back to me. She is so much like me; I look at myself often when I look at her. She has the physical wounds that I have. The tears that fill my brain are flowing through her heart as well. I gave her those wounds. I made her cry. I should not have met her. I should not have allowed her to come into the life of a guy like me."
He even plays the harmonica for her, and the simple tune continues as they make the drive home. Only the tunnel they drive through looks a little too familiar – it's the same tunnel they had their car crash in.
She's literally in heaven holding his hand, until the oncoming flash of headlights fills her vision. Flashes of the moments leading up to the accident assault her, and Maru seems to know it.
"Father, I'm regretting it. This is the first time… that I have ever regretted anything in my life."

COMMENTS
That look on his face (or is it the absence of a look?) just kills me. Maru is still incredibly hard to read even if he wears his heart on his sleeve, which really resonates with "The Boy Who Cried Wolf", in that I do want to trust him… it's just that his past actions make that pretty difficult.
If we're to judge from what Doctor Suk tells us about the time Maru has spent working with Eun-ki to help her cognitive skills, then this final scene seems like a calculated maneuver on Maru's part to help her regain her memories. Which is a noble sacrifice on his part considering what he might lose if she remembers everything.
And if dramas have taught us anything, it's that one day of blissful togetherness always serves as padding for something terrible to come. At least Maru's exercising some control over what might be the coming storm. There's no way of telling (yet) if his love for Eun-ki goes deeper than his love for Jae-hee, since, frankly, he's no stranger to self-sacrifice when it comes to the women in his life.
That list includes Choco, whose mysterious illness we haven't seen pop up in a while, though I'm sure it'll come at the most dramatic moment possible. Maru asking for half of Taesan in return for helping Eun-ki seemed like a move geared toward Choco's welfare, even though her donating the money he earned by cheating people doesn't seem to have put much of a hole in his pocket. But hey, now he's got a shiny new job that must be paying him something. And he doesn't have to sell his soul this time.
The inclusion of Jae-gil and Choco in recent episodes has been a complete turnaround from the place they used to fill in the story – a semi-sweet side romance totally removed from the main action. It makes sense with Maru and Eun-ki's new trajectories that they'd each be more open to helpful influences than they were before, so it's nice to see Jae-gil and Maru's neglected bond spring back to life as well as the newer bond forming between Choco and Eun-ki.
And though I didn't think I'd be admitting it, I'm actually surprised by how integrated the use of Eun-ki's amnesia is to both her and Maru's narrative arcs, respectively. There have always been more similarities between the two than there are differences, especially in regard to their level of devotion and passion for whatever they set their minds to. It's not like being a gigolo gave Maru instant telepathic powers when it comes to women, but instead it seems like he's able to stay one step ahead of Eun-ki because he's been there before, and knows how she works.
It's why he manipulated her so easily before, and why it's throwing me for such a loop that he's using that same knowledge to actually foster a real relationship with her this time around. He's choosing to take Eun-ki by the hand and protect her while he helps her to stand up again in her rightful place, memories fully intact. The nicest thing about that sentiment is that unknowingly, Eun-ki is providing Maru the strength to live again. And I mean actually live, none of this walking dead stuff he's been doing.
Just don't remind me about the hematoma, because I'm finally starting to care about whether Maru lives happily ever after or not. And that's something I'd sworn not to do after experiencing the super thought out, well-rounded, totally in-character and narratively fulfilling ending to Writer Lee's previous work that cannot be swept under the amnesia rug, A Love To Kill.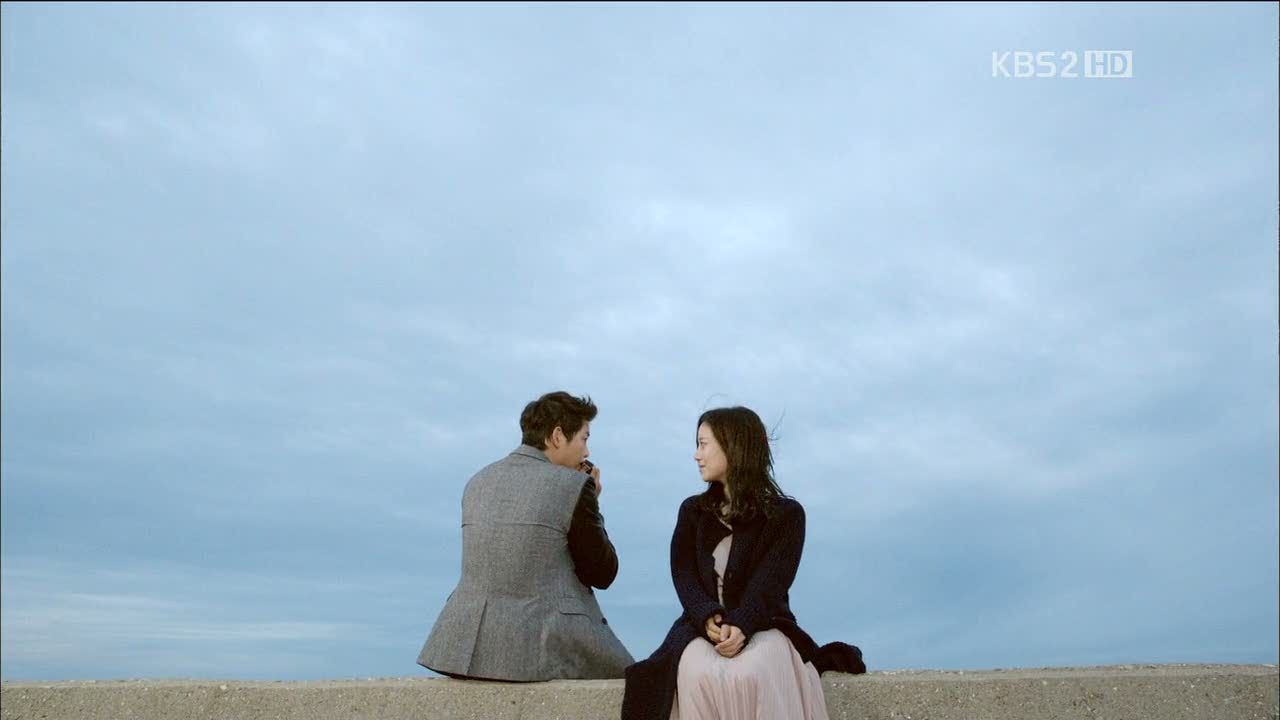 RELATED POSTS
Tags: featured, Moon Chae-won, Nice Guy, Park Shi-yeon, Song Joong-ki