Oohlala Spouses: Episode 1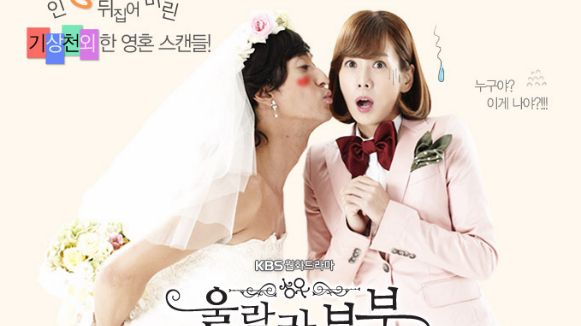 For a rollicking comedy, Oohlala Spouses gets a bit of a darker start that nonetheless works out great, especially since we're dealing with cheating husbands and broken families. It's a little hard to make that topic a knee slapper right off the bat, but we've got a great cast delivering little moments of funny and plenty of heart to help buoy us out of Depressing Marital Strife-ville.
Something you get with seasoned actors and a fast-moving script is dialogue that feels very true to life, so what I really noticed and enjoyed this episode was the fact that we had characters that felt like they were actually listening and reacting to each other. (I know!) Add in a little whimsy and the promise of future shenanigans, and we've got a fun and touching first taste of what's to come.
Oohlala Spouses had some stiff competition in the premiere bandwagon, but came out victorious with 10.9%.

EPISODE 1 RECAP
Cherry blossom petals rain down as a geisha performs a fan dance in front of a group of Japanese officers, catching one man's eye in particular. Cue some serious Gaksital vibes as we find our hero spying out a window to see a 1930s-era occupied Korea.
Our heroine is a pro-Korean spy named Sayuri, and she shares a passionate kiss with our hero along with a secret meeting time and place written on a slip of paper, which she gleaned from charming the officers.
He uses a journalist's armband the next day to sneak into a pro-Japanese procession and passes along a hidden bomb to a fellow spy, who then tosses it at the arriving Japanese viceroy's party.
The grenade explodes, causing massive damage and chaos.
A Japanese officer comes for Sayuri, who seems to know that her time is up. She reads a note from our hero: "We came into this world at different times, but I want to leave this world with you at the same time. In the next life, let's meet as a husband and wife, and live happily." She reads this while sitting in front of a dagger, which only means bad news.
Our hero arrives to a house of weeping women, but is too late – Sayuri has committed suicide. He holds her body and cries out her name.
…Which is a slightly depressing segue into our couple in the present day, getting to live out their dreams of being husband and wife in another life.
Meet our modern day Sayuri, NA YEO-OK (Kim Jung-eun). She manages to get her husband out of bed after repeated attempts, but trying to get him to fix the bed is a no-go. He lays down the rules of marriage – wives take care of household chores, husbands take care of outside work.
Husband GO SOO-NAM (Shin Hyun-joon) is definitely not as dashing a figure as he was in his past life, as Yeo-ok bitterly complains about his good looks being just a veneer for a lack of substance. As for who fell for his good looks without checking under the hood first, she knows she has no one to blame but herself.
Her household isn't a quiet one, with mother-in-law ordering her about, son GO KI-CHAN trying to get ready for school, and sister-in-law GO IL-RAN (who Yeo-ok strangely refers to respectfully as "agasshi") claims she's running too late to lend a helping hand. Yeek, even my head is spinning.
It gets worse when Soo-nam accuses her of stealing money from his wallet, and his tone and words are nowhere near loving – far from it, he's plain out yelling. Yeo-ok holds herself back as she reminds him that they've been married for twelve years, so the least he could do is treat her like a human being. Yeeah, doesn't look like that's happening any time soon.
The house is still in a state of madness, but Yeo-ok bears it all… until Soo-nam comes charging out of the bedroom ready to rant at Yeo-ok some more about that missing ten dollars.
This is the final straw, and Yeo-ok throws down her apron in front of husband, mother-in-law, sister-in-law, and son, declaring: "I'm going on strike!"
Soo-nam can't seem to wrap his head around the concept of a housewife going on strike, so Yeo-ok spells it out for him – she's had it up to here with getting treated like a thief by her husband and a slave by the rest of his family, and she quits.
Ha, and it's pretty clear that all the shouting everyone does after she leaves points to the fact that they're helpless without Yeo-ok around. I love that Soo-nam is just obsessed with that missing bill, since he's unfazed and yells after her, "You know that I'm always right, right?!"
Cut to a ritzy hotel, where smiling clerk VICTORIA KIM (Han Chae-ah) ushers in not just a VIP client, but a VVIP client. I always get a kick out of that extra V.
Soo-nam is an employee of the same hotel, and complains about Yeo-ok's "strike" to a colleague, claiming that he's been going easy on her since she's been taking care of his mother. Denial isn't just a river in Egypt, Soo-nam, but whatever floats your boat.
He heads over to Victoria's desk after getting a text about their VVIP guest, and handles the situation with aplomb. Victoria just looks star-struck at the sight of him.
Soo-nam gets the VVIP client's room just the way she likes it, and makes it through her numerous complaints about her husband. But he's caught off guard when she asks him if he treats his wife at home as well as he treats her as a guest.
Cut to Yeo-ok sputtering out: "I always say this to my husband: Just treat me half as well as he treats his hotel guests." Forget about half – she'd be happy for one-tenth.
But her complaining session is cut short when the friend she's crying to admits in tears that her husband is having an affair. Eek. I love that Yeo-ok goes straight into crisis management mode once her friend tells her that she doesn't want a divorce – Yeo-ok is going to make it so that woman never goes near her friend's husband again.
Of course, when she meets "the other woman" BAE JUNG-AH (cameo by Nam Gyu-ri), she's a lot prettier than her friend made her out to be. Yeo-ok quickly collects herself and lies that Lawyer Lee (her friend's husband) referred her.
The general manager of Soo-nam's hotel is planning a move, so Soo-nam and one of his colleagues are up for the promotion. Soo-nam jumps on the opportunity right away and one-ups said colleague, resulting in a funny confrontation outside where Soo-nam gets him off his back by saying his breath stinks. Ha.
Meanwhile, Yeo-ok drags Jung-ah for a confrontation with her friend, though she doesn't bother to correct Jung-ah when she assumes that Yeo-ok is "Oppa's" jilted wife, so caught up is she in the idea of bringing Jung-ah down a few pegs.
Of course Yeo-ok takes offense on her friend's behalf when Jung-ah calls her husband "Oppa," and continues to get huffy when Jung-ah claims that her husband wanted to break up with her anyway.
I love that Yeo-ok starts legitimately getting offended when it isn't even her husband, while friend NA AE-SOOK remains silent but angry at her side. Jung-ah haughtily sneers at the thought that Yeo-ok might go into drama ajumma mode and throw water in her face or pull her hair, which causes Ae-sook to do that exact thing to her. Haha.
Jung-ah tries calling for help, but settles down once Yeo-ok informs her that she's on their turf, and no one can hear her scream. Ha. She does finally come clean about Ae-sook being the real wife, which Jung-ah reacts to with a: "You think Oppa will go back to you because you do this? Actually, things have turned out well. Oppa had been feeling burdened thinking of you. When he hears about this, I'm sure he'll be very happy."
Dayum. Well, the fight isn't ending any time soon, is it?
Ae-sook moves on to the next phase of the plan, which is pulling out a knife from Yeo-ok's purse and sliding it across the table to Jung-ah. When she pulls the intentionally-censored knife from the wrapping out of curiosity, Yeo-ok snaps a picture of her holding it before Ae-sook tears into her – one of them has to die. Who's it gonna be?
Haha, and with even Yeo-ok pretending to be scared of Ae-sook, the situation just gets scarier for Jung-ah until she finally breaks down and says she won't meet Ae-sook's husband again. She scurries out, and Ae-sook waves the censored knife after her.
Lawyer Cheats McGee tries calling Jung-ah, but keeps getting her voicemail as we find her sobbing in a bathroom stall.
Hilariously, the image of her suffering is superimposed onto Yeo-ok's coffee, which she sips in triumph. Hah.
Ae-sook asks what her friend plans to do with this strike, to which Yeo-ok replies that she's not the kind for compromising or negotiating. "An eye for an eye," she grits out. "A tooth for a tooth. Since I pulled out my sword, I'm going to give him hell!"
I caught this a little late, but when Soo-nam gets a text from who-I'm-guessing-is-Victoria, the name that pops up on his phone is "Big". Shout-out to drama Big? Either way, she tells him that she's leaving early to fix dinner because she has something to say.
He gets called back to his flirty VVIP, and it seems like she's putting the moves on him when she talks about divorcing her incredibly wealthy husband.
I'm not sure if this is just a tactic to get her off his back, but Soo-nam looks dreamily into the distance and speaks like a man in love as he tells her that divorce causes regret more often than not, and "A husband and wife… They don't just share a blanket. They take care of each other's wounds and cover up each other's flaws. Isn't that how they should live? That's what I think."
His VVIP coos over how deep he is, but is cut short when her husband arrives to bring her back home. Just when Soo-nam was talking about how her husband just made a mistake, too. Did he call her husband?
Either way, he leaves the two of them to talk things out and preens as he heads off a little too happily to be going home. That seems to especially be the case when his sister calls with the news that Yeo-ok's strike is real, since there's no food on the table and they're all going hungry.
Soo-nam isn't happy to hear this news, and calls someone else to say that he can't make it due to Yeo-ok's strike. And, to no surprise, the girl he had a date with is none other than Victoria.
She knows everything about his married situation because he tells her everything, and pouts when he says he can't make it for dinner. As for the lack of eye contact when they're at the hotel, Soo-nam says it's all part of the game since they can't be caught. So yeah, we've got a full-on affair going on here.
He goes home to find everyone sans Yeo-ok eating takeout. I don't know whether his sister is just dense or in denial – she's acting all affronted that Yeo-ok didn't cook them dinner without a warning. Honey, did you completely miss the "I'm going on strike" speech from this morning?
Mom suggests going easy on her, not necessarily for the good of their marriage, but because they need to eat breakfast tomorrow and either Yeo-ok cooks or they don't eat. Aww.
Soo-nam is ready to give Yeo-ok a piece of his mind, and they end up airing their dirty laundry in front of the rest of the family. She demands to know whether she's more important than his hotel guests, but he's quick to point out that those guests pay for their house. Mom, Ki-chan, and Il-ran all nod in agreement.
To her credit, Mom does try to mediate the fight, but Yeo-ok insists on saying her peace. She tells Soo-nam that it isn't the chores that wear her down, but the cold way he speaks to her.
She's on a pretty good roll until she asks if she's nothing more than a back-up dancer to him, but her dancing to enunciate her point just has Il-ran laughing. Soo-nam doesn't see her point of view and thinks she's putting on a show, to which Yeo-ok fires back, "If I don't fix the way you speak by the end of this year, I'm going to change my last name!"
Turns out she even bought an apartment just for this circumstance five years ago, and plans to move out so that it's just her, Soo-nam, and Ki-chan. But for now, she just leaves to cool her head.
At a food stall by the Han River, a young woman magically appears next to the ajusshi cooking. When I say magically, I mean like, poof! she's not there one second and the next, she is. He calls her MUSAN (Narsha), and berates her for popping up all willy-nilly.
But she's got her eyes on Yeo-ok, who zombies her way up to the stall to ask for food. Musan tells the elder, "She's Sayuri, isn't she?"
Flash back to the '30s, where the not-a-douche version of Soo-nam sent off Sayuri's body on a flowery boat into the sea. He'd cried about being unable to join her, but, "Although we can't go together right now… If it's our destiny, in the next life, let's definitely meet as husband and wife."
Back in the present, the elder tells Musan, "Do you know what lengths I went to in order to put those two together?" HA. So Fate really did like they asked? That sure backfired.
The next day, Yeo-ok heads out to check on the apartment. Mom doesn't want her to move out, but Yeo-ok sees it as a two-year thing, and hopes that Mom can teach Il-ran how to be a functioning human in the meantime.
Seems like Yeo-ok has been subletting their apartment, but when the tenant isn't home Yeo-ok tries her old passcode, which surprises her when it works. She vows to just take a quick peek inside, but the place looks pretty familiar to us. Eek. Has Soo-nam been housing Victoria in his wife's apartment?
Yeo-ok decides to head out… juuust as Soo-nam and Victoria head to the door, arm in arm. That. Sucks.
What's worse, Yeo-ok doesn't have an escape route so she sneaks back into the apartment and hides in the bathroom before her husband and Victoria notice. When he asks her why she hasn't changed the passcode, Victoria happily replies that since it's Oppa's birthday, she can't change it.
They kiss, and Yeo-ok sees them through a crack in the door. She's devastated. Who can blame her?
Ugh, and then he swoops Victoria into a bridal carry off to the bedroom for Happily-Cheating-On-My-Wife Sex. Soo-nam, meet Dead To Me. Dead To Me, meet Soo-nam.
Yeo-ok tries to get a hold of herself in the bathroom, and has a pretty realistic, hyperventilation-full reaction before she hightails it outta there. Soo-nam hears something, but is too easily distracted by his sexy time with Victoria to think much on it.
Shots of Soo-nam and Victoria in bed are intercut with shots of Yeo-ok wheezing her way to the elevator. My heart is just breaking for her.
She runs into a man's car, and drags herself inside. After she ekes out 'pharmacy', he takes her and helps her get an emergency inhaler to stop her asthma attack.
Once she's a little calmer, she heads to the Han River and has a conversation with her own conscience, reminding her that she'd calculatingly asked Ae-sook to decide on a divorce like it was that simple. But now, faced with the same issue, divorce doesn't seem so black and white.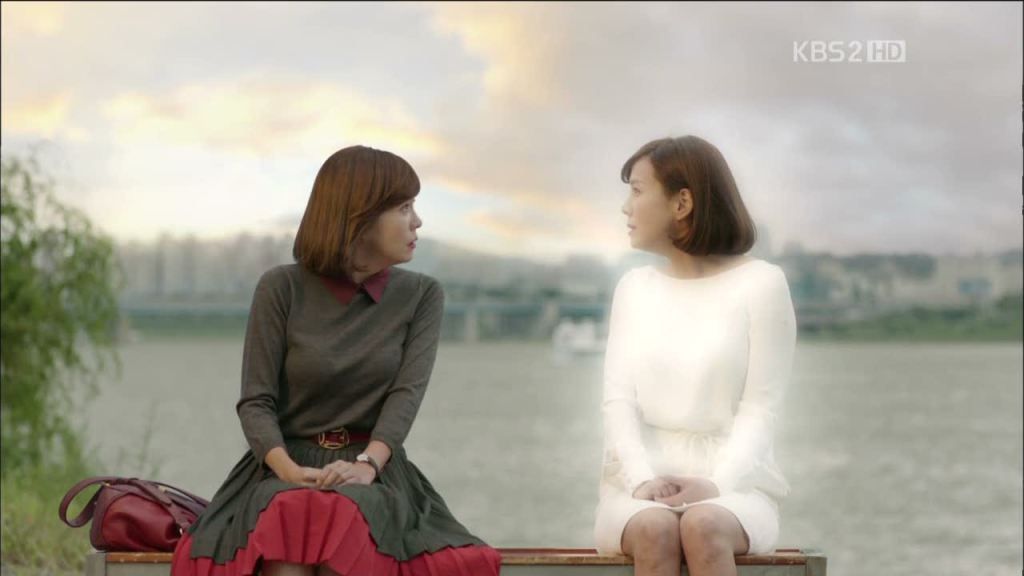 She has a pretty long conversation with herself, and her Conscience/Other Half goes from suggesting that Yeo-ok just turn the other way and forget about it to telling her to be smart about it – if she's going to divorce, fine, but she has to grind her teeth and bear with things a little longer to save up money, get the apartment in her name, and capture solid evidence of his infidelity.
"Take that person for all he's worth!" Her Conscience says, and Yeo-ok readily agrees. I'm glad she stuck to her guns on this one, because turning away like it never happened would be a monumental task.
Yeo-ok heads home to find that Il-ran has mended her ways and finally cooked dinner, which gets a sort of crazy laughing/crying reaction from Yeo-ok. My guess is she's laughing at the absurdity of it all now that her married boat has been thoroughly rocked, as she tells Il-ran and Mom between laughs that the strike has ended and she's not moving into the apartment.
Once alone in her room, the fresh memory of Soo-nam kissing Victoria sends Yeo-ok into another bout of hyperventilation. She sucks on her inhaler like it's her last lifeline in time to collect herself before Soo-nam comes home from his super busy day cheating. (I'm not letting this one go until Yeo-ok does.)
He's just as mad to hear the strike is over as he was when it began, and begins ranting at Yeo-ok the second he's in the bedroom, all while throwing pieces of his clothes at her to put away while he undresses.
Soo-nam is ready for a fight, so it's kind of funny when he's all ready to go, only to get completely blindsided when Yeo-ok doesn't put up a fight and admits to being wrong.
So now he's mad at her for not fighting, and tries to set her straight by telling her that one more foul like this strike debacle will get her kicked out of the house.
Yeo-ok finally fights back, "Didn't I tell you not to speak rashly? The words that you so carelessly spit out hurt my pride even more than your having an affair!" Well… crap.
The complete shock that follows is funny only because of its sheer absurdity, as Soo-nam can only stare widely at her and cough. Then we see him switch gears into damage control mode. "A-a-affair? What do you think of me?!"
So Yeo-ok takes the opportunity to play it off like him, and does that disconcerting laugh-cry as she apologizes. He asks if she's clinically depressed with her crazy mood swings, and she just laughs(?) him off.
Sometime later, Soo-nam waits for Victoria to get in bed, but she takes an unmarked pill first. (Anti-depression? Birth control? Plain ol' multivitamin?) She tells him about Pippi Longstocking, a story near to her heart since she grew up in Sweden where it originated.
She explains how she felt that Pippi Longstocking, wild and brave, was like her, and Soo-nam asks her if that's why she lives so bravely.
But, he adds, "Don't worry anymore, because now I will take care of you."
Then we slowly pan out to reveal this exchange captured on camera, as Soo-nam watches it on a laptop… in front of Yeo-ok.
Caught.

COMMENTS
This was definitely a well-paced first outing that, despite not bringing the funny right away, laid down the emotional groundwork needed for us to become invested in these people's lives and care about what becomes of their marriage. Even though the trajectory looks like it's heading downward as far as they're concerned, but what goes down must come up. We are watching a comedy, right?
The Previous Lives opening had me scratching my head a little at first, since part of me wondered whether the 1930s jaunt was just a throwback to Shin Hyun-joon's role in Gaksitaaaaaal, or whether KBS just had the sets and costumes from Gaksitaaaaaal still laying around and wanted to get their money's worth. Either way, the scene worked, and managed to make sense once given a little context.
Even though the reason hasn't been spelled out for us yet, I thought it was clever to use the whole past lives thing as a justification for why our lead couple is inevitably going to get some white glove treatment from Fate, instead of leaving us wondering why body-swapping is happening at all. Here's a situation where Fate would be totally justified in being all, "C'mon, we gave you guys a second chance at life and THIS is what you do with it?!"
I can already see the fun in Musan/Aphrodite's involvement (along with the yet unidentified elder), which gives Fate some personification and adds a whimsy fantasy element. Then again, personification isn't everything, since we had Dad's clear hand of involvement in Secret Garden, and I'm still confused about why that body swap was necessary when Dad had magical heaven powers, but that's a different discussion. It's a little early to call this upcoming body swap as better than the others, but I'd be lying if I said I didn't have high hopes, if only because I believe in the world this drama has set up. Even if it is a little silly, but hey, that's part of the fun.
From the teaser trailer and the phone shout-out, it's clear that the Oohlala Spouses team has seen Big and (hopefully) will steer clear of that body-swapping drama's more serious pitfalls. But, for an episode with zero body-swapping, I loved it.
Most of that love goes to Kim Jung-eun, who just nailed all the emotional beats so well that I was rooting for her from moment one. I like that she's an all-around rational woman, and one who has her conscience to remind her that life isn't as simple as she sometimes makes it out to be. (As we saw literally with the way she handled Ae-sook's husband as compared to her own.) And though we're pretty much hardwired to root for her character anyway, she's adding a nice amount of depth that really brings home the toll Soo-nam's cheating/terrible ways has and has had on her life.
Just like we're hardwired to like (or at least sympathize with) Yeo-ok, this show definitely isn't making any apologies yet for Soo-nam, who's pretty easy to dislike at this stage of the game. I think it sets up a fun dynamic to play with in the future, especially when this couple is at the point of no return.
However, I am glad that Victoria doesn't seem to be an especially malicious person, even though it's hard to paint her super sympathetically at this point. Like with Soo-nam, I'm excited to see where the show plans to take them and how they might (eventually) be redeemed. And Shin Hyun-joon certainly has the acting chops to sell Soo-nam to us, it only depends on whether the writing will let him.
Future recaps are up in the air, but you can count me in as a viewer, if only to see the body-swap shenanigans. Color me excited.

RELATED POSTS
Tags: featured, first episodes, Han Chae-ah, Kim Jung-eun, Oohlala Spouses, Shin Hyun-joon