Third tvN Flower Boy drama stars Yoon Shi-yoon, Park Shin-hye
Dude. DUDE! I'm not going to jump the gun and say this show is going to be awesome… but it's going to be awesome, right?
The time has come for a third installment in the "Flower Boy" series, and this one is titled Flower Boy Next Door. I love that, inasmuch as I love all cute plays on words. The producers have scored two big names for this one: Yoon Shi-yoon and Park Shin-hye. Huzzah! Two young talents with acting skills to match their pretty faces.
Cable channel tvN has scored twice thus far with its "Oh Boy" series of programming. Oh Boy was a project that kicked off last year to target the young teenage demographic (which doesn't always command the big broadcast audiences—the prime-time dramas on the Big Three stations mostly target 20-something and 30-something audiences, as well as the ajumma viewer base). It kicked off with Flower Boy Ramyun Shop, then aired a reality audition show to cast a supporting role in the follow-up drama. Straight from the auditions did Yoo Min-kyu go to Shut Up: Flower Boy Band, where he played bassist Ha-jin.
Both Flower Boy dramas have been ratings successes and became buzz shows, and both definitely scored with me—they were vastly different despite the Flower Boy in their titles, but spoke to me for different reasons. Ramyun Shop was zany and comedic in the best of ways, while Shut Up just spoke to my heart. The reason both worked—despite the admittedly gimmicky premise—is that even though they've got the trappings of fluff teen fare (and the marketing, branding, and pretty faces), neither drama forgot to have a story and a spirit, and contained tons of warmth and soul.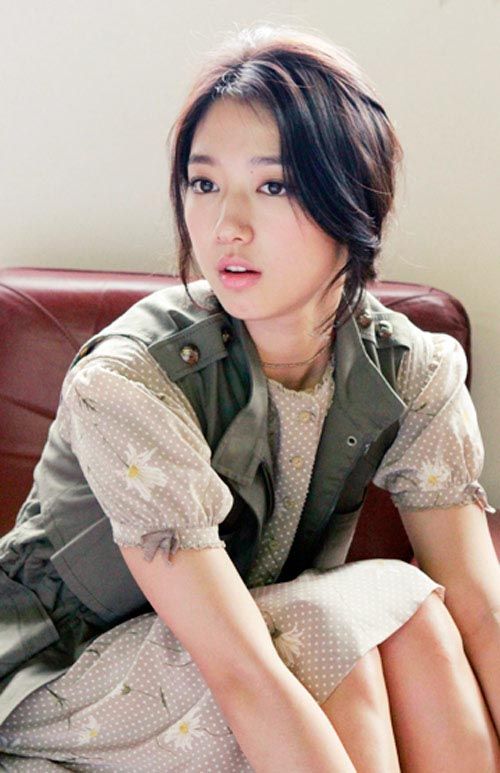 Thus I'm hoping third time is also a charm, and am optimistic that this one will also have a solid story to carry the drama. It's based on an existing webtoon called I Steal Peeks At Him Every Day. It's an upbeat, lively story that centers around an "urban Rapunzel" type character, played by Park Shin-hye, who is locked up in her lonely tower. Figuratively speaking—at least I hope. She sneaks peeks at her neighbor across the street, and gets caught by a different guy, played by Yoon Shi-yoon. Sold and sold. I'm hooked already.
These names crack me up; Park plays Go Dok-mi, which is a play on the word for lonely (go-dok). Yoon's flower boy character is named Enrique Geum. Okay, there's nothing inherently funny about his name, but the juxtaposition amuses me. Enrique is a fashionable creative director with charm out the wazoo and "superior genes." Heh.
I'm super excited about this pairing, because I love both actors but not always all their roles, and this one sounds like it'll be great for both of them. I'm crossing fingers and toes that they have chemistry, because they sure have the comedic and dramatic chops. I really enjoyed Yoon Shi-yoon in his last drama, Me Too, Flower, and he was good in it—but that drama nosedived and I couldn't shake the feeling that he was terribly miscast. Park, too, has had some winners and also some… not-so-winners. So I'm hoping this one succeeds.
Plus! PD Jung Jung-hwa is back in the game, after having directed Flower Boy Ramyun Shop. Screenwriter Kim Eun-jung is penning the scripts; her film credits include Coffee (Gabi) and Hwang Jini (the 2007 movie).
Just like the first two series, Flower Boy Next Door one will be a Monday-Tuesday romantic comedy running for 16 episodes. It premieres on January 7, 2013. *circles date in red ink* *decorates with flowers and hearts*
Via Segye
RELATED POSTS
Tags: cable programs, Flower Boy Next Door, Flower Boy Ramyun Shop, Park Shin-hye, Shut Up: Flower Boy Band, Yoon Shi-yoon