2012 Blue Dragon Film Awards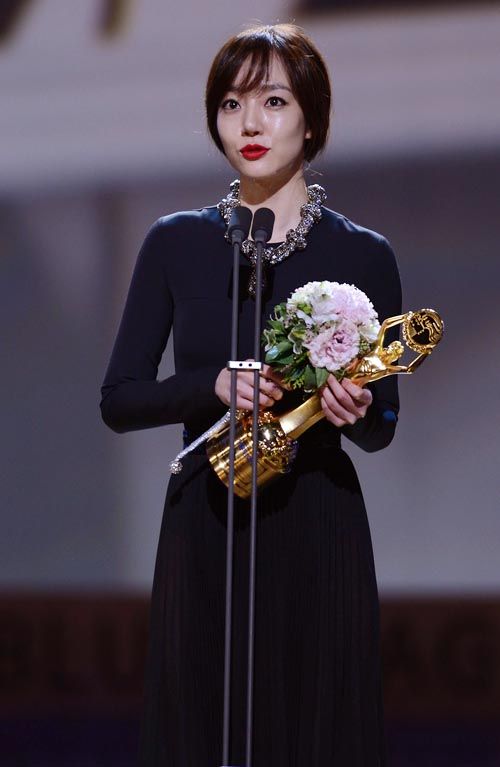 The 2012 Blue Dragon Film Awards were held last night, and now it feels like we've entered awards season in earnest, following up on last month's Grand Bell Awards.
There were a few of the same names and titles, but on the whole, I'd say the Blue Dragons were much more in line with what I would've projected, rather than being juggernauted by one film. I'm all for a film winning all the prizes it's due, but there was something strange about having Gwanghae so overwhelmingly dominate the Grand Bells (it swept 15 of 23 categories!); it's nice to see the love spread around with this ceremony.

WINNERS LIST
Best Picture: Pieta
Best Director: Jung Ji-young (Broken Arrow)
Best Actor: Choi Min-shik (Nameless Gangster)
Best Actress: Im Soo-jung (All About My Wife)
Supporting Actor: Ryu Seung-ryong (All About My Wife)
Supporting Actress: Moon Jung-hee (Deranged)
New Actor: Jo Jung-seok (Introduction to Architecture)
New Actress: Kim Go-eun (Eun-gyo)
New Director: Kim Hong-sun (The Traffickers)
Cinematography: Kim Tae-kyung (Eun-gyo)
Lighting: Hong Seung-chul (Eun-gyo)
Music: Jo Young-wook (Nameless Gangster)
Art Direction: Oh Heung-seok (Gwang-hae, The Man Who Became King)
Technical effects: Yoo Sang-sub, Jung Yoon-heon (The Thieves)
Screenplay: Yoon Jong-bin (Nameless Gangster)
Short Film Award: Kang Won (Night)
Box Office Audience Award: The Thieves
Popularity Award: Ha Jung-woo (Nameless Gangster), Bae Suzy (Introduction to Architecture), Kim Soo-hyun (The Thieves), Gong Hyo-jin (Love Fiction)
First he gets a special judges award at Grand Bell, now it's Best Picture for Kim Ki-duk. Now that he's no longer the black sheep of Chungmuro, will his movies get any less hard-edged and aggressive? Or will we see him go even darker than he has with his achievement this year in Pieta? He's here with his leading actress Jo Min-soo, who was nominated for Best Actress (though she didn't win).

The actress award went instead to Im Soo-jung, who's having a strong run with All About My Wife. I loved her look at the Grand Bells, but this ensemble, not so much. I get what she's going for, and she pulls off the effect convincingly—it's gothic and dramatic, very Angelina Jolie at the Oscars, with her red lips and white face and dark everything else. But I'm not a fan of that effect, and the hairdo seems so matronly.

Ryu Seung-ryong wins again! He not only won at the most recent Grand Bell Awards, but also in this very category at last year's Blue Dragons. This year was for All About My Wife, while last year was for Bow: The Ultimate Weapon. When you're such a perpetual name on the awards list, do you ever run out of things to say in your acceptance speeches?

Gong Hyo-jin was another nominee in the Best Actress category (for Love Fiction), and it took me a moment to decide what I felt about her gown, which actually looks a bit more eggplant-colored in other shots. She looks great and I like the effect. I just feel like I've seen it before, I guess? It's one of the better gowns of the night, though, in my opinion.

Park Hae-il (Eun-gyo) is such a sexy bastard. He always has a movie in the running at these affairs, and often is up for a category himself.

Kim Haneul (last year's winner for Blind) tends to pick gowns that could very easily go boring, but keeps them on the side of elegant. It's a simple silhouette, but she looks awesomely pulled together, and I love her easy, classy hairstyle.

I can't imagine that the glamorous movie star and probably clotheshorse Kim Hye-soo (The Thieves), pictured here with Yoo Joon-sang), would wear the same gown to more than one awards show. Thus logic dictates that she must pick new gowns that somehow all look just like each other. Does she have a walk-in closet at home dedicated solely to long, slitted, boat-necked black evening gowns? Would that be awesome, or a little bit creepy?
Omg. That strut. The confidence. The crisp tux. The Superman hair.
Work it, Kim Soo-hyun, work it.

Like Kim Soo-hyun, Kim Hae-sook was at the awards for The Thieves, and in fact arrived with director Choi Dong-hoon. It wasn't a huge winner (though it had a number of nominations, including both Kim Soo-hyun and Kim Hae-sook, as well as Best Picture and Director), but picked up a few lesser awards.

Jo Jung-seok won a Newcomer award for playing the "Napdeuki" sidekick in Introduction to Architecture. Aw, he looks like such a mischievous little boy on the red carpet.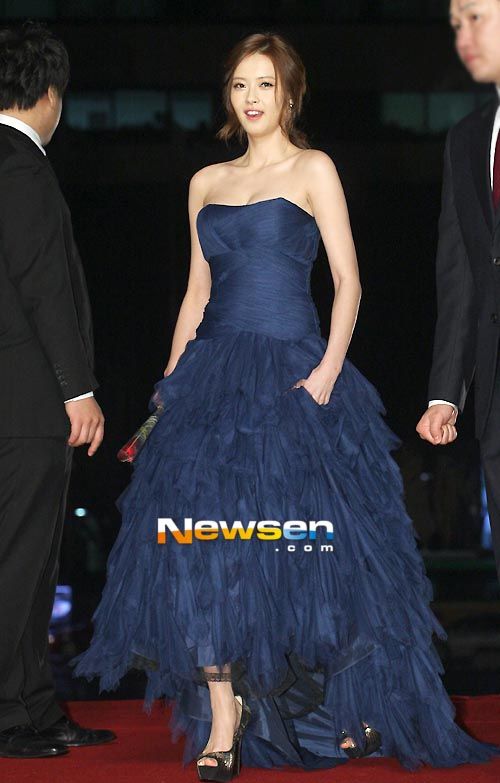 Go Ara was nominated as a newcomer for Papa, and steps it up a notch with a regal dark blue gown. Just the kind of thing a starlet might wear on the cusp of graduating to more mature leading roles.

The good: Park Bo-young (Wolf Boy) finally got a new dress! The bad: It's… this one. I actually like the bright sunny color and the concept of a flowy, strapless number, but this looks sloppy to me. I do like bias cuts and asymmetry in hemlines, but not when you can so clearly see the underlining, which makes this look unfinished. Like you've got a harried designer backstage who just glued seams together and is chewing fingernails in agitation, madly hoping the thing stays together for the rest of the night.

Aw, Lee Kwang-soo, adorkable as usual. He was here as a Newcomer nominee as well (for All About My Wife), though I'd argue that it's his drama Nice Guy that had the bigger profile.

I do not like this dress. Kim Min-hee (nominated for Helpless) likes to experiment with avant-garde and modern designs, and she looks pretty comfortable wearing all sorts of crazy things. I don't think this one has that zing, although is saved from being too boring by the back.

Jaejoong (Jackal Is Coming) is back to looking like his usual fabulous idol self, with the pop-star haircut and the smart tux. Only, why the red eyes and the ghost-white face? He should really play a vampire. Preferably a vampire idol. Yes, I know they did that show, but you've got to admit that alien idol is a sadly underrepresented slice of vampire canon.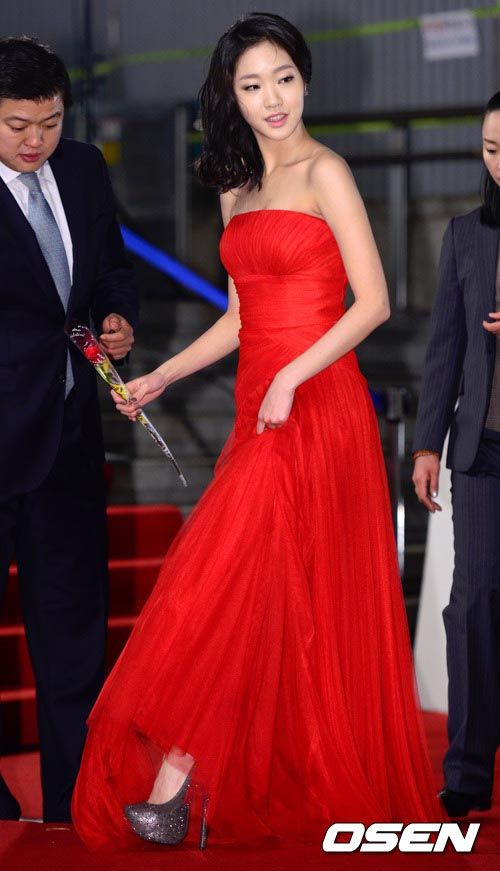 Kim Go-eun arrived at last month's Grand Bells looking like the fresh-faced ingenue at her debut; here she picks up another award for Eun-gyo, the sleeper film with good buzz, and arrives looking every bit the next-generation leading lady. I have arrived!, seems to be the unspoken message.

Red was a popular choice, which I think was worn to good effect by most of the ladies who opted for it, though I'd give the crown to Kim Go-eun. Hong Su-ah (I Trusted Men) opts for a more structured look, with the high neck and peekaboo bust.

More red for Bae So-eun, a rookie actress who started in theater. Again, I like the look; I just think you can't top the fresh-faced buzz actress who's on a winning streak on the award circuit.

Remember when Kim Sae-ron showed up to all those awards ceremonies with Won Bin the year that Ajusshi was out? This time she's on the arm of her My Neighbor co-star Kim Sung-kyun. Adorable.

Not a huge fan of the fur stole on Jang Young-nam (it ages her), but I love her anyway. She was also in My Neighbor, and nominated for it in the supporting category.

Moon Jung-hee took home that Supporting Actress award instead, for Deranged. She's looking flawless in her chic blue gown.

Kim Dong-joon may be an idol (ZE:A), but he's also got a budding acting career, with Company Man being his latest project. And yes, I totally see the Han Ga-in comparisons.

Park Ha-sun and Yoon Sang-hyun look so cute together, and I'm pretty sure their new movie Vocal Clinic (where she's basically tone-deaf but wants to sing) is going to be adorable. They've both got the ability to throw themselves whole-heartedly into their comic characters without shame, and that makes them winning. As a bonus, I love her sparkly pink gown (and gold heels).

I am willing to bet cash money that Park Shi-hoo practices that pose in the mirror every day. It's probably part of his daily regimen, along with the sit-ups and ab flexes. I have seen it at every red carpet and photo op he's done, like, ever. It's kind of awesomely predictable.

Hwang Woo Seul-hye (I Need A Fairy) opts for a flowy white gown, kept interesting with the black belt.

Han Hye-jin arrives with Jin Gu, looking crisp in her slate-gray (or is it periwinkle? Pictures will lie) gown. I love the detail on the straps.

Ha Jung-woo, I want to iron your pants or maybe swap them for ones that fit! Of course, that would entail removing said pants. There's no way this plan is not good.

Ahn Sung-ki, still churning out great work, year after year, movie after movie. This time it's for the based-on-a-true-life legal thriller Broken Arrow, which earned him a nomination in the Best Actor category.

Gong Hyung-jin (SNL Korea), lookin' sharp. And happy—though doesn't he always? It's one of the things that makes him such fun.

Yoo Yeon-seok is a name I'm thinking I'll have to take notice of—he's a virtual unknown against two super-popular stars in Wolf Boy, but he's drawn notice for the role. *Makes mental note*

Han Ye-ri drew notice for her role in As One, the heartwarming movie about table tennis players from North and South Korea, playing on a joint team that was based on a true story. It earned her a Newcomer nomination, though she didn't win.

Aw, Jo Sung-ha. He's the poster boy (man?) for the term "flower boy middle-aged man," which is a terrible term to begin with, even though I see how it works in theory. But, you know, sometimes you don't have to coin that word, when it's a dumb word. I wonder how many tuxes this man has in his closet. When you go to this many awards shows over so many years, and you're always rockin' something a little bit different, they've got to add up.

Jung Ji-yoon isn't a name I'm familiar with, but her movie The Traffickers put in a strong showing, and she was up for the Newcomer Award as well as the disappeared woman whose husband (Daniel Choi) goes on a desperate hunt to track down.

Kim Sumi was a winner at last year's awards. I love her penchant for gowns you might expect on starlets one-third her age, but that she's totally at ease wearing.

I love Ma Dong-seok (My Neighbor), who always plays those lovable gruff types. Or gangsters. But mostly lovable gruff types.

Yoon Jin-yi had a breakout playing young Meahri in A Gentleman's Dignity, and looks adorable and fresh in her shimmery peach. The beading is lovely, and accessorized nicely with lots of sparkle.

Yoon-ju is another new face, most recently of the crime movie Dirty Blood). I feel like her gown is a variation on Gong Hyo-jin's, though she wears it more awkwardly. It's just a bit messier, like there's too much going on—ombre skirt, sparkle detail, asymmetry, stiff bodies, sheer bottom… I liked Gong's ultimately, but I think I'm gonna have to pass on Yoon-ju's.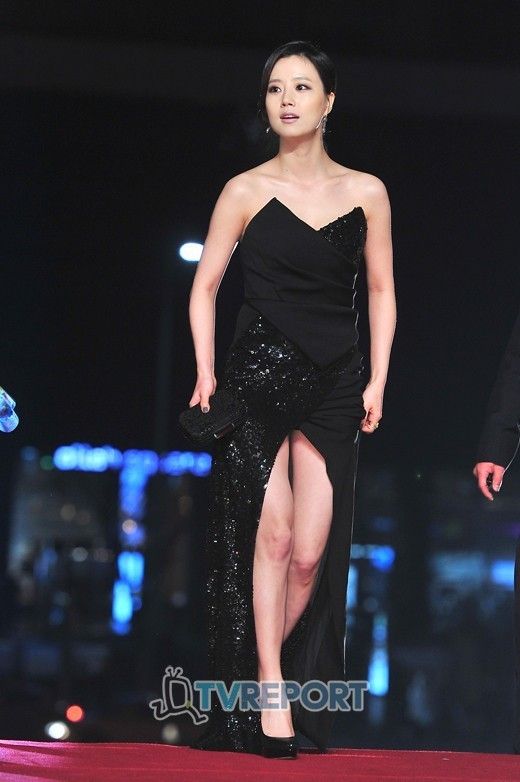 Okay. To be honest, I don't like this gown of Moon Chae-won's. But I do like the effect, or maybe it's how she wears it. She's been on such a hot streak, and she's riding that wave with confidence. Recall how she won at the Blue Dragons last year (Bow: The Ultimate Weapon), and that was also after having a smash drama with the lush fusion sageuk The Princess's Man, and now she can add the character melo Nice Guy to her string of successes.
So yes, I suppose I'll give her odd-fitting, half-matte, half-shiny, slitted-up-to-THERE black gown a pass, since she looks so fabulous anyway, topped off with great hair and makeup. But I still hate the shoes. Bo-ring.
Black was the other popular trend of the night, but Suzy opts for a cute short look. I was totally fine with her run of cute white party gowns for her big first year in movieland, but I love that she's moved on, while still retaining her freshness. Funny how I don't hate the black heels on her, though it's probably because it works so well with the little black minidress.

More black on young Joo Da-young (Feast of the Gods), who has suddenly started looking like a young lady! She's only 17 years old, and has been steadily working in child roles, but all of a sudden she's shot up and put on heels and looks like a grown-up, almost.

Park Hyo-joo (The Chaser) wears black with the other big trend: huge slits. I'd point to her as an example of the slitted look down well, since it's balanced with the boxy shoulders and her tall, strong posture.

It's a little less successful on Uhm Jung-hwa (nominated for Dancing Queen), though I think that's more the fault of her makeup and the vaguely leopard-print sleeves than the slit or the shape of her gown. I know she's known for her strong fashion choices, but the makeup is garish and I can't love this look. Boo.

But the black slit is worse on Kwak Hyun-hwa (Runaway Plan B), who… is only 31? Wow, that look ages her by a decade at least. It's the combo of the slit and the plunging neckline and the shiny metallic stripes that tip this one into tacky territory…

Speaking of tacky… here's Kim Ji-young (May Queen), who…? I… can't even about this dress.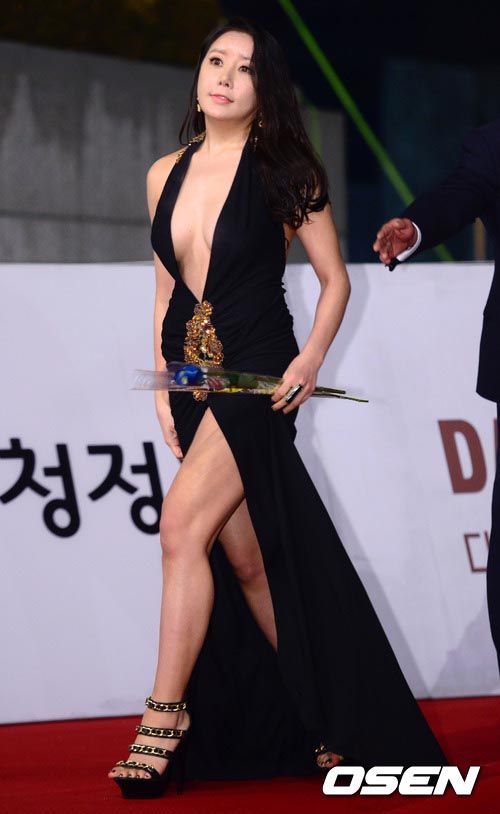 And yet, it's nowhere near as bad as the one worn by Ha Na-kyung (New Gisaeng Story), who was clearly out to get noticed one way or another. That is not a look that makes you wonder, "Does she know I can see her underwear?" It's a dress that screams, "Duh, otherwise what's the point?"
In a hilarious/sad/ironic twist of fate, it turns out Ha Na-kyung got buzzed about after all, but perhaps not the way she intended—she took a tumble on the red carpet, and THOSE were the unsightly images splashed all across the interwebs. Oops.
Via Newsen
RELATED POSTS
Tags: Ahn Sung-ki, awards, Go Ara, Gong Hyo-jin, Gong Hyung-jin, Ha Jung-woo, Han Hye-jin, Hong Su-ah, Hwang Woo-seul-hye, Im Soo-jung, Jaejoong, Jo Jung-seok, Jo Min-soo, Kim Dong-joon, Kim Go-eun, Kim Hae-sook, Kim Haneul, Kim Hye-soo, Kim Ki-duk, Kim Min-hee, Kim Sae-ron, Kim Soo-hyun, Lee Kwang-soo, Moon Chae-won, Moon Jung-hee, Park Bo-young, Park Ha-sun, Park Hae-il, Park Hyo-joo, Park Shi-hoo, Ryu Seung-ryong, Suzy, Uhm Jung-hwa, Yoon Sang-hyun