Full House Take 2: Episode 10
Lots of development for our main couple and yes, Tae-ik can actually smile. A few days overseas can certainly do wonders as the boys prep for the battlefield. The war is just over the horizon now and I'm afraid that we won't see this beautiful smile for much longer.
EPISODE 10, PART 1
Kang-hwi lies in bed, straining his eyes towards the ceiling. He mulls over the doctor's warning about his deteriorating vision and Lee Joon's promise of a comeback before he heads out.
Meanwhile, Lee Joon assures his Chinese investor that things are going smoothly which they clearly aren't. Is the puppeteer stressed that the marionettes won't do his bidding? He tasks his secretary to track Kang-hwi down but there's no need since Kang-hwi shows up at his door anyway.
Kang-hwi wonders why Lee Joon is so adamant about a comeback when he clearly knows the prognosis of his condition. He isn't at all surprised to hear the answer, I need you now and we'll worry about that later.
Lee Joon piles on the compliments and even plays the sympathy card to appeal to Kang-hwi. Those superficial words fall flat but then Kang-hwi tersely agrees to the comeback on one condition: Man-ok must be his coordi.
That's not something Lee Joon is ready to bargain but Kang-hwi remains firm. Once he leaves, Lee Joon breaks into devilish laughter, then stops when a sudden realization dawns on him.
As for Kang-hwi, he searches the house for Man-ok and sits in her empty room. He notices the sketch of Tae-ik on her desk and recalls her frantic concern for Tae-ik. He stamps a book on top of the drawing.
Back in Japan, everyone sits down for tea but Tae-ik knows exactly why they're here and says that he won't be returning to Korea. He tells Bum-soo and Man-ok to take the first flight back in the morning.
He gets up to leave and Man-ok declares that if Tae-ik doesn't leave, she won't either. Turning to Tae-ik's aunt, Man-ok assures her that she'll earn her keep. Her declaration along with the rest of the day's events leaves Tae-ik restless later that night.
Early in the morning, Go-dong finds Kang-hwi sleeping on the couch and relays that they'll be traveling to Japan later that afternoon. Kang-hwi asks after Man-ok's whereabouts and Go-dong informs him that she and Bum-soo went off looking for Tae-ik. Unfortunately, he's lost contact with them as of yesterday.
On her morning jog, Man-ok spots Tae-ik climbing into his car and she calls after him. Too bad his headphones muffle her yelling. I hope you take those off when you're driving, Tae-ik. Safety first!
She's somehow able to tail him with her bike to the docks and onto a ferry. There, she searches the decks for Tae-ik, and smiles when she sees the man with the permed hair staring out at the ocean.
Only when he turns around… it's not him. HAHA. There's another person with that hair? I feel so bad for you right now.
She continues her search and finds the real Tae-ik in the cargo hold, sitting in his car with his eyes closed. So she raps on his window and spooks him. He freaks out.
Inside the car, Man-ok brightly tells him that she followed him because she thought he might be running away. That earns her a scowl from Tae-ik who warns her that he'll drop her off in the middle of nowhere so it's best that she gets off now.
Man-ok isn't easily deterred and she drops that it's her first time in Japan. Can't he take her sightseeing? Tae-ik scoffs at this but he contemplates her offer that she'll pay lunch before getting out of the car.
Tae-ik gets all huffy but it isn't because he's leaving – he wants her to drive instead. HA.
They drive to a tombolo and Man-ok excitedly peers over the written messages hanging on the branches. Her excitement makes Tae-ik smile (aw) and he walks over towards her. With a serious expression, he says, "I love you. Stay by my side forever."
His sudden confession makes Man-ok anxious and before she can stutter a response he cuts her off. Then Tae-ik leans in and Man-ok closes her eyes…
…and then he raises an eyebrow, "Why are you getting all red and why are your eyes closed?" Pffft. "I was just reading what was written on the shell," he adds. Suurree.
He won't go unpunished for his prank and she grabs him by the arm, ordering him to follow her.
They visit a nearby shop and pick up a shell to hang on the tree. Tae-ik practically scowls at the simple message: "Growth." All that money just for a word?
Man-ok explains that it represents growth as a person and as a coordi. She calls him a petty cheapskate. But it turns out the shell cost them a pretty penny and Man-ok gapes at the price, "Why didn't you say so?" Tae-ik: "Who was the one that threatened that she'd cry?" Touché.
Man-ok suggests that they collect seashells and sell them and Tae-ik walks away, scoffing at the idea. As they leave, we hear Man-ok still looking on the bright side. She mentions that they should have bought one for Tae-ik too.
He remarks that he doesn't believe in participating in such superstitious activities. And we get a close-up of another shell that reads: "To protect my loved ones."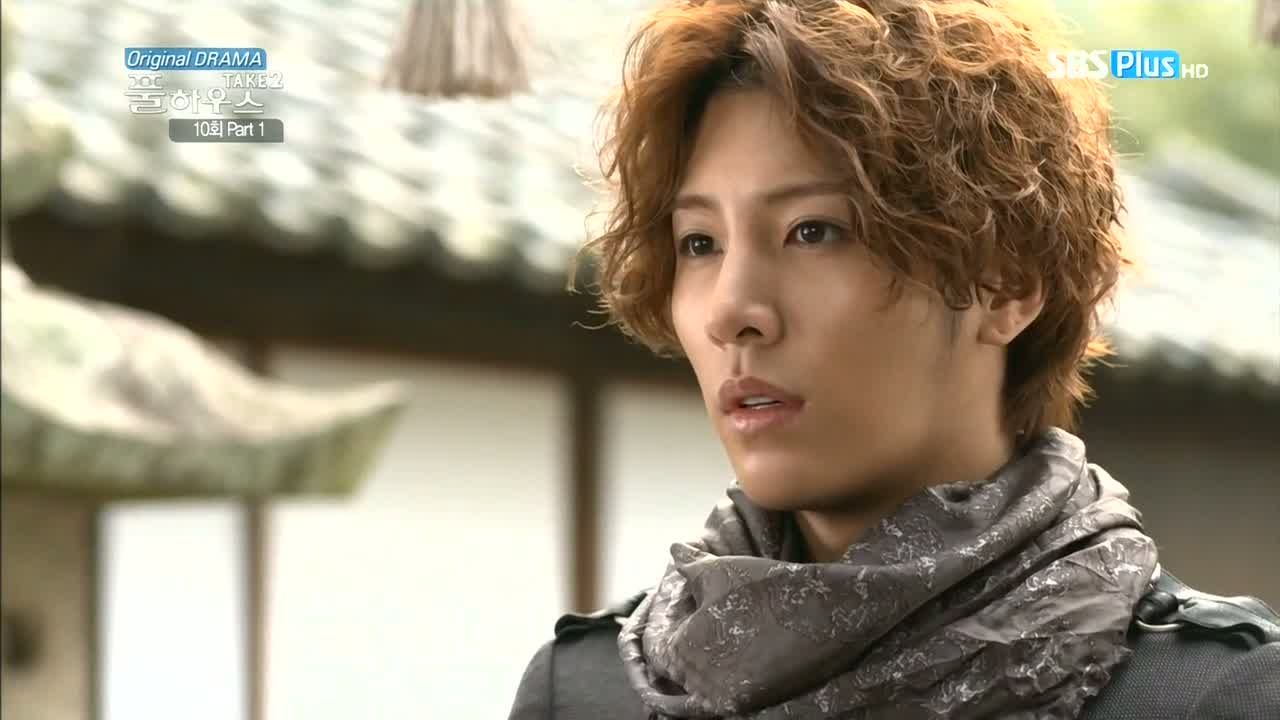 They sit down to watch an outdoor play when a man asks in Japanese if they're on their honeymoon. Man-ok happily says yes even though she doesn't understand. The man then points them to a shrine – they'll be forever happy if they make a wish there.
So Tae-ik slips away to pray by the shrine as Man-ok looks on.
As they take a walk, Tae-ik stops to ask why Man-ok came all the way to Japan to come look for him. She hesitates and then answers that he would have found some way to make it her fault if she didn't. He assures her that it's not about her so she needn't worry.
She figures that she's not someone significant enough in Tae-ik's life to worry about. There's no reason for her to think otherwise and Tae-ik stares at her, searching her face before walking off with a grimace.
Soon they're back on the ferry, sitting in the car and Man-ok is asleep in the passenger seat. All Tae-ik can focus on, however, are those darned alluring lips of hers. So he gives into temptation and leans closer, now just inches away… and her eyes flicker open. !*@#&!*%
Well, this isn't awkward or anything. It doesn't register to Man-ok why his face is so close to hers (O rly?) so Tae-ik feigns seasickness to salvage the situation.
They go out to the deck to get some air and as Man-ok takes in the sights, Tae-ik frets that everything's dark. Well duh, you're wearing sunglasses, Man-ok says.
She takes them off for him and rambles on about the beautiful scenery but Tae-ik just continues to stare at her. (Eep!) He finally asks again if there wasn't more to the reason why she came here for him. She asks, "Then what about you? Why did you give up on Full House–?"
And at that moment, Tae-ik cuts her off with a kiss.
To say things are awkward back at the teahouse is an understatement as the two avert their eyes at the table. Bum-soo picks up on the tension and then hilariously asks, "Did you two fight again?" If by kiss you mean fight, sure.
Mom notes how pretty Man-ok is, a compliment that makes her blush. Bum-soo decides to let the incident drop for now and turns on the TV. And who should be featured but Kang-hwi and Se-ryung who have just arrived in Japan.
We see the two arrive at the film festival together later that evening and smile wide for the camera. It's all an act of course, and neither hide their hatred for the other once they're alone.
Lee Joon pulls Se-ryung aside and Go-dong happily picks up a call from Bum-soo. He fills Man-ok in on the developments and insists that Man-ok find out why Kang-hwi agreed to work for Lee Joon again. She agrees to see him tomorrow in secret.
Elsewhere, Tae-ik broods alone about Kang-hwi and Se-ryung's arrival.
Back at the hotel, Kang-hwi asks if Go-dong knows why Man-ok came to Japan. He hesitates before answering that she came with Bum-soo to search for Tae-ik. Kang-hwi's expression darkens at this answer.
Tell me – how is a Daffy Duck hoodie NOT conspicuous? He first approaches her speaking Japanese before revealing himself and she lights up, glad to see him.
They go shopping together and when Kang-hwi offers to buy both hairpins she's mulling over, she refuses. Man-ok tells him that her grandfather told her that someone who wants everything is greedy and that greed will lead that person to eventually lose everything.
Kang-hwi ponders over the other (and in my opinion, the prettier) hairpin before picking up a flyer.
That leads them to an interesting spot in the park where their voices echo into the distance. They take turns yelling into the air and Kang-hwi shouts, "Jang Man-ok is prettier than the actress Jang Man-ok!" Aw.
He turns to her and thanks her for being there through the difficult times. "In the future, will you stay by my side like you are now?"
EPISODE 10, PART 2
We backtrack to when Kang-hwi surprises Man-ok by the shore. This time, we get an added scene and Kang-hwi takes her out for udon and points at the shrimp tempura. She should consider herself special, Kang-hwi notes, because he doesn't share this with just anyone.
She happily digs in and then asks if Kang-hwi tracked down the recorder yet. She notes his darkened expression and quickly adds that if he did, then there would have been no reason for him to come to Japan with Lee Joon.
Kang-hwi changes the subject, suggesting that they go shopping afterwards.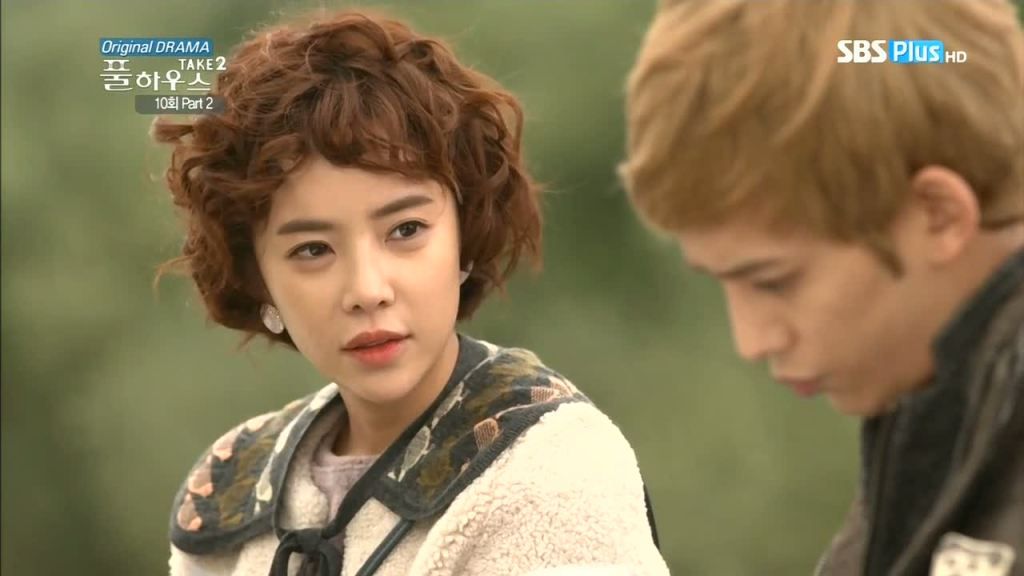 Kang-hwi continues to evade her questions as they sit at the park and Man-ok asks if he really isn't going to answer why he's here and Kang-hwi sighs, "I'm not asking either."
He won't ask why she's here in Japan so he asks the same from her. After an awkward pause, he pipes up that they should go sightseeing. So then we replay the last scene of the previous episode (We're sure getting a lot of overlap in this half.) along with Kang-hwi's request, "Will you stay by my side?"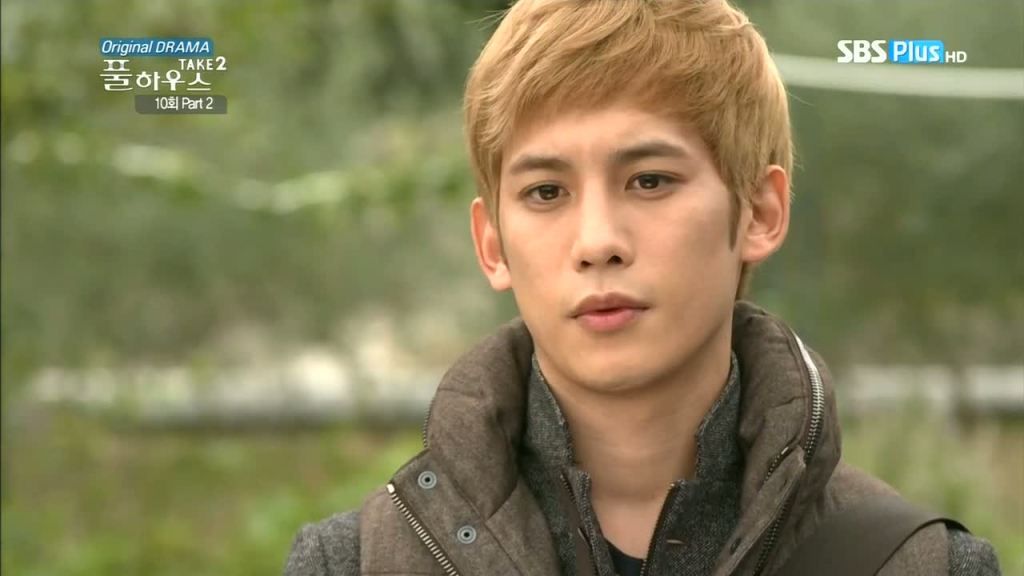 Man-ok pauses and before she can answer, her phone rings. She slips away to take the call. Kang-hwi's phone rings too and it's Lee Joon who reminds him about an important dinner with the press later that evening.
Just from Kang-hwi's expression, we can tell that it's Tae-ik who's calling on the other end. I suppose it is a bit repetitive to state that it is Tae-ik, yelling that Man-ok had promised to earn her keep, which she clearly isn't doing.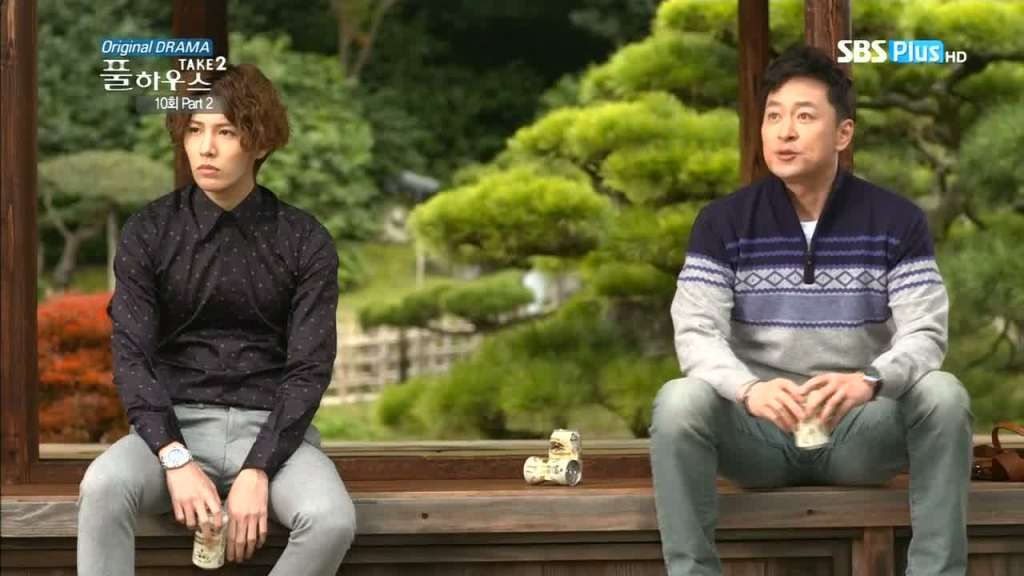 Tae-ik shares a drink with Bum-soo who tells him that it's time that Tae-ik returned. He'll help Tae-ik make a fresh start to which Tae-ik scoffs in disbelief. Bum-soo insists that he's different from Lee Joon but in Tae-ik's eyes, nothing's different – they're all businessmen who sell people.
Bum-soo disagrees – he's never thought that – and furthermore, he knows what they really want. Tae-ik asks what that is.
"You said that you didn't become a singer because you wanted to, right? You were dragged into it because of money, your house, and your family, right? But that's not it. You want to stand on stage again, don't you?"
He tells Tae-ik to stand on that stage and get it all back: fame, Full House, and the person he loves. "Go back and take it back. Through your own strength. That's what you have to do."
His words impact Tae-ik but then the mention of his fans break him and Tae-ik hollers that he doesn't need any of it. He stalks off.
Tae-ik retreats to his room and Man-ok knocks on the door, drinks in hand. He asks, "Is that a trend these days?" HA.
She plops down next to him and hands him a beer; it's her last night here so surely they can have a drink together. Tae-ik reminds her of her earlier words that she wouldn't leave unless Tae-ik did and Man-ok sheepishly admits that she can't change her flight. His face reads: Are you kidding me?
A six-pack later, Man-ok asks in a slurred voice why Tae-ik won't return to Korea with them tomorrow. Man-ok swings back and forth in a drunken state, saying that she had to scrounge money she didn't have, to come to Japan.
But Tae-ik takes issue to how she addresses him as, "You" and "rude bastard" and Man-ok just lets out a drunken giggle. Then she pokes him, calling him "rude bastard" again and again. Omg, I kinda love drunk Man-ok.
She murmurs that Tae-ik's fortunate to have so many fans who love him and then in a raised voice, she adds, "Is it a crime for your fans to love you?"
He figures she's practically gone insane now and then Man-ok takes his face in her hands. She admits that he's good-looking before she collapses onto his lap.
Tae-ik takes a stroll outside and thinks of the fans who are awaiting his return. Then he sees his fans outside the teahouse, chanting his name, and his eyes well up with tears, moved.
He breaks down, crying.
Man-ok finally replies to Kang-hwi's text that he has something important to tell her the next morning, telling him that she'll be in touch once they're in Korea. Kang-hwi beams.
Bum-soo and Man-ok say their goodbyes to Tae-ik's family and Mom whines that she wants to go back with them. Man-ok takes her by the hand and tells her that Tae-ik will take her back with him soon.
Aw, I know you mean well Man-ok, but I don't think it's helpful to dole out false hope there. Tae-ik doesn't see them off.
That's because he's already at the airport, his bags packed. Aww, I knew you'd come around! Once they're inside, Man-ok asks with a smile what he'd like to drink. He curtly tells her not to smile lest he become more attracted to her. Hee.
She keeps smiling and he gives her his drink order in his usual prickly manner. Man-ok happily skips away, calling him "Tae-ik nim." He lets out a small smile.
Kang-hwi hangs back and he spots the two, smiling and laughing together on the floor below. There's barely enough time for his heart to break into pieces before Go-dong calls him over.
He doesn't even have the energy to argue with Lee Joon but reminds him that should he back out on his promise, he'll disappear as soon as they land. Let's admit it – I just like watching Lee Joon squirm.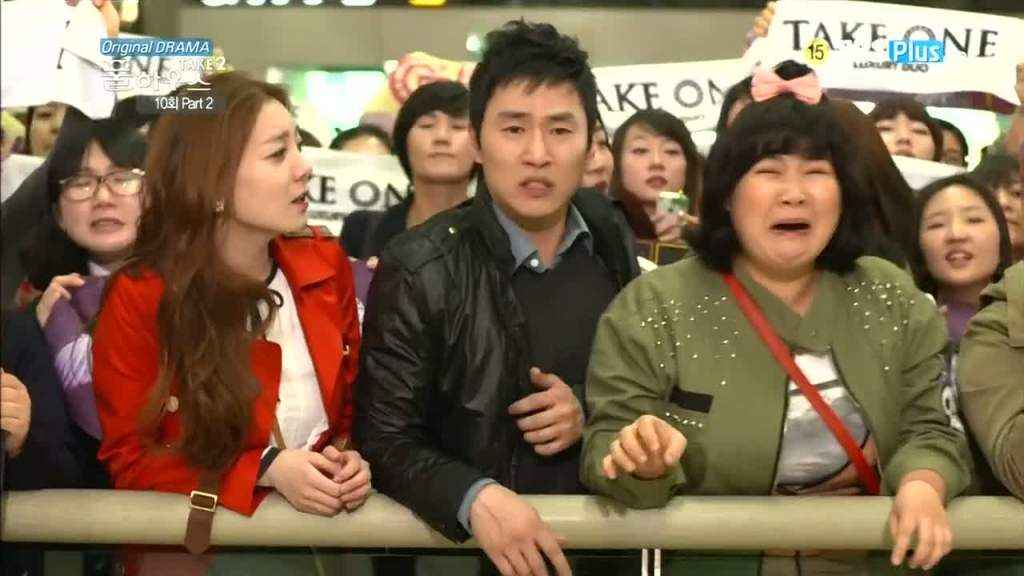 There's a crowd of fans awaiting Kang-hwi's epic return, Reporter So and crew included. Ga-ryung's near tears and then Reporter So wonders what the big deal is.
Dude, you're surrounded by fangirls; are you asking for a death wish?  As expected, they go crazy once Kang-hwi steps into view. Conversely, Tae-ik gripes over his disguise: an old fashioned hat. The alternative, Man-ok's scarf, doesn't appease him either.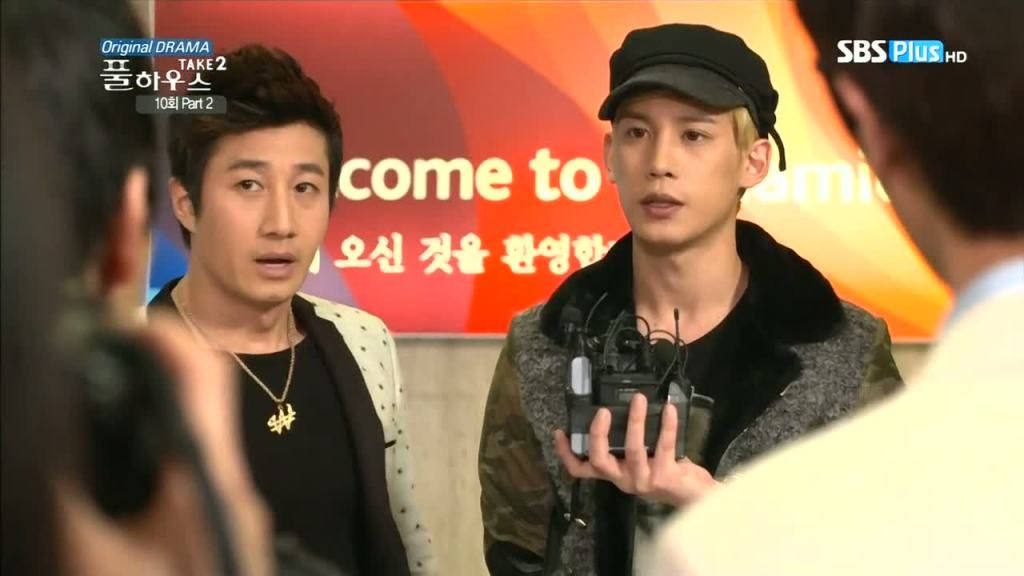 Kang-hwi accepts questions from the press. He answers politely – that the rumors of a love triangle were false; that he took some time to reflect. One reporter asks if there's an association between Kang-hwi's comeback and Tae-ik's contract engagement.
They're stuck between a rock and a hard place. Lee Joon steps up to answer but Kang-hwi speaks before he gets the chance, stating that they're separate incidents. He apologizes to their fans once more.
Kang-hwi's crowded exit becomes more hilarious when Tae-ik exits to little to no fanfare. Bum-soo wonders if it was pointless to wear a disguise.
Lee Joon suggests to his stars to move somewhere that's more comfortable and both decline, saying that they're more comfortable where they are.
The problem is Tae-ik, who's homeless now that Lee Joon has taken back the house. Never fear because he can stay with Bum-soo and he invites them into his humble abode.
It's a complete mess with dirty dishes stacked in the sink, empty food containers, and the floor is littered with clothes and old newspapers. Tae-ik reels from the smell and says that he'll stay in a hotel.
Bum-soo basically tells him that beggars can't be choosers and staying at a hotel will only draw attention to themselves. Man-ok worries if Tae-ik will be all right staying in the pig sty and Tae-ik tells her that he'll be fine.
Once outside, Man-ok gets a call from Lee Joon, but we don't get to see whether she picks up or not.
Bum-soo's snoring keeps Tae-ik up at night and then it gets worse – he catches sight of a cockroach. He screams in horror. It's like hell on Earth for the Hallyu star.
He calls Man-ok and says that this place is weird and crawls with "strange things." He complains that Bum-soo's house is "unlivable" and is horrified at her tips to either kill the bugs or get along with them.
Tae-ik asks if she's home and she says yes. He calls her out on her lie, but she's practically outside of her place, walking up the steps to the gym.
Man-ok's at the door when Tae-ik says, "I see you right now." She turns around and sees him sitting on the bench.
He walks up to her and says, "Let me… stay with you." Her eyes widen in surprise.
COMMENTS
Let him stay! Let him stay! Don't worry about the consequences right now – don't you remember what Lee Joon taught us? "I need you now and we'll worry about that later." One failed contract engagement and an overseas trip later, we finally reach possible cohabitation. Man-ok, you'd better say yes 'cause he's inviting himself into your place.
On a technical level, it sure feels that this drama's been recycling a lot of its cliffhangers. I'm pretty sure we have about a dozen endings where Hwang Jung-eum's facial expression looks like she's about to say, "Omo!" Sure the situation differs each time, but I've seen it so often that it's practically GIF-able. How 'bout a little variety, drama?
I love that our likeable characters (our main trio) were able to have their moment in the spotlight and our more unlikeable ones (Lee Joon and Se-ryung) took a backseat. The relationship took a big step forward with their first kiss but now it's just a matter of time until this coupling becomes the talk of the town again. Enjoy those happy moments now people, because shit is about to hit the fan, I'm sure.
It does break my heart that Kang-hwi's condition is only getting worse and it saddens me that he's back in Lee Joon's clutches. What I do like is that he now has some say in the matter because Lee Joon has no choice but to comply to his one condition. Gosh, it's so satisfying to see that man squirm a little. I can't wait until karma hits you like a boomerang.
Getting to see Tae-ik's backstory this week almost drove me to tears because OH MY GOSH – how much pain do these boys have to endure? Mom being alive threw me for a loop but he's so sweet to her and seeing him trying to protect what he loves most pangs my heart.
Now that he's not in Lee Joon's company anymore, he's become the ultimate underdog and I can't wait for him to rise above the corporate chains of the K-pop industry and come out on top. With a better updo anyway.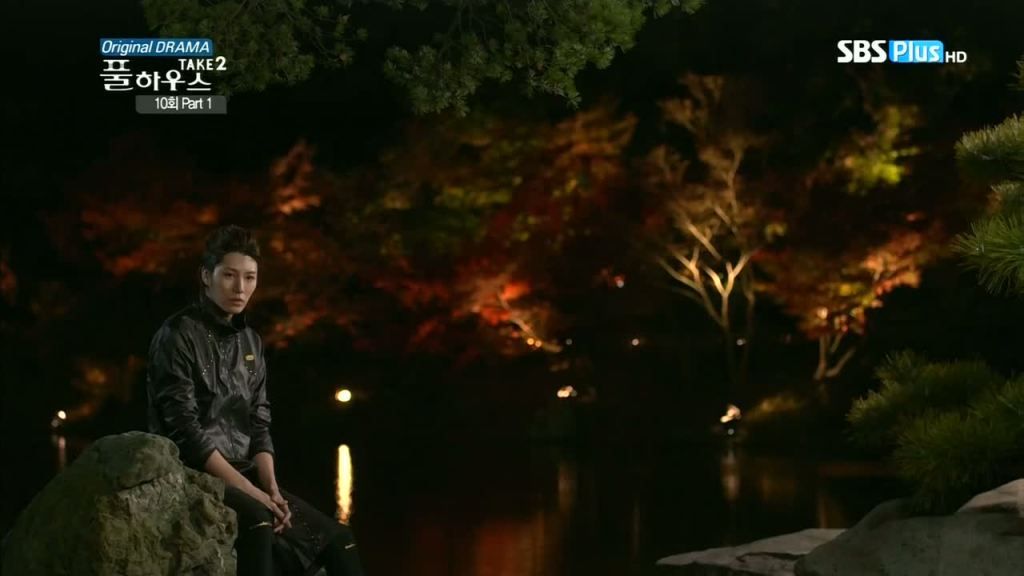 RELATED POSTS
Tags: featured, Full House Take 2, Hwang Jung-eum, Noh Min-woo, Park Ki-woong