Full House Take 2: Episode 11
Say goodbye to the hair! There's nothing more important than saying adieu to the hairstyle that has turned off millions. It's all anyone seems to talk about in the comments anyways, so hopefully the marked improvement on Man-ok's hairstyle will lessen the hate. Oh – there's plenty of cute moments too. But really – it's all about the haiiiirrr!
SONG OF THE DAY
Monday Kiz – "My Love" from Full House Take 2 OST [download] (Sound familiar? It's because they also sang "Goodbye My Princess" for Prosecutor Princess.)
Audio clip: Adobe Flash Player (version 9 or above) is required to play this audio clip. Download the latest version here. You also need to have JavaScript enabled in your browser.
Part 1
This series loves to give us at least 4 minutes of recap from the last episode, so let's go all the way back to when Man-ok receives a call from Lee Joon outside of Bum-soo's home.
She does pick up, and she goes to Lee Joon's office to discover that he wants her back as a stylist (for Kang-hwi of course). But Man-ok's got some guts: "I don't want to work for you anymore." Woohoo! Lee Joon reminds her that she has a debt to pay. You mean, the debt that was supposedly cleared if she acted as Tae-ik's fiancee?
Lee Joon laughs – what a naive child Man-ok is! In the entertainment industry, there's nothing more important than a signed contract – like the one stating that she must work for him to clear her debt. Verbal contracts hold no merit, especially if there's no witness.
Aha! But there is a witness – Tae-ik. But that's only if he's willing to come over and show his face to Lee Joon, and back her up. He'll give Man-ok a week to make her decision; if she comes back, she can pay off her debt, and if not then he'll see her in court. That sets Man-ok off, and she angrily throws her light (?!) suitcase on the sidewalk as she leaves, cursing Lee Joon out. She's Jang Man-ok, hapkido teacher, and she could flip you like a fried egg on a pan. Then she goes back and picks up her luggage again.
Fast forward, and we're right outside Man-ok's gym, where Tae-ik is waiting for her. So, can he sleep here for the night? Man-ok lets him in, and starts setting up a tent inside the gym. He's not staying in her room – oh no! It's her home, so he'll have to sleep wherever she tells him to sleep. On top of that, since he'll be staying for a few days, she might as well charge some rent.
Tae-ik's aghast – rent? He didn't charge her rent when she stayed with him. Man-ok: "That was different. I had no choice but to stay at your house. But you chose to stay at my house, so it's totally a different story." Truer words have never been spoken, and Tae-ik grudgingly agrees. Otherwise, she'll be kicking him out to Bum-soo's place with the cockroaches.
Man-ok hopes he can stay for a long time, and Tae-ik brightens up a bit – does she really mean that? Of course, because then it means she can make more money from him. Tae-ik's face is frozen, but you can tell he's disappointed in her answer. The two of them realize that the other was expecting a different answer, and they flashback to when Tae-ik kissed her on the boat. To avoid further awkwardness, Man-ok tells him to get ready for bed, and excuses herself.
Alone in her room, Man-ok beats some sense into herself, reminding herself that Tae-ik's a celebrity. Nothing good will come out of falling in love with him. He's a star to her, unreachable and high up in the sky, and potentially harmful once you get too close to it.
Back in Full House, Kang-hwi is yearning for Man-ok, who is his star. He walks in the dark following the path she marked out for him, when suddenly the lights turn on, and Se-ryung nearly has a fright until she realizes it's Kang-hwi by the kitchen. She notices a star sticker on the floor (ha!) but Kang-hwi stops her from throwing it away. If she throws out his star, he'll get mad at her. I hope this means he'll kick her out of the house.
It's a little sad to see Kang-hwi opt to stay in the basement Man-ok had decorated for him. He misses her that much.
Meanwhile, Tae-ik misses Man-ok too… in a different way. Unable to sleep, he calls up Man-ok in the middle of the night to tell her he's still afraid of cockroaches. Man-ok's too tired to fight, so she orders him to lie down and close his eyes. He does exactly that, but still can't sleep. So Man-ok teaches him a trick: put his heels together and tap his feet together. It will help him sleep faster. Tae-ik finds all of this quite ridiculous and would rather count sheep at this rate.
But when he's back in his tent, he tries Man-ok's method. HA. Feeling quite relaxed, he's ready to sleep… until he hears some critters outside his tent. Tae-ik: "AAAHHHH!"
The following morning, Man-ok wakes up to another phone call, this time from a distressed Bum-soo who has no idea where Tae-ik went. Man-ok realizes she forgot to phone him when Tae-ik went to her place. Rather than being suspicious over their relationship, Bum-soo is simply relieved that Tae-ik didn't run off again. He will try to find another agency that might sign on Tae-ik and then go pick him up from Man-ok's place.
Now awake, Man-ok then hears a ruckus in her gym. Tae-ik's ordered an extermination crew to clean out her place. He needs to create "an atmosphere for my sensitive body." Pfft. The service is expensive though, and Tae-ik doesn't have money. He believes Man-ok, as the landlord, should pay for the the extermination. What?! Man-ok yells at everyone to stop and apologetically ushers the crew out. If Tae-ik wants a nice, clean place to live in, then he can clean it himself. She hands him a vacuum, which he has no idea how to use. Man-ok: "Clean the floors… and you may want to clean the windows too, since they haven't been cleaned in a while and they might be bad for you."
HAHA – that's how you get free labor. In return, she promises to cook and do his laundry. If he doesn't agree to this plan, he can move out.
Tae-ik cleans the gym, and collapses in his tent exhausted. Man-ok cheerfully comes by to check on him. If he's done, then they'll grab something to eat. Tae-ik doesn't want to go out, in case they get caught.
But Man-ok is the master of disguise. Except she just puts him in a striped blue sweater with the hood up, tightened around his face. Uh – ok… They go to a local, small restaurant for some stew, and Tae-ik wrinkles his nose in disgust at the inedible-looking food. He's not convinced by Man-ok's assurances that the ingredients are organic, so the grandma chef slams her knife down on the cutting board and yells at him to get out. Tae-ik is so scared of this cursing grandma that he finally takes a sip of the stew… and his eyes widen at its delicious flavor. Of course, he plays it cool and says it's just "not bad."
They then go shopping at the market, where several of the stall owners mistake Tae-ik for a girl. HAH. Man-ok then notices that her local hair salon is offering 50% off on haircuts today, so she tells Tae-ik to go home first so she can get a haircut. OMG is this where the makeover will happen!? Wait, why can't Tae-ik just do it too?
Tae-ik grumpily goes home, only to find her student Joo-young inside. How the hell did this little kid get into the gym? Joo-young's afraid at first that Tae-ik is Man-ok's husband; he married her because she fixed his arm, right? Tae-ik firmly says he's not her husband. Joo-young cheers in delight, and he goes over to the dry-erase calendar board. On tomorrow's date, he writes, "Wifey's birthday."
Heh – Joo-young has such a crush on Man-ok that he plans to marry her when he grows up.
Tae-ik: How old are you? Don't you know how much older she is than you?
Joo-young: There's not much difference. Whether you're old or young, immature men are still the same. Instead of a husband, it's like raising a son.
Tae-ik: Who said such a thing?
Joo-young: My mom did.
Joo-young even wisely points out that Man-ok probably dumped Tae-ik because he didn't know her birthday was tomorrow. HAHAHA. I love this kid.
That same day, Lee Joon brings the Chinese fashion designer to Full House to have her meet Se-ryung and Kang-hwi. The designer, Hwa-ming, expresses her happiness at meeting Kang-hwi, while on the other hand, he looks quite uncomfortable. Hwa-ming wants to launch her new line 'Win' in Korea with Se-ryung and Kang-hwi as her models, but Kang-hwi respectfully declines: "I only want to focus on singing." He excuses himself, and Hwa-ming chases after him, addressing him quite familiarly.
Ohmigod – Hwa-ming is the older half-sister in China who was nice to him at the dinner table.
They walk around the estate, and Hwa-ming updates him on their father's fragile health. She was always curious about how he was doing, but Kang-hwi is very aware that other members in the family don't want them to stay close. Hwa-ming doesn't care – she wants to put him onstage, and wear her clothes.
A flashback to when they were children shows Hwa-ming's talent as a fashion designer. She makes a silk vest for him, which cheers the lonely Kang-hwi up. It's a perfect fit, and Kang-hwi considers her clothes his most favorite in the world. Likewise, Hwa-ming is happiest when her little brother can wear them.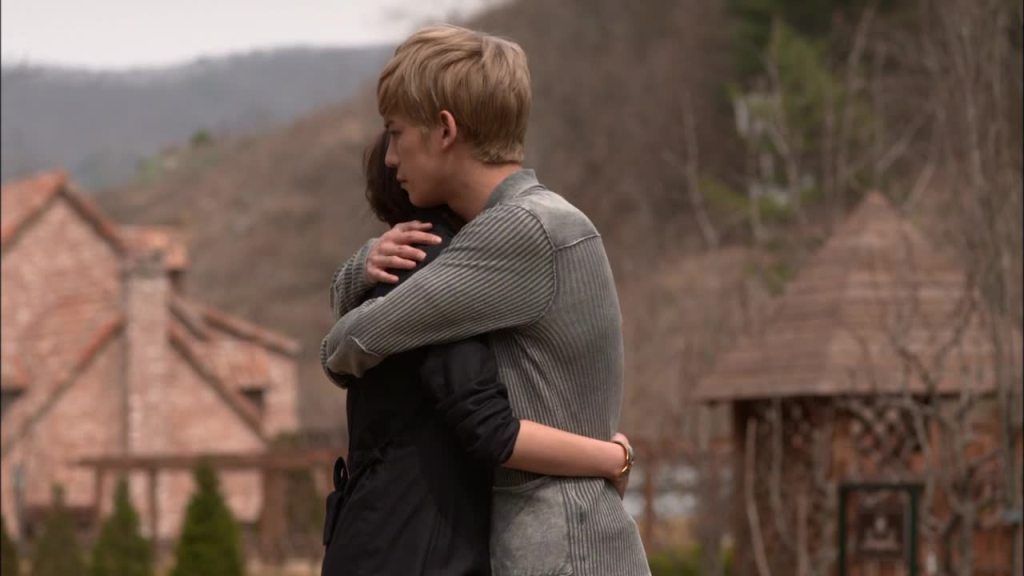 Back in the present, Hwa-ming grasps Kang-hwi's hand. How could Kang-hwi deny his loving sister? Aww – it's so sweet to see him embrace someone else who really loves him, even if it's a sister.
Man-ok heads home donning her new 'do. It's straightened! Yay! She checks her reflection in a store window and then catches sight of the TV.
It's Kang-hwi, the man she forgot to call when she arrived back in Seoul, with the headline that he's become the new fashion model for 'Win.'
Part 2
Soon after he accepts the 'Win' gig, Lee Joon gives Kang-hwi a credit card for personal use, and a brand new cellphone, but Kang-hwi looks unimpressed. (Well, it is just a green American Express card, not a black one.) All he cares about is his one condition regarding Man-ok as his stylist. Lee Joon assures him that he's working it out.
Se-ryung witnesses these "gifts" and notices that Lee Joon is being extremely accommodating towards Kang-hwi. Seems like Lee Joon is in desperation mode. Kang-hwi leaves for the bathroom, and that's when they hear a cellphone ring.
It's Kang-hwi's old cellphone, and Se-ryung sees that it's Man-ok. Lee Joon quickly removes the battery and confiscates the phone, fearing that Kang-hwi and Man-ok will talk. He leaves his office, only to overhear Go-dong speaking with Man-ok, asking after Bum-soo and Tae-ik, and wishing that he could quit the agency and be with them instead.
Lee Joon's face drains of color – so Man-ok is with Tae-ik and Bum-soo? And she's in touch with Kang-hwi? Could she be taking away Take One from him? Lee Joon quickly calls Man-ok back – has she given any thought about coming back to work for him and Kang-hwi?
Man-ok goes straight to Bum-soo to discuss her situation with Lee Joon. Because of the contract she signed with Lee Joon, it's likely she'll have to go back to work for the agency or else pay a penalty fee for breaching the contract. She's also worried about Kang-hwi, as she hasn't been able to contact him. Bum-soo reassures her that Kang-hwi would not betray them. Even though it seems like it because he went back to the agency, Bum-soo believes that Kang-hwi may not have had a choice in the matter. Trusting a person is not everything in this industry.
Bum-soo also assures her that he'll find a way to take care of the penalty fee, and takes her back home. Once she's gone, he calls his landlord and says he needs to move out. Oh no… is he moving out so that he can get money for the fee?
Man-ok finds the gym completely empty, and wonders where Tae-ik's gone. Well – he's actually at a nearby bakery, purchasing a bunch of cupcakes while covering his face with a scarf. He requests candles and makes sure that the cupcakes are all organic.
But Tae-ik finds himself sneezing still, and notices a cloth kitty doll riding on top of a pink toy scooter. It instantly reminds him of when he first met Man-ok, riding her scooter with the mannequin on the back. He asks if he can purchase it, but the saleslady says it's not for sale, even when he offers to pay a lot more. It's custom-made, and her boss really likes it.
Tae-ik frowns. If it were Kang-hwi, he would have tried aegyo, unveiled himself to be the star, and called the saleslady noona, with a little pout wiggle. In his mind, he can see Kang-hwi daring him to do it, so Tae-ik tries. The aegyo comes out – squeal – and the saleslady says no. So Tae-ik reveals himself and smiles handsomely.
Oh my heart – I never saw how cute Noh Min-woo could be until now.
The saleslady's eyes widen in shock, and her gasps attract the customers (but good thing they can't see Tae-ik's face). Saleslady: "The heck with my boss!" and she hands him the whole thing. HAH! Noona-pout-wiggle for the win.
Man-ok rushes out of the gym and finds Tae-ik walking home from the bakery. He makes up the excuse that he went out for a walk, and bought some underwear so that she wouldn't try to see what was in the bag. Hee. They head to the gym… only to see Ga-ryung waiting outside.
Man-ok gasps, and then practically throws Tae-ik off to the bushes. She greets her friend to find out what she's doing here. Ga-ryung has something to discuss with her, but more importantly – she needs to use the restroom.
Once refreshed, she notices the camping tent and wonders why it's out. Man-ok makes up the excuse that she was reminiscing the old days when they used to "camp" indoors and have sleepovers. That makes Ga-ryung want to sleep over too. But Man-ok needs to get rid of her, especially with Tae-ik freezing outside. She makes up the excuse that the tent has mites in them, and her room has no heat. Ga-ryung can't sleep over tonight, and ought to go home.
Ga-ryung finally leaves, but also gives Man-ok her new business card. She's a reporter now, which is even more disconcerting for Man-ok. Tae-ik can't ever get caught by Ga-ryung now, so maybe it's best if he never leaves his tent. Tae-ik balks at being locked up, but Man-ok says Kang-hwi did it, with a broken leg.
As Man-ok gets ready for bed, Tae-ik texts her to come out to the gym. Man-ok thinks he's being annoying again, but he texts again – it's an emergency, and she has three minutes to come out. When she finally does, Tae-ik hides the cupcakes until the clock strikes midnight. "DIIIINGGGG! Happy birthday."
Man-ok is so happy about the surprise, especially since she's forgotten about her birthday. He hands her the bag, which she thinks is his underwear. Hee. Discovering that it's her gift, she opens it. The scooter looks exactly like hers, and Tae-ik (romantically) notes that it's what brought them together in the first place. She then opens the box with the cloth kitty doll, and Tae-ik hopes she can keep this kitty instead of the pet back at Full House.
Man-ok notes that the expression on the doll looks just like Tae-ik when he's pouting. She's going to name the doll "Ik!" Tae-ik gets all in a huff about it, and then she distracts him by reminding him about the melting candles. He needs to sing "Happy Birthday" to her so that she can blow them out. Tae-ik: "Do you know how much my songs cost?" Man-ok: "I do, but it's my birthday! Please sing!"
Tae-ik pretends to be put-upon, but he finally relents, singing the song R&B style. Instead of saying "Dear Jang-Man," he replaces it with "Strong Jang-Man" and she blows out the candles. He reminds her to savor each bite of the cupcakes, as they're all organic ingredients, and then declares that they should go out to the pojangmacha.
Somehow, they end up still at home, with Man-ok taking out her grandfather's expensive wine and the both of them sharing it in Tae-ik's tent. They have a glass each, and Man-ok quickly gets tipsy. Tae-ik can't stop staring at her, and it's because her hair is making her even more attractive in his eyes. Aww…
Man-ok thanks him for remembering her birthday and helping her celebrate it. But Tae-ik's more thankful towards her. If she hadn't come to look for him in Japan, he would have hid from the world forever. Man-ok is curious as to why Tae-ik threw away everything in his life when their engagement was revealed to be a fake, when he didn't have to at all.
Tae-ik: "I don't like it when you go through hardship. I wondered myself why I couldn't stand to see you going through hardship. It must be because I like you." And as he confesses, Man-ok closes her eyes and leans against his shoulder, calling him a fool. He's a fool… because she likes him too. Ahh! They have both confessed!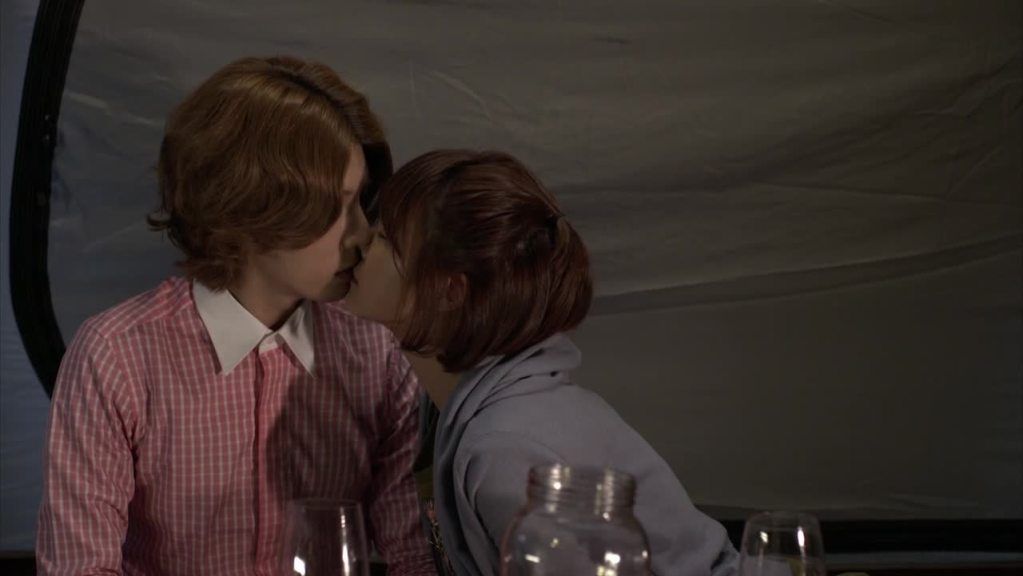 Man-ok leans in for a kiss this time. Their lips touch. They're kinda stiff. Oh my – is this an homage to the kiss in Full House between Rain and Song Hye-gyo? Well, Man-ok is drunk, and she ends up leaning against his shoulder as he cradles her to sleep.
Warm fuzzies all around.
The following morning, both are asleep in Tae-ik's tent, with his leg over her body. But they are woken up by a guest – Grandpa's back. Ahh! He's shocked to find the mess in the gym, and Man-ok hurries out of the tent, likewise shocked to see Grandpa back so early from his trip. What's worse is Tae-ik groans as he wakes up, and comes out of the tent too. Man-ok screams: "It's not what you think it is!"
Grandpa is so surprised at Tae-ik's presence that he flips Tae-ik to the ground. At that moment, Bum-soo arrives and tries to calm Grandpa down, but then Grandpa flips him too.
Once the two of them are able to get up again, Grandpa has them all sit on their knees in front of him. Realizing that Grandpa does not know Man-ok was their stylist, Bum-soo explains that he and Tae-ik came looking for "Master Jang" for a place to stay while Tae-ik prepared for his new album. Grandpa equates "singers" with "cheap entertainers," but Bum-soo quickly defends Tae-ik. Singing and music is an art, just like how martial arts is an art! Oh – well that analogy works, and he gruffly accepts Tae-ik's profession.
Yep – Bum-soo's amazing. He then explains that they're just staying for a while, and that they wanted to learn "proper breathing techniques" through hapkido. Pfft. Grandpa asks for Tae-ik's name, and finds it very unique. (He doesn't remember the kid at the estate party…) He then hands Man-ok a package of seaweed for her to make soup and breakfast with.
Back at Full House, Se-ryung is eating breakfast when Kang-hwi comes to get some water. She informs him that the newspapers are having a field day with conspiracy theories regarding Take One. Since Tae-ik left when Kang-hwi returned, people are speculating that Tae-ik got in between Kang-hwi and Lee Joon initially, then had a fake engagement to clear up rumors about his sexuality. Kang-hwi doesn't give two cents what Se-ryung is talking about, and he refuses to tell her where Man-ok is. Neither he nor Man-ok would know where Tae-ik is currently.
Kang-hwi turns to head back to his room, but at that moment his vision becomes increasingly blurry, and he stumbles to the ground. He ends up feeling his way back up to his feet, and that's when Se-ryung notices he's wearing mismatched slippers. Kang-hwi leans against a wall and then talks to Se-ryung as if she were at the table still, and not actually standing next to him. Se-ryung is confused over why he's acting so oddly, and it finally strikes her that Kang-hwi might not be able to see anything.
At the breakfast table, Grandpa says he won't kick out the guests, especially since Man-ok seems to have let them in. He invites them to make themselves at home. However! He wants Tae-ik to train hard so that he can become a better singer. Man-ok quickly assures that Tae-ik's been practicing hard already, and encourages him to just agree to this for once.
Man-ok's cellphone then rings; it's Kang-hwi. He wants someone to talk to regarding his situation, but Man-ok can't speak with him right now at the breakfast table. Poor Kang-hwi – he's having issues and she can't even help him. But Tae-ik's also feeling a little hurt, a little jealous each time she speaks to Kang-hwi.
Grandpa and Bum-soo go off together for a hike, and Tae-ik puts his hands around her shoulders, smiling romantically. She shrugs him off – what if Grandpa sees? Tae-ik is confused; doesn't she like him too? But then he remembers that she drank a lot, so perhaps she doesn't even remember confessing to him. Now that's a downer.
Man-ok escapes to the kitchen for some water and gets another call from Kang-hwi again. If she's home, he wants to see her – because he's actually right outside. Man-ok rushes out, and Tae-ik grabs her because he wants to talk…
…And that's when Kang-hwi enters the gym. "You two are living together here?"
Comments: 
I really enjoyed this fun and cute episode between Man-ok and Tae-ik. I'm really enjoying their interactions, especially as Tae-ik loosens up and smiles a lot more. He is way more handsome smiling. It also helps that this was the episode where their hair becomes better! Man-ok's straightened 'do is an incredible improvement, making her look younger and cuter. Tae-ik still has some curls, but they're softer waves now. Perhaps living in exile from the entertainment world means less trips to the salon to maintain those curls.
What's also fun is that Man-ok has a lot of spunk. She may like Tae-ik but she won't be pushed around by him. She's not afraid to threaten him to get out, because the tables are turned. It's fun that they're both not fighting over – or lording over – one house like it was in Full House. Rather they have their own homes, and their own set of rules too. No matter which location it is, the "full house" is the one where Man-ok and Tae-ik are together. They're just plain cute. Similarly, Kang-hwi and his sister Hwa-ming have a heartwarming side story. I'm glad to see that both men have someone in their family who truly loves them.
Lee Joon truly started squirming in this episode, and boy did I love it. He's starting to realize that he has far less clout than a simple stylist, whom everyone likes. It's the start of his downfall! While I can't see when Se-ryung is going to get hers too, I do hope she can shut up more. I enjoy it when she's not talking.
Let the cute continue please!
RELATED POSTS
Tags: featured, Full House Take 2, Hwang Jung-eum, Noh Min-woo, Park Ki-woong