Full House Take 2: Episode 4
Surprise! Turns out kaedejun and I will be tackling this uproariously hilarious series together. I'll admit that I had some, well, a lot of reservations approaching this series because nearly everything spelled out disaster ahead.
But all of those feelings dissipated as soon as I tuned in. And now I'm strangely addicted. Like, why isn't it Monday already?
EPISODE 4, PART 1
Tae-ik freezes when he sees Man-ok sobbing in the arms of Kang-hwi, who gently comforts her. He swallows hard before he tears into her about the misplaced expensive watch, citing that her yearly earnings wouldn't be enough to make up for it.
Kang-hwi's the more understandable one as he's willing to hear her out and Tae-ik dangles the carrot in front of her eyes: She'll be fired for sure.
Face stained with tears, Man-ok declares that she'll find it – words that Tae-ik finds hard to believe. He glances over to Kang-hwi and yells, "Will someone handle it for you?!" He stalks off, angry.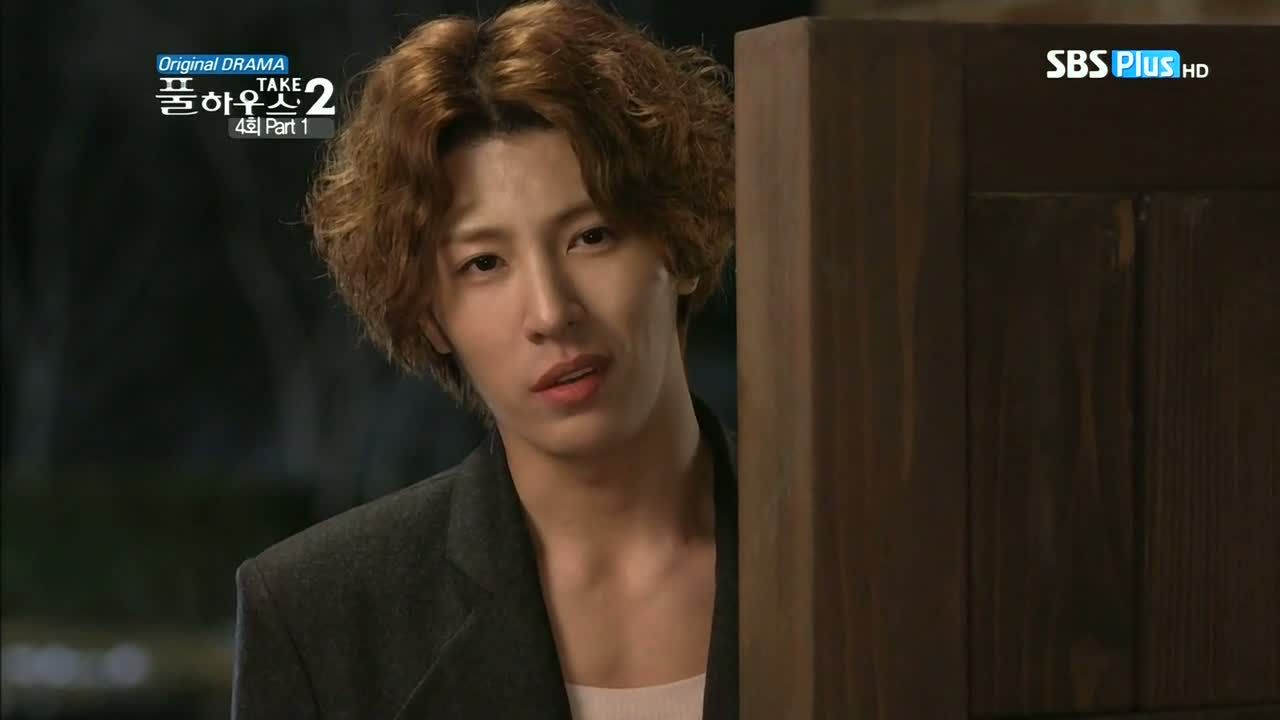 Outside, Tae-ik reels from the offensive cat costume, the mere sight of it triggering a sneeze attack. Instead of taking it to Kang-hwi, Tae-ik instructs Go-dong to take it far, far away.
Tae-ik hears voices nearby and watches Kang-hwi offer Man-ok a ride home. He scowls, "What's this? Are they dating each other?"
Kang-hwi offers to accompany her to the store tomorrow morning since he's free anyway. He waves goodbye before Man-ok can say otherwise, adding that she needn't dwell on the missing watch.
This farewell is observed by none other than Ga-ryung, who rushes up to her, demanding to hear the truth. Man-ok didn't just come out of her Oppa's car, right? There's no use denying it and Ga-ryung tears at her hair like the distressed fangirl she is.
She follows Man-ok inside, desperately trying to wrap her head around the situation. She rapid-fires questions and raises an eyebrow when she hears that her best buddy is the new Take One coordi.
And what? You say that you're the one who feels betrayed? Honey, you were scammed out of the money you got from choosing Oppa over your longstanding friendship.
Then it's Man-ok's turn to find her buddy's concern hard to believe: a friend would call if she was so worried. She's definitely got a point there and then proceeds to push Ga-ryung out of the gym.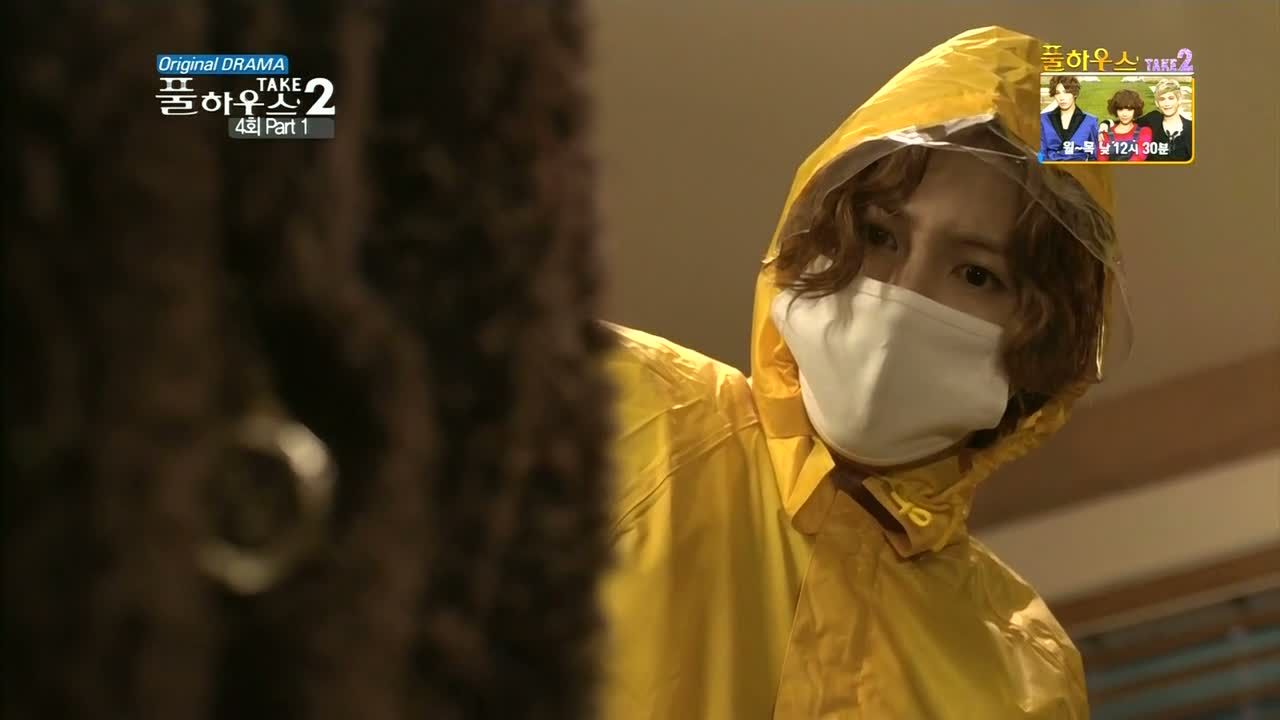 Man-ok collapses on her bed, utterly exhausted, but then lets out a heaving sigh before ignoring her "life's enemy," aka Tae-ik's call.
HA – I love that Tae-ik is so vain that he checks himself out in the mirror and scours the 'net about news about himself. He stops at one comment that reminds him of his earlier promise to take a picture in the atrocious cat suit.
So he sllooowwwllly takes it out with tongs, covered from head to toe like a CDC inspector when something shiny catches his eye: the missing watch.
Which is why he called in the first place.
Man-ok gasps in the morning at the sheer number of missed calls and texts, all from Tae-ik. He'll just have to wait because she's way too busy to respond today.
She repeatedly apologizes to the store manager who agrees to give her a day to track the watch down. In the case Man-ok doesn't find it, she'll naturally have to pay compensation: a whopping 30 grand. 'Cause it's a one-of-a-kind, don'tcha know.
Man-ok starts to fret since she clearly doesn't have that kind of cash. Then a voice calls out, "I'll pay for that watch." It's Kang-hwi.
Afterward, Man-ok asks why he would cover her tracks when she's in the wrong. Kang-hwi finds nothing wrong with it since he's partly at fault – if he hadn't joked around, she wouldn't have misplaced it in the first place.
He pouts that he just wants to help. Oddly enough, Man-ok doesn't feel like a stranger to him since she saved him once. In fact, when he first saw her, he noticed that he looked just like "her." Yunno, his first love. I'm not sure if that's really an effective pickup line there, lover boy.
She can enlist his help anytime she needs it which makes Man-ok smile.
Back home, Tae-ik fumes while snapping at his garden shears. Didn't your mother ever tell you not to run with scissors?! He decides to wait it out, which is the exact moment when he sees Kang-hwi and Man-ok return together.
He keeps up the ruse that he's sooo not interested in what they were up to even though he clearly does. Man-ok tries to apologize for not returning his calls but Kang-hwi interrupts that uppity Tae-ik wouldn't care anyway before leading her inside with his arm.
Tae-ik turns around and points his shears at the two. It's Man-ok that he wants to see – Kang-hwi wouldn't have an issue with that, right?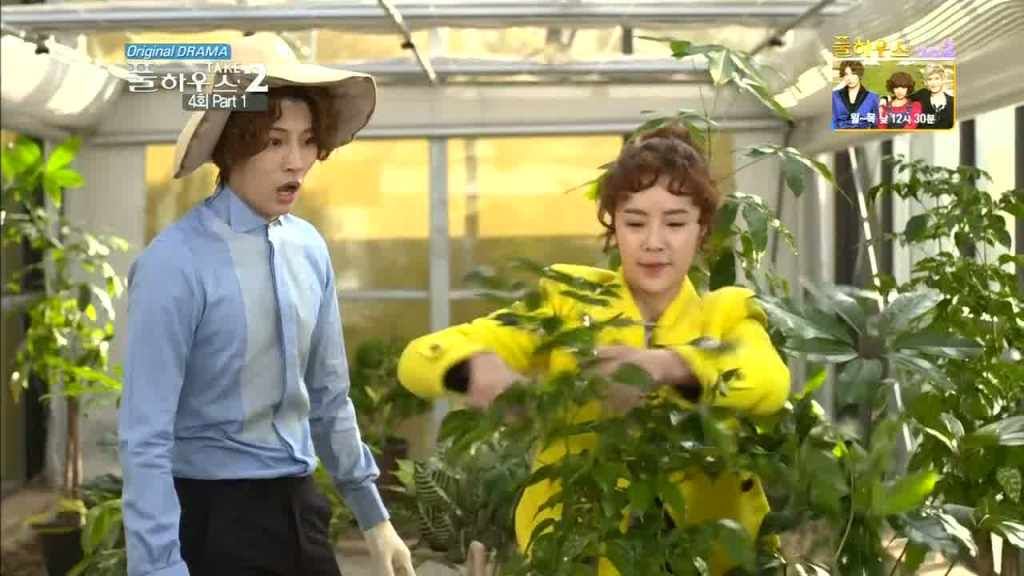 He leads her to the greenhouse and immediately tasks her with pruning the plants, to which Man-ok asks, "Is this what you called me last night for?" Uh, not exactly.
He remains silent and she sighs at how different the duo really are. Tae-ik takes issue that Man-ok refers to Kang-hwi as "nim" while he just gets called "sshi." She might as well ask Kang-hwi-nim to find the watch for her.
Tae-ik amuses her by nodding along when Man-ok says that it's her responsibility and he reminds her of the compensation, a sore spot for her. He relishes this moment and continues to prod her – she could just leave. But enough is enough and she angrily attacks the plants with the shears, to his horror.
She throws the shears on the ground (Ack! Dangerous much?) and cries that this isn't what she signed up for as a coordi. Tae-ik retorts that he's having her do this since she's a terrible coordi in the first place.
He does, however, propose that he'll figure something out if she quits immediately. Breaking the contract of her own volition isn't an option for her – she'll find it no matter what. Tae-ik obstinately rubs in that there is no way she'll be able to.
He seems honestly surprised that she storms off and blubbers a little like the man-child he is. Aww.
Man-ok's search obviously turns up nothing because Tae-ik is busy at home, preparing said watch in the perfect place on the table. Too bad Kang-hwi bursts in unannounced and gapes when he spots it right away.
He immediately identifies that Tae-ik intended to use the watch against Man-ok to force her to quit. Tae-ik denies it, though his reddened face says otherwise. Soon they're bickering like the 4-year-olds they are until Man-ok's arrival interrupts them.
Tae-ik shakes his head at Kang-hwi frantically – he can't tell Man-ok the truth, but Kang-hwi shakes him off.
Kang-hwi: "Our Man-ok suffered so much heartache because of you! We have to get this out in the open! Everyone must know what Hallyu star Lee Tae-ik did to a defenseless Jang coordi!" Omg, you two are so childish and petty …but I love it.
When Tae-ik's words of warning fall flat, he concedes, "Fine! I was going to return it but…" Man-ok: "But what?"
The boys whip around and she replies that she came after Tae-ik abruptly called her over. Her face lights up when Kang-hwi explains that Tae-ik offered to find the watch.
She's initially hesitant, thinking it a joke but Kang-hwi assures her with a smile that Tae-ik takes care of his own. Then he takes out the watch from Tae-ik's pocket.
Before he can launch into an explanation of its discovery, Tae-ik clasps a hand over his mouth.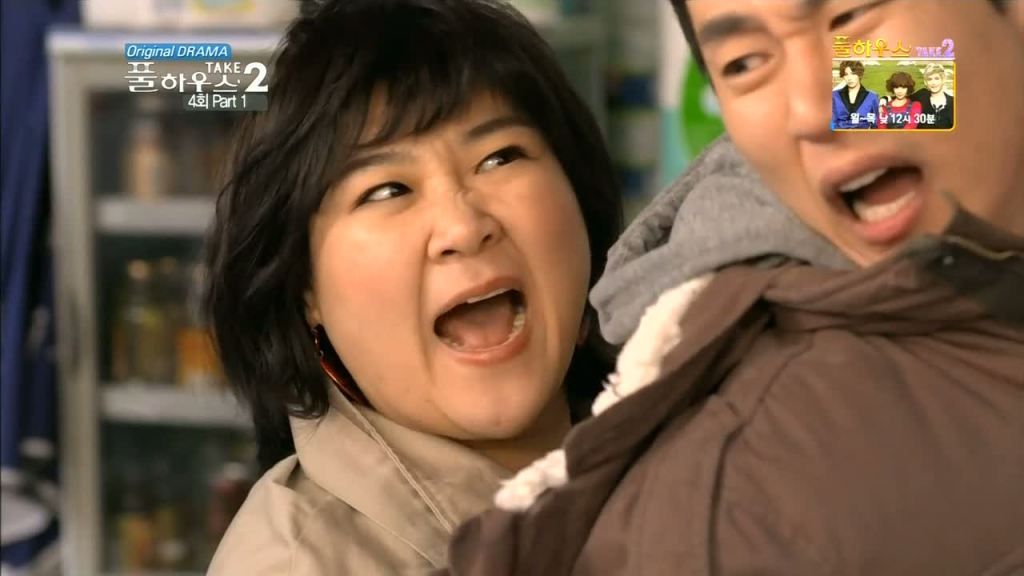 Ga-ryung and Nora take matters into their own hands as they bribe an employee at a nearby convenience store to relay a note to their scammer. Not that they have much to worry about since he's busy running from a group of gangsters.
He meets with the girls, thinking they're here for more press cards and Ga-ryung twists his arm behind his back demanding her money. Learn this valuable lesson now: you don't get between a fangirl and her Oppa.
He cries out in pain but then Ga-ryung stops when he suggests they set up a legitimate press company. Fool me once, shame on you. Fool me twice, shame on me.
The missing watch now safely returned, Man-ok thanks Kang-hwi for his help. This friendly exchange isn't missed by Ga-ryung, whose eyes narrow in jealousy.
Once she's filled in, Ga-ryung tries to coax her friend to spill the beans on Take One's dorm. Sure she can't break the contract by telling someone else but she can tell her, right? Nope.
That doesn't deter the Idiot Trio to follow her to work the following morning. Man-ok guns it when she spots them and the car weaves in and out of lanes to catch up to the scooter. She manages to lose them… for now.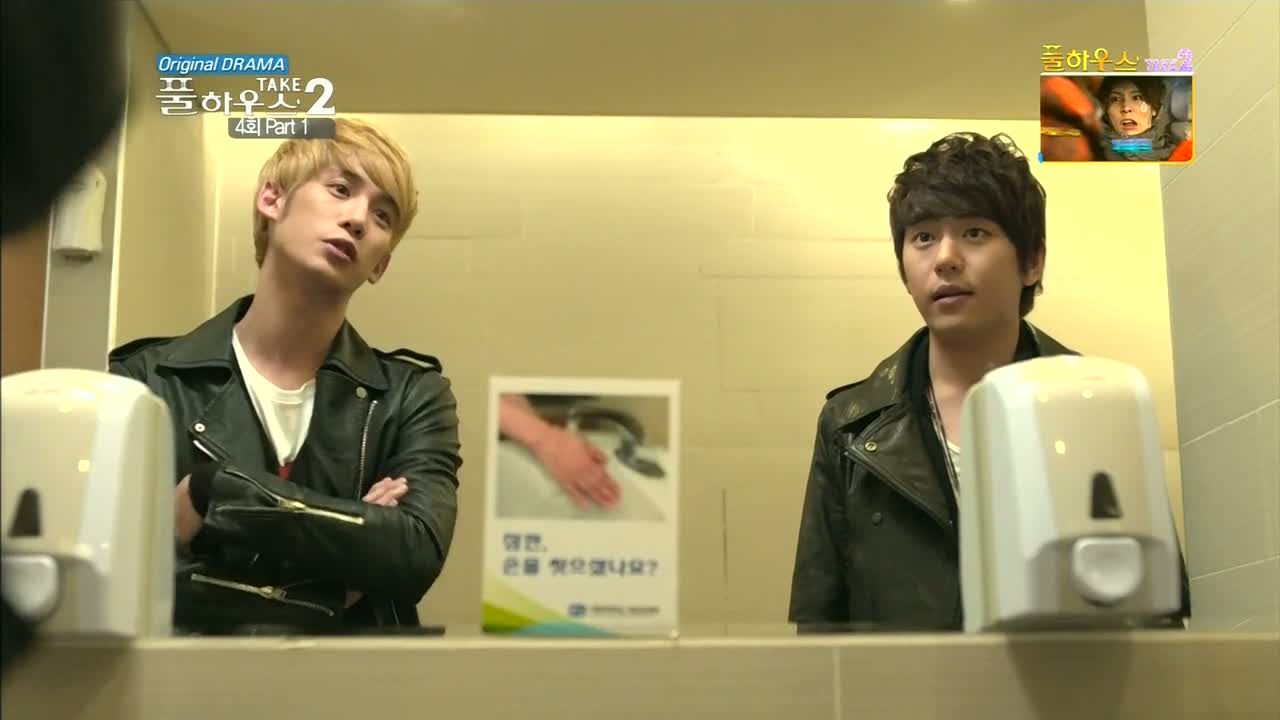 Take One enters rehearsals but Kang-hwi's headaches appear to be getting progressively worse. Tae-ik runs over in concern but Kang-hwi insists that he's fine and excuses himself to the bathroom to check his contact lenses.
There, a punk hoobae idol makes a sly jab about Kang-hwi's age. Surely he's heard about how he's taken over Kang-hwi's endorsement in that new CF, no? Since they wanted to go for a "fresh" image.
That doesn't affect Kang-hwi in the slightest as he retorts: "Fresh? You must not look in the mirror. Or maybe you do and pretend you didn't. Change your hair salon. Or your coordi. Aren't you sick and tired of wearing fakes?" Ooh, burn.
Kang-hwi leaves him with the final word: He considered leaving but then they offered him double. If he'd known his precious hoobae was in line for it, he would have given it up.
Take One takes the stage singing and dancing to that same song we don't have an OST for yet.
The crowd screams and cheers as they sing and dance and everything seems to be going smoothly. And then suddenly, in the middle of Kang-hwi's rap, his vision starts to blur and the fans' screams deaden around him. Uh oh, don't you make him go blind and deaf, Drama. I won't forgive you if you do!
The fangirls look at him, concerned as Tae-ik keeps dancing in the background.
Kang-hwi stops and his eyes grow wide; terror written all over his face. Then the tears silently stream down his face.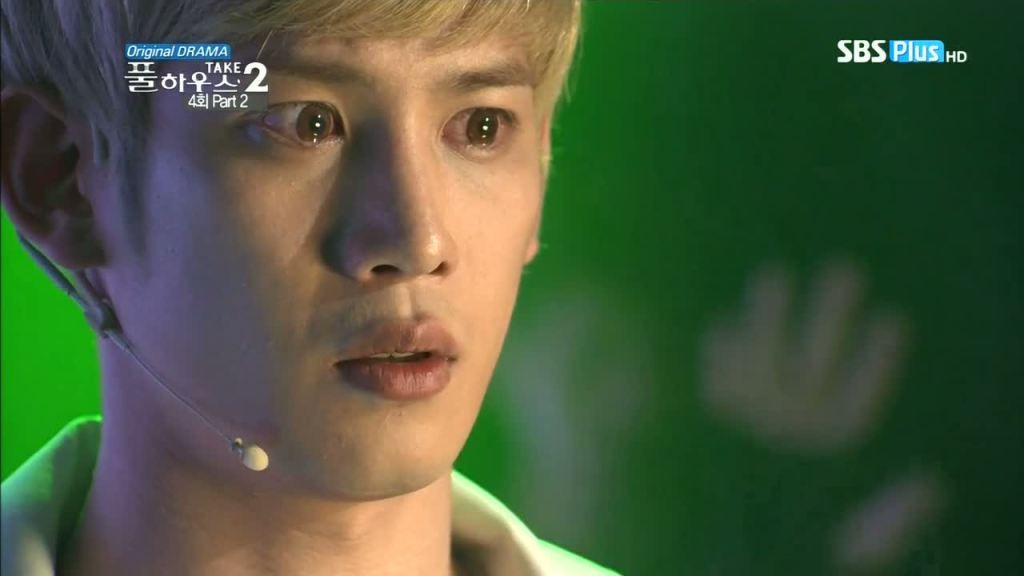 EPISODE 4, PART 2
Thank God Kang-hwi's neither deaf nor blind. It doesn't, however, save him from a lecture from Tae-ik about freezing on stage. Kang-hwi bursts that the rigorous schedule and stress drove him to that point (at least, that's what the public believes) to which Tae-ik scoffs, "But you look just fine?"
Kang-hwi supposes their president's probably blown his gasket at the broadcast error. Tae-ik's like, As if I needed to tell you.
Sure enough, Lee Joon slaps down the ratings chart in front of them and yells… that they've hit a record high in ratings. HA.
Turns out Kang-hwi's moment of weakness won the netizens' hearts and he excitedly jumps in his seat – what'll he wear at the hospital tomorrow? Pffft.
On the other hand, as for Tae-ik, Lee Joon sternly reminds him not to screw up tomorrow's shoot. They exchange tense words about keeping the endorsement and it's only after Tae-ik leaves that Lee Joon drops the smile.
Gah, it kinda kills me that Tae-ik's the one doing everything "right" even if he is a diva about it, but it's Kang-hwi who gets all the praise for it.
At the hospital, the doctor runs through Kang-hwi's symptoms and guesses that a childhood injury could be a related factor to his blurred vision and shaky field of vision. Er, something more serious perhaps then? They run some more tests.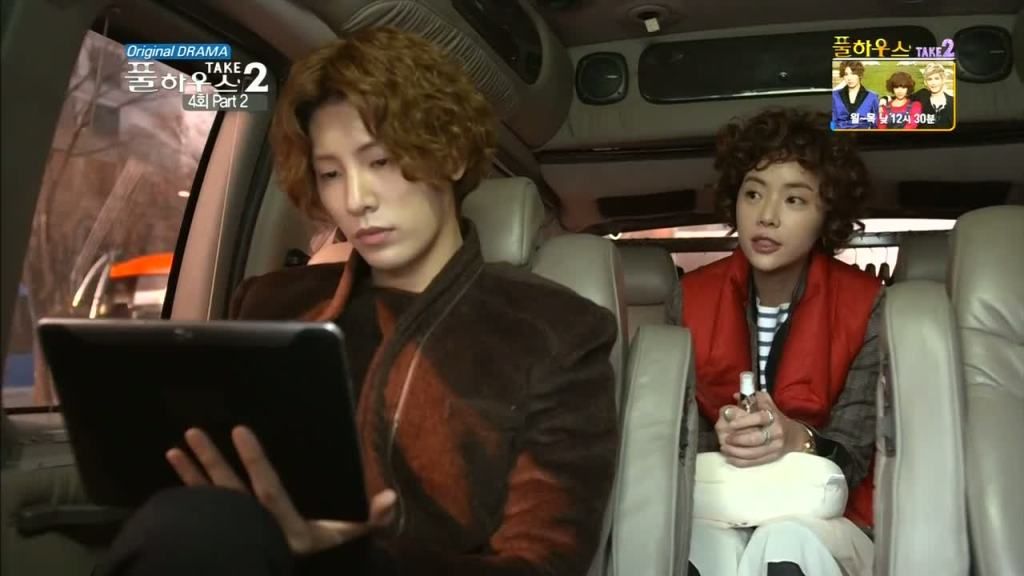 In the car, Tae-ik shuts downs Man-ok's attempts to make him more comfortable with his diva attitude and she's all, Uh, this is yours and this is 100% cotton!
While he rests his eyes, she marvels over a headline about another famous multi-talented actress, Jin Se-ryung. Acting, beauty, smarts – she has it all.
The name strikes a chord with Tae-ik who swipes the tablet away from her and tells her and Go-dong to pipe down.
Tae-ik's allergies get in the way of filming and during a break, he calls Man-ok over and points to the source: adorable puppies. He reminds her that his allergies extend further than just 100% genuine fabrics; it's furry little animals that he hates the most.
Then he throws a temper tantrum and like a petulant child, barks at her to remove the unsightly things from his presence.
(Side note: OMG THANK GOD you lost the perm. Straight hair does you better.)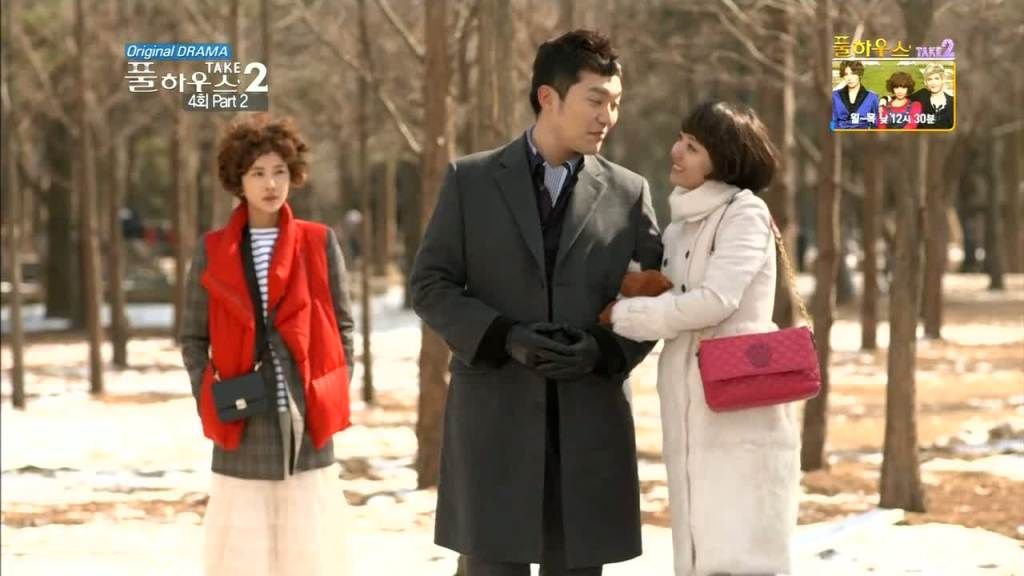 Filming resumes as normal after break, until someone else interrupts them. He's the company director who appears to be friends with Tae-ik, given that they speak to each other in banmal. He introduces his fiancee and reminds Tae-ik to attend the party he's hosting later.
Go-dong has to leave early and worries leaving Man-ok to deal with Tae-ik alone. She assures him that it's no big and sends him off. (For a date, perhaps?)
She returns to overhear his friend jabber on about how Tae-ik was once a chaebol's son but now he's completely broke. Calling Tae-ik a loser, he complains that the idol mooches off of him.
So Man-ok steps in to give him a piece of her mind: if a Hallyu star's a loser then is the big exec a pathetic fool? She tells him to watch his big mouth lest karma hit him hard like a boomerang. The fiancee takes issue – he's a director! – but Man-ok hardly blinks an eye, saying that everyone claims they're a hotshot exec these days.
She launches at Man-ok but you're barking up the wrong tree if you think you can take her. They both end up on the ground a few flips later.
That gets her scolded by the staff and Man-ok has to restrain herself from sucker-punching the annoying fiancee. Both the director and exec turn to Tae-ik to handle his crazy coordi but he simply asks when filming will resume before leaving.
Woah, way to leave a girl hanging. Once she's alone, she curses Tae-ik as a tear rolls down her cheek. But then a cat jumps from the truck and she goes running after it.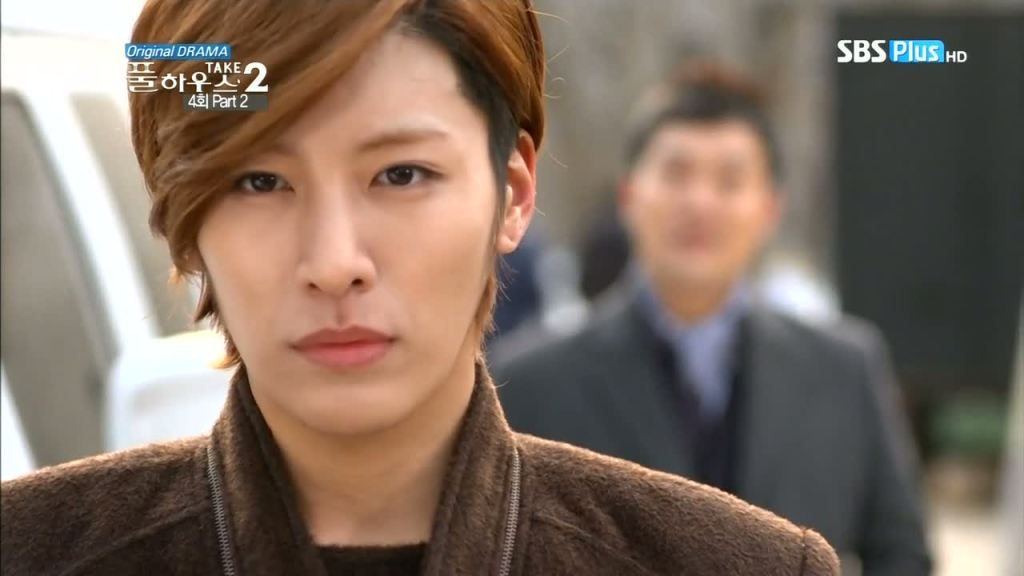 Which means that Tae-ik is stranded outside the locked van and unable to reach her. His "friend" marches up to him and advises that Tae-ik keep his staff in line. His standards have reached a new low point and Tae-ik throws back that he's weaksauce for losing a fight against a girl.
Tae-ik turns to leave but the friend barks back that he's the one pulling the purse strings and Tae-ik's just the puppet at the mercy of his bidding. They're on completely different levels and Tae-ik should know he's in no position to act like a smart aleck.
Tae-ik grabs him by the coatfront but doesn't punch him. To which the exec tells him that he's better than the coordi who got all uppity because they insulted Tae-ik a bit. "See? That's why a person's origin is important."
Now that gets him a right hook square in the jaw. Ah, so satisfying.
Leaving Man-ok to fend for herself earlier tugs on Tae-ik's guilt strings so he trudges through the woods in search for her, calling her name. He hears her voice in the distance and finds her in a pit with the missing cat in her arms.
Tae-ik starts sneezing and asks why she hasn't climbed out yet. The reason of course, is that the pit turned out to be deeper than she initially thought. He yells at her for her stupidity, which hey – she tried to be a good Samaritan here!
He sighs before putting out his hand; he'll help her up if she drops the cat. Man-ok calls him terrible for leaving a defenseless cat but that's not his problem. It's either the cat or him.
He takes about two steps forward before Man-ok cries out in desperation. He repeats himself and gives her till the count of three to take his hand sans kitty. Man-ok has no choice but to comply but as Tae-ik pulls her up, she grabs the cat anyway.
Tae-ik flips out and his allergy strikes again. One ginormous sneeze later, they all end up in the pit. He comes to a minute later and then screams at Man-ok. What are they going to do now?
She's like, "Well I can get out if you gimme a boost." Tae-ik stares back, horrified, "Are you nuts?!"
He gives her said boost and once she's out, he puts out his hand. Now the tables have turned as Man-ok coos, "Say, 'Help me up, please.'" He says it and Man-ok helps him up. It's like 99% Man-ok and 1% Tae-ik.
They stumble back to the van in the dark but now they've got a bigger problem: Man-ok's lost the car keys. To make things worse, his phone's dead. Ah, first world problems.
Their only option is his locked trailer and Man-ok attempts to climb in through the window. When she can't, she asks Tae-ik to try since he's pretty thin.
He's like, Wouldn't it be embarrassing for you if a guy like me can fit in there? She thinks, Oh right, that. With some reluctant help, Man-ok falls inside and earns a nosebleed for her efforts.
That doesn't mean she'll be get to stay inside as Tae-ik raises an eyebrow. She's not thinking of coming inside with that, is she? He tosses her a sleeping bag and instructs her to sleep outside. Plus, they can't risk sleeping in the same confines lest a scandal break out.
But Tae-ik does have a heart after all as he finds himself unable to sleep peacefully. He steps outside and sees Man-ok asleep, all bundled up in the cold. He bends down and wonders how she could sleep so well despite the circumstances.
Tae-ik: "You're really… pretty." Awww.
Then he leans in, his face just mere inches to hers… and sneezes. Darn that cat!
Man-ok blubbers in her sleep that she's cold and so Tae-ik musters all his courage to slowly move the cat into the basket, covering it with his coat. Then he picks up Man-ok, sleeping bag and all, and transfers her into the bed inside. *squee*
In the morning, both Go-dong and the manager run around unable to find Tae-ik and Man-ok. They form a search party who walk through the forest along to an oddly familiar tune.
Man-ok wakes up to hear voices outside the trailer and then gasps when she finds Tae-ik next to her. Tae-ik puts a hand to her mouth to keep her from screaming and she points to the door. Uh oh.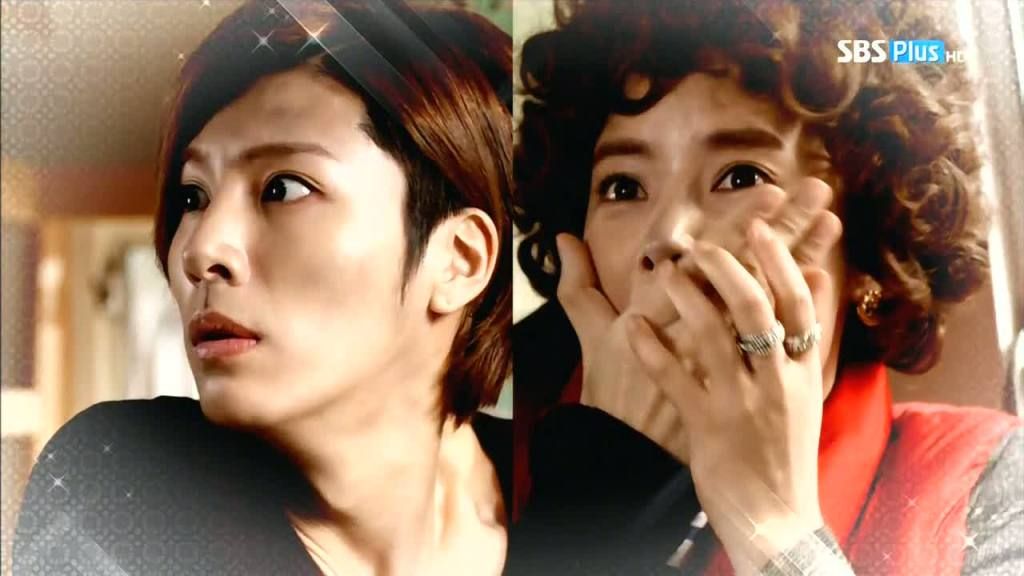 COMMENTS
How're you gonna get outta this pickle, boys and girls? "We didn't do anything, we swearz it!" Mmhm.
Like kaedejun mentioned earlier, this drama isn't one of those to write home about but it does crack me up with its offbeat hilarity and ridiculous yet heartwarming characters. The meta jokes at the current K-pop world (which there are aplenty) add another dimension to the show, making it that much more amusing.
That said, I love that we explore some of the behind-the-scenes elements of the industry. Like how the bigshot Hallyu star is really a puppet of the entertainment company, and all it takes is to dangle a CF and a contract in front of eyes for him to back down. And then conversely, that these idol boys are so vain that they fret about what to wear to the hospital to appease their fans. Kinda makes you think twice about Oppa a bit, no?
Which is why my heart pangs for Tae-ik who's forced to abide by the whims of the company in order to protect what's dear to him. We're not sure why he's broke now but I wouldn't be surprised if something went asunder a few years earlier. Then it's an extra burn that though he's the more serious and talented one (apart from the terrible lip-syncing), it's Kang-hwi who's the favored one. On that note, Kang-hwi's deteriorating eyesight concerns me; I just don't want Oppa to go blind! Don't you dare make him go blind, drama!
These shorter episodes help encapsulate small arcs of storyline which is great because then we're not dragging one mini-conflict over the course of the entire drama. I also love how we're already seeing the invisible strings of loyalty keep this trio together. That's going to get complicated now that both boys are falling hard for the same gal.
Bromance or romance? Don't make me choose!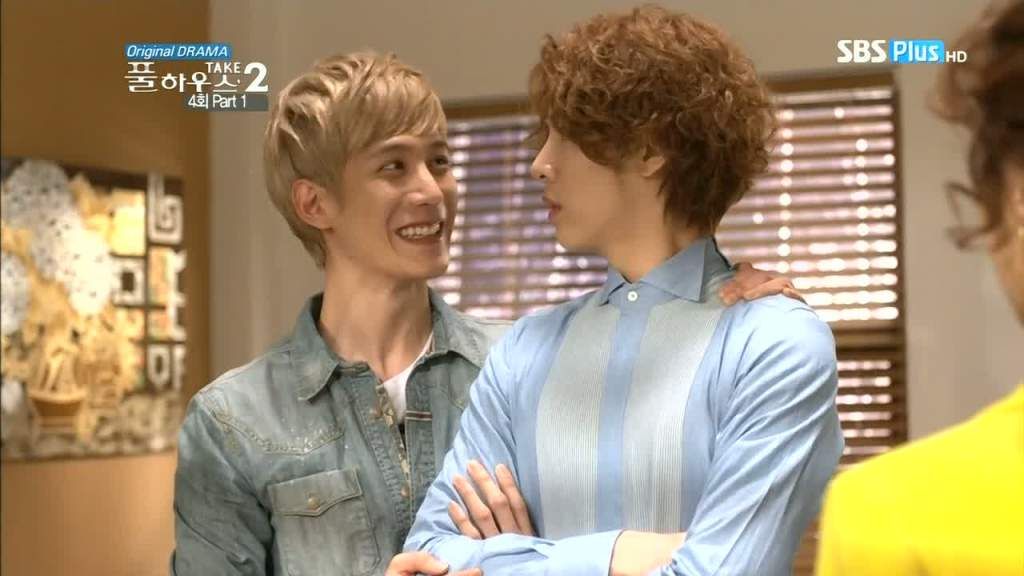 RELATED POSTS
Tags: featured, Full House Take 2, Hwang Jung-eum, Noh Min-woo, Park Ki-woong