Full House Take 2: Episode 5
New questions are raised in this episode despite the revelations we get concerning our beloved Take One boys. It's surprising how much is packed into this episode considering we're only at Episode 5, and while the fun continues, this storyline is getting a bit more serious than I had expected.
SONG OF THE DAY
"Love Note" by Ailee for Full House OST [download]
Audio clip: Adobe Flash Player (version 9 or above) is required to play this audio clip. Download the latest version here. You also need to have JavaScript enabled in your browser.
Part 1
Man-ok wakes up to hear the din outside, and she's shocked to find Tae-ik in bed with her. The two of them are so flustered at the thought of being caught together in a mobile home that they quickly hide under the covers. Yep – you totally wouldn't get caught with your butt sticking out from under the blankets like that.
Being under the covers is too close for comfort for the two of them, and so they quickly abandon that plan. Man-ok is slightly disoriented and wonders why she's inside the mobile home instead of outside, where she clearly remembers falling asleep with the cat. Tae-ik is no help, accusing her of sleepwalking. (Really – you don't remember carrying her inside?) She realizes the cat is not around and opens the door to look. Ack – don't open the door!
In comes Bum-soo, scandalized at seeing the two together. He quickly shuts the door (and thank God none of the searchers have found them yet) and eyes the two of them. Tae-ik: "It's not what you think!" Suurreee… Bum-soo decides to misdirect the search team and instructs them to leave separately.
Problem is, someone captured all of them in the mobile home with his/her phone through the window.
The three of them have a silent but agonizing ride home: Man-ok is confused over how she got into the mobile home; Tae-ik puzzles over the whereabouts of the sleeping bag she was in; and Bum-soo wonders if maybe… just maybe… they slept together?
Meanwhile Kang-hwi is out shopping and finds that a bunch of things were purchased at his favorite store already. He wonders who his wonderful benefactor is and finds a card with a hotel suite marked on it. He heads over, ignoring an urgent call from Go-dong to come to the company for a bit since it's his day off. He refuses to divulge where he's going and whom he's meeting. However, a shady character with a shawl around his head suspiciously follows him up to the floor of the suite.
Kang-hwi is momentarily suspicious of the stalker, but sees him stop at another hotel room. He then knocks on the hotel suite and an elegant but much older woman comes out to greet him in her bathrobe. Stalker captures it all on his camera. Looks like someone's out to get the dirt on Take One.
But Kang-hwi's shopping benefactor is not some sugar mama that he's entertaining for material goods. Nope – it's his mother! Apparently they've been separated for a while, and they sometimes sneak away to see each other every so often. Mrs. Won misses him so much that she wishes he would quit singing and return to her, but Kang-hwi points out she has Chairman Won to keep her company. She has no cares for the sickly Chairman, and wishes that he would claim his rightful place in the family. Everything she does for the Chairman is really for Kang-hwi's sake.
Wait – so Mrs. Won is trying to make sure Kang-hwi becomes a proper chaebol?
Kang-hwi doesn't like talking about family matters, so he gives his mother a hug and leaves. Stalker captures it all and informs his employer that he's got good dirt on Kang-hwi.
Tae-ik and Bum-soo make a stop at a local lounge, where Lee Joon requires his presence. Apparently, Lee Joon is trying to smooth things over with the marketing director that Tae-ik socked. It's also the first time Man-ok hears of the punching incident. Lee Joon wants Tae-ik to beg for forgiveness; Tae-ik looks like he'd rather wear the cat pajamas than do that. The  marketing director wants Tae-ik to pour him a shot of alcohol, and Lee Joon practically grabs Tae-ik and pushes the alcohol over to him.
So Tae-ik takes the bottle. And he pours it. And he keeps on pouring it… all over the guy's hand.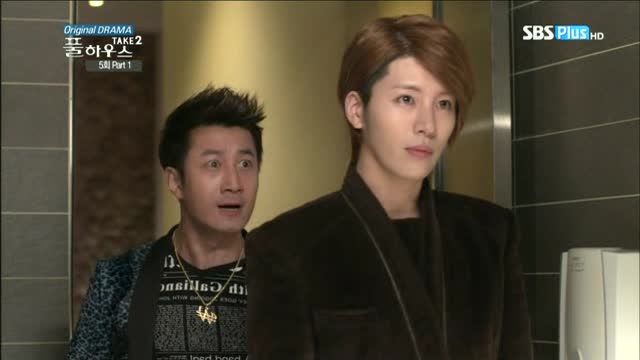 In the bathroom, Lee Joon yells at Tae-ik for his haughty behavior: "You're nothing but a singer and a model. He's the one who hired you!" Tae-ik replies with a smirk; that response is so similar to what the director told him before. Perhaps they planned all of this out on purpose? Besides, why must they take this company's commercial if there are others available?
Lee Joon: "YOU'RE JUST MY PUPPET!" Harsh words, sir. Harsh words.
Tae-ik: "Then you take care of it. The puppet doesn't have to be involved in these things." Wise words, sir. Wise words.
Back at home, Man-ok waits for Tae-ik to return. She's already learned that the estate used to belong to Tae-ik's family, as his parents were top architectures back in the day. Lee Joon now owns the entire estate, but Tae-ik's been slowly buying parts of it back, using his salary to buy his portion of the house.
As she explores another pathway to the house, she remembers the treelined path back to her memories as a child. FINALLY. She remembers that she's been there before with Grandpa. Let's hope she's figured out that Tae-ik is the same haughty kid that thought she was a boy.
She sees him returning home and hands over an herbal pain-relieving patch for his back that's also good for sensitive skin. Tae-ik actually looks touched by her gesture, and he accepts it quietly. At that moment, Man-ok's stomach growls loudly, so she takes her leave. But he has a heart, and he invites her out to eat.
Man-ok's stomach is grumbling so forcefully that she's hoping they'll stop by just anywhere for some food. I think Tae-ik just enjoys hearing it grumble while she's too ashamed to address it. He has to go to one of the most expensive restaurants, and though he makes it seem like he's a picky eater, he really just wants to treat her out to something nice.
The amount of food that he orders is borderline ridiculous, as he fills their entire table with expensive dishes. "You have to finish from here to here!" he gestures, and Man-ok finally agrees that they'll eat til they die. As Tae-ik is about to grab a bite, Man-ok picks up her phone – it's Kang-hwi on the other line. Man-ok steps outside to take the call, but Tae-ik can barely take a bite of his food when he hears Kang-hwi's voice.
Kang-hwi is drinking his sorrows away at a bar called Playground, and he requests Man-ok to come by now. She promises to stop by after she eats, and tries to hurry her meal with Tae-ik.
And then – we get a flashback to Kang-hwi's sad story. He was a young happy boy living with his mother, a hairdresser, when suddenly loan sharks/kidnappers throw a brick into the glass doors. The shards end up in Kang-hwi's eyes, and seeing blood come out of his eyes is actually quite sickening. The kidnappers separate the child from his mother, and take him away to Chairman Won's home in China.
He sits at the dinner table with an eye patch, all by his lonesome, and an elder "sister" takes pity on him. She gestures to the maid to help him get some of the fried shrimp, but the bratty younger sister refuses, taking a piece first even though Chairman Won grunts disapprovingly. It only emphasizes Kang-hwi's loneliness, so he cries. The wife takes no pity and sends him out, and her lack of approval for the child makes the chairman lose his appetite.
I can only guess now that Kang-hwi's mother was formerly the mistress, and now the second wife. Either way, Kang-hwi doesn't want to return to that home.
Man-ok is so full, but Tae-ik keeps putting stuff in his mouth, ever so slowly now that he knows she's just trying to go see Kang-hwi. He won't let her leave until he finishes, or else she has to pay the bill of W570,000. She has no choice but nibble at more food while Kang-hwi texts her, asking why she's late.
Kang-hwi finds himself finishing an entire bottle, and in the company of an unwanted guest, Jay, the upstart hoobae who wants Kang-hwi's commercial deal. Jay offers his own bottle, but before he brings it in he adds a sleeping drug into the bottle. Stalker is with him, and he finds drugging Kang-hwi unnecessary since he's already got the video at the hotel. But Jay wants to be sure. I can't believe this is all for a commercial shoot.
Jay finds Kang-hwi asleep and turns off his phone. Then he pours another drink for Kang-hwi just to be sure he'll be out like a light, and then takes him out of the club in Stalker's car, unconscious.
Back at home, Tae-ik is suffering from indigestion, though he believes it's impossible for him to get indigestion with such expensive food. After much squirming, Man-ok successfully pricks his finger to let the blood out. Tae-ik looks absolutely heartbroken over his pierced skin, and Man-ok threatens to poke his toe if he doesn't feel better after a bit.
She goes to get him some water and medicine, and he sits on the couch sucking his thumb, but smiling that she cares so much. When she returns, Tae-ik is already asleep on the couch, still sucking on his thumb. Too precious.
Realizing the time, she rushes out and notices Kang-hwi's still not home. Nor is he picking up his phone. Where could he be?
Part 2
Innocent Man-ok thinks that "Playground" means the playground near the company, and she mistakes a drunken man on the see-saw for Kang-hwi.
Kang-hwi wakes up in some cheap motel half-naked. He turns on his phone and calls Go-dong for help, who picks him up in a small, obscure car. Kang-hwi has no idea how he ended up there, and Go-dong wonders if Kang-hwi's hiding a woman. He drives him to the company, where Tae-ik's meeting him for practice, and he can't be late.
Meanwhile, Jay has gone to Lee Joon with pictures of Kang-hwi in bed with another man (presumably Stalker). Lee Joon discreetly takes out a mini recorder and asks Jay what he wants. It's simple: the commercial. (Such lengths for a commercial!) Lee Joon finds it all suspect and gets Jay to admit that he took the pictures himself instead of photoshopping it. Jay even threatens to release it to the press, since he knows a reporter. Sure, a reporter that Lee Joon introduced him to.
Lee Joon then plays back the recording and Jay realizes the jig is up. He tries to argue that he has a video of Kang-hwi at the hotel with his sponsor, but Lee Joon won't buy it. He adds that Star Entertainment gave Kang-hwi a huge sum of money if he could bring Tae-ik with him away from "UEnterLJ," but Lee Joon doesn't believe that they could ever betray him. Or even if he thinks they will, he refuses to let Jay think that he does. Instead, he threatens to reveal Jay's relationship with a female idol if he doesn't hand over the original photos and leave.
Well that fire's been put out.
Kang-hwi arrives at the company first and notices Jay leaving. But he doesn't think too hard on it when he realizes he's beat Tae-ik to the location.
They go to the studio and hear music playing, but it's not their backup dancers practicing. Instead, it's Man-ok using some of her hapkido moves to the beat of their song. Dismissed by Tae-ik, Kang-hwi follows her out to ask where she was. She says she was at the playground at 11, waiting by the swings for an hour. Kang-hwi: "Playground has swings?" Tae-ik comes upon them like a jealous schoolboy making sure his girl doesn't talk to other boys. He's miffed that she left him all alone to look for Kang-hwi, when in reality he was comfortably sleeping already. He exaggerates a cough and warns her that he'd better not get sick because of her.
Take One practices their routine with their backup dancers, and as soon as they all take a break, Man-ok rushes in to pick up her bag. But then her phone starts ringing, and she freaks to find out it's Grandpa. She screams "QUIET!" (though no one's really speaking) and then picks up the phone, telling Grandpa she's in the middle of a class. She then yells at everyone to start shouting after her.
Everyone gives her a blank look. But then Kang-hwi realizes she needs ambient shouts of a hapkido class going, and he starts shouting, encouraging everyone to follow along. They all start goofing off, pretending they're actually practicing punches and kicks, except for Tae-ik, who prefers to just watch the ridiculousness.
Afterwards, Kang-hwi wants to take her out to eat, and he suggests some kalbi and rice cakes. That nearly gives Tae-ik another bout of indigestion as that's what he and Man-ok had the night before. Go-dong suggests pizza, and Kang-hwi excitedly suggests a good Italian restaurant. But Tae-ik wants to go to a fast food pizza place (that looks suspiciously like Domino's). They get a 30% discount there. Ha – cheapskate Tae-ik's back. And with Go-dong's special requests for lots of toppings, it's clear they go to this pizza place a lot.
They sit in front of the TV eating the pizza while Tae-ik meticulously chops up his salad. Go-dong turns on the TV and they watch an interview with actress Jin Se-ryung. She's Go-dong and Man-ok's favorite star, but the sight of her nearly makes Kang-hwi gag.
When Tae-ik comes into the living room, Kang-hwi quickly shuts off the TV in consideration of him. But Go-dong turns it back on, not knowing what the big deal is. They catch the part where Se-ryung announces her return back to her roots in Korea, and that only makes Kang-hwi more nervous. Tae-ik puts down the salad and leaves for his room.
Tae-ik opens the back of a photo frame that has a picture of his parents. There's another photo of him sleeping with Se-ryung and Kang-hwi around his arms. It brings back another memory of that night the photo was taken. Se-ryung and Kang-hwi had gotten up at the same time and left the room, thinking that Tae-ik was asleep. But he wakes up and follows them outside…
Only to see Se-ryung forcefully kissing Kang-hwi.
OUCH. Betrayed! So Se-ryung was Tae-ik's ex, and I can guess that perhaps the duo were good friends until this happened. In Kang-hwi's defense, he did look awfully uncomfortable, and was struggling against her. Se-ryung also gives a sideways glance to make sure Tae-ik sees exactly what she's doing.
That same evening, Lee Joon has a meal with his mentor, the one who introduced him to Tae-ik's parents. Mentor is a little concerned about the company and reminds Lee Joon to make sure the company's image remains good. It also turns out that Lee Joon's been courting Se-ryung to join their agency, which could be a huge boon for them. Se-ryung has one condition (we don't know what), but it seems to put Lee Joon in a bit of a sticky situation.
His assistant comes back with results from Kang-hwi's eye test. The papers say that Kang-hwi will become blind, and so Lee Joon visits the doctor himself for confirmation. Apparently the accident when he was younger was far more severe than initially perceived. Kang-hwi's eyesight will keep getting worse and is nearly impossible to repair. The best thing he can do to delay the rapid deterioration is to remain stress-free and to stop doing shows where the stage lights can hurt him.
With all the different pieces of advice running through his head, he makes a decision. He wants the earliest flight available out of Korea, stat. (He's running away?)
Lee Joon then wants to meet with Kang-hwi right away, who's busy trying to create new choreography with the hapkido moves he saw Man-ok do. He gives Kang-hwi his passport, a ticket, and an envelope, and sends him off to go "rest." (Oh, so he's not running away… but he's sending Kang-hwi?)
Kang-hwi's puzzled over the sudden vacation and takes a look at the envelope. Instead of his test results (which is what I expected), it's photos of him in the hotel. Lee Joon pretends to be equally shocked and outraged over the photos, and Kang-hwi has no way to explain them. Unfortunately, he does recognize the hotel's pillows and realizes that he must have been framed. Though Lee Joon assures him that he took care of the situation, he wants Kang-hwi to disappear for a few days.
Go-dong drives Kang-hwi to the airport, unsure as to why Kang-hwi's being sent off so suddenly. Kang-hwi tries to contact Man-ok to say goodbye, but learns that she's with Tae-ik at a radio show. He needs a stylist because this radio show is going to be streamed live, and he needs to look like a fashionista. During the show, Tae-ik works hard to charm more fans, and shows off his drumming skills (since Noh Min-woo was the drummer for TRAX).
At the airport, Go-dong gets a sudden burst of affection for Kang-hwi and hugs him tightly before sending him off through security. Haha, so embarrassing. He then calls up Lee Joon to confirm that Kang-hwi's gone, and Lee Joon orders his assistant to "do as planned."
While waiting for his delayed flight, Kang-hwi takes a look at the latest entertainment news… and an article of him, with pictures, comes out declaring that he has a male lover. OHMYGOD! LEE JOON!!
Kang-hwi covers himself up even more at the airport and passes by a TV, broadcasting an emergency press conference with Lee Joon regarding the scandal. Meanwhile Tae-ik and Man-ok hear suspicious comments in the radio broadcasting station regarding Kang-hwi, and they go check out a nearby TV.
Lee Joon: "Regarding Kang-hwi's private life, we've tried our best to keep his privacy, but looking at it from a societal perspective we have decided to ban Won Kang-hwi from Take One."
WHAT!?
Comments:
This drama has just dived off the deep end into a Pool of Crazy Melodrama. While the situation overall is pretty insane and presumably funny, it's not treated with a comedic tone at all.
My interpretation is that Lee Joon's been courting Se-ryung for a while to join his company, but her condition in joining is to make sure Kang-hwi is not part of UEnterLJ. Though we haven't formally met her, she seems to be a bonafide selfish witch. My guess is that for the sake of her career she betrayed Tae-ik long ago by using Kang-hwi. She created a rift between them, and went on to be successful. Now that she's a hot star, she wants Tae-ik back, but she can't have him back with Kang-hwi around. Hence, get rid of Kang-hwi.
It's perfect that Jay got those scandalous photos of Kang-hwi, though whether Lee Joon helped manipulate Jay's animosity toward Kang-hwi to begin with or not is still unclear. Added to the fact that Kang-hwi may become blind in the future, Lee Joon realizes that Kang-hwi is more of a liability to the agency. He then decides to release those photos in order to have good reason to kick Kang-hwi out of the group.
Kang-hwi's sexual orientation should not affect his participation in Take One, even though it's all a lie. It's unfair and closed-minded, even though the whole scandal and publicity of it all can ruin one's career and image in general (just like divorces or marriages between celebrities can too). But for the sake of this drama I can see why it must be done. Kang-hwi's exit from the group will cause more obstacles for Take One and for Tae-ik. Take One is not "Tae-ik One," so there's got to be a way for Kang-hwi to return and expose all the lies.
In addition, it helps pave the way for a fake relationship to occur between Man-ok and Tae-ik. (Yes, despite all this drama's differences from its predecessor, I steadfastly still believe that this one plot point will hold over in this "sequel.") Either Tae-ik gets roped into the scandal and must prove his sexual orientation by being in a relationship with Man-ok, or he uses Man-ok to show Se-ryung that he's over her and doesn't want anything to do with her. The latter option would certainly take the wind out of Se-ryung's sails, and make it more difficult for the agency to profit off of their romance.
But enough theorizing on the plot. This episode certainly has shed a lot of light on Tae-ik and Kang-hwi's tumultuous past, and I'm quite grateful to see that they led such complicated lives that makes them who they are. There's a true bromance beneath all that rivalry, and I'd love to see it return front and center. Though the storyline is veering towards crazy-ville, I am enjoying the touch of meta in this drama that's making it a bit more about the world these stars live in rather than just the romance between two people stuck together all the time.
RELATED POSTS
Tags: featured, Full House Take 2, Hwang Jung-eum, Noh Min-woo, Park Ki-woong