Full House Take 2: Episode 8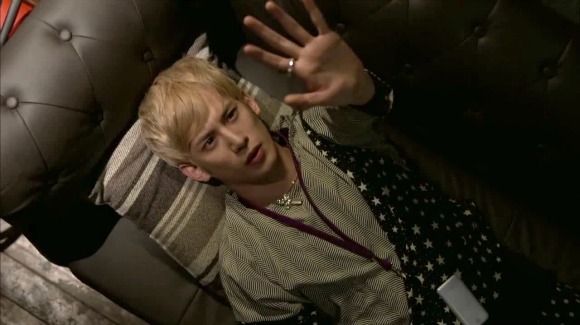 Count on one person's arrival to offset the balance of this adorable love triangle. The ripples of her presence don't quite disturb the tension just yet but you know that it's brewing. We're still in the calm before the storm but as the clues start to piece together, this Full House is about to get rocked.
EPISODE 8, PART 1
It's clear that Se-ryung's sudden arrival isn't warmly welcomed as Tae-ik tries to wriggle out of her hug. Back in the basement, Kang-hwi frowns at the mention of Se-ryung and asks about Tae-ik's reaction to the situation.
Man-ok didn't stay to find out but the hug makes her wonder about their relationship. Kang-hwi answers that Se-ryung was formerly associated with the company and previously lived in Full House. But there's more: Se-ryung is Tae-ik's first love.
Se-ryung makes herself at home despite Tae-ik's demands for her to leave. He sighs in disbelief as she matter-of-factly tells him that she'll be residing here for the time being.
Then he practically goes livid when she adds that she's also signed a contract with Lee Joon. She finishes his sentences that he must find her thick-skinned and stubborn. With a self-satisfying smile, she comments, "You used to like this part of me. That I'm like a queen."
Tae-ik storms out and ignores Man-ok's shouts towards him. Inside, Se-ryung mutters, "Idiot. You're going to come back to me anyway."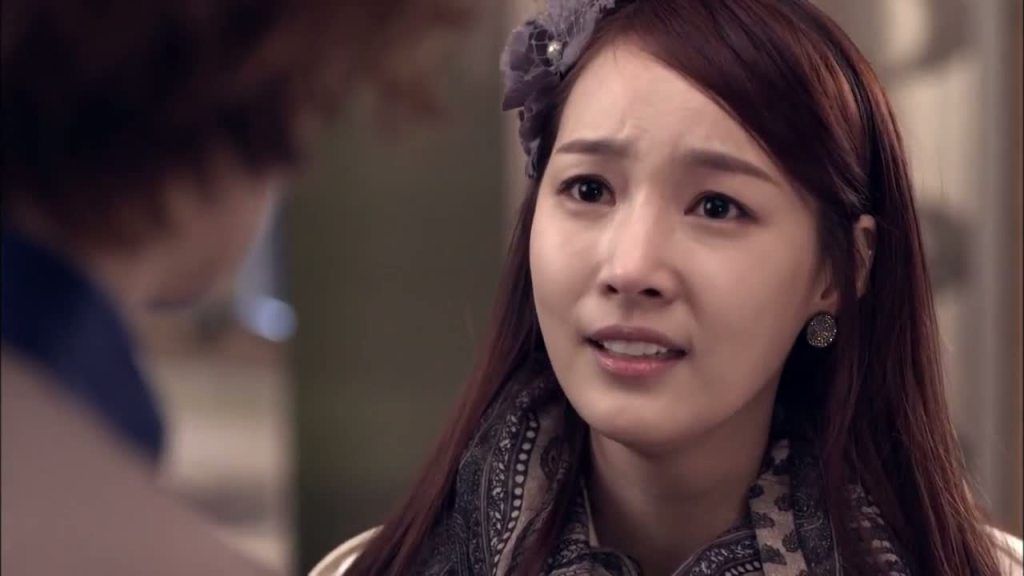 Tae-ik drives off into the night as his past replays in his head. He had tried to stop her from leaving Full House, maybe even willing to give her the benefit of the doubt after seeing her kiss Kang-hwi.
But she'd bitterly reminded him about his promise to "treat her like a queen" and voiced her frustrations at being second fiddle to Tae-ik's desire to acquire Full House.
She told him, "Become successful, earn lots of money, and buy back this house. Then live as grand as you once did. Then I'll reconsider [us]." Gah, please don't tell me she's part of the reason why you worked so hard to get the house back.
He pulls over and reclines in his seat to brood.
Man-ok's preoccupied with thoughts of Tae-sang as she tends to Kang-hwi's leg. She notices his car parked outside and Man-ok hurries inside to find him, only to see Se-ryung, sipping some wine.
She finds him sitting on a swing, somberly overlooking the rest of the estate. She gathers some resolve before telling him in a light-hearted manner that she was worried he'd run away. His answer saddens me: "I didn't have anywhere to go. Except here."
Tae-ik furrows his brow to hear that Se-ryung's still awake, to which Man-ok reminds him that it'll just give him wrinkles. Ha.
In an effort to lift his spirits, she offers to show him an "energizing kick." The thought gets him to smile and he laughs at her readying stance. She swings, rolls on her ankles…
…and Tae-ik catches her, bringing their faces within inches of each other. The sight of her lips causes Tae-ik's heart to pound involuntarily and it's Man-ok who pulls out of the awkward gaze first.
Things are still awkward between them in the morning. Se-ryung is annoyingly cheery as usual and now she bothers to learn Man-ok's name. Once she hears it, she comments that it's too hard to pronounce.
Tae-ik doesn't so much as acknowledge Se-ryung's presence at breakfast so Se-ryung comments that Tae-ik loves it when you bite his lower lip when you kiss him. Can we try that?
Man-ok nearly coughs up her food and Se-ryung notes that she finds it hard to believe that an engaged couple haven't kissed yet. Tae-ik leaves the table without a word and Man-ok shoots Se-ryung death glares.
Tae-ik searches the 'net about sleepwalking remedies (aw) and Man-ok gets a text from Kang-hwi who's dying to go to the bathroom. Problem is, Se-ryung's lounging in the living room nursing a glass of wine. After some time, she picks up on Man-ok's nervousness, finding it suspicious.
When Man-ok explains that she's worried about the kitty in the basement, Se-ryung lights up. Wait until you see how big "kitty" is.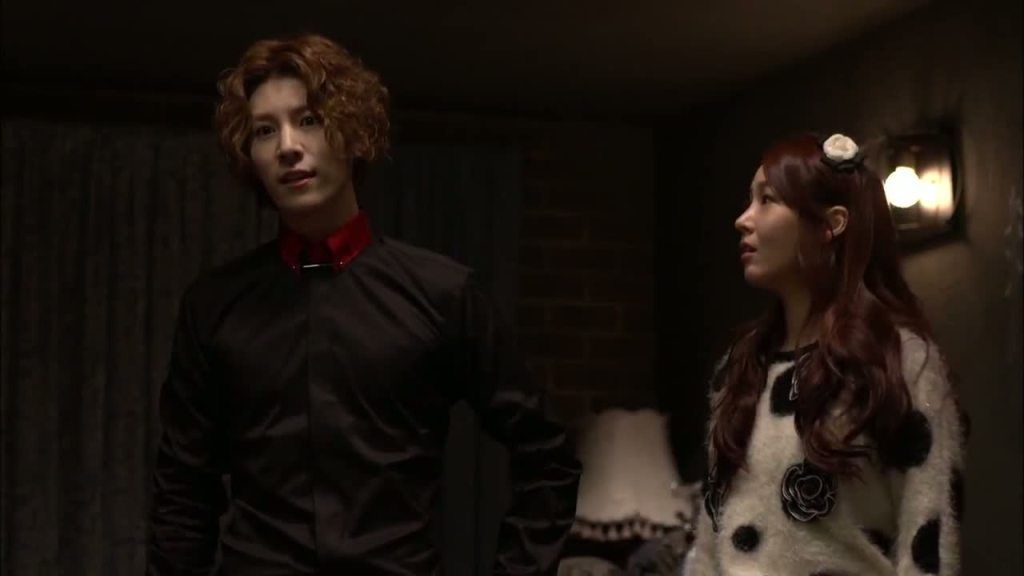 Sure enough, out stumbles Kang-hwi. And if his luck weren't bad enough, Tae-ik drops in that very moment and sends a hard look at Man-ok.
They take in the temporary living space and Se-ryun chirps that this is huge news: Kang-hwi is living in the Full House basement and taken care of by Tae-ik's fiancée. Tae-ik glares at her and she replies, "It wasn't me who hid him!"
The gravity of this situation doesn't register with her and Kang-hwi tells her as much. She rants on about how this was her discovery and shuts up with one harsh word from Tae-ik.
Kang-hwi explains that until he finds the evidence that clears his name, he's not going anywhere. Relying on the fact they've been a team for five years, he asks for a few days of patience until his leg heals.
The homely decorations Man-ok's made for these quarters sting Tae-ik. He walks towards the door but before he leaves, he warns Kang-hwi to stay out of Lee Joon's sight. Kang-hwi's got one week to find what he needs and then get out.
Se-ryung's undercuts this dramatic moment – it's virtually impossible not be seen by the president when he walks to and from this house so often. Tae-ik tells her to shush. Thank you.
Tae-ik returns to his room, enraged, but then notices Man-ok lingering outside his door on his computer screen. He watches her slump onto the floor and puts out a hand, as if to touch her.
Lee Joon excitedly shares some developments on Tae-ik's solo album which Tae-ik still isn't interested in. When he asks about Kang-hwi, Lee Joon replies in a hardened tone that he's overseas and Tae-ik scoffs.
After another round of Do As You're Told, Tae-ik wonders if Lee Joon takes that same stance with Se-ryung. No, he isn't interested in Se-ryung but the guest house is supposed to be his own personal space.
Lee Joon retorts that he wouldn't have had to invest in recruiting Se-ryung if the boys didn't cause him so much trouble. Tae-ik barks back, "You know full well what kind of relationship she and I had!"
Lee Joon throws his words back at him – didn't Tae-ik say he wasn't interested in her? At most, it'll be a week. As for his solo, they'll start recording right away so he's got no choice in the matter.
Tae-ik storms out the office, blowing past Se-ryung only to hear more bad news from Go-dong: Manager Hwang aka Bum-soo has been assigned to be Se-ryung's road manager.
Lee Joon tries to persuade Se-ryung to attend a film festival and informs her that Tae-ik's attendance will be difficult for several reasons: he's got a solo album and he doesn't want to see her.
Interestingly enough, her voice goes serious, "If it were easy, I'd do it myself." Lee Joon concedes.
Before she leaves, she wonders if Tae-ik really wanted to get engaged since Man-ok doesn't fit Tae-ik's taste in women. Lee Joon pretty much tells her that only the ones in the relationship would know for sure.
Then he stops: "But you would know that better than I would, right?"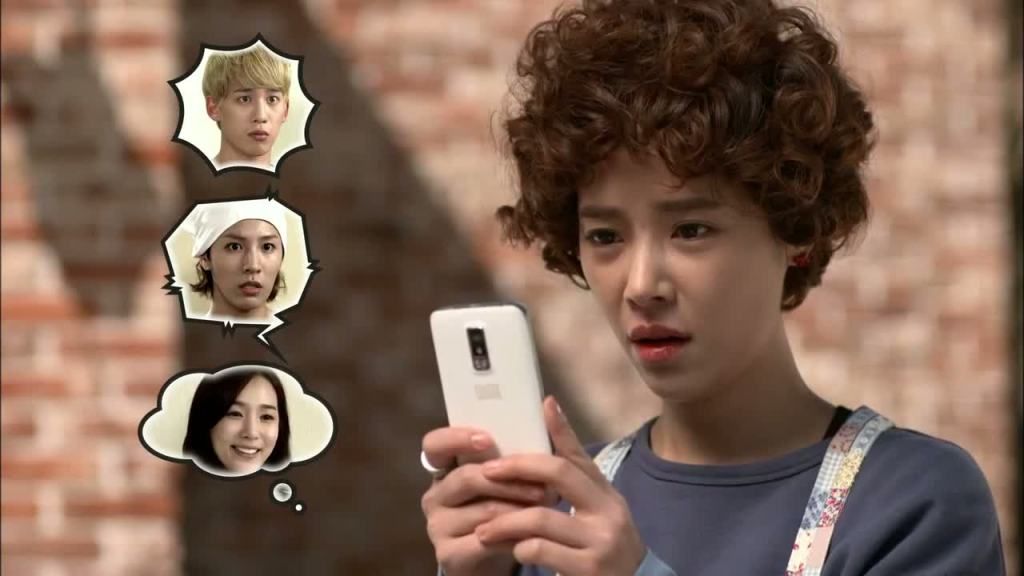 Ha – I love that Man-ok's got three Hallyu stars to take care of and she sighs in exasperation when they all pelt her with texts. She spots a garden hoe and gets an idea…
Tae-ik freaks out when he sees her ripping through the flower garden. Woman's got a hoe; I'd be careful where you tread. Man-ok tells him that she plans on converting it into something useful like a vegetable garden.
This idea appeals to his frugality – why not grow your own? Man-ok even goes as far to tell him that it's a great stress-buster. When that doesn't work, she tells him that he ought to do it – it's all going in his stomach anyway. HA.
Naturally Se-ryung finds Tae-ik's room empty and picks up the picture frame by his bed containing his family. That triggers an earlier memory when they were dating and she'd chased him around to get a glimpse of the hidden photo beneath the cover.
She asked him why he hid it and he answered, "Because it's precious."
Back in the present she takes off the back cover and spots the picture of her lying next to Tae-ik and Kang-hwi.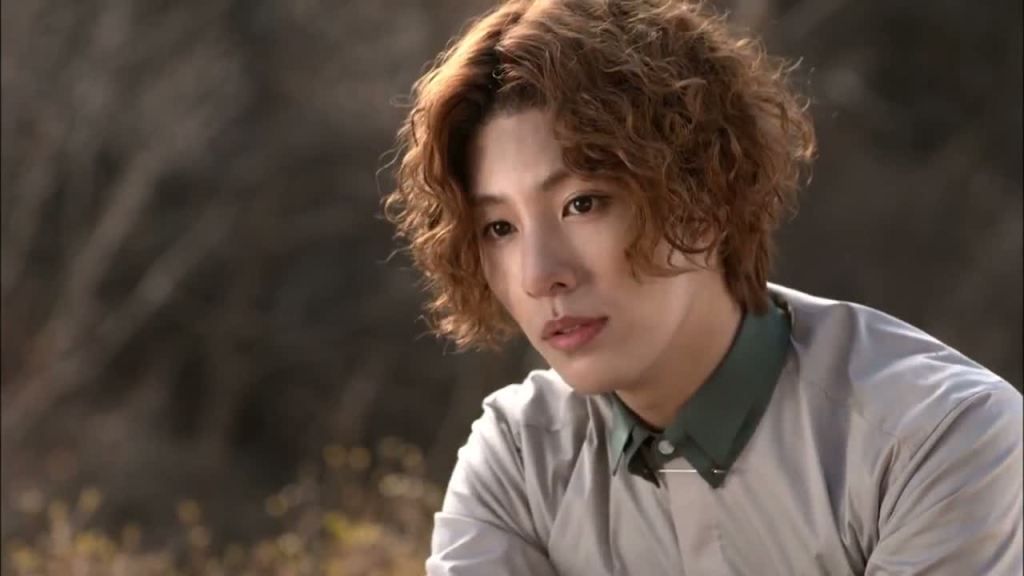 Cut back to Tae-ik who is engrossed and enthusiastic about digging into the earth, shoveling into the garden like there's no tomorrow. He drinks in Man-ok's praises but then stops at the mention of Kang-hwi's name.
Man-ok apologizes that she didn't tell him sooner and he asks about her sleepwalking disorder. She clarifies that once she's asleep, she's down for the count. Tae-ik recalls how deep in slumber she was when she slept outside the trailer and smiles, "You did sleep soundly then."
He covers it up, saying that sleepwalking is a scary habit, and grows irritated when Man-ok remarks that he's sure scared about a lot of things. She stops and silently encourages him to continue digging.
Se-ryung has her things moved into the room next to Tae-ik's, much to his displeasure. Kang-hwi informs Man-ok that it's just Se-ryung always does as she pleases.
Man-ok notes that Kang-hwi doesn't seem to like Se-ryung very much. He replies that he doesn't like people who are like watermelons: green on the outside and red on the inside.
Wrapping her in his white scarf, he comments that he rather likes people like Man-ok (she gulps) who are pure white on the inside and out. That reminds him of a children's song about a bear with a cute nose and soon they're both singing and dancing to the tune.
Kang-hwi smiles as she sings and then suddenly pulls her towards him and kisses her on the nose. She looks back at him, stunned.
EPISODE 8, PART 2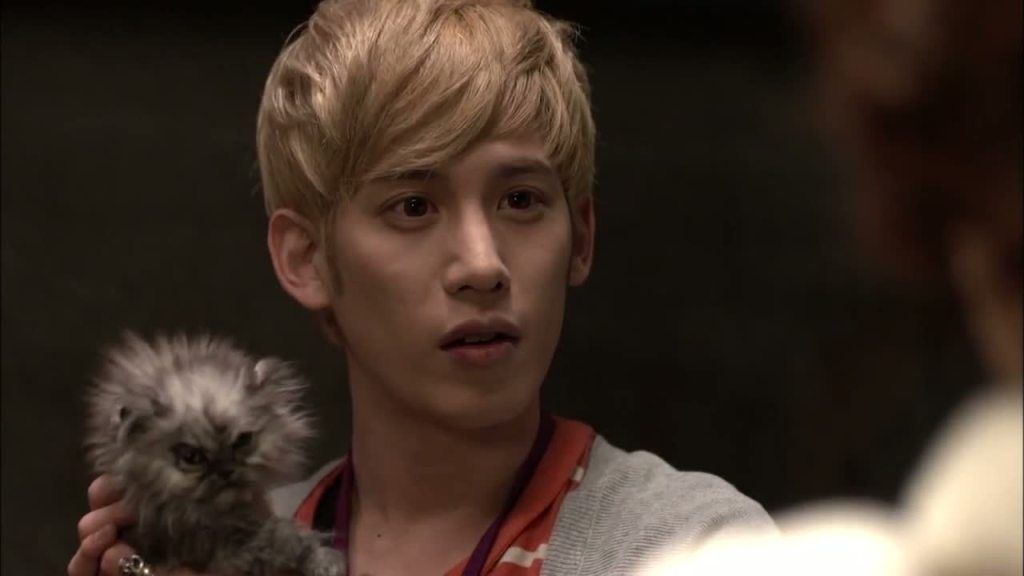 Kang-hwi teases that Man-ok's face turned pink and picks up the kitten, "Look at Mommy turn red!" The term 'mommy' makes her pause and Kang-hwi revises, "Then should we call ourselves 'unni' and 'oppa' instead?" That won't work either because Chaton is a male. Whoops.
Man-ok places her hands to her reddened face only to be called over by Tae-ik who's now donned his gardening hat. He puts her to back to work on the vegetable garden.
Se-ryung sets up a meeting for Lee Joon with a designer who's highly interested in investing in his company. Thing is, there's a condition to the deal: reinstate Kang-hwi to the industry.
Lee Joon swallows and informs his guest that a once-blacklisted celebrity isn't easily accepted back into entertainment. His guest is well informed of Lee Joon's ability to tear someone down; she's counting on his ability to bring them back. Her reason is simple: Kang-hwi is her muse.
But Lee Joon can't afford to let a good investment deal slip through his fingers and he accepts. After the meeting, he demands that his secretary track Kang-hwi down.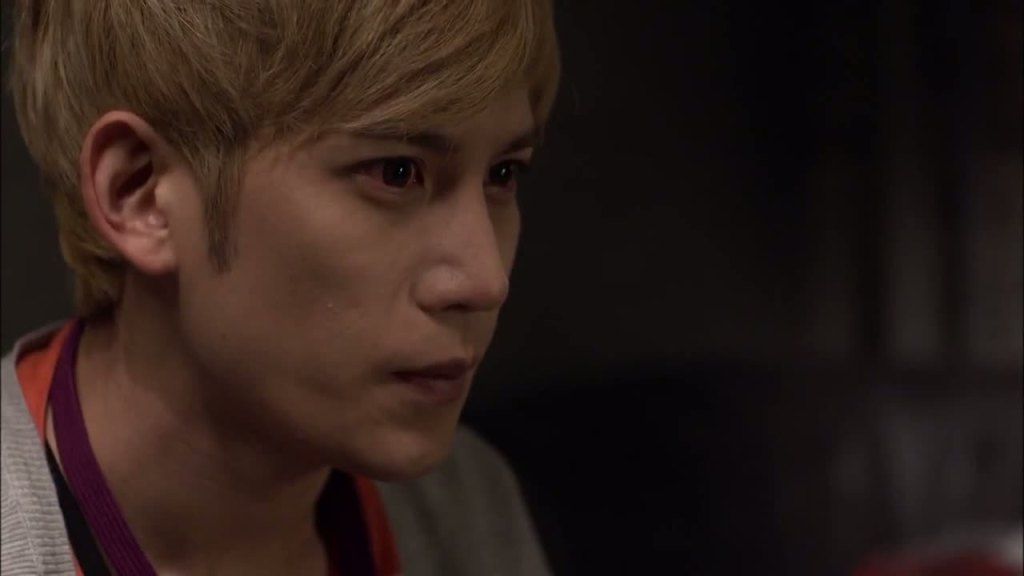 You rang? Kang-hwi is busy trying to find an alternative way into the office. The construction makes it impossible and he hobbles back to the basement where Se-ryung is waiting for him.
Kang-hwi stiffens at the mention of the designer's name. But he's sharp enough to pick up that Se-ryung has ulterior motives behind the namedrop – what does she want? She answers, "I don't like you living here."
He hasn't done anything particularly hateful towards her and she replies with a cool smile, "You know those in life where you hate their entire existence."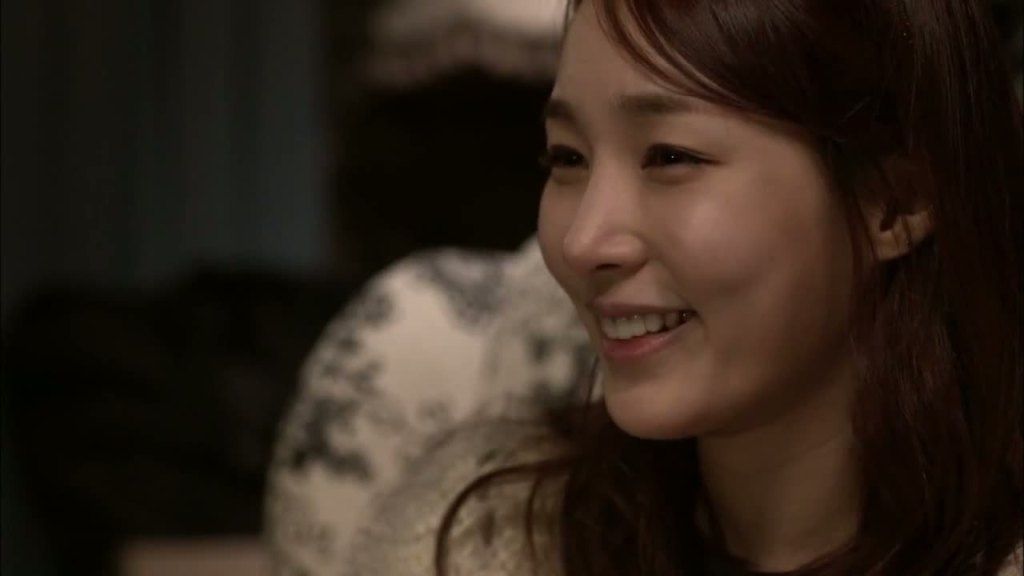 Apparently she doesn't like the idea of anyone close to Tae-ik and Kang-hwi retorts, "So you're offended that I can see right through that black heart of yours?" He tells her to dream on if Se-ryung thinks she has a chance with Tae-ik; he's already engaged.
But that doesn't bother Se-ryung at all. Sure she was a little nervous at the headlines but that dissipated as soon as she saw Man-ok. Because there's no way Tae-ik would love a plain girl like her.
She gives him a final warning that he better get out soon because she doesn't know when her words might slip.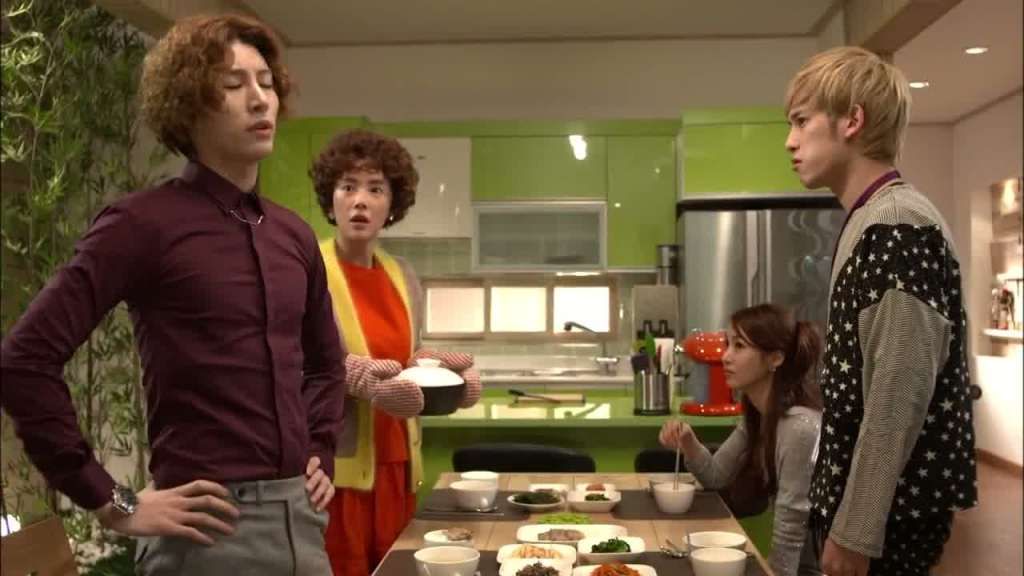 Heh, I kinda love that Man-ok is a firm hand to keep all three celebrities in line, telling them that if they don't eat now, they don't eat. It's pretty satisfying to watch her bring these larger-to-life characters back down to Earth.
Kang-hwi's vision blurs again when he tries to reach for some food but he dismisses it. Man-ok sweetly puts it on for him and Se-ryung digs that Man-ok is taking better care of Kang-hwi than her fiancé.
His eyes keep bothering him and Kang-hwi excuses himself from the table.
Se-ryung's jaw drops over the state of Man-ok's skin and how it's unfit for Tae-ik's betrothed. She keeps going that the food's too spicy for her royal tastebuds.
That's the last straw for Tae-ik and he grabs Se-ryung's spoon away. He yells at Man-ok that his fiancée, who's engaged to a top star idol, shouldn't serve food to just anyone: "From now on, just make me food!"
Se-ryung scowls and Man-ok smiles, pleased. And soon, she's left with an entire breakfast table to herself. Ha.
Kang-hwi lies on his couch in the dark with his arm outstretched. His hand still appears blurry to his eyes and he wonders if he should go back to the hospital.
Just then, Man-ok appears with a big bowl of bibimbap to share. At the same time, Tae-ik lights up when he sees a breakfast laid out for him as well.
Man-ok asks after the reason why Tae-ik and Se-ryung broke up, citing that it must be awfully awkward for exes to live under the same roof. Kang-hwi explains that it was Tae-ik who loved her but Se-ryung who left him.
Man-ok keeps her tone as casual as she can, commenting that it must have been hard on Tae-ik.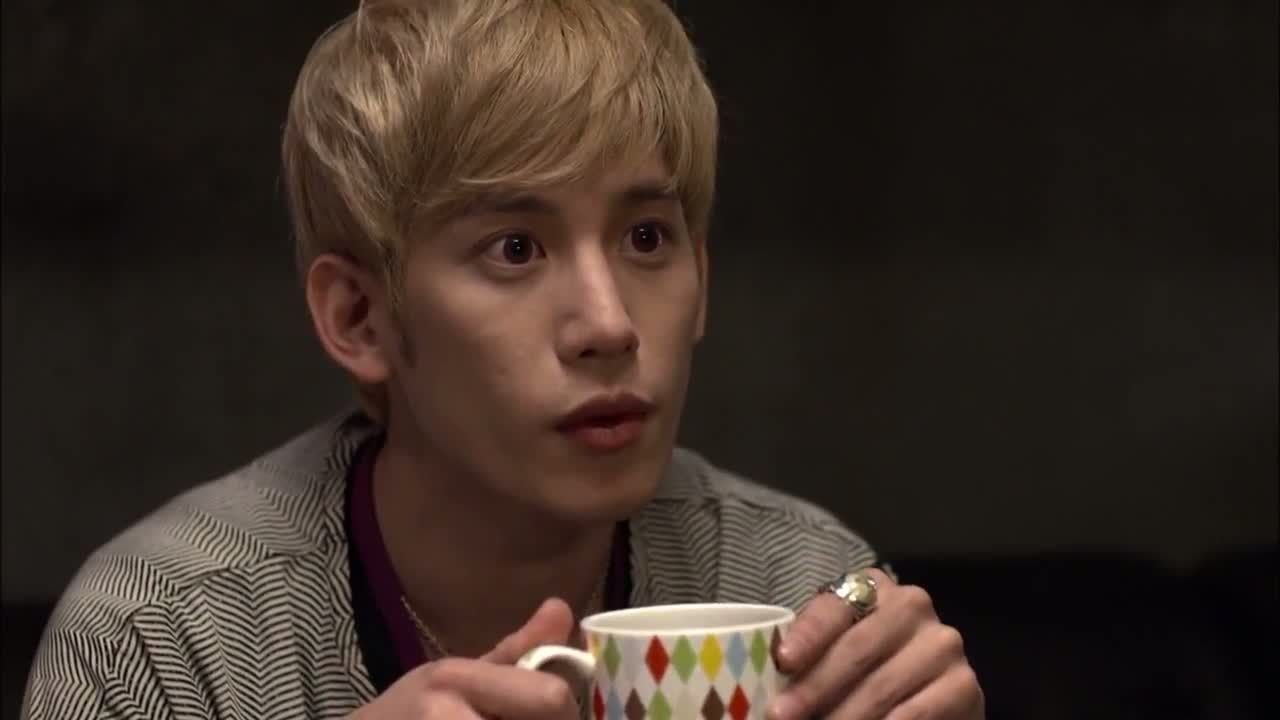 And Kang-hwi asks, "And what about me? Aren't you curious about me?" Like his past love life and who he might like now. She doesn't happen to think he really like guys, right? She doesn't but says that she'll ask next time.
Man-ok notes that she might be busy with Tae-ik's solo preparations and Kang-hwi does his best to hide his disappointment though he betrays a look in her direction.
Preparations for Tae-ik's solo are all systems go, as he starts recording and participates in photo shoots. There's a sweet moment when Man-ok nods off in the van and Tae-ik silently rests her head back onto the seat.
They take a detour to the department store. Aww, are you going to get Man-ok makeup? He describes Man-ok's symptoms to the clerk (Man-ok has no idea) and Man-ok gasps when he actually buys the expensive cream. Like an actual product and not just the samples.
Through gritted teeth, he bites, "Are you broadcasting that I use samples to the world?"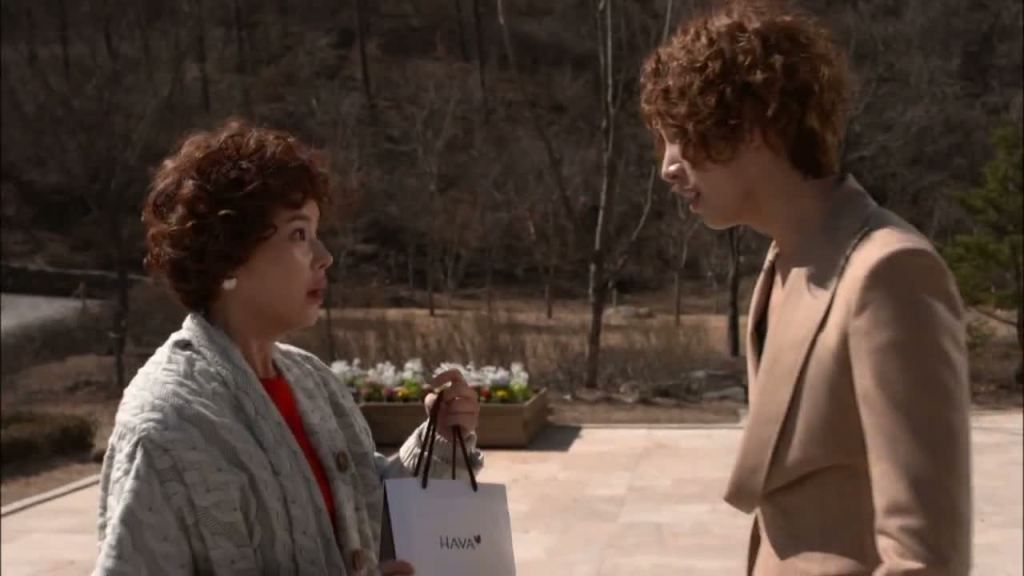 When they get back he uses the gruff You can use it line, to which Man-ok wonders what the occasion is that the "petty and rude bastard" would gift her with something this nice.
Tae-ik turns right back around upon hearing those words. Since he can't have the world thinking that his fiancée's awful skin is due to him working her so hard, she should just use it. Use it, he says!
Man-ok yells out a thanks and then adds more quietly, "You rude bastard."
Back in her room, she marvels at the gift and wonders why he had to give it to her in such a snappy tone.
She pulls out a sketchbook and draws Tae-ik in his gardening hat. That hair looks a lot better there than in real life.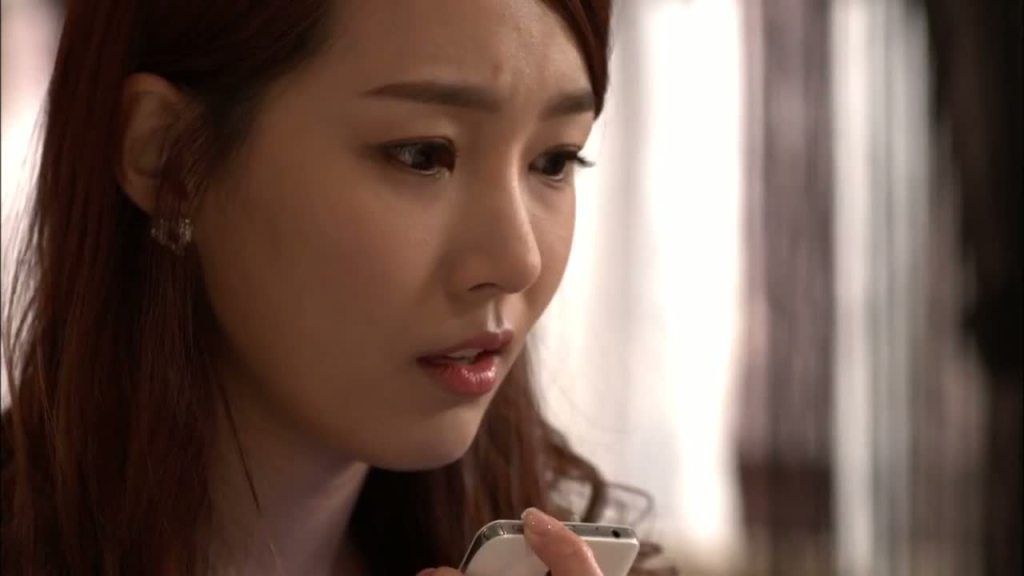 God forbid that the international star should carry out that menial task of picking up packages. She leaves it on the table for Tae-ik but then curiosity gets the best of her.
They're proofs of Tae-ik and Man-ok's "love story," which doesn't seem off at first glance. But then, Se-ryung notices that the timestamps are all the same date.
It doesn't take her long to track down the clues about the staged photoshoot and the photographer even 'fesses up that they did the shoot in a hurry and that they were supposed to act like lovers.
She doesn't mention that she knows when the engaged couple return to Full House, but now she's aware that it's all an act.
Man-ok gifts Tae-ik with a one-of-a-kind present: a T-shirt with her drawing of him printed on it. He looks at her – she doesn't expect him to wear this, right?
Man-ok lunges to take it back, figuring that he doesn't want it but Tae-ik keeps it anyway. Like a child, he stuffs it behind him, Hey no takebacks!
Aww and then he actually tries it on and poses in front of the mirror with it.
Tae-ik continues to ignore Se-ryung even though she sits in plain view in the living room, drinking more wine. She runs up to him and embraces him in a backhug. How long does he plan on treating her like a ghost?
He tells Se-ryung that she's drunk and to go to bed. He tries to release himself from her grip but she holds on even tighter, saying, "I meant it when I told you that I wanted to start things up with you again."
He whips around to face her and throws back that she also said she meant it when they broke up. Be it when she told him she liked him or split, what sincerity is there in the words of someone who ignores how another person feels?
Se-ryung asks if this is how he really feels. In all honesty, he hasn't forgotten about her. "Pretending that you don't see me, that you ignore me. You're doing that on purpose because you can't forget me!"
Tae-ik's eyes glaze over in tears and he turns to go but she stops him. If he really forgot about her, then what about the photo of them hidden in that frame?
All he had to do to clear the rumors about being gay was to show that photo. Why didn't he do it? Omg, girl is actually making sense.
She breaks down. "You did it to protect me. Because if you showed that photo, I might get hurt." Se-ryung falls into his chest and sobs.
Tae-ik reaches for Se-ryung's arm, ready to move her away from him. And just then, he looks over and locks eyes with Man-ok.

COMMENTS
Now that our love square is complete and all under one roof, I'm oddly confused with Se-ryung because like our other characters runs between both extremes: either she's in denial and annoyingly chipper  or extremely shrewd at getting what she wants. It could very well be that her thinly veiled insults with a smile are just that and there lurks an evil genius within. But given the drops we've seen so far, it hasn't ignited a rippling effect just yet.
I'd really love to see Kang-hwi get crackin' to find the recorder now that he's (almost) out of the basement. The more time passes, the more his name gets dragged in the mud.  Perhaps because the public believes him to be abroad, I'm surprised that things haven't blown more out of proportion and escalated further. Or that Tae-ik's solo preparations continue without a hitch. Then it occurred to me that the little news about an engagement could draw one's attention elsewhere.
If you happened to be confused about the date on the photos (written as April) and found it strange, it's that the show aimed for a broadcast earlier this year but unfortunately wasn't picked up until now. Which means filming has already concluded and no, we can't fix the hair. I know – someone that pretty shouldn't have such an atrocious 'do.
Tae-ik still continues to be my favorite character in this series. I like how the show drops teeny hints to his past that satiate my palate just long enough to keep me intrigued. What's more is that we're seeing that cold facade shaking even more and more of his caring side peeking through. His affection towards Man-ok is downright adorable and I can't wait until he acknowledges and embraces it.  Can you imagine all the Cute?
RELATED POSTS
Tags: featured, Full House Take 2, Hwang Jung-eum, Noh Min-woo, Park Ki-woong