King of Dramas: Episode 3
It's war, and victory lies in the acquisition of one lovably dull Hallyu star wannabe. There are guns, towels, and even gun-towels as Anthony and Go-eun track down their leading man, with every new length they go to even crazier than the last. If things are this tense now, how is anyone supposed to make it out of filming alive?

EPISODE 3 RECAP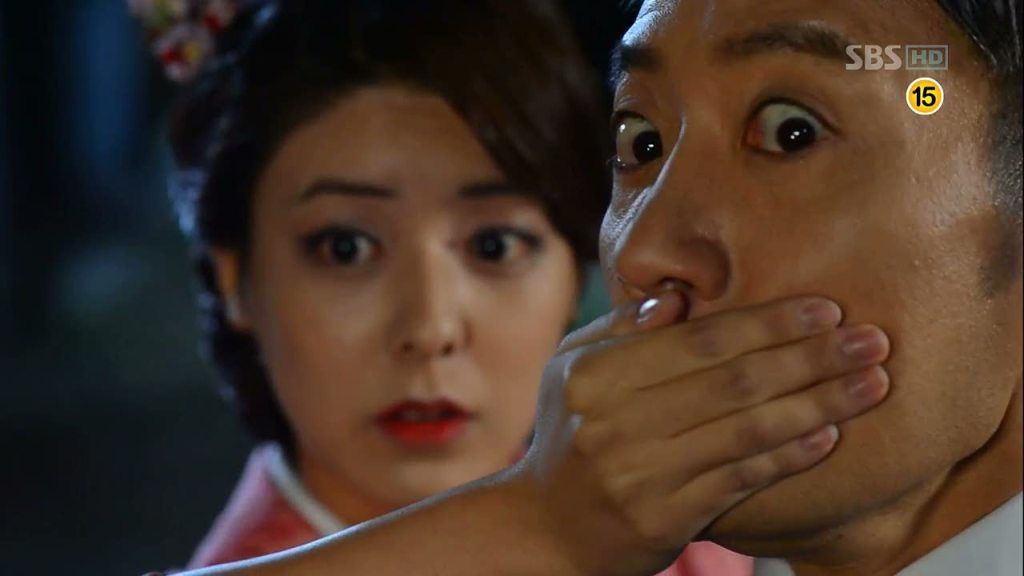 Watanabe shoots the promise-breaking gangster, and Anthony stumbles in shock. His savior turns out to be none other than Watanabe's wife AKIKO, who successfully covers for Anthony. And that dead body? She doesn't even give it a first glance, much less a second one.
She finds Anthony still reeling, cheerfully responding in Korean since she's a Korean drama fan. I love that she's all smiles as she explains that her husband – a VIP head of the Yakuza – doesn't kill people that often. Oh, well I feel better already.
And as she explains how warm and fuzzy he is on the inside, we see him executing fellow gangsters, one by one. Anthony struggles to swallow the truth, that he just signed a contract with a Yakuza member who kills liars.
According to Akiko, there won't be any problems as long as Anthony gets Kyungsung Morning on air this year. The rush order is due to Watanabe having late-stage stomach cancer.
Go-eun returns from the hot springs in time to see Akiko reassuringly pat Anthony's shoulder. She misinterprets the scene, and doesn't give Anthony a chance to explain.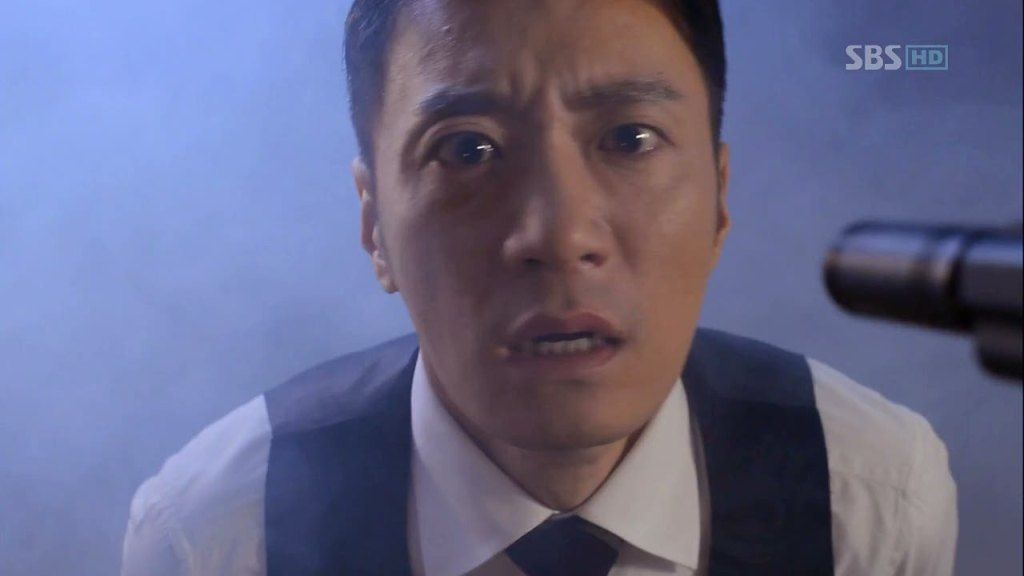 Anthony spends the night worrying and wondering if he should try backing out of the contract before it's too late. But even that scenario seems to end with him being shot by Watanabe, so he steels himself as he decides to go for it. "I only have one life, so who cares even if I use his money? The dice of destiny has already been cast." Dun dun dun.
CEO Oh gets a call from the Watanabe Group, and is incensed once he hears that they've decided to go with World Productions instead. He knows Anthony stole the deal.
Anthony and Go-eun return to Korea without a moment to lose – they're on the strictest of production deadlines as of now. Go-eun gets treated to the finest World Productions has to offer, which includes a desk (which belonged to assistant DONG-SUK two seconds ago), and Dong-suk's former bedroom.
Props to Dong-suk for taking this all like a champ, and Go-eun is left to cringe at her filthy surroundings. I love that Anthony's demeanor is just like it'd be if he were operating out of a real office.
Enter CEO Oh, whose pleasantries last for only a moment before he maliciously admits to leaking the dead biker news in order to ruin Anthony. And aww, because the devastated look on Anthony's face tells us he'd never even entertained the thought before.
But CEO Oh is on a roll, and gets everything off his chest, like how he toiled away as Anthony's subordinate for seven whole years, doing nothing but cleaning up after him. Only to have Anthony take the credit, of course.
"You, who has to resort to petty tricks to make one drama," CEO Oh spits. "A loser like you who hit rock bottom can't dare to confront me, the most powerful man in drama production history. The King of the Empire is me, Oh Jin-wan!"
He advises Anthony to lay low if he wants to keep even a semblance of respect, and leaves.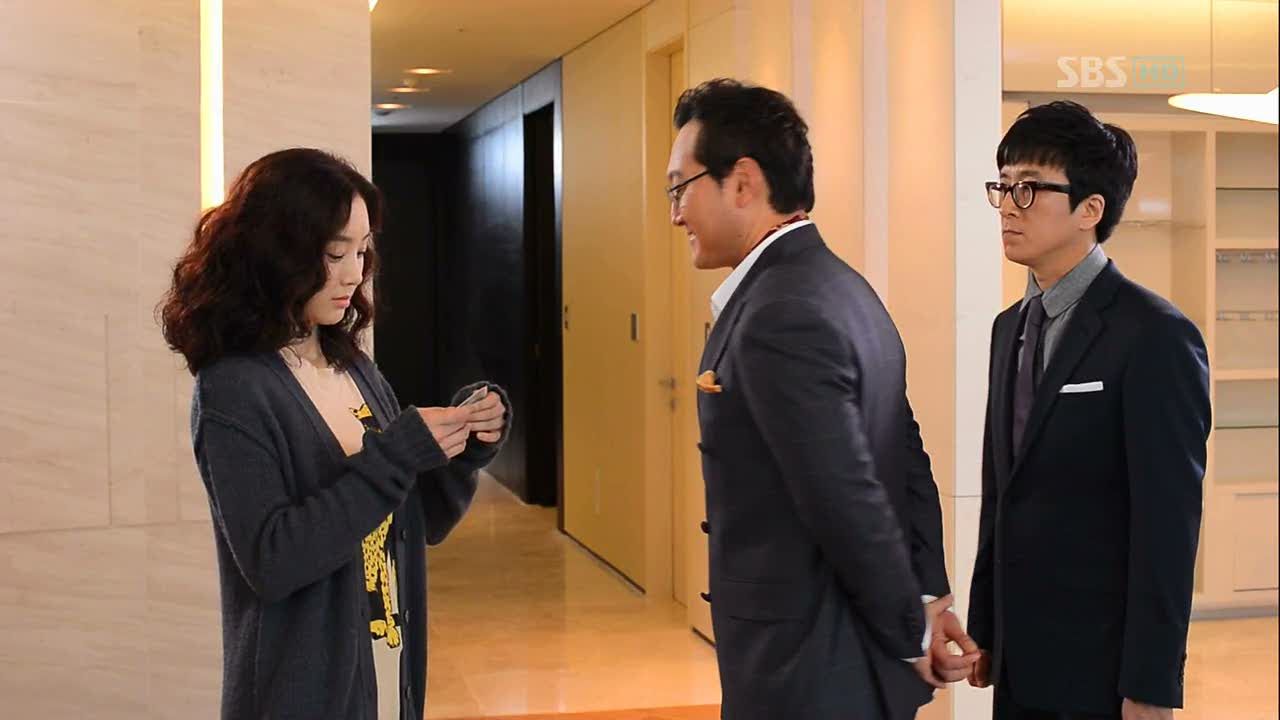 Go-eun tiptoes around a brooding Anthony as she cleans, and is caught by CEO Oh outside. He brings her to a swank apartment and offers it to her as part of the deal if she were to sign with Empire Productions instead.
She's shrewd, at least, and knows that CEO Oh has made the deal so sweet because he wants revenge on Anthony. He surprises her by telling her that the investment deal with Watanabe wouldn't have happened without her script, and that Anthony deceived her into thinking otherwise.
His offer? Immediate production of Kyungsung Morning, something he tells her Anthony can't pull through on. Along with the key to the apartment, he gives her until tomorrow to decide. Eek. This is kind of one of those deals she'd be a fool to refuse.
Back at headquarters, Anthony wonders where Go-eun has gone.
Go-eun takes the night to think over the offer, and calls her mom for advice. Should she keep a promise with a person she can't trust, or should she go with a guaranteed future instead? Mom's answer: Break the promise, go with the guaranteed future.
She's still torn, and stays up till morning. Anthony can't get ahold of her still, but hopes that she'll make it by their afternoon meeting. She doesn't. Poor Anthony. He looks crushed.
But, when CEO Oh returns to the apartment, he finds only a note. As Go-eun runs back to World Productions, we hear her narrate that she wants her drama to be successful without having to step on anyone to get there.
"I can't take this opportunity by breaking a promise," the note goes on to say. Go Go-eun! And go, Integrity!
She finally makes it to Anthony, heaving from her running spree. Though his face remains stoic, it's easy to see that he's happy to see her. She lies about staying over at a friend's place for the night, and he's even relieved to hear that she's choosing to stay in her shabby room. D'aww. You big softie.
Meanwhile, CEO Oh decides to go with plan B: Calling Writer Jung so they can make Elegant Revenge 2. Ahaha. The name still cracks me up.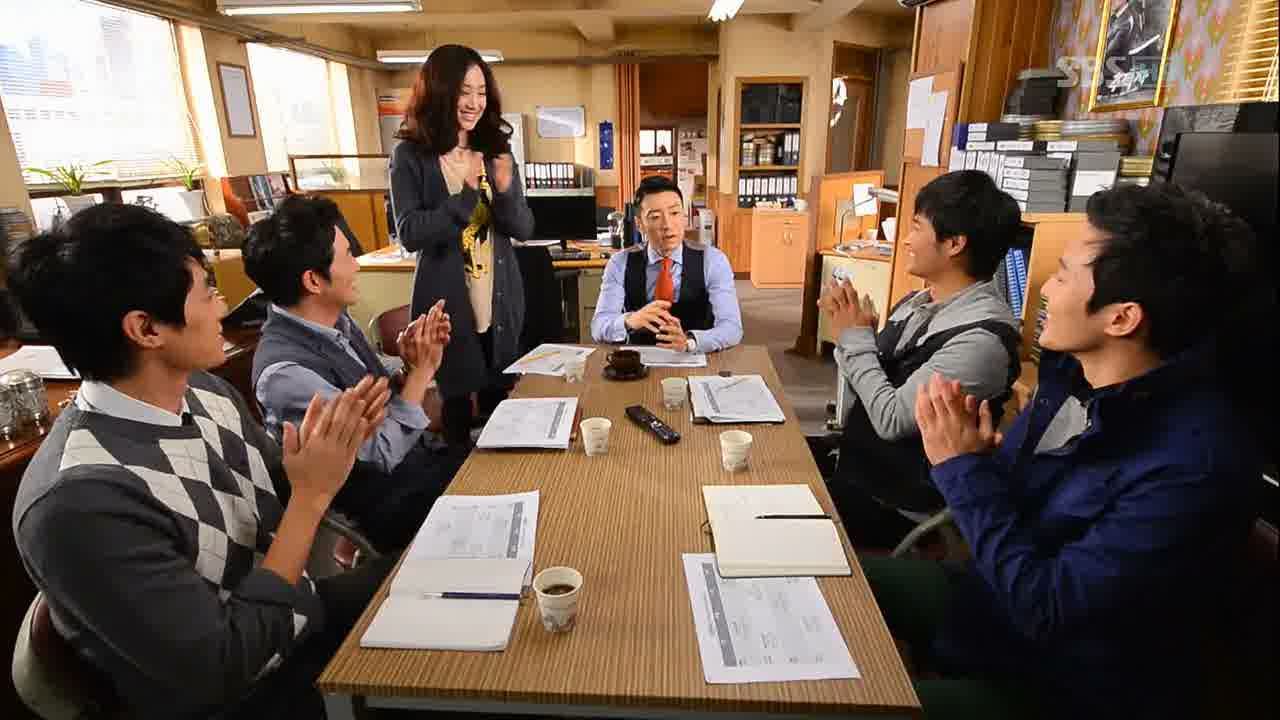 World Productions has their first meeting with three new staff members, including Producer HAN KANG-WOOK, Finance Manager PARK SEOK-HYUN, and Maknae/Errand Boy GOO HEE-JAE.
Go-eun happily introduces herself as the writer, and everyone cheers. I love a good band of underdogs.
Anthony finishes off the meeting by explaining that despite their meager funds (about $670) and their less-than-ideal office space, their advance money from Watanabe will help them get to the top. In order to get the rest, they need to get Kyungsung Morning on the broadcast schedule before the year's out.
This causes the whole company to balk, since it's a pretty tall order. When asked what would happen if they didn't air it this year, Anthony replies: "We die." It's funny because it's true.
We cut from Empire Production's meeting to World Production's meeting and back again as they both try to find a time slot somewhere in the Big Three's (KBS, SBS, MBC – referred to here as K, S, and M respectively) lineup. There's a mention of a drama cancellation due to an actor's recent injury, with the usual media spin of "he'll return to the set" even though there's no chance. We've seen this happen in dramas before. (Me Too, Flower comes to mind. However, they did eventually pony up to the truth without canceling the drama.)
There's only one space left in November, and both CEO Oh and Anthony hone in on it. Now it's a race to find a leading actor.
During a meeting break, Anthony confronts Go-eun about why she came back, since he guessed that CEO Oh made her a generous offer. He wants to know why she passed it up.
"People like you wouldn't understand," Go-eun explains. "But some people have principles and promises. And there are some people who live to keep those things even if they don't have much. I just kept them, that's all."
Anthony gives a sarcastic show of thanks, even though Go-eun says it was for her sake, not his.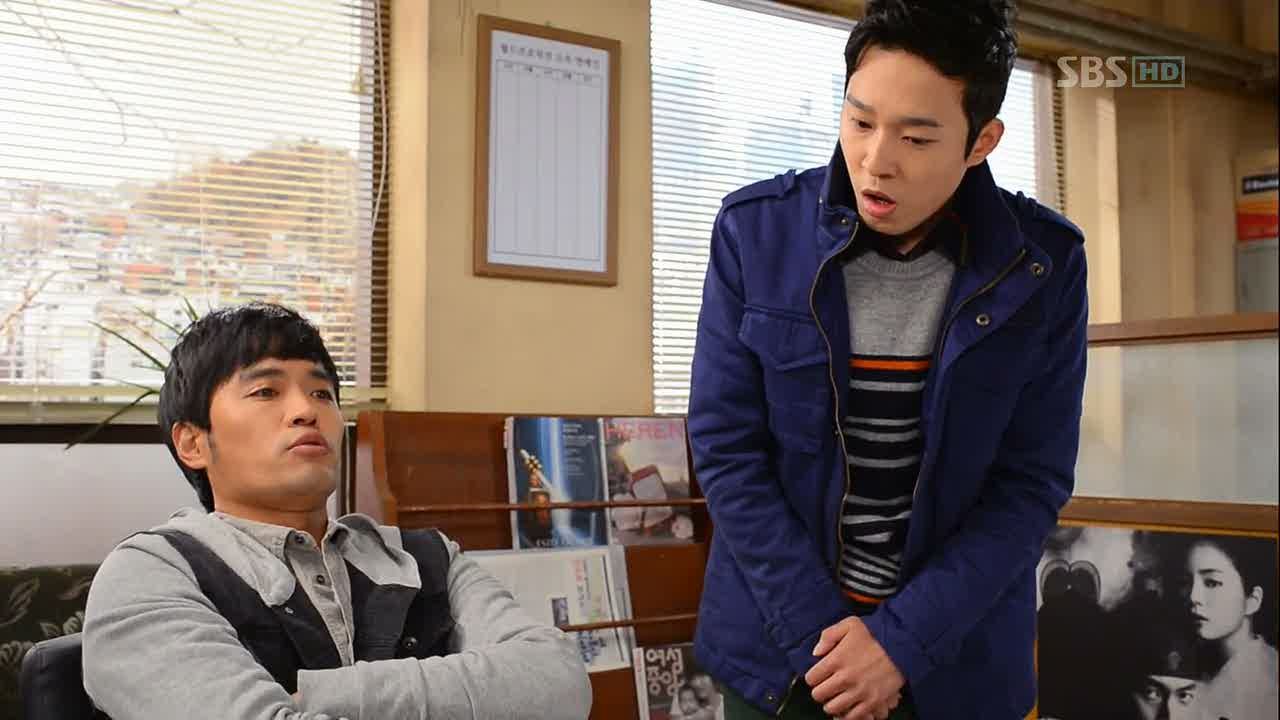 Dong-suk starts number crunching with Maknae Goo, explaining their time slot dilemma is like trying to release a movie to only three theaters, referring to the Big Three Broadcasters. If they can't get a time slot on one of those channels, they're done.
Anthony the Mathlete cuts in that their probability for success is a meager 0.1%, knowing full well what kind of odds they're facing.
On to casting. Empire and World are looking at exactly the same pool of leading men, excluding those who don't have the chops for a miniseries. Anthony asks Go-eun who she considered while writing, and she shyly hands over her top pick.
But Anthony throws the picture away – the actor's a junkie. Despite hearing that he kicked the habit, Anthony claims that the most unreliable words in the world are those of an addict and a gambler saying they've quit their vices. Next.
Empire isn't keen on the next candidate, because he's been receiving therapy for depression. Over at World, Anthony gets defensive on the subject: "Is depression a sin?" Says the man with depression. Aww.
Either way, he's out, and it's left to two. Anthony ousts one without giving a reason, and the same is done over at Empire, leaving only one actor for both companies to fight over.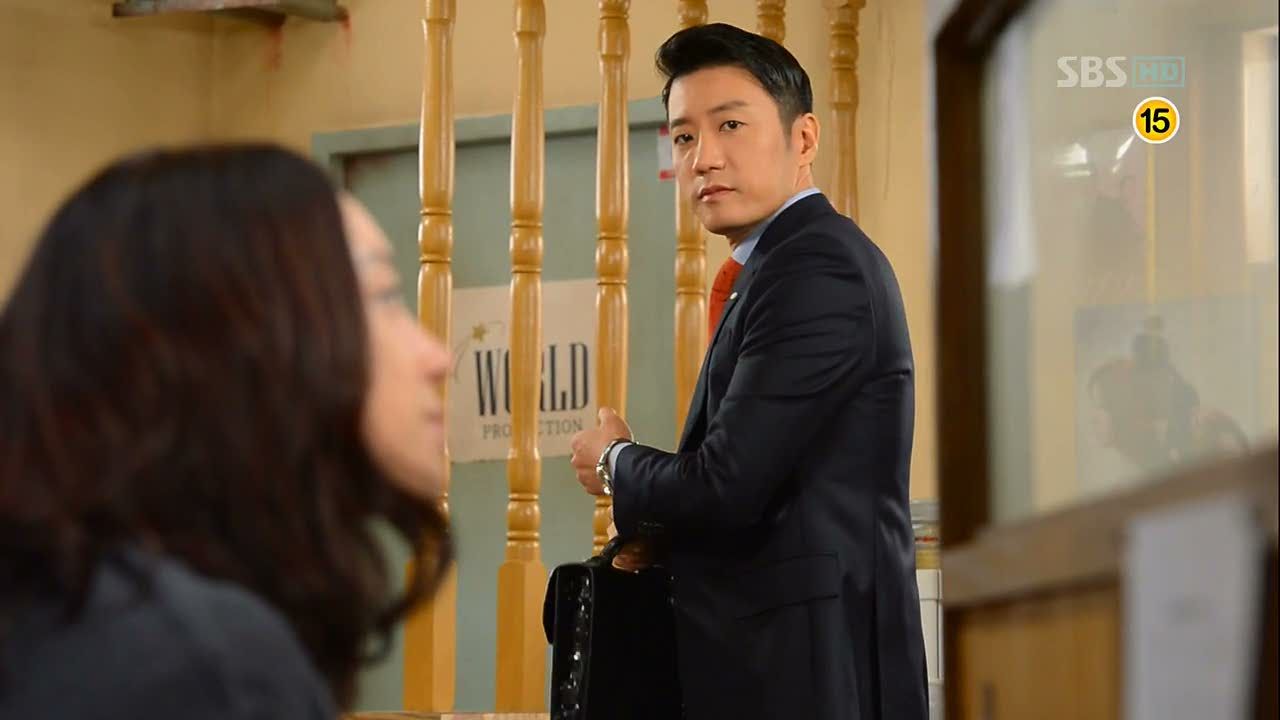 Anthony doesn't give the reason, but we hear it from the Empire Team: Anthony stole that actor's girl once. And though CEO Oh has no animosity toward that actor, he chose him just because Anthony would.
Their actor of choice is having a fan meeting that afternoon, and Anthony prepares to go as Go-eun happily stares at his picture in her office. She's hoping to be able to write the script with him in mind, since he "looks intelligent, with an air of melancholy about him."
Anthony scoffs that she'll know just how intelligent and melancholy he is once she meets him. That… doesn't sound like a good thing.
We meet top star KANG HYUN-MIN (Choi Siwon) serenading his legion of fans. Anthony catches him backstage, and his mention of their initial investment from Watanabe manages to get Hyun-min's attention.
He still has to play hard to get, and the two walk and talk as more numbers are discussed. Despite the probability that Hyun-min could become a Hallyu star if their drama were to get aired in Japan, Anthony's offer of about $2 million for the whole drama isn't one he can easily pass up, especially since Hyun-min's been strapped for cash ever since opening an online shopping mall.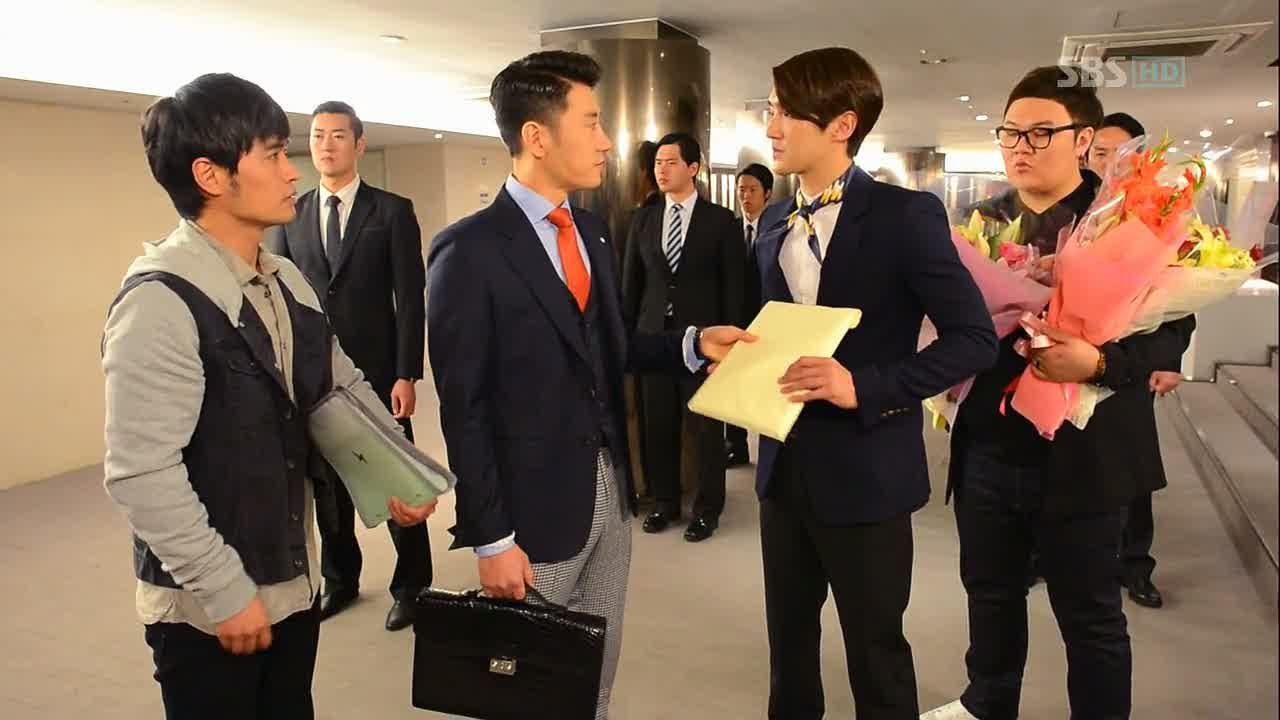 Anthony leaves the details and a meeting place with Hyun-min, giving him only a little time to think it over. He has no doubt Hyun-min will show up, as he explains to Dong-suk: "There is one thing people know about Kang Hyun-min and one thing they don't. They all know he's a star. What they don't know is that he is the biggest idiot in the world who only cares about money."
Which we hilariously see once Hyun-min is in his starmobile. ("Go to Hollywood, let's go party time!") CEO Oh calls him with an offer to star in Elegant Revenge 2, and Hyun-min tries to play the Importance game while secretly squee-ing at the compliments CEO Oh pays to his acting. Omg. I love him already.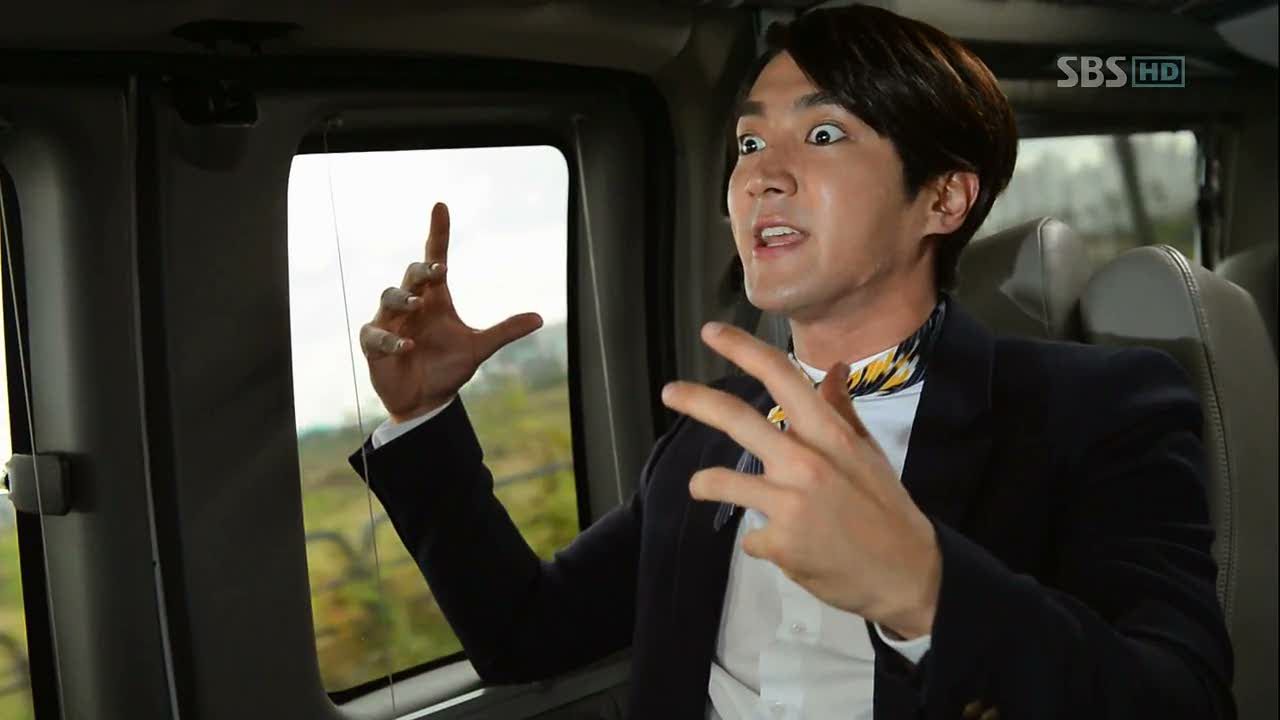 But, the broadcast dates for Elegant Revenge 2 and Kyungsung Morning conflict. CEO Oh knows Anthony got a hold of him and lies that World's Japanese contract has been having some problems, before offering to send their own contract.
Barraged by offers, Hyun-min orders his manager to turn their car around. Manager: "What about the charity event for senior citizens?" Hyun-min: "Listen, billions of won are on the line. I could care less about those senior citizens!" Hahaha.
Hyun-min depends on his Manager to decide on a script, and he's leaning toward Kyungsung Morning. They can't be sure if Anthony was lying about his Japanese investor though, and poor Hyun-min gets a headache from thinking too hard. Poor baby. I'm sure there's a line of people willing to massage your temples for you.
While waiting at the restaurant, Anthony gets a call from Hyun-min's manager that he can't make it. He knows it's CEO Oh's doing, and gets a call right on cue from his rival, who claims that he's only going after the dumb-as-rocks Hyun-min to destroy Anthony.
"As long as I'm Empire's CEO, you definitely won't be able to make a comeback," CEO Oh challenges.
News is released of Hyun-min being confirmed for Elegant Revenge 2, sending Anthony and Go-eun to negotiate with him directly. Unfortunately, the host of the party he's attending is none other than Kim Jin-woo, the actor whose girlfriend Anthony stole.
He warns Hyun-min against signing with Anthony, right before Anthony comes waltzing in, introducing Go-eun like they're already all set to work together.
Hyun-min says it's too late since he's already signed onto Elegant Revenge 2, and Anthony resorts to his secret card. He'd recorded his conversation with CEO Oh earlier, in which CEO Oh had torn Hyun-min down for having zero talent and zero brains.
These aren't easy words for Hyun-min to take, and he orders everyone out of the room so he can ask Anthony what the deal is between him and CEO Oh. Anthony explains that it's war between them, and now that Hyun-min has agreed to do Kyungsung Morning, he's on his side now.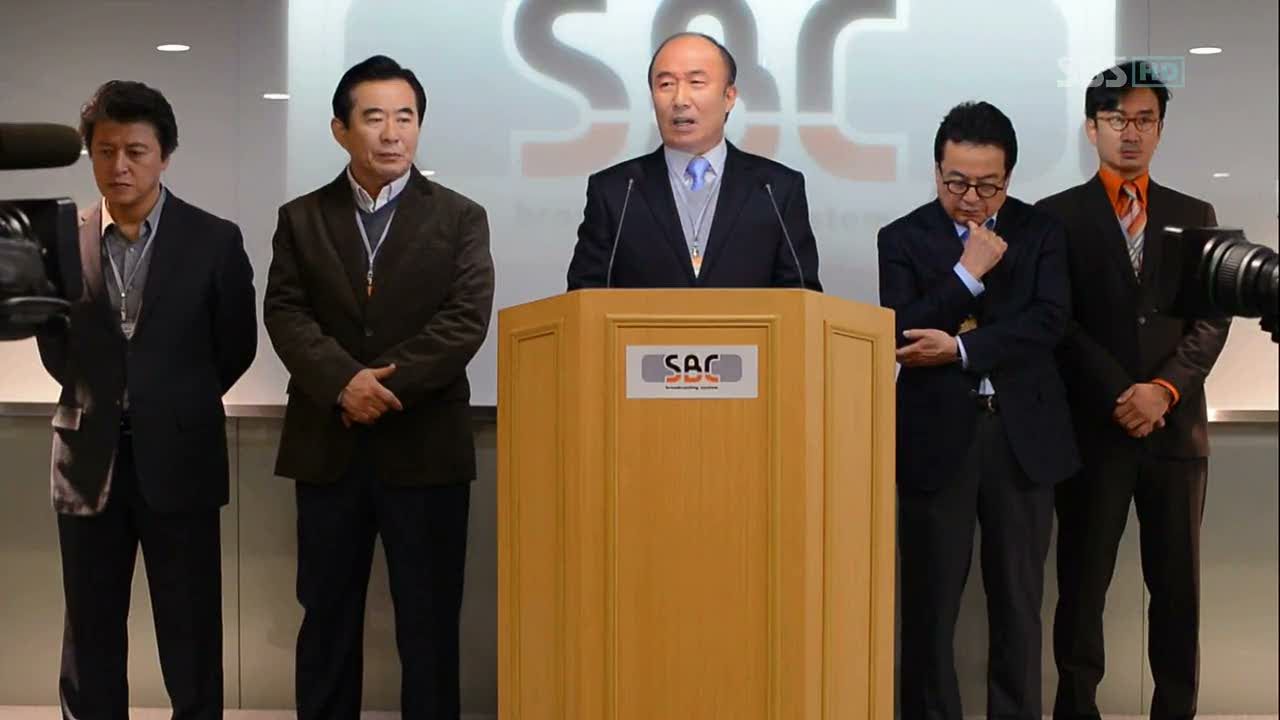 News breaks that a drama originally slated for November will have to be cancelled due to the lead actor's injury, which leaves the guys at S Broadcasting to decide on a replacement drama. They've got Elegant Revenge 2, but only in name, since they don't even have a synopsis or script.
However, they do like Kyungsung Morning, and the fact that it has a script doesn't hurt. The only hiccup is whether they can place the precious time slot in Anthony's hands.
Anthony talks to the press and gets them to spin all sorts of stories, mostly relating to how Hyun-min never even met with anyone from Empire. Oh, and how Elegant Revenge 2 doesn't have a script.
CEO Oh sees the news and decides to go straight to Hyun-min's agency representative. The agent tries to win Hyun-min over by saying he'll get CEO Oh to apologize, and along with some press manipulation, news soon breaks of Hyun-min being reconfirmed for Elegant Revenge 2. Hah. Now it's just funny.
The Drama Director at S Broadcasting is justifiably confused, and calls both Anthony and CEO Oh in to give them a stipulation: Whoever brings Hyun-min in by tomorrow morning gets the coveted November time slot.
Anthony and CEO Oh are on the hunt the second they're out, but Hyun-min's gone off the grid and can't be reached. Now it's a matter of who can track him down first.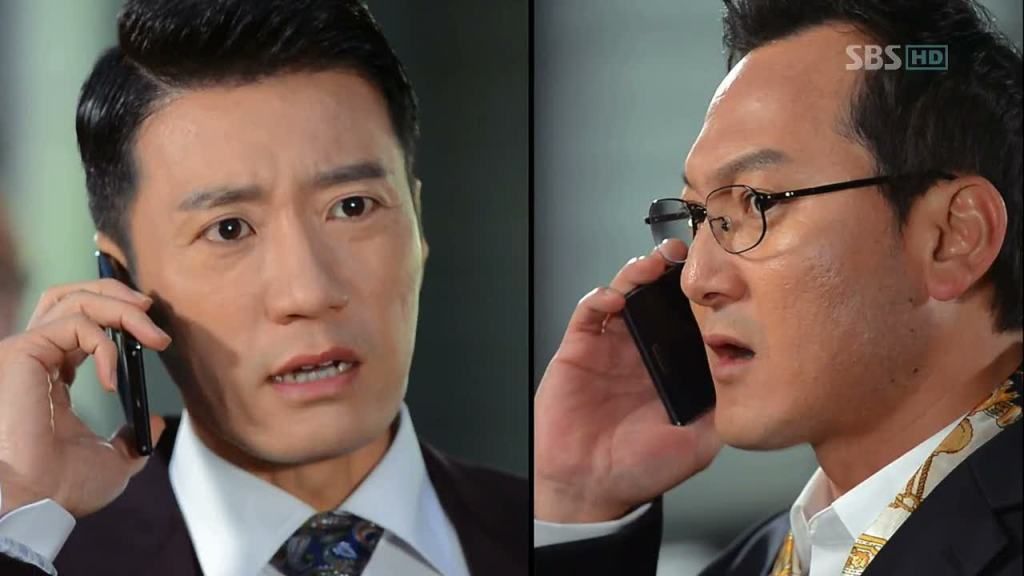 Anthony has his team search far and wide, but they come up empty. He goes to an old police contact once he figures out that Hyun-min's phone is still on, and therefore traceable. The officer reminds him that tracing the cell is illegal. Anthony: "I know it's illegal. That's why I'm asking you." Ha.
Meanwhile, Go-eun gets in contact with an old professor to do some research for her script.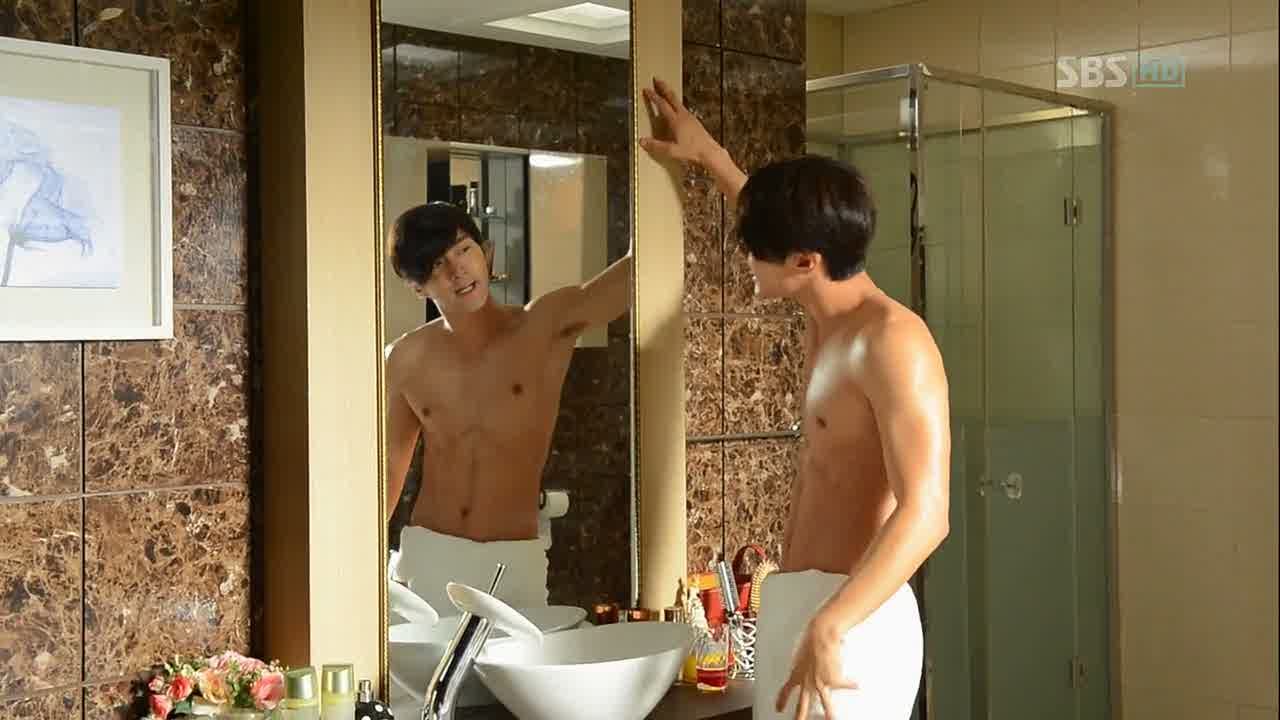 It's the morning of the meeting, and Anthony and CEO Oh find out Hyun-min's location at the same time through different methods. (Hyun-min's manager knew where he was, but was threatened to keep quiet.)
Meanwhile, Hyun-min gets a shirtless scene. C'mon, we'd be lying if we said we weren't waiting for it.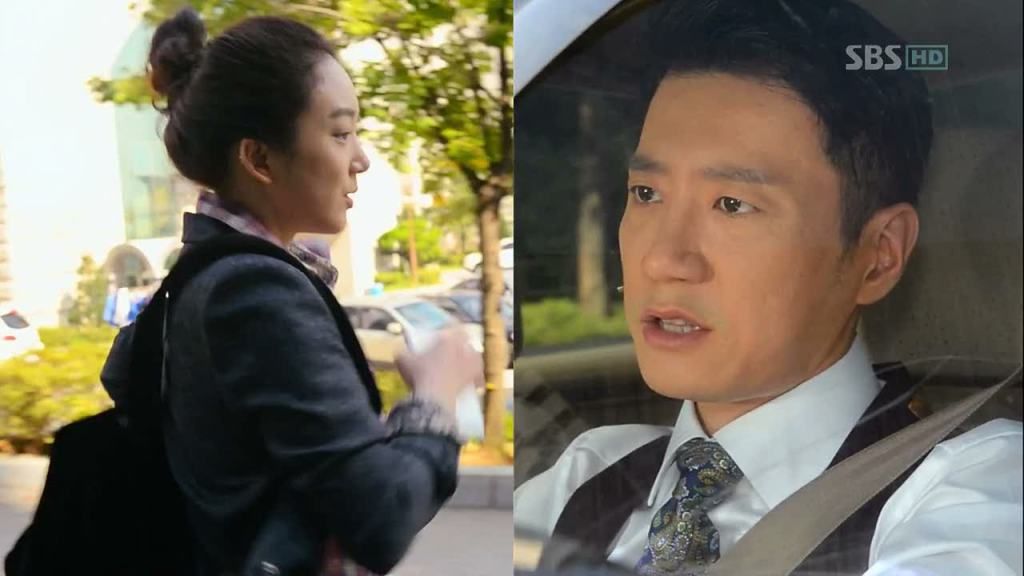 They're all trying to get to Hyun-min the fastest, only to find out that Go-eun is closest since she's meeting with her professor in that area. Anthony calls and interrupts: "Our fate is in your hands!"
Go-eun starts running, but she's got a ways to go. She sees an opportunity in an oncoming car and jumps in front of it, cringing until it screeches to a halt just inches away.
She immediately jumps into the passenger seat, offering the man money if he'll take her to Hyun-min's place.
She calls Anthony once she's on the top star's lawn, but she swiftly recoils from the window when she spies Hyun-min in a towel sending a female companion on her way.
Then she's sent ducking for cover by the sound of gunshots, but it turns out to be Hyun-min's video game. She finally makes it to the door and starts knocking. As far as him being in a towel, she says she's seen it all already and can spread the news about seeing him with the actress, too.
She disappears, and Hyun-min gets back to his gaming, failing to notice a suspiciously open window.
As he's playing, he sees his reflection in the TV screen… and Go-eun's, as she throws her jacket over his head and tackles him to the ground. HA.
The cabin seems to serve as a hunting lodge, since Hyun-min rips the jacket off to find himself at the end of a towel-wrapped gun. Go-eun admits she's gone crazy as she threatens Hyun-min out, but lets him get dressed first. (Now THAT'S crazy.)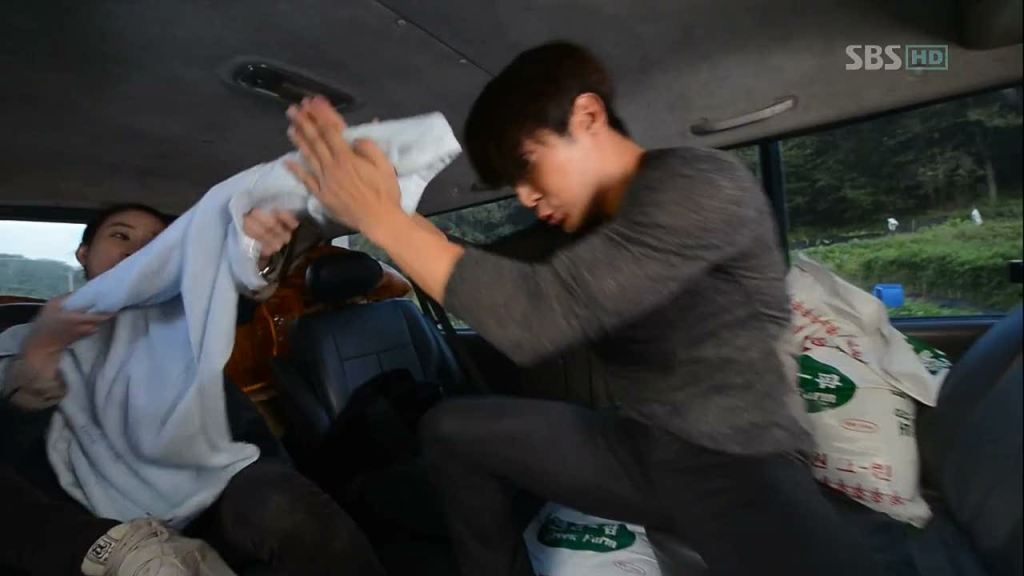 Next we know, she's back in the ajusshi's car holding Hyun-min at gunpoint. He takes an opportunity to wrestle the weapon away from her while she's on the phone with Anthony, causing the driver to start freaking out and swerving.
Luckily(?), it turns out to be an umbrella Go-eun wrapped in a towel. The commotion causes the driver to crash, while Anthony is left on the other line wondering what happened.
And Empire Productions ends up in Hyun-min's empty cabin.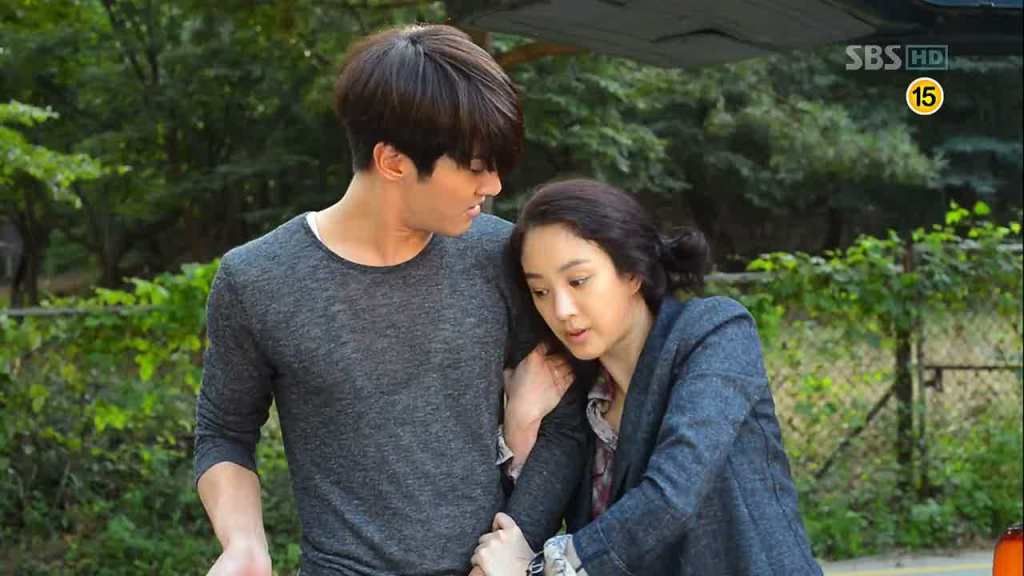 Hyun-min stumbles angrily from the wreckage only to have Go-eun stubbornly latch onto him. She refuses to let go, explaining that she took seven years of her life to write her drama for herself: "But from now on, I'll write for you. Only for you, Kang Hyun-min. I will try my best to show how serious and how marvelous of an actor you are."
It's her last desperate attempt, and it doesn't take. Hyun-min shakes her off with a scolding – all writers write for him. That's why she's a rookie.
CEO Oh calls S Broadcasting and claims that he'll be bringing Hyun-min in. Go-eun rides silently in Anthony's car, having been unsuccessful in persuading Hyun-min, while S Broadcasting decides to give the slot to Elegant Revenge 2…
Which is when Anthony barges in, followed by none other than Hyun-min. Go-eun and Anthony smile – hers happy, his self-satisfied with a side of happy.

COMMENTS
A much better cliffhanger this episode, since I was sure that all hope was lost with Hyun-min. How they'll explain his compliance is something I'm already looking forward to, but seeing as how Go-eun's sob story didn't work, my guess would be that they had to resort to more money or blackmail. Whatever it is, it's sure to be funny.
This was a nice episode for Go-eun overall, since she got to prove that she has integrity and a value system while also throwing that all away in order to threaten Hyun-min with a glorified towel. That whole sequence was a treat to watch, if only to see her be badass, and to see Hyun-min be scared to death. Then he decided to play hero, but something tells me he didn't really think that one through.
The Hyun-min acquisition craziness also served a dual purpose, in showing that both Go-eun and Anthony have a lot on the line they're willing to fight for – she's got her life's work, and he's got… well, his life. High stakes were already established when we were just dealing with the internal world of drama-making, and now we get that added layer of actual life and death stakes just to heighten the tension. Who can say no to that? Then again, I don't think I've ever watched a drama and thought, "Lower the stakes! They're way too high!"
And the more I see of Anthony, the more I like him. His character is so big, but it's in the little moments where he really shines. Most of the time he doesn't even need lines, like when he found out about CEO Oh's betrayal. You could just see the hurt in his face, without him needing to give the camera Puss in Boots eyes. Same goes for his veiled relief in seeing Go-eun return.
In fact, I can pretty much say I like every character in this drama. Hyun-min gave the most laugh out loud moments in the episode, and the World Productions family dynamic is already shaping up. I'm excited to see production on their drama start, as well as some more teamwork between Anthony and Go-eun. Throw Hyun-min in, and I'm already itching for the next episode.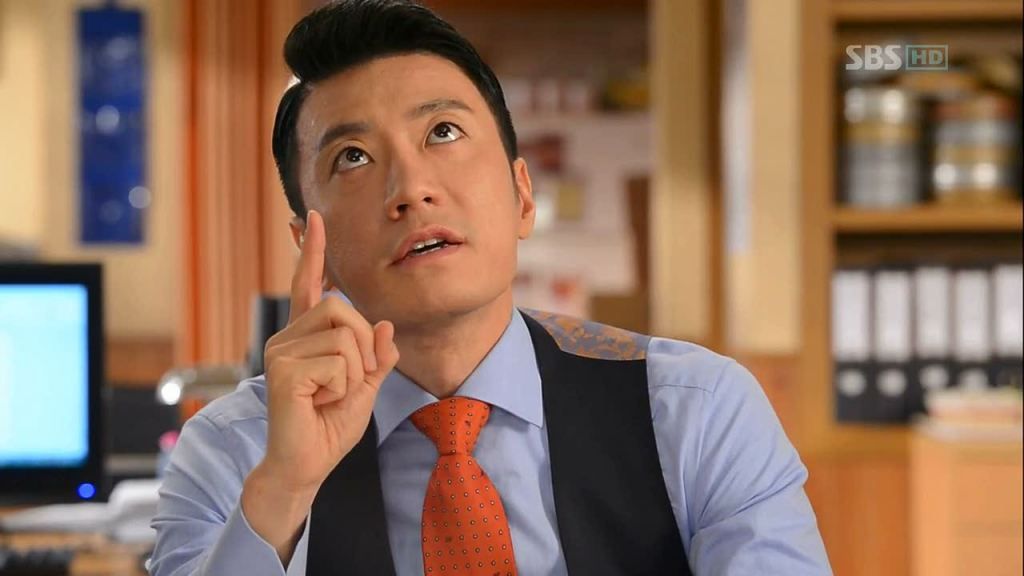 RELATED POSTS
Tags: Choi Siwon, featured, Jung Ryeo-won, Kim Myung-min, King of Dramas