King of Dramas: Episode 5
It's time for the ideological argument of artistic integrity versus commercialism to come to a head, with Go-eun and Anthony standing on opposite ends of the very, very wide divide. We know that both these things have to coexist, even though Anthony would gladly have one be sacrificed completely for the other.
Er, wait. Artistic integrity and commercialism do coexist, right? This show is making me worry that every writer is just a hopeless pawn, that no one ever gets to write what they want, and that mercenaries like Anthony will always win because everything is always about money when we get down to it. We're… that's going to be proven wrong, right? Right?
SONG OF THE DAY
King of Dramas OST – Lee Hyun "Engraved In My Heart" [ Download ]
Audio clip: Adobe Flash Player (version 9 or above) is required to play this audio clip. Download the latest version here. You also need to have JavaScript enabled in your browser.

EPISODE 5: "The Counterattack of the Fallen"
Anthony drops to his knees to beg Director Nam for the time slot: "I've put my life on the line for this drama." This might sound overdramatic to Director Nam, but we know it's the literal truth.
However, Anthony's grand gesture does nothing to move Director Nam. He replies that what he wants most is for scum like Anthony to disappear from the industry, and that nothing will change his mind otherwise.
CEO Oh meets with Writer Jung and assures her that they've got the slot for Elegant Revenge 2. It's time to get to work.
In the SBC lobby, Go-eun sees a posting for a scriptwriting contest, determined to win in order to prove herself. She ends up running into a morose Dong-seok, who updates her on the state of affairs: Director Nam hates Anthony and has cut them off. There'll be no Kyungsung Morning, and he may need to look for another job.
Just then, Anthony emerges from the meeting. He and Go-eun share a charged moment before he continues on his way.
Hyun-min is having a grand old time playing video games before he's interrupted by CEO Oh, with news of his drama's lack of a time slot. Hyun-min isn't keen on listening at first, considering how CEO Oh called him an idiot.
CEO Oh brushes all that off without apologizing, but revels in the fact that Hyun-min had no idea about Kyungsung Morning's cancellation.
Hyun-min calls Anthony up to demand details, and Anthony surprises him by admitting that they did lose their time slot. But he's unfazed, and tells Hyun-min to wait forty-eight hours. They'll have their time slot back by then. Hyun-min: "How?"
"I'm Anthony," he replies. "Anthony, who's survived by killing off countless enemies in this bloody battlefield. I told you, right? Just wait forty-eight hours. By then, the only standing survivors will be you, me, and Kyungsung Morning." Eep. I'm kind of afraid of what he'll pull, but I'm also rooting for him to pull it all the same.
Anthony goes straight to Deputy Director Kim's house. It's clear that Kim has no great love for Anthony, but Anthony instead preys on his desire for the position Director Nam just took, even going so far as to claim that the "Director" position should have gone to him instead.
Wow, so Anthony is playing for keeps with this one. He manages to get Deputy Director Kim to support Kyungsung Morning because that's what Director Nam doesn't want, and in doing so he can unseat Nam from his throne and take it for himself.
The power play starts the next morning, with Deputy Director Kim working to convince people over to his side before the board meeting.
Once the meeting starts, his strategy becomes evident. The other deputy directors he'd talked to voice their concerns first, in order to make it seem like Deputy Director Kim isn't the sole ringleader. Despite Director Nam naming Elegant Revenge 2 for their November time slot, concerns are raised over its lack of a cast and script.
But, as Deputy Director Kim points out, Kyungsung Morning has a top star and four episodes already written. Director Nam keeps trying to shut the idea down since the matter is finished as far as he's concerned, but Deputy Director Kim ends up walking out, taking a considerable number of members with him.
Director Nam pulls Deputy Director Kim in for a private meeting, and stresses that he's not going to budge on Elegant Revenge 2. He's also shrewd, since he's guessed that Deputy Director Kim made a deal with Anthony, but refers to it in more vague terminology.
It's enough to get Deputy Director Kim fired up, and he reminds his hoobae: "No matter how much you bullshit, you're below me."
Director Nam accepts this with a straight face, but not without his own barb – despite that being the truth, Elegant Revenge 2 will still be airing under his name, not Kim's. Burn.
That night, Anthony goes to a fancy dinner with a bunch of important-looking men, having been invited by an old colleague of his. He shows incredible respect to the man at the head of the table, and talks a little about Kyungsung Morning. But what's he really there for?
At least Hyun-min is staying faithful to Anthony, even though the end of the forty-eight hour mark is fast approaching. His agency president urges him to just go sign onto Elegant Revenge 2, but Hyun-min's willing to hold out just two more hours.
Director Nam gets that all-important Letter of Confirmation, and all he has to do is put his personal seal on it for Elegant Revenge 2 to legally own its time slot.
But, right before he can stamp it, and urgent call comes in: The Chairman wants to see him.
So he goes in for the meeting… and the Chairman is the same man Anthony met with last night. So that's what he was doing. Director Nam's face falls when he sees Anthony is also in attendance, knowing now that Anthony went over him and straight to the top. Smart thinking on Anthony's part, but it sure isn't going to win him any points with Nam.
Props to Director Nam for sticking to his guns, even when Chairman Joon implies that the entire department hasn't reached a consensus on Elegant Revenge 2.
He urges Director Nam to look at Kyungsung Morning more positively, and when Director Nam claims that the time slot has already been decided, Chairman Joon's words take on a hard edge: "Director Nam, do you not understand what I am implying?"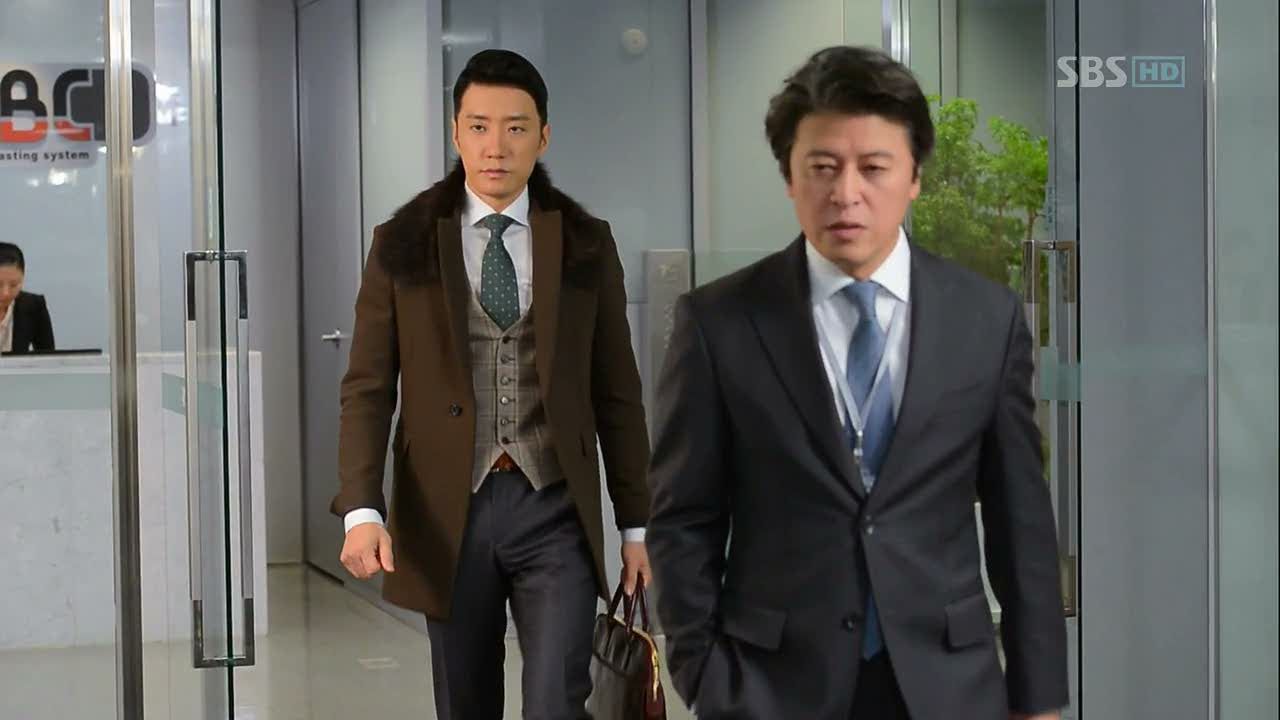 Anthony keeps his eyes on Director Nam to drink in his every reaction, and even tries to suppress a smirk (or is it a sneer?) while watching Director Nam get put in a difficult spot. I'd wanted to say 'squirm,' but Director Nam is too awesome for that.
After the meeting, Director Nam grudgingly admits that Anthony is resourceful – though that's not a compliment. Anthony reminds him that he'd do anything to get what he wants, and gets his dramatic exit as he enters the elevator alone…
Except Director Nam totally subverts it by thrusting his hands in between the doors before they can close. He's not going to back down so easily.
They head to the roof and try to hash things out, with neither willing to back down. After Anthony tells Director Nam to just admit defeat, Director Nam replies by punching Anthony in the stomach. Ha!
To his credit, Anthony takes it pretty well. "I'll take that as you giving me the time slot." So it is, but Director Nam clarifies that it's only because he doesn't want Kyungsung Morning to go to waste.
"Don't forget this either," Anthony reminds him. "We're in one boat now."
"One boat?" Director Nam scoffs. "Don't delude yourself. It's not your boat."
Differences aside, there's one thing Anthony wants now that he's more or less in charge of his own show again – Go-eun. When asked why, Anthony replies that it's because she's the only one who can write Kyungsung Morning better than anyone else.
The ball gets rolling for Kyungsung, and the time slot is now official. Watanabe gets his letter of confirmation and sends Anthony the initial investment money, which has all of World Productions cheering. Now they can send Hyun-min a check.
Speaking of, we find Hyun-min car shopping with his shrill-voiced girlfriend Bit-na, just like he'd promised. I love this running joke, because her voice is quite literally atrocious, and Hyun-min seems to have selective hearing when it comes to it.
She asks the car salesman (in a spectacularly awful attempt to have her voice taken seriously) how much one of the cars is, and the price has Hyun-min gaping. You'd think it's because it's really expensive, but instead he replies… that it's too cheap? Ha.
It gets better – turns out Hyun-min is just trying to stall Bit-na on buying a car because he hasn't gotten his check in from Anthony. Hahaha. Worst idea in the history of ideas.
Luckily, Anthony's deposit ends up coming through. Hyun-min's facial expressions never cease to make me laugh.
News breaks that Kyungsung Morning secured the November time slot, and CEO Oh is left fuming. It's not over just because Anthony won, he asserts. Lordy. This man is in need of a hobby.
Things are looking up for Anthony, since Dong-seok even manages to get him his old (fancy) car back. It's only a matter of time before he's off to fetch Go-eun.
He heads to Eunie's Go-Kalbi only to find Mom there, though she's of the belief that Go-eun went to the countryside to work on the script, funded by World Productions. Ah, so Go-eun didn't have the heart to tell Mom she was fired.
Anthony picks up on that extremely fast and covers smoothly for Go-eun, claiming he just came by to check in on Mom, before using her cell phone to track Go-eun's number.
Go-eun's certainly picked a pretty spot by the sea to work on her scriptwriting contest submission.
Anthony ends up finding her on a pier, and she's not happy to see him. "You must have resented me a lot," he confesses. "I looked for you when I needed you, and then abandoned you again."
She's not willing to listen, and keeps backing up for every step he takes forward. He starts telling her about Kyungsung Morning's confirmed time slot, but in her effort to get away from him she slips… and falls into the ocean.
Anthony dives in after her.
Cut to: Go-eun giving Anthony CPR on the shore, as she angrily asks him why he jumped in when he can't even swim. HA. Way to totally throw that would-be heroic moment on its head. This is why I love this show.
Anthony wakes up in the island clinic, and rushes out after Go-eun. She's still outside, sticking around to grudgingly make sure he's all right.
He approaches her like nothing ever happened, and tells her that everything he said before was true. She has to come back.
Go-eun eyes him suspiciously as she asks for the reason, and he doesn't admit it was him: "The new Director told me to reinstate you." But she sees through his bull, and asks him the real reason.
"Where does a cheaper writer than you exist? I need you, and it's enough if you have a fabulous debut as a writer with this drama," Anthony admits. It's enough for Go-eun, and he smiles, glad to have her back.
On the ride home, Go-eun asks why he jumped in after her when he couldn't swim. "It couldn't possibly have been for me," she says. Anthony: "I slipped." So there is a heart in there, somewhere. He drops her off at home to get some sleep before their big meeting.
Meanwhile, CEO Oh seems to have some nefarious plans in store for Anthony.
Hyun-min is told that Go-eun is back on as scriptwriter, and it's like someone's just put the fear of God into him. He remembers kicking her out when she was drunk, and how she took down those bullying high-schoolers.
He's worried she'll torture him with her script now, and all but cries to his manager: "You just don't know. That girl's a total gangster."
Gangster Go-eun gets a text from Hyun-min, saying how happy he is to have her back. Oh, and "Fighting!"
She smiles, while on the other end, Hyun-min is literally trembling with anxiety. HA. It's been less than a minute and he's already freaking out about her not replying.
And when she does (with a positive message), he literally jumps for joy. He's. Adorable.
Go-eun's temporarily waylaid by CEO Oh, who's basically all, No hard feelings, right? She's polite but eager to get away, and his smile falls once she goes. What's he planning now?
Team Anthony (minus Anthony) congratulates Go-eun on her return with party poppers and confetti before the meeting starts.
Unfortunately, things quickly derail for Go-eun when Anthony "suggests" some major revisions: Make her noir a garden variety melodrama, make the hero a chaebol, and change the ending.
Go-eun, in shock: "If you want me to change the genre, then does that mean you want the entire script changed?" Anthony: "That's right." Uh oh. And he means everything.
Go-eun takes him outside for a private chat, shocked to find out Anthony had this planned from the start. He was simply waiting till they had an assured spot before he made the changes.
We see her idealistic, sincere side clashing against his mercenary business sense as she tries to reinforce that she's the writer. Anthony isn't doing a good job of reigning in his temper as he tells her: "To put it simply, you're employed by me. And I have no intention of creating art with this drama. What I want is a money-making drama with a 40% rating, not a mania drama with mediocre ratings."
Go-eun accuses him of wanting a money-making drama to feed his ambition, and he doesn't deny it. But, hey, she'll become a star writer, so what's the deal?
She's floored, and claims that everything is money to him, but a drama isn't about money. This, obviously, sends Anthony overboard. "That's what a drama is about!" He cites numbers and figures to support that fact, and stresses that they either succeed in ratings or lose everything.
"You're insane," Go-eun says.
"That's right, I'm insane," he fires back. "I'm going to succeed and rule this world again. I will stand up again as the king of dramas, and make everyone obey beneath my feet! Therefore, this drama must succeed no matter what." (*makes the cuckoo clock noise*)
Go-eun goes to Hyun-min in an attempt to gain support, and tells him that Anthony wants to turn her script into a conventional melodrama and set the first episode in the present to allow for PPL.
Hyun-min… thinks it's a great idea. Ahaha, of course. Go-eun realizes her mistake and leaves. At least his manager believes the original Kyungsung Morning was really good on its own.
Go-eun goes back home to Mom to think things out and write her script. Anthony notices her absence in the office.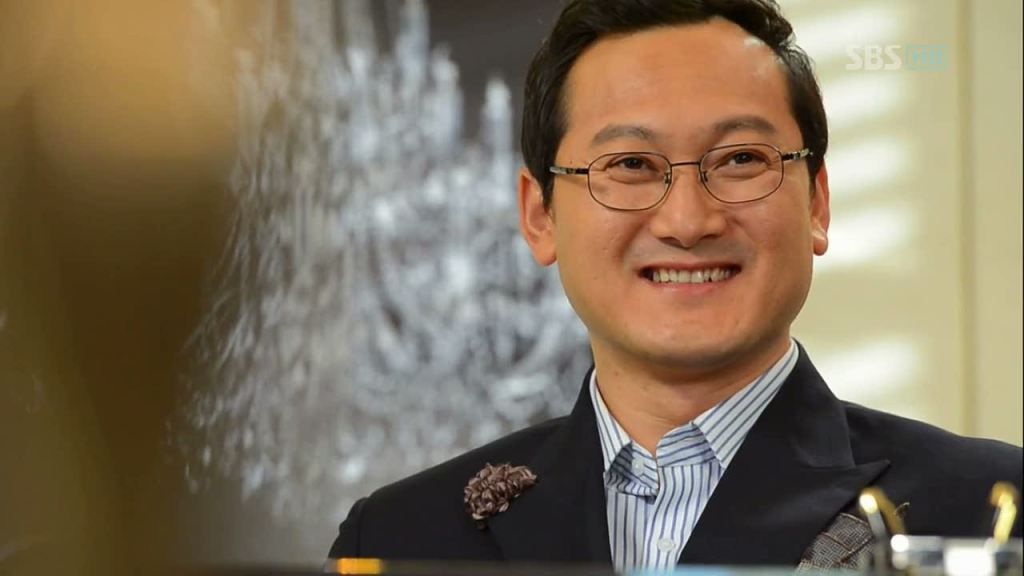 CEO Oh talks to one of his informants placed within Anthony's company, which is how he finds out that Go-eun is on strike.
…And it's Dong-seok who walks in late through the door over at World. Nooooo! It can't really be him, can it?
Anthony goes over to Go-eun's house to try and bring her back, but she refuses to trust him again. "When I was your age, I also thought I was right without the slightest doubt," he advises her. "But looking back now, I realize I wasn't always right. I'll wait for you. Come back before it's too late."
Go-eun turns to her practical mom for advice, and Mom gives the practical answer that there were plenty of times she thought she was right when she really was wrong. "A human isn't a god," she says.
Go-eun returns to the office, ready to accept Anthony's changes, just as Dong-seok is leaving it suspiciously, phone in hand. I really hope this is all a fake out.
He seems hesitant to let Go-eun inside, and we see why: Anthony's chatting it up with a new writer. Eeeek.
He introduces Writer Oh as a "supervisor" for the "amended" script. All the words he's using are red flags. Go-eun realizes as much and still manages to be surprised over Anthony's low tactics, and walks right back out.
A storm brews, and CEO Oh gets word that Go-eun has left again. His secret informant turns out to be Maknae Goo, and not Dong-seok. Phew.
Go-eun walks through the rain, followed in secret by CEO Oh. She arrives, soaked, at Writer Jung's doorstep. They resolve their differences and commiserate over Anthony, with Writer Jung admitting that she read Kyungsung Morning and liked it.
CEO Oh just "happens" to drop by, but leaves once he sees Go-eun. "You're the one who should protect your script. Never compromise with a dirty businessman like Anthony, got it?" Writer Jung tells her before sending her off.
Of course, CEO Oh is there to catch her outside, and offers a ride to the bus stop. He tells her that the only way to protect her script will be to get it out of Anthony's hands, and offers to front the money for her to break her contract with World Productions.
Meanwhile, Anthony basically rewrites the first episode using Writer Oh.
Go-eun calls him to say she's quitting, and that she'll pay him for the breach of contract. For her to know that terminology must mean she's with CEO Oh, and Anthony rushes out to stop her.
CEO Oh has no better plans for her, as he admits to his lackey that he just wants to sign her over, get the rights to Kyungsung so he can hand the show to a veteran writer, and kick Go-eun out.
Go-eun reviews the new contract just as Anthony bursts through the door, commanding her not to sign it. She turns back to the contract with new resolve, and looks like she's about to sign it anyway…

COMMENTS
Gah. I almost think it would have been better to muddy the waters a little by not revealing CEO Oh's nefarious plans to use and abuse Go-eun, because now it's just a matter of picking between the lesser of two evils.
Of course, I gravitate more toward Anthony, which is the intended effect. CEO Oh isn't necessarily a caricature, but that much smirking and underhanded planning never really gets anyone to root in your corner. Really, though, Anthony isn't that much better – we've seen a few more flashes of humanity from him, and maybe Anthony doesn't take as much malicious glee in ruining other people's lives, but they're both snakes in their own right. Go-eun is stuck – no way is really the right way.
I'm really interested to see how this show tackles the issue of Go-eun's artistic integrity, since I'm torn about the issue as well. On the one hand, you have an artist wanting to protect her art. I sympathize with that, and her, more than anyone or anything right now.
But then you have Anthony, who's been in the business a long time knows what it takes to make a hit. Like we saw with Writer Jung, he thinks that everything's gravy as long as the ratings are good. What's a little lost integrity here and there when you come out on top? That's his modus operandi, and it hasn't changed throughout his trials. And the problem is that numbers don't lie, so if you were him, would you see a reason to change what works?
Of course, that's when we operate under the Money Is Everything school of thought, and with dramas being a commercial business, I can see where that's mostly true. Which is what makes it so hard for Go-eun and us, because the odds are stacked against her. Even when she was willing to compromise (and that was A LOT, to submit to all of Anthony's changes), Anthony ended up shooting himself in the foot by pushing her too far. Again. I don't want Go-eun to sign with CEO Oh, but I do hope that this scares Anthony even a little bit. There must be room for compromise in there somewhere – a way to let Go-eun tell the story she wants to tell (and one that's undisputedly good, as everyone in the drama keeps telling us) while racking up the numbers Anthony wants. He's a smart enough guy. He'll be able to find a way.
Otherwise it seems like the world was just made to trample Go-eun, even if she has a good script with fresh ideas. I definitely like that conflict, which seems like it'd be so commonplace in a drama about dramas, but our characters really ground it and make it real. We're in the same position as Go-eun, learning right along with her. And I'm glad that I've been with her every step of the way – despite her leaving Team Anthony for the umpteenth time, I didn't end up rolling my eyes and going, "Again?" because each time she had a damn good reason. She wants to be there, and I'd say she's much more willing to play ball and compromise than Anthony. But he keeps making it difficult for her, so you can't really blame the girl.
I feel like I'm sounding harsher on Anthony than I really am, but it's mostly because I want him and Go-eun to work out as a team. Yes, he wins points for jumping into the ocean to save Go-eun without knowing how to swim. I understand what he's doing and the truth in it, but if we accept his cold-and-experienced logic as the gospel truth, it's like rainbows and puppies and unicorns will cease to exist and all dreams will be shattered. Which is kind of Anthony in a nutshell, isn't it? Sans snazzy suits and furry lapels, of course.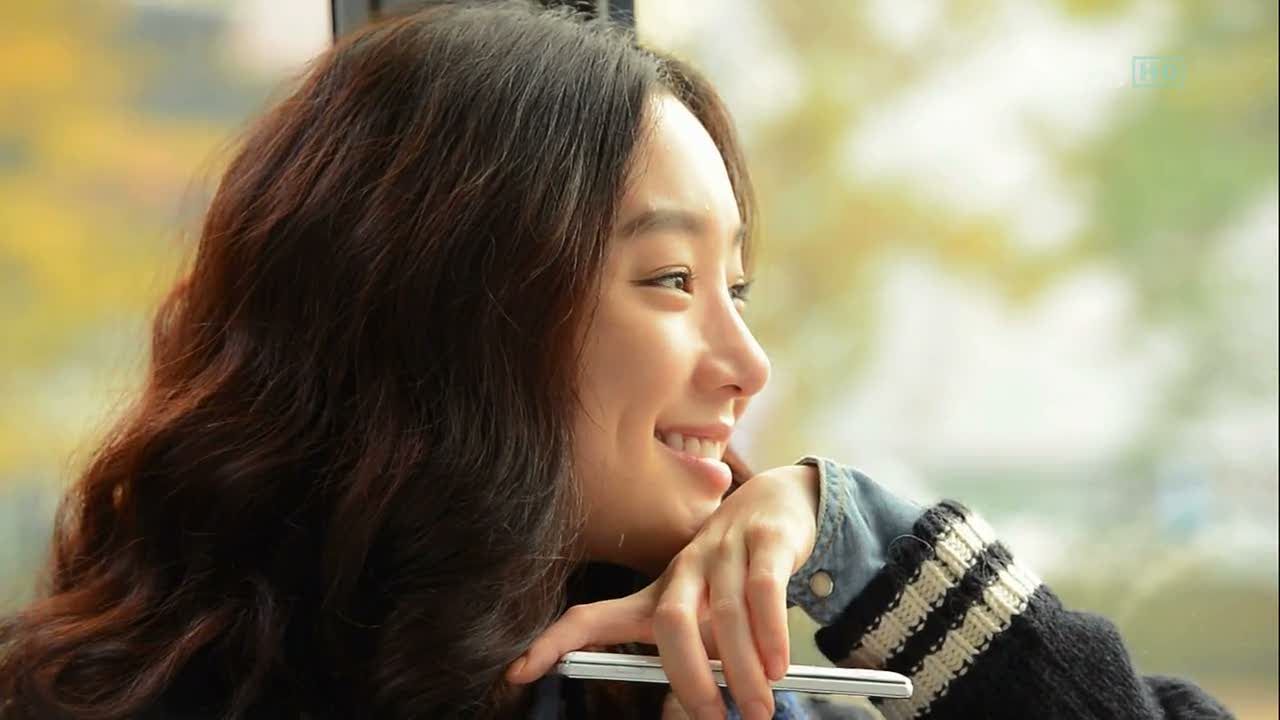 RELATED POSTS
Tags: Choi Siwon, featured, Jung Ryeo-won, Kim Myung-min, King of Dramas