King of Dramas: Episode 6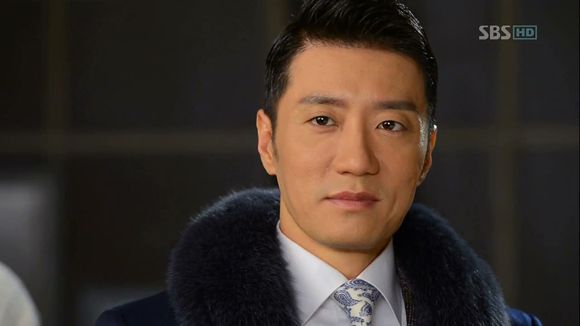 It just gets better, in a show that's quickly climbing up to the top of the currently airing crop for me. Team Anthony tackles the surprisingly grave task of finding a director, and it should come as no surprise that Anthony's reign of power has earned him much more enemies than friends. Numbers may not lie, but they also can't direct a drama for you. Go figure.
I'm really loving how we've been able to see our group tackle what it takes to produce a drama step by step, because it not only gives us a sense of payoff each week, but also makes for some fantastic fun in the pacing department. Whether it's securing a top star or a director, the seemingly insurmountable odds are faced by a team of people we can really root for.
Well, except for that one guy. Otherwise, Go Team Anthony! Fighting!

EPISODE 6: "The Division Within"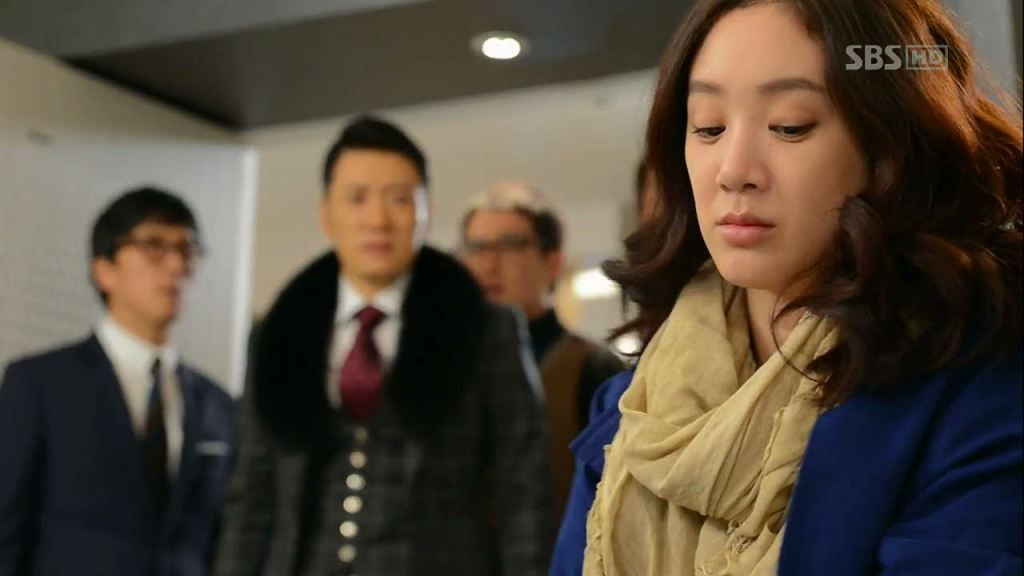 It's now or never – Go-eun's got the contract in front of her, and Anthony roars at her to stop from the doorway. She turns back to the contract…
Anthony's words stop her, since he caves and says he'll give her what she wants. He'll keep Kyungsung's genre noir as she intended, he'll take out the present day scene he was going to put in just for PPL, and he'll remove her supervisor.
Go-eun is willing to give him a chance, even with CEO Oh right over her shoulder, urging her to sign. After all, it's not like this is the first, or even second time Anthony's deceived her.
She turns back to the contract, and we don't see her sign as she flips the folder closed. Anthony looks devastated while CEO Oh looks triumphant. This is a fake, right? She didn't really sign it, did she?
Anthony leaves with the threat of a lawsuit, and CEO Oh congratulates her on a good decision. She excuses herself from the meeting only to get caught in the lobby by Anthony.
"Do you know what you just did?" he all but shakes her by the shoulders. "You just tore my drama, no, my life, to pieces."
She looks at him, bemused. "I didn't know I was such an important person." Ah. She's teasing him.
He goes on an on about how he was going to let her do what she wanted until she ruined everything, but she smiles at him instead: "Exactly. So fulfill all those promises like you said."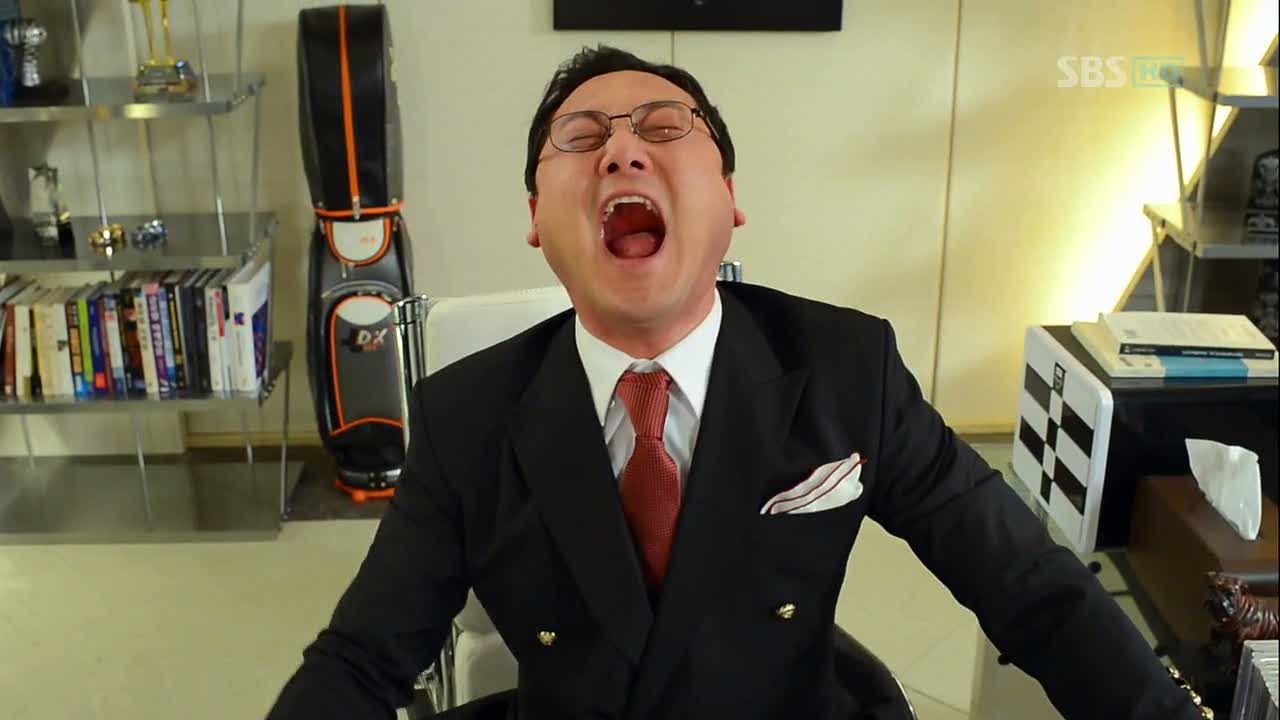 That sure takes the wind out of Anthony's sails. And huzzah! She didn't sign her name, writing instead, "Maybe next time." I like this girl. CEO Oh only finds out once he actually looks at the contract. To say he's mad is… a bit of an understatement.
Anthony has finally been outsmarted as he asks Go-eun if she put on this whole show just to get him to give her what she wants. Hah, I love how he's so utterly taken aback at her gumption, and she's practically giddy at how flawlessly her plan worked. As she tells Anthony, she learned from the best.
Aww, I heart these two. He asks if she's ready to go through with this – if they fail in November, it'll be the end for them. She knows, and she won't give up. "We will win," she assures him.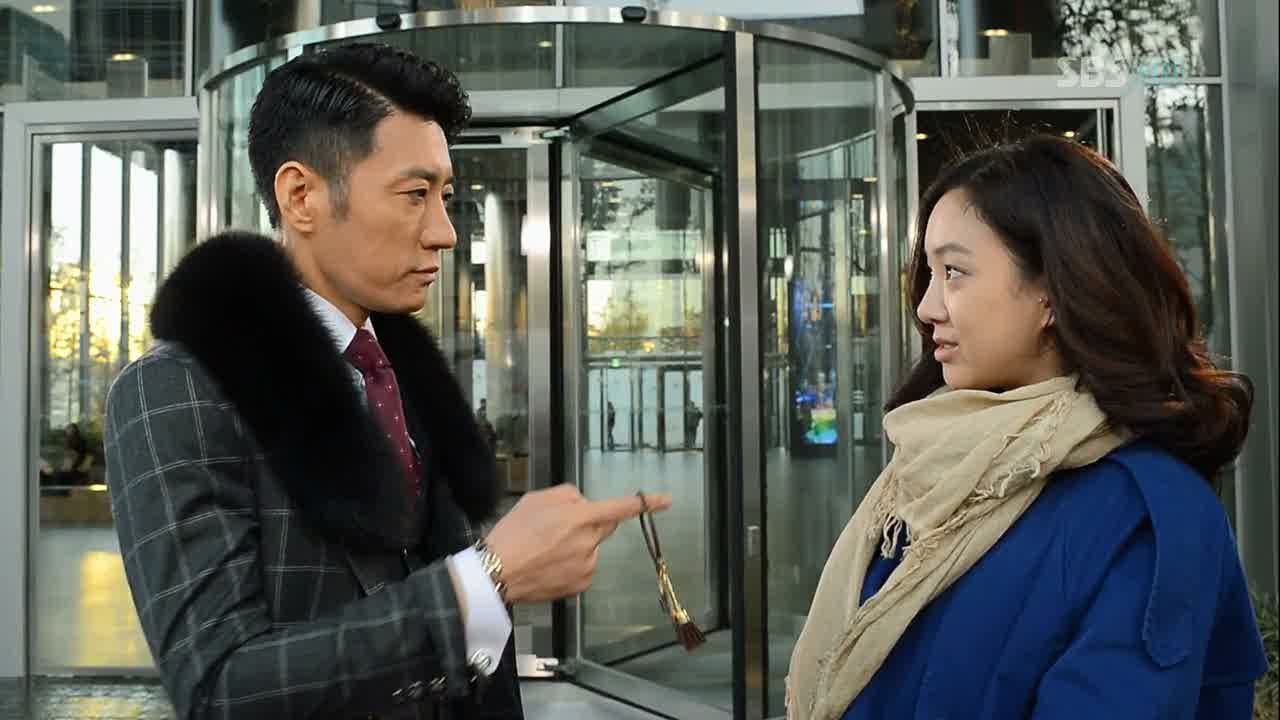 Anthony, always the number addict, asks her what the percentages are of winning if she's so sure. But he asks it in a way like he expects her to actually know, as though he's really trusting her with this. Finally, a partnership.
Go-eun: "You've always told me, 'Believe in me.' Now, it's your turn to believe in me." D'aww.
He hands over a set of keys for her own writing space, just like she'd wanted. Now he trusts in her as he tells her, "We must win this war." Team Anthony for the win.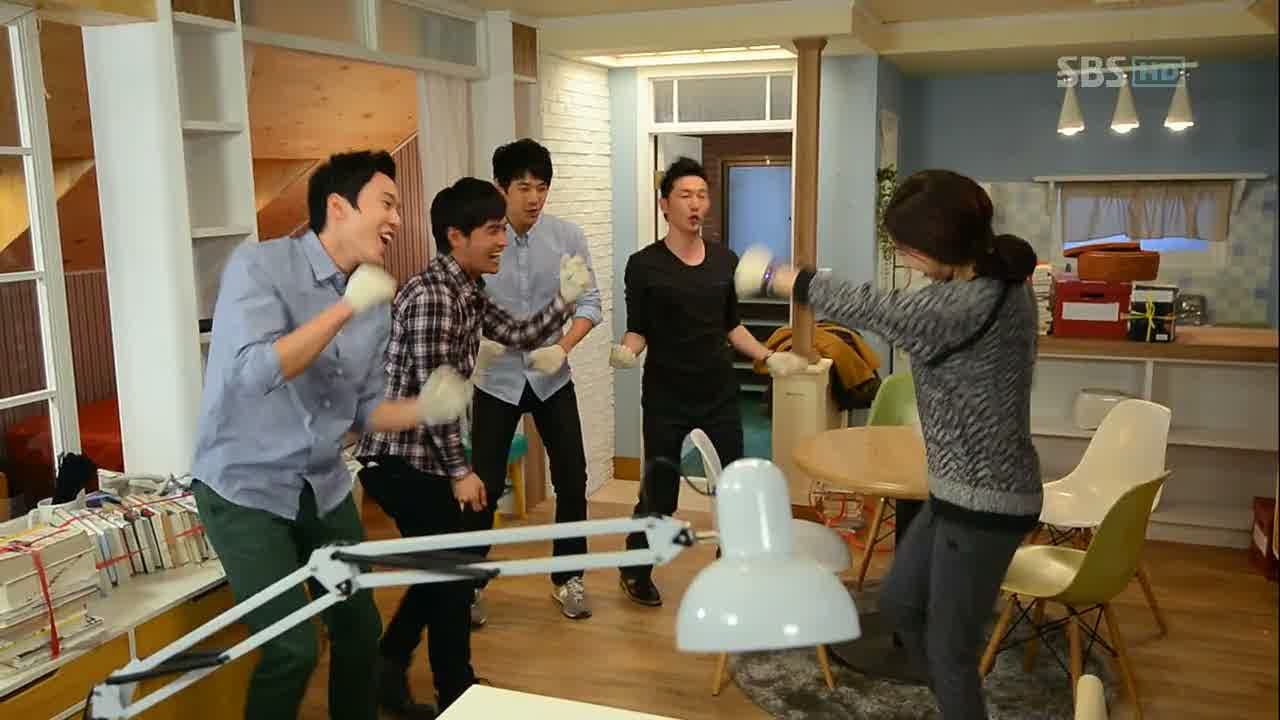 It's nothing lavish and it's within walking distance of World Productions, but it's doubly cute how Team Anthony (again, minus Anthony, but you get the drift) bands together to help spruce up the place and re-paint.
Anthony keeps watch from his rooftop, in plain view of hers, and smiles to see her making the space her own.
One montage later, Go-eun has the rooftop room all fixed up. She celebrates with the boys over pizza and beer.
Now it's a question of who will direct the drama, which takes us over to SBC, where Anthony finds himself against a roadblock: No PD wants to work with him.
Anthony storms the meeting between protesting PDs and Director Nam, fighting against one of his accusers who'd called him third-rate. He's helped many of the directors achieve high ratings, so why are they turning against him?
One of the PDs speaks up and claims that Anthony ran the set as if he were the director, to which Anthony loses his temper and fires back, "I took action only because you weren't a good leader!" Eek. That's not going to win you any points.
And it doesn't, because the PDs rally together to turn in a formal declaration stating that they refuse to work with Anthony.
Anthony turns to Director Nam, accusing him of complacency in the pseudo-strike in order to get back at him for scoring the time slot underhandedly. Director Nam, ever level-headed, asks: "Did it ever occur to you that your twisted ways of doing business cost you the trust of our PDs?"
That'd be a no, since Anthony replies that he trusts ratings more than people. Regardless, Director Nam drives home the point that though he may not like Anthony, now that Kyungsung is officially on the schedule, he will do everything in his power to help it. He's not going to risk credibility just to settle a score with Anthony.
They think about turning to outside directors, though the result will probably be the same. That's when Go-eun, back with the World Team, suggests Director Goo, a tried and true veteran.
Except, as Dong-seok points out, he had four major hits before he retired to the countryside. Oh, and he might be an alcoholic.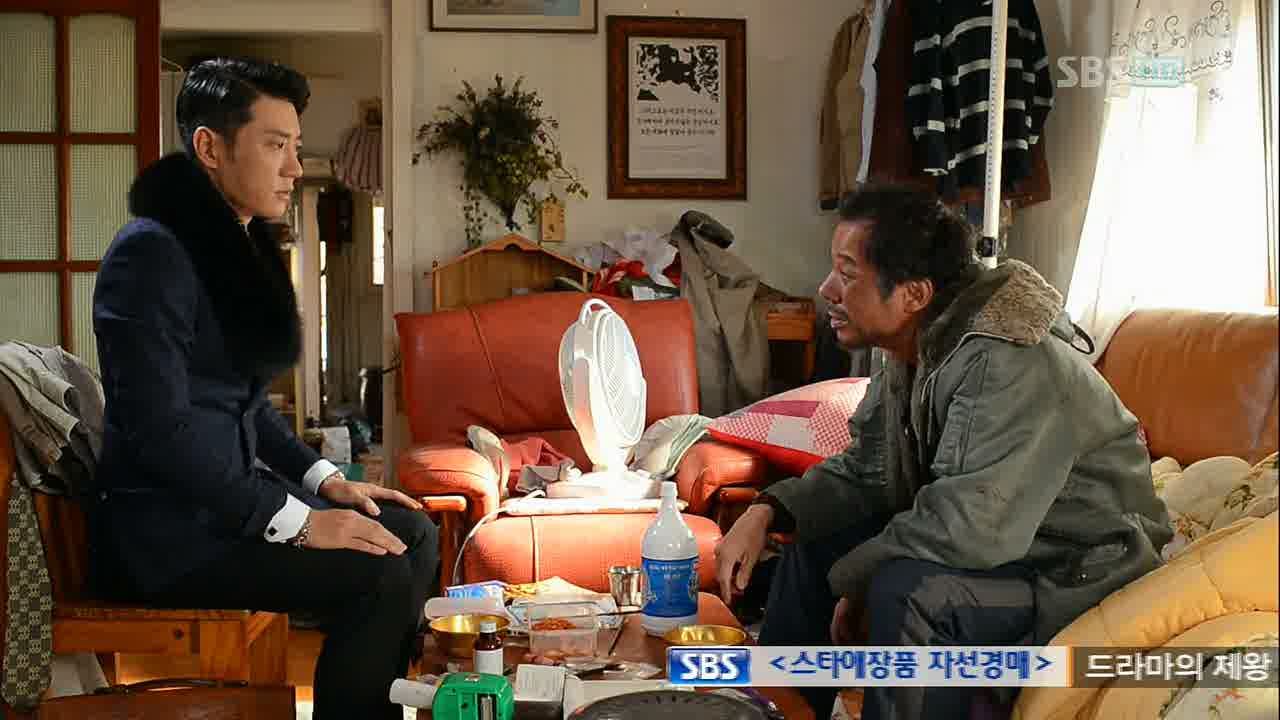 This is the point Anthony brings up with Director Nam, but they don't have a choice if no one else will work with him. At least he's worked with Director Goo before.
Anthony makes a journey to the countryside, finding Director Goo living in a junkyard with his dogs. "It takes a dog to recognize a dog," a drunk Director Goo says by way of greeting, making his disdain for Anthony clear.
Director Goo correctly guesses that Anthony only came to him because no one else was willing, and reminds him that he washed his hands of dramas five years ago. I love that this is Anthony's last option, a has-been living in a shanty, and even he won't work with Anthony. So much for Anthony's big ratings.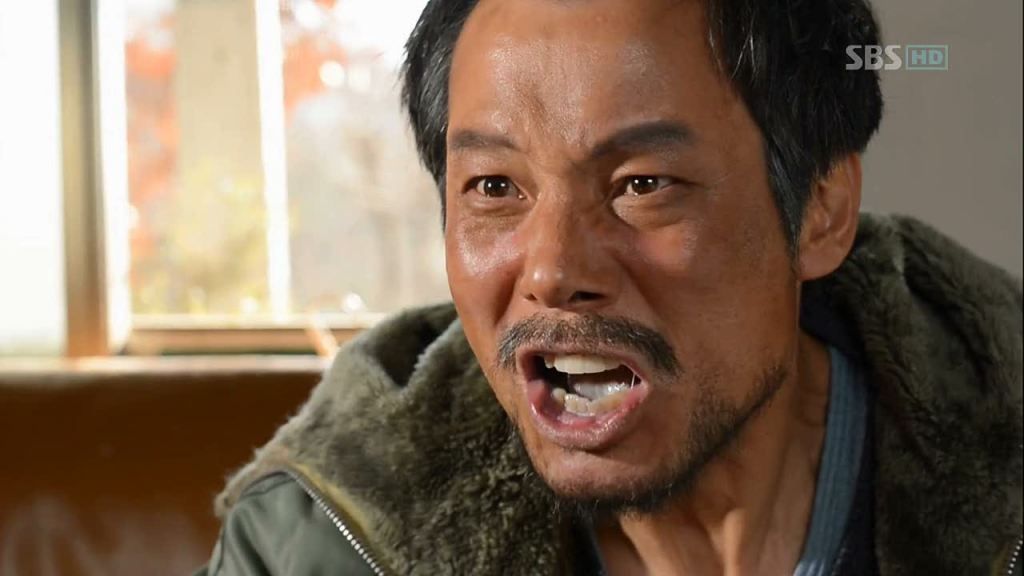 I'm guessing something pretty traumatic happened, judging by how violently he reacts when Anthony tries to appeal to his buried desire to direct. Anthony gets sent home empty-handed.
CEO Oh is left to deal with the frighteningly unhappy Chairman of Empire Productions, who threatens CEO Oh in not-so-veiled terms that he either kills Anthony, or else. So CEO Oh makes an eeevil call.
Hyun-min has an interview for his upcoming drama, and the mature aura he greets his legion of fans with is one we know he doesn't possess in real life.
He carries the interview with poise and grace, and when asked about his salary being the highest among other actors, he defers the question by claiming that he doesn't even pay attention to money. He just looks for a good script. In fact, he doesn't even know what he makes – his manager takes care of that. Pahaha.
Watching his own interview as it airs, Hyun-min literally has a "Hulk smash!" moment. The fact that he's wearing Hulk hands and a Captain America sweatshirt is just the icing on his character cake.
He's upset that Kyungsung is no longer a melo, because melos mean money. He has faith a good director can change the drama's course, and has his manager call Anthony to find out who they've got.
But, Director Goo makes a call to Anthony first. Having read Kyungsung Morning and loved it, he's changed his mind and readily signs onto the project.
He shows up at World the next morning for a meeting, and is more or less accepted. Go-eun is the only one with no reservations, and her sentiment is returned in kind – Director Goo already has respect for her after reading her work.
Ha. I love Director Goo already for calling Anthony all sorts of disrespectful names. I wonder how things are going to change now that Anthony's not the oldest one on the team.
They go through the ring of introductions at SBC and are given a tour of the soundstage with a set still in construction. And, ha, it's literally a direct copy of Gaksital's Angel Club. They definitely aren't hiding the fact that Kyungsung Morning is just an alternaverse version of Gaksital.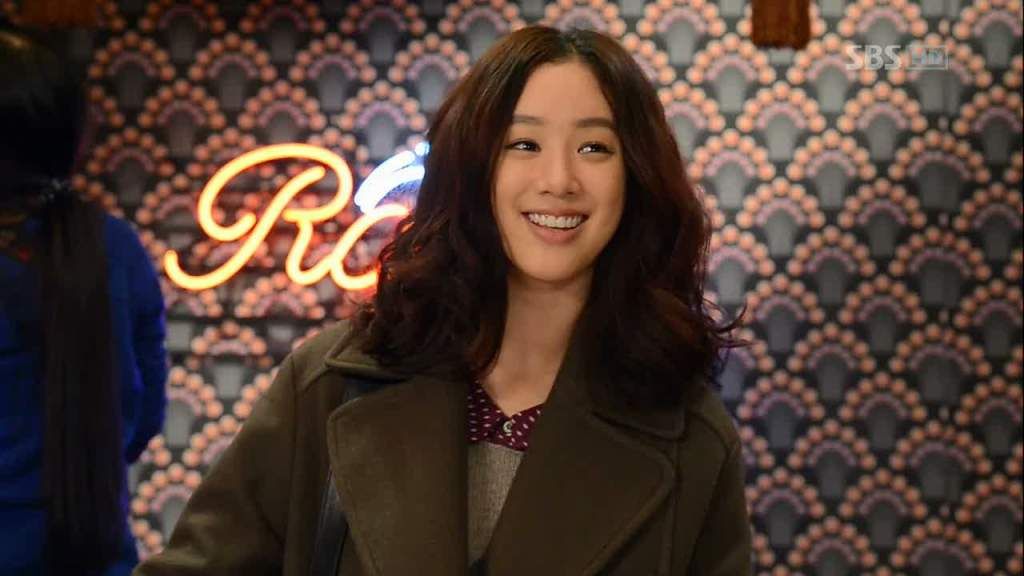 The reality that her drama is really happening sinks in for Go-eun as she walks the set, and Anthony can't help but notice how happy she is. And he even seems happy that she's happy, which is adorable.
However, Deputy Director Kim watches the scene and plots a way to bring Director Nam down – and what better way than to have Kyungsung be a failure? Anthony's machinations are going to come back to bite him on this one.
Anthony tries to tamp down some of Go-eun's excitement with a warning: Just like there is no drama without conflict, there's no drama set without conflict, either.
Hyun-min meets with Director Goo in an attempt to steer him toward the melo side, only to find out that the noir aspect is what Director Goo likes most. He drops the topic once Director Goo starts painting one of the scenes for him in vivid detail: Twelve cameras! Guns! Bombs! A cruise ship!
Hyun-min is enthralled, and couldn't be more excited… until he hears that in performing the scene, he'll have to literally jump into the ocean. In winter. Hah.
Meanwhile, Anthony gets an updated budget breakdown for the first episode by Director Goo, and doesn't look happy at what he sees.
He finds Director Goo telling the production team just how grand a scale he wants, which we can translate down to five letters: M-O-N-E-Y.
So much, in fact, that when Anthony pulls him aside it's revealed that he wants one million dollars just to go into the last five minutes of Episode 1 alone. The scale truly is epic – an exploding cruise ship, twelve-hundred extras, and more. But Anthony tells him that it simply can't be done.
I feel sort of bad for Director Goo. Even though the scale is almost ridiculously large, he seems to only want the best for the show. Regardless, Anthony threatens to fire him if he doesn't negotiate a smaller budget.
Go-eun gets on his case for always threatening to fire someone if they don't do what he wants, but Anthony's not budging, and wants a new director.
CEO Oh turns to the man who helped him drag Anthony's name through the mud three years ago to perform the same task, only to Hyun-min instead. Ruining Hyun-min is his newest plan of attack on Anthony.
Hyun-min calls Go-eun out to ask her to change the final scene so he won't have to jump into the winter ocean. The look on her face is priceless – you can just tell he's been talking at her for a long time.
Patience running thin, she tells him to just suck it up. He refuses on the basis that the water's too cold, and ultimately gives her an ultimatum: Either she convinces Director Goo to cut the jump, or she writes it out herself.
He's tailed on his way out by that sleazy guy CEO Oh hired. Uh oh.
Anthony takes Director Goo's budget to Director Nam in the hopes of getting his support on firing the director, only to be in for a sore surprise when Director Nam suggests that Anthony would be the first one to go.
Considering how there was only one director willing to work with Anthony, and that it's Anthony's job to either negotiate the director down or increase the budget, Director Nam instructs Anthony to either fix the situation or find himself another job. They can do the production without him.
Go-eun tries to track Anthony down, but he ignores her calls. She ends up at Director Nam's office right after he hands the Kyungsung production budget off, since they might be producing it in-house. I love the assistant's horrified response, like the words "in-house production" equate to "throw yourself into the river."
She's hesitant to request that Director Nam help mediate the situation between Anthony and Director Goo, only to find out that he plans on taking the show away from World Productions if Anthony can't fix the problem himself.
He assures her there's no reason for her to worry, since her role would remain unchanged. You can see her work up the courage to politely fight back: "I think that producing the drama through World Productions is the right choice."
Director Nam blinks at that, and asks she's repaying Anthony for reinstating her as a writer… which comes as a surprise to her, since she had no idea he was behind it.
She finds Anthony brooding on their rooftop, concerned for him now that he's experiencing what it's like to be on the receiving end of being fired out of dislike. Also known as: What Anthony Does To Everyone.
It's nice that she can be so open with him, even when you can see her struggling to do so. She genuinely feels bad for him and wants him to succeed, explaining that his tactics are why people hate him and why he has no one on his side.
"I don't need those bastards," Anthony shoots back, and there's just something in the delivery of the line. It's like he realizes more than anyone just how lonely he is and wishes he didn't.
"You said you wanted to make a successful comeback," Go-eun counters. "To make that success last, you must not lose people." He doesn't have power he used to, as she reminds him.
"Making this drama successful and taking the reward for my comeback is the purpose of all of this," he agrees. "And taking revenge on those people who took away my position and trampled on my power is the reason."
That's not quite the answer Go-eun was looking for.
Go-eun: "Why can't you just accept the reality of having fallen to the ground? Is hating the world your only option?
Anthony seems to think so, and doesn't see what's wrong with it. Go-eun asks the obvious question: "Why on earth did you end up making dramas?" He doesn't have one.
He ends up thinking on her question in the car, and we flash back to his childhood. He'd frequently have to defend himself from other kids who'd make fun of him for being a bastard with a blind mother. And so, he'd turned to dramas as a retreat from the world, then shown in black and white. (Yes, I'm choking up over here.)
Anthony ends up tracking down Director Goo, and stops him before he has the chance to resort back to the bottle… by flipping over the whole table and throwing a briefcase filled with money on it. Whoa. Okay.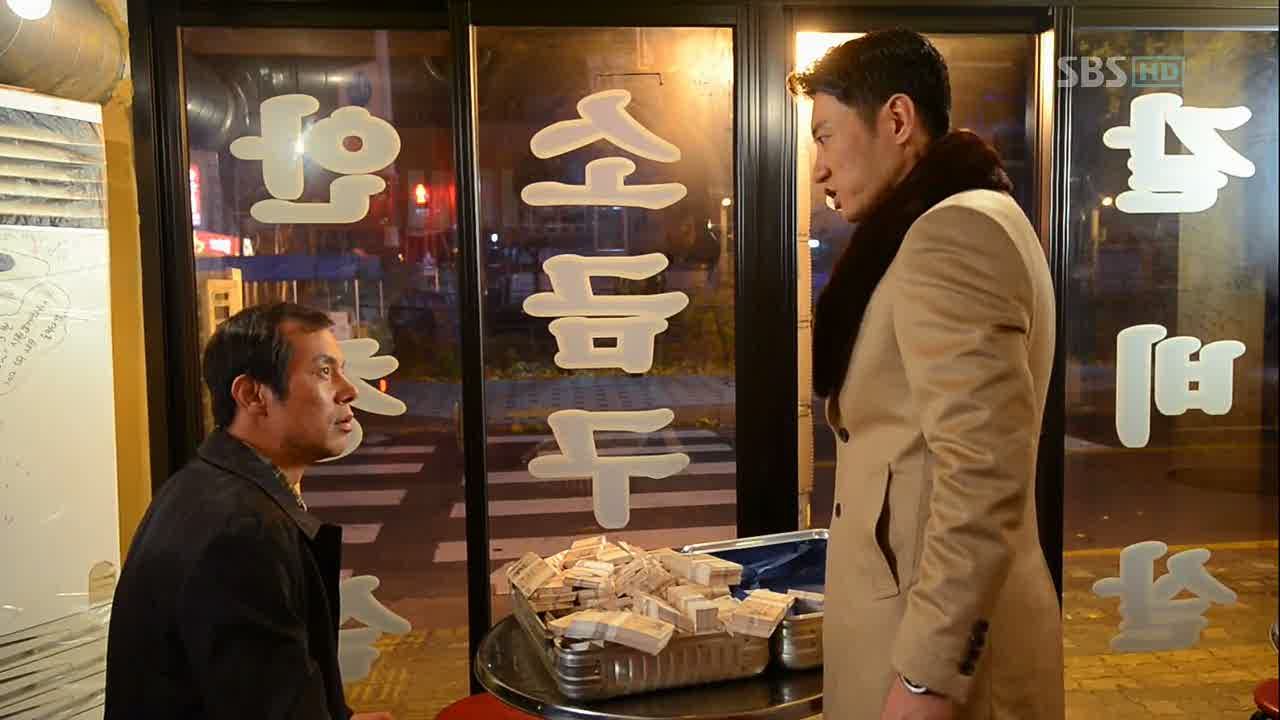 In it is the sum Director Goo wants to use on the last five minutes of the first episode. He's willing to give it, but he doesn't sugarcoat the truth: Spending this kind of money on five minutes out of the twelve-hundred minutes they need to shoot will make the rest of filming difficult.
"What is this drama to you?" Anthony asks him. Director Goo replies that it'll be his last, but Anthony thinks it can be a foundation for another decade of his career. If handled correctly.
Before he leaves, he reminds Director Goo of the day he hit rock bottom five years ago. Is he taking this cue from what Go-eun told him on the rooftop?
Director Goo follows him out, and asks what he'll get in return for giving up those five minutes. Anthony: "Those five lost years that you want to forget. I will turn them into the joy of success." Director Goo smiles. The two have reached an understanding.
Director Nam gets word of the agreement the next day, and is honestly surprised that Anthony was able to agree with anybody.
And Director Goo delivers the news to Go-eun, even as she admits that Hyun-min wanted her to change the script. Director Goo seems to know what kind of star they're working with.
Which is just when Hyun-min shows up outside, prepping his agency president to do battle on his behalf and convince Director Goo to take out the jump.
They bring up the matter with Director Goo and Go-eun, even though he remains firm on having Hyun-min swim in the sea, even if they're working on a smaller scale. "Forget the clown that just poses in front of the camera for good looks, we're going to turn you into a serious actor with a tenacious passion," Director Goo says.
This gets to Hyun-min, and I have the feeling this choice of words came from Go-eun's suggestion since she knows Hyun-min wants to be taken seriously.
She follows him when he refuses and storms out, and uses her tried and true method of forcing her way into someone's car to get them to listen. She refuses to get out, and so in an effort to scare her out of his car, Hyun-min starts driving aggressively.
Unfortunately, Spy/Maknae Goo saw Hyun-min drink in the meeting, and reports that fact to CEO Oh and his team of baddies waiting in a car. This is going to be bad.
Hyun-min is offended that he's not already considered a "real actor," and it's hilarious how Go-eun just calls him out for acting like a kid whining to his mom whenever something goes wrong.
He swerves off the road and slams the brakes. Go-eun challenges him on where he plans to run off to. The best Hyun-min can come up with? "I'll… go see my mom!" HAHA. Go-eun wins.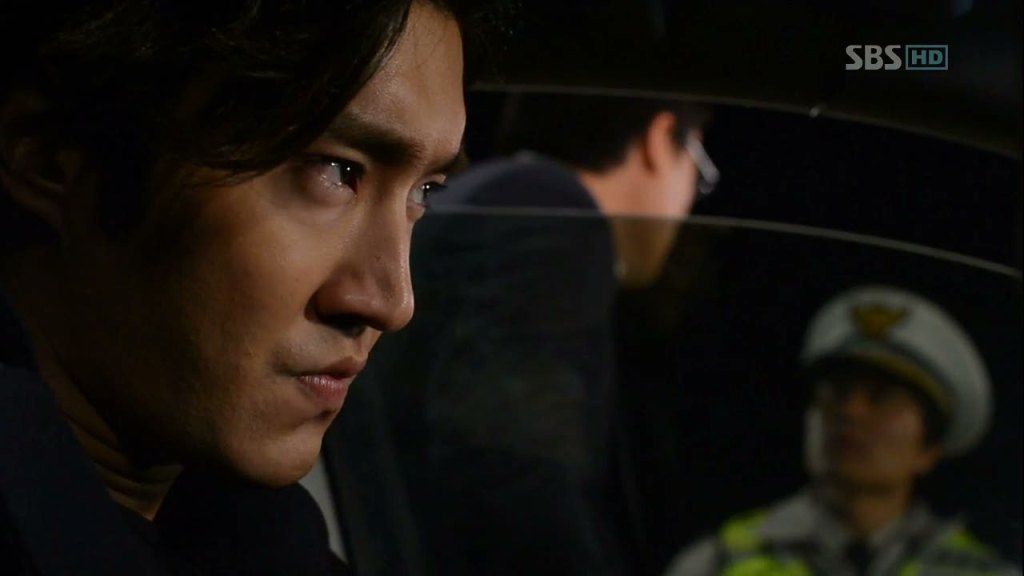 They get rear-ended, and it's CEO Oh's slimy guy.
He stalls Hyun-min long enough for the police to arrive, and he tells the officer that he thinks Hyun-min has been drinking. Hyun-min's eyes widen as he remembers the one drink he had. Uh oh.
CEO Oh catches Anthony in the SBC lobby in time to see Anthony get the call from Go-eun that Hyun-min's been caught for drunk driving. Apparently his blood alcohol level is enough for license suspension.
Anthony readies to rush to the scene, but Go-eun fails to see an oncoming car as she tries to tell him where they are…
And she gets hit. Bam.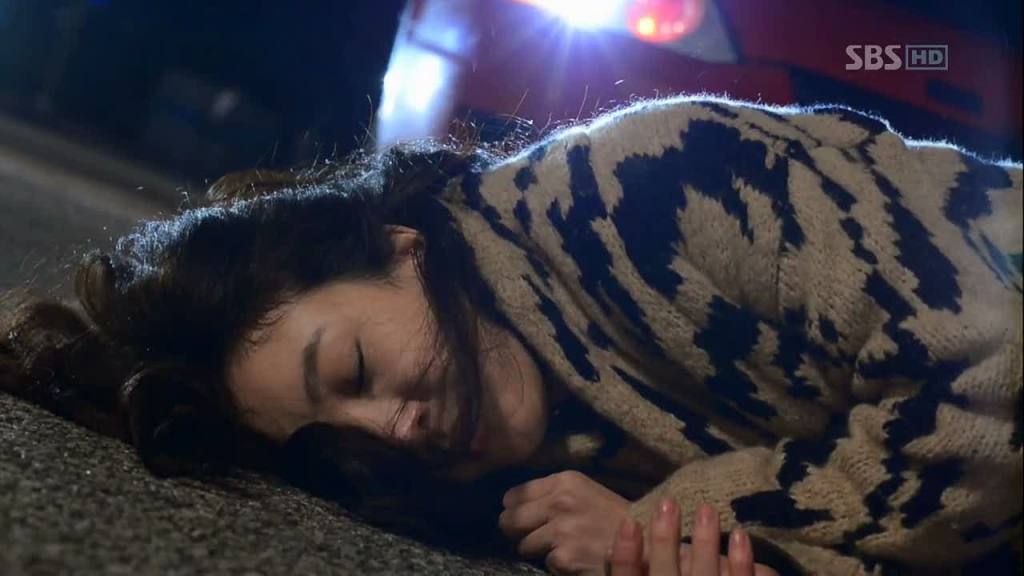 COMMENTS
Well… that was definitely an unexpected twist. A really, really unexpected twist. I don't really know what to make of it since we've just seen the impact, and it remains to be seen what's actually done with it. Suffice to say that this show hasn't done me wrong so far, so it's earned some trust on my part going forward. (I don't know if it was intentional, but I was wondering how much longer she was going to tempt fate by jumping in front of cars before she actually got hit by one.)
This was Anthony's episode for me, and I was frankly amazed at the ability of one flashback, coupled with his already commanding performance, to shake up my view of him so thoroughly. I've found him fascinating so far despite disagreeing with some of his actions, and admittedly I wasn't really sure whether I was picking up nuances from Kim Myung-min's performance that weren't necessarily in the script. Until now, anyway.
Anthony had moments of vulnerability before, and even though some of them were big moments (like his crying during the therapy session, or kneeling to Director Nam), the driving motive behind them seemed deceptively simple. Yes, Anthony had nothing but his job, and without it he felt like he had nothing. Even now, he just wants the power of his position again.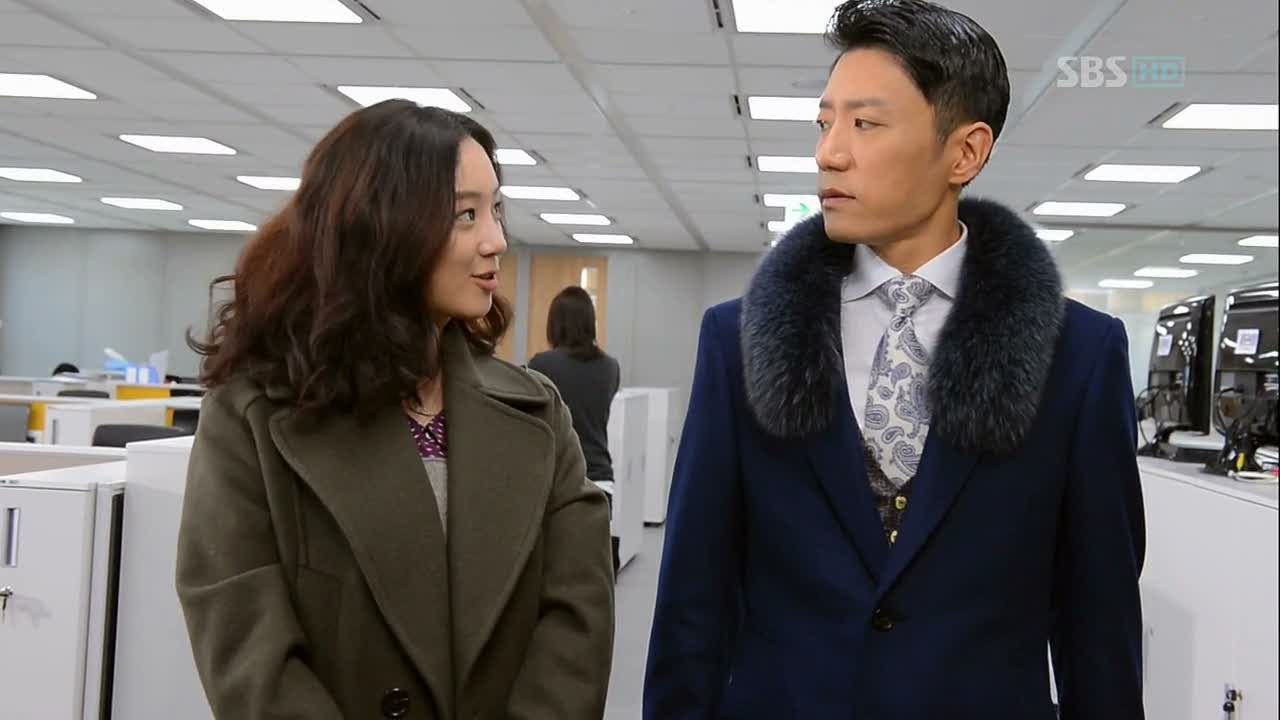 That's all well and good, and was enough to get me on board with his journey, if only because he had a clear goal and an unflinching resolve to achieve it. But it was when Go-eun pointed out his inner demons on the roof that I realized it too, and saw it in Anthony – that sense of overcompensation, like he's protecting himself from the need to need others by convincing himself he doesn't actually need anyone.
And that, as we saw, ties all the way back to his childhood. My heart just shattered to see him turning to dramas for comfort as a child, especially when we take his Mom's blindness into account. He watched TV alone because his mom couldn't see, and because he had no friends. So in a way, dramas became his alone, something he couldn't share with anyone. Taking that into account while looking at the desperation with which Anthony has clung to his career, it all makes sense. If dramas had such an impact on him from such a young age, essentially becoming everything to him, of course he'd be desperate to keep his career and only tie to the one thing he (presumably) loves. In his very Anthony-esque way of loving something.
For the first time, I got the sense that his being money-minded is all for his self-preservation in the long run. He can't afford to make mania dramas because he can't afford to lose his position, he can only gamble on making a hit to generate money so he can stay in the business longer.
And if, really deep down, it's all because he truly loves dramas, then his driving force is all the clearer. Maybe I'm reading too much into the flashback and what we've seen of Anthony's desperation, but it's like seeing his childhood made so many of his actions instantly Click! for me. It doesn't make them all right by any means, but I have a much deeper understanding of where he's coming from and a lot more sympathy for who I (think, hope) is hiding in there, somewhere.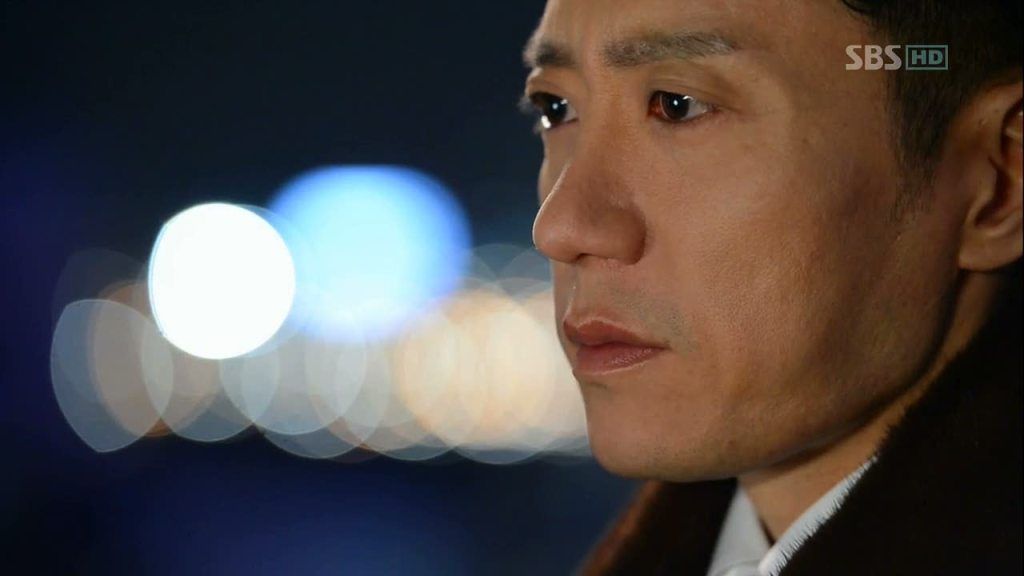 RELATED POSTS
Tags: Choi Siwon, featured, Jung Ryeo-won, Kim Myung-min, King of Dramas