King of Dramas: Episode 8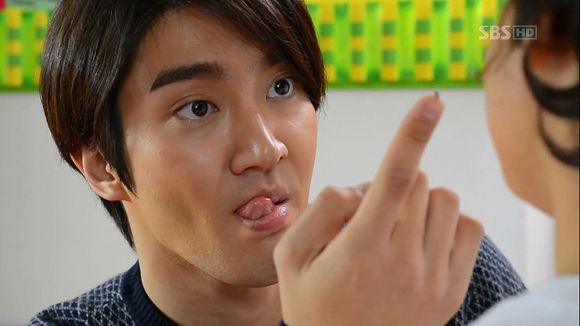 So funny. It's time to get the whole gang under one roof and on one production schedule, which is about as impossible as you'd think. It's a clash of inter-drama egos more than outside interference (for the moment anyway), which means yet another uphill battle for our team of all-stars, has-beens, and rookies. Needless to say, the drama in this drama within a drama is to drama what Anthony is to every animal which has not yet experienced the deadening joy of being worn around his neck.

EPISODE 8: "Reinforcements Will Not Come"
The World Team anxiously waits for Anthony's return, all on pins and needles about their lead actress.
When he does return he heads to his desk silently, and everyone just assumes the worst. Shoulders fall.
Then, Anthony instructs Dong-seok to ready a press release with the title: "Sung Min-ah Confirmed as Kyungsung Morning's Lead Actress." Hah. Anthony is such a troll.
The whole room erupts into cheers, with no one happier than Director Goo and Go-eun. He remarks to her that Anthony may be nasty and mean, but he's a pretty decent producer. Go-eun acknowledges that, even if she still gets the urge to beat him up every now and again. Hee.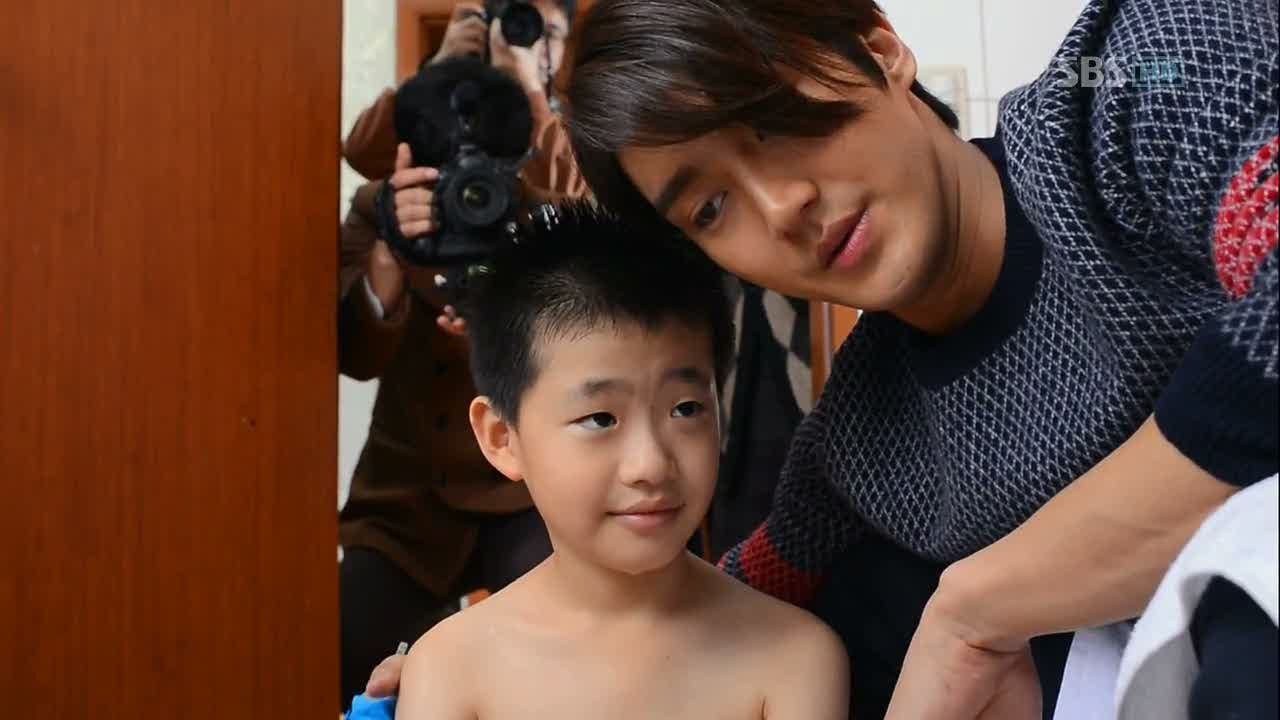 Hyun-min is putting in some community service hours at what looks to be an orphanage, by bathing kids and getting his picture taken. It's bizarre and funny all at once, especially when he gets his second kid, and then goes outside to see a whole LINE of kids waiting for Hyung to scrub their backs. Dying.
He calls Anthony up to complain, but Anthony's not budging – he's got to fix the image he ruined. He can either scrub dead skin or shave his head, the choice is his. Ha.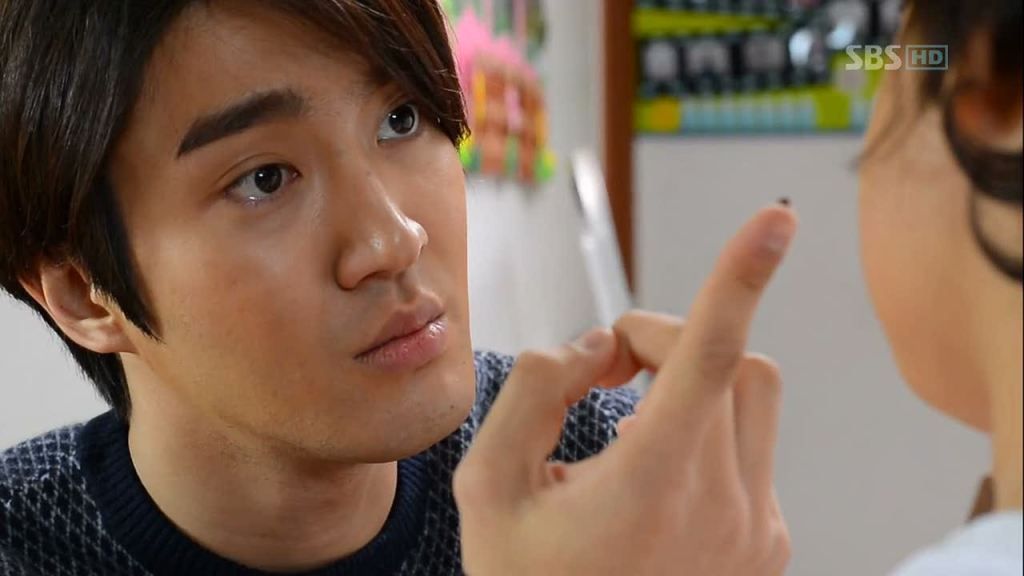 There's one boy who marches straight up to Hyun-min, picks his nose, and smears the booger onto Hyun-min's hand with this expression like, Yeah, you wanna fight about it? It's the slow escalation of Hyun-min's rage that has me crying laughing. Priceless.
He reacts just as childishly, by holding the booger up and telling the kid to eat it, accompanied with a sluuuuurp! sound. Eww.
Director Goo interrupts the fun to tell Hyun-min that Min-ah is his new costar, which puts renewed pep in Hyun-min's step.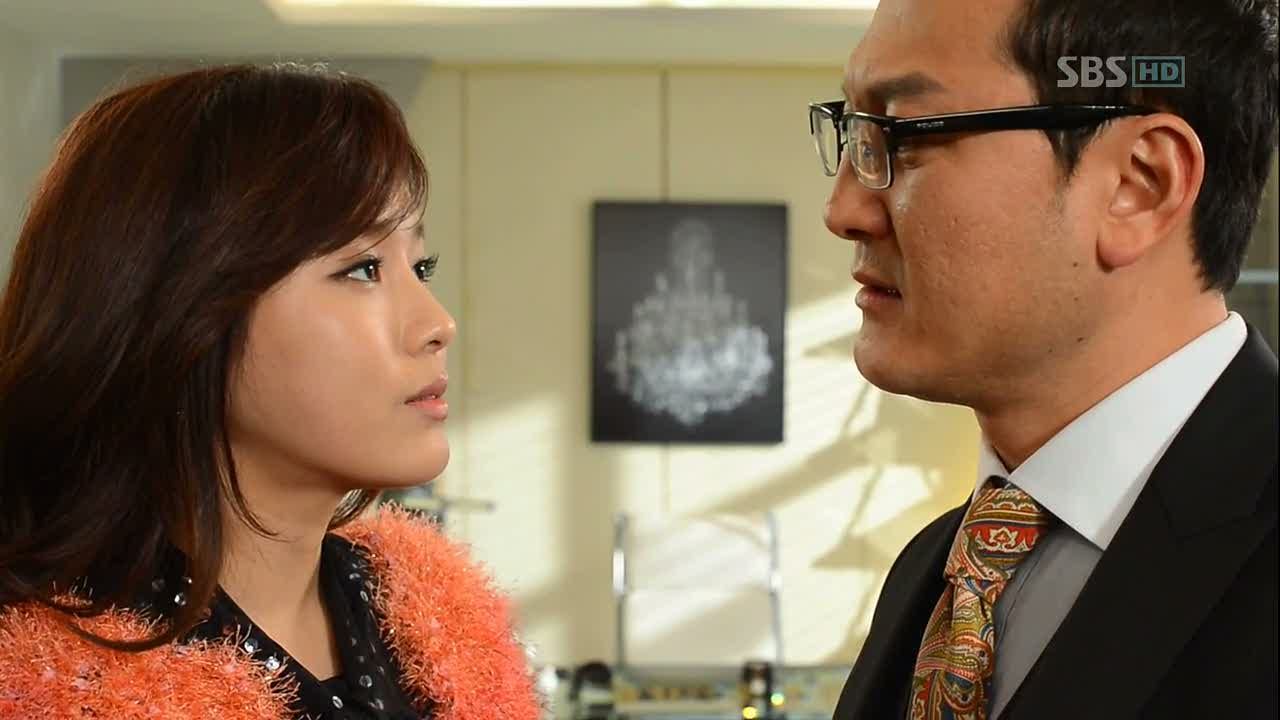 Min-ah is under contract with Empire Productions, but she doesn't let CEO Oh order her around and gives him the orders instead, her tone curt. She's acting in Kyungsung Morning.
He tries to remind her of what Anthony did to her (we still don't know what), but doesn't succeed in changing her mind.
CEO Oh takes this news to Empire's Chairman, vowing to stop her from acting in Anthony's production. But the Chairman says not to bother, since he's got another plan of attack in mind.
Anthony fetches Go-eun for a meeting with Min-ah, and leaves the two to talk. (I love that while waiting, Go-eun wonders what Min-ah's character is like, only for Anthony to reply: "Probably better than yours.")
Except, that turns out NOT to be the case, since Min-ah is nothing if not prickly and arrogant. She at least eases into what she has to say, but it boils down to her being upset that her character doesn't show up until the end of episode two.
And because she's a big fancypants actress worth her weight in gold, she demands that Go-eun revise the script to give her more screen time. When Go-eun is hesitant, she immediately calls her out for being a "rookie writer," with all the derision she can muster.
"I will make this clear," Min-ah says. "You did not cast me. I chose you. No, I chose this drama. So right now, I'm not asking a favor. I'm not trying to give you advice, either." She adds that she's only worked with veteran writers.
"This rookie writer who knows nothing will only say one thing," Go-eun replies. "This drama is not a drama for you alone. Even if it's for Sung Min-ah, I can't fix even one character." Go Go-eun!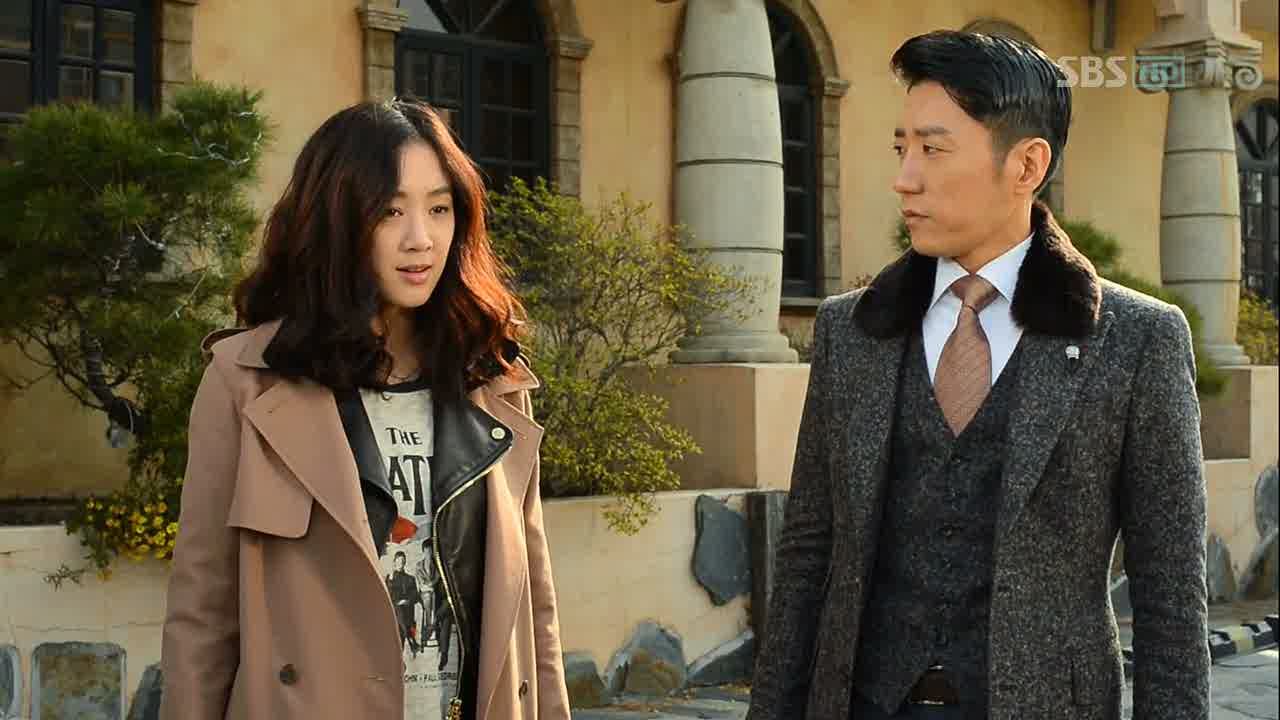 Outside, Go-eun blames Anthony for leaving her alone with Min-ah when he knew what she was like. But she's going off his past behavior, and thinks he's trying to implement changes to her script by using Min-ah.
"I was wrong for trusting you," she says before she storms off, leaving Anthony blinking in her wake. Aww.
Go-eun pays a visit to the set to get some advice from Director Goo, and while it's cute that she looks to him as a mentor, him asking her "Why are you here instead of writing?" sounds a lot like "Who let you out of the basement?" Unintentional, but funny.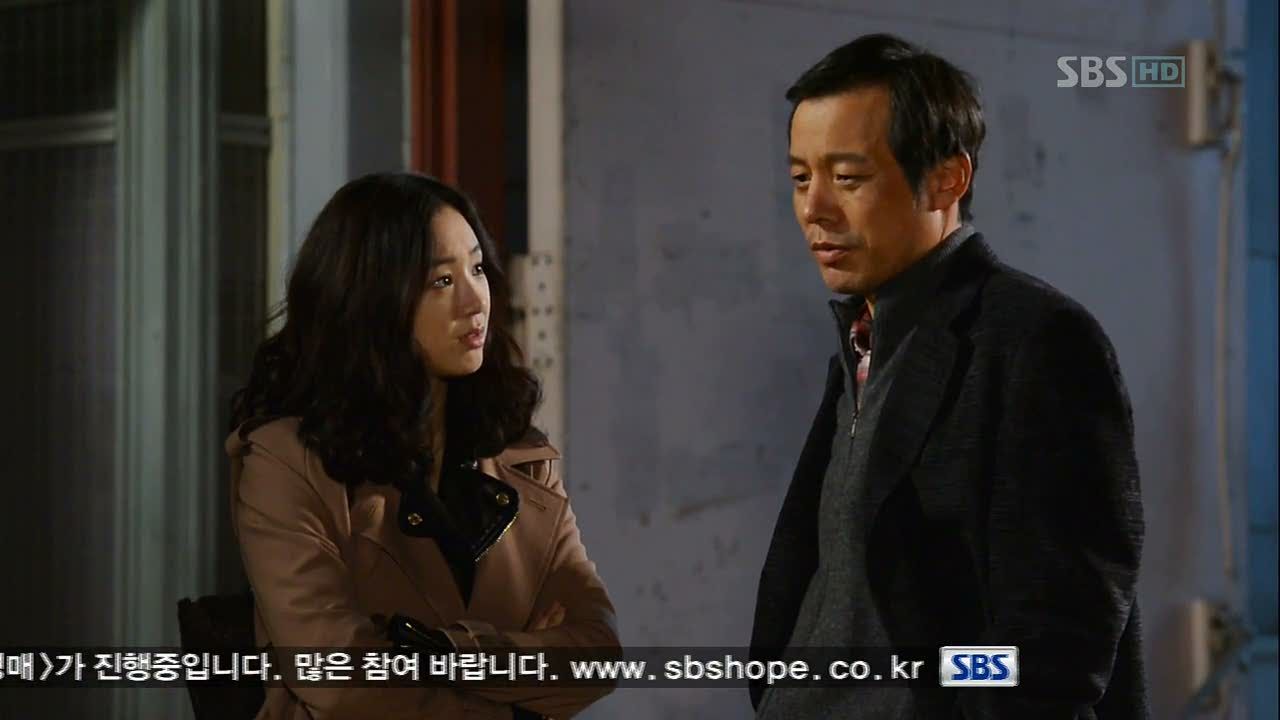 She tells him about Min-ah and how she thinks that Anthony is conspiring with her to change the script. Director Goo offers her a bit of insight into the mind of the actor, in that there's one thing they're never willing to give up: Their fair share.
Go-eun doesn't understand this on a fundamental level, and wonders if there's not a way to change an actor's natural instinct to, well, act. Director Goo doesn't know of one, and pretty much pats her on the shoulder all, Good luck!
She gets called in to see Director Nam only to find Min-ah already there, which means Min-ah told on her.
The two share a look before Go-eun is left with Director Nam, who's nothing if not levelheaded. First, he tells her that as a fellow drama creator, he sympathizes with Go-eun's point of view and is rooting for her.
Then he talks to her as the SBC broadcasting director, telling her that Min-ah's demands aren't out of bounds for the caliber of star she is, and hopes Go-eun will reconsider.
She leaves his office with slumped shoulders, only to find Min-ah waiting outside with a sour expression. Go-eun asks if Min-ah had to go to such a length to pressure her, and Min-ah sneers: "Yes. If I say so." Ugh. We're not even at the half hour mark and I've had it up to HERE with this girl. It's not that I don't understand where she's coming from, but she could do with a little less attitude.
At least Go-eun holds her ground on refusing to modify the script. Min-ah drops to banmal as she warns Go-eun: "You. Don't act up."
Anthony signs Min-ah's contract with CEO Oh, who seems miffed that Anthony's been able to re-hire people he's thrown away, like Go-eun and Min-ah. Anthony agrees that the only thing he's missing is CEO Oh's inferiority complex. Ha.
CEO Oh claims that their fight isn't over, even though Anthony claims he never even considered him as a target. But CEO Oh still vows to bring Anthony down, and fumes that Anthony's day will come. Alright, time to just get a token fat cat to stroke while plotting evil schemes.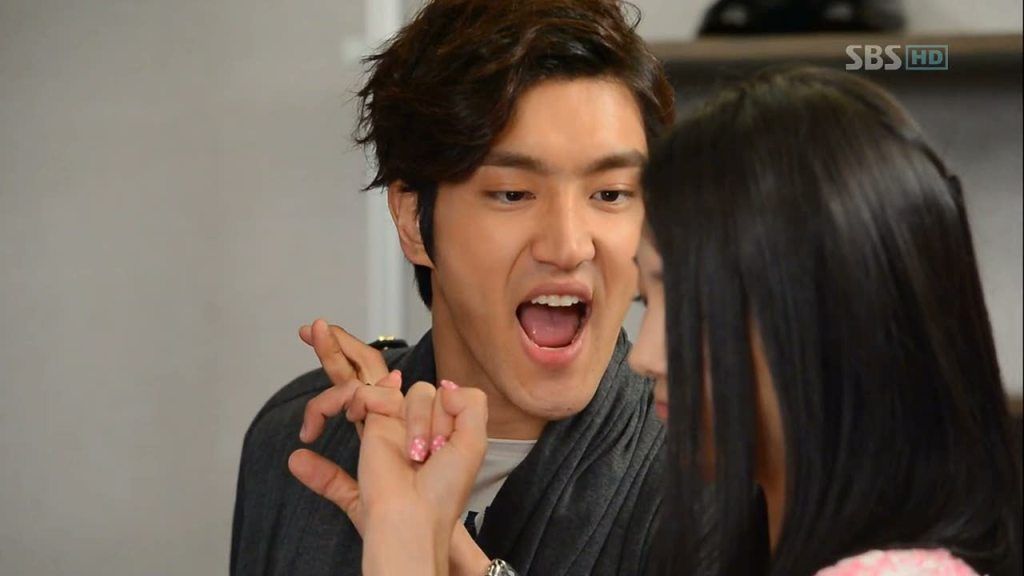 It's nice to see Bit-na make a reappearance as she worries shrilly that Hyun-min will leave her for Min-ah. She makes him swear not to fall for her first, and during the pinky swear he mouths: "That's a lie." Ahaha.
Hyun-min's running late to the poster shoot, and scoffs when his manager tells him Min-ah is always punctual. "Even if she's hot these days, is she this drama's protagonist?" Hyun-min all but cackles in glee as he instructs his manager to drive even slower.
When he arrives on set, Min-ah's not there. I love that Hyun-min pitches a fit because no one pays attention to him, especially when Min-ah walks in late only to have everyone fawn over her. I foresee some diva battles in their future.
Hyun-min even makes a comment to her about her lateness, but it doesn't faze her in the slightest. So when he acts like he totally put her in her place to his manager, he's either in make-believe land, or he can't read people to save his life.
Anthony calls Watanabe to update him on the status of the shoot, but Watanabe is strangely agreeable, which is perhaps due to a suspicious man at his bedside. Hmm. Empire's Chairman did say he had a plan to take Anthony down involving Watanabe.
It's poster shoot time, and Hyun-min hilariously spends a couple of frames shoving Min-ah away so he can take up the full shot. Hahaha. Hyun-min is a total riot.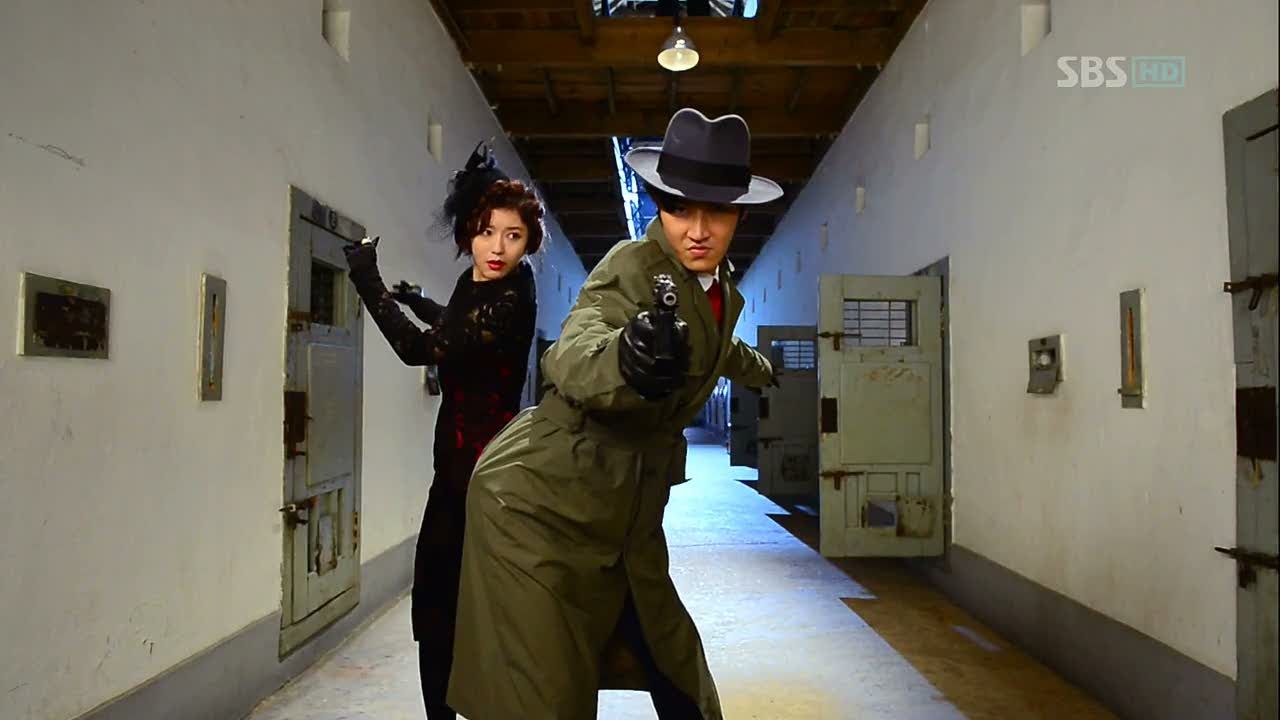 Director Goo asks Min-ah about the script changes she's asked for, and she doesn't back down. I love that he defends Go-eun when one of the CPs starts bad-mouthing her for being daring, saying: "She's not daring, but persevering. Without even that much backbone, how could she write scripts?" Teamwork!
Hyun-min certainly has no love for Min-ah, but he offers her a handshake just the same. She refuses it and leaves him hanging, telling her manager that he's just a brat who thinks he can act, and isn't worth her time. Okay, but, that doesn't change the fact that you have 9283729 hours to spend with him. Just shake the guy's hand, sheesh.
While Go-eun gets a call from the poster-shoot CP demanding that she change the script, Min-ah visits Anthony's rooftop to ask if he can fire Go-eun.
He doesn't entertain the thought, and instead asks what she'll do if Go-eun keeps refusing to change the script. Min-ah replies that she always gets what she wants, insinuating that the one thing she was ever denied was him.
"I know that you don't feel or want such a thing as love," she tells him. "But I don't care. Because I will make you love me." Ugh. UGH. Don't tell me she's THAT girl. Anything but that girl. I would rather watch Anthony act with a jar of pennies, or a live chicken. Literally anything else would do.
Go-eun heads to the rooftop and sees Min-ah leave, instantly jumping to the conclusion that Anthony was once again conspiring with her to change the script.
She reminds him that he promised not to change her script, and he agrees – he hasn't told her to fix it once. (Er. What about that time he told her to fix it? Yunno, by changing everything about it?)
However, he does remind her that fighting with directors, broadcasting stations, producers, and actors is a drama writer's fate, which Go-eun takes as him telling her to just give up the fight now.
Maybe Anthony realizes he's got to get through to her somehow, so he yells, "NO! Fight. Fight openly against her. You said you wanted to protect your script, so fight. Fight, and win. But in return, you're fighting alone. Not a single soul will help you. That's why being a writer is an infinitely lonely job."
CP Lee calls Anthony in for a meeting over budget, but finds himself in over his head when Anthony can cite every figure, including projected sales, by heart. CP Lee wants to shortchange him on the budget per episode to roughly about 300k, which Anthony claims is grossly inadequate.
Anthony brings the matter up with Director Nam, asking why his drama is getting the same budget as one of the smaller dramas airing. Director Nam acknowledges that the smaller drama won't bring in the same kind of cash as Kyungsung, but "Even dramas that nobody thinks will make money need to be produced, is what I think. Not for profit, but for its benefit to society."
Of course, the words "not for profit" do not compute with Anthony, and he's left dumbfounded.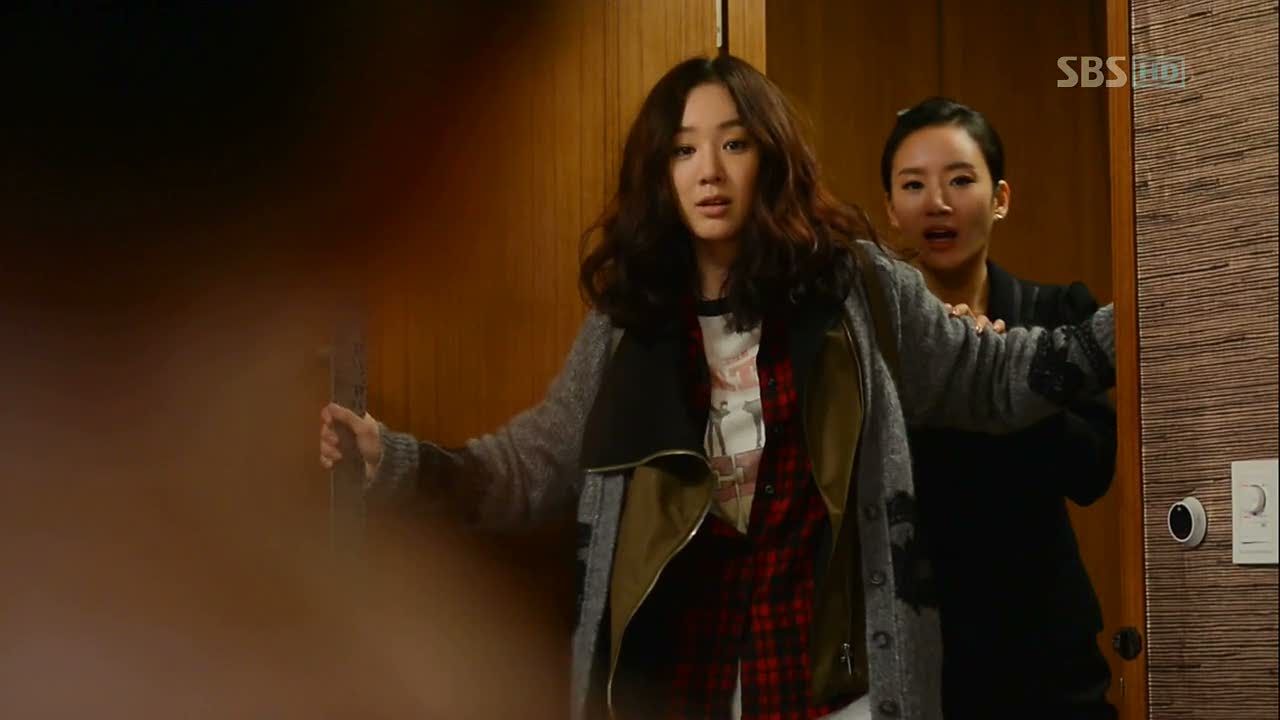 Go-eun tracks Min-ah down to a spa only to have one of the employees deliver a message straight from Min-ah's mouth that unless she brought the changed script, they have no reason to meet.
And, ha, Go-eun decides to just vault past the employee and find Min-ah herself.
Director Nam makes it clear that Anthony needs to go through the proper channels from hereon out, instead of directly coming to him. They end up running into the Chairman of Empire Productions, and Director Nam refuses him a handshake.
The Chairman advises Anthony to leave the industry while he's still being civil, and Anthony replies that he'll decide his own fate. The Chairman, however, seems to have some eeevil plans in store.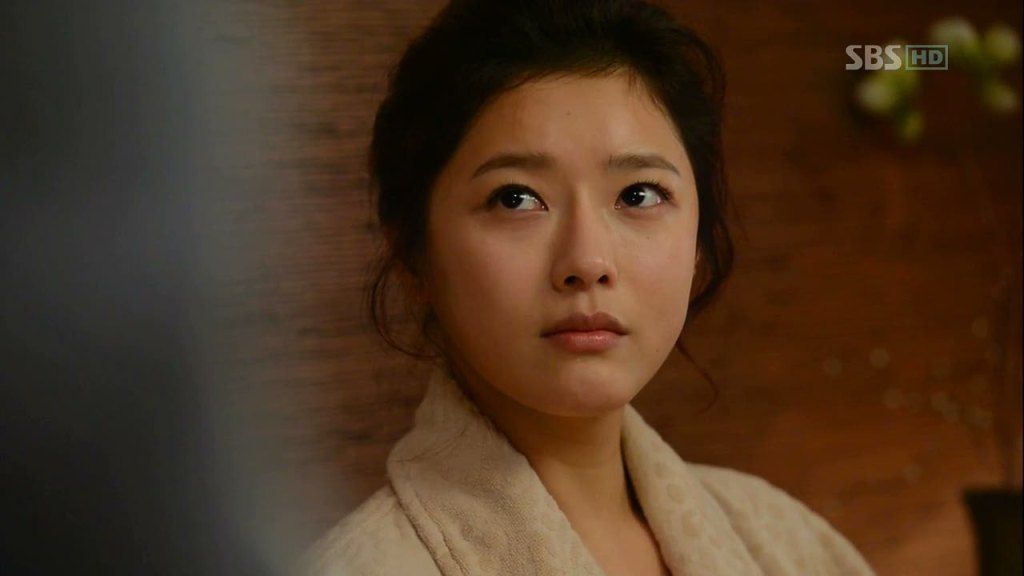 As for Go-eun, she's gentle yet firm in telling Min-ah that she won't be revising the script: "The legendary British actor Alec Guinness once said, 'There are no small parts. Only small actors.'" Love her for using that quote.
She ends up finding Anthony drinking soju in a street stall (I know, it's like we're seeing a rare white elk) and updates him on the fight: She won't be doing any script revisions, so Min-ah won't be attending the script reading or the press conference.
Anthony thinks that she will, and tells Go-eun it's because Min-ah's a professional: "Both professionals and amateurs, they all make mistakes. An amateur blames the world, but a professional takes time in reflecting on themselves. Time which an amateur like you wouldn't dare to think about."
This really gets to Go-eun, and for the first time she looks over her Episode 1 script while actually considering the criticism Min-ah gave. She's quick on the uptake, that's for sure.
It's the first day of official production for Kyungsung Morning, and Anthony celebrates by upgrading his fur collar. We see the role each member of the team gets to play in preparation, and at last it's all coming together.
However, Anthony does get the odd news that Watanabe isn't coming. We see that it's because Empire's Chairman plans to pick him up from the airport instead.
Go-eun shows up with a Cheshire grin, along with revised copies of the first two episodes. She claims she could see the excessive use of theme Min-ah talked about and fixed it, which gets the nicest smile out of Anthony.
For that matter, Min-ah is also pleased with the revisions, and grudgingly acknowledges that Go-eun isn't half bad.
And ha, just when you think Hyun-min's mad about the changes, it's revealed that he hasn't even bothered to read them and has instead chose to play Anipang. Points for consistency.
Everyone loves the changes – including Director Goo – and all the script copies are replaced. Hyun-min and Min-ah arrive in identical celebmobiles, and he doesn't waste the opportunity to rib her for showing up on time when she's not even in the first episode. Maybe read the script next time, Hyun-min.
Min-ah and Go-eun have a short chat in the hallway before the reading, and though it isn't explicitly said, it seems like the two have come to terms. At least for now.
The reading starts, but Hyun-min makes a pretty obvious flub when he directs his lines to the wrong person, since Go-eun's revised version has him meeting with Min-ah's character.
He goes still for a long while, maybe even a little embarrassed, before he stands and announces that he won't do it. Why? Because Anthony & Co. didn't even blink when he asked to take the ocean-swimming scene out, and now he can see that they clearly changed things around just for Min-ah.
Well, when you put it that way, it does look like the team favored Min-ah. But Hyun-min did put his foot in his mouth by claiming that Anthony was seduced by Min-ah, leaving her too affected by his accusations to continue the read once he's stormed off.
Anthony catches him outside and tries to play it safe since they're in view of the media, and asks him when he'll stop whining all the time. But Hyun-min's as serous as we've ever seen him, and he pries Anthony's hands off his coat: "Do you think I'm whining right now?"
Meanwhile, Empire puts their plan in motion by bringing Watanabe's son into town. Ah, that explains the man at Watanabe's bedside. He's introduced as WATANABE KENJI (Jang Hyun-sung), and it just so happens that he speaks fluent Korean.
Go-eun works on convincing Min-ah to return to the reading while Anthony works on Hyun-min.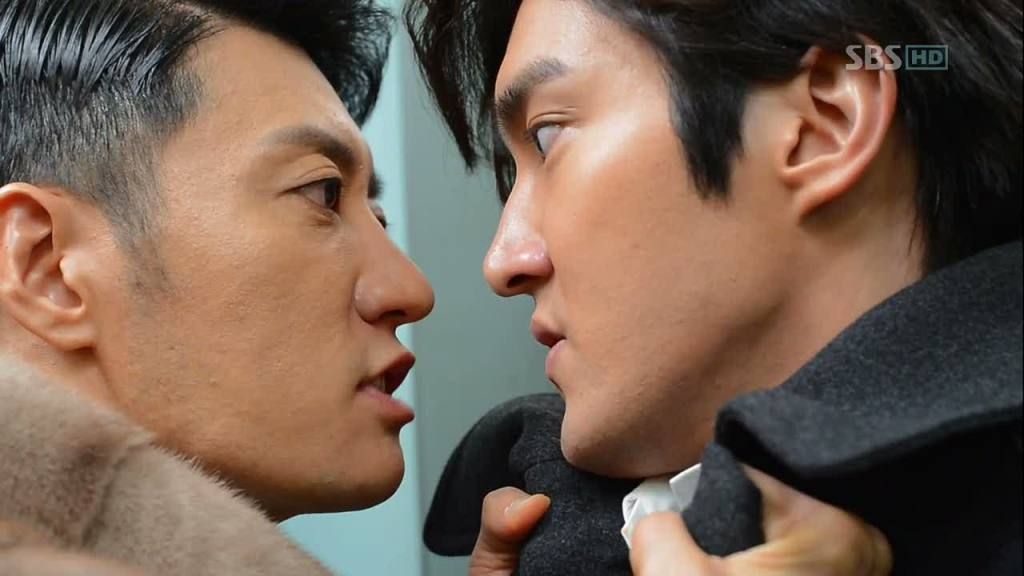 The latter isn't going so well, since the threat of contract-breaking fines does nothing for Hyun-min. So Anthony waits until Hyun-min is in an elevator to grab the star by his collar, shove him against the wall, and tell him what for.
It's only when Anthony threatens to spill the story of Hyun-min's mom's fake illness at the press conference does Hyun-min take notice, especially because Anthony is vowing to take them both down in one fell swoop.
When Hyun-min calls it a bluff, Anthony grates out: "I don't care if you believe it or not. I have nothing to fear any longer. Choose whether we live or die together."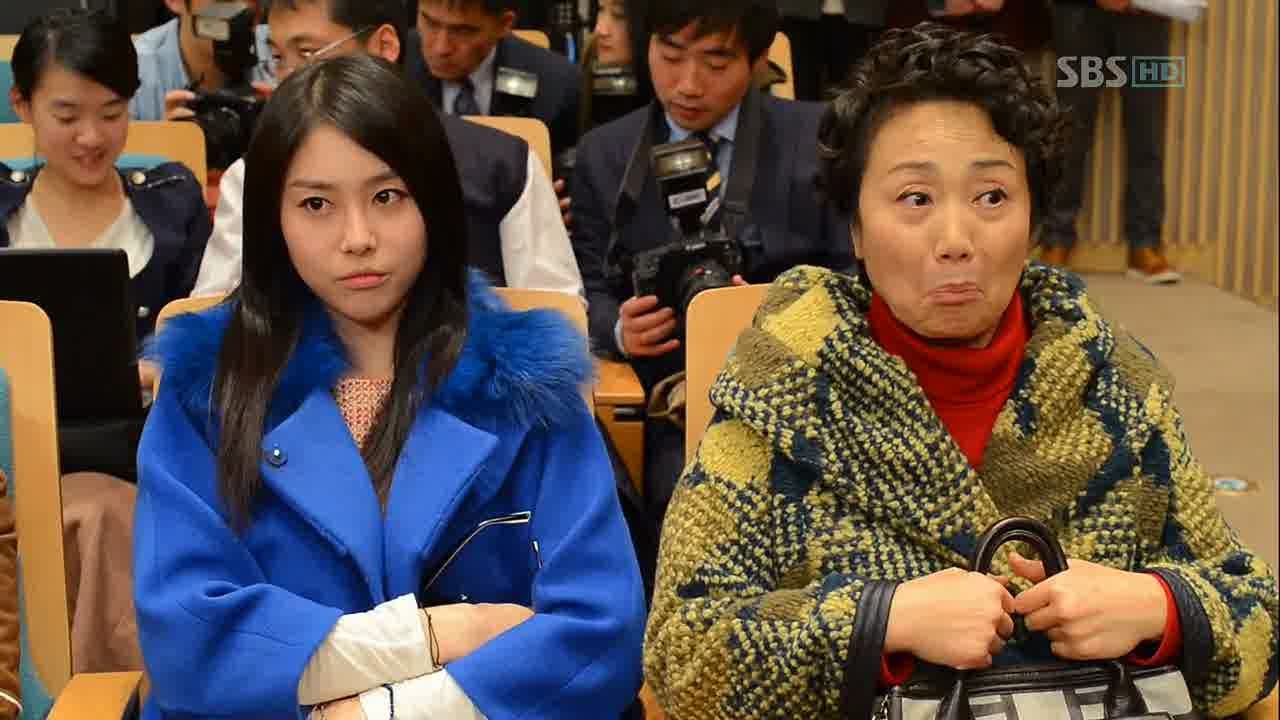 We don't know which way he'll go, but while we're waiting, Go-eun's mom scuttles into the press conference… and sits right next to Bit-na, wearing sunglasses and a tight-lipped expression. HA.
The CP is just now finding out that both his stars have fled, moments before the conference is set to begin. And, surprisingly, the Chairman and entourage arrive, which include none other than the President of SBC and Kenji. Eek.
The MC announces that it's time for the stars to come up, and everyone holds their breath…
But no one walks through the door. Oh no. The audience starts murmuring as Director Nam is given a message, which he passes on to an irate Prez: Hyun-min's not going to make it.
Prez & Co. get up to leave, and they're really leaving. Eek! No last-second surprises? Someone needs to come through that door!
Go-eun is with Director Goo and Min-ah backstage, and just as they're planning to go up without their lead, Hyun-min makes his grand return.
Anthony stays outside the conference room to waylay the Chairman and his crew, only now getting introduced to the new CEO of Watanabe Group, Kenji. Oh. Huh. Well, I guess that's it for his dad.
Kenji explains that his dad is ill and gave all management rights to him, and furthermore, that he is withdrawing everything from World Productions, and Anthony.
Oh, and that initial money his dad gave them? Anthony needs to return it. Yiiiikes.

COMMENTS
One of the (many) unfortunate byproducts of the live-shoot system is a pervasive sense of unease whenever we have a drama that is by all means made for success, like King of Dramas, failing instead as far as ratings go. When ratings are high, I don't necessarily worry about a show taking a wrong turn (even though that's obviously no guarantee that wrong turns WON'T happen), since the production team gets to pretty much keep doing what they're doing either way.
When ratings are low and feedback is instantaneous, I become worried for shows like King, which in turn makes me paranoid of any suspicious story turn since the chances of a writer attempting to buoy a sinking ratings ship are much higher. That's not always the case, and it might not even be a concern here, but it's probably because I like this sinking ship so much that I feel inevitably protective of it. I just want King to have even a base level of ratings success so that it can tell the story it wants to tell however it wants to tell it. We'll see how the numbers go next week, when Oohlala Spouses is out of the running.
Anyway, what pinged most on my live-shoot suspicion radar were Min-ah's scenes as Stock Second Female Lead (Variation #2, the "I will make you love me!" as opposed to Variation #1, the "Love me or not, I'm dying of cancer anyway!"), and the curiously abrupt or just clumsily-handled introduction of Watanabe's son, Kenji.
Granted, both of these things (Min-ah's romantic temperament and Kenji) might have been planned long in advance, but I wasn't getting that sense of assuredness. With Min-ah, I felt like I was watching two different people: Min-ah the Professional, and Min-ah the Potentially Psychotic Jilted Lover. Professionals have their fair share of dual personas and it's entirely possible that the front Min-ah puts on is not who she is, but I found her inclusion in the first half of the episode to be downright painful, especially without any effort to endear herself to… well, anyone.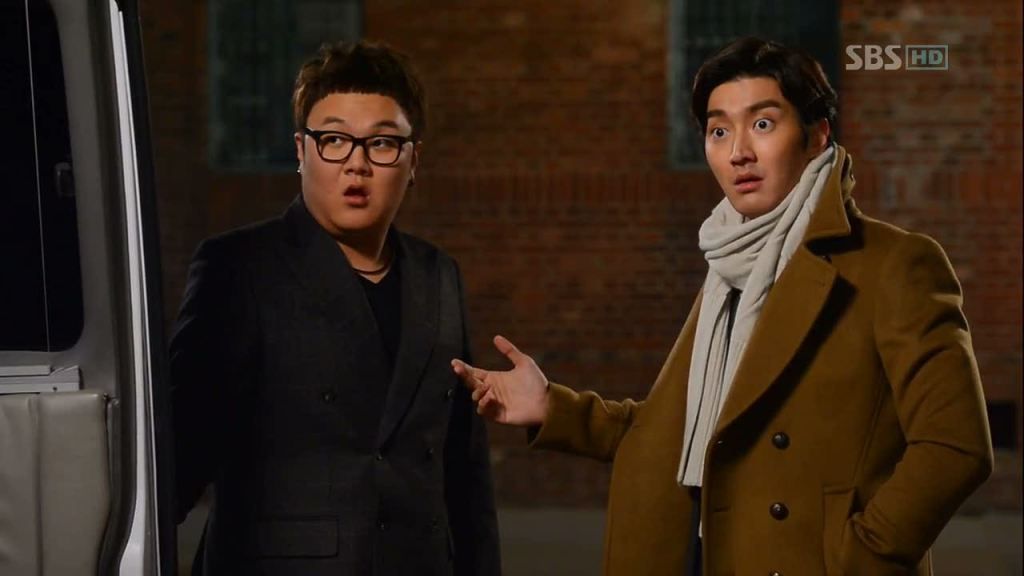 Then the second half came around, and we saw Min-ah operating as an actress. While her outward demeanor didn't win any points with me, I liked being able to see a more human and hard-working side to her once the revisions were made, and she gained some respect for rising above Hyun-min's petty ribbing, along with the fact that she didn't even bat an eyelash when Hyun-min made his mistake during the reading.
If given the chance, I'd like to think she would have acted like absolutely nothing happened in order for Hyun-min to save face. Even if she's the only real "actress," she's got to keep Hyun-min afloat because their fates are now tied, which she should know better than anyone if she signed on to star in a show with him. And we're getting flashes that she does know, which has me intrigued.
So I'm liking that professional aspect of her character, and think she's leagues more interesting when she's not just being mean and terrible. But I'm more wary of the fact that the crazy portal has been opened with her if the story chooses to go down that path later, because even in this episode, her romantically-inclined scenes with Anthony felt out of place and oddly clichéd for a show that's so far been too self-aware to fall into the usual traps. I'm holding out hope that Min-ah will be given more to work with than someone like CEO Oh going forward.
Aside from all that, Hyun-min continues to deliver the most laugh-out-loud moments without feeling like he's just one big joke, which I love. (The nose-picking scene literally had me crying from laughter. That makes me twelve years old, doesn't it?) He's a walking punchline with a punchline for a girlfriend, but seeing his unspoken competition with Min-ah come to a head at the reading went a long way in showing him as a person. He still doesn't have many Deep Thoughts as it stands, but it is nice to know he takes his acting career semi-seriously, because it means we get to now take his acting career semi-seriously as we become invested in his success. Along with everyone else's this side of Team Anthony.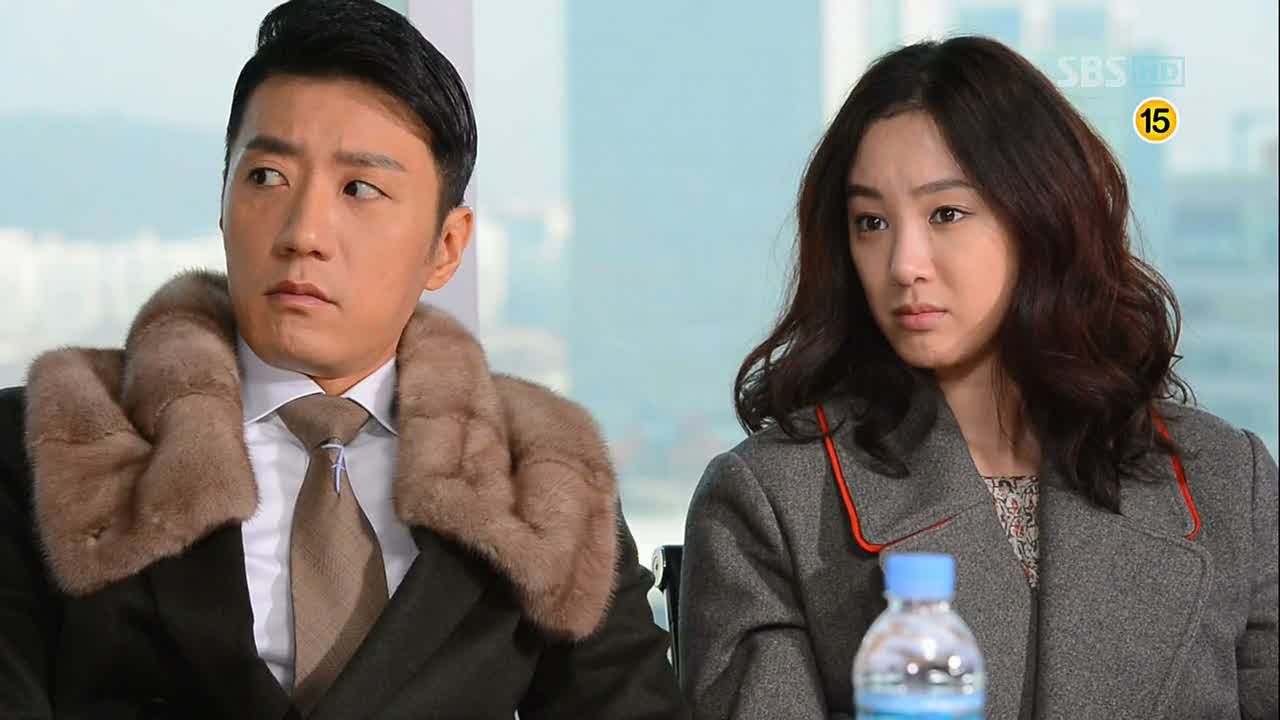 RELATED POSTS
Tags: Choi Siwon, featured, Jung Ryeo-won, Kim Myung-min, King of Dramas