Nice Guy: Episode 17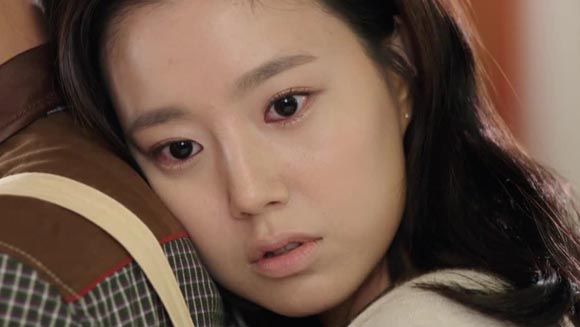 (I'm pinch-hitting on Nice Guy today, but fear not, we'll resume with our regularly scheduled programming next week when HeadsNo2 comes back.)
I am happy to have a chance to weigh in on the show, which I've been faithfully watching and finding very entertaining, despite (or maybe because of?) some crazy-up-the-wazoo character behavior. But very compelling all the same.
Today gives us a bit of a merry-go-round of lies and cover-ups and more lies, with everyone putting on their best two faces. Admittedly that's not a huge departure from the norm, but with the stakes climbing ever higher, every additional lie and loaded omission adds perilous weight to this tower of deceptions that's on the verge of collapse. Now that, I'm looking forward to. Boom!
SONG OF THE DAY
Lucia – "연극이 끝나기 전에" (Before the play ends) [ Download ]
Audio clip: Adobe Flash Player (version 9 or above) is required to play this audio clip. Download the latest version here. You also need to have JavaScript enabled in your browser.

EPISODE 17 RECAP
Eun-ki regains her memory, but announces to her board of directors that she has lost it. I wonder whether she's got a plan to strike back at everybody who has been using her, or whether she's coming up with this on the fly, trying to buy time while she works things out.
We backtrack, as is this show's wont, to before last week's ending. After that board meeting, Eun-ki talks with Secretary Hyun, who asks incredulously what that was all about. Eun-ki's expression is serene (though she fidgets with the sugar cubes again) as she says she's decided to "leave everything to Maru" because she's in no condition to manage everything. Also, did her father left her anything in the way of secret funds or Swiss bank accounts? "I want to give it all to Maru."
Secretary Hyun asks what she'll do if she gives everything and then finds herself abandoned. Eun-ki says with an innocence that frustrates her secretary, "Maru-sshi isn't that kind of person. I know him. He doesn't even lie to me about the smallest thing." Ooh, is this the game we're playing? Killing with kindness?
Secretary Hyun can barely hold in her exasperation, but suddenly Eun-ki's face is back to its stone-cold setting. She says, "You deceived me too. After the accident, the person in the other car was Kang Maru. You lied."
All pretense drops as her voice goes hard: "Are you working together? Kang Maru, Attorney Park, Secretary Hyun—are you all in this together?"
Maru shops contentedly for couple rings, no inkling that his world's just shifted axis. Aw, poor guy. If only he hadn't had this coming.
Secretary Hyun gapes to realize the amnesia is gone, but her primary reaction is relief as she tearfully takes Eun-ki's hand. Eun-ki looks annoyed at the touch, but instructs her secretary to keep this from Maru and Joon-ha.
The secretary continues, saying that now she'll be able to face the chairman on the other side. She'd been afraid she wouldn't be able to keep her promise—to restore Eun-ki to her rightful place and allow Dad to rest in peace after his wrongful death. Those words strike Eun-ki as suspicious: "Did something happen to Father? What do you mean, he can't close his eyes peacefully on the other side?"
Eun-ki visits her father's ashes looking anguished, presumably having been filled in on the suspicions regarding Jae-hee. And it's after this emotional wild ride that she makes her way to her date with Maru. Things look a lot different on this side, don't they?
She thanks Maru for his gifts, and he kisses her. She opens her eyes chillingly midway through, leaving Maru blissfully unaware.
The next morning, Eun-ki rifles through her old journals describing her post-accident days, written in childish script. On one page is a sketch of Maru's face, captioned with the full title of this drama: "Kang Maru is a nice guy that doesn't exist anywhere else in this world." The word for nice is misspelled, just as the drama title used to be before it was forced to change it.
Eun-ki starts to rip out the page. Before she gets to it, Choco interrupts to snap her photo.
Eun-ki finds Maru cooking breakfast and arranges her face into the sweet version to greet him. That look slips away when his back is turned, though she hugs him from behind, resting her head on his back. She says she had a dream last night: She met a hundred people, all of whom professed to be her father, her friend, her boyfriend. "They spoke such sweet words, but you were the only one who didn't speak a word."
Maru goes still. She continues, "I told you to say something, like 'Eun-ki, there's nobody who cherishes and loves you as much as I do.' Even if it was a lie, I shouted at you to say something. You didn't say anything, through the end. 'Eun-ki-ya, I'm on your side.' You should have said just one thing. Then I would have blindly trusted in you."
Maru stops cooking. He asks, "Should we run away someplace far, and live just the two of us? Where nobody knows us, where we can be the only two people there." Eun-ki replies as though he's just tossing out wild ideas, saying, "Yes, no matter what."
Jae-hee is back at Maru's old house, startling the neighborhood ajumma who wonders why she's back. Jae-hee says her house is cold and wonders why this house is so warm—it's the warmest place she knows. I'm pretty sure "Because you still had your soul here" isn't the answer she's looking for.
Ajumma asks directly, "Are you waiting for somebody? Maru?" Ajumma gives her a pitying look, and Jae-hee asks, "If I wait, will he come?"
Ajumma sighs that he fled in the dead of night, so it's not likely that he'll come easily. And just as Jae-hee shows a touch of human longing, her darker side asserts herself as she says firmly, "Then I can force him with difficulty." How like her to hear easily and take that as a challenge. She vows to make him return to this house.
As she steps outside, her brow furrows at the sight of Min-young, waiting there for her. Is the stalker of my stalker my friend, or my enemy? She asks indignantly whether he's having her followed these days: "How dare a thing like you be so arrogant…!" Whoa, watch what you say to the one guy with less soul than you.
But she continues, saying that her nice treatment of him has evidently caused him to forget his place, because he's overreaching. Said the kettle. She orders him to get his act together and remember that she's so far above him that she can't even be bothered with him. How things change once you don't need a minion killing husbands for you anymore.
Min-young silently takes in her diatribe, and then warns that she can't let her guard down about Eun-ki yet. He finds Eun-ki's announcement of her amnesia suspicious, but Jae-hee smirks, "So?"
Min-young warns her not to assume she's won the game and waste her time wallowing in her emotions. If she wanders like this, "You may find yourself with a knife in your back. And nobody knows who the person holding that knife may be."
Ooh. Nice one. And damn if he doesn't then take the scarf off his neck and wrap it around Jae-hee in a lover-like gesture, bringing a confused look to her face… though his grip is tight enough that it seems more of a yoke.
Maru leaves a ring box on Eun-ki's desk, looking at it with a smile. He stoops to clean up the scraps of paper that missed the trash can, and opens up one balled-up note. It's the one calling him the world's nicest guy, and suddenly a grim look crosses his face. Ah, he suspects. He flashes back to the accident report with his name on it and thinks to himself, "Eun-ki… has returned."
Eun-ki packs up her director's office, saying that she'll take some time off until the company reassigns her. Joon-ha hands her a fancy envelope: her wedding invitation, with the date fixed for three weeks from now.
Secretary Hyun watches uneasily as Eun-ki keeps up her pretense of being thrilled to see the invitation. Joon-ha informs her that their enemies haven't taken steps to declare her mentally incompetent yet, so they'll have to keep up the wedding ruse.
Eun-ki agrees. After he leaves, Secretary Hyun suggests that she doesn't have to proceed with the wedding. Eun-ki replies, "I'm not going to." Then she calls Maru and tells him how happy she is about the invitations.
Maru listens knowing the truth, and thinks, "Eun-ki is lying. This means she can't trust me. That she's angry with me. That she can't forgive me." So she's lying, and he knows she's lying, but she doesn't know he knows she's lying… Round and round we go.
Eun-ki drops in on Jae-hee's office, saying she has decided to take a break. Jae-hee takes her hand in a motherly way, telling her that her health comes first.
Then Eun-ki totally throws her for a loop by asking, "Please play the mother role. Help me with wedding preparations." Ha. Well, we knew she had a sadistic streak.
They proceed to go shopping for newlywed furnishings and bridal gowns, Eun-ki beaming sweetly while Jae-hee looks mightily out of sorts. Maru voiceovers:
"The road Eun-ki has decided to travel—I don't know what that is. How she means to travel that road, what she means to do on that road, I don't know. What she thinks, what she intends as she travels that road—even if I ask, Eun-ki won't reply. All I know is at Eun-ki's side on that road, I may not be able to go with her."
Maru shows up to the gown fitting as he narrates that last part, smiling at her in her gown while thinking of their possible lack of future.
Afterward, Eun-ki steps away from their restaurant table and Jae-hee tells Maru that he's cruel for making her participate in the wedding prep. I know, honey. To think, he could have just framed you for a murder and sent you to prison instead, but shopping for chinaware? Barbaric.
Jae-hee assumes it was Maru's idea to rope her in with the wedding since as far as she knows Eun-ki doesn't know about their history. Taking his hand, she says that if he's trying to stir her jealousy, she might misunderstand the situation and think he's still got feelings for her. Clearly that's what she's hoping for, and she says she's going to tell Eun-ki about them.
Maru isn't fazed; he asks who she thinks will be most hurt by the revelation of that twisted three-way entanglement. Message delivered: You'll be taking yourself down.
Eun-ki joins them and sees them suddenly pulling their hands apart. She surprises them by saying she called Choco and Jae-gil to join them for dinner.
They arrive shortly, and react with surprise to see Jae-hee. With her usual bluntness, Choco says she didn't know she was going to be here. Jae-gil claps a hand over her mouth, but Eun-ki feigns surprise and asks how Choco knows the company head. She asks Jae-hee directly whether she knows Choco, and Jae-hee answers uneasily, "I may have seen her around somewhere."
Picking up her cue, Choco and Jae-gil hastily amend their story, saying they saw Jae-hee a few times when she came to visit Eun-ki. Ack! They're just making it worse, and Maru, who remains silent, seems to realize it.
Eun-ki asks how Jae-hee knew about Choco's sleep-crying and Jae-gil's claustrophobia then. Jae-hee can't think of an answer, and opts for the "Did I say that? I don't remember."
The car ride home is awkward. Choco and Jae-gil shoot each other uncomfortable looks, and Maru narrates:
"Eun-ki has returned. But the Eun-ki right now is not the Eun-ki I knew before. What has she remembered, and what has she forgotten? What has she let go, and what is she holding onto? Eun-ki may have come back, but I am still waiting for her. I won't grow fatigued or rush, or grow impatient."
Jae-gil visits his father's grave and apologizes for his behavior. He makes a bargain: "I'll apologize, so please save our Maru." Aw, I love that. He's been so steadfast against accepting his father's ways that it takes a lot of love for his friend to make him let it go. Offering to visit his grave daily in exchange, he pleads, "Just save Maru, Father."
Maru contemplates his newly bought couple rings, which he'd taken back after seeing Eun-ki's crumpled notes. He tucks the box away in his bedside drawer.
Choco puts on a mini-show of possible songs to sing at Eun-ki's wedding. Eun-ki snaps out of her daze to smile at her and nod at the instruction to live happily ever after with Maru.
Eun-ki tells Maru about Choco's song selection, asking if he's happy. He smiles at her, saying that he is. She steps forward into his arms, and tells him, "Me too." In the hug they can't see each other's faces as she adds, "Like Choco says, let's get married and live together happily for a long, long time, Maru-sshi."
Maru's expression darkens as he thinks, "Lies." But he hugs her tighter and agrees to her wish aloud.
Now it's her turn to think, "Lies."
In his head, Maru repeats his refrain like a mantra: "Eun-ki has returned. But I am still waiting for her, without growing fatigued, or impatient."
Maru is summoned to Jae-hee's office, and it's a nice touch to clothe them in the same colors—blue shirt and black jacket on him, the reverse for her. It ought to reinforce Eun-ki's beliefs that they're united in their deception of her. Though perhaps the flipping of the colors is just as significant as their likeness.
She's all business, telling Maru she'd like him to work on the launch of a new outdoor clothing line. He assents, but the moment he excuses himself she bolts up, dropping the business pretext to say, "I'm sorry, Maru-ya. If not for that incident, you would have become an outstanding doctor and be living the brilliant life you'd wanted."
She's years late on the apology but it's somewhat gratifying to hear her acknowledge this truth after all this time of making excuses and blaming everyone else for putting her in those situations. Gratifying, but not nearly enough to make a dent in his tower of grievances, and Maru cuts her off and acts as though he hadn't registered a word.
She persists, offering, "I'll pay you back for it." Misguided as ever, sigh. "The future I stole away from you—whatever it takes, I'll bring it back and give it to you."
Maru replies, "But what can we do? I intend to oust you before then, Chairwoman. Everything that could present an obstacle when Seo Eun-ki recovers her memory, I'll clear away. For good."
Maru takes the lead in the meeting for the new line, giving a presentation that has everybody nodding their approval. Jae-hee spends the meeting fixated on watching him, looking so proud it's almost tragic. She praises him and puts him in charge of the launch, to which he informs the room that the presentation wasn't his—he stole it from someone else. Eun-ki.
He states that this project was Eun-ki's before her accident. In fact, Jae-hee had recently ordered the project scrapped entirely: "Did you perhaps not even give it a proper look before dismissing it, purely because it was Seo Eun-ki's proposal?"
Jae-hee glares. She bursts into his office afterward to demand, "Is Seo Eun-ki the only thing inside your head?"
Eun-ki arrives at the office building with a packed lunch and is just about to knock on Maru's door when she hears Jae-hee's words: "I didn't leave you because I stopped loving you. What I wanted to leave behind was my miserable fate, it wasn't you. Marrying Eun-ki—"
He cuts her off. Jae-hee concedes, "Fine, then marry her. If you want to protect her that way, you'll have to, what else can you do? If that alleviates your guilty conscience, what else can you do?"
Joon-ha comes up to Eun-ki just as Jae-hee continues, "Marry Eun-ki, and we can live at least continuing to see each other this way." I suppose she's now so desperate she'd rather see him married to someone else than to have him disappear entirely.
Eun-ki walks away. Jae-hee adds the request for him to not go any farther away. Interesting how that's just what Min-young said to her, though I doubt she gives one fig about Min-young's place in this story.
Joon-ha follows Eun-ki and tries to explain about the conversation she overheard, but she says innocently that Maru and Jae-hee must be having a serious meeting and invites Joon-ha to lunch with her. So a while later when Maru leaves his office, he sees Eun-ki sitting with Joon-ha over lunch.
Joon-ha is still disturbed about not clearing up the conversation she overheard, but Eun-ki moves on, asking what his motivation was for pushing the wedding along. Was it just to prevent her from being declared mentally unsound?
He answers that that was one reason, but that he also thought that it would be safe to entrust her to Maru's care: "You chose him before you lost your memory. I trust your choice." Good answer.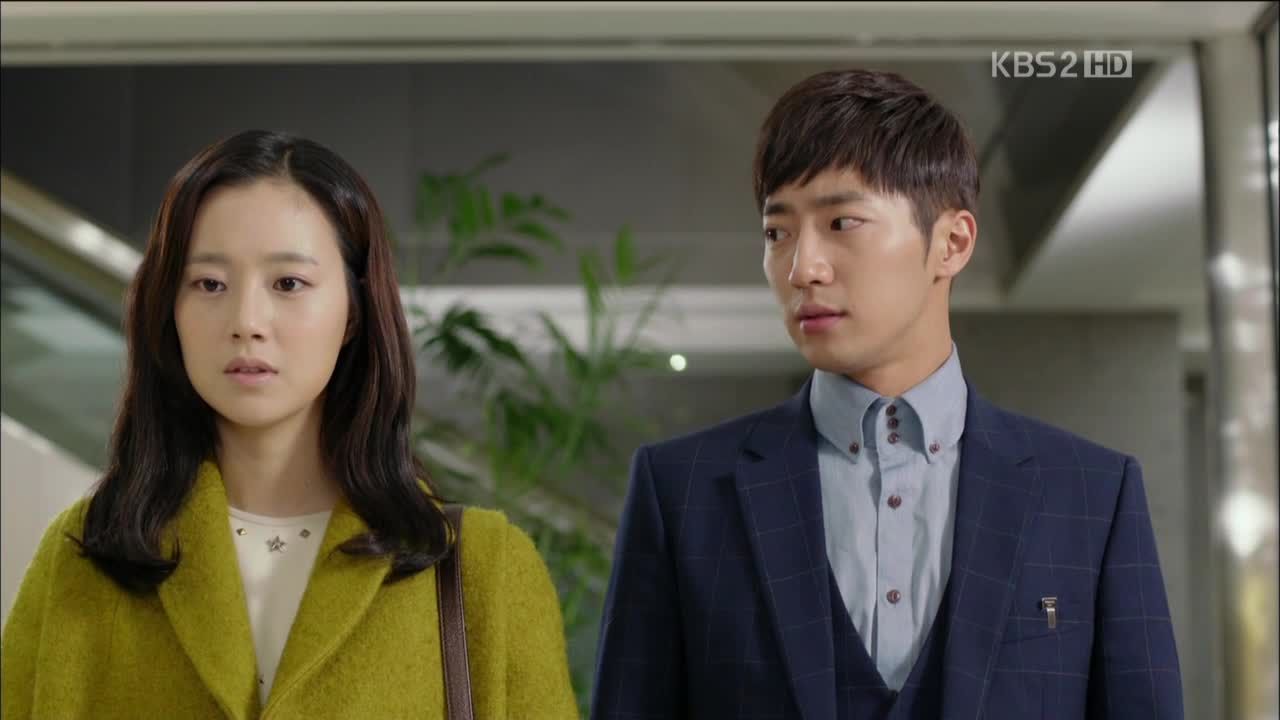 She asks, "What if I was wrong?" He assures her that won't be the case, and that what happens is just what's meant to be for her.
She asks probingly, "Is there anything you're hiding from me?" He answers no. Arg. I know why they're all lying to each other, but it's just so frustrating to us, the omniscient viewer. So many misunderstandings getting more entangled, when they could be cleared up…
Eun-ki reminds Joon-ha that he'd once said that he had a lot to tell her after her memory came back. "What is that? You said you would tel me everything, without omitting or hiding anything."
Joon-ha has to avert his eyes as he reminds her that he'll fill her in after her memory returns.
That cold look returns to her face as she repeats her earlier question verbatim, only now it sounds a lot more ominous: What was his motivation for pushing her wedding along? He's taken aback. She adds, "You liked me."
He looks alarmed, and says, "That's not it, I…"
"…like men?" she finishes for him.
"Yes," he immediately jumps on his old excuse. Too late he realizes what this means, that Eun-ki remembers that excuse.
She tosses out, "Did you think I'd believe you?" He asks if her memory is back. She tells him he can go ahead and fill her in now.
Min-young steps out of the elevator and Joon-ha hides his tears. Min-young asks to talk with her, and they relocate to his office where he asks about her wedding preparations, and why it has to be Maru. After all, he was the reason she "stuck a dagger in the chairman's heart" and was the biggest contributor to her father's death.
Eun-ki tells him that this is her business and gets up to go. He asks if she knows that Maru has a murder rap. She answers, "I know." He asks if she knows who the victim was, but Eun-ki answers that she's confessed to her amnesia and stepped down from her job. The rest is in her past, and she's not interested in it: "I just want to live quietly as one man's wife."
She says warningly that she trusts he won't disrupt the company with this matter. Then she brings up her father's death, and how Min-young and Jae-hee were the ones to discover it. Min-young says he was already dead when he got there.
Eun-ki asks if he's ever heard speculation that the death was foul play. Min-young clenches his fist, but says he's never heard it before. Eun-ki: "Really? I've heard it several times." Then she backs off, "But that's ridiculous talk, isn't it?"
Wedding day. Wow. For someone who has no intention of going through with it, she sure is taking this far, isn't she? Eun-ki undergoes her preparations with an excited Choco at her side. Jae-gil dresses for the day, muttering to himself, "After the wedding, let's get you into surgery, Maru. I won't let you off the hook anymore."
It's a grim day for everybody: Jae-hee and Joon-ha look dismayed as they get ready, and Min-young thinks of the allusion to the chairman's murder.
An envelope arrives in a newsroom, and the title page identifies the contents: "Stepdaughter to Taesan Group president Han Jae-hee, living in common-law marriage with fiancé." Inside are photos of the three people in question. Hm, was it Eun-ki who dropped the bomb… or Maru?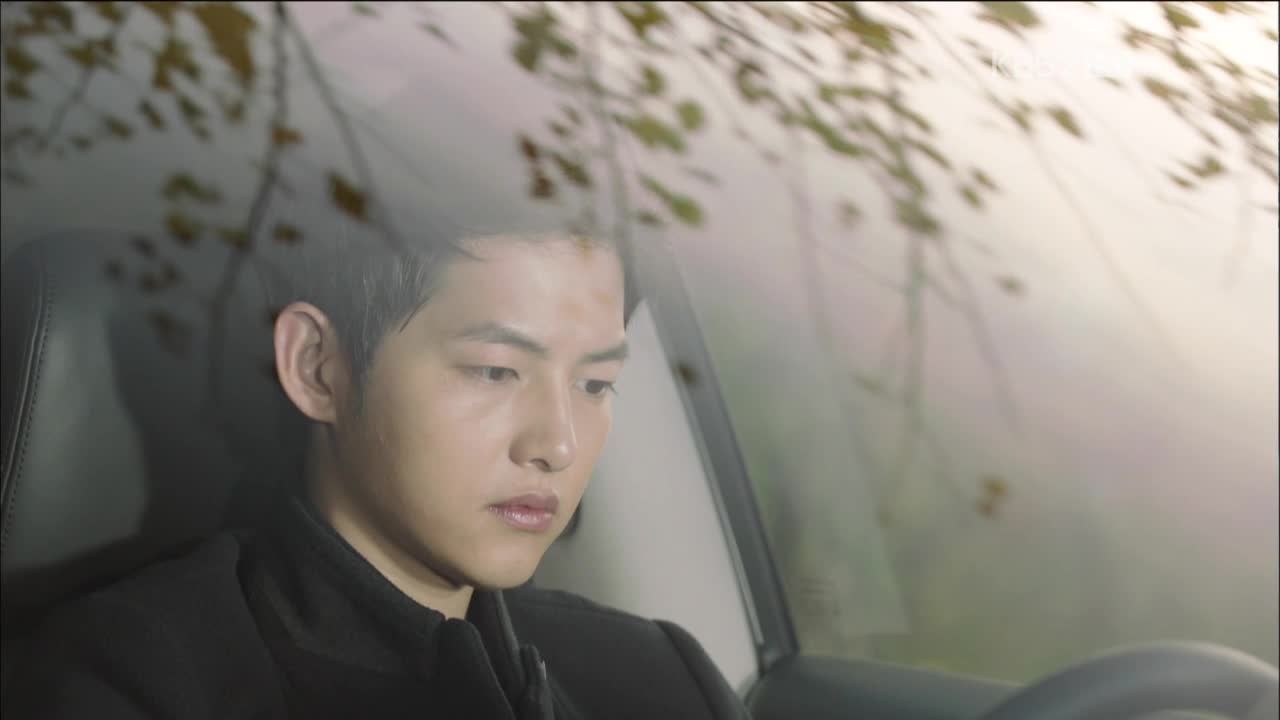 Speaking of, Maru is nowhere to be seen and his tux is hanging in his room. Jae-gil tries to call him, with no luck.
He's sitting in his car ignoring calls from everyone. Finally Choco gets a message that makes her suddenly stiffen: News has broken about Han Jae-hee's affair with her son-in-law-to-be. Well, when you put it that way it just sounds bad.
Jae-hee stands in the receiving line, and is surprised by a reporter. Trying to push him out just attracts more attention, and then he's joined by a phalanx of others.
Soon the news is all over televisions and the news, and people are lapping up the sordid details.
Through it all, Maru sits in his car, not doing anything. Eun-ki sits frozen in her wedding dress, silent. She stays there all day and into the night, even as the wedding hall is cleared of its decorations.
She asks about Maru. Still no word from him. She refuses to move a muscle until he arrives. I wish I knew what was going on in her head, because it's pretty hard to understand where she stands. She didn't mean to marry him, so is she playing the part of disappointed bride? Is she angry that somebody took over steering of this doomed car?
Finally, Maru arrives. He drapes his jacket over Eun-ki and suggest they go for a chat. He leads her out and drives them to the Han River, which means somebody's about to get their heart broken, or die. Those are basically your two options.
She asks where he's been, indignant. But he's angrier, and asks, "Was this the conclusion you came to?"
Ah, so it was Eun-ki's doing after all. Secretary Hyun confesses this to Joon-ha, how Eun-ki initiated the news leak.
Maru tells Eun-ki he knows: "You have your memory back. You've remembered what kind of bastard I am."

COMMENTS
Thank goodness for speedy developments. I was expecting a more drawn-out scenario where Eun-ki's pretense went on for longer, but Maru cottoned on pretty quickly. This is a good thing, because as fun as it is to watch people squirm (what? This drama gives me a definite sadistic bent), it would have become pretty tiresome to let the cat-and-mouse-and-cat-and-mouse-again chase play out for too long.
Already it felt pretty repetitive every time Eun-ki tried to catch somebody in a lie, with her asking the same questions over and over, worded in exactly the same way. Multiply that several times since we've got three liars here (and that doesn't even count the satellite liars like Jae-hee and Choco).
On the upside, from a character standpoint it indicates that she's still trying to work out the full truth, figuring out how far the deception goes. Most of her probing did end with confirmations of the lying, but I like to think she was also leaving room for each person to absolve himself, to prove her wrong. Sadly, nobody does, least of all Maru. But he had the most to overcome, with his boy-who-cried-wolf past. Sadly, he's used up all his false alarms, and Eun-ki's not in a position to give him any more benefits of doubts.
It hurts extra because he seemed so perfect, the nicest guy in the world, that his betrayal is more than a personal one; it's a shaking up of her entire worldview. It's like Eun-ki has undergone the same trauma all over again; we saw how her previously prickly outer shell was a defense mechanism guarding her true nature. The sweetness emerged with the amnesia, and it's almost like she's been shocked all over again into re-developing her defenses after realizing Maru's actions.
A minor frustration I do have with this episode, however, is with the shuttering of Eun-ki's thought process. In this respect, she's swapped positions with Maru; all series long he's been the one guarding his thoughts and leaving us (and the other characters) wondering, but today the tables turned entirely. The voiceovers were a key instrument in that, and while we got quite a bit of narration today, I welcomed them for giving us a deeper look at Maru's thoughts. I loved the moment in a previous episode when he narrated about his reluctance to wake up lest his happiness disperse, because for once I felt I could believe what he was saying, since he was saying it to himself. Most of the time, I felt that in making him an enigma to the other characters made him an enigma to us, too, which was always a block against me being fully with him on this journey.
The cost of the exchange, then, is that now Eun-ki becomes the cipher, and we are left to infer her thoughts and read between the lines. What is her motivation? What does she mean by furthering the lie? Is this public shaming of Jae-hee (less so Maru, though he's included in the scandal) her endgame, or is there more to it? I'm sure we're meant to be wondering some of these things, to be explained at further dates, but I did wish for just a little bit more.
RELATED POSTS
Tags: featured, Moon Chae-won, Nice Guy, Park Shi-yeon, Song Joong-ki