Nice Guy: Episode 19
This certainly is an emotional powerhouse of an episode, with Maru and Jae-hee coming to some startling (and sometimes frustrating) realizations about themselves and how they relate to each other. Now that Eun-ki's back, she's not about to let anyone off the hook as far as her dead daddy goes, and the only thing standing between her and a pile of bodies is Maru. I think, anyway. It's hard to tell when he's actually in there or when it's his empty shell walking around.
Note: Please, please do not post any spoilers even remotely related to the final episode, out of consideration for those who haven't watched it. As a fellow fan and as a recapper, I ask that you please try to contain all the feels. Nothing with a "Spoiler Warning" or a "The ending made me feel XYZ." We'll have plenty of time for that tomorrow. Thanks! ♥
SONG OF THE DAY
Blue October – "The Answer" [ Download ]
Audio clip: Adobe Flash Player (version 9 or above) is required to play this audio clip. Download the latest version here. You also need to have JavaScript enabled in your browser.

EPISODE 19 RECAP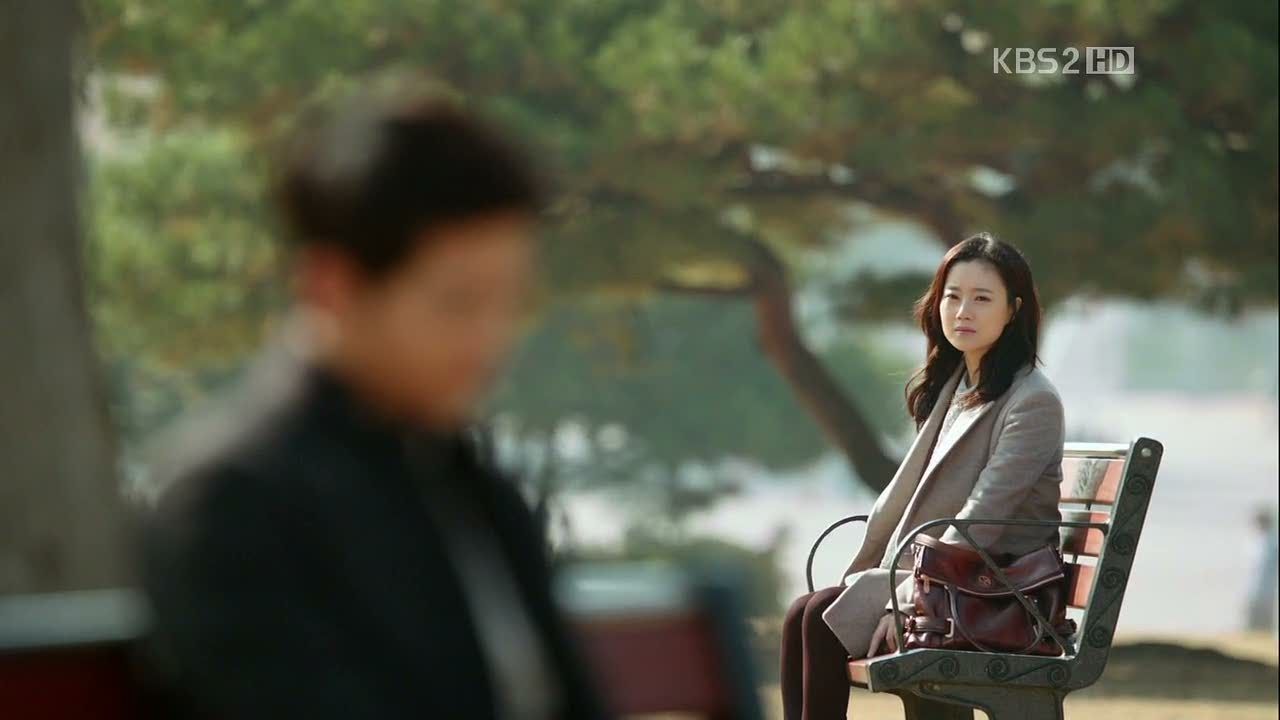 Eun-ki follows Maru from a distance, and we hear her in voiceover:
Eun-ki: Last night, these thoughts came into my mind: Yes, that's right. Kang Maru and I can never be together. Even if I were to go crazy again, so what? Where in the world is love impossible? If I rebel and stand my ground, anyone in this world would come and stop us. Then, believing that, and believing in the people who will separate and stop us… I will, for the last time, run to him. For the last time, I will hold his hand. For the last time, I will listen to what he says. For the last time, I will talk to him about my honest feelings. For the last time, he will kiss my scars, and for the last time, we'll reminisce about how we were together."
Maru holds his head in pain. Eun-ki doesn't seem to notice. She keeps following him, and whips around the second he turns. Did he notice her? (It'd kind of be hard not to.)
Her voiceover continues as she questions whether there's truly no way for them to be together and happy, or if they've ignored those ways. Even if they were to put their heads together, she can't see a way out.
"Even then, what if I can't give up? 'Hold onto me. I want to be next to you. I can't break up with you just like this.' Can I grab onto Kang Maru and just whine? Those who will separate and stop us… I will believe in those people."
I understand where she's coming from and why, but this whole 'I can't stop myself, so I need someone else to' is vaguely frustrating. Just run away and elope already.
We jump back a bit to Eun-ki and Joon-ha's coffee shop conversation, where she asks if he has even more to hide from her. He doesn't answer.
Maru listens to Joon-ha's recording of Jae-hee and Min-young during Chairman Seo's final moments. After pausing it, Maru asks why he revealed this to him.
Joon-ha wonders why the first question out of Maru's mouth wasn't "Why are you revealing this now?" Seeing as how this one piece of evidence can destroy Jae-hee and Min-young easily. Joon-ha counted on Maru's level-headedness, which is why he brought the tape. He presses play again.
Now we hear Joon-ha's side of the phone call, and the blackmail reveal about his father killing Eun-ki's mother. He tearfully admits to Maru that the reason why he hid the truth from Eun-ki was not to save himself, but because he was afraid of her getting hurt if she were to try and take revenge. Aww.
He hands his resignation letter to Min-young along with a copy of the phone conversation. He admits that he was a hypocrite in wanting to have Eun-ki, which is why he didn't want to lose her to Maru. He was sure he would have told her the truth in time. But that's changed.
Joon-ha: "Letting go of someone, and also giving up on someone… I learned this, too, was love. That it's a bigger love than keeping her to myself. And so for that reason, I can be happy. I realized that not too long ago. Kang Maru taught me that."
So it's with tears in his eyes that he tells Min-young: "Let's turn ourselves in. You and I. For the sin we committed against Eun-ki, let's turn ourselves in."
Maru listens to the death recording again and hones in on Min-young asking Jae-hee: "Didn't you tell me to help you?" Because he remembers when Jae-hee asked for his help, back with the (first) murder.
Jae-hee slumps as she hears the contents of Eun-ki's report, which calls for her to step down temporarily and leave the company in the hands of professionals. Also, Maru has been dismissed.
Speak of the devil, he comes to Jae-hee's office (calling her Noona) to ask for a date. In the park. So we're technically still in a flashback.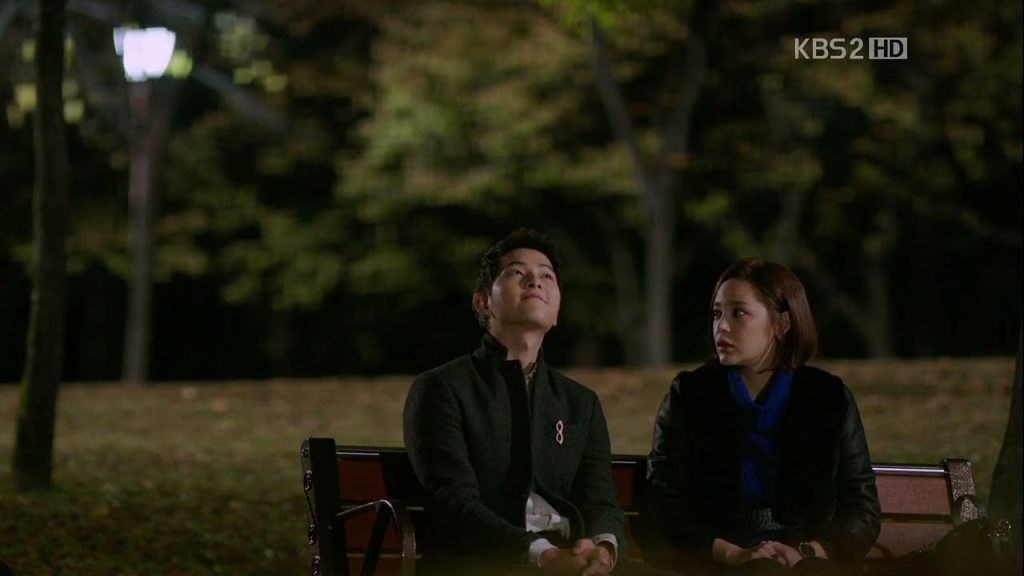 Eun-ki sees him on his way to the park, which explains her presence. Once he's with Jae-hee his friendly persona is back, and as he holds her hand he remembers how they've always been cold. And how, once, her cold hands were all he'd worried about.
He starts breathing onto her hands to warm them, which we only see from behind. There's this horrible moment where his breathing sounds ragged and his shoulders shake ever so slightly.
Jae-hee grows concerned and lifts his face, now covered in tears. Ooof. That just hits me in the gut.
Maru collects himself enough to admit that he's thought about the night of the murder, and how things would have been different had he let her turn herself in. He would have never left her, no matter how long it took. He would have proposed. "Then would Noona have been happy?"
He goes deeper and deeper into a world of "what if," describing how they'd eke out a poor but happy existence. How they'd vacation once a year. How he could have saved to buy her a brand-name bag.
He starts breaking down again as he imagines this world, and it is just breaking my heart. Jae-hee's too, since she can't hold back her tears. Broken, Maru asks again, "'Then would Noona have been happy? Would you have been happier than now?' I've had those thoughts. It was all wrong since then."
But because of that one night, now Jae-hee has lost the ability to decide right from wrong. (What?)
And for that, Maru apologizes, because he made her into the unimaginable monster she is. He's taking responsibility for it, and now the conversation takes a different turn. Still shedding heart-wrenching tears, he tells her:
"I will go to Noona. Love… I can't promise love, but I can stay with you forever. As long as what you want from me isn't love, as long as it isn't that, it's fine. Wherever noona is, I will wait for you, I'll be understanding, I'll be able to hold it in, endure it, and I will hold your hand. I won't let it go. Stop all the useless acts, and throw away all the heavy weights laid upon you. And if there happens to be punishment that you deserve, accept it all. I will wait for you any time, so… will you come to me?"
It's such a beautiful, raw scene. The Maru we're seeing is (finally) the true Maru. The noble idiot Maru, since he can't actually take responsibility for Jae-hee's lack of moral fiber, but never has there been a more beautiful idiot.
Jae-hee breaks down into sobs, and Maru pulls her close to comfort her. Eun-ki watches silently.
It's Jae-sik's birthday, and Choco has made him seaweed soup with the exact grade of beef he likes. Aww. Jae-gil can't help noticing Jae-sik's suspicious and nervous behavior, especially when he asks about Maru.
To make matters worse, he sends both Jae-gil and Choco out. Jae-gil, trust your gut! Turn back!
Jae-sik finds Maru in the bathroom, and asks if Maru ever thought that he'd turn on him. Expressionless, Maru answers yes.
So then Jae-sik admits that he does have a knife on him, and that he was promised an apartment if he kills Maru. (That's it?) Maru isn't surprised at all, and pretty much gives Jae-sik the go-ahead. Again, points for honesty on Jae-sik's part.
But it's Jae-sik who chickens out, only to have himself violently thrown out by Jae-gil. He knows perfectly well what Jae-sik was there to do, but tells him, "Maru will die even if you don't kill him."
He then drops to his knees to beg Jae-sik to listen to his conscience, if he has one. Maru is one of the few people who ever treated him like a person, after all.
Jae-sik takes all this in stride, since murder doesn't seem to bother him too much. He even chides Jae-gil for crying over Maru's illness without being in Maru's shoes. It's almost funny, in a pitch-black humor sort of way, for Jae-sik to be all, Think about how I feel, I'm trying to kill the poor bastard!
The whole gang gets time to brood, interrupted by a phone call: Joon-ha was in a car accident the night before, and is now in a coma.
To which I say: WHAT?!
Flash back to him telling Maru that he'd offer Min-young the chance to turn himself in, since they'd been friends once. But in case "something" were to happen to him, he charged Maru with releasing the file. Jesus. Way to totally suck out any emotional impact this could have had by showing us nothing. (Speaking of dissatisfying car crashes…)
Eun-ki's already at the hospital by the time Maru arrives, and she begs a comatose Joon-ha to open his eyes.
Maru drags her outside, and she admits that she'd confronted Joon-ha about an hour long call she'd seen logged between him and her father the night he died. She'd accused him of being on Jae-hee and Min-young's side. But Joon-ha never said a word, and only cried.
It's with venom that Eun-ki yells: "Han Jae-hee and Ahn Min-young killed my father. My father was murdered."
Because of that same reason, she believes they tried to kill Joon-ha. Maru warns her against making any accusations without evidence lest she become a target like Joon-ha, but she refuses.
He's trying to protect her by not letting her go empty-handed… So, why isn't he giving her the evidence again? What does he stand to lose?
Eun-ki gleans that he's trying to protect Jae-hee, and levels him a cold stare as she tells him that she's going to catch Jae-hee herself. "Protect Han Jae-hee, the one you can't stand to lose," she grates out, revealing that she saw them together the other night in the process.
Jae-hee finds Eun-suk moping, and offers him one last chance: Does he want the shiniest toy in the world, one that would have everyone bowing to him forever? One that's one-thousand times better than Eun-ki?
It seems like she's giving herself one last chance, too. She's deciding between the extravagant life she leads and the one Maru is offering her.
Eun-suk decides against the offer. "Only babies want to have toys," he wisely tells her. "I'm not a baby anymore."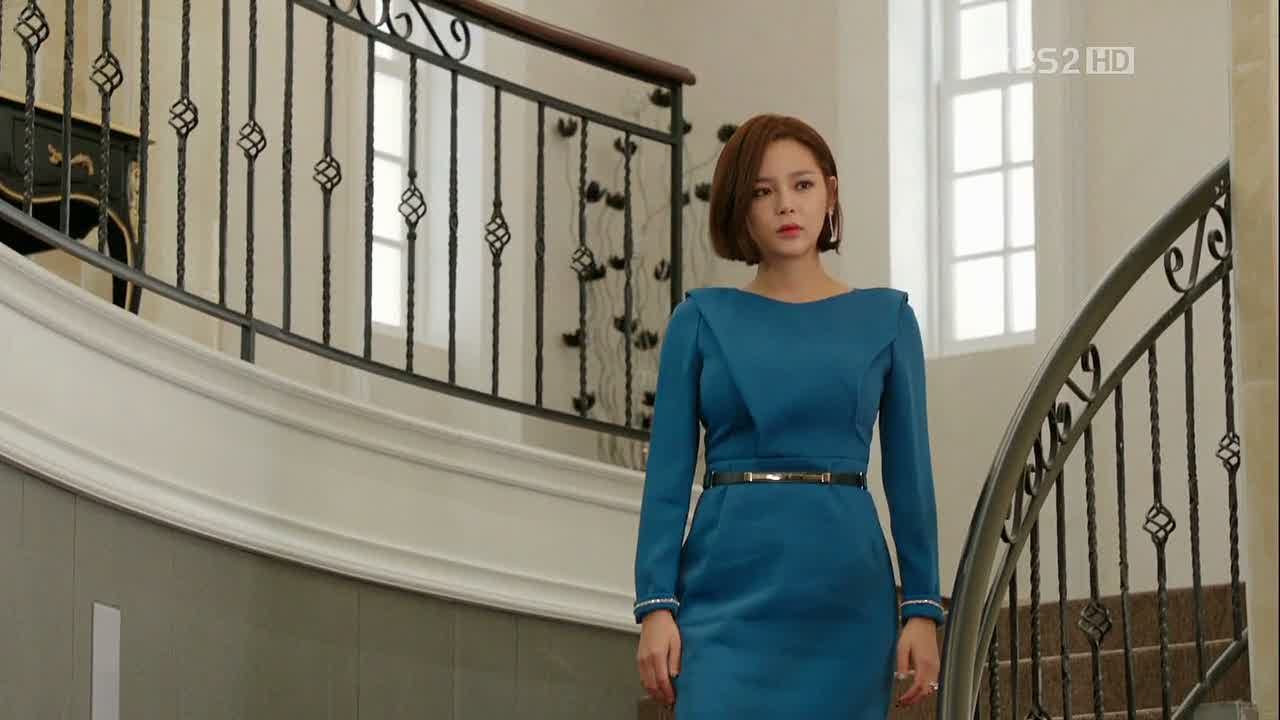 Decision made, Jae-hee takes one last look around her home. She slowly strips off her expensive jewelry in place of one simple, tiny gold band. She's surprised when she realizes that the gold ring is just as pretty as the huge diamond one she just removed.
She calls Min-young because she has something to say, and he prepares some disturbingly gaudy jewelry to give to her when she comes. But it's Maru who walks through the door first.
He knows Min-young tried to kill Joon-ha, and offers him a chance to turn himself in while Jae-hee listens from outside the door.
He doesn't have evidence that Min-young had a hand in Joon-ha's death, but judges that it's true just by the way Min-young reacts. He brandishes the thumb drive with the Chairman's death evidence, and still, he appeals to Min-young's conscience to ask him to do the right thing.
Either way, Maru plans to persuade Jae-hee to turn herself in, and adds that he'll take care of her for the rest of her days. She's stunned by the realization that evidence exists of her crime (and that Maru knows of it), as he adds that the file will make its way to the police in twenty-four hours. Tick tock.
She hides away in the stairwell as she realizes why Maru said all those things to her about her lack of judgment, and refuses to take his call.
Secretary Hyun tells Eun-ki that the police believe Joon-ha's car crash was intentional, only they have no evidence of the other driver. She did manage to capture Secretary Jo's car trailing Joon-ha's the night of the accident, and hands the footage over to Eun-ki.
One moment of admittedly-integrated-but-still-completely-obvious use of product placement later, and Eun-ki has the license plate.
She storms into Joon-ha's hospital room once she realizes Min-young is in it, and slaps his hand away from Joon-ha's prone body. They face off as he tells her that he has people he can trust to take care of him, but she fires back, "Where in the world is there someone you can trust? There is no person like that for me."
So, she refuses to budge in order to protect Joon-ha. Jae-hee's on her way in as she ushers Min-young out, and Eun-ki acts the part of a lioness protecting her cub when she becomes to Jae-hee what the TSA is to us.
She checks her handbag for weapons, makes her take off her coat, and soon has her unbuttoning her blouse to check for hidden weapons. Min-young can't get a word in edgewise, and while Eun-ki's content to let Jae-hee humiliate herself, Maru puts a stop to it.
Jae-hee storms off, and so does Eun-ki. Min-young just stews.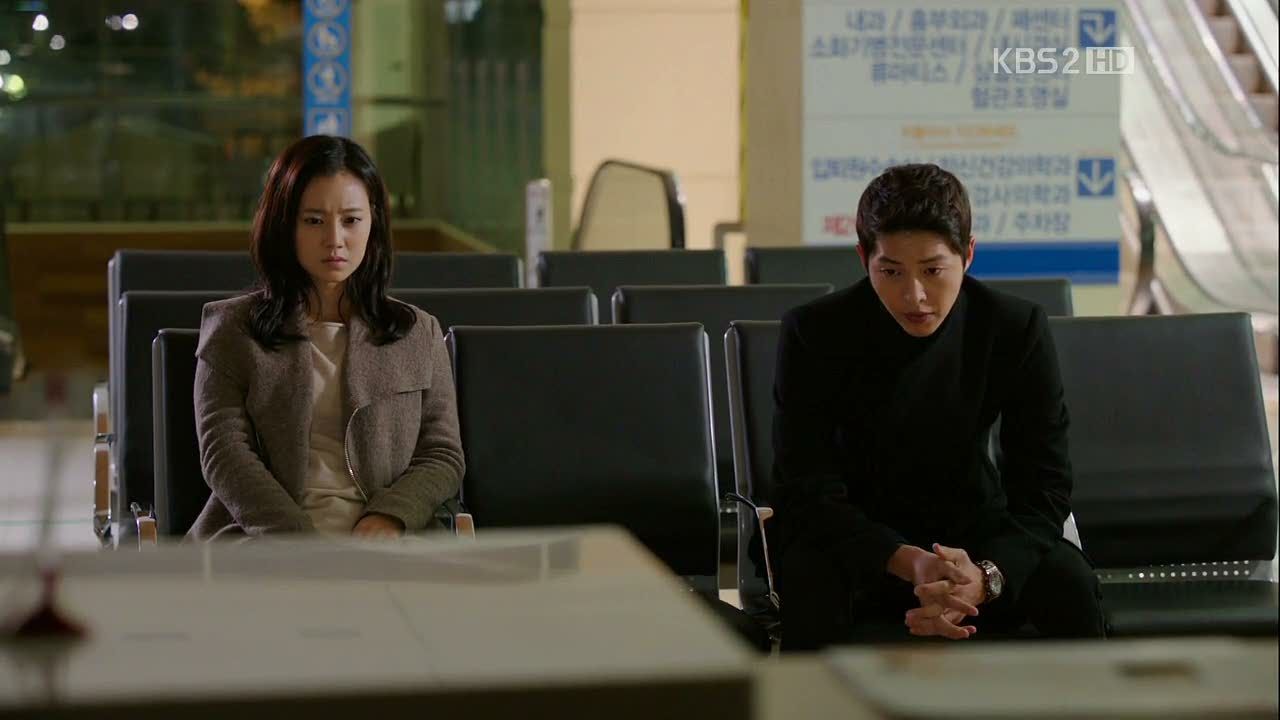 Maru tells Eun-ki that she's now in more danger than Joon-ha ever was, and if he were the one behind everything, he'd want her dead as soon as possible. Eun-ki: "Get rid of me then. If you get rid of me, then all the evidence will be gone."
Maru smirks a bit – it's not a bad idea, killing her with his own hands. Especially with Jae-hee suspicious of their relationship – him killing her would put an end to that, wouldn't it?
I get that he doesn't really mean to kill her, but this conversation is a bit overboard with all the twistiness. He uses the "I'm going to kill you" excuse to hold her hostage, so that she's always within stabbing reach when he finds the urge.
When we put that through the completely scientific Maru Translator, we get: I won't let you out of my sight so I can protect you.
Meanwhile, Jae-hee again considers Maru's offer of eternal care. When Min-young arrives with the purse she left at the hospital, she asks if he had a hand in Joon-ha's accident. She knows he did without him needing to answer.
Surprisingly, Min-young claims he'll go to the police alone and take full responsibility for Chairman Seo's death. He'll tell them that he forced Jae-hee out of calling for help in order to protect her. Huh. Well, that doesn't make him any less awful.
But Jae-hee's had it up to HERE with men taking responsibility for her actions. "Who are you to take responsibility for me? It wasn't because of your threat, but it was my will, Han Jae-hee's free will, that caused the Chairman's death." Ohmagawd. Finally, someone is speaking sense.
She admits that deep down, she wanted the Chairman dead because her and Eun-suk were at risk if he lived. All Min-young did was take the blood off her hands and put it onto his own.
Jae-hee: "Who are you people to say it's all your fault? Why are you people sorry? I committed those sins from my own will, beliefs, and values. Why are they all you peoples' fault? How good do you people think you are? How impressive are you people? Why are you people taking responsibility for my life? Why do you make someone so embarrassing and pitiful?"
I never thought I'd say this about something Jae-hee said, but amen. Finally. Bravo. Thank you. Thank you.
"You're the same," she adds through gritted teeth. "You and Kang Maru are the same." When even Jae-hee can easily draw a parallel between the hero and villain of the same show, we've got some issues. Compelling issues, but issues nonetheless.
Eun-ki finds Maru a much more attentive shadow than she had counted on, since he's practically squeezing the toothpaste while she brushes her teeth. She's choosing to stay in the hospital to care for and protect Joon-ha, and Maru has a cute moment of covering her with his coat when she falls asleep at the helm.
The next day, Maru ends up at his old house, surprised to find that Jae-hee now owns it. Maru: "I came, didn't I?" Jae-hee: "With just your empty shell? Did you come from Eun-ki's side?"
He replies honestly, which causes Jae-hee to respond in kind by handing over a huge file of all that Chairman Seo had left for Eun-ki. Every last penny he'd collected from tax fraud over the years into one huge sum, not to mention all of Taesan and everything else he owned.
As for the why, Jae-hee proposes a deal. If she gives Eun-ki everything, she wants Maru to give her all the copies of the illicit tape recording. "I am never going to turn myself in," she asserts.
But, if he wants her to turn herself in and pay for her crimes, then she wants all of him. Not just his empty shell, but his heart, and love. Only when she knows he'll be faithfully waiting for her on the other side will she turn herself in.
Well, my short-lived love of Jae-hee ends here. It was good while it lasted.
Maru returns to Joon-ha's room only to find Eun-ki out for fresh air. Worry is etched into his face as he goes searching for her, and relief floods him when he finds her dozing off on a bench.
He eases her head onto his shoulder while she sleeps, and she wakes with a start.
"Eun-ki-ya," he tells her as he takes her hand. "Let's run away. I will go anywhere you go. To a place where no one in the world can find us. Run away with me, Seo Eun-ki."

COMMENTS
Yes, run away with him. No, seriously. I mean it. Just pack your bags and go. It's not the most responsible of solutions, and yes he just made this same promise to another girl… waitaminute. He DID just make this promise to another girl. So, who exactly does he really want to go with again?
Maru's scene with Jae-hee was one of the best of the series, but it leaves a sour taste in my mouth as far as Maru is concerned. Has he learned nothing from all of this? Truly? He has this grand speech about a supposedly grand revelation, except it's not a revelation at all. He just thinks things would have been different if he let Jae-hee take the fall, and completely leaves out even a tiny space in which she could be held responsible. Here's the guy who believed an amnesiac Eun-ki deserved some of the blame for falling for a bastard like him. So why is Jae-hee automatically exempt from the same kind of scrutiny?
And the best thing about it is that Jae-hee knows exactly what's going on, even if she's not doing anything about it. It was cathartic, to say the least, to have her voice some reason (for as long as it lasted) in recognizing that she, as President of the Jae-hee Nation, made her own terrible choices. (Who'd have thought?) She made every decision with full knowledge of what she was doing. Having Maru infantilize her by claiming responsibility for her missing moral compass goes to show that, in the end, no one can take the fall quite like him – if only because he seeks out the highest cliffs.
It frustrates me, because I want him to be happy, and I know his happiness depends on Eun-ki. But this boy is just not in the right mind to ever let himself take that happiness, especially when he's choosing to soak in the dirty bathwater of Jae-hee's own choices like it's his own. And if he doesn't realize that it isn't, if he truly believes he's responsible for Jae-hee's choices, then he's hopeless. Unless the show of tears with Jae-hee was all a lie, then I'm stuck believing that while Maru does love Eun-ki, he doesn't believe he has the right to. Otherwise, why offer to sacrifice your whole life and happiness for a woman you don't even love just so you can stay away from the woman you do love? Oy.
The same kind of situation is going on with Eun-ki, in that she can't trust herself to take personal responsibility for loving Maru, and is thus placing the situation out of her hands in the hopes that someone will come and tear them apart. (The only time someone in a drama wants a meddling second lead, they don't get one. Irony.) I'm all for her going either way – staying with Maru, or leaving him. But I want it to be her choice. And I want her to want it to be her choice. What wrong turn did we take in order for Jae-hee to be the only one who recognizes that personal culpability actually exists?
RELATED POSTS
Tags: featured, Moon Chae-won, Nice Guy, Park Shi-yeon, Song Joong-ki