Running Man: Episode 117
Make sure to get your neurons ready to fire so you can solve the Ultimate Riddle! Our cast is pushed to the limits as they run around town to gather clues. I didn't realize that it would involve blowing tissues into the air. Did you?
EPISODE 117. Broadcast on October 28, 2012.
Just before dawn breaks, two ghostly girls roam the halls and enter a hotel room. They loom over their first victim, Jae-suk, who silently pulls back, surprised. He turns his head… and sees another ghost. Boo!
He jumps in his bed but what spooks him more is the true identity of the girls. Meet idol girl guests Suzy (Miss A) and Yubin (Wondergirls).
He even pulls back the curtains ("It's dark.") to hide his fear (Ji-hyo: "You could turn on the lights.") and the ladies head out to scare their next target. There, Haha greets Suzy in a groggy voice but more embarrassed that he's pantsless.
So Jae-suk takes the liberty to pull on his pants for him, nice and high. Keke. High is the new in?
The trick is a roaring success on Ji Sung. Once he registers that he's been woken up by two idol girls, that gruff demeanor flashes into an instasmile. And Jin-hee's knee jerk reaction to the scare is to throw a pillow at Suzy. Whoops.
Not only do I love how much the ladies are enjoying this, (Ji-hyo: "This is the most fun I've had!") the cast member's reactions are even more hilarious as they bury their faces in embarrassment and Suk-jin screams bloody murder. At least Gary learned to kick his nekkid sleeping habit to the curb today.
In the lobby, Haha jokes about whether to pull out his playboy card for just another week in honor of Suzy's return. He tries out a, "How you doin'?"
Hold your penguin goggles right there, Haroro. I think you've got a wifey at home who'd make you see stars. (Note: Haha and Byul have registered their marriage but their wedding is in November.)
Girl idol guests mean that the boys are all googly-eyed, hoping that they'll be teamed up with the ladies. Ji-hyo's used to all of this by now and not at all miffed; they're family after all. Gary swoops in, "You still have me, you idiot."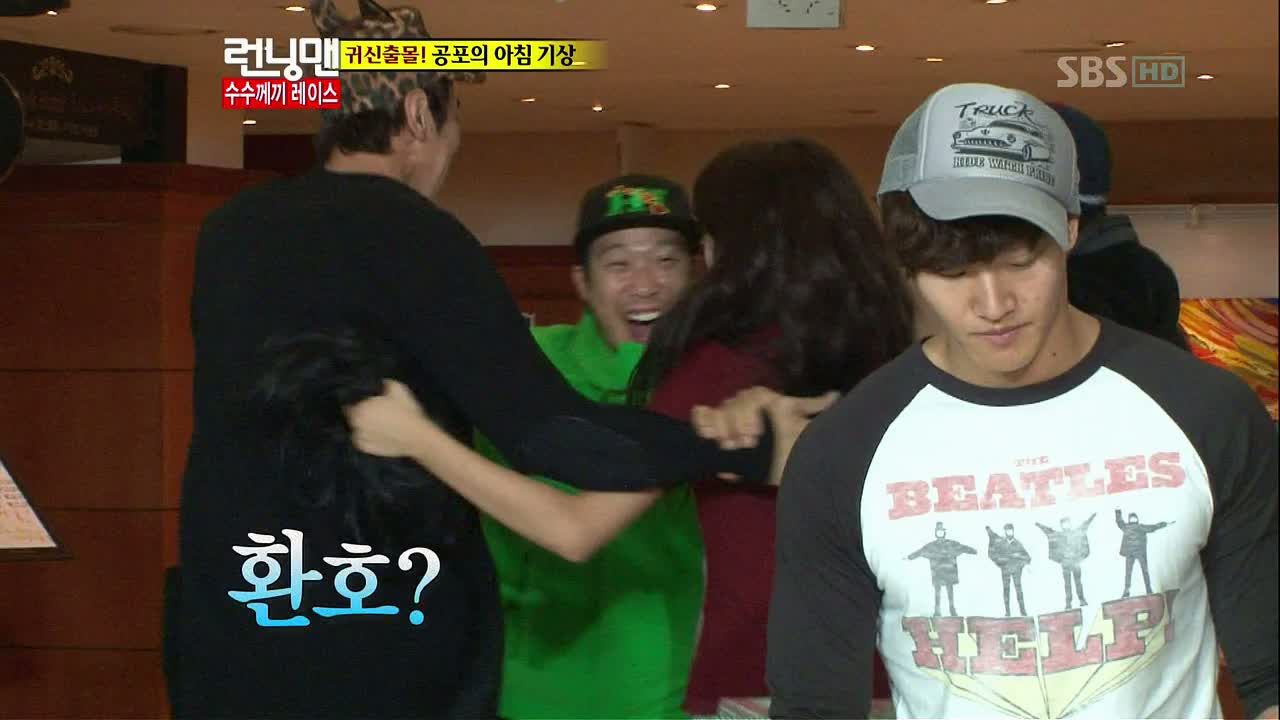 We fast-forward through the team selection process and it's a stark contrast between heaven and earth. Our teams: Green (Suzy, Haha, Kwang-soo, & Jin-hee), Yellow (Yubin, Jae-suk, Gary, & Ji Sung), and Red (Ji-hyo, Jong-kook, Suk-jin, & Chang-eui).
Today's mission is to Solve the Ultimate Riddle where they'll pick up essential hints at each mini-mission, The team who solves the riddle at the final mission location is the winner. After last week's time-traveling confusarama, this sound a lot less complicated.
They climb into their cars and immediately the mood is strikingly different between the idol and non-idol cars. Yubin shares some homemade snacks with her team while gushing about being a longtime Running Man fan.
Chang-eui guesses that Jin-hee is likely making a fool of himself, which is news to Jong-kook, who asks: "Isn't he usually shy around strangers?" Cut to: Jin-hee in MC Mode: "Suzy jjang!" HA.
Haha walks on dangerously thin ice by stroking Suzy's cheek and then bursts into the camera, "Go-eun (Byul's real name) ah, I'm sorry! You said it would be okay if it were Suzy!"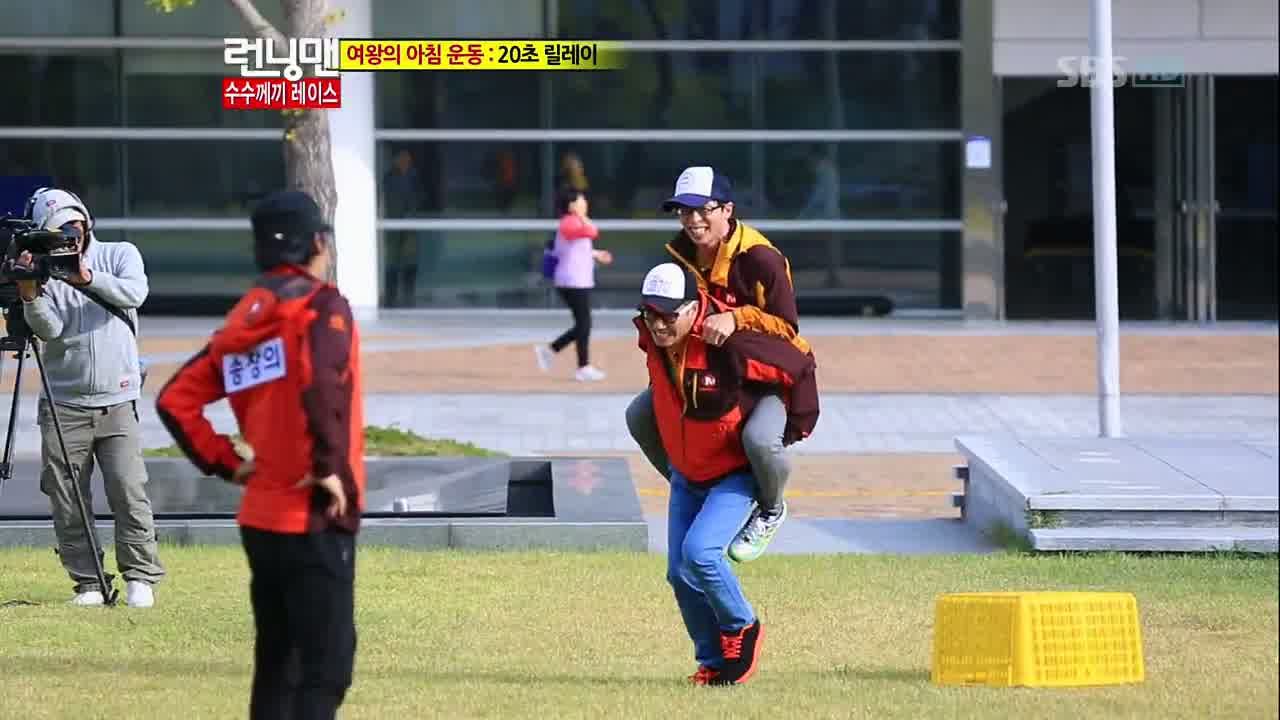 At their first mission station, the Yellow and Green Teams brag about their idol girl (Jae-suk: "Ours gave us snacks!" Haha: "We're fed by Suzy's love!") and there's nothing you can do to wipe the smile off of Jin-hee's face.
The morning exercise mission doesn't seem like a big deal (they have to run a lap while carrying their ladies within 20 seconds) and then SpartAce look at each other. LOL.
HA – though Suk-jin finds it a bit odd that Ji-hyo seems a little heavier to him than normal, he runs as fast as his legs can carry him. It's only once he lets his burden down that he sees Jae-suk smiling back at him.
Things start to look good for the Red Team after their false start but then Chang-eui slips and falls right in front of Jong-kook. You just have the worst luck, don't you? Then Jae-suk turns to the camera to address an old Family Outing member, "[Lee] Chun-hee, are you watching?"
Suzy climbs on Kwang-soo's taalll back and though they've got speed, they're lacking in finesse as Haha drags Kwang-soo by the arm before they lose their footing.
At least someone here is using their noggin'! Ji Sung suggests they save some time by setting up their last guy to stand by the button. Too bad it only works in theory because Yubin slips off.
This idea gets a nod of approval by Coach Kookie who immediately adopts this plan. SpartAce races around the last corner, mere seconds to victory… but Suk-jin falters as Ji-hyo presses the button before the change off. No good.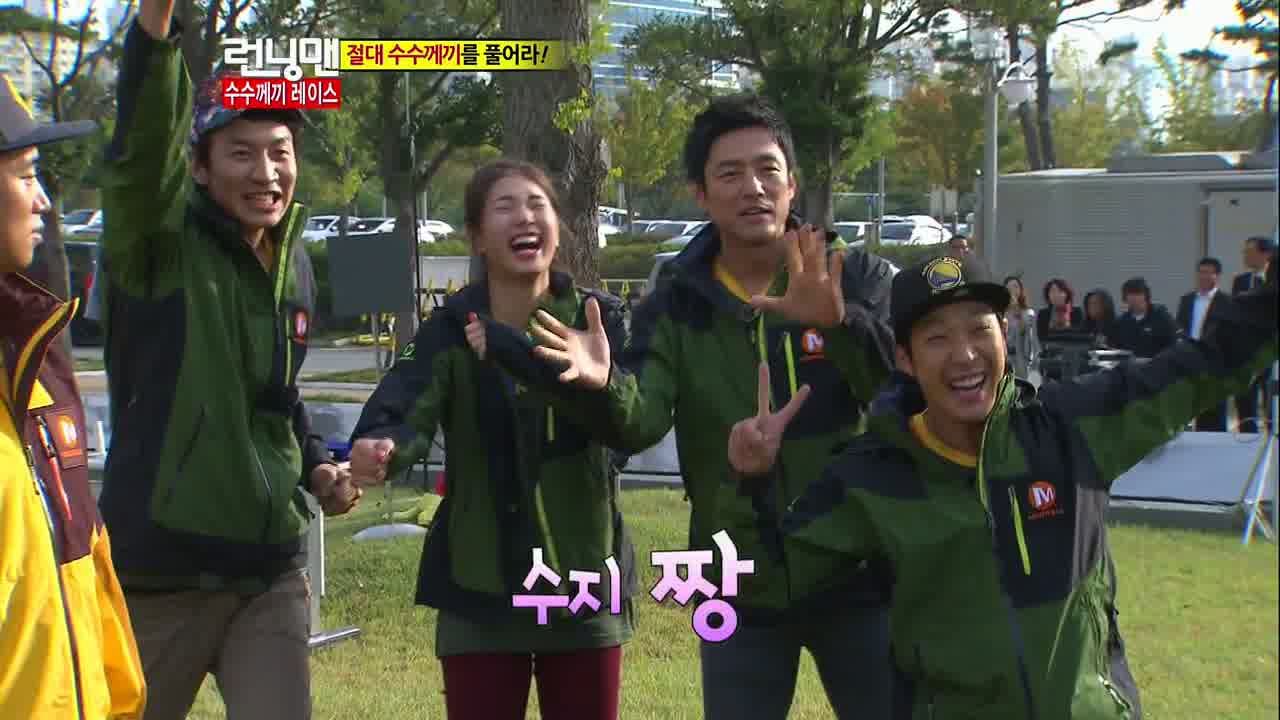 So the Green Team revises this tactic once more by switching teammates early. It appears to be a fluke at the start but then they come out victorious just two-tenths of a second shy of 20.
They celebrate with their Team Chant o' the Day: "With Suzy! Our lucky day! Suzy jjang!" So adorable. They pick up a hint, roll the wheel, and head out to their breakfast mission. They're left clueless (hur) at their hint: 0.
So are the Red and Yellow Teams who just scratch their heads.
Food missions always make me hungry. The Yellow and Green Teams salivate in front of the meat and they'll need to pass a true/false quiz before they can dig in.
Haha gets the first question wrong (Q: Was Suzy's character a cello major?) and the look of disappointment on Suzy's face is priceless. Kwang-soo: "You didn't watch Introduction to Architecture?!"
But then it's Haha's turn to stare at her when she gets a Socrates quote wrong. They finally get two questions in a row right and dig in.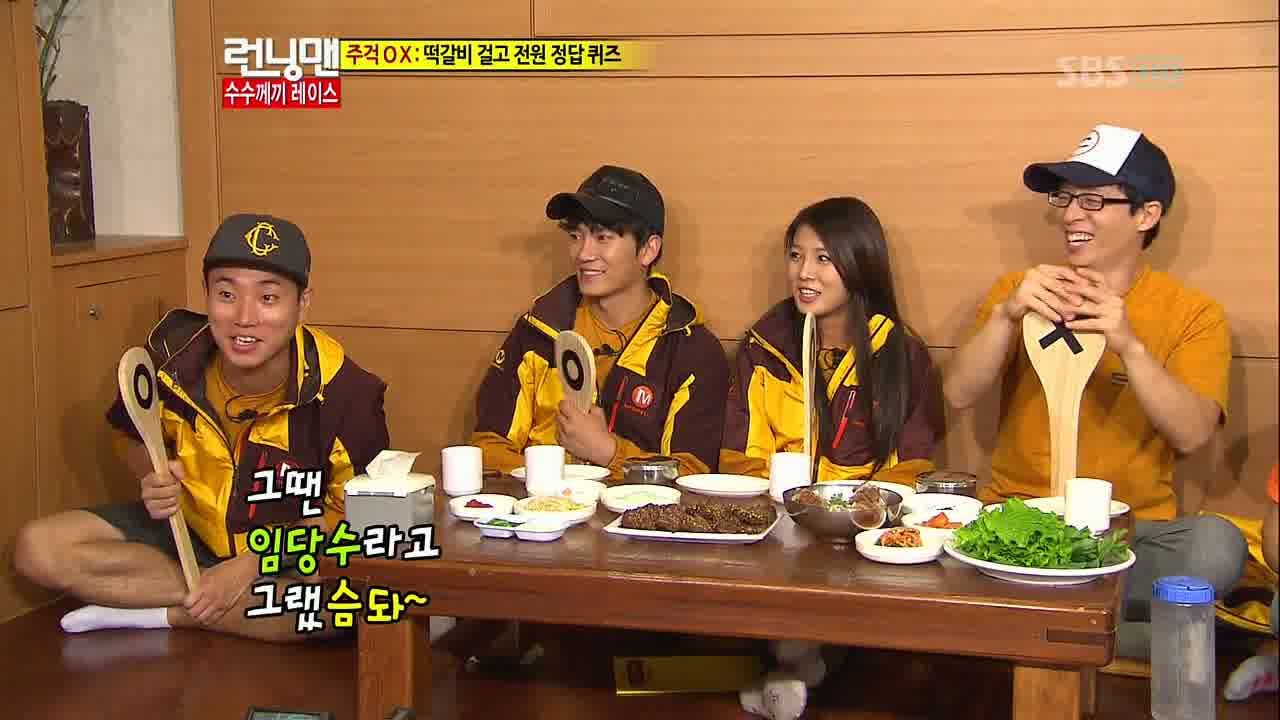 The Yellow Team get a question wrong about Jin-hee (who happens to be the same age with Jung Joon-ha, a comedian) and he's too busy eating to clarify. Holding some food in front of Jae-suk, he checks in with Mr. PD, "I'm not allowed to feed him even though I want to right?" and then stuffs his face. Hee.
At this rate, it looks like they're never going to get to eat so Mr. PD makes the questions easier. He hints that the topic is 'insects' and Jin-hee mutters, "It's probably grasshoppers."
They finally pass (Q: Crickets cry because they're hungry? A: False) and by now they're just so excited that they get to eat that Mr. PD's like, "I guess you're not curious as to why?" Nope.
Suzy can do no wrong on the Green Team as they ask her to spin the wheel and Kwang-soo balks, "Am I a scarecrow?" Jae-suk: "Yep, like the one in the Wizard of Oz."
As for the clues, everyone gets inequalities that confuse them (and me) even more. Is there a Math Be Gone formula somewhere?
All the teams arrive at an elementary school and are each sent to find a student. The Green Team's missing student describes herself as sharing the same name of a famous celebrity. Kwang-soo: "Suzy?" Hehe.
The teams split to find the student who fits their given descriptions and it's soo cute how excited the kids when they see their variety stars. Jae-suk looks around for a student who's missing a tooth and he laughs, "He's not here! They all have their front teeth!"
Meanwhile, Haha leads a classroom of children in a round of animal sounds. "Sparrow! [Chirp Chirp!] Duck! [Quack, quack!] Giraffe! [Traitor, traitor]" Oh dear…
It's so adorable how all the kids crowd around Jong-kook and try to tear off his name tag. How are you going to fulfill your mission?
Speaking of which, the Green Team finally find their celebrity-name-twin (Kim Tae-hee) and soon, all the teams gather outside with their students. Here, they'll have to kick a milk carton into the crate.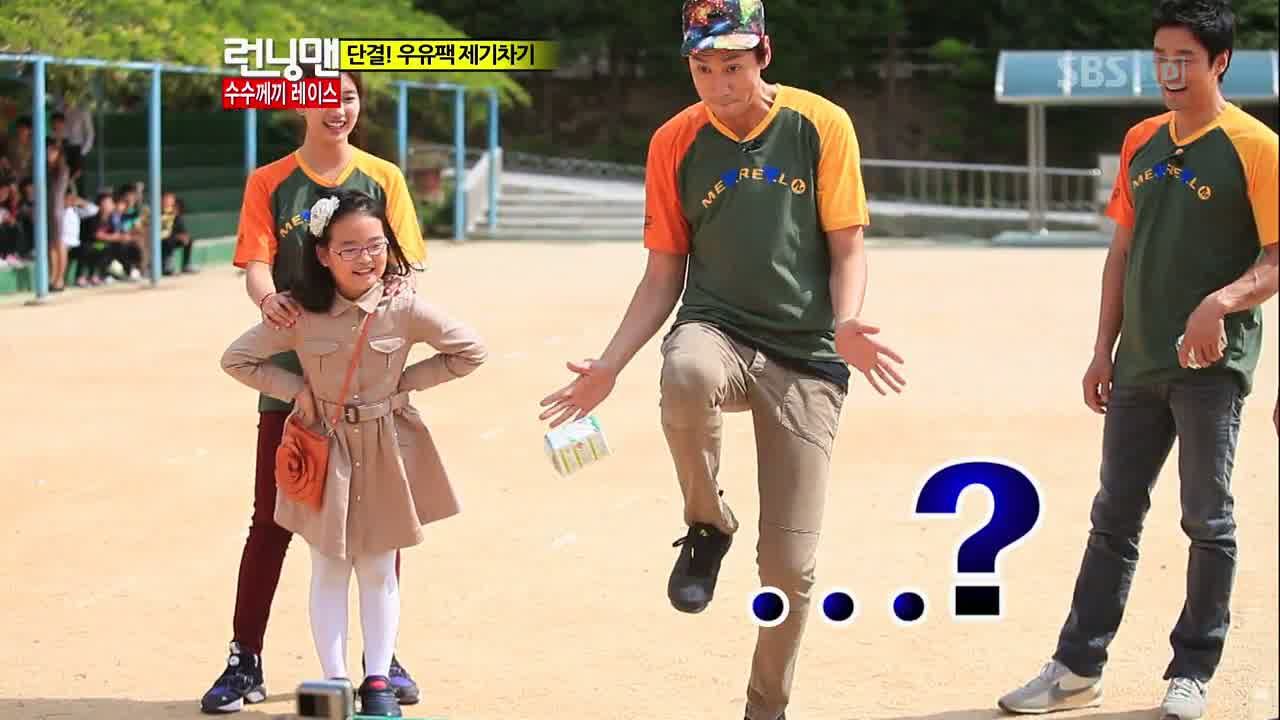 I love how Kwang-soo leads the crowd into a cheer to chant his name and they get so spirited, that he has to say, "Stop!"
Not that the silence helps any as it bounces two feet away from him. Another miss by Jin-hee and the Green Team succeeds with one milk carton.
That one fierce look of determination is a boy on a mission. He misses, but gets the crowd hyped up when it's Jae-suk's turn. The carton hits Kwang-soo and falls flat. No score.
Omg does one of the makeshift placards say "Kim Jong-kook = my hubby?" So so cute. Then Ji-hyo shows us why she's the Ace as she kicks a carton successfully into the crate, bringing her team's score to 2 for the win.
Everyone climbs back into their cars and the more hints they acquire, the more puzzled they get. Suzy asks, "Is Running Man always this difficult?"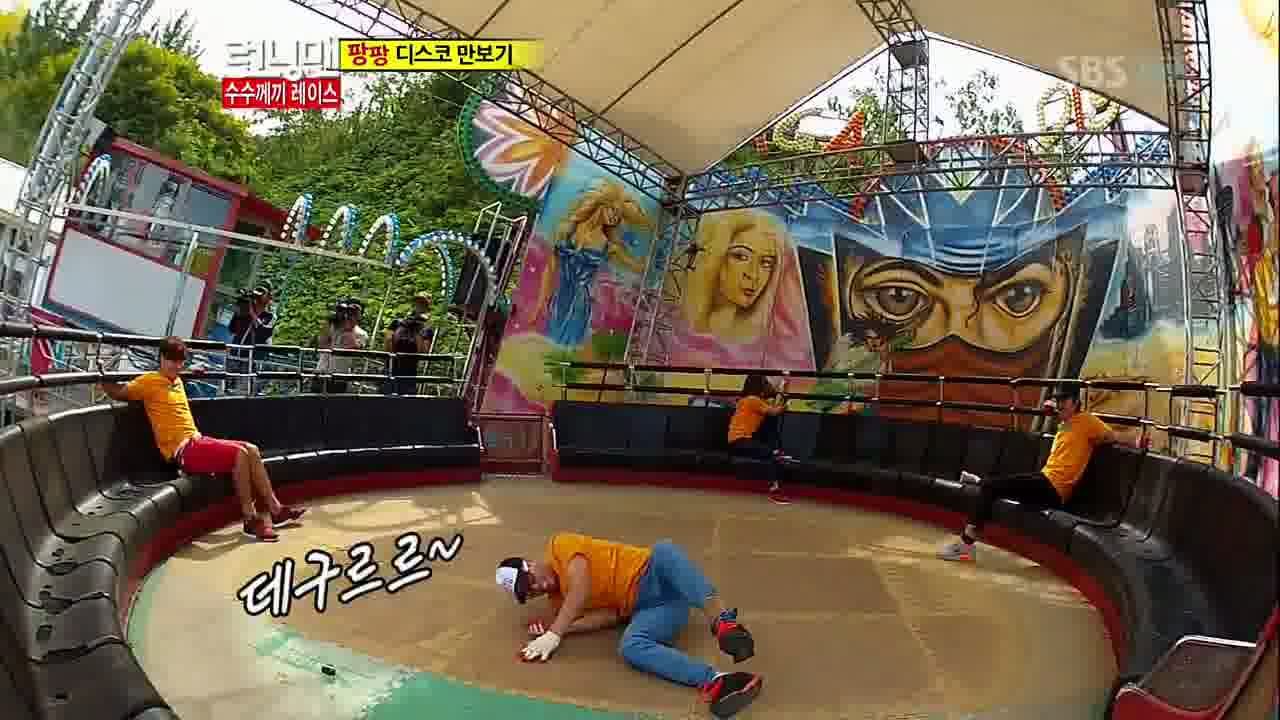 The Red Team arrives first at the amusement park where they collectively have to get less than 300 on their pedometers… on a moving ride. Are we heading straight for Vomitsville now?
Poor Suk-jin goes flailing (so does his pedometer) and his teammates do their best to stay as still as possible. They fail with flying colors with over 500.
Jin-hee shares a tip with the Green Team and as they spin and bounce around, all you can hear is Jin-hee screaming, "Raise your legs! Raise' em!" Easier said than done, good man.
Turns out his madman-like tactic actually works with an impressive 10. It comes down to Kwang-soo who needs 44 or less. But wasn't he bouncing on the floor a minute ago? Kwang-soo: "198." Thought so.
The Yellow Team is at a snack shop where their mission is to blow tissues into a basket within a minute. This oughta be good – anything that involves a tissue means instant hilarity.
The lengths to which they'll go to make sure that the tissue doesn't fall is absolutely hilarious. Like how Jae-suk catches it with his foot and then falls over to catch it again on his chest.
Gary is surprisingly good at this game… it's just that he flubs at the last second and mistakenly kicks the basket away.
Mr. PD offers a proposition for 3 tissues in a minute or 1 in 25 seconds, and they immediately answer, "One!"
Back to the amusement park where the members look like they're about to upchuck their lunch. The Red Team pull off a score lower than 300 thanks to Suk-jin.
Coach Jin-hee leads his teammates in another lesson and when they poke holes in his tactic, he's like, "I know.. but [it works']…!" So it does and they move on.
The teams try to wrap their heads around the strange inequalities in the car. Jae-suk: "It doesn't make sense! Two is greater than five?" Then Haha has a revelation, "What if it's [a counting number]?"
One last mission before the final mission location is a vault horse where they'll need to get at least 10 points to move on. The Yellow Team are up first and their first two vaulters rack up 5 points.
It's Ji Sung's turn next and flies through the air for three points. Yubin looks nervously towards her teammates as they cheer her on. So she jumps… and lands right into the pool. Aw, you may be wet, but you certainly gained some variety points.
(This must be the jump that viewers said was edited. Long story short, the members rushed to prevent the vault from falling on top of Yubin. Looks like things could have been dangerous.)
Jin-hee and Haha jump to get four points total, Suzy rolls off her near-jump into the pool like a champ, and now it's down to Kwang-soo to get five more points. Let's see those long legs in action, Giraffe. He jumps… and gets two points.
Jong-kook has a certain reputation to uphold as Spartakooks as Suk-jin half-teases: "Everyone's getting 3, so you need to get a 4." Challenge accepted. He scores 4.
Chang-eui pitter-patters towards the vault and jumps… for a two. And poor Ji-hyo gets caught on the vault before she crashes to the ground. It's up to Suk-jin to go big or go home… but he follows suit and bangs into the mat.
Yes, that's Gary who jumps long for a five and then flashes a chic pose for the crowd. This is why we love you, Gary. Jae-suk keeps up the streak and then Ji Sung bookends it for his team with a total of 12. Niiice.
With their final clue in hand, the teams run through all the possibilities. Suk-jin thinks, "If 0 is greater than 2, and 2 greater than 5, and 5 is greater than 0? So it wins against 2…" Huh?? Too many numbers!
Then Jong-kook jumps up from the backseat, proclaiming that he's figured it out. Yes, share with the class!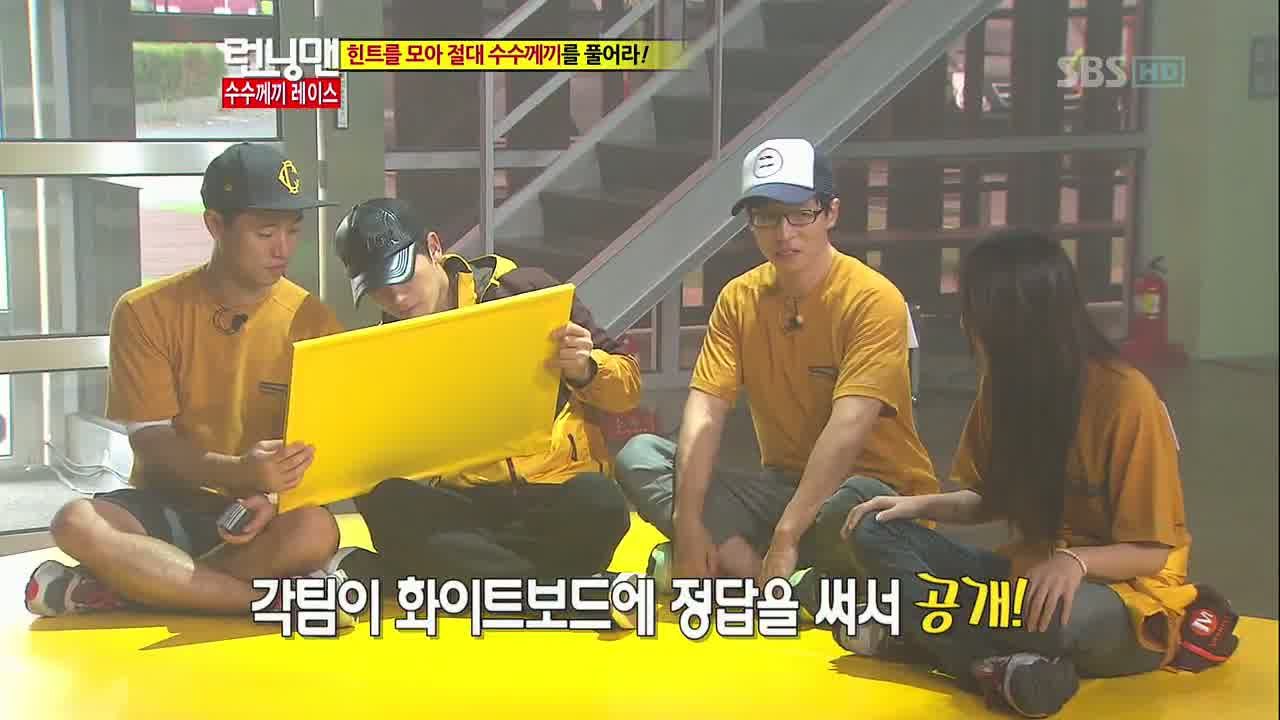 Their final mission location is the future site of the 2014 Asian Architecture Fair and all the teams sit to crack their riddle. Only the team who correctly solve their riddle will be able to get the chance to solve the Ultimate Riddle.
The Yellow and Red Teams raise their answer high and proud: Rock-paper-scissors. Ohh, so the numbers are the hand gestures? We flash back to Jong-kook yelling out that very answer. Then the Green Team answers the same.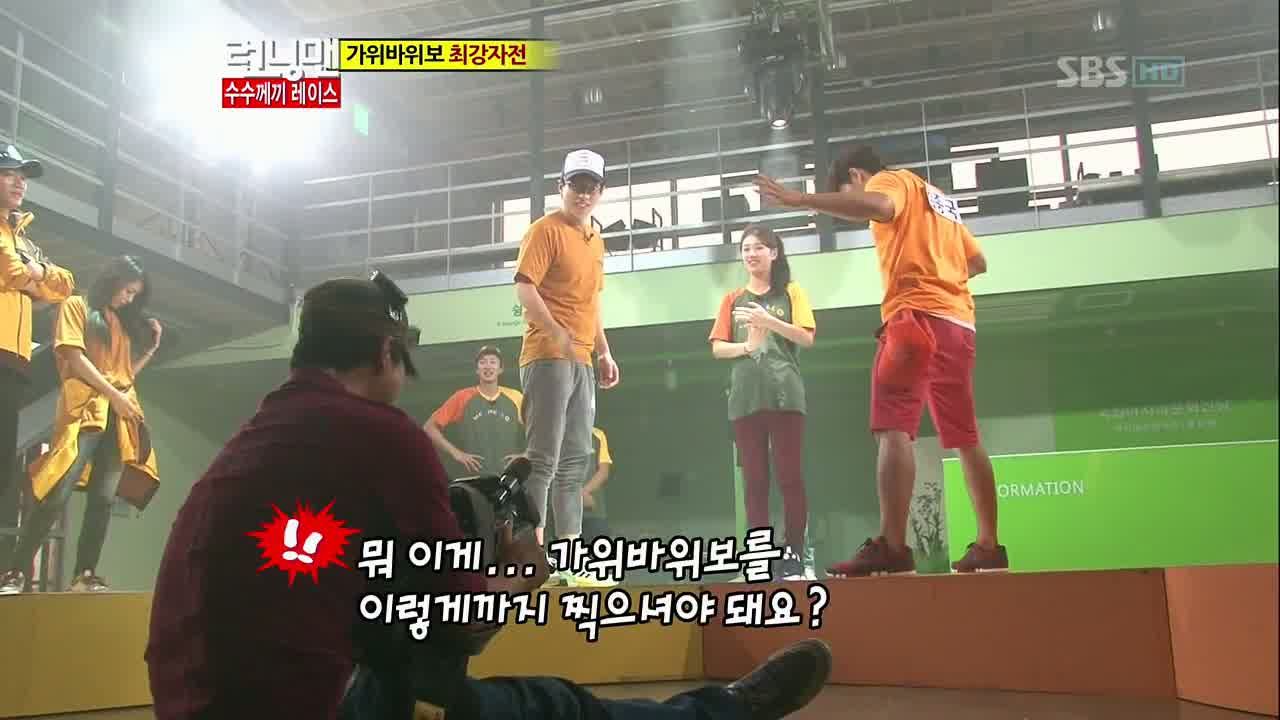 Mr. PD seems honestly surprised that all the teams have figured it out but he's got a secret card up his sleeve. A rock-paper-scissors battle and each team is entitled to a certain number of participants.
Only k-variety would make this classic game so epic.
The first round of participants step forward and Jae-suk wins the round for his team. If Jin-hee loses, the Green Team is out of the game. The level of nervousness surges as they all throw out the same hands… and then Jin-hee loses. D'aww.
Now it's four against two between the Yellow and Red Teams. Will Jae-suk keep up his winning streak or will Chang-eui the underdog pull a fast one? Jae-suk wins.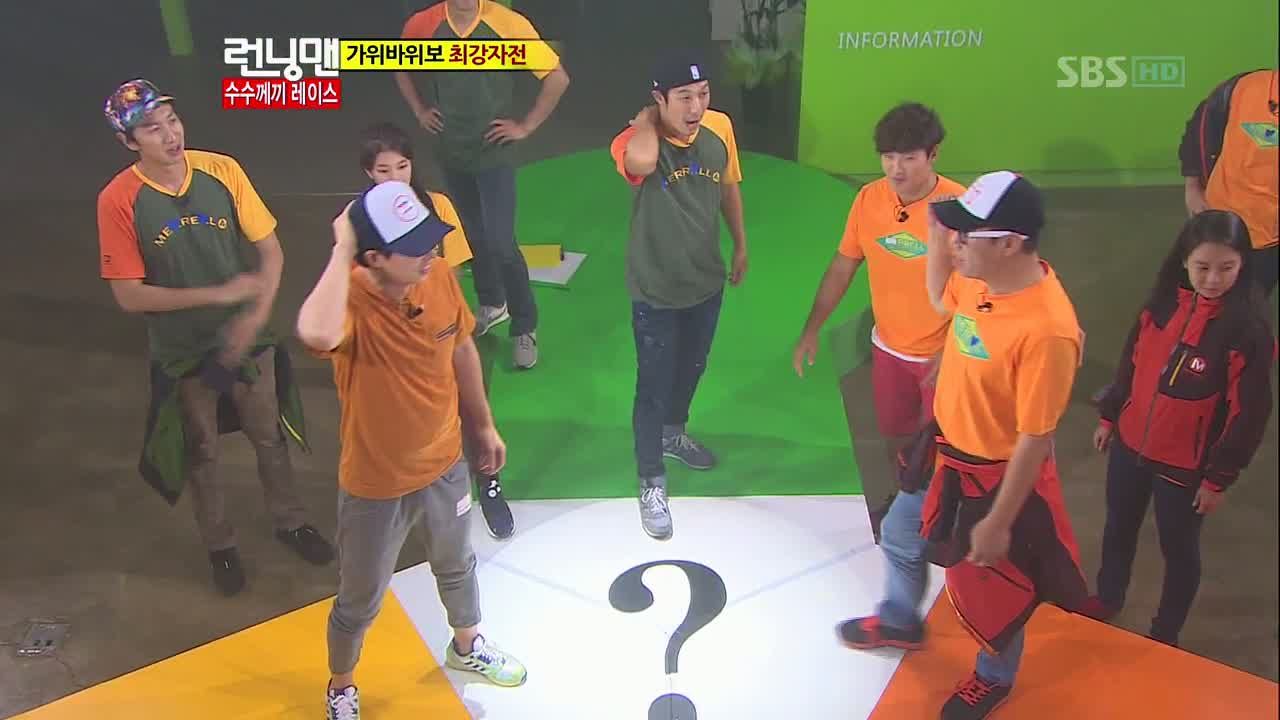 Now the Red Team has one participant remaining as the rock-paper-scissors champ, Suk-jin, steps forward. And with one swift move, Jae-suk wins it. He hollers: "It wasn't ddakji [I was good at]! It was rock-paper-scissors!"
You may be happy now, Jae-suk. Just you wait until who comes for you next week, Grasshopper…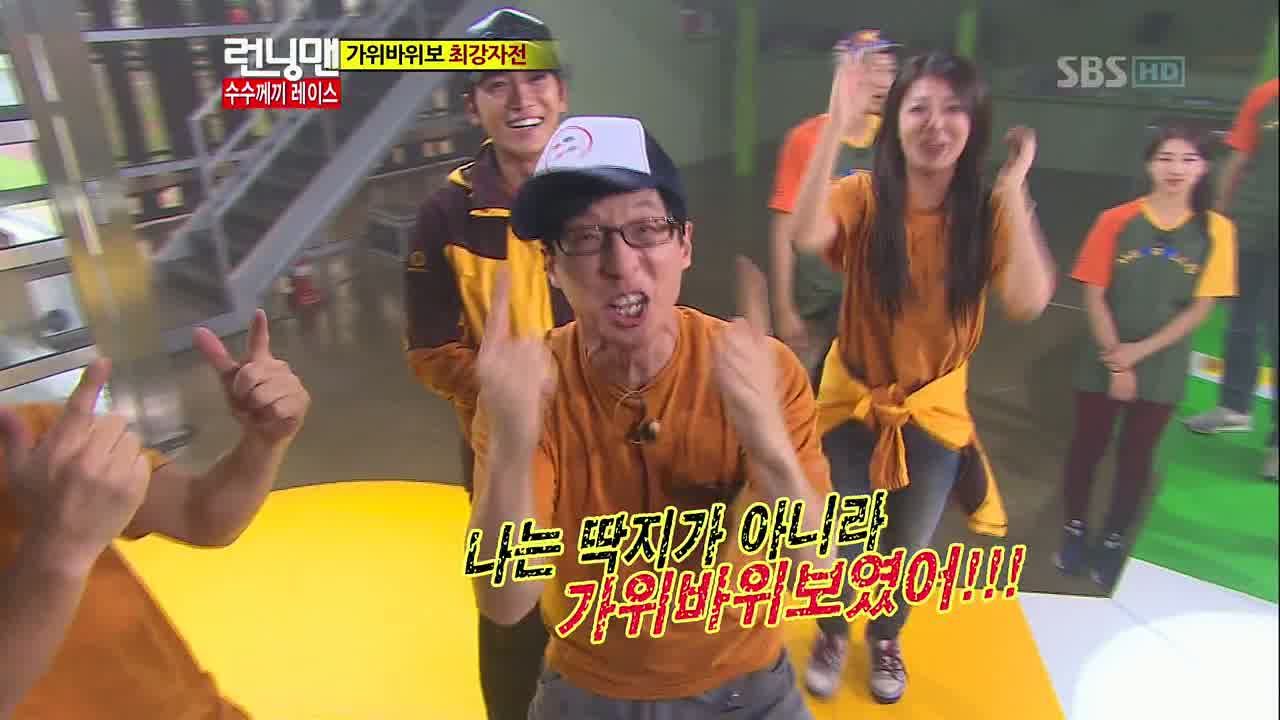 RELATED POSTS
Tags: featured, Haha, Ji Suk-jin, Kang Gary, Kim Jong-kook, Lee Kwang-soo, Running Man, Song Ji-hyo, Yoo Jae-suk