Running Man: Episode 120
This episode is for your eyes only. Welcome to the world of Running Man secret agents: where tomorrow never dies; where you can die another day in this quantum of solace. You've got to earn your '00' status and pass field training like any good secret agent. Be quick, be silent, be golden.
Who said that becoming a secret agent would be easy? From Running Man with Love.
EPISODE 120. Broadcast on November 18, 2012.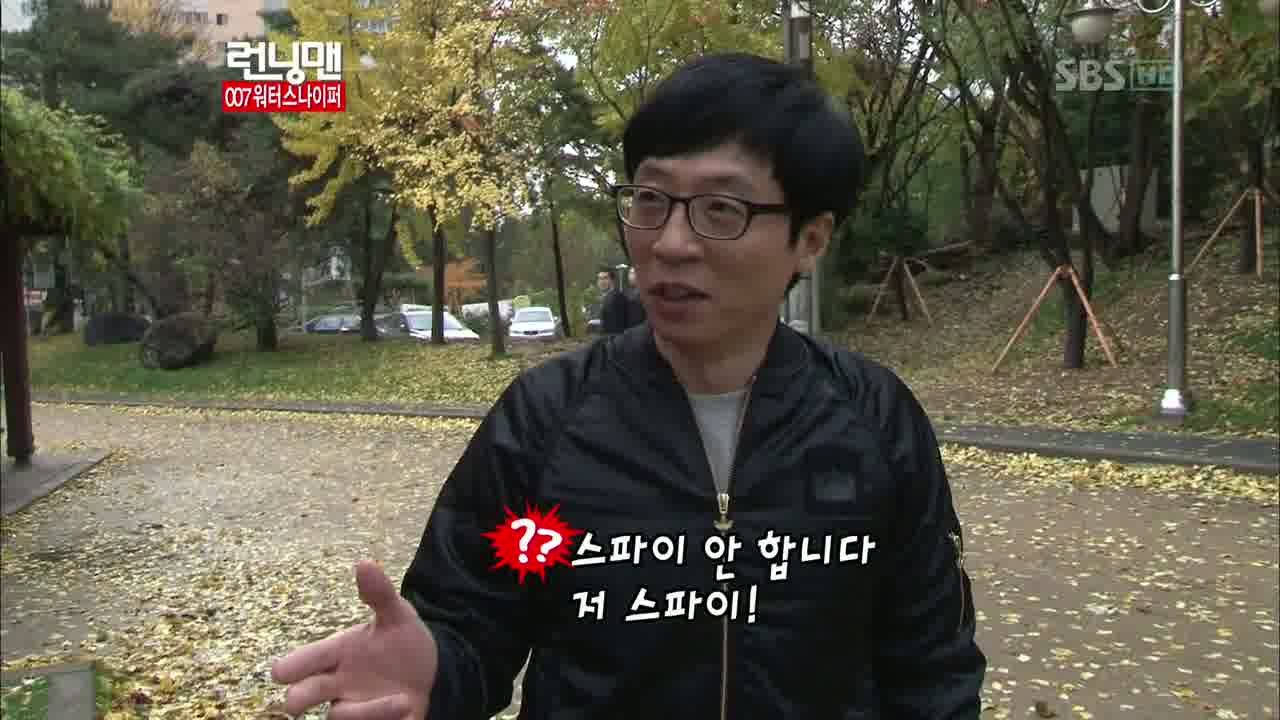 In a not-so-secret park in Seoul, Jae-suk casts a suspicious look to Mr. PD, "I'm not going to be a spy today!" Don't give us that look – you're Yoomes Bond!
It's his job to gather all the other agents cast members and head to HQ. Moreover, Jae-suk's the one to find them because he previously said that his favorite number is '1.'
Looks like you should hurry because the others have received their own missions too. Less talkin', more findin'!
And it it weren't hard enough, Yoomes Bond is also on the clock – wouldn't be much of a mission if it were easy, right?
Agent Kwang-soo gets caught up in character again, exclaiming that he hails from a lineage of secret agents. Maybe you should retake Disguises 202: Camouflage if you think that bag is adequate cover.
There's less than two minutes left on the clock and then his cover's blown when a staff worker screams in surprise. Yoomes Bond rushes towards the noise and their eyes meet. Agent Giraffe makes a run for it.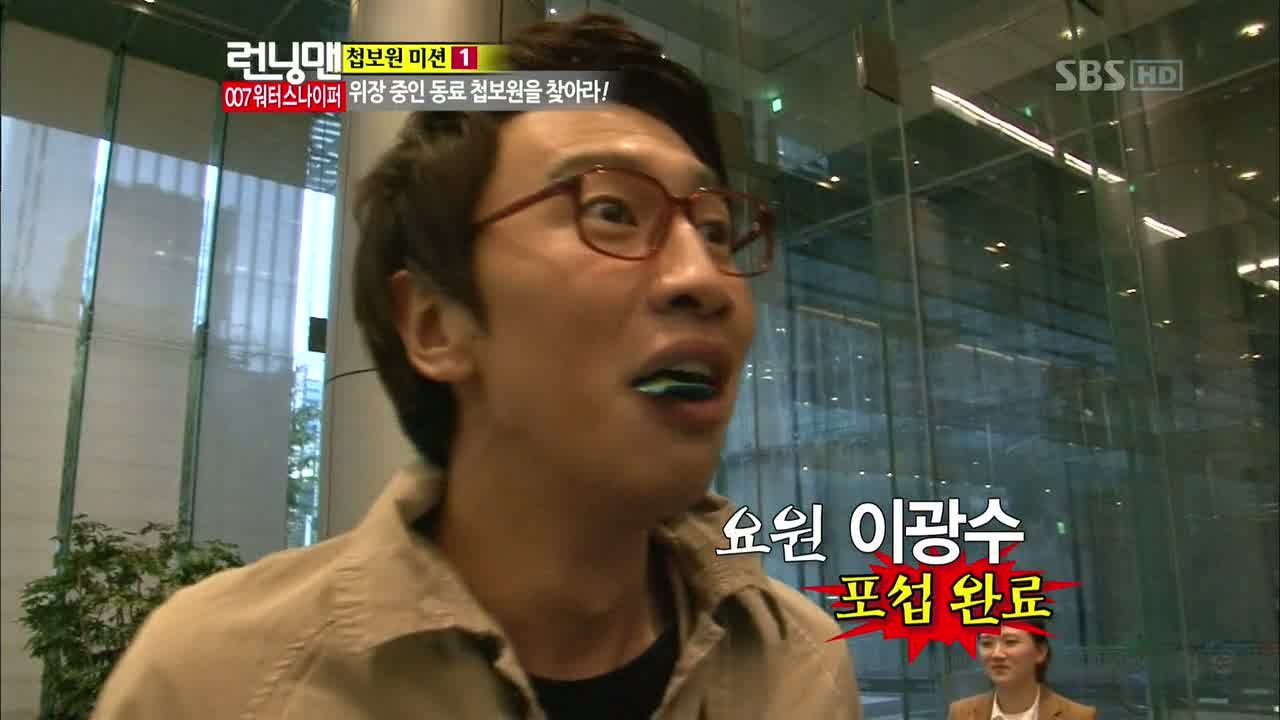 But that does him little good because Yoomes Bond catches him by the doorway and slaps a sticker on him to complete his mission. Agent Kwang-soo is declared out and he gapes, What? with a mouthful of sticker. Hehe.
Yoomes Bond gets a point for catching Kwang-soo who gripes that he's still at zero. Jae-suk: "When have you never had zero points?"
The next stop is a larger building and Yoomes Bond is given a bit more time to track down the next agent. Heyy she looks mighty familiar. Meet actress Park Shin-hye (You've Fallen For Me, You're Beautiful). Maybe she needs some practice in order to spy on her handsome neighbor.
She does her best to stay hidden as she traverses through the building, even slipping past Jong-kook before running into the stairwell. Then someone behind her grabs her by the arm and calls out, "Song Ji-hyo!"
Um, I don't think so and the boys gasp in surprise to come face-to-face with Shin-hye. Kwang-soo: "Hyung! Why did you grab her by the arm!" Yoomes Bond picks up another point.
Why hellllooo there, stranger! Lee Seung-gi (The King 2 Hearts) greets Mr. PD warmly; it's the first time they've worked together since X-Man. Is it betrayal if the ex-1N2D cast member appears on this show? Hell, I'm just glad to see you back in the variety world.
He gets the lowdown on the mission and alarmed, he asks, "They're coming to catch me? But I wanted to say hello to Jae-suk first!" Learn this now: mission first, greetings second.
The alternative mission is to find the passcode to the 007 briefcase and then blow the whistle inside it. By the way, you've got 5 minutes to disguise yourself and 3 for the mission. Now… go!
Seung-gi works on his disguise, trading clothes with his VJ, and adds, "Careful with the coat. It's a rental." Pfft.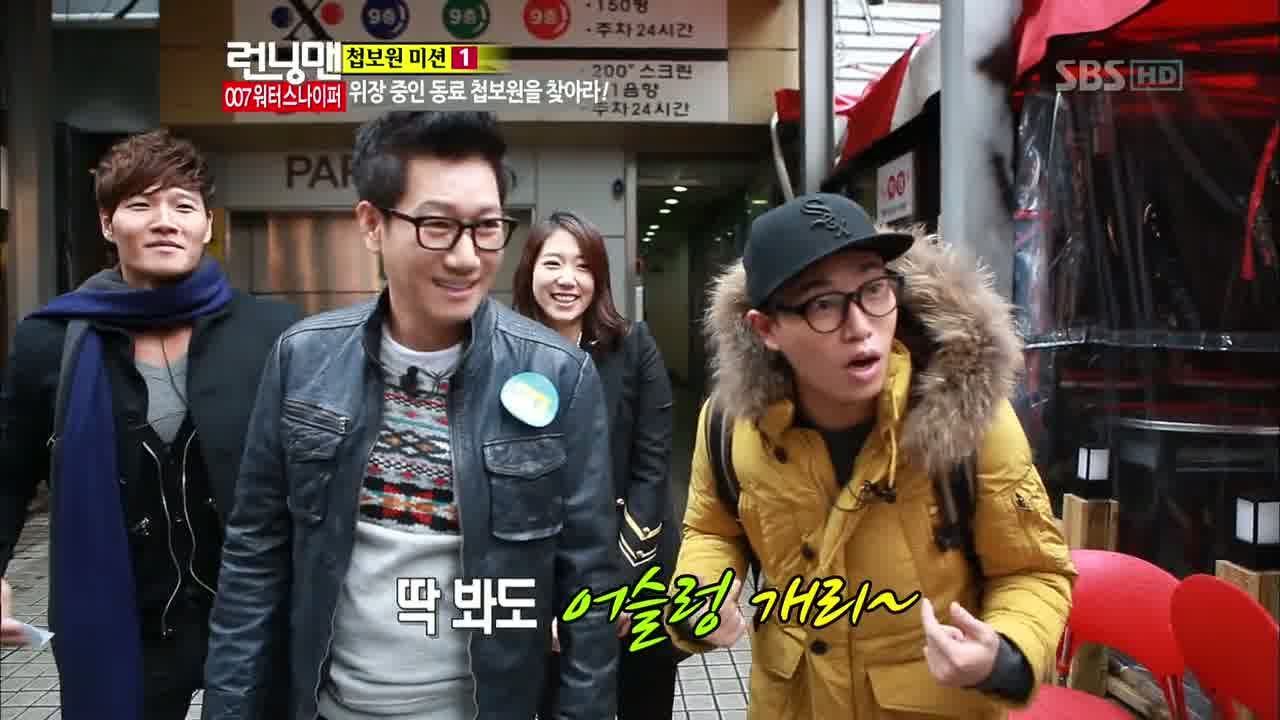 Meanwhile, Jae-suk and his crew search the neighborhood for Gary. Jong-kook starts running when he spots a strange character in the distance and Shin-hye places the sticker on Gary.
Pulling off his hood, he asks wide-eyed, "How did you know it was me? I was wearing glasses!"
Looks like Seung-gi is going for the delivery boy look and he boasts about an ingenious find: a helmet. "You can't tell it's me, right?" He's thought this through and explains every little thing down to the teensiest details.
Why do I feel like all this talk is going to prove useless once he's out on the field? It's just a matter of time until your heodang-ness will shine through.
Once he dons the mask however, he's unrecognizable. How apt that TVXQ's "Catch Me" blares in the background?
At the Kangnam subway station, Seung-gi enters through one entrance while the rest of the cast comes through another. Seung-gi's disguise works like a charm as the members run through the station, passing him without notice.
The seconds tick and now there's just over a minute left. Kwang-soo hangs back, finding the red helmet strange… but before he gets to investigate further, Agent Haha rushes ahead and slaps a sticker on Seung-gi.
Ah, mission fail. What's even more hilarious is that the staff runs through the earlier clips of Seung-gi full of confidence earlier now set to sad, moody music. HA.
Everyone gathers together again and man, I totally forgot that Seung-gi's nickname in his X-man days was "Usher." Furthermore, Jong-kook and Shin-hye go way back too (She was in one of his music videos.)
Haha's skeptical when Seung-gi mentions that he's been following Running Man as a viewer. He explains, "I couldn't say that I enjoyed the show even when I did!" Then Jong-kook cuts in, "My friend texts me that he enjoys it every week!"
AHAHAHA. D'you mean this guy?
The cast learns of today's assignment through a video feed. Is that "M" aka Maknae FD? Puhaha.
M explains (in a suitable female voice) that today will be considered a field evaluation test to earn their "00" status. Their teams are as follows: (Red) Jae-suk, Kwang-soo, and Seung-gi; (Yellow) Jong-kook, Haha, and Shin-hye; and (Blue) Suk-jin, Ji-hyo, and Gary.
The teams start off with five, three, and zero points respectively.
Seung-gi's team [Red] sets off first and Jae-suk and Seung-gi gets so caught up catching up that Kwang-soo interjects that he's here too. Jae-suk: "That's right, Kwang-soo sshi." Seung-gi even pays Kwang-soo a compliment but Jae-suk ignores it.
Once they're on the train, Seung-gi worries for the cast's health – it's not good for them to be running so early in the morning. Jae-suk asks him to put in a word with Mr. PD but Seung-gi replies that he knows from experience – Mr. PD'll just ignore him. Right you are.
Seung-gi jabbers on about how happy he is to meet the ol' X-man staff again and Kwang-soo snaps, "Can we stop talking about X-man? Let's talk about [this show]."
It's Seung-gi's first time in the new subway cars and he marvels at the blinking lights indicating the stops. Jae-suk explains that Seung-gi's spent more of his variety time in the country versus the city and Kwang-soo answers, "Isn't that a little too country bumpkin?"
Their first mission location is a carwash and it's target practice with water guns. This will test their agility and precision and they'll need to roll up their windows quickly if they want to stay dry.
Seung-gi: "This is why they told me not to bother getting dolled up." Jae-suk asks why he put mousse in his hair and Seung-gi exclaims, "I was afraid it'd get messy while I was running!"
Sure the mission's easy: you just need to shoot 4 cans in 40 seconds. They get shot at as soon as they climb into the car and it's pure chaos. Jae-suk: "Open the window!" Seung-gi: "This won't work!" Kwang-soo: "Give me a water gun!"
Needless to say, they fail the first round and they start pointing fingers at each other. Kwang-soo: "Why didn't you give me a gun!" Jae-suk: "Why didn't you close the window?!" It doesn't help that they're wet and miserable.
The other teams join them and gear up while the Red Team talks strategy. Jong-kook puts a quick end to it.
It almost looks like the third time will be the charm as Seung-gi knocks over one can before he gets hit with a stream of water. On the other side, there's more water Jae-suk is taking in than shooting out.
Jong-kook complains that he's got a cold – how's the staff going to take responsibility if he gets wet? Now it's Jae-suk's turn to tell him to suck it up, "Variety is all like that~!"
This game is like a circus up in here and it's highly entertaining. Haha manages to knock both cans on his side before getting doused with water. Conversely there's Jong-kook who's 90% dry. HA.
Watching this is downright hilarious. Suk-jin gets hit with plenty of water and then tries to roll his windows up. Kwang-soo: "Hyung, you're doing it wrong!"
The next time the Yellow Team gets another shot at it, they've knocked down 3 cans with 10 seconds remaining. They shoot at the last can and Shin-hye's got her eye on the prize. She shoots… and the can tips over with 1.39 seconds left.
They celebrate but now they've got another issue on their hands: Jong-kook is stuck in the window. HA. He nearly breaks it trying to get out but don't worry – he mends it so it's good as new.
I'm not quite sure why Kwang-soo feels the need to get in and out of the car through the rear window but no matter – the Red Team pass anyway.
I love how everyone's reactions to the next mission location (a swimming pool) are like, "More water?" "I'm freezing cold as it is."
But not only is it just a pool waiting to greet them, this mission involves flying chairs. Time to test their level of concentration: read the given statement properly or else be flung into the water.
Damn, that is one long statement. Jong-kook stumbles over his words and there they go into the water. Rewind, replay!
The Blue Team's got Suk-jin, an MC and an announcer on their side and Myuk PD calls out, "Gary first!" I think it's no surprise they end up in the water as well.
You know what, Seung-gi? At least the cast waved goodbye to you before you were ejected out of the chair. And how does Suk-jin mess up on the first syllable?
Ha – "Skyfall" really is an appropriate song to this game as the teams continue to fly into the pool. Seung-gi gripes, "I think I'll have trouble saying my ABC's right now!" and that his sweater's too heavy now: "This is 6kg!"
Just the sweater Seung-gi? That shirt isn't heavy either? You sure? 'Cause we can take that off of your hands too.
Round after round they go and when Myuk PD launches the Blue Team by accident, he coolly acknowledges it, "Whoops, sorry! My mistake!" Yeah, but now they're wet and angry.
Myuk PD makes the statement easier but Gary still fumbles over the foreign language words. He hollers, "How is this easier?!"
Oho! The Yellow Team rattles off the statement like there's no tomorrow and with 5 seconds left, it's Shin-hye's turn…. but she runs out of time with just a few words left over.
Seung-gi finds himself in a similar spot and he makes it. In the car, he wonders if cafe = food.
For their third test, M will need to evaluate how well they work as a team. By squeezing oneself through a hanger? Riiight.
The other teams mix up the tools and the Red Team chooses the tennis racket. Seung-gi's all pumped up ("I can do it!") and now wouldn't this be a perfect moment for his heodang status to make a triumphant return?
It is. And then Kwang-soo attempts the same thing during downtime and gets caught too. Like two peas in a pod.
Bahahaha. The Blue Team chooses the coat hanger and Gary does his best to wriggle out of it but his pants start falling off with the hanger. Ji-hyo jokes that his underwear is yellow and Gary replies, "You saw that? It's your favorite color, right?"
The cast worries that Jong-kook's shoulders are too broad for the tennis racquet but he assures them that he's thinner than he looks. Both Shin-hye and Haha slide in and out of the racquet with ease and now it's Jong-kook's turn.
He gets one shoulder in before it gets caught.
That look of stern determination just about kills me as Kwang-soo struggles against the coat hanger. The problem isn't getting in, it's getting out. And why does your face look like that when you're relaxed, Kwang-soo?
It looks like Seung-gi's got an idea up his sleeve as he instructs his teammates to lift an arm as they pass through the racket. But that turns out to be more like a painful idea.
And then the Blue Team pulls out first to everyone's surprise.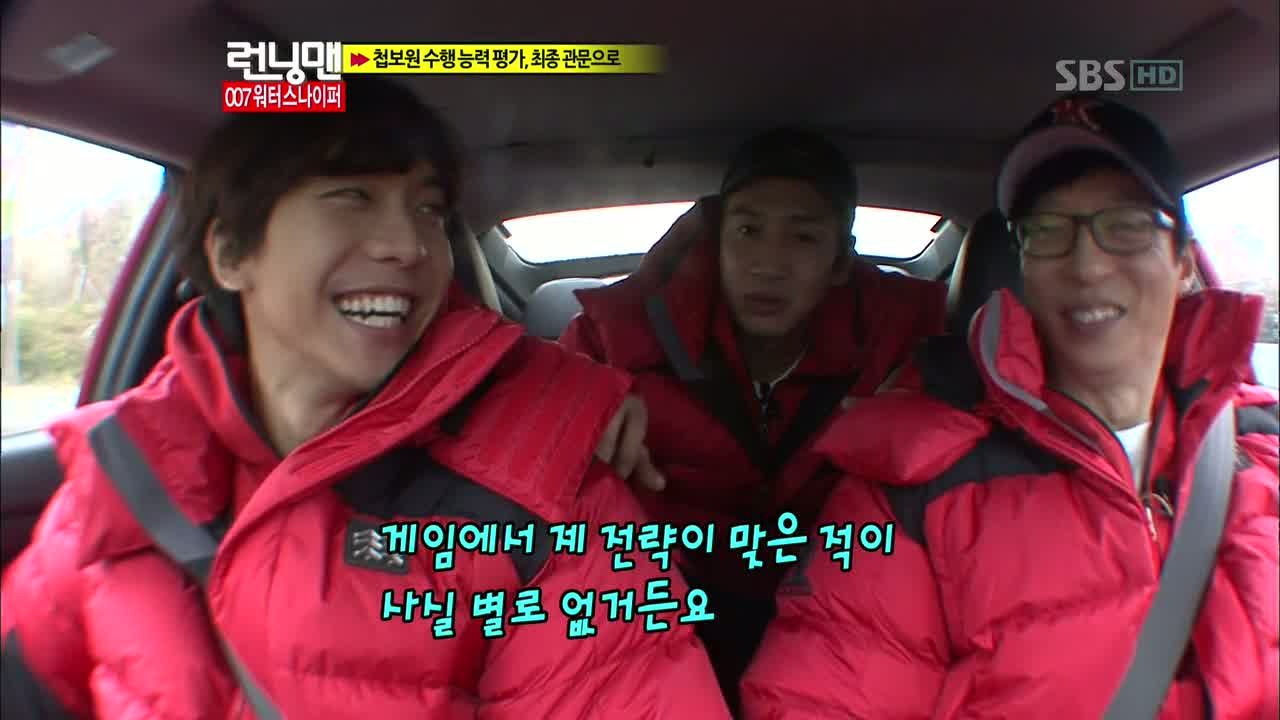 That fishing hoop turns out to be the ticket and Jong-kook actually passes through pretty easily (not without flashing those golden abs at us first) and the rest follow through.
The Red Team comes in last, and in the car Seung-gi apologizes for his failed strategy, "There really hasn't been many times my gameplans have gone through." Now you tell us.
They'll need to use every skill they've learned thus far at the final mission: a water gun fight. Last team standing wins.
Woah – is that an auditorium full of water guns? Too bad that out of the 1000 available, only ten of them will work. Man that M is an evil genius.
They try to fake each other out, pointing at the other teams with unusable water guns. Seung-gi asks Haha if they can make an alliance. "We don't know that yet." Betrayal? "Of course." That's Variety 101.
Agent Shin-hye finds a working water gun among the numerous ones in the auditorium and immediately chases after Gary. She loses him in the stairwell.
Seung-gi pulls at a door, "Oh, it's push." and then pushes at another, "Oh, it's pull." He's sure making things hard for himself and gets confused at a cabinet door. *pull* "Ohhh." Caption: That took you 5 minutes….
He's just about to throw in the towel when he finds the motherlode of water guns. He pumps his fist in victory. But Seung-gi ya, you were complaining that your arm hurt from the water pump. Wait til you see how how heavy carrying that monster is.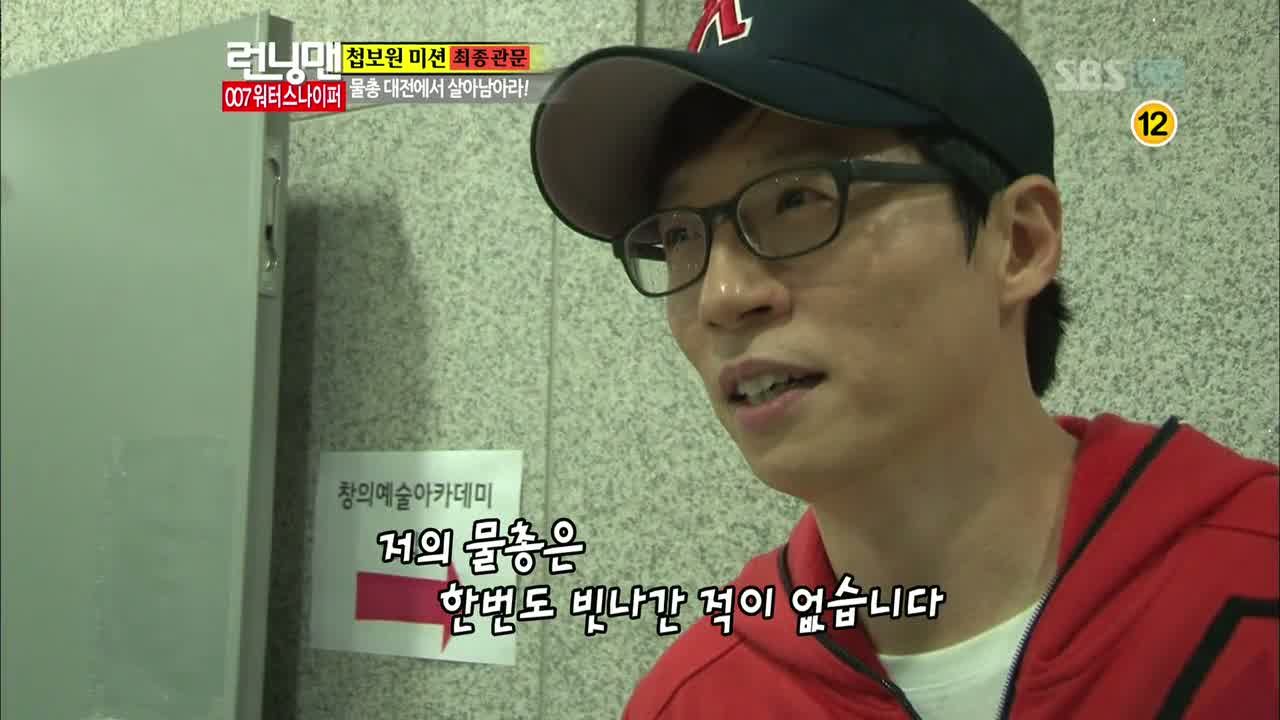 One by one, the secret agents discover the hidden water guns. Time for the real battle to begin.
Yoomes Bond hides until one of his targets walk through the door. It's Haha and is eliminated a few seconds later. "My water gun never misses a target."
Seung-gi runs in SpartAce and the Giraffe in a corridor. Jong-kook grabs both Kwang-soo and Seung-gi and reaches for that monster water spray… but Seung-gi spins out. HA – you couldn't starting pumping that things before you decided to take on Kookie?
Then in a distracted moment, Kwang-soo takes out his water gun from his back pocket… and shoots Jong-kook. And if it weren't bad enough, Seung-gi's pump continues to squirt water. "I can't get it to stop!"
They turn to the Ace who claims that she's unarmed, "I can't lie like you can [Kwang-soo]." Kwang-soo: "I can't lie either." He puts her at gunpoint (ha) and repeats himself – is she armed?
She turns her back towards him. Sure he can shoot her but he'll really be a coward then. So Seung-gi takes that honor. "Noona, I shot you."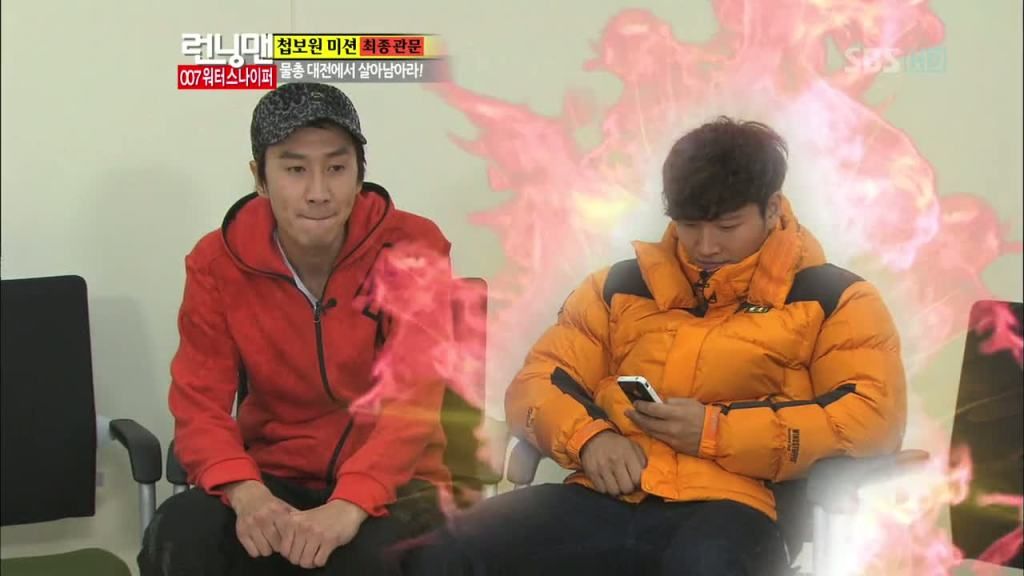 Oh man I love heodang Seung-gi. He excitedly shows off the water pump to Jae-suk and then goes chasing after someone down the hall (it's a staff member).
Kwang-soo gives himself a pep talk before venturing out to a standoff. He positions himself behind a pillar near Gary… who sees him. Time to run.
He gets hit in the ensuing chaos. Uh oh – Jong-kook's waiting for you in jail. He's actually brave enough to sit beside the Tiger once he gets there and then we fade to black.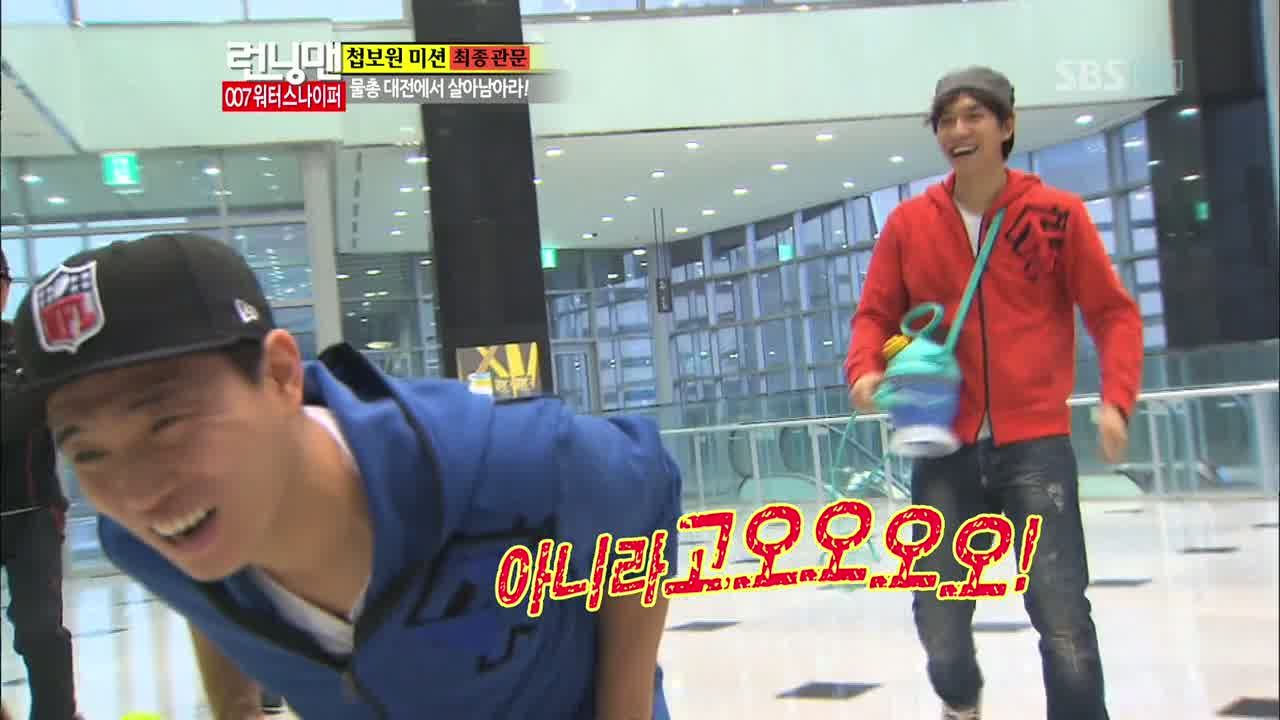 Shin-hye's the only woman left standing on her team and she slips into the stairwell before Yoomes Bond can chase after her. Right now, he's got Gary to worry about, who approaches him, ready to attack.
Little does he know that Seung-gi has got his eye on his name tag. Seung-gi runs across the hall, spraying water and hits Gary.
Naturally Suk-jin becomes the Red Team's next target. Just then, Shin-hye appears from her hiding spot and shoots at Jae-suk. Yoomes Bond is out.
Only one person remains for each of the three teams: Seung-gi, Shin-hye, and Suk-jin. Suk-jin tries for an alliance, claiming that he'll make sure she wins.
He asks if she can't trust him and she yells, "Of course I can't!" Smart girl.
Shin-hye runs right into Seung-gi and soon finds herself cornered by both men. In a pickle? Use what you know and she pulls out her best oppa-pout-wiggle card.
It doesn't work and Seung-gi shoots her anyway. Walking away, she pouts, "I'm going to tattletale on you to our president. We even shot a music video together…"
Back in jail, Kwang-soo walks on thin ice with Jong-kook. When Jae-suk asks why Jong-kook's peeved, all he needs to say is, "I did it again…"
Jae-suk suggests that he skips tomorrow's filming but Gary's got better advice: Make a run for it. HAHA.
And then Seung-gi and Suk-jin walk in together. Huh? What happened?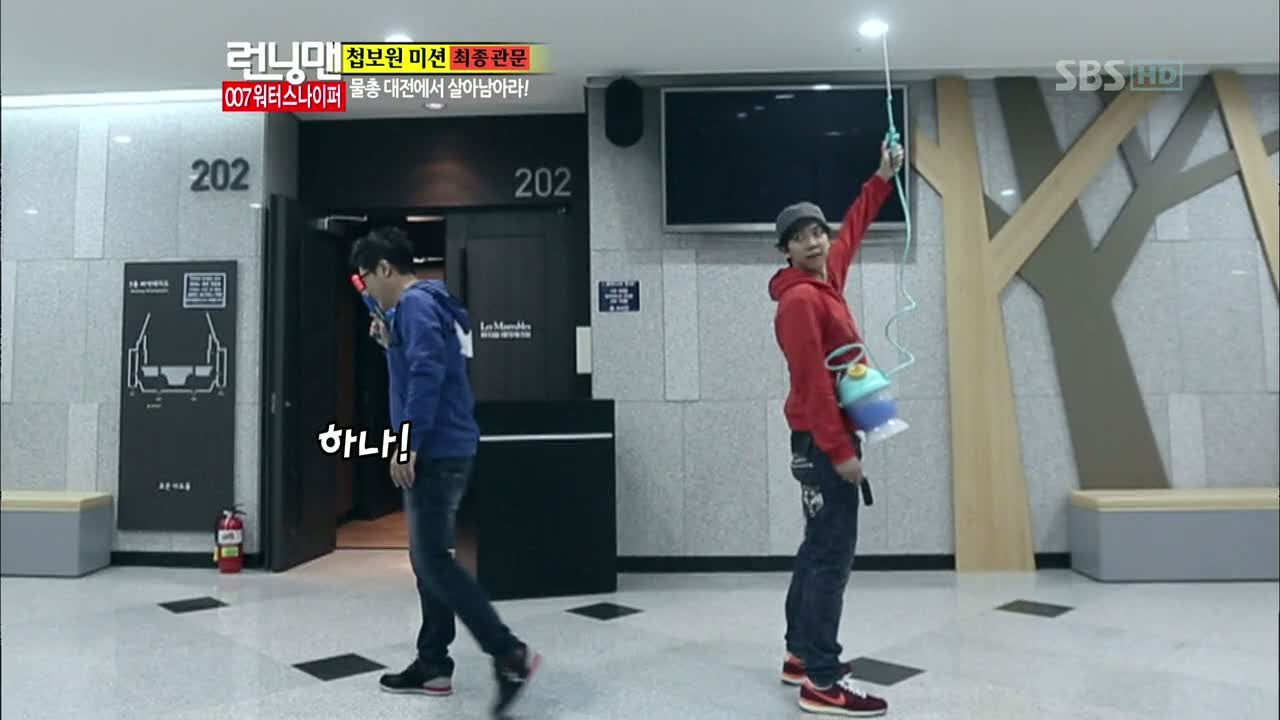 We roll back the film to see that they'd agreed to a duel. But as soon as they started counting, Seung-gi looked back and shot Suk-jin's back dead center.
So you took Haha's advice, did you? With that, the Red Team wins it.
But it ain't over yet and M appears on the screen once more. The first and second place teams receive a computer and cell phone which will prove useful tomorrow whereas the last place team get a phone.
So it's time to sign off for now until they receive their next set of instructions tomorrow…
With pleasure, M. With pleasure.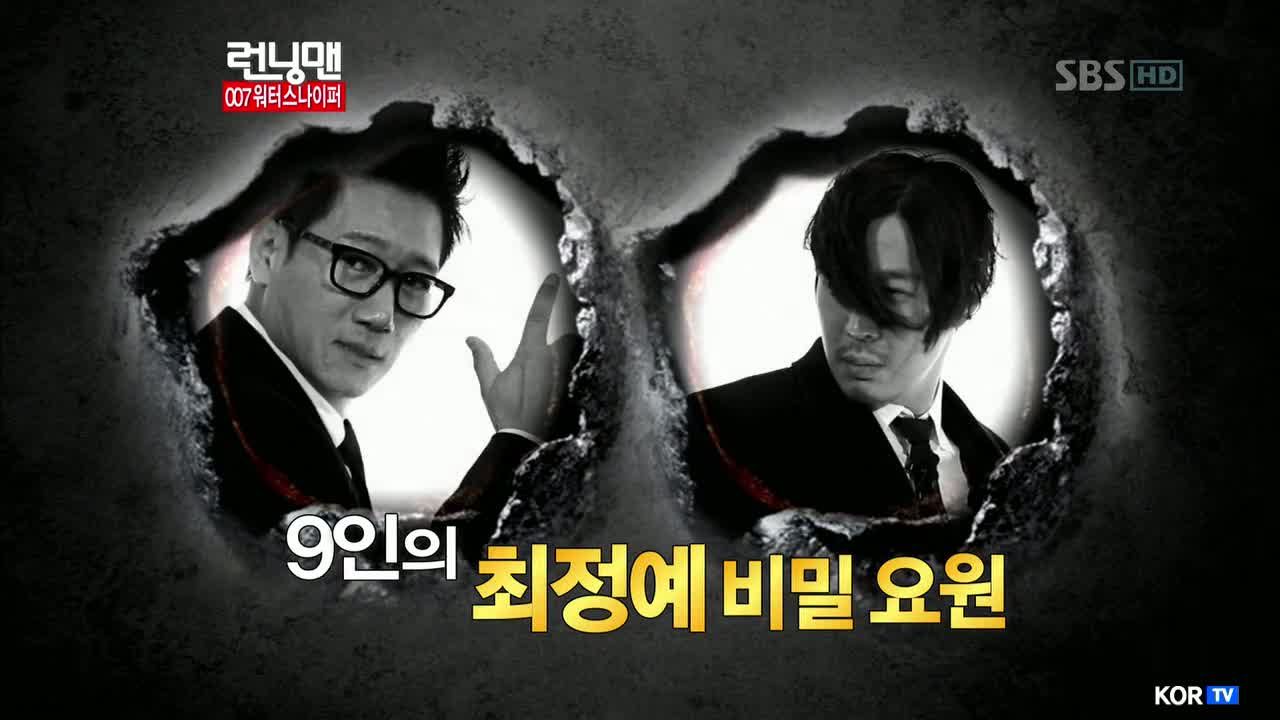 RELATED POSTS
Tags: featured, Haha, Ji Suk-jin, Kang Gary, Kim Jong-kook, Lee Kwang-soo, Running Man, Song Ji-hyo, Yoo Jae-suk