Thing vs. Thing: Actors playing actors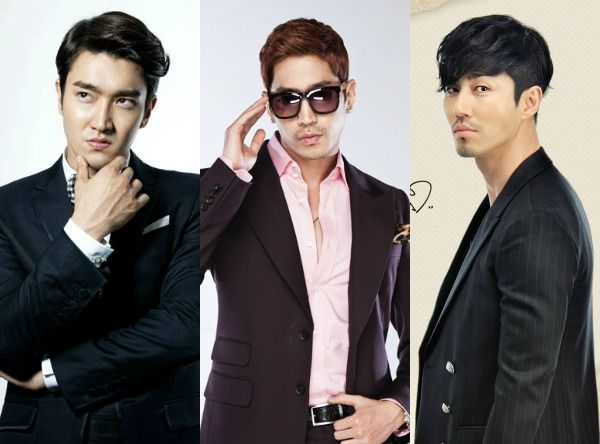 javabeans: Not all meta is funny, but actors making fun of themselves always hits the spot. Like Siwon opening up a twitter account for his King of Dramas character Kang Hyun-min, who resembles nobody so much as, perhaps, Zoolander. Though I suppose Eric and his alter ego for Myung-wol the Spy come close.
girlfriday: Eric the real-life actor is definitely zanier, but as far as characters go, Siwon's Kang Hyun-min takes the cake.

javabeans: He's hilarious. Just the variety of facial expressions alone is a crack-up. He's vapid and vain and totally willing to go there to look absurd.
girlfriday: I love that every time you think the drama's going to show you that he really has a deeper layer, they undercut the moment and it turns out he really is as shallow as he appears. So funny.
javabeans: Totally. You think he's going to be this misunderstood bleeding heart… and then you see that nope, you understood him just fine the first time around.
girlfriday: Underneath the surface… there's just more surface.
javabeans: To contrast, it's strange that Eric's Kang-woo character wasn't more fun, given how off-the-wall he is in real life.
girlfriday: I know. They really could've taken him to funnier extremes. They certainly got the diva thing down. He might even beat Hyun-min in that department, with his designer water and such.
javabeans: The downside to that is, Myung-wol treated the diva setup totally straight, instead of making it… you know, funny. Why? Who knows why anything was the way it was in that drama? Whereas with Hyun-min, you see him putting on the generous front for the public, and then fuming in all his petty vanity behind the scenes, but it's in this absurd and laugh-out-loud way.
girlfriday: And it's even funnier that he's on point with everything, like the fact that he gives good interview, knows exactly what to say and when, and has the image aspect down to a science.
javabeans: With Eric's Kang-woo, I wondered, "How'd this guy ever get mistaken for being a charming top star?" With Hyun-min, I wonder, "How'd this guy ever graduate elementary school?"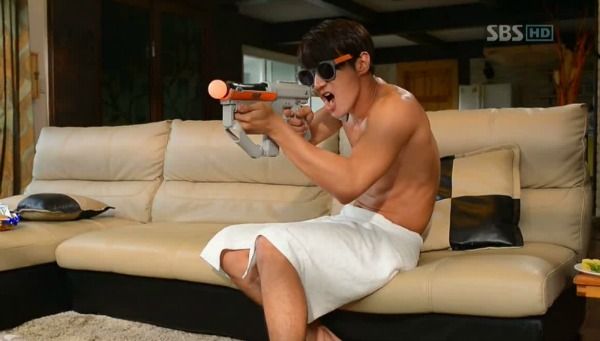 girlfriday: Hee. So yeah, I think Hyun-min blows Kang-woo out of the water. But then, what about say, against Dokko Jin?
javabeans: Ooh, good one. With that, I think we have to break down the category further. They're both media-savvy and glib to the cameras. They've got a lot of things in common. It would be interesting to see who's got the bigger ego, though I think Dokko Jin edges Hyun-min out for sheer braggadocio.
girlfriday: And he certainly beats him in the facial hair department. Though to what end, I don't know.
javabeans: I do think that Hyun-min is more manipulable of the two, despite how difficult they are with their handlers. Dokko Jin is putty in the hands of the woman he wants to impress, but Hyun-min wants to impress everyone. Plus, Dokko Jin's honey is way smarter than Hyun-min's, who, like him, is hard-pressed to string together a coherent sentence on her own.
girlfriday: Dude, his idol girlfriend is friggin' hilarious.
javabeans: I love her, for the sheer fact that she's absurd. A singer who's told not to speak?! Bravo, King of Dramas, bravo.
girlfriday: I died laughing at her introduction.
javabeans: I don't know if any of them could beat the fashions of Rain in Full House, though. And by beat, I mean be any more questionable. I get that these things are tied to the era they were shot in… but some crimes against fashion are just timeless.
girlfriday: Oh yeah. You can't leave out the icon of fake actors in dramaland.
javabeans: He wins for having the worst wardrobe and being the shoutiest star.
girlfriday: I dunno, wasn't Oska quite shouty as well? Or was he just whiny?
javabeans: Oska was loud, but I thought of it as a half-joking thing. Rain was the king of shouty. Shouty shouty shouty. It was back in the era where loud bickering was romantic, apparently. That and orangey floppy hair.
girlfriday: OH, now we're gettin' out the big guns. Hair? Lessee… there's Jang Geun-seok's Mary character…
javabeans: But… but… you almost can't compare dramaland actors with pop stars and idols. Because idols… they are a breed of alien unto themselves. And Full House 2 wins that hands down (…in defeat).
girlfriday: Is that crossing a hair line? Fine, then Full House wins the hair award, though Hyun-min's floppy 'do right now is climbing up there.
javabeans: I really hope King of Dramas shows us snippets of the drama-within-the-drama, because I can't wait to see Siwon in a Gaksital-style pompadour. Please?
girlfriday: That would be really fun. Okay, what about Siwon vs. Siwon, since he did play two fake actors?
javabeans: Hm. Again, you're gonna have to be more specific. 'Cause for instance, if we're talking SIwon's character's acting skills, I suppose Hyun-min wins, because despite his uber-shallow, greedy, questionably coiffed persona, he's supposedly a decent actor. While Siwon's Oh My Lady character was known for his foot-acting. And yet, he was so much less interesting, despite that deficiency.
girlfriday: I do find that despite Hyun-min's vapid persona, I do want him to be good in the fake drama in the drama. I don't even know why. The other guy's foot-acting was hilarious, but maybe in King of Dramas we have more invested in the fake drama being good?
javabeans: Yeah by all indicators they're making something on par with Gaksital, so I want it to prevail. Plus, it's just funnier to have the dichotomy of the vain idiot being really talented.
girlfriday: Yeah maybe that's it — it would be the joke to top all jokes, if the guy who couldn't bother to read the script was just some natural talent who blows everyone away, and they all gape, "Wait, he can ACT?"
javabeans: I suppose there's also some vicarious thrill in the message — however unintentional? — that at the end of the day, no matter what it took to get us there, the good drama prevailed. Otherwise life would just be depressing.
girlfriday: But they'd have to bring it back down to earth at the end, like the thing that Hyun-min walks away from the experience with is more CFs and a video game based on his drama character.
javabeans: I suspect that asking for depth from Hyun-min might be an unreasonable order, but a little more room in that wading pool he calls a brain could be gratifying.
girlfriday: Well, if Dokko Jin could make room in his ego to love someone else, then I suppose anything's possible in drama-within-dramaland.
RELATED POSTS
Tags: 1 show to rule them all, Best Love, Cha Seung-won, Choi Siwon, conversation post, Eric, featured, King of Dramas, Myung-wol the Spy, Thing vs. Thing