Vampire Prosecutor 2: Episode 10
Last week sure was a shocker, wasn't it? It literally left me slack-jawed, and I was eager to see how the twist would shake things up for this episode. This hour continues the mad hunt to find the little girl, and also expands upon the moral questions of what it means to be a vampire in this dark, frightening world. Furthermore, the show finally connects some dots (a TON of them), answering a whole slew of questions we've been harboring, not only from the beginning of this season but also from the first.
SONG OF THE DAY
Primary – "독" (Poison) [ Download ]
Audio clip: Adobe Flash Player (version 9 or above) is required to play this audio clip. Download the latest version here. You also need to have JavaScript enabled in your browser.

EPISODE 10: "Birth of a Devil"
Tae-yeon walks down a hallway wearing a guarded expression, heading toward a room.
Elsewhere, one man looms over another, and it looks like they've fought. Oh no, it's Soon-bum on the ground and he tries to stop the other man, grabbing his leg and then blocking the door. He asks, "Do you really have to go this far?"
Tae-hyun bursts into a creepy laboratory, and says, "Hyung." A man looks up from the vial of blood he's pouring: Dr. Blood!
Back to Soon-bum, and now we see the face of his attacker, who has him by the throat. Dr. Jo growls that he warned Soon-bum, "If you stop me, you'll end up hating me."
Dr. Blood—named Ra Jae-wook and also called Raoul—is stunned, wondering what Tae-yeon's doing here. Tae-yeon grabs him by the shirtfront and demands to know where his sister Yeon-ji is: "Is this all your doing?"
But Dr. Blood says he's in hiding from that one, the scary bastard—Red Eyes—and he legitimately looks terrified. Haunted, even.
Dr. Jo tells Soon-bum, "There's no other way then."
Tae-yeon asks who he means. Dr. Blood answers, "Bad Blood, Tae-yeon."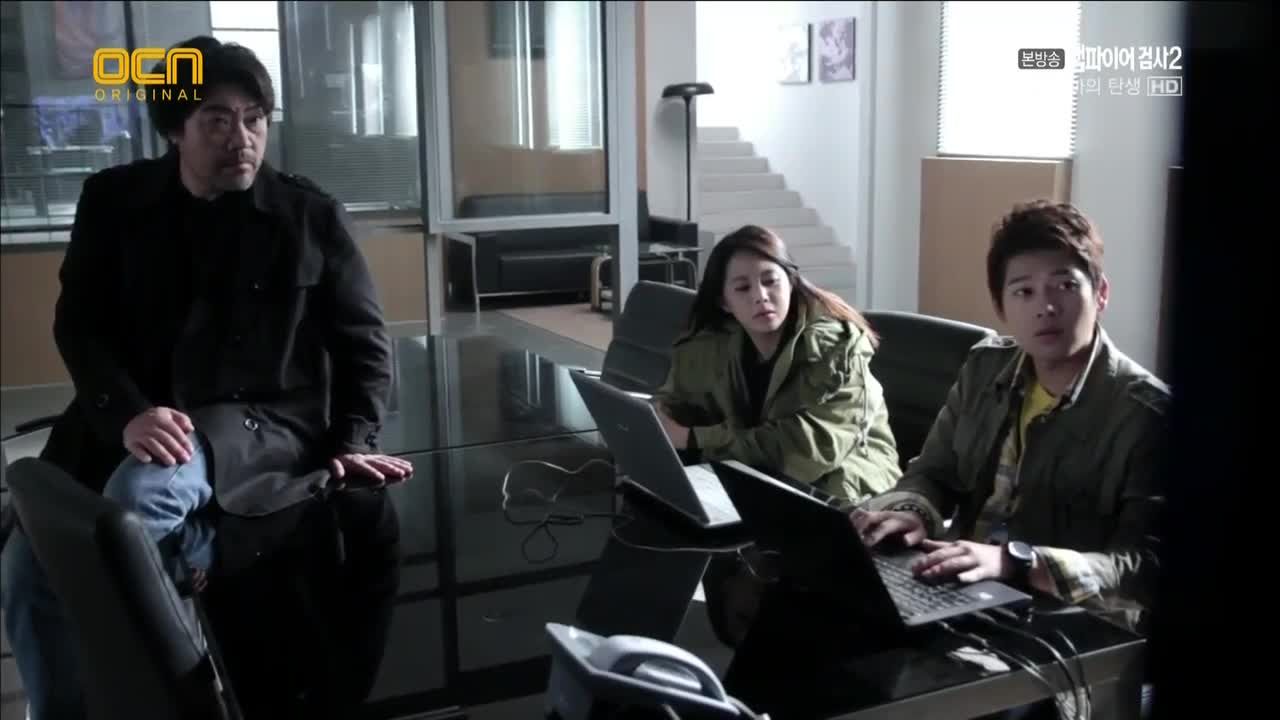 After credits, we resume back at the prosecutor's office, and we've jumped back a bit to the direct aftermath of last episode. Dong-man sobs in the conference room, distraught over his attack by the guy in the interrogation room (Red Eyes). Soon-bum is here, looking normal, and Jung-in as well as they review the footage of Ji-ae in the water tank, being freed by Dr. Jo and Runa.
The footage stops midway through the kidnapping of Ji-ae, so all they can see are the men who barge in, beat up Dr. Jo, and leave with the girl. They're unable to get a hold of Tae-yeon on the phone, but Soon-bum speaks up: Let's not call him again, and try to handle this case ourselves. Thinking of Tae-yeon burdened all on his own, he suggests, "This time, let's work on it between us."
Then Jung-in gets a phone call with shocking news.
In his lab, Dr. Blood fills Tae-yeon in on what he knows, and finally our stories converge as Tae-yeon learns of the government's vampire project back in the day, called the Lilith Project. That's the origin of Bad Blood (they use that as his name, the way we've been using Red Eyes), who escaped during a trial. This accounts for the sequence that kicked off our season premiere.
Lawyer Park Hoon was ordered to investigate the incident immediately afterward, and in chasing Bad Blood he fell victim to his bite. That turned him into a vampire.
Tae-yeon asks Dr. Blood why he's telling him this: "You left saying you'd find Jang Chul-ho and Yeon-ji, then cut off communication with me and hid here. Is there a connection?"
Dr. Blood says, "I think Bad Blood took your sister." Interesting. It explains why Red Eyes mentioned Yeon-ji's name last episode; it was a seemingly throwaway line in the interrogation room about Ji-ae's kidnappers also taking his own sister Yeon-ji. Clearly a lie, but based on real information, it seems.
Damn, that's a bummer for Tae-yeon, who's getting assailed on all sides by Red Eyes/Bad Blood. If it's not his real family, it's his work family…
Speaking of work, the prosecutor team heads to the scene of Ji-ae's near-drowning and kidnapping. They try to piece together the story from the debris here, and wonder whether Dr. Jo and Runa were also kidnapped.
Jung-in makes one discovery: a dropped cell phone. From the list of calls from men whose names are all followed by "hyungnim," it's gotta be from one of the gangster kidnappers. Dong-man confirms from the building's CCTV footage that the men took Ji-ae, but that Dr. Jo and Runa didn't leave till 20 minutes later. Then where did they go?
Even more curious is hearing that Dr. Jo looked perfectly fine upon exit. Which doesn't match the beginning of the fight scene they saw on camera. Jung-in supposes the blood on the floor might not be his, but now Soon-bum's on a different line of thinking entirely, recalling that Red Eyes was a vamp. Even if he wasn't seen anywhere near here.
Then Dr. Jo calls to instruct them to drop the case; he'll look for Ji-ae alone. When Jung-in protests that they're a team, he replies that he'd trusted them to take care of Ji-ae, and then to find her. But now he doesn't trust them to succeed and therefore will go it solo. Aw, he's being mean to sound convincing, but it's harsh to hear all the same.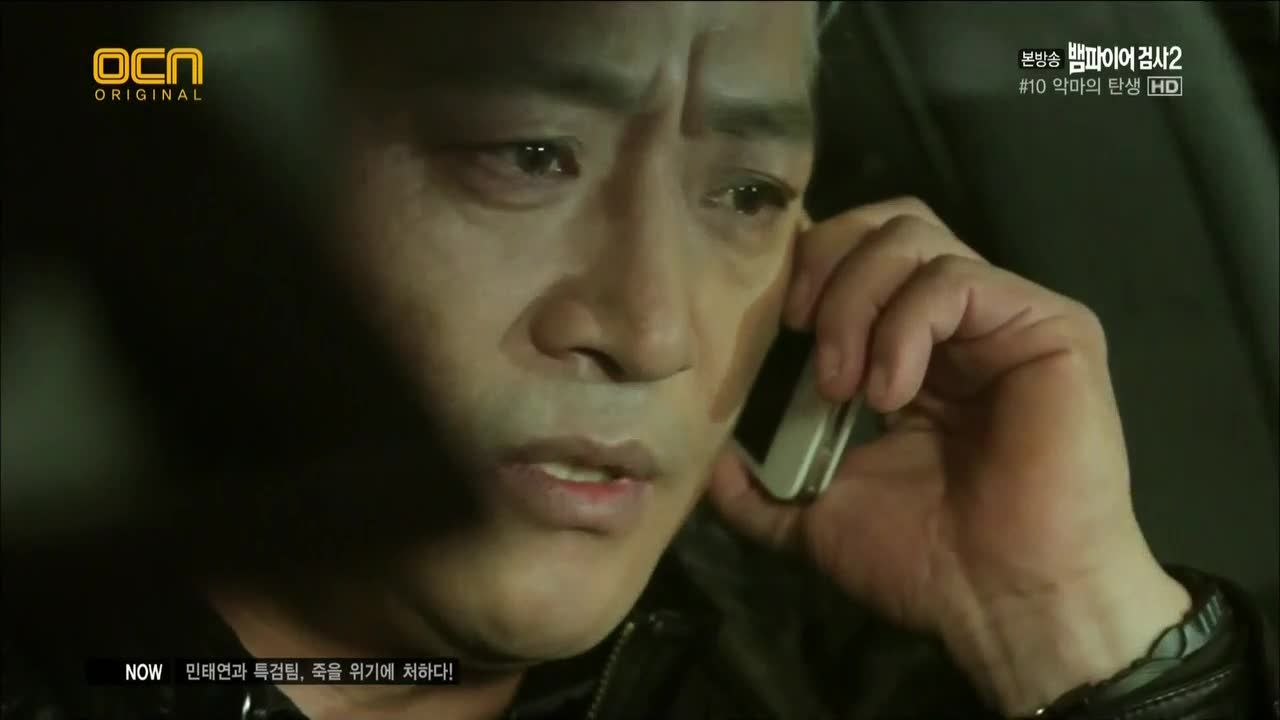 He says he doesn't hold a grudge against them, but they'd better not stop him. He repeats the words he said to Soon-bum in the opening scene (which I suppose he hasn't said yet in this timeline, not to be confusing), "If you try to stop me, you'll end up hating me."
Runa sits in the car with Dr. Jo. She looks grim but I suppose she feels complicit in this decision and is therefore letting him dictate. He hands her a bloody rag, which belonged to a gangster. Time to track him down.
The team deduces that he has Runa with him because he needs to use her skills to find Ji-ae. Jung-in declares that they have to find Ji-ae first: "That's the way to also save Dr. Jo." He may have Runa's psychic powers on his side, but they have their own. She holds up the cell phone they found—ah, a showdown of science versus the supernatural.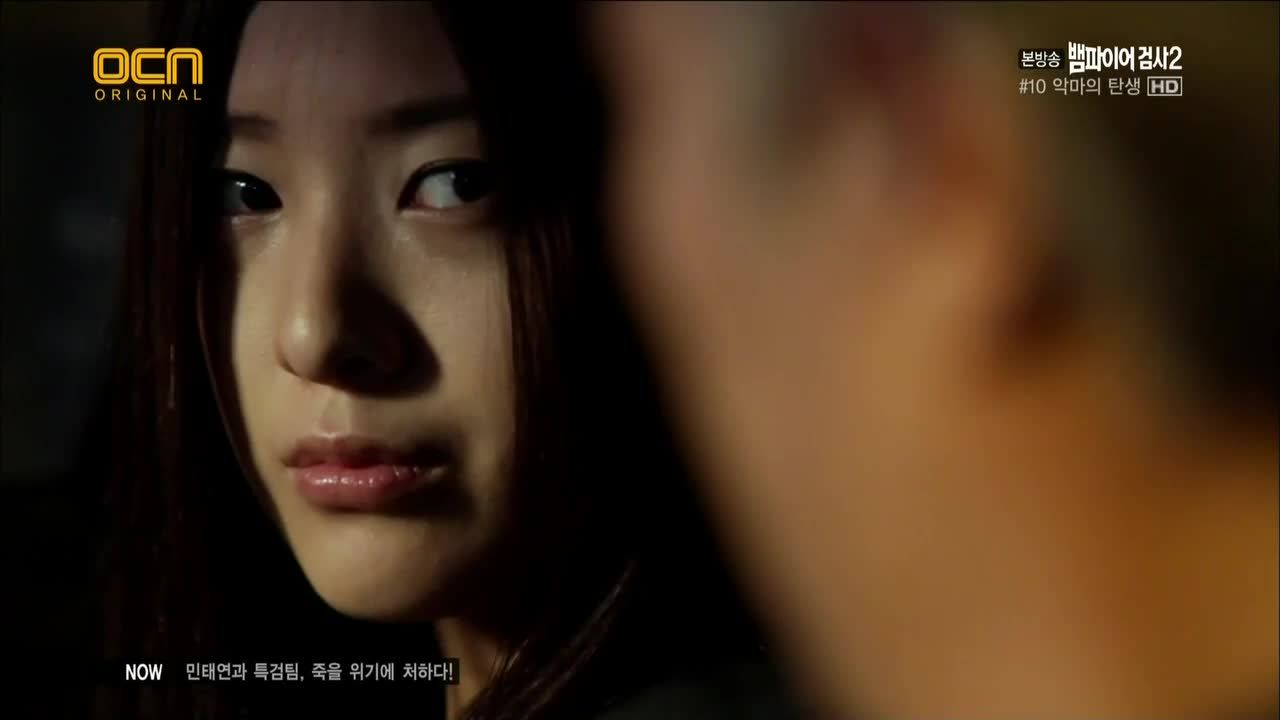 Runa tells Dr. Jo that there are two auras at conflict inside him: good versus evil. The evil refers to his willingness to kill to get what he needs: "Even if the result is for good, if the process is evil you cannot receive forgiveness."
Dr. Jo tells her that his father always used his skills strictly for good, but was framed and died in the end. He'd made a promise with his father not to end up like him that drove him to his work, not wanting to wrongfully accuse anybody. That's why he feels particularly burdened about Ji-ae, given the wrongful death that came out of his mistake.
"I don't care about the process," he says. "I'm only going to worry about the result of finding Ji-ae." He therefore isn't going to stop and worry about who Red Eyes is, or what his blood turned him into.
The team traces the cell phone and finds that it's been registered under false names—they stole foreigners' names and put them on all these phones to make them hard to track. But as it happens, he declares there are only one or two places in Seoul where you can get your hands on such devices. This explains why the stakeout they're on.
Dr. Jo drives to an intersection that the kidnappers must have passed on their exit from the building, and asks Runa to concentrate on picking up their trail. She does, and directs him to drive after them, giving us what looks like a car chase although it's really her chasing the aura of the other car.
At a particular intersection, Runa gets out to peer into the car—though to Dr. Jo she's just talking into thin air—and confirms that Ji-ae was in the car. They continue the chase.
On her instructions, they pull up to a building where the lead gangster had parked and entered. Dr. Jo follows suit, armed with a scalpel from his medical kit. He uses zip ties to restrain Runa's hands, telling her it's not that he doesn't trust her; he just doesn't want his teammates interfering: "This is my business."
She leaves him with one plea, that no matter what happens, please don't kill anyone.
Dr. Jo enters the rundown building to find gangsters in a gambling den. He walks right into their midst and asks for Ji-ae, and one gangster in particular looks freaked out to see him. Maybe because he thought he killed him?
Another gangster pulls a switchblade, but Dr. Jo's sopued up on vamp powers and brutally takes everyone down. Where is Ji-ae?
Posing as buyers, Jung-in and Dong-man make contact with the dealers of the identity-spoofed phones. Soon-bum hangs back as Jung-in handles the deal like a pro.
The phone dealer seems like he's going to give them a hard time, but Jung-in is cool and tough, and convinces him she's not going to land him in trouble. He tells her the rules: It'll take at least three or four days to get the phones, at which point they'll come to pick them up at the office.
It's not what they want, but Jung-in keeps her cool. Too bad Dong-man doesn't, and he bursts out that they really need it faster. He ignores Jung-in's warning to hush and blurts that it shouldn't be a problem since they're using foreign names, right? Arg, you dolt! Let the gangster's daughter handle the gangstering!
That's a dead giveaway, and the gangster shoves Dong-man out of the van and orders his driver to book it. Jung-in's still stuck inside as Soon-bum and Dong-man chase after it, struggling with the guy in the open doorway, about to be shoved out of the moving vehicle.
Then the van curiously stops. The boys run up to help Jung-in, only to find that she's doing quite all right on her own. She's got a knee in the gangster's back and both hands restrained, and orders the driver to take them to their boss. HA. I love badass Jung-in.
Back to Dr. Jo, who holds the last still-conscious gangster pinned to a wall with a table. He tells him of the many times he's met the family of a dead person, and how they always just cry to see the body. The gangster swears at him. Dr. Jo takes out his scalpel and adds that there's one exception: when a corpse has a mutilated face, they scream in horror. The gangster suddenly looks terrified, as well he should.
Dr. Jo grabs his hair and asks: Will his family cry, or scream?
While he's preparing for some face-carving, the phone dealer's van screeches up to the very same building, which is, perversely enough, named the Friendship Building. The prosecutor team drags along the two criminals as they make their way inside with guns drawn… but too late. The only people in the gambling den are the knocked-out gangsters.
Soon-bum addresses the one closest to him—the one huddled in terror, bloody hand covering his face. Uh-oh. Please tell me he didn't try to be the noble gangster (?) and keep his mouth shut. Soon-bum grabs him by the head and orders him to talk—and gapes in horror. Eek.
They turn over the scene to the police, and Jung-in asks Soon-bum nervously about who it was who did that. Soon-bum sighs, "We must believe it wasn't him."
Finally, we resume with Tae-yeon. Nice of you to show up, hero man. He rages at Dr. Blood: "What do you mean, he took Yeon-ji?!"
In flashback, Dr. Blood explains that he'd been tracking down the two vamps. Jang Chul-oh had approached him first (well, if by approach you mean shoved and half-choked) saying that Yeon-ji had been taken and asking after Bad Blood. From then on they'd traveled together to track down Yeon-ji, and eventually Jang Chul-oh had told him of the relationship between himself and Bad Blood.
Another flashback shows this conversation, with Dr. Blood in yet another neck-hold. Is this repeated visual funny to anybody else? Jang Chul-oh says that when he'd been turned in to a vampire from Dr. Blood's hospital transfusion, he had been on the case of the vampire killers. Now that he has heard the tape of the Lilith Project, he understands that his turning wasn't a coincidence. "Now I understand what he told me," he says.
And then, another flashback (within the flashback) shows us the day that Jang had entered his car, seen Red Eyes in his rearview mirror (creepy!), and been attacked. Holding him in a chokehold (really, there must've been a special on choking classes 'round these parts), Red Eyes said he knew Jang had been vamped.
Red Eyes had told him, "I'm going to kill 'em. Want to kill that bastard, or the girl?" And that's why Jang had sought to kill Park Hoon, to protect Yeon-ji. The last thing Red Eyes said was that if something ever happened to Jang Chul-oh, he'd take care of the girl.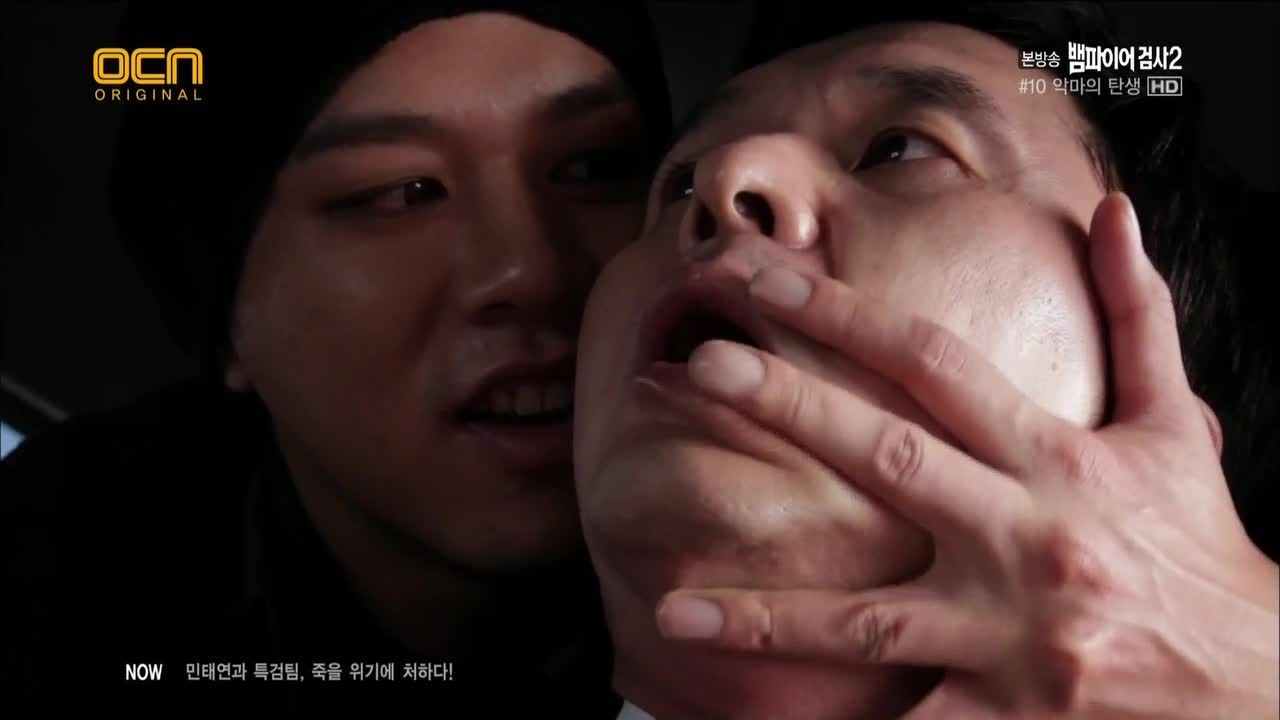 Are you confused yet? It's like Inception in reverse, starting in the deepest layer and working ourselves backwards. So Park Hoon was turned years ago. Before Season 1 started, he started chasing Vampire Jang Chul-oh, aware that Bad Blood was calling the shots behind the scenes. Jang stabbed Park Hoon after that rainy car chase—from Season 1's Episode 1—and then Park turned Tae-yeon.
The question is, why would Red Eyes want Yeon-ji? Tae-yeon just says, "Now I have one more reason I have to catch that guy."
Dr. Blood demands to know if he's met Bad Blood before. Tae-yeon doesn't answer, but he seems desperate to know, and grabs an empty syringe to stick him with it. Tae-yeon just shoves him back and leaves.
And then, out in the hallway, Tae-yeon collapses. What the wha?
Dr. Blood crouches over his prone body and says, "This is the only way, Tae-yeon." Arg, everybody and their freakin' cryptic mutterings. We GET it. You're mysterious, Show. Whoopdedo. How about some sense-making now?
Working off of more gangster aura, Dr. Jo drives to the next destination. This time he refrains from tying Runa's hands, saying he'll trust her, and heads inside the house.
He breaks a window and runs through the house, finding one padlocked door. Busting the door open, he finds not Ji-ae but a filthy room crowded with little starved boys, chained in place. Oof.
A gangster comes up behind him and recognizes Dr. Jo as the guy who should've died. They fight, the human no match for the vampire, and Dr. Jo is disgusted to hear that the boys are being kept to be sold off in whatever way makes money, either for organs or as slaves, since Asian kiddos bring in lots of interest. Ugh. I repeat, ugh.
Apparently Ji-ae was judged to be a real moneymaker ("She's worth way more than them"), but this gangster only handles boys. He doesn't know where the girls are kept.
Dr. Jo does some more beating and brings out the trusty scalpel. The gangster gets on his phone in a hurry to call his hyungnim, who says he's in Itaewon. Dr. Jo beats him some more to demand he let the boys free.
The gangster unlocks the chains and tells the boys to go home. The boys don't move, and the gangster crows, "See? I'm not keeping them, they're staying here. They've been abandoned by their parents. They have nowhere to go."
Dr. Jo knocks him around some more, then turns to the kids. The gangster throws a chain over his neck for some more—guess what?—choking. Dr. Jo imagines Ji-ae's face among the huddled boys and reverses the situation, strangling the gangster and sticking him with the scalpel. Ick.
The pool of blood brings out his inner demon, though, and he fights the urge while his fangs emerge. He lunges to bite down, and someone screams. It's Runa.
Tae-yeon comes to in Dr. Blood's lab to find himself chained to bed. Sorry to say there's nothing sexy about it. Dr. Blood tells him that he can't let him go, not now that Bad Blood knows about him. Tae-yeon bursts out that all his people will be endangered because of him, but Dr. Blood says, "To me, you're what's important. If I can protect you from Bad Blood, it's enough." For what, your twisted sense of guilt? Perhaps, but not for anybody's good.
Dr. Blood says in his wild-eyed desperate way that they should hole up here together, safe from the crazy vamp. He recounts how Jang Chul-oh had come to him one day saying he had found Bad Blood and Yeon-ji… and the next time he'd seen him he'd staggered into the lab all bloody.
Dr. Blood opens a locked door and Tae-yeon peers inside with horror: Jang Chul-oh lies inside the morgue, dead. "If you fight him, you'll turn out like this, Tae-yeon-ah."
A few steps behind, the prosecutor team arrives at the trafficking house, now a murder scene. And who should stroll in but rat-faced Prosecutor Joo, who slaps Jung-in across the face and threatens to have her fired for failing to report Dr. Jo's kidnapping of Runa.
They start to cover for the situation, but Prosecutor Joo is on top of the info, knowing exactly why Dr. Jo is on a tear. She takes them all off the case, saying she'll handle it from now. Dr. Jo was the one to report this scene, and that means he was the one to kill the gangster. That shuts them all up.
Still, they have no intention of giving up the case. Dong-man calls in with the names of some of the gangsters involved in Ji-ae's kidnapping, and that gives them the name of a room salon in Itaewon. The same one Dr. Jo is heading to.
In the car, Runa notes that Dr. Jo's aura is growing weaker. She refers to the first time they'd met, when he was crucial to finding her in the buried coffin to rescue her. He gave her her life back, so that's partly why she's helping him now.
She reminds him of something he had said back then, to the father of the sick boy who was desperate for a cure: Would his son have wanted him to kill others to save his son? She asks him the same question now: "Does Ji-ae want you to become a killer who tramples others' lives for her sake?"
She tells him once more that he mustn't kill, because nobody has the right to decide someone else's life. She tells him it's not too late, urging him to call in his team.
Her words move him and he says, "You're a good person." But it doesn't change his mind. He proceeds.
In the mad lab, Dr. Blood explains that Jang Chul-oh isn't actually dead—he can't die, but neither can he be revived. So he's stuck here, in a state of eternal suffering. Then he explains his own encounter with Bad Blood, in yet another flashback:
Dr. Blood goes to the government compound to raid the old Lilith Project files, hoping to find a way to turn a vamp back into a human. The place looks abandoned, but in one room Dr. Blood spots a moving figure amidst a sea of corpses. Bad Blood stands there, mouth bloody from feeding, and sends Dr. Blood scrambling away in fear.
Dr. Blood is practically manic now, saying that this all happened because he was a vampire. "If we become human, he'll stop chasing us too." He slices his hand and asks, "See! Does it look like I'm a vampire?" He cackles in glee, because his hand doesn't heal up.
Dr. Blood prepares a new syringe and says that for whatever reason, he didn't turn into a vamp when Tae-yeon bit him. He's researching the reason, to see whether the non-turning is because of himself or Tae-yeon, and hopes to see results soon. He tells him, "Hhave a nice nap for a few months. I'll make you human. That's how I'll repay my debt to you."
He gets ready to stick the needle in…
Dr. Jo ties Runa up in the car, and tells her, "It's only until I find Ji-ae."
He makes his way inside and finds the room with the gangster. Soon-bum races inside as well, just as Dr. Jo begins his brand of interrogation. The gangster laughs in his face and mocks him, even with the scalpel raised ready to stab, and tells him the girl died. That's when Soon-bum bursts in, thank goodness.
Soon-bum pleads with Dr. Jo to stop and give up the scalpel, assuring him that they'll find Ji-ae without killing the guy. Dr. Jo says Ji-ae died, which renews his hatred and gets him raising the scalpel again. Soon-bum appeals to him desperately, saying that she could still be alive, that this is what gangsters say in the child-trafficking business to get the parents to back off.
Tae-yeon asks, with the syringe just about to sink into his neck, "Do you really think this is how you'll repay your debt to me?" He reminds him of the words he'd leveled at him at the end of last season—for him to live the rest of his life feeling the burden of his selfishness taking countless innocent lives. It was Dr. Blood's selfish ambition that turned Jang, and Yeon-ji, and Tae-yeon. Dr. Blood shakes his head and says no, he didn't do any of that intentionally.
Basically, he's saying: Deal with it. There's no way to sugar-coat his guilt, and Tae-yeon says he's just trying to hide his selfishness with a so-called good deed. Hyung says, tear falling from his eye, "It wasn't me." Tae-yeon asks to be let go. Dr. Blood says sorry, and raises the syringe back to his neck.
Dr. Jo is at war with himself, between killing the gangster and clinging to hope. Dr. Jo says he can't do it because he's so sorry to Ji-ae, and raises the scalpel to strike.
Soon-bum charges to disarm him, but gets the wind knocked out of him. We're back to the scene that opened the episode, and he screams no as Dr. Jo slices the guy's throat. He blocks his exit and refuses to let him go, because Dr. Jo is on his way, by his own admission, to kill the guy who killed Ji-ae.
Dr. Jo punches Soon-bum to get him out of his way.
In the lab, Tae-yeon is let out of his chains after all. Guess one guy had a change of heart, only it wasn't the one I expected. Tae-yeon asks what his hyung is gonna do and offers him a small smile. Dr. Blood follows him out. Aw, so at least he's going to deal with his guilt by doing something proactive for once.
Except… in the unattended morgue, Jang Chul-oh's hand twitches.
Soon-bum keeps trying to block Dr. Jo, and it just gets him more and more beat up. Finally he pulls out his gun and fires into the air, shouting, "Jung-hyun hyung!" He staggers to his feet and points the gun at him.
But he doesn't shoot. Dr. Jo easily knocks it aside (and possibly breaks his hand in the process), demanding, "Why do you keep trying to stop me?" Soon-bum gasps, "Because I'm sorry. To you, and to Ji-ae. If you go now, I don't think I'll be able to see you ever again." Dr. Jo isn't at all appeased by the idea that he's just supposed to let go of Ji-ae and say goodbye, like there's nothing he can do. But Soon-bum says tearily, "I don't want to lose you, hyung. Please don't go."
Both men are in tears, and even as Dr. Jo chokes Soon-bum to stop him from continuing, Soon-bum ekes out, "Don't g-go."
Dr. Jo lets go, and he falls unconscious. "I'm sorry, Soon-bum-ah. Hyung has to go."
In the car, Runa tries to work her way out of her tied hands, and looks up when she's joined… by Red Eyes. Ohhhhh crap.
He slams his fist through her window and drags her out. Now it's Runa's neck in a chokehold (Seriously, WE GET IT), her feet dangling in the air.
Thankfully this time Tae-yeon's on his way, speeding to the scene. We cut to each of his teammates in turn as he thinks, "Everyone, wait for me. Wait."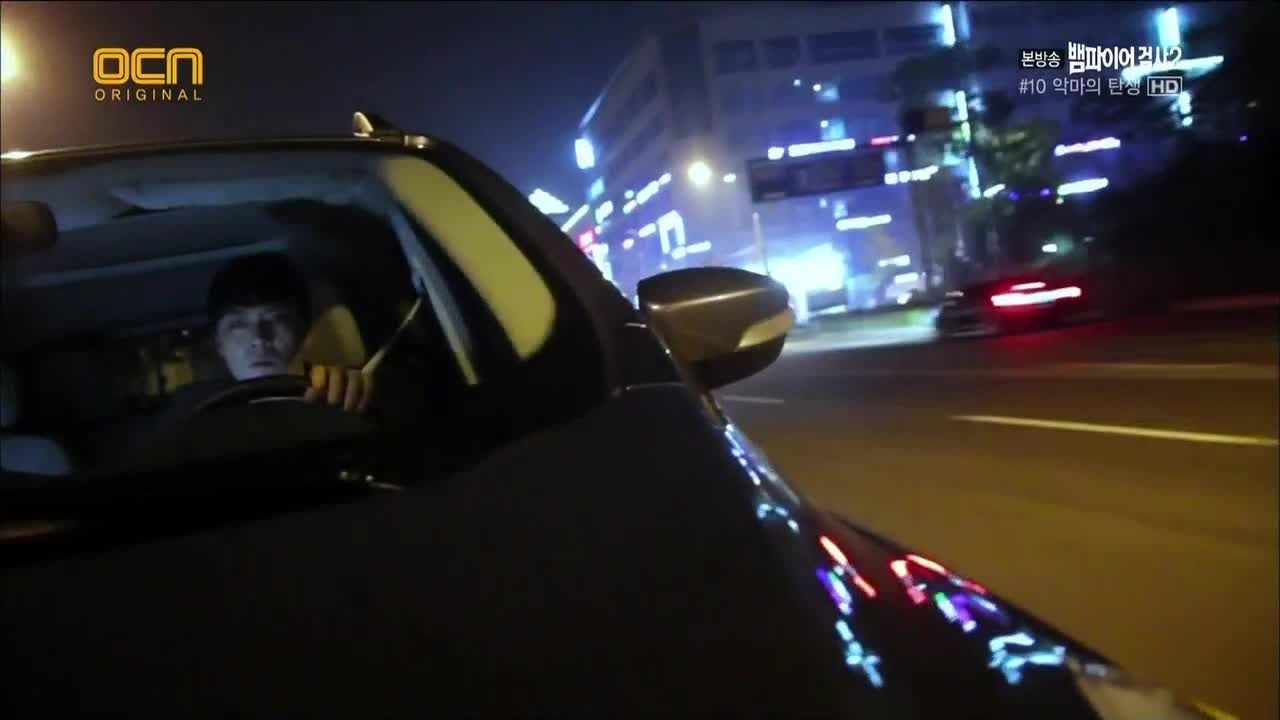 COMMENTS
What a great echo of the conflict that marked this point in Season 1, only in reverse. Then it was Tae-yeon on the run, wrongly accused, and the team he'd been holding at arm's length rallied together to help him. Here, he's the one desperate to get back to them to keep them safe. A really nice callback moment.
In fact, this episode was made up of a lot of smart connections between seasons, which finally brought them together in a significant way. I'll argue that it didn't accomplish this in the best of ways with the three concurrent storylines and the constant intercutting and the flashbacks and flashbacks of flashbacks (So. Chop. Py.)—but in terms of the big picture, what we get is a complete arc linking both seasons together, creating a mythology that explains mysteries from both.
I like the idea of Yeon-ji being the link between both seasons, between the various vampires, between good and evil. At this point she matters less as a person (er, vampire) than as a symbol of what she means to each of the characters in turn, and each vamp's approach to her is revealing. Not just about what kind of vamp they are, but what kind of human. To Dr. Blood she's a desperate hope for redemption, a last-ditch effort to cling to his self-delusion. To Jang Chul-oh she's bait and ransom. To Tae-yeon, she's just his little sister, no matter how many people she's killed. And to Bad Blood? Well, that's the big question.
It's the Yeon-ji connection that makes this episode's Dr. Jo arc resonate as well, putting him on parallel paths with Tae-yeon. I was pretty shocked when they vamped Dr. Jo, but I do love all the moral dilemmas this presents. Or rather, the lack of moral dilemmas, despite everybody's pleas for him to remember himself.
I'll be honest about finding much of this episode really repetitive, sadly, because it was like the show held out on us to a but in the big picture to an aggravating degree to maintain its mystique, and then shoved us into a huge infodump. So I was irked for the first half; my frustration with the cryptic cutting and editing and withholding of information inhibited my investment in Dr. Jo's spiral into darkness. But execution complaints aside, I was pleased enough with where the episode took us to find myself looking forward to next week's finale, to see what answers await us. And also—since I'm guessing that OCN intends to keep this franchise going—how many more questions are posed.
RELATED POSTS
Tags: featured, Lee Young-ah, Vampire Prosecutor 2, Yeon Jung-hoon