2012 Beanie Awards: Vote for your favorite dramas of the year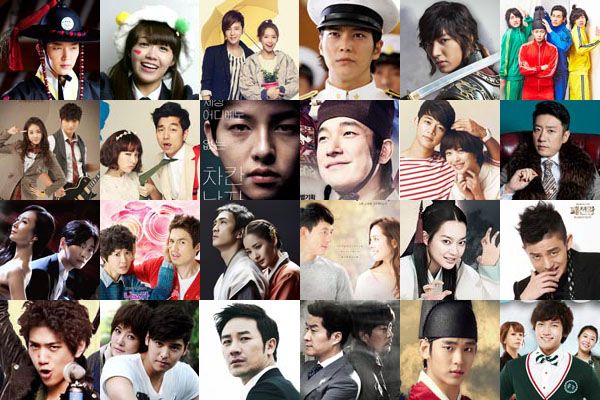 Can you believe it's December already? I know the awards shows have started to come 'round again, but it always feels like This Time Of Year always sneaks up on me — as in, the time when we take a look back at the best, the worst, the weirdest, and the most surprising dramas of the past year.
Our so-called Beanie Awards have been a tradition on this site pretty much since the beginning, and you can take a look into the wayback machine to see the state of years past. Here's the 2007 Polls, 2009 Polls, 2010 Polls, and 2011 Polls.
You know what else this means: We'll be rolling out our annual Year End Review Extravaganza in the coming days and weeks as well! Keep an eye out for our reviews, and if you're curious at past installments, here's a Year In Review tag for your convenient browsing purposes.
On to the voting!
FAVORITE DRAMA SERIES OF 2012
Limit your votes to your TOP 3 picks for the year.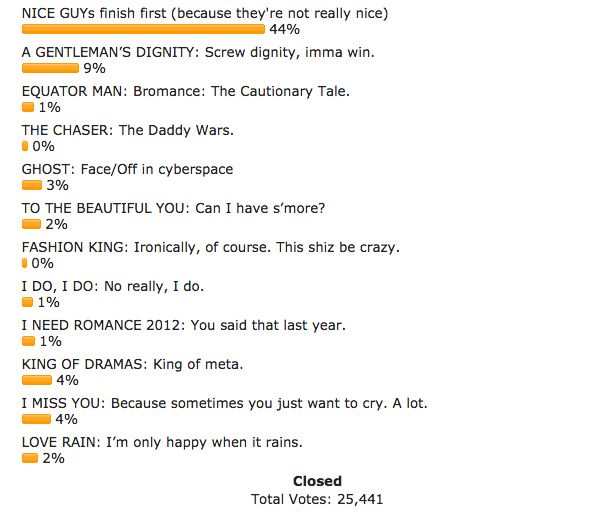 FAVORITE COMEDIC DRAMA
FAVORITE HISTORICAL DRAMA
FAVORITE FAMILY DRAMA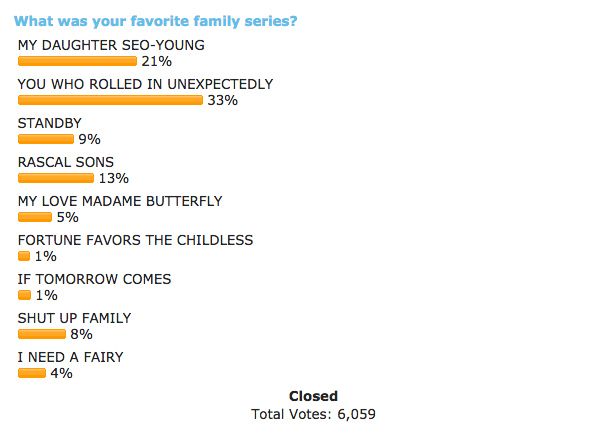 FAVORITE ACTION OR THRILLER SERIES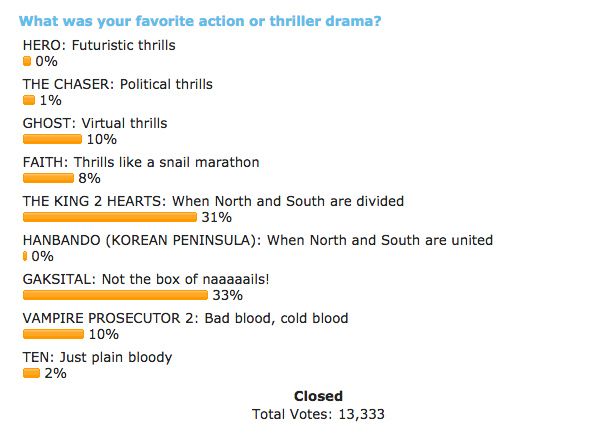 FAVORITE MELODRAMA

FAVORITE LEAD ROMANTIC PAIRING
FAVORITE BROMANCE
BEST VILLAIN
BEST KISS
MOST WTF DRAMA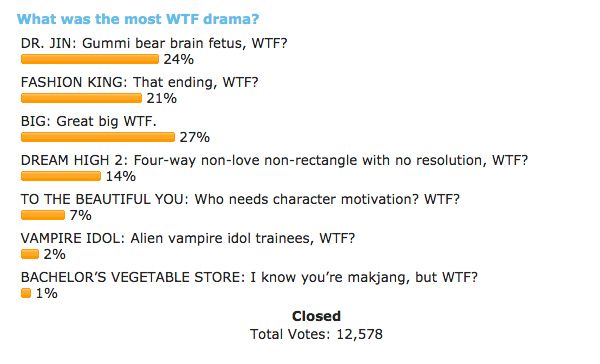 FAVORITE CHARACTER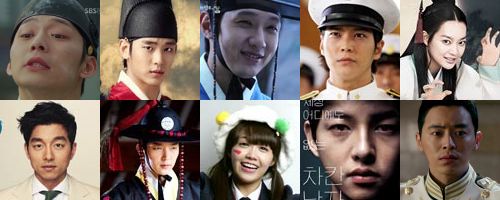 FAVORITE ALTERNATE PAIRING
MOST DYSFUNCTIONAL RELATIONSHIP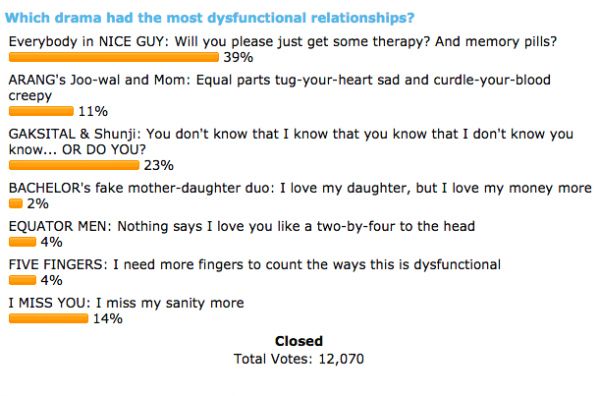 BREAKOUT PERFORMANCE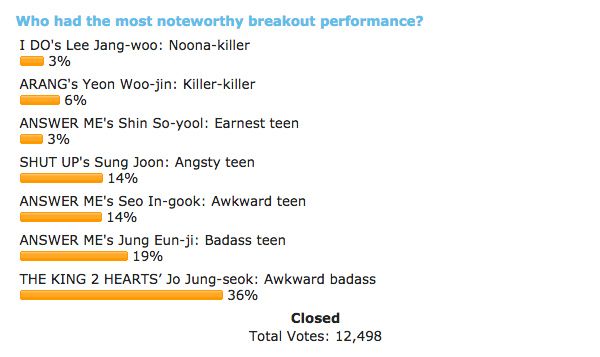 MOST DISAPPOINTING DRAMA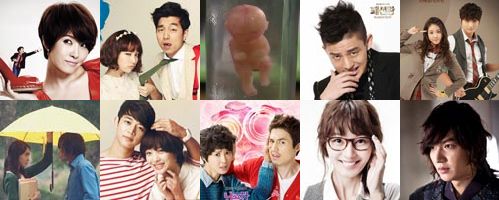 BIGGEST WASTE OF TALENT
OVERRATED DRAMA
UNDERRATED DRAMA
MOST GLORIOUS MANE OF GLORY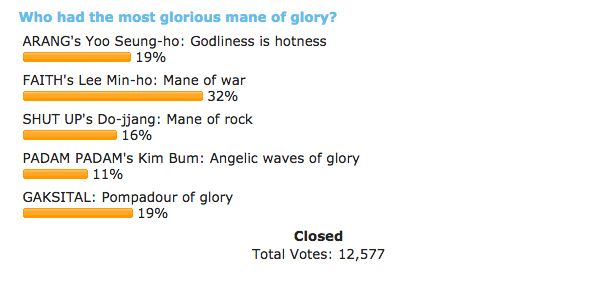 MANE OF SHAME
BEST KING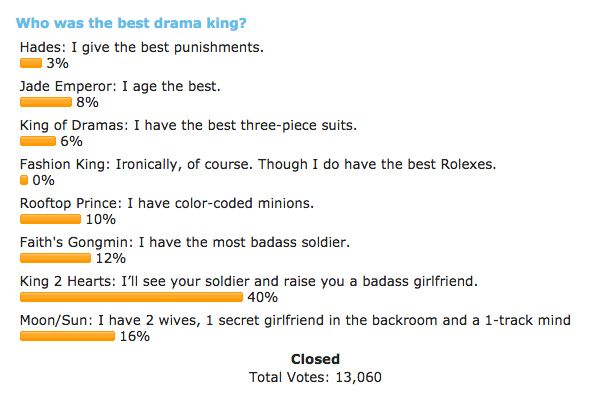 BEST TIME TRAVEL MECHANISM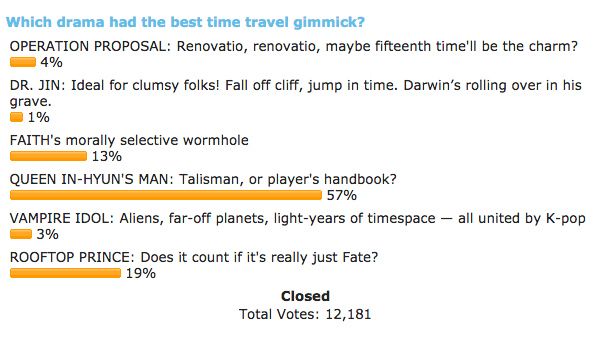 MOST PERSISTENT FIRST LOVE

BEST NONHUMAN CHARACTER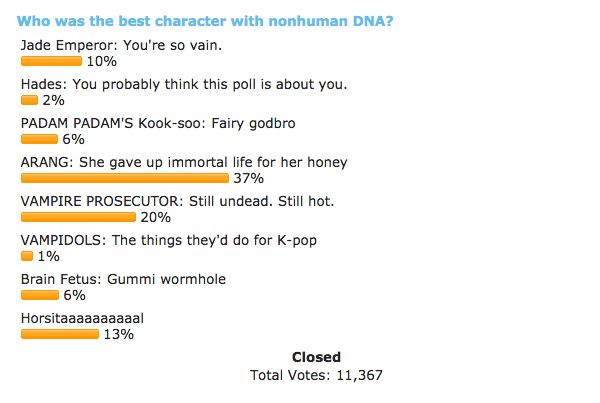 RELATED POSTS
Tags: Beanie Awards, featured, year in review, year in review 2012