2012 Editors' Picks [Year in Review, Part 6]
Annnnnnnd another year comes to a close.
Big thanks to our recap minions HeadsNo2, gummimochi, and kaedejun for sharing their reviews with us and joining the spirited discussion for the Editors' Picks this year. There wasn't even any hair-pulling, and only one person lost an eye! It's been a great year for K-dramas and an even better one at Dramabeans because of all our readers, so thanks to you guys for making this community what it is. Okay, enough mushy stuff.
And the winners are…
SONG OF THE DAY
Queen In-hyun's Man OST – "내 남자, 김붕도" (My Man, Kim Boong-do) [ Download ]
Audio clip: Adobe Flash Player (version 9 or above) is required to play this audio clip. Download the latest version here. You also need to have JavaScript enabled in your browser.
2012 Editors' Picks
BEST DRAMA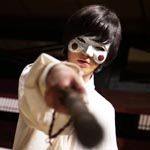 Gaksital
girlfriday: It was quite a year for dramas of all shapes and sizes, but few left the kind of impact that Gaksital did. If it had only been a historical drama about a painful era in Korean history; if it had only been a heart-wrenching tale of two friends torn apart by country; if it had only been a superhero chronicle about a larger-than-life figure… but it wasn't. It was all of those things, and more. Sometimes a man becomes more than a hero when he gives the power of his mask to the people. And sometimes a drama becomes more than a story when it stirs your heart, reminds you of the importance of fighting for what you believe in, and makes you want to be that kind of hero every day.
Honorable Mentions: Answer Me 1997, Padam Padam, Shut Up: Flower Boy Band
BEST ACTOR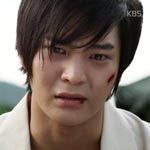 Joo-won, Gaksital
javabeans: Joo-won did not immediately win me over in this role; I hadn't connected with him in the past and I wasn't sure I'd be with him emotionally here. There was also the matter of his difficult character, who by no means had his pathway cleared for him as an easy hero archetype. But as Gaksital unfolded and cast our hero into the throes of rage, injustice, anguish, love, and righteousness, the pieces of this fractured soul came together—in understanding, growth, and healing—all held together by the actor's committed performance. Joo-won had a steep hill to climb, but he dove into this drama head-first, willing to do anything in service of the story. Has the hero role in a drama ever been so flawed and dark and potentially career-killing? No matter, because Joo-won seemed aware that the story trumped his ego, that the drama was bigger than his star moments. Bravo.
Honorable Mentions: Lee Beom-soo (History of a Salaryman), Lee Seung-gi (The King 2 Hearts), Song Joong-ki (Nice Guy)
BEST ACTRESS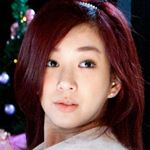 Jung Ryeo-won, History of the Salaryman
HeadsNo2: Delightfully subverting well-worn gender tropes by being the exact opposite of everything we've come to expect in our drama heroines, Jung Ryeo-won cursed her way right to the top of every 'Most Awesome' list, ever. It takes a dedicated actress to deliver such a fun, no-holds-barred performance, made of equal parts running mascara, Kill Bill tracksuits, and an inherent lack of understanding for the plight of the poor. In all those instances, Jung Ryeo-won delivered a truly unforgettable bleeping performance by injecting heart and raw emotion into a character that could otherwise be very unlikable, but one which turned out to be utterly bleeping lovable.
Honorable Mentions: Ha Ji-won (The King 2 Hearts), Moon Chae-won (Nice Guy)
BEST DIRECTING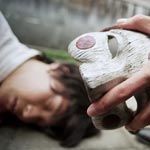 Gaksital
HeadsNo2: Gaksital was, among many good things, a director's drama. Using the bleak backdrop of the Japanese occupation as the setting for a deeply moving tale of two friends on both sides of the divide, we ended up with a fast-moving, high-stakes drama that delivered a hero story filled to the brim with adventure and thrills. Orchestrated by a director unafraid to lead us into the depths of darkness (only to reward us with moments of fist-pumping glory after), this was a comic book adaptation with a completely unique look and feel, evident whether you've seen one frame or a hundred. Coupled with a fantastic score, this truly was a drama that lived and breathed on the frenetic energy of its directing hand, and one that really makes me miss hearing cries to the tune of: "Gaksitaaaaaaal!"
Honorable Mentions: Padam Padam, Queen In-hyun's Man
BEST MELODRAMA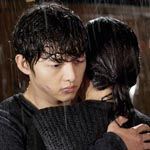 Nice Guy
gummimochi: As a dramatic tale about a boy-next-door hero on a revenge path to bring everyone and everything down with him, Nice Guy fit the melodrama mold and also shook it up in interesting ways. Its fast-paced narrative kept things moving, though its trail of ambiguity and obscurity could leave you scratching your head if you thought too hard. Still, gorgeous directing and commanding performances from beautiful actors patched these holes to make this an engaging watch. We'll never look at nice guys the same way again.
Honorable Mention: Padam Padam
BEST HISTORICAL DRAMA
Gaksital
javabeans: I love history. I love dramas. The two do not, however, always mix well. What makes for gripping television isn't always respectful of facts, and fascinating history doesn't always translate well to the screen. Gaksital not only did right by both of those facets, it also married the two in brilliant, heartbreaking fashion. Set amidst a painful period in recent history, the drama constructed a rich onscreen reality, made more vivid by its anchoring with trufax. The history was skillfully woven into the backdrop to complete the picture, but never took over for the narrative driving the show—because while the main story may have been fiction, that doesn't mean it wasn't real. Sometimes that vividness was so stark that it hurt a little to watch (or maybe a whole lot), but it wasn't an indulgent, sadistic, or manipulative hurt. It was a hurt that highlighted some grim human truths, honored the lives from which it drew its inspiration, and reminded you of the dangers of forgetting.
Honorable Mentions: Arang and the Magistrate, Queen In-hyun's Man
BEST COMEDY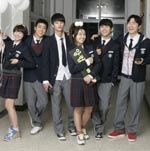 Answer Me, 1997
kaedejun: Comedies may be built on a set of amusing circumstances, but ought to also tap into an emotional center—that's the case with Answer Me, 1997. Even with the crazy fandom wars (H.O.T! SechsKies!) and the students' heightened reactions to simple problems (because things just tend to get overblown in high school) it had more heart than any drama I've seen all year. More than situations built for comedy, the moments that brought us laughs also connected the characters to each other, whether it was best friends, first loves, or family. It was as heartwarming as it was funny, though it doesn't hurt that the show never failed to give my abs a healthy workout or make my cheeks sore from smiling.
Honorable Mention: History of the Salaryman
BEST ACTION DRAMA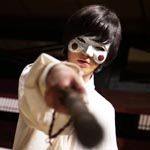 Gaksital
gummimochi: You can't have a drama about an epic character like Gaksital and not include some awesome fight sequences. What could have been all flash and little substance, Gaksital instead took that same fight scene and intentionally used it to drive its storytelling to push the narrative forward. Beautifully shot, each scene was like watching frames from a comic book play out in a fluid motion. Every swing of a sword or a blow to the gut meant the difference between life and death. As a viewer, each cut to the arm was a cut to the heart. And when you can feel that on a visceral level, you know you've got a compelling and fantastic action series on your hands.
BEST WRITING
Answer Me, 1997
girlfriday: A high school drama may not seem like the likeliest vehicle for best screenplay of the year, but emotion is never as universal or raw, and stakes never so high, as when you first love, first hurt, and first experience change. Answer Me, 1997 did a lot of impressive things, like intricate plotting that took place in two or more time periods and jumped around with shifts in perspective; it had deft wordplay, visual punchlines, realistic situational comedy, and a slick draw in the delayed narrative reveal that would stab you in the heart when you least expected it. But all that was in service of something earnest and deeply personal, inasmuch as you couldn't write that drama if you didn't have an outpouring of love and nostalgia for your own youth. It was that touch that tapped into people's hearts, and made the '90s come alive for a new generation.
Honorable Mentions: Gakistal, Shut Up: Flower Boy Band
BEST SUPPORTING ACTOR
Park Ki-woong, Gaksital
HeadsNo2: Park Ki-woong put in a masterful performance as the torturously misguided Shunji Kimura in this year's Gaksital, allowing us a rare glimpse into the heart of a man who left the world he knew for one much darker than he, or the audience, could have ever imagined. If eyes are the windows to the soul, his became a cage formed by self-loathing and fear – fear that he might never return to the way things were, despite all his sacrifices to get there. The fact that we could see that desperation literally seeping from his pores lent his role a sense of restrained immediacy that kept us on the edge of our seats, if only to allow the chills caused by his dead-eyed grins to more freely crawl up our collective spines.
Honorable Mention: Jo Jung-seok (The King 2 Hearts)
BEST SUPPORTING ACTRESS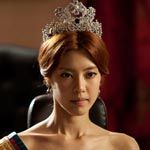 Lee Yoon-ji, The King 2 Hearts
kaedejun: Lee Yoon-ji is a force to be reckoned with. As the sister to the king, she managed to keep the grace of a royal while being sassy and modern, in the most lovable way. It didn't hurt that she wasn't afraid to tell Oppa when he was being an ass, and had one of the most bittersweet love stories of the year. She's had her practice being a princess in modern-day Korea (see Goong), but here her dramatic arc took full advantage of her range, and gave her the chance to dig deep. Her ability to draw you in and make you care for her puts her with among the best of the year—where's her headlining role?
Honorable Mention: Park Shi-yeon (Nice Guy)
BEST MUSIC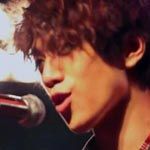 Shut Up: Flower Boy Band
javabeans: A drama about music having good music—you'd think it a foregone conclusion (and find, woefully, that assumption to be hasty in a number of cases). And Shut Up: Flower Boy Band does have a fantastic soundtrack, with a kickass rocker-songwriter as musical director (Lee Jae-hak of Loveholic) making keen musical choices. But elevating this case is how the music rounds out the drama both thematically and narratively, acting as a metaphor for these boys' troubled journeys and expressing to us what they can't always say in words. Not only does the music establish mood and provide narration for emotional beats, it even drives the action at times, becoming rather like a character in itself. A rough-around-the-edges, fiercely sensitive, emotionally charged, bleeding-heart, guylinered character with a badass swagger and a posse of loyal bros, of course. Nothing less would do.
Honorable Mentions: Answer Me 1997, Gaksital, What's Up
BEST ENSEMBLE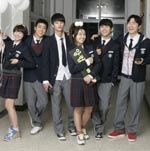 Answer Me, 1997
gummimochi: Having one lovable, memorable character is an achievement in itself but Answer Me, 1997 was able to create and balance the lives of six friends from high school to adulthood, along with family members who were as pivotal to the story as they were. The performances were so tightly woven and in sync that it does more justice to highlight them as a group. Together they exemplified that true friends and family are there to cheer, comfort, and cry with you through the good times and the bad. Their personalities were each unique, but like pieces of a jigsaw puzzle — it's only when you step back that you see the masterpiece they form together.
Honorable Mention: Shut Up: Flower Boy Band
BREAKOUT PERFORMANCE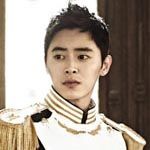 Jo Jung-seok, The King 2 Hearts
kaedejun: This guy managed to get three hits in one year: In What's Up he stole scenes as the stage-shy Byeong-gun; in The King 2 Hearts he stole scenes as the steadfast soldier with a heart of gold; and in Introduction to Architecture he stole scenes with a tiny sidekick role. This multitalented actor is just at the beginning of a promising career, and I can't wait for him to spread his wings into other genres and show a broader audience what he can do. I'm betting stealing scenes will have something to do with it.
and
Jung Eun-ji, Answer Me, 1997
girlfriday: Answer Me, 1997 was chock full of breakout performances from a cast of fresh faces, but it was Jung Eun-ji's relatable heartfelt turn as the Tony-Oppa-loving fangirl from Busan who anchored the show. Perhaps it was her actual youth that felt so immediate, but she captured that teenage exuberance that was the very essence of the drama, and at the same time managed to rattle off pages and pages of fast-talking dialogue like effortless conversation. She made us laugh in mortified horror or cry in earnest heartache, and even if YOU didn't love Tony Oppa, didn't you feel like the world might end if she couldn't keep on loving him?
Honorable Mentions: Lee Jang-woo (I Do, I Do), Sung Joon (Shut Up: Flower Boy Band)
BEST COUPLE
Ji Hyun-woo & Yoo Inna, Queen In-hyun's Man
gummimochi: If there's one thing that Queen In-hyun's Man taught us, it's that we should never lose hope in a well-written fairytale romance that transcends time and space. The electrifying connection between a brainy hero and an earnest heroine had a palpable chemistry that flew off the page and swept us along on their love story. By telling us that love is more than a card dealt by Fate, Boong-do and Hee-jin worked to earn their happily ever after, Fate be damned. It's as if they told the ol' fogey, "We create our own destiny."
Honorable Mentions: Lee Jun-ki & Shin Mina (Arang and the Magistrate), Ha Ji-won & Lee Seung-gi (The King 2 Hearts)
BEST BROMANCE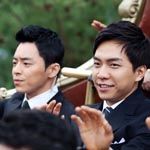 Lee Seung-gi & Jo Jung-seok, The King 2 Hearts
girlfriday: Bromance had a great run this year—the six-way kind (Shut Up: Flower Boy Band), the sad kind (Gaksital), the go-to-hell kind (Equator Man)—but there was no better odd-couple this year than the bromance between a humorless, earnest soldier and his witty, immature king. At times they shared an awkward drink or even more awkward dating advice, and sometimes one had to lead a country while the other stood on the front lines of his battle. They were always disagreeing, but always standing on the same side when it mattered, proving that a king really is only as good as his most faithful soldier… even one who never laughed at his jokes. A friendship built on mutual misunderstanding was never funnier, and an allegiance to one's king never more inspirational.
Honorable Mentions: The boys of Shut Up: Flower Boy Band
BEST CHARACTER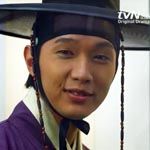 Kim Boong-do, Queen In-hyun's Man
HeadsNo2: There were moments during Queen In-hyun's Man where I just expected the dialogue to be overpowered by the sound of countless hearts set aflutter by the intelligent, resourceful, steadfast, and refreshingly blunt fish-out-of-water awesomesauce that was Kim Boong-do. In what seemed like forever, we had a romantic hero who could not have lived more dangerously if he tried (I'm pretty sure that almost killing yourself each time you want to time travel for a date must win about five trillion points on the Scorecard o' Devotion), and more importantly, one who made his own choices. You know, choices not dictated by Fate but by feelings, which translated into something real and palpable – something (and someone) you just couldn't help but root for. We all love you, Boong-do. Even if you're a playboy.
and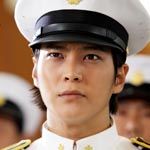 Lee Kang-to / Gaksital, Gaksital
girlfriday: Not that we're debating here (*whistles innocently*), but it's hard to argue that any character beats Superhero Who Saved His Country. Just sayin'. That's pretty much your all-kill in this category, especially if he's the dark, complex, frighteningly raw, badass bad guy… who turns it all around to become the hero of the people. Okay, so there was that bout of torture (or two), the time he killed everyone's brother, and the years he spent being a traitor to his country to feed his family and keep himself in snazzy suits. But certainly his redemption counts for more? He wins for biggest arc, biggest sacrifice, and biggest… … …horse.
BIGGEST DISAPPOINTMENT
Big
kaedejun: A body-swapping drama should be interesting — but when one body's in a coma and the other is stealing Coma Guy's girl, and no one knows how the hell to switch them back, we've got a problem. This was billed as a romantic-comedy but the romance was fundamentally flawed and the comedy was… where was the comedy? It took a melodramatic twist and never looked back, and we didn't want to either. We may have come for the cute and the chocolate abs, but that does not a satisfying drama make. Big disappointment.
Honorable Mentions: Dream High 2, Faith
BEST VILLAIN
Park Ki-woong as Shunji, Gaksital
gummimochi: A good villain will make you hate him. A great villain will blur the lines between good and evil to the point where you have to stop and ask if monsters are born or made. No other baddie this year swung that moral pendulum quite like Shunji, who firmly justified all of his evil acts in desperate determination to return to a lost innocence. Who knew that a quiet schoolteacher would eventually scorch you with a hot iron rod and kick a box of nails over repeatedly with a dull expression on his face? Just thinking about it still sends shivers down my spine.
Honorable Mentions: Yoo Oh-sung as Ki Chul (Faith), Eom Ki-joon as Jo Hyun-min (Ghost)
BIGGEST WASTE OF TALENT
Lee Je-hoon, Fashion King
HeadsNo2: Sometimes it's hard to swallow the fact that our favorite actors are capable of picking terrible projects, but there you have it: Lee Je-hoon picked a real dud in Fashion King. Even his vast amount of talent, his whole-body method of conveying the full emotional depth of his characters, just couldn't elevate such miserable source material. One could argue that he gave his character nuance that most definitely could not be found on the page, and I'd agree with that person wholeheartedly. Let's just hope he's not scared away from dramaland forever when he returns from military service, so that I can use the interim to wipe away my tears of disappointment with tissues made from his countless critical accolades. First world problems.
Honorable Mentions: Jung Il-woo (The Moon That Embraces the Sun), Lee Hyun-woo (To the Beautiful You)
MOST OVERRATED DRAMA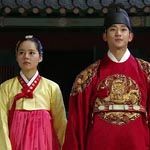 The Moon That Embraces the Sun
javabeans: A 40%-ratings drama in this day and age is a feat worth boasting about; there's no denying that The Moon That Embraces the Sun earned the right to be proud of its achievement. It's just that… well, it's too bad the distinction couldn't have been given to a better show. One with a solid plot, whose characters had dimension, which was sustained by a conflict stronger than the juvenile love story (some might call it obsession) at this one's core. There was an awful lotta hype about a show that ultimately wasn't about very much; it's sorta like seeing a floofy puffball of a cat dunked in water and turning into a tiny sack of limbs—shockingly lacking in substance and maybe a little sad. (And don't forget the ensuing hissing and wrath.) The Moon That Embraces the Sun wasn't a terrible show, and it had a gorgeous look and a compelling cast. It's just that we were promised so much, but opened up the packaging to find a lot of hot air.
Honorable Mention: Nice Guy
MOST UNDERRATED DRAMA
Arang and the Magistrate
girlfriday: It's often only when a year has gone by that you realize how few dramas had a full vision of its own story world, and how few told a satisfying tale within the rules of that universe. So simple, and yet… le sigh. Arang and the Magistrate had perhaps the largest storyverse in dramaland this year, from heaven to hell and earth in between, filled with reapers, gods, fairies, ghosts, and even your local government magistrates—but no matter how wide it went in scope, it never lost its center. Though the mythology is what made it impressive, it was really one woman's journey of self-discovery—and how the love of a magistrate changed her—that carried the heart of the show. Arang may have flown under the radar, but it was one of the sweetest and most satisfying rides of the year.
Honorable Mention: The Chaser
MOST MEMORABLE TIME TRAVEL GIMMICK
Brain fetus, Dr. Jin
gummimochi: It's easy to get lost in a year filled with a plethora of time travel gimmicks that vary from golden vials, to talismans, to the hand of Fate. But Dr. Jin upstaged all of these with its own ingenious time slip mechanism: a gummi bear brain fetus. It reminded our hero Hyuk with a pleasant "zap" whenever it felt like he went astray from the course of history, or… anytime it wanted to. You shame us gummis everywhere, brain fetus. We'll never be sure of what came first: the brain fetus or Dr. Jin. If anything, it's certain that we'll forever be wondering, WTF.
Honorable Mentions: Talisman (Queen In-hyun's Man), Morally selective wormhole (Faith)
MOST GLORIOUS MANE OF GLORY
Kim Bum, Padam Padam
girlfriday: You wouldn't think Method had anything to do with our admittedly cosmetic category, but give the man a brownie point for growing his own mane out for the role. (And another brownie point for nailing the perfect cascade of waves.) Because no matter how hot a hero looks with his flowing tresses blowing in the wind, Wig of Glory doesn't quite have the same ring. Then again, it's not like he could grow his very own angel wings, so maybe he had to get his Method fix somewhere. Better that than any other prison initiation.
Honorable Mentions: Lee Min-ho (Faith), Joo-won (Gaksital), Yoo Seung-ho (Arang and the Magistrate)
MOST SHAMEFUL MANE OF SHAME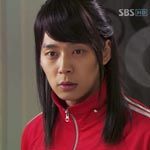 Park Yoochun, Rooftop Prince
javabeans: The troll doll hair qualifies as shameful, definitely, but kudos for Yoochun for wearing it so well. Er, not well, exactly, but with aplomb. Inasmuch as the hair had a function in this zany comedy to make the hero look extra-ridiculous (y'know, since the tracksuit and Joseon royal hat weren't enough, or his absurd prince-out-of-water haughtiness) and to wring some laughs, I suppose we have to credit it as a success. Although, is succeeding in being horrible a real success, or is it just extra-horrible? Is this a winning look, or a losing one? Glorious 'dos may prompt a litany of poetry, but it's the shameful ones that ask life's important questions.
Honorable Mentions: Hwang Jung-eum (Full House Take 2), Noh Min-woo (Full House Take 2)
MOST ACTING
Song Seung-heon, Dr. Jin
HeadsNo2: You can see it in most awards ceremonies – where the "best" of anything is more often than not just the "most" of something. Our minds tend to trick us in that we tend to praise "best acting" as someone who did the "most acting," though Song Seung-heon proved that there is indeed a separation between the two by delivering the most heavily-acted performance of the year as the titular character in Dr. Jin. Passable performances need to at least fly under the radar to do their job, but here we got a case of an actor going above and beyond the call of duty to make sure the audience knew when he was very shocked, or very angry, or very confused. Is there something to be said about the fact that we always knew what he was thinking? I'd like to think that answer isn't a yes or no, but a very firm "Derp."
Honorable Mentions: Lee Shi-young (Wild Romance), Yoo Ah-in (Fashion Kin), Yoo Oh-sung (Faith)
LEAST ACTING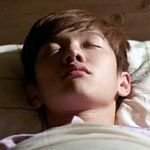 Shin Won-ho, Big
javabeans: Zzzzzzzzzzzz.
……
Zzzzzzzzzzzzzz.
*looks pretty*
Zzzzzzzzzzzzzz.
*paycheck, please*

RELATED POSTS
Tags: 1 show to rule them all, Answer Me 1997, Arang and the Magistrate, Big, Dr. Jin, Editors' Picks, Fashion King, featured, Gaksital, History of the Salaryman, Nice Guy, Padam Padam, Queen In-hyun's Man, Rooftop Prince, Shut Up: Flower Boy Band, The King 2 Hearts, The Moon That Embraces the Sun, year in review, year in review 2012