2012 MBC Drama Awards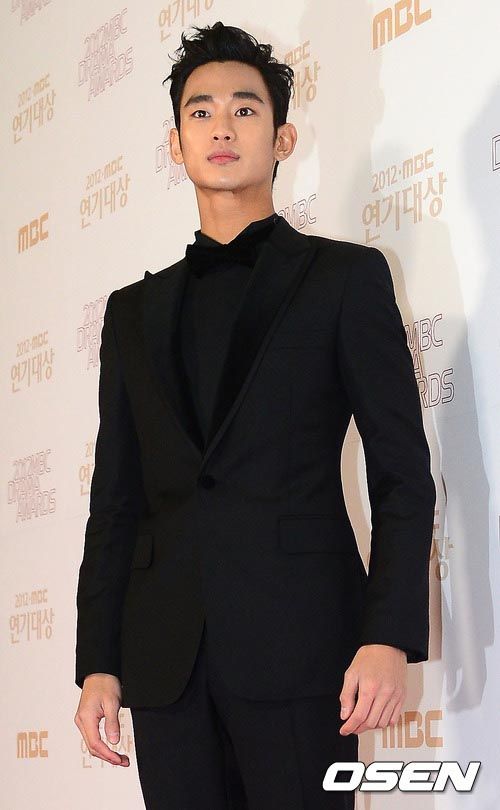 Well, we've given out our awards for 2012; now it's time to see how MBC distributed its honors. And if past years are any indication, there are bound to be some head-scratchers and some obvious political choices. Then again, that's sort of the name of the game all across the board, isn't it?
The thing about this station is, every year I see MBC's award list and think, "Oh right. The station did have some hits after all," which makes me wonder whether I'm misremembering the year as a sparse one for the broadcasters. And then I think a little more and realize that basically, this was all they had. Wasn't much competition within categories, which is why you got dramas cleaning up in multiple categories, 'cause what else would've taken it?
MBC also has the habit of creating categories or altering them without explanation, which just reinforces the idea that they've got a list of shows they need to give awards to, and would rather fit the categories to the shows than vice versa. Ah, dramaland.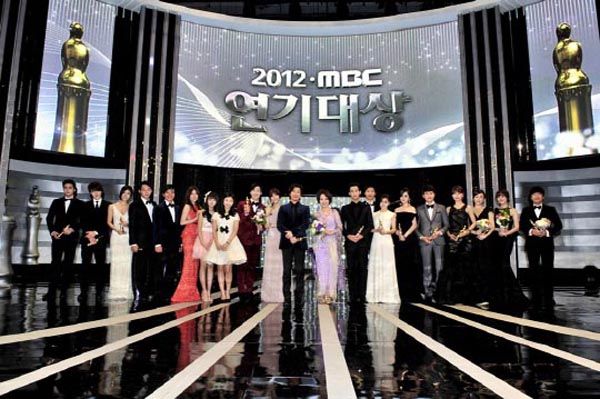 WINNERS LIST
Daesang (Grand Prize): Jo Seung-woo (Horse Healer)
Drama of the Year: The Moon That Embraces the Sun
Top Excellence, Miniseries, Actor: Kim Soo-hyun (The Moon That Embraces the Sun)
Top Excellence, Miniseries, Actress: Han Ga-in (The Moon That Embraces the Sun)
Top Excellence, Special Production Drama, Actor: Jo Seung-woo (Horse Healer)
Top Excellence, Special Production Drama, Actress: Sung Yuri (Feast of the Gods)
Top Excellence, Serial Drama, Actor: Kim Jae-won (May Queen)
Top Excellence, Serial Drama, Actress: Han Ji-hye (May Queen)
Excellence Award, Miniseries, Actor: Park Yoochun (I Miss You)
Excellence Award, Miniseries, Actress: Lee Yoon-ji (The King 2 Hearts)
Excellence Award, Special Production Drama, Actor: Lee Sang-woo (Horse Healer, Feast of the Gods)
Excellence Award, Special Production Drama, Actress: Sohn Dam-bi (Light and Shadow), Sung Yuri (Feast of the Gods)
Excellence Award, Serial Drama, Actor: Jae Hee (May Queen)
Excellence Award, Serial Drama, Actress: Seo Hyun-jin (Feast of the Gods, Oh Ja-ryong Is Coming)
Actor of the Year, awarded by PDs from all three broadcasters: Lee Sung-min (Golden Time)
New Actor Award: Kim Jaejoong (Dr. Jin), Lee Jang-woo (I Do, I Do; Oh Ja-ryong Is COming)
New Actress Award: Kim So-eun (Horse Healer, Oh Yeon-seo (Oh Ja-ryong Is Coming)
Child Actor Award: Yeo Jin-gu (The Moon That Embraces the Sun, I Miss You)
Child Actress Award: Kim Yoo-jung (The Moon That Embraces the Sun, May QueeN, Kim So-hyun (The Moon That Embraces the Sun, I Miss You)
Golden Acting Award, Miniseries, Actor: Jeon Gwang-ryul (Light and Shadow, I Miss You), Lee Deok-hwa (May Queen)
Golden Acting Award, Miniseries, Actress: Yang Mi-kyung (The Moon That Embraces the Sun, May Queen), Jeon In-hwa (Feast of the Gods)
Writer of the Year Award: Sohn Young-mok (May Queen), Jin Soo-wan (The Moon That Embraces the Sun)
Popularity Award: Kim Soo-hyun (The Moon That Embraces the Sun), Yoon Eun-hye (I Miss You)
Best Couple Award: Lee Jun-ki, Shin Mina (Arang and the Magistrate)
Hallyu Star of the Year Award: Yoon Eun-hye (I Miss You)
Lifetime Achievement Award: Jo Kyung-hwan
Voice Acting Award, Foreign Dubbing: Jeon Soo-bin (CSI Miami Season 10)
Voice Actor Award, Radio: Choi Sang-ki (Bae Han-sung's Classics)
I find it amusing that MBC dropped their Daesang last year and instead awarded a "Drama of the Year," which means that there was no grand acting prize. This year they brought it back and awarded it to Jo Seung-woo for Horse Healer, though they also kept the Drama of the Year category in play. I wonder if Cha Seung-won is shaking his fist in the direction of Yeouido in indignation (having had to settle for a Top Excellence last year when he was pretty much a shoo-in for the nonexistent Daesang).
Kim So-eun, Jo Seung-woo's costar, has been stirring buzz for her winning performance in Horse Healer, which comes as no surprise since she's just winning in general. I wish I could say the same for her prim white gown, though I guess she IS the cutest Pilgrim bride ever.
No surprise at all that Kim Soo-hyun got the second-biggest acting award after basically anchoring the adult portion of The Moon That Embraces the Sun. He's getting that superhero strut down to an art form, I swear.
I say this with all the affection in the world, because I have an inexplicable fondness for Han Ga-in: But any awards ceremony that gives her what is basically the Best Actress trophy sort of destroys any credibility it was going for in the first place. She got the job done in The Moon That Embraces the Sun… but just barely, and that's if you're being generous. She's got one performance mode, and it's set firmly in neutral, and she hasn't improved a bit in the last ten years.
That said, she looks amazing. She's adorable and seems very sweet, and I enjoy envisioning scenarios where she and her Vampire Prosecutor hubby just sit around being adoring and awesome together.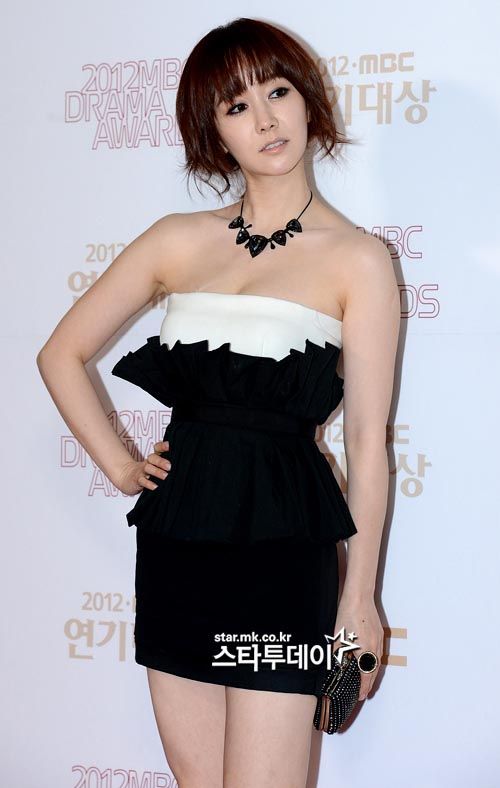 Um. Now on the other hand… I almost couldn't recognize Kim Min-seo, aka Bad Moon from The Moon That Embraces the Sun, who looks like her dress started falling apart, and instead of trying to sew it back together she opted to tape her chest with Ace bandages and pass it off as avant-garde.
Kudos for pulling off the bold attitude to go with the bold look. ("If you act like it's on purpose, people will think it's on purpose! Pose! Strut! Glower!") Next time, she might wanna keep a sewing kit in the car for emergencies, just sayin'.
Her Moon/Sun co-star Nam Bora went in the opposite direction, going for pink and sweet. I kind of think she looks like a stiff sugar statue on top of a wedding cake, but she does look very sweet (hur) and pretty, with a fresh and youthful glow.
Jeon Mi-sun was probably the other adult anchor in Moon/Sun, though I doubt she expected to be that much of a central role when she signed on to play the shaman. There was an awful lot of white and beige and light pinks on the red carpet, but hers stands on its own; it's regal and elegant in a sea of ingenues.
Gah, I love Yeo Jin-gu (I Miss You, The Moon That Embraces the Sun), and not just because he's adorable, although he is that and more. He's just got so much emotional sincerity when he acts, and he sucks you right in. He has the talent and the charisma to follow in Yoo Seung-ho's footsteps, career-wise, which would be fantastic. Especially since we're losing Yoo Seung-ho for the next two years…
I love this look from Kim Yoo-jung (May Queen, The Moon That Embraces the Sun), which is sweet and adorable, but kept from being too precious by its clean structure and the black bows against the white dress. She's a gorgeous girl, but it's her acting chops that make her compelling to watch.
Kim So-hyun is growing up so nicely as she heads into her teenage years, and her I Miss You turn hinted at a bright future to come. She looks beautiful in an age-appropriate way, and bright-eyed and bushy-tailed. (You know dramaland's childhood romances have a special magic when it causes a little bit of pang to be formatting these red-carpet photos and you find yourself separating the I Miss You lovers with that other true love from that other drama where they weren't meant to be. But what can ya do?)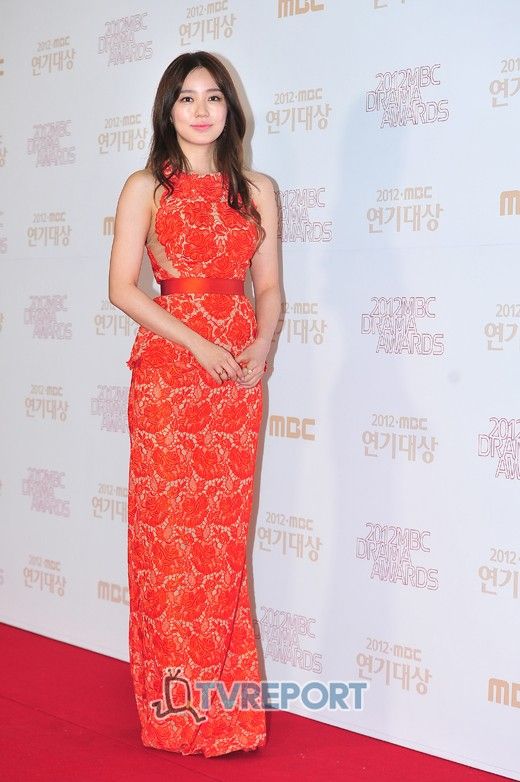 At the very least, at least their adult counterparts can be together. Here's Yoon Eun-hye in a bold color, and while the dress itself isn't my favorite look, I do love the orange. And the fact that it's different.
Aw, not loving the hair on Yoochun, but I do think it's fun seeing him with his groupmate Jaejoong, since both had MBC dramas this year. Dr. Jin netted Jaejoong a New Actor award (which went to Yoochun last year for Miss Ripley), while Yoochun took home an Excellence award for I Miss You.
Hm. Don't love or hate this gown on Han Ji-hye, though at least it has some detailed layering going on and lots of texture, which keeps it interesting. She took home an award for May Queen, which earned several awards (since it did keep ratings up for MBC during the weekends).
Kim Jae-won, also of May Queen, also won a Top Excellence award. He was host for the evening, along with singer-actress Sohn Dam-bi, who picked up a prize for her role in the period serial drama Light and Shadow.
Aw, Jae Hee looks happy; he did get an award for May Queen. I'm liking the gray tux with the dark trim, given that everyone else seems to have stuck to the usual formal black, with the occasional blue thrown in the mix.
I don't think May Queen's Park Ji-bin has quite the onscreen magnetism of other noteworthy child stars (like, say, Yeo Jin-gu or Lee Hyun-woo) but he's a solid child actor who's been steadily working over the past few years. I'll be curious to see whether he can make the transition into adolescent roles as well; for now, he's still got a total baby face, which might hold him back. Would you believe he's actually two years older than Yeo Jin-gu?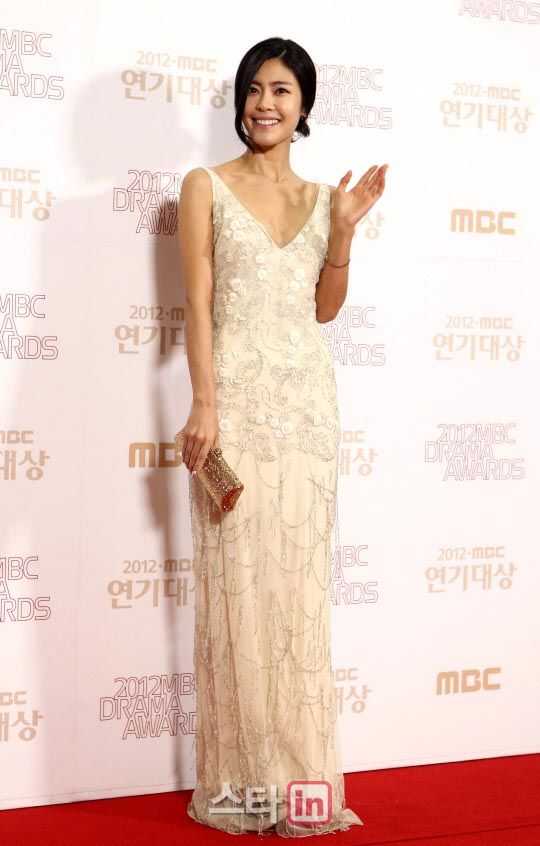 Lee Yoon-ji (The King 2 Hearts). Just perfect. She rocks. Is that really all I need to say? Okay, I do wish she'd gone a little bolder with the makeup, but really, she's a pro at this whole looking-fabulous-and-blowing-everyone-outta-the-water game.
To be honest I was a little surprised she got an Excellence Award because I wouldn't quite have put her supporting role in the same category as other leading actresses. But maybe she was just that awesome.
Aww, Jo Jung-seok (The King 2 Hearts). He always wears that impish look on his face at these events, which makes me think he's bursting with hilarious thoughts he's keeping to himself despite dying to launch into a little joke bit or maybe a comic dance number. Share, Jo Jung-seok, share!
Lee Sung-min technically won his award for Golden Time, but I'm thinking he just may be more memorable as the king/hyung in The King 2 Hearts.
Sung Yuri (Feast of the Gods): One part dominatrix, one part red carpet gala? I get that it's fashion-forward and interesting. But that doesn't mean I find the asymmetrical leather bustier or the shiny hip wings to be flattering.

I'm happy Lee Jang-woo got a nod for I Do, I Do, because he really was the heart of that show and my favorite thing about it. I'm not sure I get what the long coat is going for, other than maybe I'm-cold-and-dammit-my-tailor-can-turn-my-tux-into-a-parka-if-I-pay-him-enough, but I think he's fresh-faced and adorable. Which I did NOT think of him a year ago when he was being all mean and angry in Man of Honor. So congrats for I Do. As well as his more recent daily drama Oh Ja-ryong Is Coming, which is still airing.
Oh Yeon-seo took the other New Actress award, and by all accounts is very cute paired with Lee Jang-woo in Oh Ja-ryong Is Coming. I like her dress. I hate her hair. Though on second look, she kind of looks like she could pass for a debutante, maybe in an Austen novel. Minus the platform stripper heels, that is.
I'm pretty sure we all know Seo In-gook more from his cable phenom Answer Me, 1997, but he's here at the MBC awards for his weekend show Rascal Sons…
…as is Shin Da-eun, his co-star (who also had another MBC drama in Light and Shadow). The short, flirty red dress feels appropriate for the holiday season—though those shoes should be shot.
Jeon Gwang-ryul pretty much rules in everything ever, and when he is unceremoniously killed off early in terrible narrative ways I tend not to take it well. He got an acting award for the two MBC dramas he did this year, Light and Shadow and I Miss You. Seriously, given the way those names keep cropping up, you'd think MBC only had three dramas this year, wouldn't you?
Maybe it's better that we think of it that way, though, since Kang So-ra's Dream High 2 is better off forgotten. As is her gown. Why is this talented young 22-year-old actress dressing like she's 50? Just no.
Synchronized posing from the ZE:A boys! That's cute. Here are Kwanghee and Im Shi-wan, who both took on a couple of acting projects this year: Kwanghee in To the Beautiful You and Vampire Idol, while Shi-wan was even busier with Moon/Sun, Equator Man, and Standby. I ended up warming up to Shi-wan quite a bit over the year and would like to see him keep acting. Kwanghee… already has a full-time idol gig. Maybe he could do that some more.
All these idols, workin' my Navering skills. Here's Lizzy from After School, who has a role in weekend drama Rascal Sons.
Seo Hyun-jin is steadily building up her resume, though she hasn't quite broken through to the next level of name or face recognition. She got an award last year as well (for The Duo) and had two this year, for Feast of the Gods and Oh Ja-ryong Is Coming. Her dress is okay. She looks pretty. Ho-hum.
What a difference a haircut (and a layer or ten of Goryeo costuming) makes? Here's Park Yoon-jae, whom you may not recognize, even as Chae Rim's little bro, without the descriptor of wily Prince Deok-heung (and poison aficionado) in Faith. Which… is an SBS show. Huh, is he crashing the MBC party? Sure, why not; his is tomorrow night.
I never found Lee Pil-mo sexy till he grew out that hair for Light and Shadow, and for that reason, despite the fact that he looks like he's part shaggy dog, I'm not gonna complain.
Sohn Eun-seo had two dramas this year, one of them being MBC's May Queen; I'll assume we'll see her over at the KBS awards tomorrow for Love Rain. She goes for flowy and white, which was a popular trend of the night.

Uh, isn't Hong Ah-reum (God of War) about twenty years too old for this? I want to say that I get what she was going for and that it plays up an innocent, ingenue-like image… but I can't really say that. It's strange and infantile and the orange shoes make it even more disjointed. If you handed her a huge lollipop I'd be convinced she was in cosplay for something.
Here's Han Sun-hwa, of idol group Secret. My gramma will be so pleased to know that her old brocade curtains didn't go to waste after all.
I dunno. This dress seems inoffensive enough on Hwang In-young (Can't Live Without You), but it doesn't really do anything for me either. Maybe it's the casual hairstyle or the simple silhouette, but it doesn't quite feel red carpet-ready.
Neither does this dress on Park So-hyun (We Got Married), but for entirely different reasons. There's a detailing pattern in the dress that makes it look like rays of sunlight around the cutout (the sun?), which… okay. I guess it's a concept.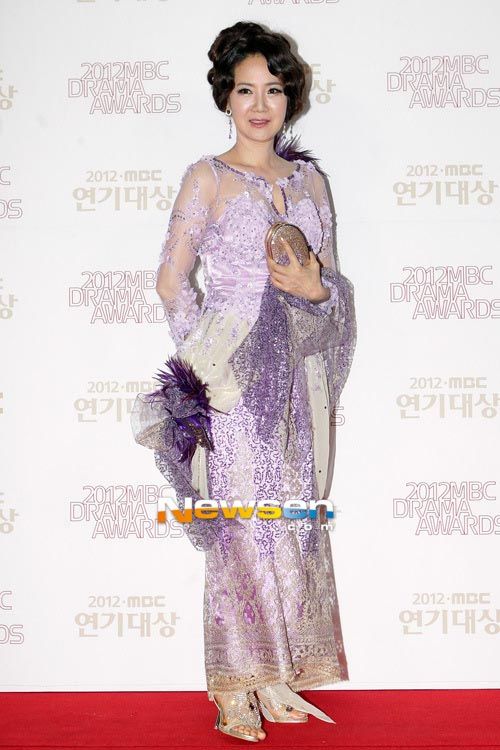 Meanwhile, somewhere out there is a bordello throwing a party while its overbearing madam's out of town goin' to the big party in her best cocktail loungewear. Fancy!
(Can you believe this is the same nurturing and patient mom, Yang Mi-kyung, from Moon/Sun? Maybe you can only be sedate and demure for so long before your inner diva demands to be let out, with sequins and sparkles and feathers and glitter.)
Via Reviewstar
RELATED POSTS
Tags: awards, Han Ga-in, Han Ji-hye, Im Shi-wan, Jae Hee, Jaejoong, Jo Jung-seok, Jo Seung-woo, Kang So-ra, Kim Jae-won, Kim Min-seo, Kim So-hyun, Kim Soo-hyun, Kim Yoo-jung, Lee Jang-woo, Lee Sung-min, Lee Yoon-ji, Micky Yoochun, Nam Bora, Oh Yeon-seo, Seo In-gook, Sohn Dam-bi, Sohn Eun-seo, Sung Yuri, Yeo Jin-gu, Yoon Eun-hye