Alice in Cheongdam-dong: Episode 8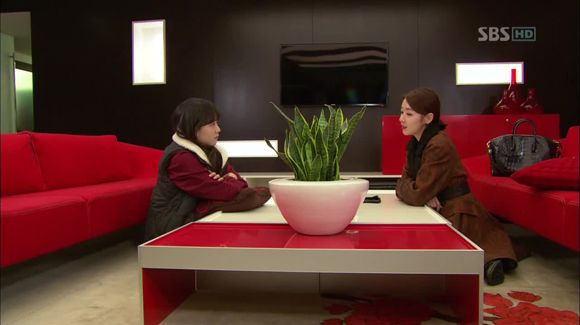 The drop into hell is just as bad as I thought – if not worse. The truth really changes people, and while you'd hope it's for the better, in this instance it changes people for the worse. We've seen Se-kyung grow into a stronger person who will do whatever it takes to achieve her dream. Now we've reached the point where it's time for her to achieve that dream, and become a "Cheongdamdong wife" – which was the focus of the series. However, I now fully realize that I never really wanted her to succeed.
For all that I've seen to this point, I commend this drama for forcing us to take an introspective look into who we are and what we really want in our lives.
SONG OF THE DAY
"Love Like This" by K.Will for Alice in Cheongdam-dong OST [download]
Audio clip: Adobe Flash Player (version 9 or above) is required to play this audio clip. Download the latest version here. You also need to have JavaScript enabled in your browser.
EPISODE 8 RECAP
So – we're back in the elevator of truth! What exactly did Secretary Moon hear?! Flashback to that night, and Ah-jung reveals her truth first: "Han Se-kyung likes Secretary Kim!" Seung-jo goes into shock – did he just hear that the girl who refused to work with him… actually likes him?!
The doors open – and you'd think he saw Se-kyung across from him – but he's actually too dazed to focus on what's right in front of him. Se-kyung turns around and sidles up next to the elevator wall so she can't be seen, and an usher and Secretary Moon wake Seung-jo from his reverie.
Secretary Moon guides Seung-jo to his private room behind the stage. Seung-jo, still in disbelief: "Really?" Secretary Moon assures him it's true, but Seung-jo still asks in an innocent manner: "Really? Really really? Really truly?" Hehe – he sounds like a kid.
Se-kyung's elevator doors close again, and she clings to the handrail. Overhearing Seung-jo being addressed as the CEO just confirmed what Ah-jung said, and she noticed the handmade bracelet she had given the CEO on Seung-jo's wrist. Instead of feeling relief, Se-kyung looks more like she's worried for the future. But as she runs through all her encounters with Seung-jo in her mind again, it's starting to make sense that he is Jean Thierry himself.
In the privacy of his room, Secretary Moon confirms the truth, which makes Seung-jo wildly happy and prompts Dong-wook to wonder if he's gone mad. Next thing we know, he's lifting Dong-wook up and jumping around excitedly, even giving his buddy a playful slap on the butt. Someone's gone mad as a hatter…
Seung-jo thinks that Se-kyung doesn't know about his real identity, so Dong-wook encourages him to be honest – tonight's the night! But suddenly, Seung-jo's happiness turns to horror – Se-kyung loves Secretary Kim – not Jean Thierry Cha! And he's Jean Thierry Cha right now! What should he do?
Dong-wook: "Get a hold of yourself! You're not Secretary Kim, but you're not Jean Thierry Cha either. All of that is just like fashion, like the clothes you are wearing. The clothes don't make you." Oh you're so wise. He reminds his friend that he is only "Cha Seung-jo" and the confession of love is coming from Cha Seung-jo. That makes Seung-jo feel loads better.
Se-kyung finally emerges from the elevator and is led to her table, where she finds a special placard with her name on it, indicating that she is a formal guest and not some random person given an extra seat. She looks around in her unfamiliar surroundings and notices Jean Thierry's seat not too far from her.
She doesn't notice two men peeking around the curtains behind her, staring at her. Dong-wook confirms to Seung-jo that Se-kyung is present, and when he sees her, he gets another panic attack. Dong-wook tries to calm him, but instead of going into the party hall, he just makes a mad dash in the other direction.
They zoom past Tommy, who's just arrived at the party and wondering what crazy people ran just past him. But he becomes more befuddled when he sees Se-kyung in the party hall – what is she doing in this party in particular?
On to Yoon-joo. Her position as the wife of GN Fashion is all thanks to Il-nam, quite frankly. She made it so far, and so Yoon-joo now gets on her knees to beg him one more time to help her. She begs him to help protect her position by never revealing her secret. Il-nam sits down – of course he will keep her secret. They will both keep the secret to their graves, because that is the only way that the marriage between Seung-jo and In-hwa can occur.
Yoon-joo protests, but Il-nam doesn't listen. Why is she being so emotional? Wasn't her relationship with Seung-jo based on business anyway? He notes that he only liked her for her business-minded sense. I wonder if he now realizes that Yoon-joo could possibly have loved his son. He knows that Seung-jo truly did, and when he remembers Seung-jo refused to have any association with GN Fashion or his father in the marrying sense, Il-nam realizes that his son must have known of Yoon-joo's new life.
Yoon-joo exits Il-nam's building with a heavy heart, unable to stop crying. She doesn't pick up her brother's phone calls, but hails a cab to take her anywhere but here.
Tommy happens to be seated at a table behind Se-kyung, allowing him a perfect view of her without her knowledge. Min-hyuk and In-hwa arrive at the party as well, and Min-hyuk has a good view of Se-kyung. Displeased to see her, In-hwa goes over to ask what she's doing at this exclusive party. Se-kyung quietly says that she was invited by Jean Thierry himself, which makes her quite surprised – how does her lowly part-timer know the CEO personally?
Before Se-kyung can explain, the MC bids everyone to take their seats as the art talk by a fashion curator is about to begin.
Backstage, Dong-wook tries to calm down Seung-jo, who's freaking out over the impending big reveal. He doesn't know what to do, flailing and whining, when suddenly Secretary Moon snaps: "You should have lived your life more honestly!" Seung-jo switches immediately into boss mode – "What did you say!?" Secretary Moon backtracks – ha! – because what he really meant was that Seung-jo should be truthful to the person he loves.
Dong-wook agrees – a love without truth has no future. No matter what Se-kyung feels, he must be truthful. Now psyched, Seung-jo goes into his quiet space, takes a deep breath, and transforms into the smooth Jean Thierry Cha.
The MC introduces him, and Se-kyung fidgets in her seat. Seung-jo walks onstage; before him, the audience is dark, so he can only imagine that she's out there watching, realizing that the man she knew as the secretary is truly the CEO. He introduces a specially made Buche de Noel made for the occasion, and in his mind, he hopes that Se-kyung remembers the conversation they had about it. The cake is meant to cast away all the bad things of the past year and bring hope for the new one.
Seung-jo recites a poem from Nazim Hikmet: "The most magnificent poem is the one yet to be written. The most beautiful song is the one yet to be sung. The most glorious days are the days we have yet to live." Each line in his mind is related to his relationship with Se-kyung; they are just about to start on a journey together, if she can accept this truth and accept him. He toasts to the crowd, and hopes that they can make all their wishes come true with Artemis. He himself wishes for the future where the truth would be the easiest thing in the world.
The toast is made, and the lights turn on – and Se-kyung is nowhere to be found. Seung-joo glances over at Dong-wook in a panic, who doesn't know himself what happened to her. But Tommy knows – he saw Se-kyung get up and leave the party before Seung-jo came out to greet the guests. Unfortunately, she left her phone behind, and it is now in his possession. Ugh – slimeball.
Seung-jo walks around to greet the guests, but when he gets a moment with Dong-wook, he worries that Se-kyung may have left because of him. Dong-wook is sure that she left before he came onstage, so it's not likely she knows his true identity yet.
Se-kyung meets with Ah-jung, who's positively thrilled for her friend hitting the jackpot. Their pauper is really their prince, and what's more, he likes Se-kyung for the hardworking girl she was in the past. Ah-jung adds that she remembers telling Secretary Moon that Se-kyung liked Seung-jo, which gives her bonus points. "Just keep treating him like you always have," Ah-jung advises, since Seung-jo clearly fell for Se-kyung because she was a Candy character.
"Candy" – the diligent girl who doesn't know Secretary Kim is the CEO and only loves Secretary Kim. This is perfect for Se-kyung, right? Se-kyung tears up over her luck, and while she tells Ah-jung she's happy, she doesn't sound altogether convinced.
At the party, a guest chit-chats with Min-hyuk and notes that Jean Thierry Cha looks a lot like Cha Seung-jo, the son of Royal Group's Cha Il-nam. Min-hyuk then notices his sister approach Seung-jo, complimenting him on his choice of poem, which she read while in Turkey. Seung-jo is disinterested in this talk and checks his phone, but gets no messages. Then he notices Tommy off to the side, laughing. Seung-jo excuses himself, blowing off In-hwa completely. Ha!
Seung-jo isn't happy to see Tommy at his party, especially since he didn't invite him. Seung-jo: "Did you see Han Se-kyung here today?" Tommy smiles, and says that she left before he was even introduced: "I lost the opportunity to apologize to her again," he adds. Seung-jo gives him a tip on how to apologize properly: how about Tommy just never appears in front of Se-kyung – or him – ever again? Hehe – guess helping mend the relationship between Seung-jo and Il-nam will be a lot harder than Tommy thought.
Se-kyung heads back to her work studio in college and takes out her sketch pad. Slowly, she writes out a list, logically going through everything in her head right now.
Secretary Kim is Jean Thierry Cha.
Jean Thierry Cha likes the "Candy" Han Se Kyung.
However I am no longer a Candy.
The CEO doesn't know that I've changed.
In the end, he likes the me before I changed.
I have to act like the person I was before I changed.
I like Secretary Kim.
However, the one I must target is not Secretary Kim, but Jean Thierry Cha.
This is good fortune. It's like winning the lottery.
That is why I have to act like the Han Se-kyung before the change.
By the end of the list, tears are streaming down her cheeks. I don't understand her heartbreak though, because I feel she hasn't truly changed, even though she thinks she did. In the end, what it boils down to is that she wasted a lot of effort to win the heart of a man who likes her for her.
Seung-jo returns home unhappily, and he hugs the Happy Bunny to help comfort his aching heart. He doesn't realize Se-kyung is standing outside his home, contemplating their relationship. She sits outside her house, crying for a bit before finally resolving to be the girl she was before her "change."
Se-kyung composes a letter to Jean Thierry Cha, and gives it to Ah-jung for a read-through. Se-kyung is convinced that a letter is the surefire way to win his heart, since it worked with resolving In-chan's problem. Ah-jung slowly agrees, but also adds, "You're kind of an ass." HAHA! Along with the letter, she is going to return the clothing that Seung-jo had sent to her.
Deuk-gi comes up to her room and asks why she's not picking up the phone. That's only when Se-kyung realizes she never brought it home. He tells her to look for the phone later, as she has a friend outside waiting for her. Friend? Turns out – it's Yoon-joo, teary-eyed and looking for a confidante.
Seung-jo still cannot understand why Se-kyung would leave, when she had been so insistent upon meeting the CEO. On top of that, she won't even pick up her phone. He's confused by the mixed messages, and Dong-wook smiles at his friend: "Do you want to see her that much?" Seung-jo does – "I like Han Se-kyung." He likes her so much he just wants to see her right away and tell her everything and get the truth out in the open.
Se-kyung follows Yoon-joo to a fancy hotel, where Yoon-joo has booked an expensive room. After a glass of water, Yoon-joo explains that when she was working in the store in Cheongdam-dong several years ago, she had always wanted to book a room like this. She resolved to spend her following Christmas in the same room, and the following year, she married Min-hyuk and was able to. Now that she's so rich though, booking the room is nothing special for her anymore.
Yoon-joo: "Are you jealous of me (for feeling that way)? Do you really want to keep going down this path?"
Se-kyung doesn't like what Yoon-joo is suggesting, especially since it's hypocritical to have lived a life of luxury, only to tell others not to go down the same path. Yoon-joo backs down, as years ago she felt the same way. She asks if her "love crisis" has been resolved, and Se-kyung says that she didn't succeed – because it ended up not being a love crisis. Yoon-joo pieces together that Se-kyung had fallen in love with the secretary. But Se-kyung reveals that the secretary is also her White Rabbit for Cheongdam-dong, and he's in love with her.
Se-kyung: "In your diary, you said that love and business don't mix together. In this case, I think it will work out."
Yoon-joo gives a slight shake with her head, a look of pity on her face. Se-kyung becomes defensive – is she saying it's not possible? Yoon-joo shakes her head – rather than believing it's impossible, she just realized how alike she and Se-kyung were.
We get a flashback as Yoon-joo explains her history in France, without names of course. She married Seung-jo in front of a priest, exchanging the metal bracelets instead of rings. She had been very happy in France, and she truly loved Seung-jo. The love came first, and the realization that he came from a very good family came second. Back then, she wondered if she could possibly be so lucky as to have met him. But then, their whole marriage fell apart because of their love for each other. Because his family was against her, Seung-jo had given up his inheritance and his family.
Yoon-joo also points out that love isn't just love – it also includes everything like family background and personality. However, if the relationship were just a business, then only one thing was important – his wealthy background. Yoon-joo finds love and business much too different, and that it's difficult to reconcile both because you have to follow one path more than the other to make sure the marriage works.
But Se-kyung is already so sure that she can have both, and has become greedy for it. Yoon-joo smiles, wise beyond her years, knowing that Se-kyung isn't really understanding her right now. If that's going to be the case, then she wishes Se-kyung luck. "Waiting breeds desire," she says, knowing that Se-kyung knows what to do next.
Se-kyung wonders if Yoon-joo came to see her originally for a different purpose, to tell her something. Yoon-joo: "I was going to, but now that I think about it we're not that close." She congratulates Se-kyung on her progress, and leaves the hotel room first.
The following day, Seung-jo has still had no contact from Se-kyung until he finds a letter and his gifted package on his desk from her. At the same time, Tommy learns from his detective assistant that Se-kyung had sought pardon for her boyfriend, and Seung-jo had granted it, forming a crush on her at the same time because she was a "Candy-like" girl. But Tommy realizes first that she is no longer an honest, hardworking Candy because she had come to his party in the hope of meeting a match. Now he can't figure out why she didn't pursue Seung-jo and went to him for help instead.
The assistant just so happened to also have cracked Se-kyung's password on her phone, so Tommy goes through her recent calls. He notices a lot are from a Secretary Kim…
Seung-jo opens the letter; it's addressed to Jean Thierry Cha, and Se-kyung is formally handing her resignation through this letter. "The reason is that I like Kim Seung-jo, who works for you. However, liking someone right now is an extravagance and no matter how much I try to ignore it, I can't. I am desperate enough to quit this job." Oh my God that bitch. I'm sorry – but she is an ass for playing with his heart so much right now.
Of course, Seung-jo's tears are falling again, and he bids his driver to take him to GN Fashion immediately. Once they're there, they discover that Se-kyung has gone on sick leave. He calls up Se-kyung, and Tommy picks up without saying a word. He hears Seung-jo's voice calling out to her, introducing himself as Secretary Kim. Shocked, Tommy hangs up, and he goes through Se-kyung's texts to find Ah-jung's message that Secretary Kim is Jean Thierry Cha.
At the same time, the manager informs In-hwa that Se-kyung went on sick leave, which makes her suspicious over why Se-kyung disappeared after the party.
That evening, Seung-jo heads over to Se-kyung's home. He bumps into Se-jin and their mother outside the front gate, and they recognize him as the kind secretary. They don't know where Se-kyung went, as she disappeared without a word. Se-jin offers to pass along a message, but he declines. He calls up Se-kyung instead and leaves her a voicemail, then heads to her college to see if she's there, but she's not.
Se-jin watches Seung-jo from her room and immediately calls up Ah-jung, who's in a sauna with Se-kyung. Ah-jung was right – Seung-jo did visit! And per Ah-jung's instructions she had said she didn't know where Se-kyung was. Ah-jung praises her – it's so easy to get Se-jin to do what they want as long as they bribe her with designer bags. Ah-jung is excited that their plans are going well. Although they can't track down Se-kyung's phone, Se-kyung is making good progress in stealing Seung-jo's heart.
Meanwhile, Tommy is super scary smart. He figures out that Seung-jo approached Se-kyung as a secretary, but she found out that he was really the CEO. Seung-jo doesn't know that she knows, and she knows he doesn't know, so she chose to hide from the world. By doing so, it means she's going to use Seung-jo and toy with his feelings. He orders his assistant to find out where Se-kyung is hiding now; he may be able to resolve this quickly.
Min-hyuk updates Mrs. Shin about the party and tells her that it's likely Jean Thierry Cha and Cha Seung-jo are one and the same. Of course, Yoon-joo is rattled at hearing this, especially since Min-hyuk finds this marriage helpful to them as a business. In addition, if In-hwa gains a position with Royal Group, she won't fight her brother for control over GN Fashion. Poor Yoon-joo – her hard work is falling apart.
Seung-jo runs around in circles at home, begging Dong-wook to give him advice. Dong-wook thinks Se-kyung is running away from the truth, not unlike what Seung-jo had done before. It could have been resolved if Seung-jo told the truth earlier, but Seung-jo couldn't. In a touchingly honest moment, he says that he couldn't trust anyone. He didn't want her to know anything about him until he knew exactly what her motives were. He was afraid that she might end up being like other manipulative women. But now, he misses her terribly, and he's sorry for not having seen that she probably did care about him a lot.
And Se-kyung does – to an extent. She rereads Yoon-joo's warning about avoiding love in the diary, and she looks quite reluctant to avoid it.
The following day, Dong-wook assists Seung-jo in looking for Se-kyung by visiting her home. He sees Se-jin instead, and once he proves to be a rich doctor friend of Seung-jo's, Se-jin immediately takes a liking to him. If he wants to see Se-kyung, he'll have to follow her.
Se-jin leads him to the eyeglass store where she works and hands him seven different pairs of glasses. Why not have different glasses for every day of the week? HAHA – Se-jin's smart, getting what she wants from him (money) before giving him what he wants (information). So Dong-wook gets suckered into buying seven pairs of glasses, but he does discover that Se-kyung is in a sauna, and calls up Seung-jo with directions.
At the same time, Se-jin calls up Ah-jung at work to warn her that she told Dong-wook where Se-kyung is, so they'll need to warn her sister. Ah-jung freaks out and hurriedly calls the sauna to contact Se-kyung. Meanwhile Seung-jo rushes out with his chauffeur, and Tommy's spy (another worker in Artemis) discreetly calls Tommy with directions on where Seung-jo is headed.
Ah-jung manages to warn Se-kyung in time to get out of there, and she hurriedly gets out of the spa. She ends up in the parking lot, and spots Seung-jo's car. She tries to hide around the staircase, but it's too late – he's seen her!
He chases her to the rooftop parking lot, and Tommy arrives just in time to witness this.
From another parking lot across the street, Tommy watches Se-kyung hide behind a larger car as Seung-jo runs up and down the rows, screaming her name. She refuses to come out, so Seung-jo decides to tell her the truth right then and there, and she can just listen. Se-kyung panics – is he really going to admit everything now? What should she do? As Seung-jo says, "Honestly, I am…" she steps out from behind the cars dramatically.
Se-kyung addresses him as Secretary Kim still, and he goes forth with his apology. She may not ever want to see him again after hearing what he has to say, but Seung-jo feels like he must say it anyways. As he starts and hesitates in telling her about his identity, Se-kyung keeps reminding herself to do well. She must perform well.
Seung-jo: Honestly, I am…
Se-kyung (thinking): You have to naturally be surprised.
Seung-jo:  I'm Artemis' CEO, Jean Thierry Cha.
Se-kyung's eyes widen as she looks Seung-jo in the eye.
Se-kyung (thinking): Han Se-kyung… you're doing quite well right now, right?
Comments:
This was quite a heady episode, as I felt I went into a tailspin from melodrama to romantic comedy and back to melodrama in a quick eight episodes. For one thing, I'm really starting to like Yoon-joo and hate Se-kyung – feelings that I didn't expect to have in the start of this series. In addition, Se-kyung's inner monologue during Seung-jo's confession was more surprising because it revealed her motivations and makes her a more unlikable protagonist.
Identity is proving to be very fluid in this drama. As Dong-wook pointed out, one's name and identity can change just like fashion and it depends on whom you are with. Seung-jo has three different identities he can hide within, with "Cha Seung-jo" and "Secretary Kim" being closest in demeanor. Yoon-joo also shows that she has different sides to her – the wife of GN Fashion, and the young, lost woman whose life is falling apart because they're based on fragile relationships. As for Se-kyung, she keeps changing from the hardworking 'Candy' character, to the ambitious, 'Cheongdam-dong wife'-wannabe character, using either identity to fit her situation. It's sad that no one has been able to retain or show their true selves thus far, whether it is out of fear or out of ambition.
Speaking of Se-kyung, she seriously annoyed the crap out of me in this episode. First, it was as if she was exhausted by all the deception because she's convinced she's become more like Yoon-joo and doesn't want to be a 'Candy girl' again. But here's the thing – I never felt for a moment that she had become a cold-hearted gold-digger that she seems convinced she is, because she never seemed comfortable with the idea of doing whatever it takes to get a rich man. Her declaration of saying that she's "changed to the Se-kyung she was before" felt completely facetious because what changing was there to go back to?!
But while I was initially annoyed with her, I ended up understanding her a little more. It was when she wrote that letter to Seung-jo and the parking lot scene at the end that I realized Se-kyung had actually turned into the "Cheongdam-dong gold digger" that she said she wasn't going to be any longer. It was then that I understood why she was so heartbroken. Knowledge can be corruptive in this instance, and she knew that knowing Seung-jo's true identity would lead her to manipulate him because the opportunity was too tempting to deny. Perhaps that's why she was so conflicted and crying so much in the beginning; she was becoming aware of just how much of a gold digger she really is, and perhaps is losing more of that good, honest self we had come to love of her.
I want to understand Se-kyung to like her, but I really don't want her to succeed as a Cheongdam-dong wife because she doesn't deserve anyone's love. You can't manipulate others or buy love. If she is to end up with Seung-jo, then I hope she doesn't do it through manipulation. I hope that she realizes the wisdom in Yoon-joo's words, and chooses to love Seung-jo wholly, rather than singularly because she views it as a business. It would be much too heartbreaking to watch a character so honest (Seung-jo) end up with a character so deceptive (Se-kyung).
Hand me a Happy Bunny please.
RELATED POSTS
Tags: Alice in Cheongdam-dong, featured, Moon Geun-young, Park Shi-hoo