First kisses and crushes: Kim So-hyun in I Miss You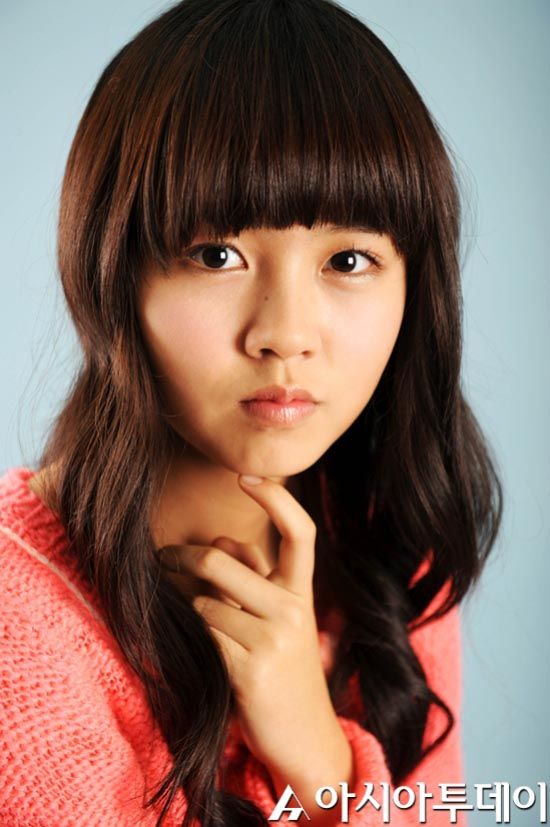 Child actress Kim So-hyun has been building up her resumé awfully quickly, given that she's only 13 years old and already has 15 credits on her filmography. Granted, she debuted at three and has mostly played small parts (her credits include The Duo, Baker King Kim Tak-gu, Birth of the Rich and Thorn Birds), but she really gained notice this year with The Moon That Embraces the Sun where she played the "dark moon" who thwarted our main couple's love. Most of that drama's attention went to its boys — Yeo Jin-gu, Lee Min-ho, Im Shi-wan, Kim Soo-hyun — but it's nice to see that she's coming into her own.
Since Moon/Sun, she's landed a leading role (the adorable short tween drama Ma Boy) and amped up the acting a notch on the intensity scale with her most recent project, as the victimized Soo-yeon in MBC's new tearjerker I Miss You. Her previous roles were cute, but I think it wasn't till I Miss You that I saw flashes of something more promising in her performance, which was much more layered and thoughtful than her other characters. (Granted, she's played her share of one-dimensional villains, and the writing could very well have been to blame.)
In any case, with this role comes a fresh wave of praise, and she said, "I do read a lot of the articles [about my acting]. These days they're all complimentary, which makes me feel good. Shooting was difficult, but I feel good about putting in the effort and having it come out well. I frequent Twitter and I can feel the viewers' responses directly. I'm very happy these days at the response, which is so positive that it makes me wonder, 'Did I really do that good a job?'"
The I Miss You character of Soo-yeon is quite different from your previous character of Bo-kyung in The Moon That Embraces the Sun.
"In the other drama, I played a character who didn't hesitate to do all sorts of bad deeds in order to win [Yeo] Jin-gu oppa's love. It's difficult playing a bad character, but it was also fun. And a bit sad as well. But this time, Jin-gu oppa plays my first love. After first longing for love, to be on the receiving end felt really confusing. And on the set, Jin-gu oppa takes really good care of me."
Do you have a boyfriend? How did you portray a fresh young romance between 15-year-olds?
"I don't have a boyfriend. [Laughs] The Soo-yeon character seems dark and timid, but on the inside she overcomes hardship with a strong will. After meeting Jung-woo [Yeo Jin-gu] her brighter, innocent side comes out and I found it difficult to express those emotions in a detailed way. We began filming before I could prepare much, and moreover it was hard acting in a conventional melodrama. But Jin-gu oppa is so good and he was able to lead me capably. I would get caught up in oppa's acting and feel that flutter of excitement myself, and I think the melo parts came out well."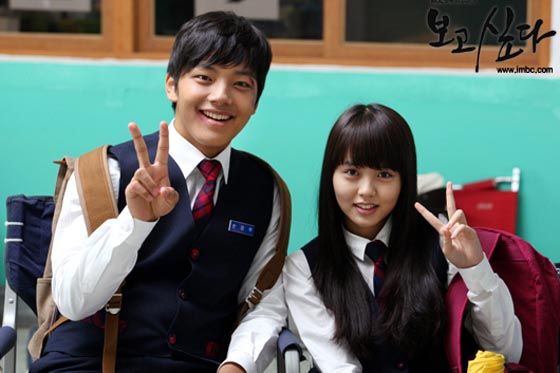 You worked with Yeo Jin-gu in both dramas [I Miss You, Moon/Sun].
"Since I met Jin-gu oppa when I was even younger and acted with him, it's really comfortable. He likes to play around and joke a lot — in particular, he says how good-looking he is a lot. You could say he overflows with unwarranted confidence. Thanks to him and his playfulness, the filming atmosphere is really good. Although I joke back and forth with him in real life, though, when we begin acting I tell myself, 'I really like oppa for real' like I'm hypnotizing myself."
From a story standpoint, in both Moon/Sun and this time, your love with Yeo Jin-gu wasn't able to be realized.
"I know, right? This time I thought it really would happen… I talked it over a lot with Jin-gu oppa on set, like how there's something about us that doesn't work. But the staff would say how it felt like we were lovers in a past life whose love didn't work out, meeting again here."
How does it feel to be referred to as a top-rate child actor?
"That term does feel burdensome, but also makes me feel good. It still feels sudden and confusing. I filmed I Miss You thinking I really had to do a good job after Moon/Sun. I didn't want to disappoint those viewers who saw me favorably, and I want to keep working hard at it."
There have been a lot of people saying you look like Sohn Ye-jin and Yoon Eun-hye.
"It's an honor, I really like Sohn Ye-jin and Yoon Eun-hye sunbaes. Yoon Eun-hye sunbae-nim came to the set to cheer me on and encouraged me to do a good job. I respect Sohn Ye-jin sunbae a lot and would love to become like her."
There was a notable scene in the drama with you and Yeo Jin-gu's "bus kiss."
"Before shooting the bus kiss scene, we both brushed our teeth really thoroughly. While filming there were only the actors and crew present, but because the bus was so narrow it was difficult for the camera to catch the angle so we had to film it several times. It was really embarrassing, both in rehearsal and when doing it for real. Even oppa was embarrassed. It was the first kiss scene for both of us. The director even played a joke, saying that we had to do it again because oppa puckered up his lips. Oppa told me not to be bothered later that my first kiss was in a drama, that there are a lot of things like that in acting."
Who do you like better between Moon/Sun's Kim Soo-hyun and I Miss You's Park Yoochun?
"Both Jin-gu oppa and the director said so, that when I'm with Yoochun oppa my gaze changes. From the very first time meeting him, Yoochun oppa approached me first and looked after me in a friendly way. He's very easy-going, and treats me really comfortably. We have the same birthday [June 4] too… For the first time, I found someone who became an 'ideal type.' And that hasn't changed yet. [Laughs]"
From here on out, what kind of actor would you like to become?
"I want to be the kind of actor who can cross genres. The kind of actor who might sometimes hit upon your limits and take on challenges. On top of that, I want to be the kind of actor people don't tire of, who stays with people. I wouldn't refuse any genre if it were asked of me, but I do want to do a romantic comedy with a reverse appeal [as in, you like them despite unlikable traits, or are drawn to them in an unexpected way]. I want to work even harder and become better. Also, aside from acting I have a lot of interest in writing so I'd also like to try my hand with literary pursuits too."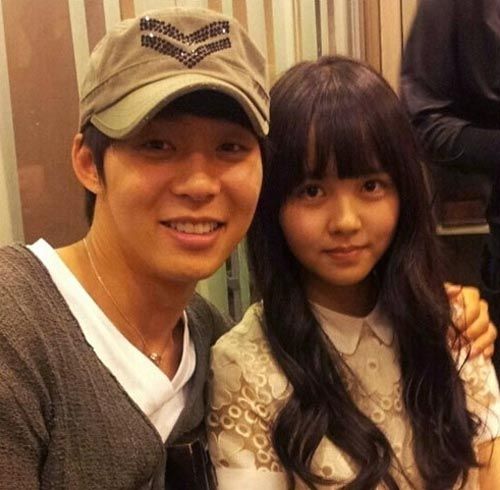 RELATED POSTS
Tags: I Miss You, interviews, Kim So-hyun