Full House Take 2: Episode 13
It's time for classic misunderstandings to come about. We're heading back to melodrama territory again, which isn't this drama's strength. However this time we get to see more of Kang-hwi's sad childhood and the romance heat up – both plot points that I feel the drama does well, at least.
SONG OF THE DAY
"Hello Miss" by A-Treez for Full House Take 2 OST [download]
Audio clip: Adobe Flash Player (version 9 or above) is required to play this audio clip. Download the latest version here. You also need to have JavaScript enabled in your browser.
Part 1
Kang-hwi invites Man-ok to his room in the basement, and while he struggles with the darkly lit stairs, he makes up the excuse that he wasn't wearing his contacts before. Otherwise, he would have totally recognized his dear Man-ok! She doesn't believe him, but plays along.
He had only contacted her in hopes that she could accompany him to China for a photo shoot. He already even bought her plane ticket. Feeling very conflicted, Man-ok sadly declines. Kang-hwi then laughs it off, saying that she must have had her reasons, but was afraid that she would turn him down.
Man-ok heads out, but she sees Kang-hwi struggling to walk in a straight line back home. He relies on a wall, or hedges, to help him find his way. Instead of heading home right away, Man-ok breaks down into tears.
As soon as she arrives back home, Tae-ik assails her with questions about where she's been. She threw the groceries on the ground and didn't even pick up his calls. Man-ok says nothing is wrong, even though her face tells otherwise.
They find Bum-soo and Go-dong cooking up some barbecue with Grandpa for dinner, and join them for a late meal. Man-ok requests to be excused first, which only unsettles Tae-ik more. Bum-soo instructs Tae-ik to focus more now that they have an investor, as his success is the only way he can get Full House back.
Grandpa finds the name 'Full House' a unique name for a home, and Tae-ik explains that his father had named it, wanting it to be "a house full of happiness." Grandpa nods, deep in thought. Will he – perhaps – recognize Tae-ik?!
That evening, Man-ok plays with the cat Tae-ik gave her, but can't forget the sight of Kang-hwi struggling with his eyesight. Similarly, Tae-ik can't sleep because he keeps wondering what she's hiding from him. Grandpa also reminisces about when he was training Tae-ik's father, and had learned that the father was building a house for his family. Mr. Lee had named it 'Full House' because he was inspired by Grandpa naming the gym 'Man Ok Gymnasium,' which is sort of like saying "Full House" Gymnasium. Grandpa is amused by this and hopes to receive an invitation to the housewarming.
Man-ok interrupts her grandfather's reverie with a special request. What it is, we don't know.
Kang-hwi throws away Man-ok's ticket the next day, but as he walks out of Full House, he finds Man-ok following him. She can't possibly leave him when he bought a ticket for her. Um – better go pick it out of the trash then…
Tae-ik joins the others for a "training lesson" with Grandpa, but is distracted over the fact that he doesn't know where she went.
Meanwhile, Kang-hwi is in a small town in China, where fans are watching and cheering during the photo shoot – including No-ra. Man-ok assists Kang-hwi with the outfit changes for the shoot, and notices him rubbing his eyes. She offers to get him sunglasses for the shoot, but he assures her that he's fine. Man-ok then gets Tae-ik's call and she picks up, so sorry that she left without a word.
What's worse is, at that moment Kang-hwi comes up to her again and calls her name – and Tae-ik hears that. Tae-ik feels it's a betrayal, but then Man-ok tries to tell him she's with Kang-hwi for work… before her battery dies. Perfect timing. Kang-hwi just wanted to look deep into her eyes – and make sure that he's actually looking straight so that he can fake it for the camera.
Back in the gym, Tae-ik overhears Go-dong and Bum-soo talking about Kang-hwi. Go-dong had heard from a friend that Man-ok is actually with Kang-hwi, which is strange. But from the looks of it, she might have gone back to work for U Entertainment.
While Kang-hwi's at his shoot, Se-ryung comes by to harass Man-ok as she cleans things up at the clothing tent. Does Tae-ik know that Man-ok is here? Can Man-ok please stop going back and forth between the two men? That gets Man-ok all riled up, and Se-ryung has the nerve to say that Man-ok gets on her nerves.
Se-ryung, you get on everybody's nerves.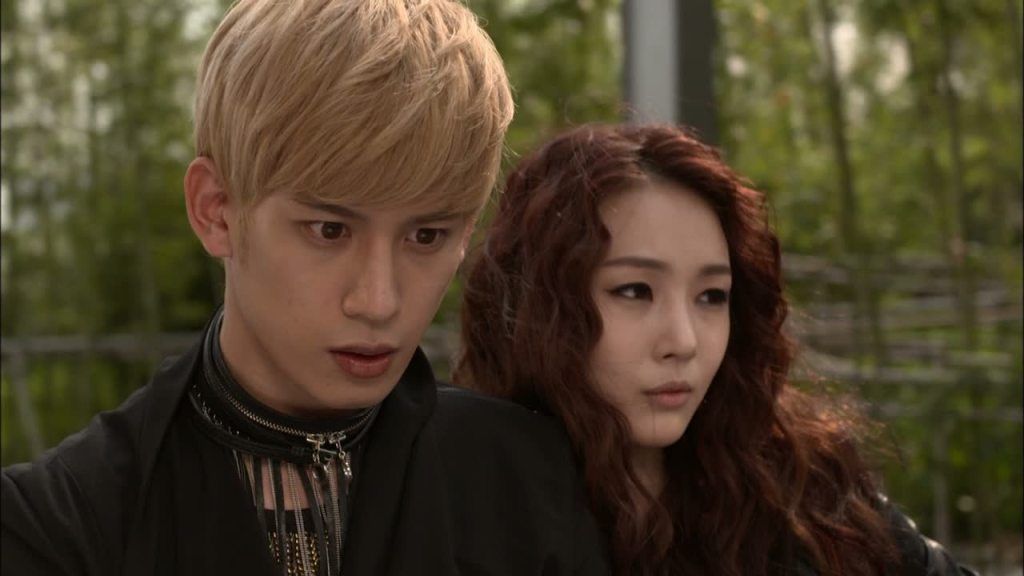 Kang-hwi and Se-ryung then do their photo shoot together, and it goes along swimmingly… until Kang-hwi's eyes tire and he starts losing his focus. Se-ryung doesn't try to help at all, but keeps posing and directs him where to look. In a way she's helping him, covering up the fact that something's wrong with his eyes. But she's also smugly ordering him around, poking his sore point.
After the shoot, Man-ok shows Kang-hwi the photos taken that day. She admires how the clothing seems made for Kang-hwi, and reveals that she idolized Hwa-ming.
Tae-ik is so concerned over the girl he likes that he can't even concentrate on practicing. Bum-soo tries to reason with him that Man-ok may have had her reasons for doing what she did, but Tae-ik still needs to concentrate on his own goals. Grandpa witnesses Tae-ik's moodiness and we finally see what Man-ok told Grandpa. She merely said that there was a friend that really needed her help, so she needed to leave for a few days to help this friend. Man-ok requests that Grandpa take good care of her friends at the gym while she's gone… and so Grandpa will do just that.
The following morning, Grandpa wakes Tae-ik up and tells him to come outside with him for training. They go for a hike, although Tae-ik doesn't last very long. Grandpa tsks at him – Tae-ik's name was supposed to mean that he would "open his wings and soar." How does Grandpa know that? Grandpa: "I named you."
Tae-ik is surprised to find out that Grandpa was the very hapkido master who named him. He finally remembers that housewarming party where he had first met Grandpa and Man-ok. Grandpa reminds him that his father was always proud of him, but that thinking about things doesn't solve anything. If Tae-ik faces a problem, he needs to do something about it – and not disappoint his father.
Once again, Tae-ik strengthens his resolve to get Full House back. And Man-ok.
At the hotel, Man-ok is all concerned about not having been able to talk to Tae-ik properly. Um – I hope you're charging your phone missy… Man-ok's only reminder of home is the scooter cat, and she talks to the cat as if it were Tae-ik. Her doorbell rings, and Man-ok gets a surprise room service delivery. Except it's no ordinary bellhop – it's Kang-hwi. He wanted to have breakfast with her and then show her someplace special.
That special place is Hwa-ming's main store. Man-ok is so excited at being inside her idol's store, and it gets even better when Kang-hwi introduces her to Hwa-ming. Man-ok worries that Hwa-ming won't be able to understand what she says in Korean, but Kang-hwi assures her that Hwa-ming can. "She had a close Korean friend and learned from this person." Oooh – he never reveals their relation.
They have lunch on the rooftop, and a fried shrimp dish appears on the table. This time Hwa-ming gives the first piece to Kang-hwi. Man-ok drops her teacup and spills tea all over her skirt. Hwa-ming is concerned that the skirt might be expensive, but Man-ok assures her it's okay. The skirt was made out of old scarves she wasn't using, and it's easy to wash. Hwa-ming doesn't hide her admiration for Man-ok's handmade clothing.
Hwa-ming leaves them after breakfast, and Man-ok thanks Kang-hwi for bringing her to see her idol. They encounter a cute furry dog on the streets, and Kang-hwi quickly latches on to it, finding it the cuuutest thing ever. The dog looks like his first love.
Man-ok remembers him telling her once that she looked like his first love, and Kang-hwi nods. His first love… was a dog! HA! I wasn't expecting that little twist. They go shopping for a bit, and Man-ok is taken by the images of Tae-ik on posters and Take One products. Kang-hwi notices that Man-ok's attention is still on Tae-ik.
Speaking of which, Tae-ik arrives at the very same hotel Man-ok and Kang-hwi are staying at. He sees Man-ok coming out of her hotel room, getting ready to meet with Kang-hwi for the second part of their schedule. Man-ok thinks she's dreaming when she hears Tae-ik's voice call out to her.
Tae-ik wants to know why on earth she's here in China. He's angry that she came without telling him, and that it's all for Kang-hwi. He knows she must have a reason, but he can't buy the fact that she's working for Lee Joon again. Man-ok says that's really all there is to it – she's just working for him again.
(Ack girl! Can't you just tell him you're here to help Kang-hwi because he's going blind?!)
She in turn scolds him for flying all the way to China without a word to Bum-soo again. Tae-ik: "Jang Man-ok! That's not the problem here!" At that moment, she gets a call from Kang-hwi, telling her to meet in the lobby in five minutes. Tae-ik gets frustrated – does she not remember anything about that night?!
Part 2
Tae-ik: I'll tell you again. I like you. I mean it. I don't want my woman spending time with another man. I hope you will only stay by my side. I came here to tell you that.

Kaedejun: WOW! Uber confession!!
Tae-ik gives her the address of his hotel in China and tells her to meet him there at 8pm. He leaves Man-ok shell-shocked, but she has a responsibility first to her work.
Rehearsals are underway for Hwa-ming's fashion show, and Kang-hwi is slightly nervous because of his eyesight. Reception towards Se-ryung and Kang-hwi being her main models has been positive, and Lee Joon assures her that it will be a success for both sides. Se-ryung heads out for rehearsal, but she overhears another woman come in to Hwa-ming's studio. It's Kang-hwi's mom.
Hwa-ming greets her stepmother, and tells her that Kang-hwi is in rehearsal. His mother says she's going to wait at a cafe for him, and Hwa-ming promises to relay the message. While Se-ryung and Lee Joon have limited Chinese skills, they definitely do recognize that they were talking about Kang-hwi. Uh-oh… After rehearsal, Se-ryung complains about her tight schedule and makes the excuse that she wants to go to a nearby cafe for a break. Crap – this woman doesn't know when to butt out.
Kang-hwi finds his mother at the cafe and they have a warm reunion. He apologizes for not having been in touch earlier, and wants to go out on a "date" with his mom. However, mom wants him to go home and visit his sickly father. His father keeps asking for him, but Kang-hwi really doesn't want to go back into that house. He has too many bad memories related to that house, and suggests they leave for somewhere else.
Of course… the camera reveals Se-ryung sitting not too far away, covering her face with a magazine. Now she knows that he has family in China.
Later that day, Hwa-ming also texts Kang-hwi, hoping that he can stop by home before going back to Korea. Everyone he loves is telling him to come home, so Kang-hwi resigns himself to visiting his home. What he doesn't realize is that No-ra is following him. She trails him – though her car is a little too close to his taxi in my opinion – and gets caught by none other than Ga-ryung. No-ra had been caught by a camera when she was cheering with the other fans, and when that photo was posted online for everyone to see, Ga-ryung threw a fit over this "betrayal." Ga-ryung says she'll forgive her if No-ra takes good photos and gives them good scoops to write about.
But then No-ra also adds that Man-ok was there too. She sends a photo she snapped at the photo shoot to prove it. Ga-ryung nearly has another aneurysm when she sees that Man-ok lied to her again.
No-ra arrives in front of a mansion and starts snapping pics of Kang-hwi entering. A bunch of fans and paparazzi also show up out of nowhere and start taking pictures. The security guards come out of the mansion and start confiscating their cameras, but No-ra escapes unscathed.
Hwa-ming brings Kang-hwi to their father's bedside, and it's clear that the father is happy to see his one and only son. He apologizes for not having been a better father to him. Though it brings Hwa-ming to tears, Kang-hwi remains unmoved. I guess it doesn't help soothe the pain of being in a foreign place and being mistreated by most of the family.
Kang-hwi greets his stepmother – Hwa-ming's mother, and the first wife – respectfully. Her harsh demeanor is mostly gone, as she does have a dying husband now, but Ji-ming arrives with guns a-blazin'. She accuses Kang-hwi of only coming back because their father is dying, and he wants the inheritance, right? Hwa-ming scolds her younger sister; it seems like everyone knows that Kang-hwi is not interested in the inheritance but Ji-ming is still insecure about her status in the family. After all, the only reason why Kang-hwi and his mother came into the household was because their father needed a male heir.
Ji-ming must have been such a bully that Kang-hwi just wants nothing to do with this household. His mother feels so guilty that she apologizes to him for everything. But he doesn't want to hear that from her – why must she be sorry? It's as if she's sorry that she ever gave birth to him and put him in this situation.
He walks through the streets and sees a woman dancing with her young son in the town square, with a beautiful Bellagio-like fountain in the background. It brings him back to memories of dancing with his mother in their humble hair salon back in the day.
After much contemplation, Man-ok decides to head out to meet Tae-ik. But just before she heads out, she gets a call from Kang-hwi, who sounds so mournful as he asks for Man-ok to come meet him. He's in so much pain. Man-ok has no choice but to go to him, but that also means she's leaving Tae-ik in the lurch.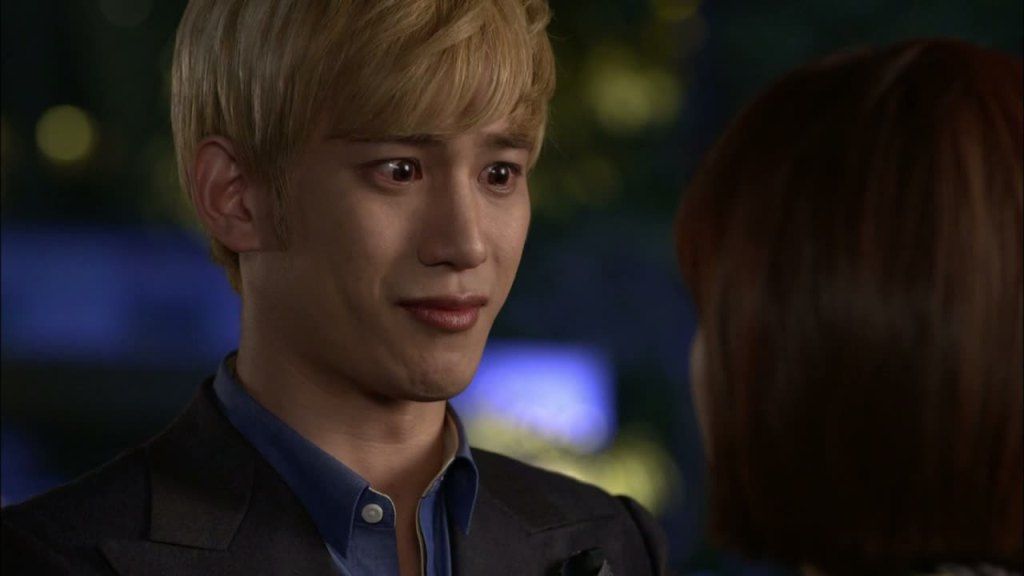 When Man-ok arrives, Kang-hwi feels instantly better, but he suggests they dance. Man-ok's in a time crunch though, and she'd rather they just head back to the hotel. She's got to meet the man who loves her, danggit! Unable to get her to dance with him, he just ends up sobbing into her shoulder. Well, Man-ok can't leave him so quickly now.
They grab a few packs of beer and drink in the park. Kang-hwi gets quite drunk and sings loudly, not quite caring that he's attracting attention. All Man-ok can think about is how late she is in meeting Tae-ik. Kang-hwi stops her from leaving, and says that he will tell her all of his secrets. He'll show her exactly who he is.
Meanwhile Tae-ik waits outside the hotel for hours, and tries calling her to no avail.
Se-ryung calls up Lee Joon with a new development: she was the one who hired the paparazzi to follow Kang-hwi home. Their cameras were confiscated because Kang-hwi had arrived at the prestigious Won family's mansion. Se-ryung doesn't understand the connection between Kang-hwi and the family (other than a shared last name?) and so she calls up Hwa-ming for some confirmation, face-to-face.
The cat's out of the bag, so Hwa-ming admits that Kang-hwi is her half-brother.
By the time Man-ok brings the drunk Kang-hwi back to the hotel, it's nearly midnight. As she leaves his room, Se-ryung catches her, and once again wonders if Man-ok has an ulterior motive towards Kang-hwi. Perhaps… Man-ok knows about Kang-hwi's family connections?
The thing is, Man-ok does know – when Tae-ik said he'd tell her his secrets, he revealed his family background. Se-ryung thinks Man-ok a gold digger, but Man-ok reiterates one very important fact: not everyone is like Se-ryung, and she is most definitely NOT like her.
Se-ryung has this incredulous look as if saying, "What do you mean no one's like me?!"
Man-ok doesn't know what to say to Tae-ik, as she's afraid that he's already asleep. She composes several different texts, apologizing for not meeting him and making up excuses that she was really busy. She initially promises to tell him everything when she's back in Korea, but then settles on a simple text: "I'm sorry."
ACK! Girl – why can't you write up all the reasons? Don't you realize you create more confusion and issues by not telling him anything?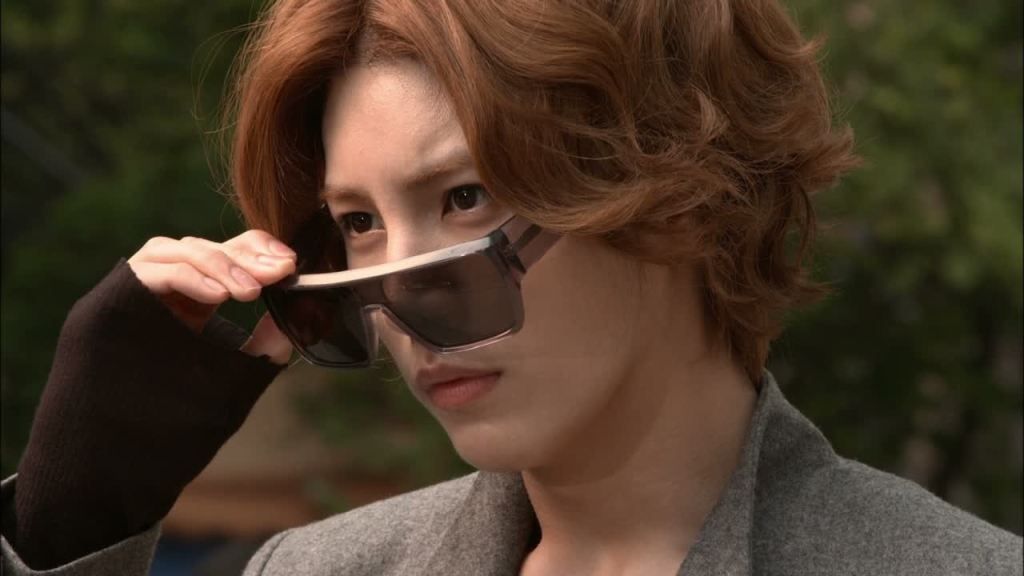 Tae-ik sees her text while brooding, and he doesn't know what else to think of it – other than it seems like an outright rejection. And so the following morning, he heads to the fashion show, with an agenda.
Comments:
Stupid Merry-Go-Round of Misunderstanding. I want to get off this ride. How do I get off!? I am most frustrated when the heroine does not explain her actions, thinking that a simple sorry will convey exactly how she feels and what her situation is. It does not!
This episode pretty much confirms the hints we've been getting about Kang-hwi's family, which is that he's an heir to a rich family. Since he's the only son in this patriarchal family, it looks like the father wanted to strip his elder daughters' rights by giving him the inheritance. Understandably so, Ji-ming is pissed, while Hwa-ming doesn't seem to care because she has her own thriving business. I feel slightly bad for him, because instead of getting to grow up with a loving family, he was given responsibilities and burdens that he did not ask for. It's not like Tae-ik, who had a loving family but ended up losing his parents to death and mental illness. At least Tae-ik got to grow up for most of his life with a happy family.
But even then, I couldn't help but feel frustrated that Kang-hwi came off so selfish in this episode. He kept thwarting the reunion of our two lovebirds. I know it's supposed to happen because (1) no drama is without one, and (2) we are on the Merry-Go-Round of Misunderstandings. But I couldn't help myself in wanting to shake some sense into the boy. You've cut yourself out of this family yourself. Don't let them get to you anymore! You have bigger problems – like your eyesight. Although, if he blames his poor eyesight on the accident due to his father's "kidnapping," then that's a different thing…
If Man-ok would just open her mouth and be more assertive about where she's going and who she's seeing, a lot of problems could also be resolved. A lot of ifs. Le sigh…
RELATED POSTS
Tags: featured, Full House Take 2, Hwang Jung-eum, Noh Min-woo, Park Ki-woong