Full House Take 2: Episode 16 (Final)
And so we must bid farewell to the cast who has slowly made a home into our hearts. We still get a bit of the angst but the show quickly wraps up those loose ends and delivers much of the long-awaited Cute late in the game. Better late than never, I say. It almost makes you want to forget that the middle half ever existed given how adorable it is now.
SONG OF THE DAY
Park Ki-woong – "Baby Why" Full House Take 2 OST [ Download ]
Audio clip: Adobe Flash Player (version 9 or above) is required to play this audio clip. Download the latest version here. You also need to have JavaScript enabled in your browser.
FINAL EPISODE RECAP, PART 1
Everyone waits with bated breath as the MC announces the winner as… Take Two. The crowd erupts in cries of joy and tears as the boys celebrate.
The spotlight cuts away from Kang-hwi who sways back and forth and collapses onto the ground. When the camera focuses back on Only one again, Kang-hwi is gone.
Lee Joon fumes and he immediately shifts into damage control. He's still boiling mad when Bum-soo reminds him of their earlier deal about Full House. It's no surprise that Lee Joon turns on a dime at this and shouts that there's no evidence to such a verbal agreement. Ugh, as if we needed more proof to know what a jerk you are.
Tae-ik runs in but he's got another bone to pick with Lee Joon, grabbing him by the shirtfront. He roars that if Lee Joon was aware of the extent of Kang-hwi's condition, then how could he have stood by until he collapsed on stage?
Lee Joon raises an eye at Tae-ik's uncharacteristic concern. Since when did Tae-ik take such an interest in his ex-teammate? He shoves Tae-ik out of the way – he has bigger things to take care of than checking in on Kang-hwi in the hospital.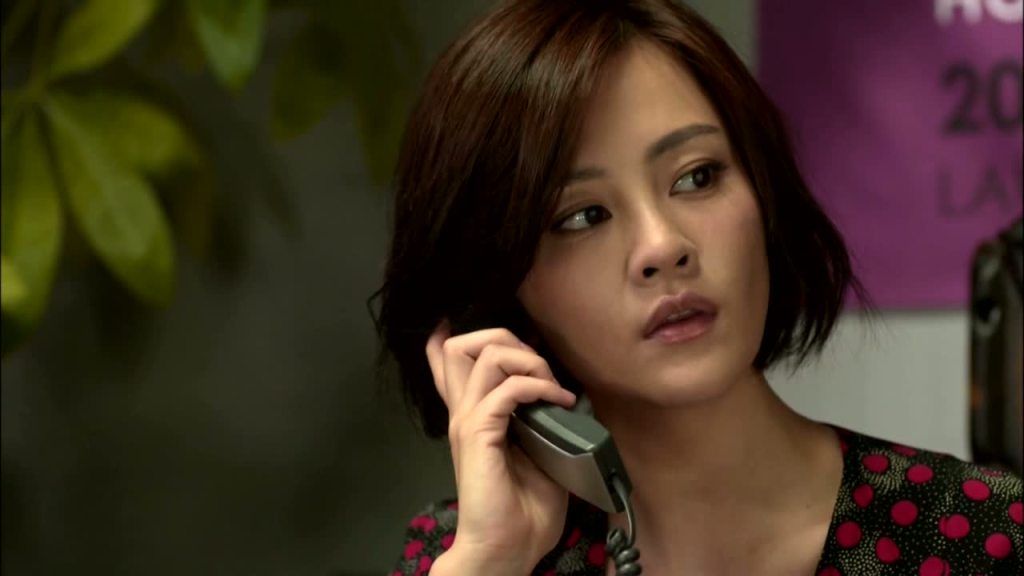 Unfortunately, it's only bad news that awaits them at the hospital. Given Kang-hwi's prognosis, the only treatment option available to them now is an eye transplant surgery.
Hwa-ming immediately calls Lee Joon once she hears the news, infuriated. Lee Joon assures her that Kang-hwi is receiving the best medical treatment from the top doctors in the country and they'll be going ahead with the album preparations as planned.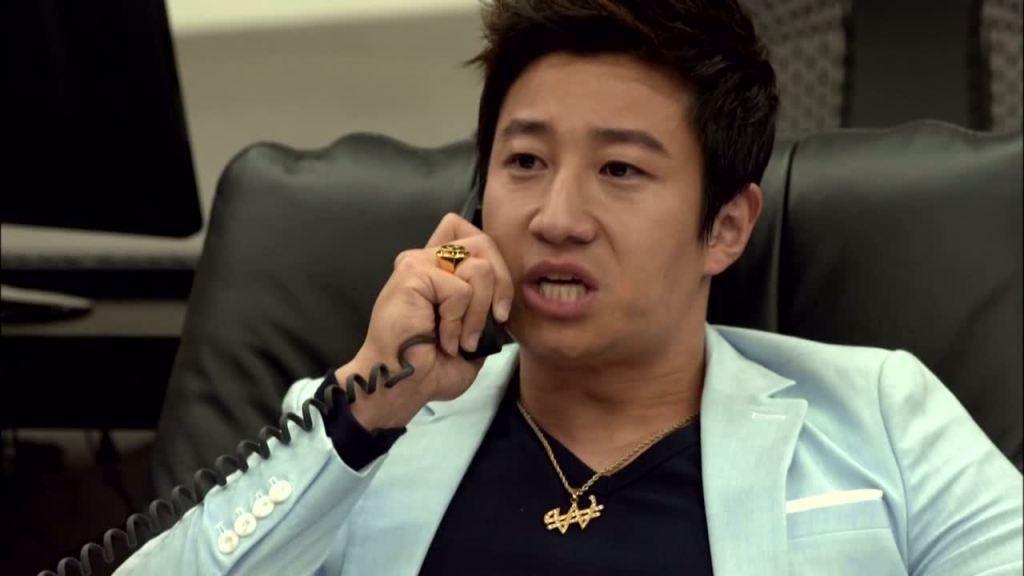 But Hwa-ming retorts that her company will no way invest in an industry that works their employees ragged – she'll be retracting her investment to UEnter. Which is when Lee Joon pulls out his hidden card: Would she like to see front page headlines of Kang-hwi's real lineage?
Hwa-ming tells him, "How dare you threaten me and my family." She warns that Lee Joon will regret this and hangs up.
The others stand vigil around Kang-hwi's bedside, dispirited. But they've got a bigger issue on their hands as Go-dong rushes in, announcing that Lee Joon plans to hold a press conference about Kang-hwi's family.
Just then, Kang-hwi stirs awake and tells them that he's fine. He jokes that he made another broadcast error and figures that everyone must know about his failing eyesight by now.
Lee Joon doesn't let anything or anyone deter him from holding his Important Press Conference and has the Take 2 boys dragged away. He walks in to find the hall empty of reporters and yells in frustration.
It's the UEnter chairman who answers him, saying that he called off the press conference. He scolds Lee Joon for trying to start a war with Kang-hwi's family and ignores his protests that he'll handle the situation. He ousts Lee Joon from the job.
Lee Joon argues that he can't do that – the chairman knows better than anyone else how hard he worked to get to his position. "You can't do this to me!" but the chairman remains firm on his decision. Well, now we know where you learned to be all shouty.
Lee Joon pleads with the chairman, desperate now, only to be turned away. He falls to his knees, shaking in shock.
The chairman listens to the voice recording of Lee Joon's agreement to turn over Full House to Tae-ik. The name triggers a memory of when he introduced Lee Joon to Tae-ik's parents.
He mulls over the situation, listening as Bum-soo explains how much profit Tae-ik has earned for the company. And to their surprise, he agrees to honor the arrangement. On one condition: that Bum-soo take over Lee Joon's position at UEnter.
Back in his office, Lee Joon recalls when he was first established as president, a glint of idealistic hope in his eyes. He runs a hand across his now useless nameplate before swiping the contents of his desk in a rage, and breaks down.
Se-ryung visits Kang-hwi in the hospital bearing flowers. She informs him that Lee Joon has resigned, but more than that, she's here for his advice about Tae-ik before she leaves for China.
Telling her that she shines brightest when she acts like the international star Jin Se-ryung, Kang-hwi advises her to shake Tae-ik's hand and let him go. He lends a sympathetic smile as Se-ryung admits that she sometimes thinks that Tae-ik may still have feelings for her (really?).
He tells her that it's because her feelings were genuine; isn't that why she came back to Korea in the first place? But Se-ryung says that she's just angry that she can't have Tae-ik and vows that she'll do as Kang-hwi advises.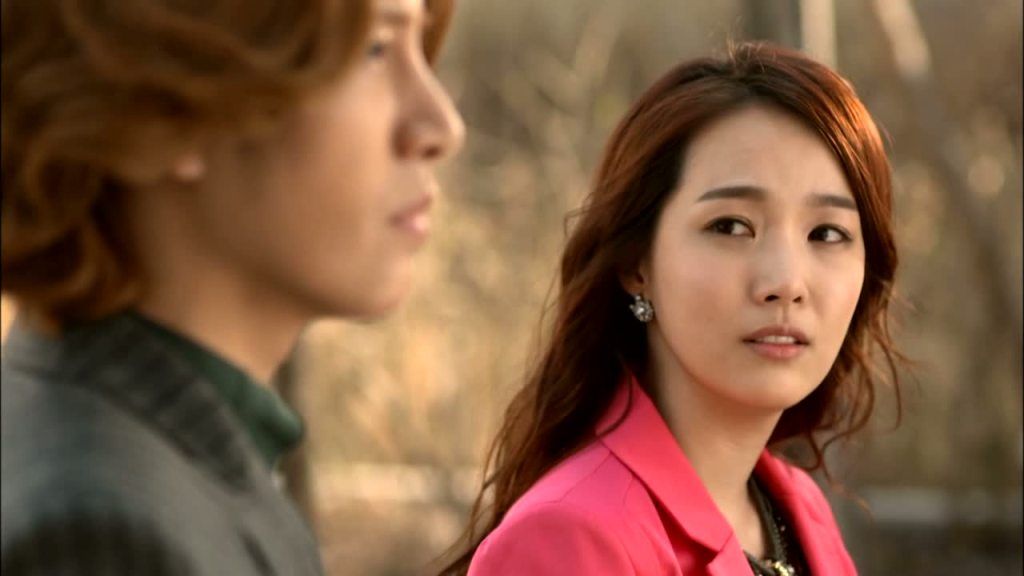 She runs into Tae-ik on her way out and they relocate to the rooftop to chat. He congratulates her on her upcoming movie and she swallows hard before asking him for the last time if he won't come with her to China.
When he doesn't answer, her voice breaks — he may come to regret it if he doesn't take this last chance. Tae-ik asks if Se-ryung regretted leaving him. He adds, "The most important thing to me is to protect the ones I love. That way, I don't regret it."
Taking that as her answer, she says goodbye. A little later, she sends him a text to clarify the misunderstanding. Explaining that she was jealous of the Take One boys' strong friendship, she deliberately kissed Kang-hwi for Tae-ik to see.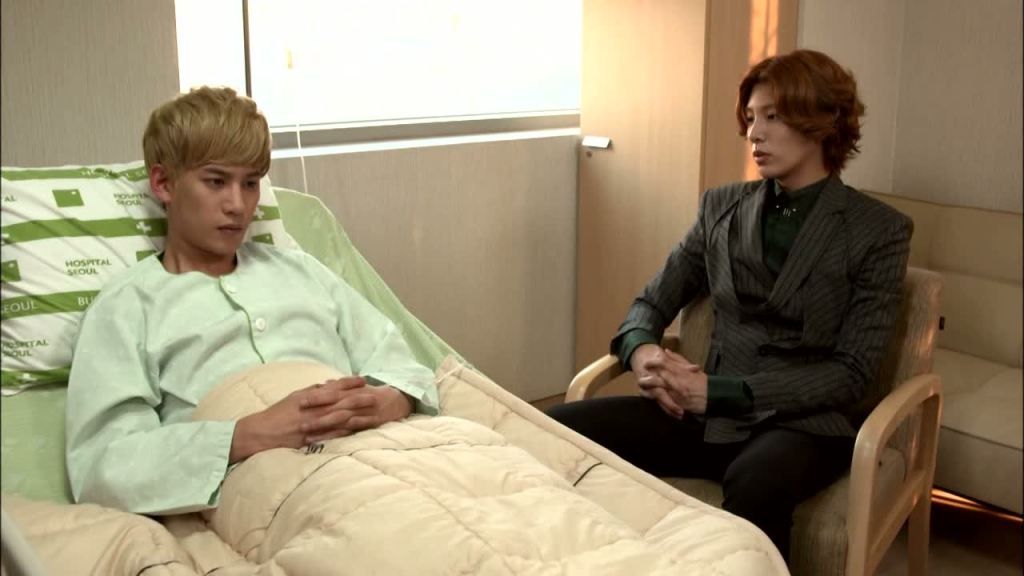 Aw, it breaks my heart watching Kang-hwi blindly hobble out of the bathroom. Tae-ik tells him that he should have asked for the nurse's help but Kang-hwi dismisses this. It would be embarrassing for him as a Hallyu star. Plus, the nurse is a huge fan of his.
After a long minute, he congratulates Tae-ik for getting Full House back and declares that he'll be moving out so he can avoid that "jerk house owner." Moreover, he's headed to China to get eye surgery and spend time with his mother. Though surprised, Tae-ik gives an adorable, understanding nod.
Kang-hwi explains that he initially rejected the idea to get surgery but realized he should pursue every avenue of treatment to stop living a life of discomfort.
Tae-ik tells him that it's for the better and confesses, "I'm sorry, Kang-hwi." Aww. Kang-hwi answers with a Dost my ears deceive me? and finds Tae-ik's sincere apology uncharacteristic of him. "They say that people die if they suddenly change."
Tae-ik airs out the dirty laundry and Kang-hwi laughs that he would never steal his buddy's girl. He adds that girls like Se-ryung aren't his type and clarifies, "I like girls who are cute like puppies, not like foxes."
They resume their adorable bickering and then Kang-hwi agrees to accept his apology if Tae-ik grants him a favor only he can fulfill.
Kang-hwi returns to Full House the next day to be welcomed by a delicious spread made by Man-ok. Over a cup of tea, Kang-hwi comments that it feels nice to be home.
He presents her with a pin and asks if it looks similar to the one they saw when they were in Japan. He reminds her of her earlier words about greed and that a person can't have everything. He admits that he might have unknowingly caught on to how Man-ok already felt for him by then.
He instructs her to open the attached envelope. In it is a voucher to attend a designer academy, and he mentions that Hwa-ming was impressed by Man-ok's talents.
She's touched by the gesture and Kang-hwi promises, "When you become a famous designer, I'll be your model." Man-ok thanks him and he says the same, though his sounds more like a goodbye.
"You have to become a great designer, Man-ok." He tells her. "You've worked hard staying by my side." He sends her off to live her own life now and Man-ok looks at him as the truth slowly sinks in.
With a sad smile and voice cracking, he tells her, "Jang Coordi, you're fired."
FINAL EPISODE RECAP, PART 2
Kang-hwi is carefully led to the car by Hwa-ming. He can barely make out the blurry outline of Man-ok in the distance and slaps on a brave smile. Man-ok waves goodbye, lingering for a long moment after the car drives off.
Man-ok surveys the empty house and lets out a sigh. She hears the door open and calls out a hopeful, "Kang-hwi nim?" But no, it's "Tae-ik nim" who reminds her that this is his house.
His official move-in date is tomorrow but he's here now to bring her back to the gym to beg for Grandpa's forgiveness. I love that he's all, Shouldn't you go back home now? and when she hesitates, he assures her that he'll be there next to her.
It's hilarious that it's Tae-ik's who's the more assertive one now as he practically drags her back to the gym. She cries that Grandpa's super scary when he's angry but Tae-ik's like, We have to go inside first!
Grandpa steps out upon hearing the commotion and he tsk-tsks when Man-ok addresses him as "Grandpa." To his knowledge, he doesn't have such a mannerless granddaughter. Ouch.
So Man-ok falls to her knees to beg for forgiveness. She follows him inside, proclaiming that she was following his words to stay true to her friends during their rough patches. Grandpa softens at those words and says they'll go for mudfish soup. Yay!
Man-ok falls into her bed, utterly happy, and Tae-ik does the same. She immediately sits up when he does and Tae-ik makes a lame excuse about how cushy it is until he puts his hand over hers. I see what you did there, smooth operator.
They both blink their eyes wider, surprised and then Tae-ik leans in close… but they hear Grandpa cough outside their door and she pushes him off the bed. HA – I forgot how strong you were, Man-ok.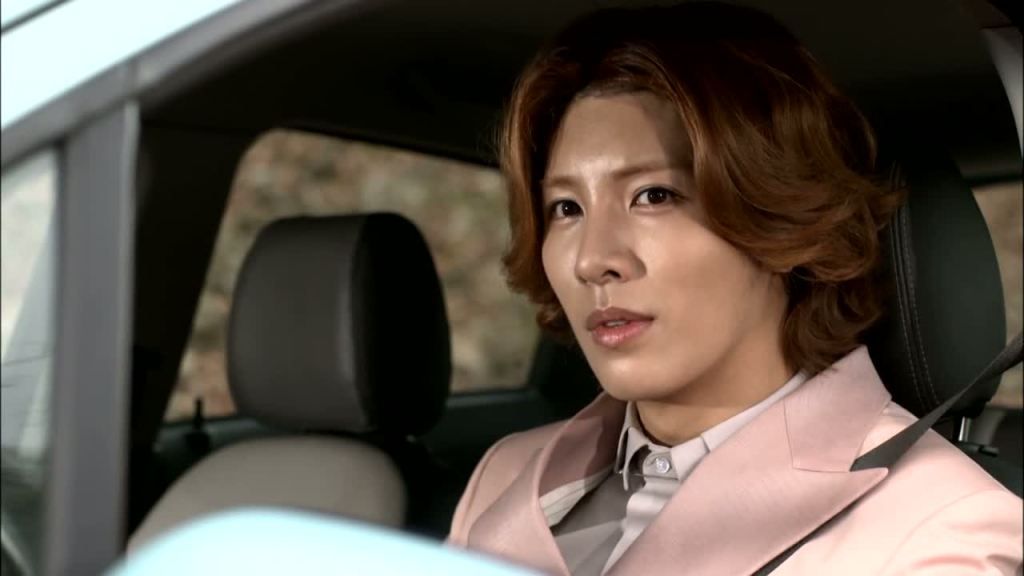 Bum-soo and the Take 2 boys bid farewell to Grandpa who tells them to visit anytime. Tae-ik takes in the surroundings, recalling the sweet memories spent in the gym: when he complained about the tent, Man-ok's confession, and the kiss.
Grandpa has a special word for Tae-ik, instructing him to take care of his health (he's not the only one who thinks this way, mind you). Tae-ik cries, "Yes, sir!" which gets Man-ok to laugh and he cracks a smile.
Tae-ik drives back to Full House, now his since Bum-soo handed the house deed back over to him. He looks around at the now-empty basement and we finally learn what Kang-hwi's favor was.
"Don't ever leave her side. Always stay by her side and say, 'I like you,' 'You're pretty.' Tell her a lot of those cheesy things. No matter what, make sure she never cries, so that she's always smiling. Even though it's something I can't do no matter how hard I try, you can make Man-ok happy." Gah, don't make me cry!
He goes to pick up Man-ok early in the morning in front of the gym. Waiiit a minute, are those supposed to be C'mere girl eyes? Pfft. Tae-ik: "Let's go." Man-ok: "Where?" Tae-ik: "Somewhere fun." So cute.
That someplace fun is back at Full House and he tells her to change out of her gym clothes. She blinks that she took all of her things with her but he tells her, "Then what's that you left in the bedroom?" Oh you… you didn't…
…Yes you did. Man-ok is left breathless at the array of balloons and flowers. She opens the box and smiles at the dress inside.
Back downstairs, Tae-ik is at the piano with an impressive spread of food. She steps towards him and smiles sheepishly.
OMG, Tae-ik you're singing a song about your complaints and demands to "Jjang Man." That's so weird and adorable at the same time. He ends his little serenade to her to her applause.
It's sweet that he simply stares at her across the table and when Man-ok blushes, he tells her, "You're so pretty." She turns a fiercer red. And of course he turns that on its head and said he had no idea things would turn out like this when she first spooked him in that niqab.
She says the same about his severe lack of manners. He smiles and asks that she stays by his side… as his coordi. Er, that's not really romantic there, stud.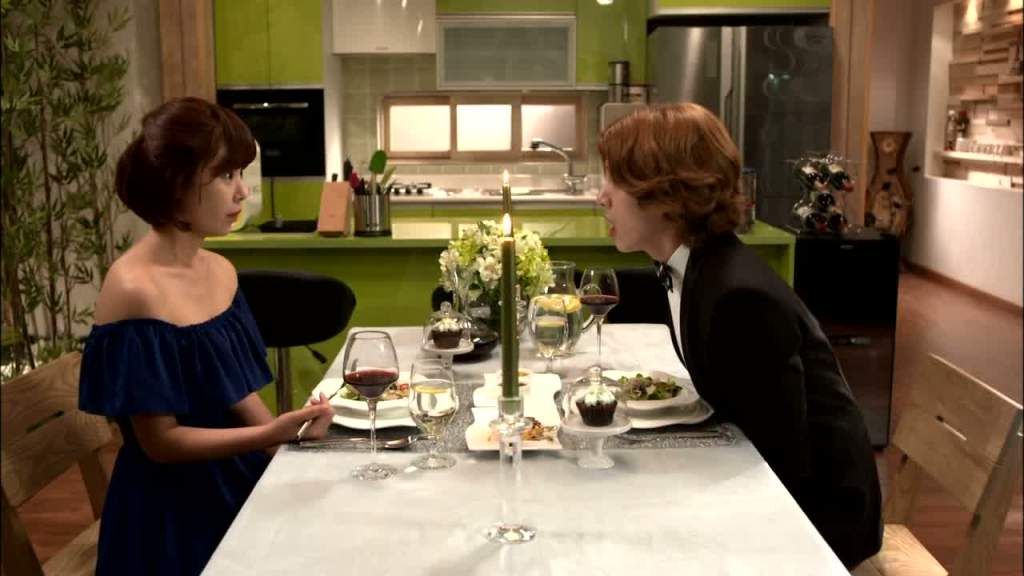 Man-ok turns down his offer because she'll be attending designer academy soon thanks to Kang-hwi. Tae-ik mutters curses under his breath and Man-ok takes offense that he'd think she'd stay as stylist over pursuing her future.
Then Tae-ik throws a temper tantrum: She was Kang-hwi's coordi so why can't she do the same for him? Huh? She calls him out on his childlike behavior and he bellows, "What? Kid?!"
He crosses his arms, pouting that Man-ok refers to Kang-hwi as "Kang-hwi nim" and now he wants the same treatment. Aw, are you still hung up on that?
It's kind of hilarious that he has to spell it out for her ("Tae-ik nim") and she has to stifle her laughter at the ridiculous request. He even shows her how she always does it and she can't bring herself to, citing that such a lofty nickname doesn't suit him.
But she gathers herself to comply anyway. So she folds her hands together… and then sticks her tongue out before running off and he chases after her. So. Adorable.
Six months later. Looks like it finally worked as Tae-ik wakes in bed, hearing Man-ok's voice call out, "Tae-ik nim." He puts an arm around Man-ok… and then opens his eyes to see Go-dong instead. AHAHAHA.
The best part is that Go-dong covers himself and says that his body is "pure without a single scandal." Pfft, then what were YOU doing in bed with him?
He rolls out of bed and stops at a photo of him and Man-ok in the picture frame. He gives it a little kiss and then looks sideways to see if anyone caught him in the most adorable moment ever.
Man-ok receives a package from Kang-hwi. Inside is a voice recorder and Kang-hwi updates her that he's doing well. Part of me thinks is pretty brilliant. The other part reminds me that he could have used a phone.
Man-ok records her response, telling him that everyone's doing fine. The Take 2 boys are successful (and Go-dong is a Kang-hwi Lite) and Bum-soo is busy as the CEO. She still continues to teach the kids hapkido and attend the academy.
She adds that everyone misses him and asks when he'll be back in Korea.
Kang-hwi, who's in China, turns off the recorder and is told that he has a visitor. He turns around to see (hold on, you can see?!) Tae-ik and the two exchange smiles. Again… you can SEE?!
We get a little glimpse of Lee Joon who looks like he's started his own company: LJEnter.
Backstage, Man-ok gives Tae-ik an annoyed look when he asks for another stage jacket, telling him that she can't see any tears in the one he's wearing. Suspicious, indeed…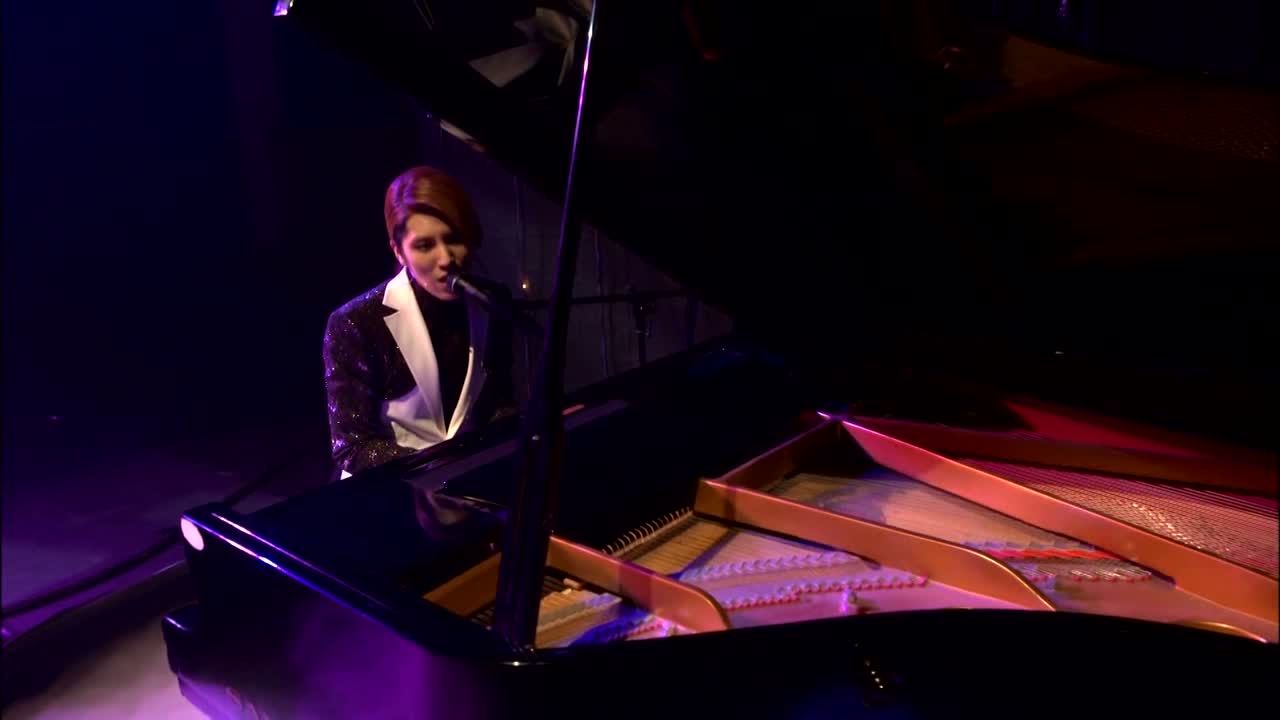 The Take 2 boys take the stage with "Hello Hello" and then Tae-ik sits at the piano for a special arrangement of an old song for a "special friend." Ooh yay, we get to hear "Touch" as a ballad! *squeal*
As he finishes, another song starts. It's the original "Touch" and the lights flicker on… to reveal Kang-hwi on stage. Eeee!!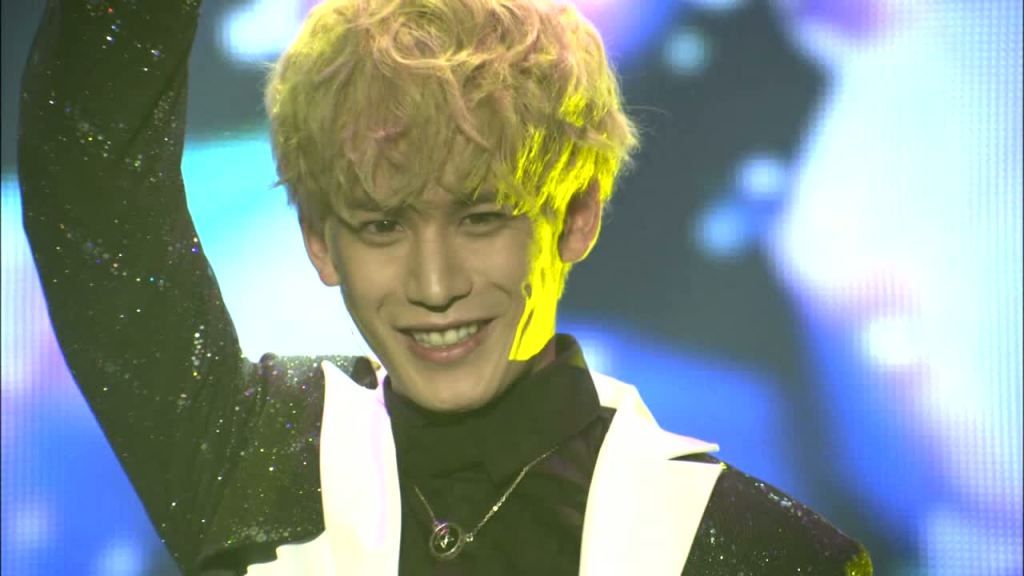 The Take One boys start singing their old hit and I think I'm going to cry. As a fangirl, I know that feeling all too well when you see ex-idol groups come back for a reunion. I love that Kang-hwi's smiling again as they sing and dance together on stage.
The crowd erupts in cheers as they revel in their chance to see Oppa again. Once they wrap, Man-ok says that his sudden appearance surprised her. Then Go-dong hug-attacks him. I feel all warm and fuzzy inside.
Go-dong asks if he can see him fine (which then makes me wonder why that wasn't Man-ok's first question) and Kang-hwi assures him he can before making fun of his still high-pitched voice.
Kang-hwi goes to hug Man-ok but is quickly pulled off by jealous boyfriend Tae-ik who tells him that they can exchange hellos by saying it. HA. Kang-hwi turns to Man-ok and tells her that it isn't too late – isn't he better than Tae-ik anyway?
He hides behind Man-ok as Tae-ik chases him around. You two… you're killing me with the Cute.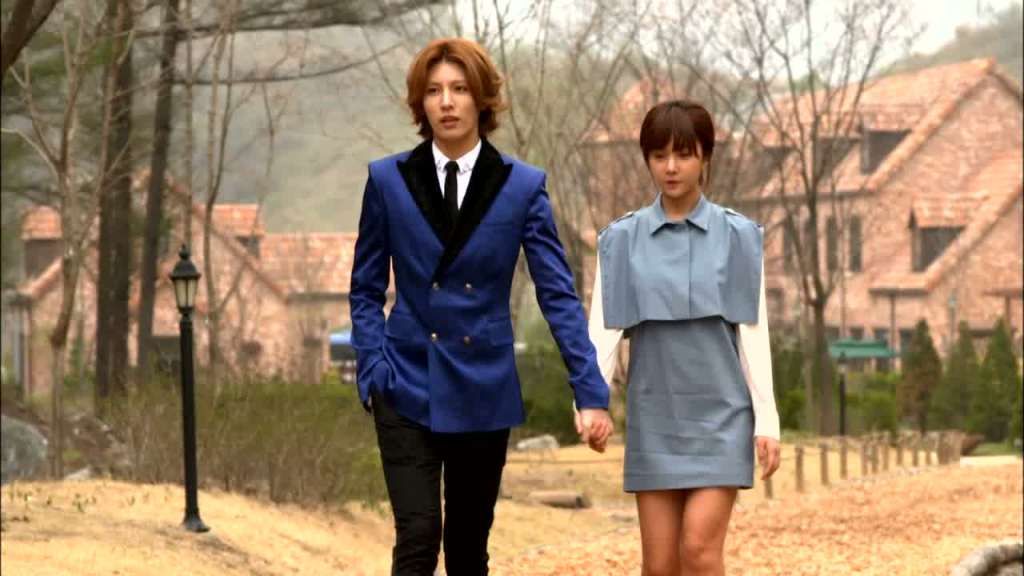 Back at Full House, a party's in full swing. Tae-ik slips outside with Man-ok, who worries that they might be scolded. Tae-ik takes her hand in his and tells her that he's going on a walk with his girlfriend. Nothin' wrong with that.
He brings her out to the grounds and asks if she recalls anything and gives her a hint, "Chaton." When she doesn't get it, a second hint, "Idiot." That triggers her memory to their first encounter as children and their childhood versions of each other flash in the present.
He instructs her to find Chaton and Man-ok reaches in to grab a basket. Inside, is the Chaton doll with a ring on its collar. Tae-ik places the ring on her finger before showing off his.
He asks her to call him "Tae-ik nim." Aw, you're still on that? Man-ok's expression pretty much says what I'm thinking and she lets out a little laugh. She does it and he smiles.
Tae-ik recites that Man-ok's name in hanja means "Full" and "House" and she nods. Icwutudidthurr, Show. Looking into her eyes, he says, "Let's live here together forever. Here, at Full House."
Another nod and he kisses her. They walk back towards Full House, hand-in-hand.
COMMENTS
It's over! A much stronger second half than the beginning of the episode. We still had a few loose ends to tie up, especially with Lee Joon and his much needed comeuppance. I wasn't sad to see him go, though we still see he's running around doing the same thing from the bottom up.
Though I'm sure it wasn't that much of a stretch to expect a happy ending for everyone, I'm so glad that we did. I know that it concerned kaedejun and myself when this drama suddenly swerved toward classic, conventional melo in the middle of the drama's run. Honestly, it feels like a missed opportunity because it could have served the drama so better if it stayed on the cute trajectory.
It still boggles my mind how an eye injury in one eye would end up affecting both eyes, but the blindness served its dramatic purpose in the plot. I'm sure it might upset some fans that his eye transplant surgery while he was in China seemed rather convenient, but I was willing to turn a blind eye (hur) to it. Rather, his absence felt necessary not only for our main couple but for his own character growth. Plus, if he didn't leave, his epic comeback stage wouldn't have felt as… epic.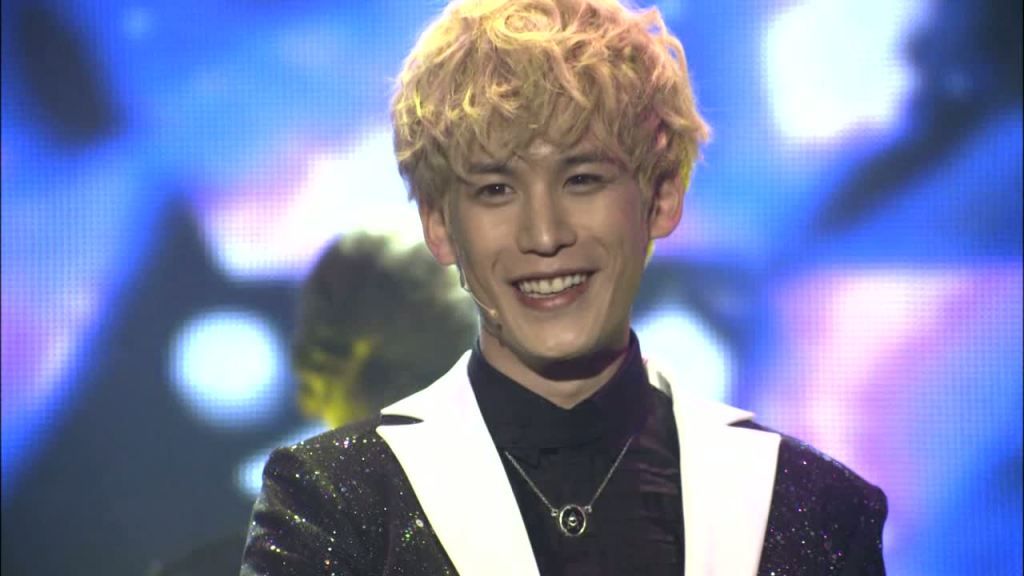 Whether you fully enjoyed this drama from start to finish or not, you can't help but notice the satirical perspective into the entertainment industry. From the rigorous schedules, to the unreasonable CEOs like Lee Joon, to seeing songwriters and managers nearly sign their life away to become a singer, these felt like little peeks into the truth disguised by the outrageous perms and fashion. We'll never be sure if these references were intentional or not, but I'd like to think these were speckles of brilliance buried under a parody.
For myself, I felt fully satisfied with our happy, open-ended ending though kaedejun shares a different perspective (Because of the rushed arrival of the explosive Cute, she wants more episodes. Heh.). I love that our childhood encounter came full circle for adult Tae-ik and Man-ok and that both of them are still pursuing their own dreams.
And as cute as their romance was, it was the bromance that really took the cake. Watching Tae-ik and Kang-hwi bicker like 4 year-olds was a delightful treat that still has me in a fit of giggles. I love that the drama hung a lantern on their strong friendship and showed us glimpses to how damned cute these two are.
I worried what taking on this role of Kang-hwi would do for Park Ki-woong's image, given it was just weeks after Gaksital had wrapped when Full House Take 2 was given the green light to air. And to that end, I think it might have been for the better and reminds us of his incredible range as an actor. He took us through both the laughs and tears as Kang-hwi and now, I just love him even more. Maybe in Take 3?
RELATED POSTS
Tags: featured, Full House Take 2, Hwang Jung-eum, Noh Min-woo, Park Ki-woong