Hyun Bin returns from military service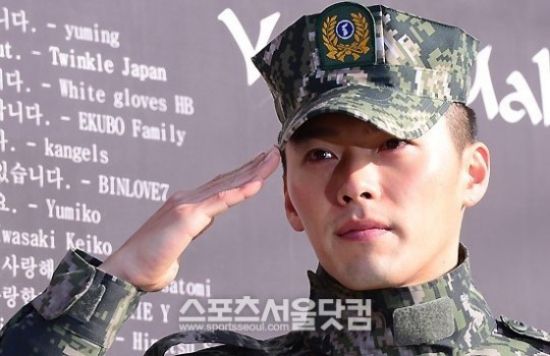 Binnie's back! I'll give you a moment to properly savor it. Are we done squealing now? How 'bout now? Should I just take a coffee break and come back?
Upon his discharge from the marines on December 6, Hyun Bin (Secret Garden) greeted the press and fans with salutes and tears, announcing his happy return to civilian life, and more importantly, acting. I guess when it rains pretty-boys-back-from-army, it pours pretty-boys-back-from-army.
Though really, Hyun Bin has remained consistently in the news since entering basic training in March 2011, which has the (clearly intended) effect of feeling like he hasn't been gone that long at all. It's saying something that there's just as much interest in his return as there was in his leaving — just look at that crazy wall of cameras, good grief.
Kind of amazing actually, what having a hit drama just before army duty can do if you're managed well. There's no news yet of a comeback project, so now's the time to start your bets, wish lists, and prayer rituals.
Hyun Bin: The-Marines-Make-Army-Abs-Look-Like-Butter Watch begins… now.
RELATED POSTS