Kim Seung-woo's Win-Win gets cancelled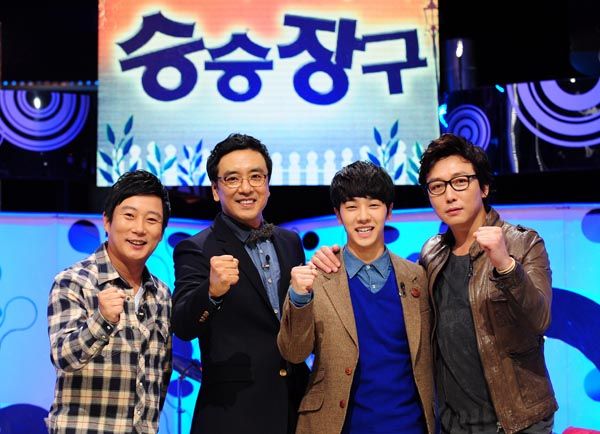 girlfriday: Aw, time to say goodbye to another variety show. Kim Seung-woo's KBS talk show Win-Win has officially announced that it'll be shooting its last episode in early January.
javabeans: I don't watch Win-Win so I'll let you answer this one: Is this sad news?
girlfriday: Yes and no. I liked the show when it had guests I liked, and Kim Seung-woo is such a pleasant host — not the mean kind, the make-you-talk-about-rumors kind. Just gracious and nice. His MC-minion crew (Lee Su-geun, Lee Ki-kwang, and Tak Jae-hoon) never really completely felt like a unit, but I like them all. Mostly, Kim Seung-woo is great in variety, which is weird, but true.
javabeans: I can see that about him, just from seeing him on 1N2D. I was curious to know how he'd fare in that kind of variety, which is more docu-reality, but he really surprised me by being good-natured all the time, even in the worst of situations. It's almost like he's the invisible mediator, there to soothe ruffled feathers without making it seem like any soothing is going on. Seamless mood regulator.
girlfriday: He's so awesome on 1N2D. Win-Win is almost too buttoned-up, once you've seen him be crazy on 1N2D.
javabeans: Well, I suppose he might be a little busy considering he's got a drama coming up (IRIS 2), another one maybe-sorta-gearing up for promotion (if it ever finishes airing and/or gets a broadcaster) (City Conquest) and a bimonthly variety-trip taking up his weekends (1N2D)… and you know, his wife and kids and all that.
girlfriday: Right. So the general consensus seems to be that Kim Seung-woo wanting more time to actually be an actor is the major reason why Win-Win is ending its 2-year run. Because it's regularly the ratings leader on Tuesdays, so it's not exactly a show that KBS wants to get rid of. But it seems like a good idea to let go of a show while it's at the top, if you're going to let go of it at all.
javabeans: Especially when you've got Kang Ho-dong waiting in the wings?
girlfriday: Yeah that's the big rumor circulating right now — that Kang Ho-dong's new variety show might take that time slot.
javabeans: I know this is as amicable and professional and totally unemotional as far as cancellations go… but c'mon, can we please have a 1N2D Mat-hyung Face-Off, just once? Or better yet, a Butt Wrestling deathmatch?
girlfriday: Dude, that would Make. My. Day.
javabeans: Get on it, KBS!
Via TV Report, Sports Donga
RELATED POSTS