King of Dramas: Episode 13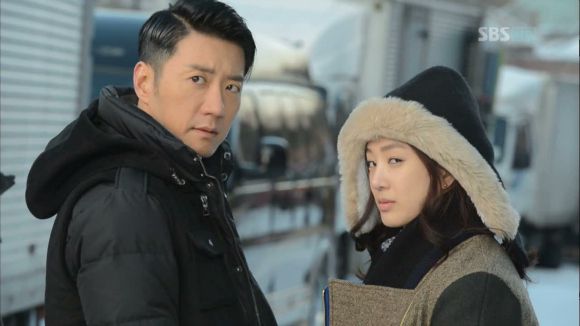 It's time to run into some regular production woes, which include some above average fare, what with our leads hugging soup barrels and each other to survive a chilly night and a fire burning out of control on set. I'll take any of these conflicts any day over Empire Productions/World Productions power struggles, so bring it on, King of Dramas.
Side note: Apologies for the delay, folks! Turns out tonsillitis can really get you down. Between this and the holidays we'll have a tough schedule, but at least we've got an extension to look forward to(?).

EPISODE 13: "A Man In Flames"
Go-eun watches the whole kiss between Anthony and Min-ah, though she doesn't miss the part where Anthony pulls away.
On his rooftop, Min-ah asks, "Can you say that you have no feelings for me at all?" He doesn't answer, but she continues on that they can start where they left off, and she'll wait for him. "But please don't come to me too late," she adds.
Anthony finally spots Go-eun, who hilariously ducks down behind the wall the second their eyes meet. After waiting a bit, she peeks over the top… to find him still staring at her. Ha.
Mortified, she scuttles back into her apartment in a spectacularly-failed sneak attempt. Anthony seems to watch her go with a hint of amusement.
Dong-seok wakes Go-eun up the next morning with a gift – a framed poster of Kyungsung Morning, all official-like. Aww. She's not happy to stare at Min-ah's face on it, though.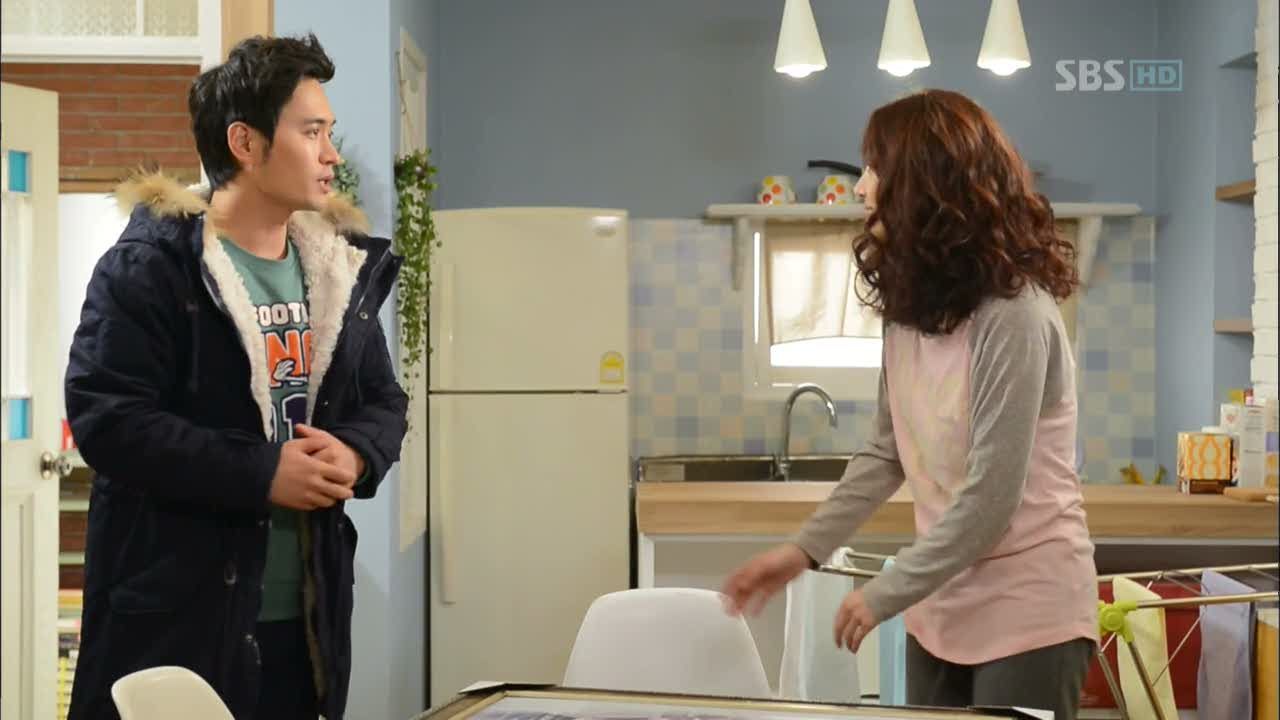 She asks him about Min-ah's relationship with Anthony, to which he replies that Anthony is the one responsible for making her a top star. But then he goes into gossip mode as they discuss the rumor that Anthony and Min-ah once dated, only nothing's confirmed.
And it stays that way, especially when Anthony comes to break up the roundtable discussion to take Go-eun out for a fancy breakfast with fine wine. (Which he pours like a champion.)
Something about this seems fishy, especially considering how Anthony is all smiles and good manners. He explains how he always wanted to treat her to a fine meal but lacked the funds before, and gives her a pep talk to help her through the remaining scripts.
He even suggests that she take a trip to Europe after Kyungsung is done, and he'll foot the bill. But then we finally see the catch: He wants Go-eun to renew her contract with him. Ah, so that's why she was getting VIP treatment.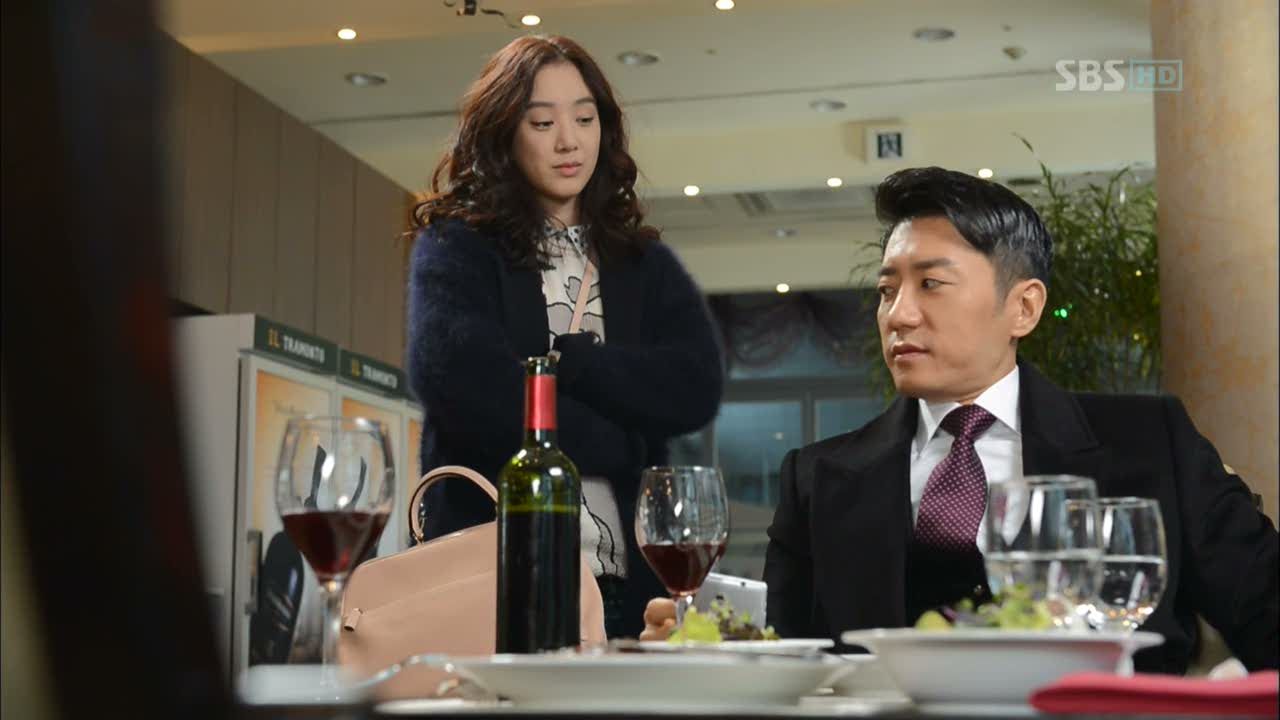 After realizing this much, Go-eun rejects the rest of the meal and leaves in a huff, forgetting her cell phone in the process. When one of the calls turns out to be an offer from another production company, Anthony answers: "What should we do? Last week, Writer Lee Go-eun signed a contract with World Productions for the next ten years." Haha. Typical.
Unfortunately for him, Go-eun overhears everything and plucks the phone from his grasp. Ha.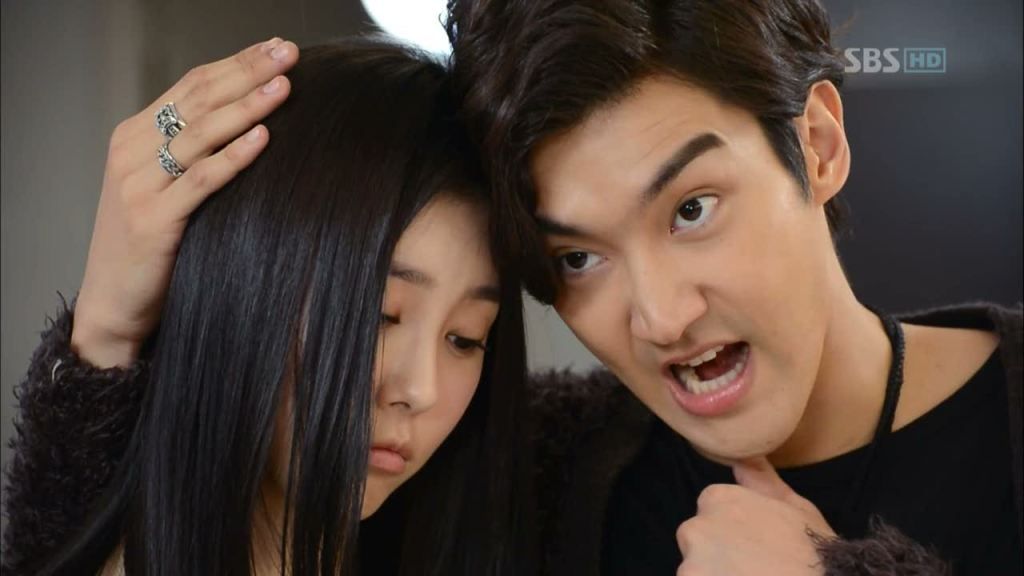 Meanwhile, Bit-na whines to Hyun-min about the kiss scene, since he hadn't told her beforehand. She's less worried about him and more worried that Min-ah will fall for him, so Hyun-min uses his manager (who has a name now: Brownie) to corroborate his claim that he doesn't date fellow actresses.
While Min-ah exercises sexily, CEO Oh asks the Chairman why he dropped the charges against Anthony. He doesn't answer, but he's clearly thinking of his son, Director Nam.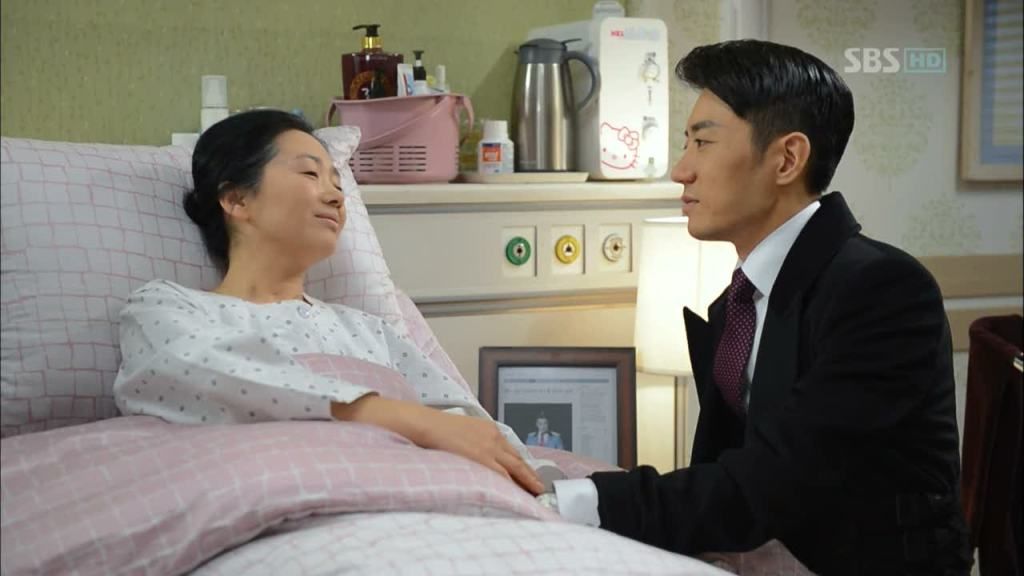 Anthony goes to visit Mom, who's been tuning into the drama as best she can, with the help of her nurses. She mentions that one of them said Anthony walked in with a pretty girl the other day (Go-eun), and Anthony just scoffs that the nurse needs glasses.
It's Mom's wish to meet the girl Anthony likes before she dies, so Anthony agrees on the basis that he'll take his time so Mom can continue to live on.
Go-eun goes to her own mom to grumble about Anthony, which makes it even funnier when Mom can't ask who 'Kim Bong-dal' is with a straight face, since Go-eun had mentioned being grateful to him in her interview. (I love that this name has become one running joke.)
Mom gets the idea to cater to the staff of Kyungsung as a gift, which sends Go-eun to the World Boys in order to ask for a truck driver. Anthony stops Maknae Goo from volunteering and cheerfully offers his services: "This is a meal truck of our Writer, who will become the pillar of our World Productions in the future. I should drive anything, even if it's a tank."
Go-eun knows why Anthony is trying so hard, and insists that Maknae Goo do the driving so she won't have to accept any favors from Anthony.
So her and Mom have a cooking montage preparing kimchi and chicken for all the staff, and it's adorable. I'm still trying to get over the fact that we have a mother and a daughter who, you know, get along.
However, Maknae Goo is unable to drive the van because his "grandmother fell", an excuse which Go-eun has no choice but to buy. We see Anthony pulling the strings, since he gives Maknae Goo the day off for lying and instructs the rest of the World Boys on how to keep up the ruse.
But you can't be mad at them, since they're all in cahoots together to make sure Go-eun signs on with World again. Aww, teamwork. Kind of.
So it's Anthony who shows up to drive the truck, which seems to be made of equal parts metal and duct tape. I love the small comedic touches in this show, like the little dancing plant on the dashboard while Anthony and Go-eun drive. It just takes us to that next level of funny.
The issue of contract renewal is brought up again, with Anthony admitting to the fact that he was waiting until Go-eun proved herself before he decided to hold onto her. It wins some points, but Go-eun is curious about why Director Goo stayed out of dramaland for five years, and despite having worked with him on his last production, Anthony stays mum.
He'll have to be on his best behavior, though, since Go-eun says she'll base her future decision off how he acts.
Hyun-min and Min-ah are back to their usual antics on set, but this time, Director Goo stops filming to pull them aside: "Listen well to what I say from now on," he starts. "You two are the worst actors I've worked with till now." HA.
Turns out he's been well aware of their pride battle, but he'd been giving them the opportunity to change their tune. "Aren't you ashamed as actors?" Director Goo asks, as he points out all the hard-working staff who get less than 0.1% of what Hyun-min and Min-ah receive.
"Why have you become actors and why are you acting?" is the question Director Goo poses to them. "Until you realize that, there will be no shooting."
Hyun-min acts serious while in his celebmobile, and tells his agency president that he should be the one to step up, since he's the "landmarking of this drama." Ha. When Prez points out that adding the "-ing" is incorrect, Hyun-min blurts that compared to 'landmark,' landmark-ING has a more k-ing-ly feel. Haha.
Except Min-ah's already outside his van the moment he pops out, and steals the words from his mouth that they should apologize to Director Goo and end their war. Of course, by just being first, she's instigated another pride battle with him.
Anthony and Go-eun end up lost in the middle of a snowy forest on their way to the filming location, and Anthony blames Go-eun for being in charge of the map. He ends up reining himself in when she notes how his nice manners toward her have disappeared, so you can see the part of him that wants to just lose his temper fighting with the part of him that wants her to sign the damn contract.
The old truck gives out when Anthony tries to back it out, and he keeps his cool as he checks the engine. After doing a bit of work it seems fixed, but when Go-eun goes out to check, she forgets to check the locks, resulting in both of them getting locked out of a now-working car.
Hilariously, sums up how he feels about this with an apt English phrase: "Oh shit."
…To make matters EVEN worse, both of their cell phones are locked in the truck. Wamp wamp waaamp.
Hyun-min and Min-ah give their apologies to Director Goo – or to put it more aptly, Min-ah gives apologies for both of them without giving Hyun-min a chance to speak.
He looks shell-shocked once she's gone, and dazedly equates how he feels right now to being beaten while asleep, only to wake up unsure if it happened at all. Hee.
We find Anthony and Go-eun wandering in the middle of nowhere as Dong-seok tries to contact them from the set in vain.
Hyun-min ends up unknowingly playing on Min-ah's fears when he notes how suspicious it is that Anthony decided to drive the truck, and comes to the conclusion that there's something between him and Go-eun.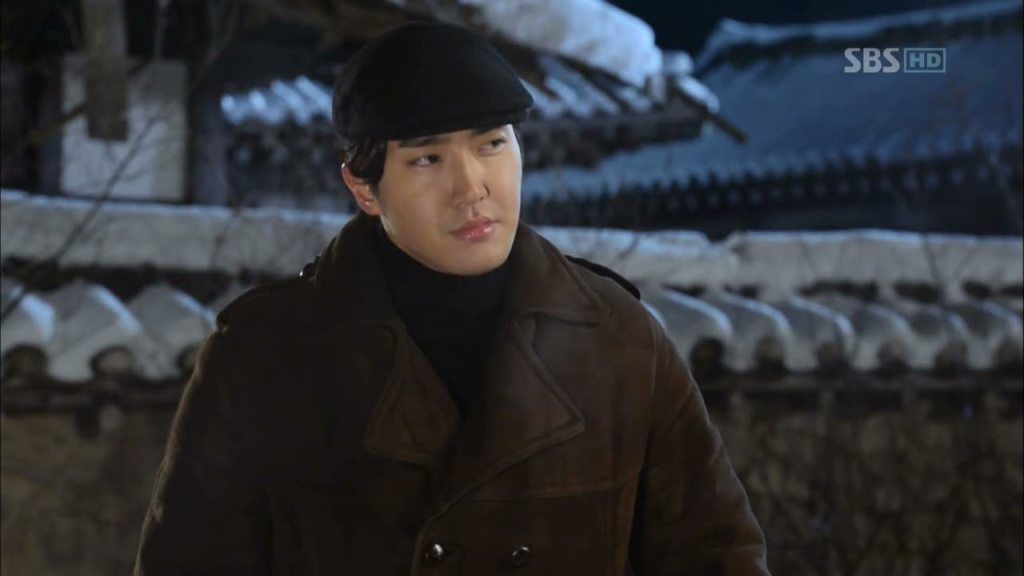 More specifically, he cites how Go-eun ran around looking for funding when their investment got pulled, and how hard Anthony worked to clear her name during the plagiarism scandal.
"Just looking at that, we can tell they definitely like each other," Hyun-min adds with a laugh.
Speaking of, our wayward couple finds their way back to the truck, where they huddle in the flimsily-covered truck bed with the food. Go-eun's all but attached to one of the soup barrels for warmth, and despite her prodding, Anthony insists that he's above it: "If I have to die, I'll die. I have no intentions of hugging that soup barrel like a moron."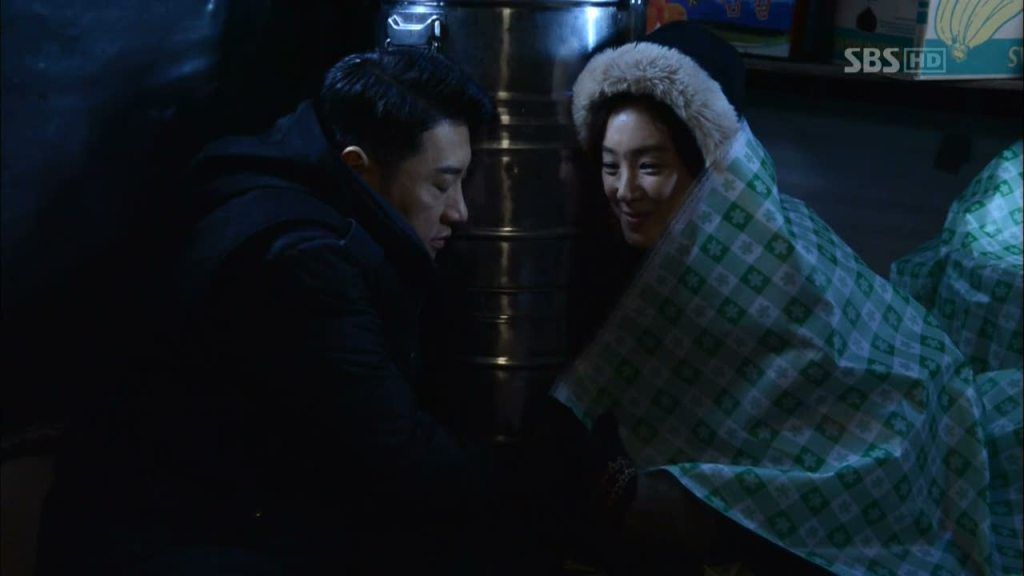 Cut to: Anthony hugging that soup barrel like a moron, while Go-eun sports a victorious grin. Haha.
Later, once the soup has gone cold, Anthony suggests through chattering teeth that they cling to each other for warmth. For survival, of course, not because he wants to.
Dong-seok goes looking for them, but returns to set empty-handed. He's already contacted police but everyone is worried, so the staff plan to pool their efforts together in a search operation.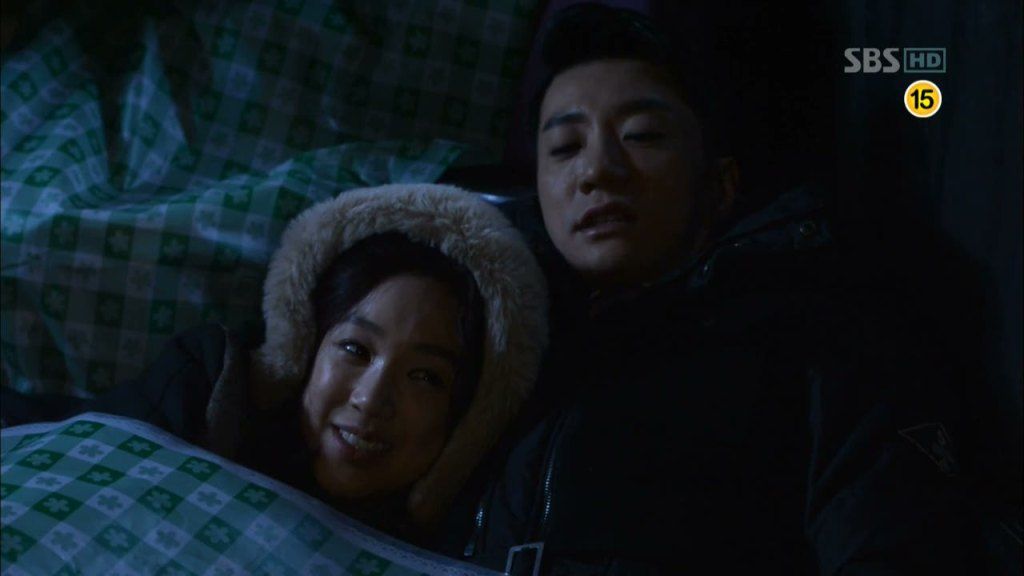 Go-eun and Anthony have made a little makeshift bed in the back of the truck, and she apologizes for locking them out of the truck with her head tucked into his chest.
Anthony tells her that if she's so sorry she can renew the contract, and she finally relents, since that seems so worthless in the grand scheme of things. Like possibly freezing to death.
While thinking of warm things to keep them going, Go-eun mentions a mother's embrace. This has her asking about Anthony's mother and her blindness, which he explains as having come about when he was five.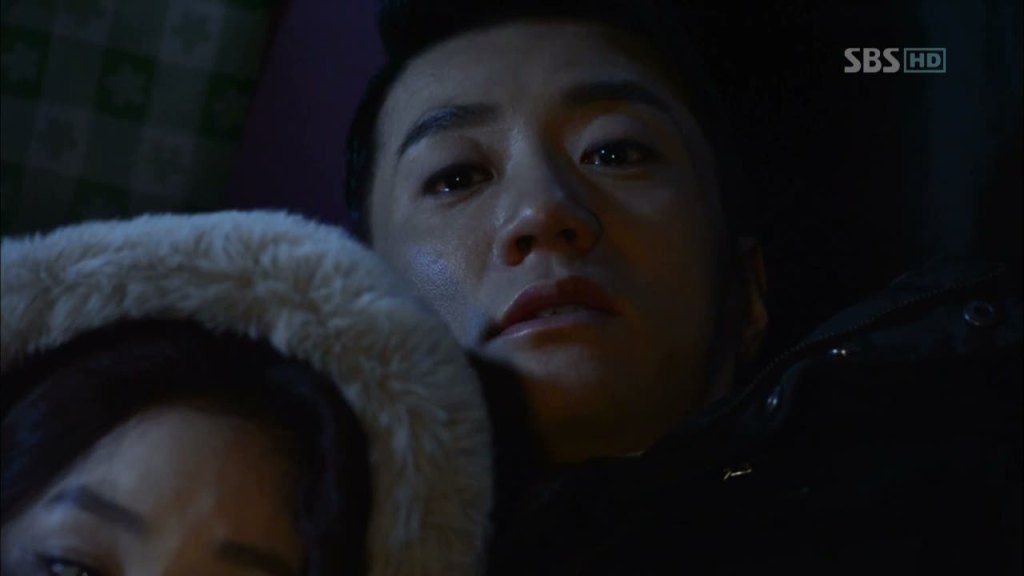 She asks him about the weather in America, and he segues it back to Mom: "I had no time to think it was cold, because I had to live tenaciously, clenching my teeth. When I went there, leaving my one and only mother behind, I thought that I sold my soul to the devil. So, as if I was crazy only for success, I ran forward without looking back."
Go-eun ends up falling asleep, and when Anthony can't rouse her he only wraps his arms around her even tighter. Eventually, even the headlights go out, further diminishing their chances of rescue.
However, they're roused the next morning by the sound of an engine, and peek their heads out from the tarp. Their savior isn't Dong-seok, but a farmer.
They trudge onto set in one piece, at least, and everyone greets them warmly… except for Hyun-min, since he's too busy pointing out a lipstick mark on Anthony's shirt. With all the giddiness of a teenage girl, Hyun-min exclaims that they must have slept clinging to each other.
And ha, Anthony and Go-eun's faces are priceless. Hyun-min acts like he's found the next wonder of the world while Min-ah looks less than enthused.
They go warm up in their respective rooms, each thinking of the other. Go-eun thinks about what Anthony said about traveling to the States, while Anthony thinks of her response after – that maybe he shouldn't blame himself so much. Maybe his mother wanted him to be successful, even if he left her.
He smiles thinking of her words. D'aww.
Meanwhile, Director Nam goes to the Chairman of SBC to ask if his father is responsible for his position. The Chairman need only look down for Director Nam to hand in his resignation: "Since this position is not something I acquired through my own merits but through my father's power, I think resigning is the right thing to do."
Even at the Chairman's insistence that Director Nam's position is not one that anyone could have just from pulling a few powerful strings, Director Nam still rejects the position since there's no way to prove he didn't have daddy's help. We need more businessmen like him. (Except we'd never see them, because they'd all resign.)
Word spreads through SBC of Director Nam's resignation, giving the slimy Deputy Director Kim reason to hope now that the position he's been coveting is empty, whilst giving Daddy Chairman a new thing to worry about when SBC Chairman calls him with the news.
The staff finally get their promised food, with Go-eun serving up the rice. Hyun-min steps in line with a grin as wide as his ears, ready to poke fun at Go-eun by asking who hugged who first. Ahaha. I just love him. Siwon's sense of comedic timing is perfect.
Go-eun gets all flustered, and Hyun-min responds by blowing her a kiss. (Gah, why isn't this pairing happening, again?)
While Dong-seok shows affection to the pretty FD by giving her a sweet drink, Min-ah tests the waters concerning Go-eun with Anthony, who merely replies that Go-eun will become one of the best writers, "So be good to her."
However, there's no way to miss the sweet stares he sends Go-eun's way.
There's a bittersweet moment when an older man hobbles up to Anthony, bowing profusely as he thanks him for giving him work – he's been in eight of Anthony's productions as an extra. Anthony clearly has no idea who he is, but the man is too happy to care.
And, eek, he's been acting since he was twenty? In bit parts? That's dedication.
He hobbles away with a cough, which doesn't escape Anthony's notice.
Go-eun and Anthony get to sit with Director Goo as filming resumes, and Min-ah can't stop staring at how close they seem, while Hyun-min has to assure a shrill Bit-na over the phone that he's behaving.
The extras are lined up, including the actor we met, Chong-gil, who seems about ready to fall over. Not good.
When the cameras start rolling, he can't help but cough where he can be seen, which causes filming to halt. He gets reamed by one of the assistants nearby and removed from the job, despite his pleas to the contrary, and is instructed to wait until the next bus comes to take him home.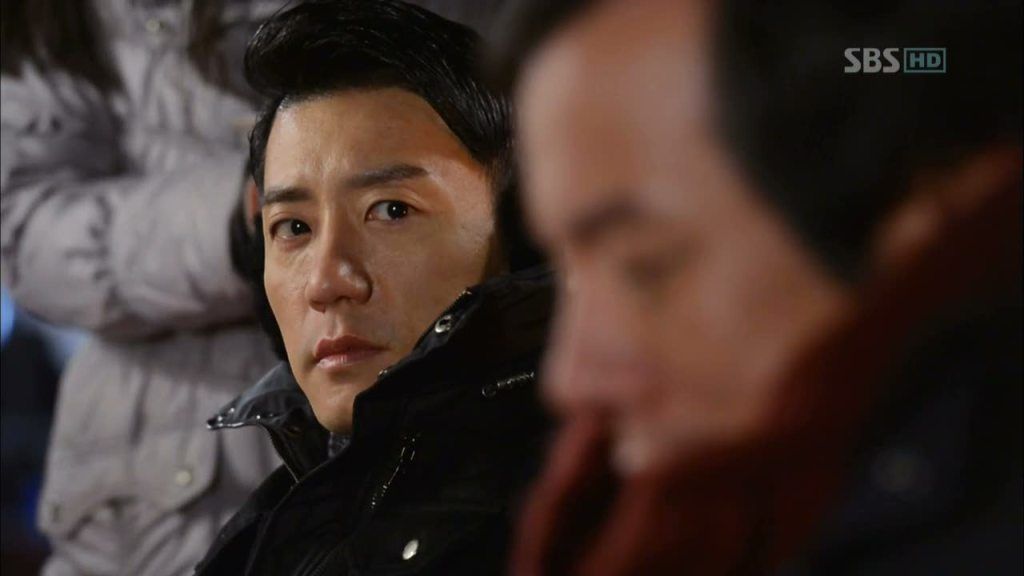 The next scene to be filmed includes a storehouse fire, something which has Anthony looking to Director Goo worriedly. Was the incident from five years ago about a fire?
Hyun-min keeps having to deal with Bit-na's jealousy, and ends up running to Chong-gil in the storehouse huddled up on some straw. (Eek, is that straw for burning?) He tells the ajusshi that he can't stay, but is distracted once again by Bit-na's call.
Anthony checks with Dong-seok on fire safety procedures, only to find out that Dong-seok forgot to enlist the cooperation of the fire department while looking for him last night. Anthony insists that they can't start without the fire department, sending Dong-seok scurrying away to make the call.
Min-ah plops next to Anthony and Go-eun as Director Goo prepares the scene, and offers Anthony a ride back to Seoul first before moving to Go-eun – clearly not wanting either of them to ride back together. Go-eun has no choice but to agree, leaving Anthony silent between them.
With the fire truck only ten minutes out, the go-ahead is given to set the storehouse on fire while Hyun-min's character frantically screams for Min-ah in front. It's only when Hyun-min really looks at the burning building that he remembers Chong-gil being inside.
He stops filming, yelling to Director Goo, "There is a person inside!"
Panic. Inside, Chong-gil wakes up amidst the smoke and fire and promptly loses consciousness.
The firetruck is still too far away, and they know who's inside. The entrance collapses in on itself, yet Anthony runs into the building to save Chong-gil.

COMMENTS
Huzzah, a good cliffhanger! I was wondering where we were going with the introduction of the extra (although that was an interesting thought, that extras could be all ages and sizes), and like that little bit of adventure thrown in. Plus, it gives Anthony a chance to show he's changed, as compared to the days when he'd let a motorcyclist die in service to his drama.
This was such a lighthearted episode comparatively, but it's such a feel-good drama overall. I really appreciated that we got an episode completely free of the Chairman's machinations, so we could just let Anthony run into problems that would naturally arise during filming. And okay, a fire on set without adequate safety measures isn't the most common drama problem, but I'm game for that kind of hyperreality, as opposed to some mustache-twirler working behind the scenes with an inability to just let things go.
In that vein, it's nice to see Director Nam's story get some screen time, since his character has remained consistent from moment one. It's in keeping with his stalwart nature that he'd hand in his resignation, but it was only until they showed Deputy Director Kim that I realized what it could mean for everyone, including Anthony. His story is one worth exploring, so I'm looking forward to seeing how he comes out of it.
Anthony and Go-eun had some cute moments this go-round, and for once, Min-ah's reactions seemed appropriate. Her professionalism shone once again, even as she couldn't escape the sight of them being adorable. It seems worth noting that her part in the battle of wills with Hyun-min was probably only spurred by his action, and seeing how he even choked her with a scarf, I'm surprised she kept that much composure. Girl is a zen master when it comes to her job. Not so sure about her love life, though.
Also, despite a rocky relationship between Director Nam and the Chairman, I still can't get over how nice it is to see two loving mothers in ONE drama. I kind of wish the Go-eun/Anthony pairing would happen faster, just so Go-eun's mom and Anthony's mom could hang out as in-laws. Too soon?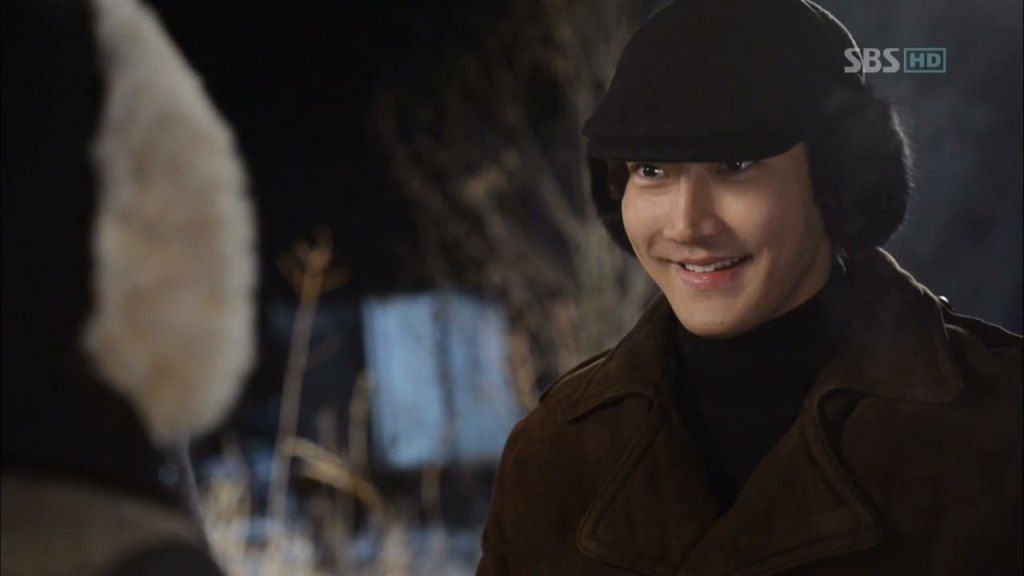 RELATED POSTS
Tags: Choi Siwon, featured, Jung Ryeo-won, Kim Myung-min, King of Dramas