King of Dramas: Episode 15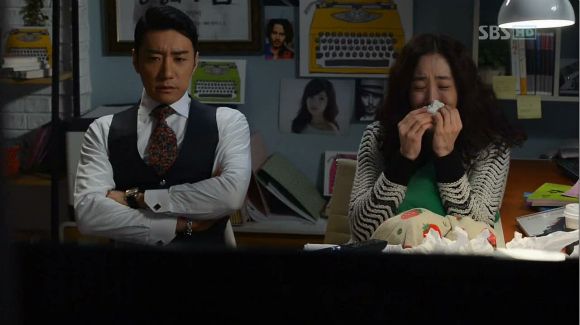 It's like there's a little extra magic in this episode, though I'm not quite sure if that's due to the floodgate of feelings becoming more or less open, or whether this cast's sparkling chemistry has just gotten… More sparkly? Is that a thing?
I can say my love for Anthony took another exponential leap, because it's kind of hard not to love a man who can be so glib about buying his girl winged pads while scoffing at her tendency to embarrassingly weep at a movie she's seen a hundred times, only to sit through it all the same. This goes for most of the characters in this show this hour, and not just Anthony: Love is in the air. And it's a lot of fun to watch.
I hope everyone enjoyed their holiday break, and in case you missed it, King of Dramas will only be airing Episode 17 on Tuesday of next week, while Episode 18 will air the following week, with a special to wrap up the series. Hope everyone had a Merry Christmas!
SONG OF THE DAY
King of Dramas OST – Melody Day – "Miracle" [ Download ]
Audio clip: Adobe Flash Player (version 9 or above) is required to play this audio clip. Download the latest version here. You also need to have JavaScript enabled in your browser.

EPISODE 15: "We Have Crossed the Rubicon"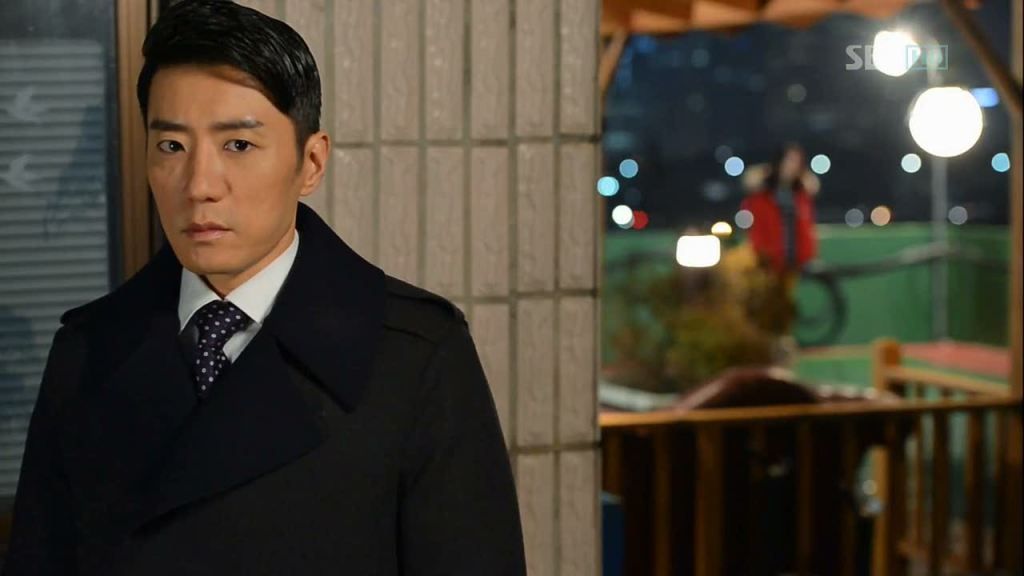 It shouldn't come as a surprise that Go-eun chickens out on confessing her feelings to Anthony, instead choosing to call out once he's gone: "I like you! I said, I like you!"
Here is where this show is awesome (again): Anthony heard her. He seems shocked by the confession, and they both spend time alone to sort out their thoughts.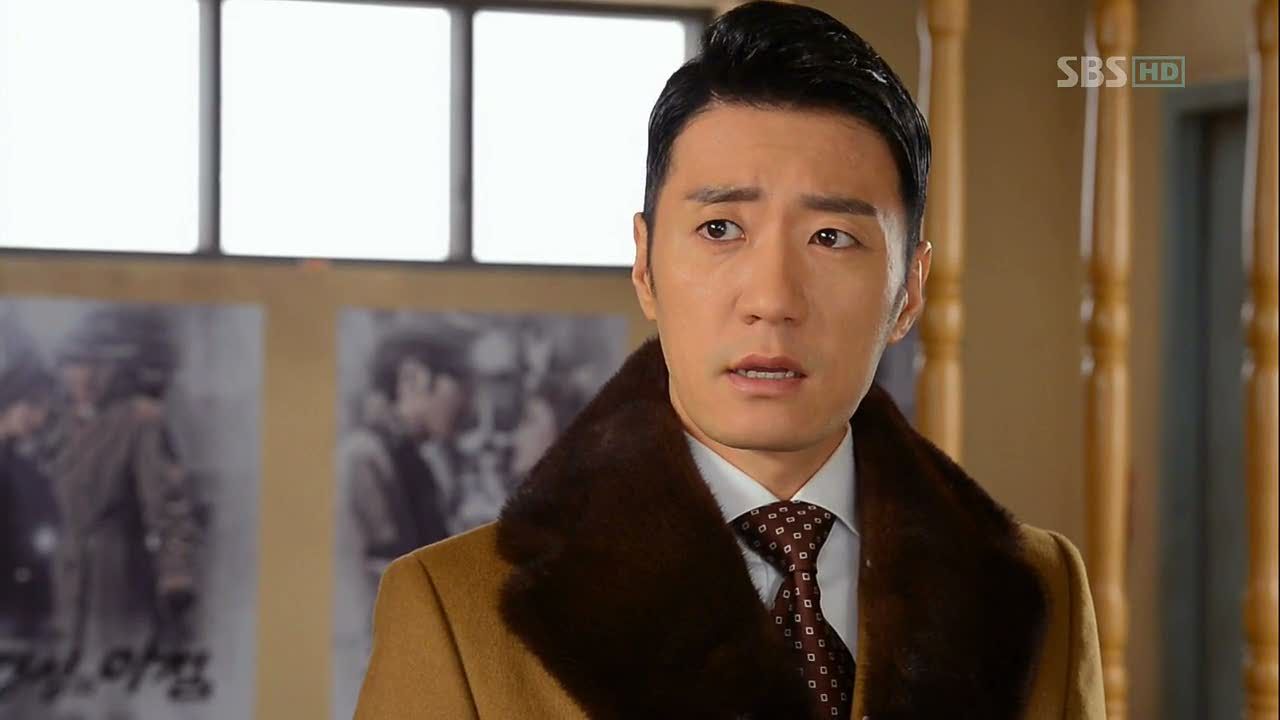 Anthony's fur collar makes a reappearance the next day at work, where he finds Dong-seok sighing over pictures of the Maknae FD he's in love with (according to Maknae Goo). Anthony chides him for being unable to separate his personal life from work, in a way that makes me think he doth protest too much.
Meanwhile, Min-ah can't seem to set the record straight with CEO Oh about her scandal with Hyun-min. I love that he tells her that regardless if it's Hyun-min or Anthony, her taste in men is low. Ha.
Hyun-min seems less concerned about the scandal than he is about his expiring contract for his Korean beef sponsorship, and taunts Min-ah on set by making kissy faces at her.
She makes sure to remind him that she's out of his league, still thinking that he's suffering from unrequited love. He balks at that once she's gone, finding the thought absurd.
Go-eun overhears two high school girls discussing Kyungsung Morning at the convenience store, and how they're unhappy with the latest events. She ends up running into Anthony on the way back only to have him chide her for picking up junk food, and she's too nervous to stammer out coherent sentences.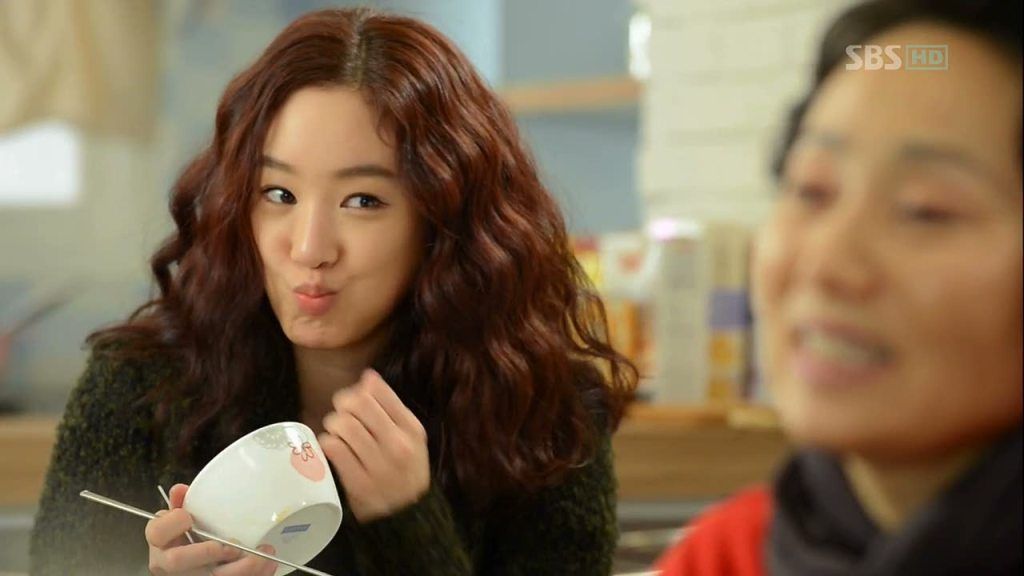 Luckily, Mom's paid a visit to her studio with home-cooked food, which Go-eun gobbles up gratefully. It's cute that Mom has been watching even the reruns of Kyungsung, though she's the second person to bring up some hesitation about a recent betrayal turn for Min-ah's character, even though Go-eun claims it'll all be cleared up later.
With these recent bouts of light criticism in mind, Go-eun decides to re-watch all the episodes of Kyungsung while simultaneously studying the scripts.
Hyun-min's side hasn't done a good enough job in squashing the scandal rumors, so the press machine is still going strong in declaring Hyun-min and Min-ah a celebrity couple.
To make matters worse, Hyun-min's beef sponsor representatives want to renew his contract… if he'll sign on with Min-ah for a couple concept. Hyun-min doesn't want to see his precious money go to anyone but him and rejects the offer with gusto.
Min-ah takes Anthony out not to clear up the rumors (he already knows it's all ludicrous) but to introduce him to wealthy conglomerate chief director Kim Sang-jik, who wants to bring Anthony onboard as CEO of their drama production company. Which means a high salary and tons of benefits.
However, Anthony declines the offer, citing that he's done working under other people. "With my own hands, making World Productions the best in Asia – no, the whole world – is my personal goal."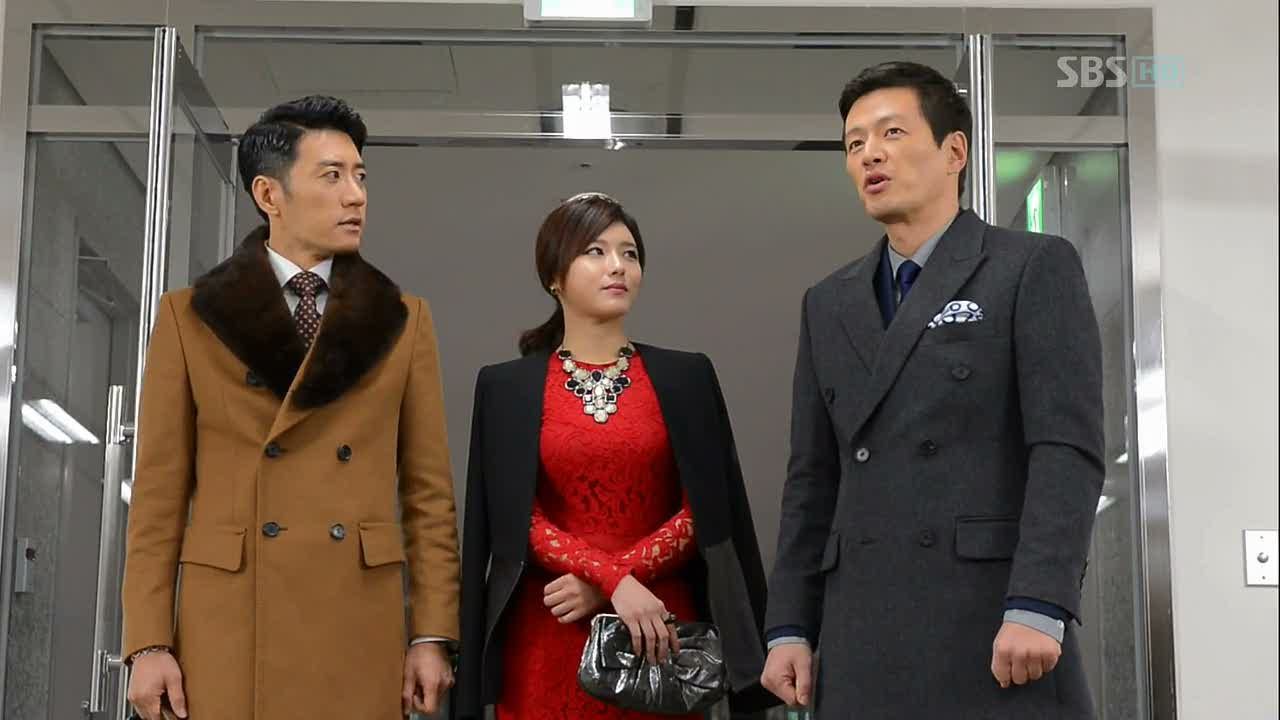 CD Kim decides to take Anthony on a little tour to see if he changes his mind, which includes an incredibly spacious office just waiting for him. If Anthony were to accept, his position would also include managing actors – and the first one would be Sung Min-ah. Ah, so that's her stake in all this.
You can see Anthony's eyes light up at the sight of the office, and even more so when the terms are described – it'll still be World Productions, owned by none other than Anthony Kim, aided along by a hefty investment from CD Kim each year. In return, they'd want almost fifty percent of the profit.
Once Anthony asks the reason, CD Kim explains that it's because they want to surpass Empire Productions. He also appeals to Anthony's ego in crediting him for making Empire what it is today. There doesn't seem to be any shadiness going on from either end. The offer seems sincere.
And Anthony must pick up on that too, since he agrees to the deal.
Later, as he and Min-ah look out at the vista of Seoul from their new office window, she tells him, "You'll finally be able to realize your dream. Watching you succeed while staying near you is also the dream that I hoped for."
She smiles, and he returns it, clearly hopeful for the future.
While Go-eun studies the scripts even later that night, Anthony looks out at the world from his rooftop as CD Kim's words about creating Asia's best production company echo in his mind. "That's right, the time has come," he thinks to himself.
And how cute is it that Go-eun has Anthony listed in her phone as Bong-dal? She has to work up a lot of courage to call him, and when she finally does, he cuts her off by saying he's in a meeting. Aww.
We cut back to him on the rooftop as we hear him in voiceover: "From this moment on, my own legend will begin again."
But, a call from Go-eun interrupts him again, though this time he's caught in his lie since she's staring straight at him from her rooftop. Ha. She tells him to gather the crew for a meeting tomorrow morning.
At the meeting, Go-eun explains to the creative team that she wants to revise episodes eleven and twelve. She's looking to make Min-ah's character less vague by laying groundwork for an episode thirteen reveal earlier, so that the audience won't turn against her like her mom and those high school girls.
Unfortunately though, that means they'll have to halt filming for four days while she revises the script, which means two dreaded words: Live shoot. Min-ah's dubious of Go-eun's promise that she can get it done, only to have Anthony back her up: "She says she can do it, so why don't we try believing Writer Lee? Just because it's difficult doesn't mean we should avoid what we see as a problem."
Hyun-min notices the tender way Go-eun smiles at Anthony, and so does Min-ah. Eek.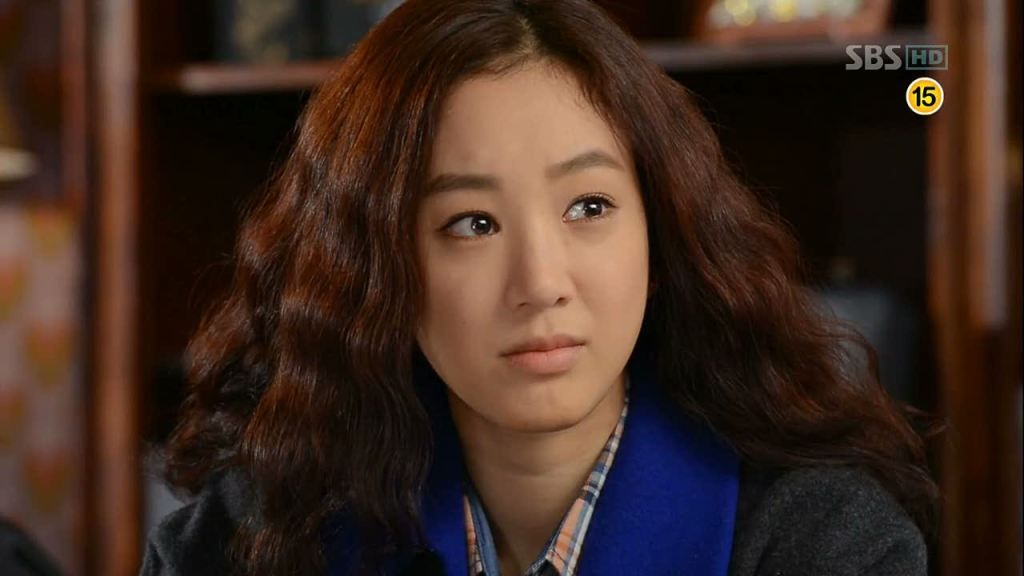 The World office is busier than usual as Anthony stresses to Go-eun that this decision means their schedule will no longer allow for an inch of leeway. So later on, if there's a problem with the script, they'll have to shoot it anyway because there'll be no time to fix it.
She understands the gravity of the decision to go into live shoot, and Anthony's voice goes even graver as he likens their journey to Julius Caesar crossing the Rubicon river in 49 BC. Like Caesar, they've now passed the point of no return.
In order to help Go-eun while she's under studio arrest for the revisions, Anthony brings her multivitamins, ginseng, and other nice things he thinks she'll need. Then he pulls out maxi pads like it's no big deal, because he's bought every kind without knowing her preference.
At her mortified face, he asks innocently, "Why, you don't use the ones with wings?" HAHAHA. Oh. My. God. Wiping away tears from laughing so hard.
"Isn't it weird for a man to buy these for a woman?" Go-eun asks.
"I'm not a man, but a producer. You're not a woman, but a writer," Anthony replies. It's adorable that he's taking such good care of her… until he reveals that he's camping out in her studio to make sure she works 'round the clock, because she's no Kim Soo-hyun. (Alas, he's talking Writer Kim Soo-hyun and not actor Kim Soo-hyun, and her most recent credits include the highly acclaimed currently-airing cable hit, Childless Good Fortune.)
Hilariously, Director Nam has to remind CP Lee to simmer down and trust in Go-eun to pull through.
Hyun-min gets some bad news for his Korean beef CF: Either he signs on with Min-ah, or they'll go with superstar Jang Dong-gun and his wife. Ha.
He pulls Min-ah aside to give her the offer, which she thinks is just another method for him to try and get closer to her. He reassures her that there's only one reason he's asking (in English): "Money."
So she agrees, on the basis that he conduct an interview and use any other means necessary to clear up their scandal.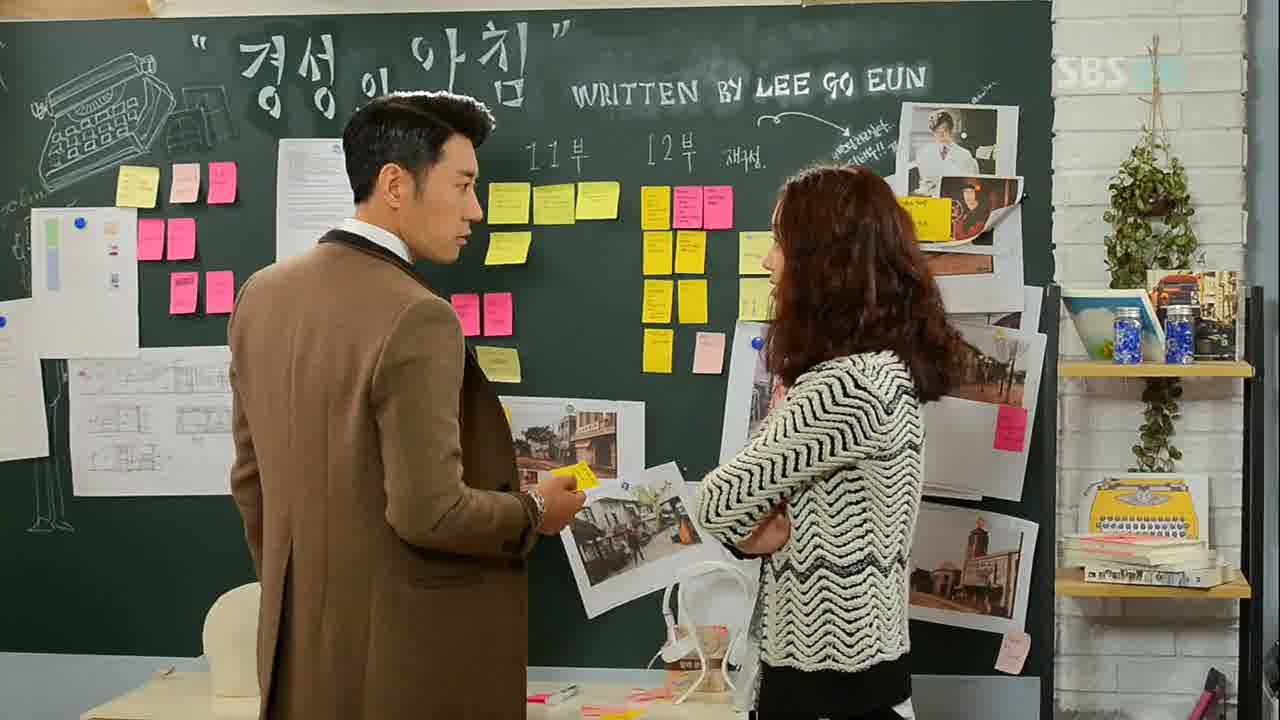 Anthony and Go-eun end up disagreeing on a story point where Hyun-min's character is supposed to give up his dreams to save the woman he loves, with Anthony claiming that only an idiot would give up his dream for love.
Go-eun's floored, since she's firmly in the camp that love conquers all. Out of frustration, she asks Anthony, "Have you ever been in love at all?" Which he throws right back at her, because at least he's no virgin.
She asks him if kissing and sleeping with someone equals love, and he shrugs, "What else is there to it?" He's sure he's in the right because at least he has more experience than she does, and their frank bickering is adorable. Mostly because he knows Go-eun well enough to know she won't back down.
And she doesn't, because she sneaks the post-it note he took off back onto the board. Ha.
At the same time, Anthony's mom worries for him and his inability to open his heart to someone, because he's had to pretend to be strong all his life. She feels responsible for putting him through the hardships that led to who he is now.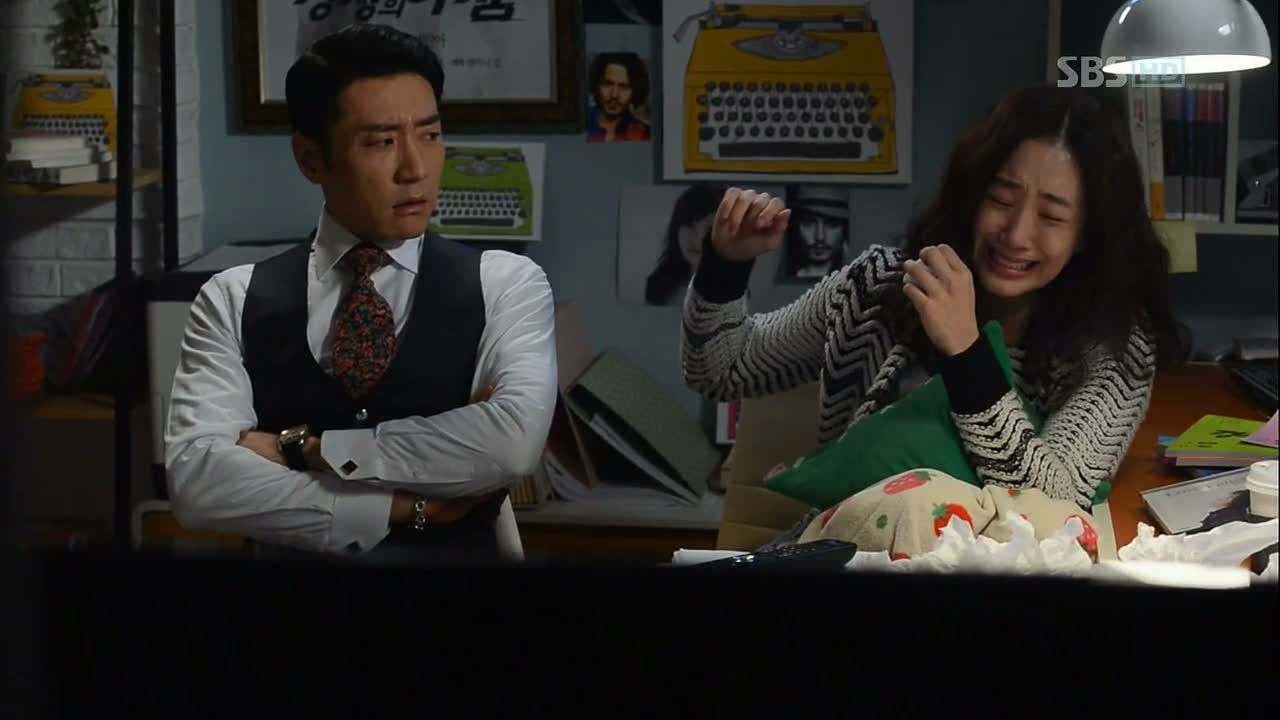 Anthony returns to the studio later to find Go-eun watching Love Letter, a Japanese film from 1995 which she claims to have watched one-hundred times, and one which she needs to watch to get into the right emotional space for the script.
So he ends up sitting with her through the movie, his facial expressions growing increasingly sour as Go-eun starts blubbering like a baby during a scene. This is amazing.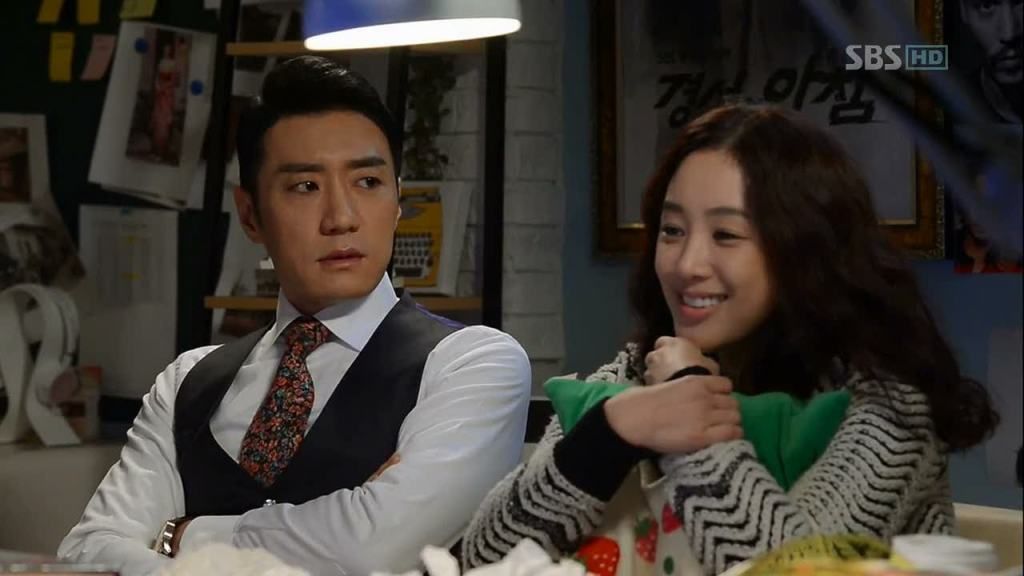 There comes a point during the movie that Anthony starts looking at Go-eun – really looking at her. Every smile, every change in her expression. It's like he's seeing her in a completely new light, and my guess would be that he is.
At a moment Go-eun finds endlessly romantic, Anthony just seems to shrug, causing her to call him out: "I mean it. I don't think you've ever been in love. Have you ever shed tears for love?"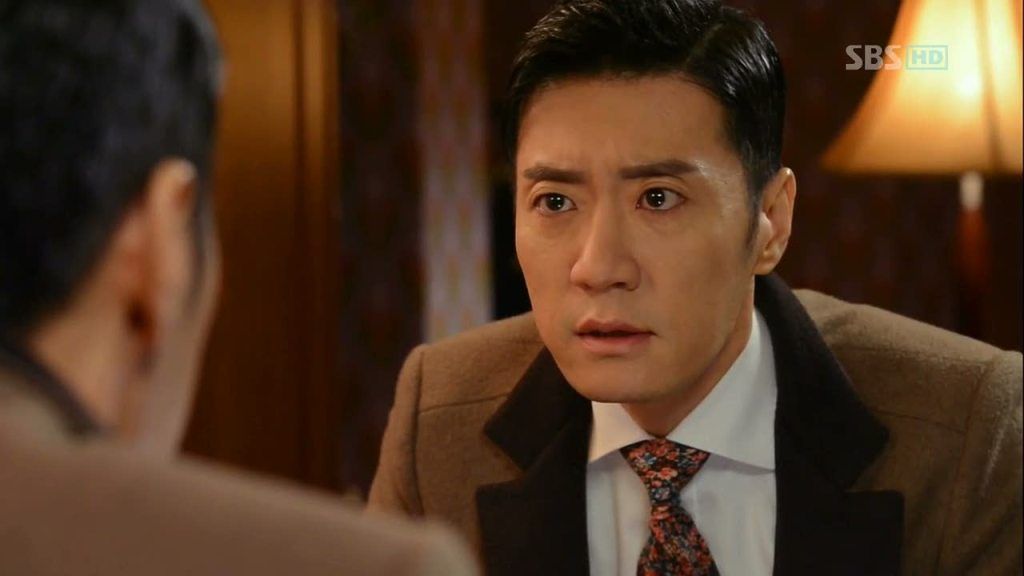 In response, Anthony books it out of there and confronts himself in the mirror: "Anthony, are you crazy? This is nonsense. How can that tomboy look so pretty in my eyes?"
He tears up at that, and turns to his pills to stop from crying.
He's spacy at the next World meeting, and pulls a very Go-eun-esque move when she spots him staring at her from his rooftop… by ducking down to hide before stalking back into his office. Ha. Invisibility cloaks are so last year.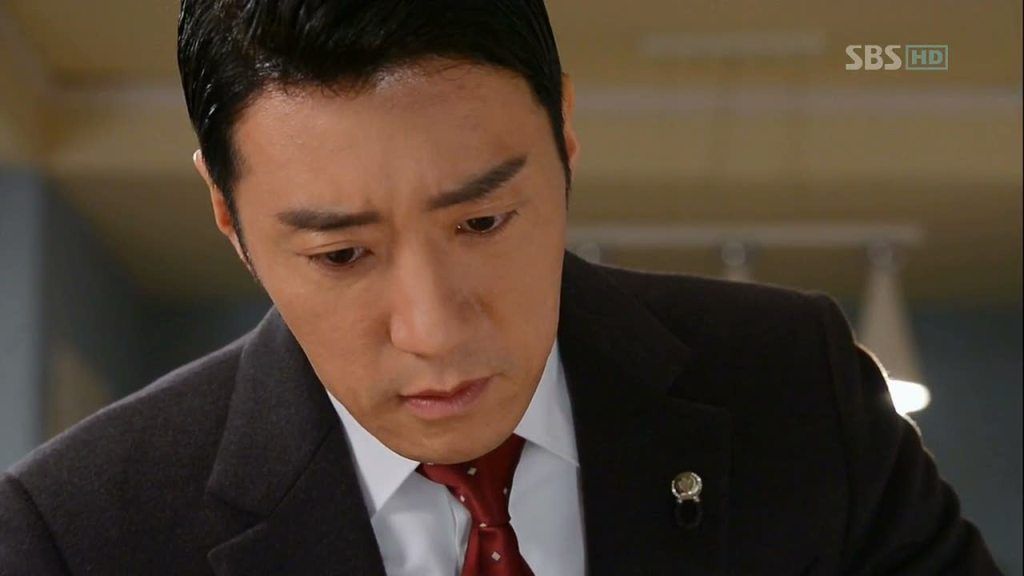 After receiving a call that he's to meet with the Chairman of the conglomerate buying him out, Anthony finds Go-eun asleep at the helm in her studio. He starts to cover her with a blanket before he has a crisis about liking her, and decides to just back away slowly instead.
She brings the revised scripts the next morning, and Anthony praises her for a job well done after leisurely reading through. Huzzah!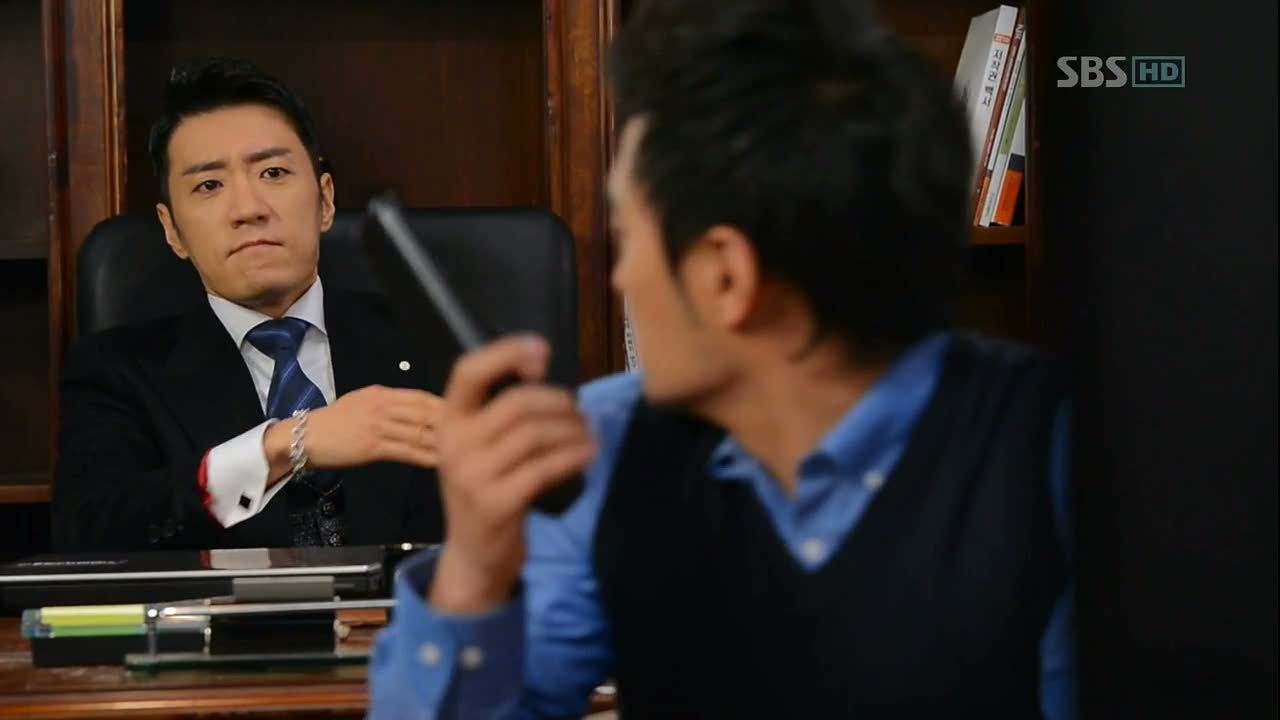 The new scenes are filmed and broadcasted, with everyone on the team pleased with the revisions. Even Dong-seok gets swept up while watching, and of course, gets chided by Anthony for it.
Best news? Ratings have jumped, leaving Hyun-min and Min-ah secretly giddy as they watch the live broadcast from their phones on set. They eventually break 20% as the romance develops, and we see the fervor build up through headline snippets.
Hyun-min is interviewed due to the show's rising popularity, and is so not-himself it's funny. He handles the questions all suave and debonair, doing what Min-ah asked by confirming that they are not dating. It's cute that he reminds her he's fulfilling his promise through thinly-veiled code, though I'm sure it's so she keeps her end of the bargain as well.
And she does, since we find him on set for the beef CF. Min-ah shows up and catches the light in such a way that she looks angelic, which has Hyun-min practically drooling as he realizes how attractive she is.
Of course, the only way he can express this new sense of wonder is by asking her whether she got a botox shot recently. HA.
They film the CF successfully, even though Min-ah is less than enthused despite the perks of getting money and beef. (Which, to me, are some pretty nice perks.)
She does end up finding out, through Hyun-min, that Anthony and Go-eun have been spending every day together writing for the show, though. And that does not make her happy.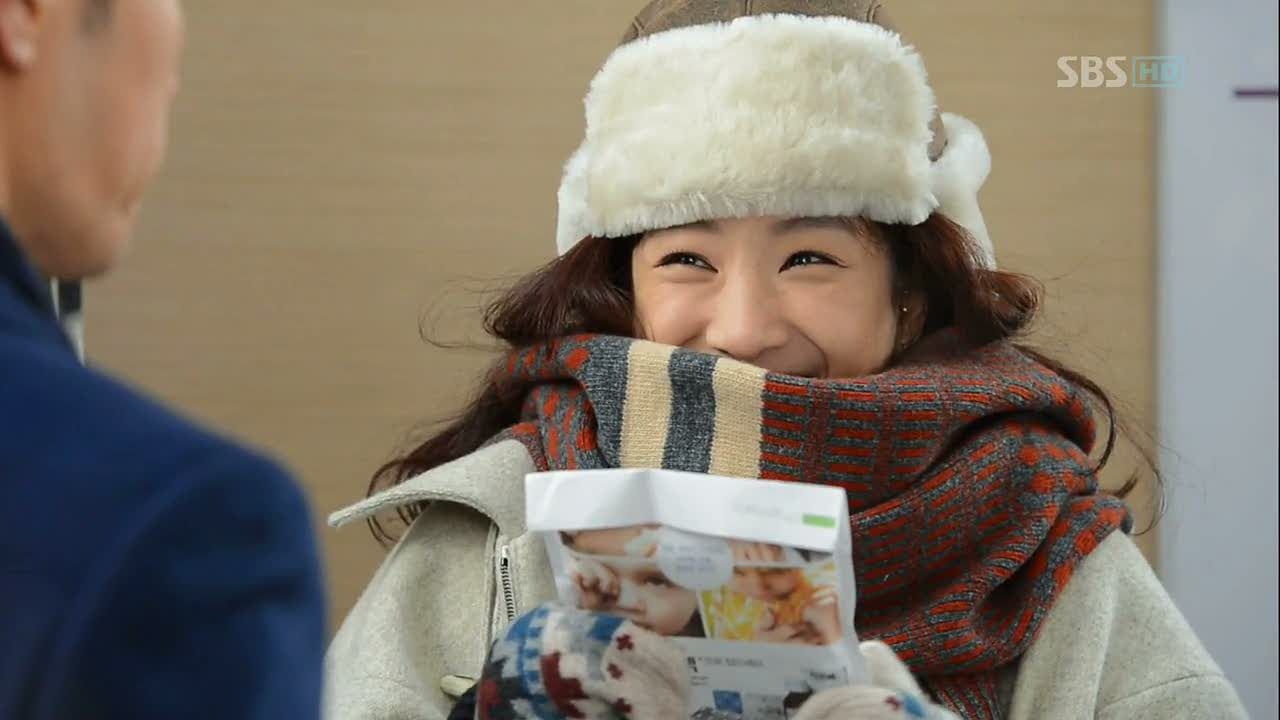 Anthony ends up getting Go-eun medicine since she's caught a cold, and responds to her giggling by telling her to cut it out before he gets used to it. D'aww. A-dorable.
He drives her home, which means she gets to overhear their conversation when Min-ah calls him, asking to meet later. When Anthony tells Go-eun that they'll be relocating to a bigger office, she hesitates to ask whether Min-ah had a hand in helping him.
He admits that she did the introductions, and tells her that he'll get her a bigger studio with a better view so she can prepare for the next show, with Min-ah as the lead. Casting her again was one of the conditions of the contract, as it seems.
At dinner, Anthony has to pretty much ask Min-ah to let Go-eun write her next project, which she claims to have no objection to as long as the script is good. She does mention that she wants him to answer her question by tomorrow, and it seems to take Anthony a second to realize that it's what she asked him on the rooftop: "Can you tell me that you don't have any feelings for me?"
He mulls over this in the car, until his vision suddenly blurs, almost causing him to get into an accident. Oh no. If what I think is happening is happening… it better not be.
At least we have a hero who actually sees a doctor when he's sick, but the results are inconclusive until he gets more tests. The doctor is of the mind that Anthony's sudden vision problems could be a side effect of his antidepressants.
Hyun-min ends up giving his manager lessons on how to woo the ladies, since both he and Dong-seok have their eyes on the same Maknae FD. Step one is to send her sexy smiles often, so that she'll eventually ask, "Why do you smile like that whenever you see me?" Step two would be to reply with something like, "Your eyes make me smile."
Even his manager cringes at the cheesiness, and Min-ah balks when she catches Hyun-min sending his "sexy smile" her way. She ends up throwing up in her mouth a little in horror. Haha.
Anthony checks in on Go-eun, who's still working nonstop despite her fever and sickness. He tries to leave her in order to attend his important dinner meeting with the chairman of Taesan Group (the one buying them out), but goes back to check on her one more time.
And good thing, too, since she's passed out on the floor. He drops the phone with Min-ah still on the other end, so she hears him frantically telling Go-eun to wake up. She must know something's happened.
Anthony carries Go-eun to the car and rushes her to the hospital, while Min-ah attends the dinner meeting alone.
Anxiety is written all over his face as he finds himself in bumper-to-bumper traffic, though it's hard to tell if it's over Go-eun or the missed meeting. (Or both.)
Either way, he decides to abandon his car on the road in order to carry Go-eun to the hospital, where she's treated for her high fever. He waits at her bedside until she regains consciousness, having completely forgotten about the meeting until she mentions it. At her urging, he hurries out. Is he too late?
We see Min-ah fighting back tears at the dinner venue before Anthony shows up… and her table is now empty. He's too late.
She confronts him on choosing Go-eun: "What problem is greater than your dream, your future? Was Writer Lee Go-eun such an important person to you?"
He pauses for a long while, his face impassive at first, until his eyes seem to glisten with unshed tears. When she prompts him again, he finally answers, "That's right. Lee Go-eun is an important person to me. I finally realized it… How important Lee Go-eun is to me."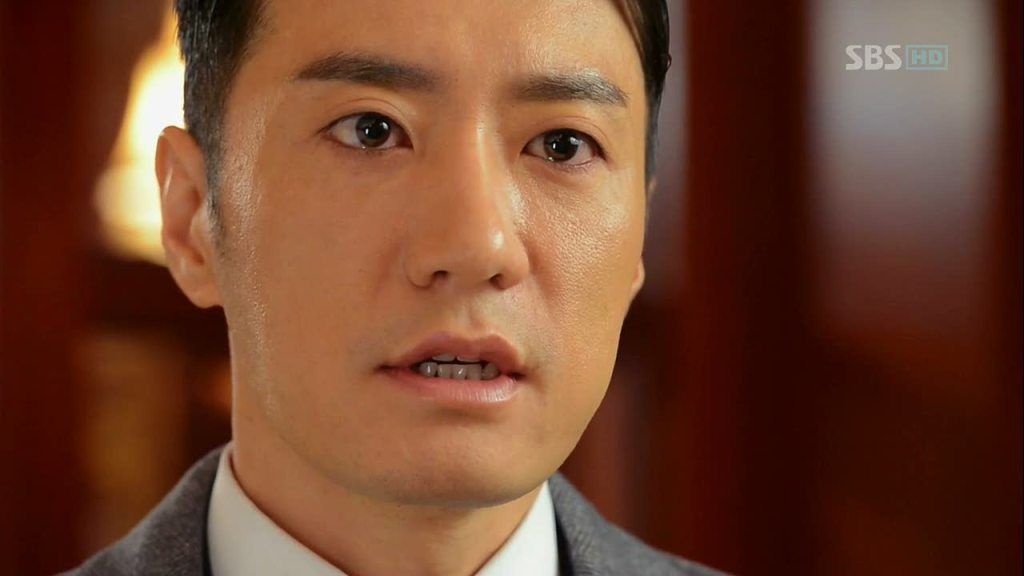 COMMENTS
What a great episode. I had been wondering if there was a more sinister purpose to the introduction of such a perfect contract, especially when Anthony really seemed to get his hopes up about it. In the end it looks like it really was just a great deal, one he would have been a fool to miss out on. (A fool in love, anyway.) Showing his eagerness to go through with this deal worked to really bring home the weight of his sacrifice, because we know how much this meant to him. If even I'm left feeling crushed, how bad does he have it?
It was nice to see Anthony and Go-eun's perspectives on love clash in relation to the drama, only to have Anthony actually face that same crisis he'd so readily scoffed at: Love, or dreams? They're not always mutually exclusive, but let's face it – it wouldn't be all that interesting if they weren't. The thing is, while Old Anthony was a huge tool, I never believed him to be a bad person. We were shown how much he was emotionally affected by his choices even if he didn't seem to possess that compass at the time of decision-making, so his gradual shift into this caring papa bear for the World team feels like less of a change and more of an unveiling, which is why his decision to choose Go-eun resonates with me.
What we're seeing now is who Anthony really is, but in order to protect himself, he's created this whole persona (literally adopting a new name) to hide his vulnerabilities. It's why I appreciate that Go-eun has him as "Bong-dal" in her phone, and takes the opportunity to call him that when she can. She knows he's not Anthony Kim, but Kim Bong-dal, and he's acknowledged the same, sort of. It wasn't one woman's love that melted the iceman's heart (like every other drama ever), but his need to love and be loved finally coming to the fore. I just love that about Anthony.
So, all that is just a really long way of saying: I would have been very surprised if he'd chosen the meeting over Go-eun. Accepting that it was a foregone conclusion that he'd choose to save her instead leaves me eager to see the fallout. Will he harbor some resentment that being Kim Bong-dal caused him to miss out on a grand opportunity, or will he take this as an opportunity to do something even greater? (If he can make a ratings hit working out of a glorified shoebox, what does he even need all that space for, anyway?)
Anthony's ongoing eye problems are a bit concerning considering his mother's condition, but I'm cautiously optimistic that the dreaded Dramatic Disease trope will be handled with a wink, just like the way this show handled the usual I'm Going To Confess But You'll Miss It, Let's Wallow In Misunderstandings For Nine More Episodes trope by having Anthony actually hear Go-eun's confession. How perfect was that?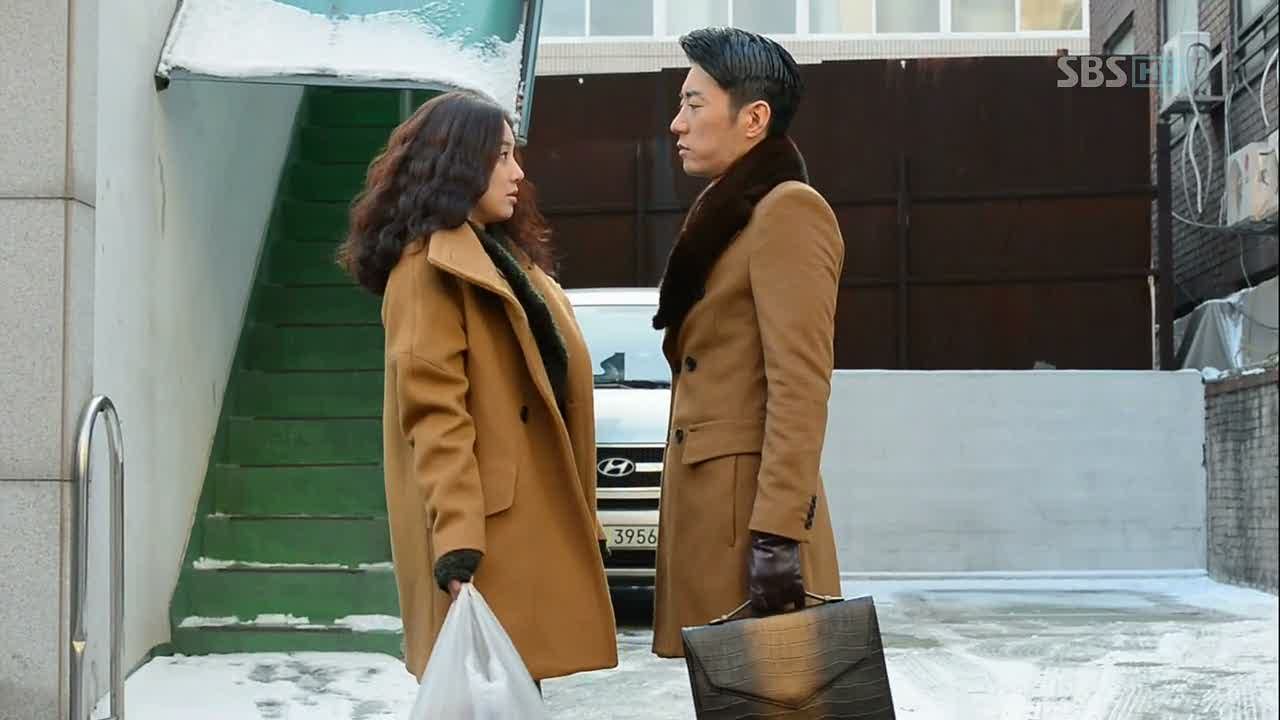 RELATED POSTS
Tags: Choi Siwon, featured, Jung Ryeo-won, Kim Myung-min, King of Dramas